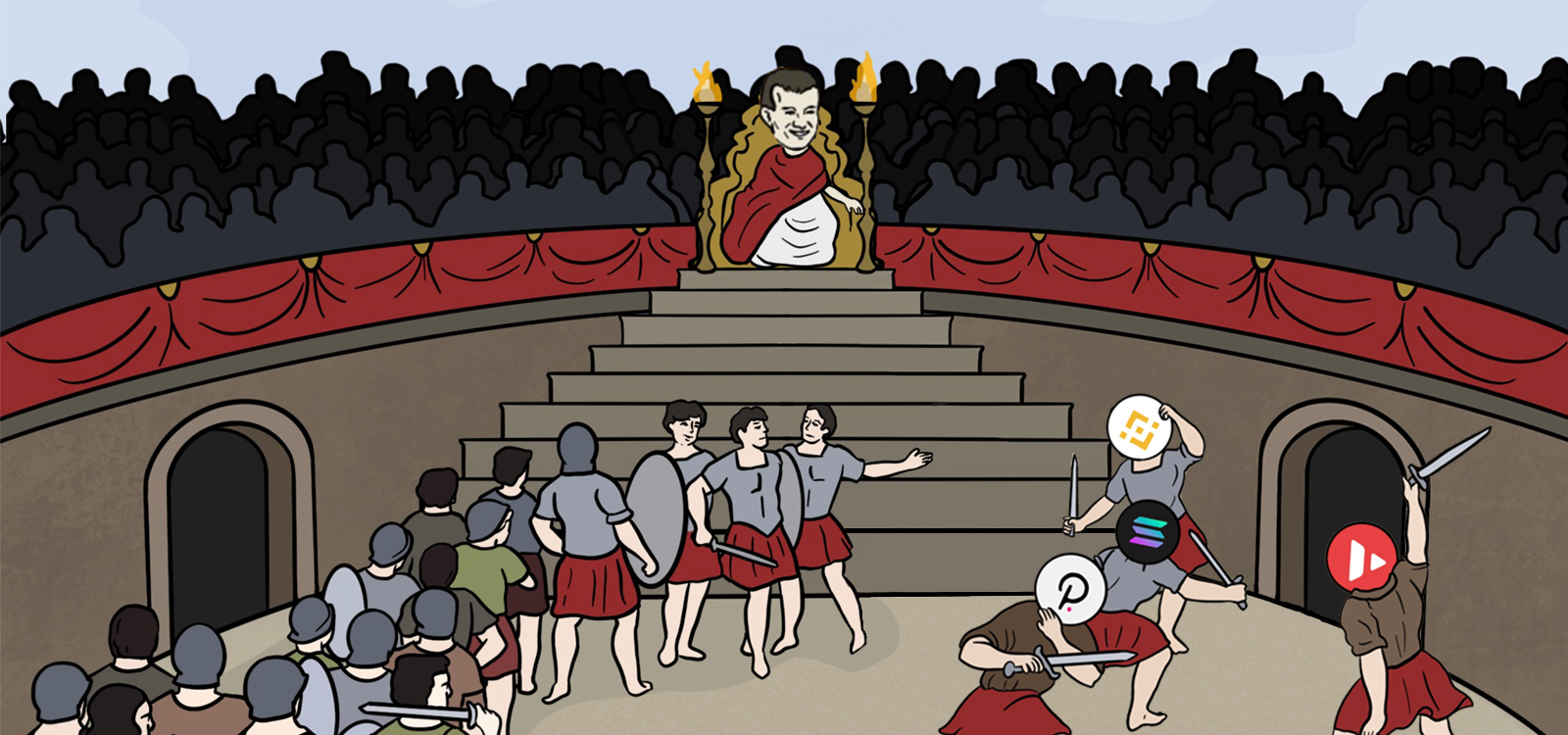 16 March, 2021
Ethereum Killers: The Class of 2021
In an earlier article, AI had reported on the initial batch of Ethereum Killers. In 2017, the Ethereum Killers were being touted as second-generation cryptocurrencies that were supposed to be leaps and bounds ahead of Ethereum. Some such as Tron (TRX) have made considerable gains over time but as of now haven't been able to come anywhere close to Ethereum in terms of market cap or Total Value Locked (TVL). Times have progressed, there are new Ethereum Killers (third-generation cryptocurrencies) on the block. These new-er Ethereum Killers did not exist or were just vapourware during the 2017 bull run but have eventually released their products as we are entering a new bull season.
RESEARCHING: Next-Gen Ethereum Killers...
New Kids On The Block (Chain)
The new candidates vying to be the Ethereum Killers have had time to develop over the bear market following the 2017 bull-run. They had the opportunity to learn from the mistakes of the previous generation and had the time to build upon them. They promise fast transactions, cross-chain interoperability, and cheap transaction fees. HMM. AI takes a deep dive into these projects.
LOADING RESEARCH…
The Avalanche Network and its AVAX token were created by Ava Labs, founded by Cornell University professor Emin Gün Sirer, and Cornell University computer science Ph.D.'s Kevin Sekniqi and Maofan 'Ted' Yin. Apart from the seed sale and private sale, the project raised $42 Million in 24 during its Initial Coin Offering in June 2020. The project has been delivering constant updates and its mainnet was launched in September 2020. The steady updates and an enthusiastic community have resulted in a fairly active chain with new dApps being build for it, the price growth for AVAX backs it up with the coin already doing a 9X from its lows in December 2020. WELL DONE! 🎈
Despite being often called an Ethereum killer, Avalanche is highly compatible with Ethereum. A theme AI sees with the competition as well. Avalanche supports Ethereum Virtual Machine (EVM) which enables cross-chain operability for Ethereum assets. Ethereum USERS can get started with Avalanche using the Ethereum-Avalanche bridge. Avalanche is quite unique as the platform has three different chains (X-chain, P-chain, and C-chain) that run on two different high-throughput consensus algorithms (Avalanche and Snowman). Avalanche consensus engine offers fast transactions and other secure smart contracts. These run across separate metadata, asset, and smart contract blockchains. Each dApp operates on its own custom blockchain running its own virtual machine. USERS can learn more about the different chains and consensus protocols from their official support page.
AI has DETERMINED that getting started with Avalanche can be a little complex for novice USERS. RECOMMENDATION: Getting started with this guide.
Popular Wallets: Metamask, Avalanche Wallet
Popular dApps: Pangolin Dex
AI has IDENTIFIED Polkadot (DOT) as one of the most hyped Ethereum competitors of 2021. Polkadot is an open-source project founded by the Web3 Foundation, led by Ethereum co-founder Gavin Wood. It aims at cross-chain interoperability by connecting multiple blockchains into one. Polkadot has three main units in its infrastructure:
Relay Chain (central chain of the network).
Parachains (parallel chains connected to the relay chain).
Bridges (facilitates interoperability).
Due to its cross-chain capabilities, and of course the involvement of Gavin Wood, the Polkadot ecosystem has seen a good influx of developers with many dApps and projects either planning to start up on Polkadot or announcing a move to the Polkadot ecosystem from other chains as can be seen from the rising number of projects on PolkaProject. The projects announced on Polkadot are currently running on Ethereum as there is still time left for native dApp support but the community is excited for the upcoming parachain auction, which will take Polkadot one step closer to it. Currently, most USER activity is concentrated around staking the coin. AI is STANDING BY for further updates from the project.
Popular Wallets: Metamask, Polkadot.js
Binance Smart Chain (BSC) is the brainchild of possible AI, Changpeng Zhao (or CZ as he is popularly known). Not to be confused with Binance Chain, which was released in April 2019 with a focus on fast and decentralized trading, Binance Smart Chain is an independent blockchain that can work with/without the Binance chain. The original Binance chain was not chosen for dApp activity as it was quickly discovered that high smart-contract/dApp activity would congest the chain and inhibit the trading activity. BSC has smart contract functionality and is compatible with the Ethereum Virtual Machine (EVM) which makes it easier for ETH dApps to move over to BSC. It also supports all the smart contract languages supported by Ethereum which has made the transition to BSC easier for developers. BSC is fast and fee efficient. It can generate blocks every 3 seconds by using a consensus method called Proof of Staked Authority (PoSA), where participants stake BNB to become validators.
Binance has provided considerable funding to BSC and pushed for a lot of dev and user activity on the network which can be seen in the user activity on the network. The price-performance of BNB (over 5x from January 2021 to February 2021), with BNB reaching the third spot amongst all coins by market cap, is also noteworthy. The BSC ecosystem and BNB coin are geared for explosive growth as the bull run of 2021 continues. Will it flip Ethereum for the second spot? CANNOT COMPUTE: AI is not able to predict the future. STAND BY.
Popular Wallets: Metamask
Popular dApps: PancakeSwap, Venus
The Solana platform was co-founded by Anatoly Yakovenko along with former Intel and Dropbox engineers in 2017. Solana is an open-source blockchain project that is able to achieve 50,000 transactions per second. Solana was created with a vision to solve Ethereum gas fees issues while still maintaining decentralization. It has gained a lot of momentum recently with the delay in ETH 2.0 and the Ethereum network congestion.
Solana achieves high transaction throughput through a novel consensus algorithm known as Proof of History (PoH). PoH is implemented using a mechanism called nLocktime. AI can dive deep into the whole mechanism but to keep it simple for USERS - the process creates a replicating database that maintains a high level of availability which results in high transaction throughput which further helps in keeping the transaction fees low. Solana has been encouraging developers to build on their platform. Solana has also unveiled an Ethereum to Solana bridge to further promote dApp activity on the network. Recently, Solana had announced a hackathon with around $400K worth of prizes. The hackathon is being hosted by AI friend Sam Bankman-Fried of Project Serum. WELL DONE!
Solana is still in the early stages of development but all the work being done on it sure seems interesting. STANDING BY for future progress.
Popular Wallets: Sollet.io
Popular dApps: Serum, Raydium
Apart from the projects mentioned above, AI would like to list down a few projects that AI could not include in the article due to low USER and/or developer activity: Tezos (XTZ), Algorand (ALGO), COSMOS (ATOM), IOST and Hedera Hashgraph (HBAR). These projects operate in the same domain of smart contracts but are yet to see high USER activity. AI wishes them luck.
Is This Finally The End For Ethereum?
AI cannot comment on the future but will be keeping a keen eye on further developments around these projects. Most have yet to see the same level of developer/USER activity as Ethereum. Moreover, all of these 'Ethereum Killer' projects stress that they are better than Ethereum as they are faster and cheaper.
HMM.
With the upcoming move to Proof Of Stake (POS) consensus mechanism and EIP-1559, Ethereum plans to become faster and cheaper. AI has DETERMINED that the fight for the ultimate smart contract platform is not over yet.
AWAITING FURTHER UPDATES 🎈