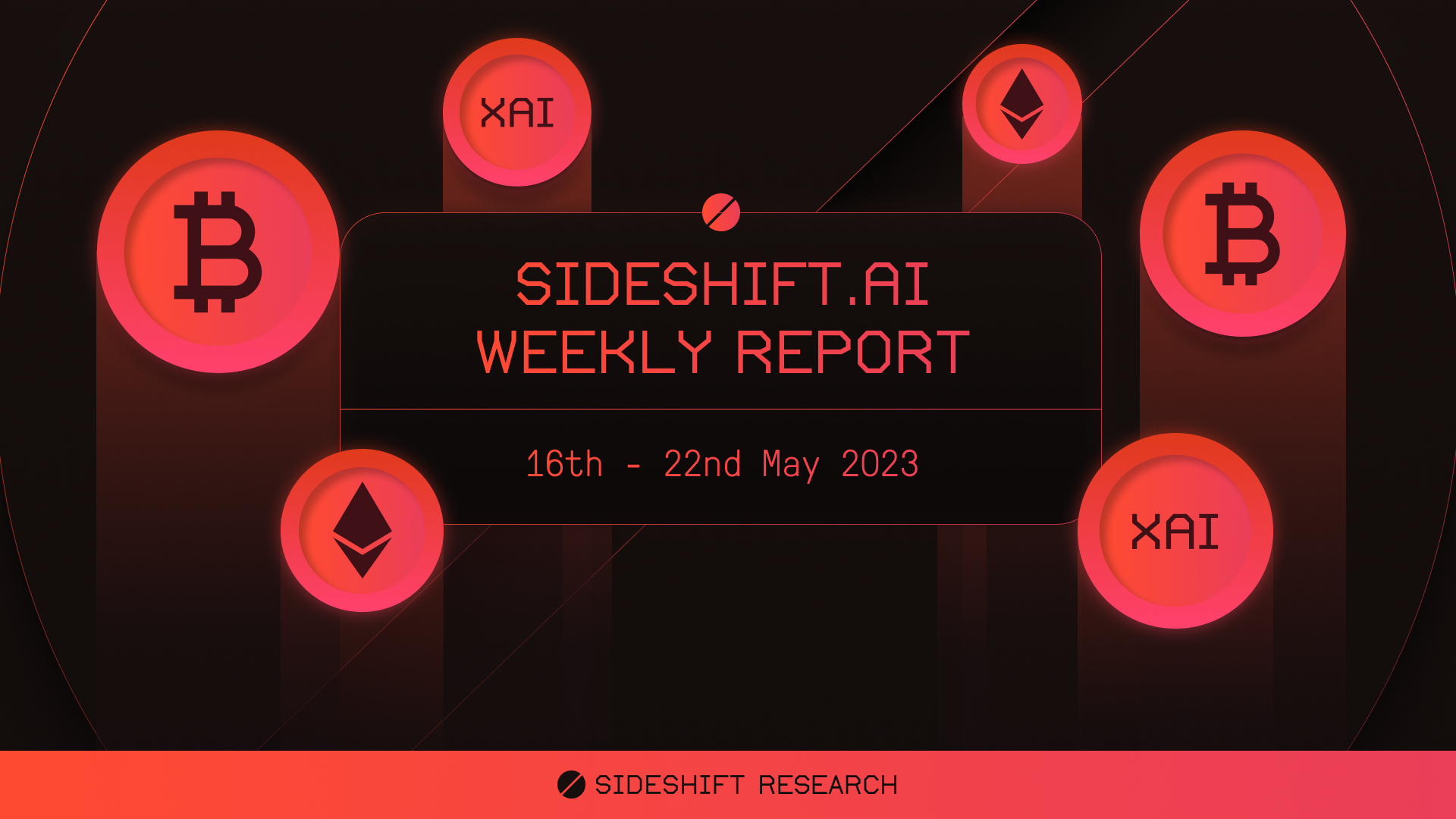 23 May, 2023
SideShift.ai Weekly Report | 16th - 22nd May 2023
Welcome to the fifty-fifth edition of the weekly stats report - your one-stop shop for all things SideShift.ai.

XAI Token Market Update

Throughout the week SideShift token (XAI) moved between the 7-day range of $0.1178 / $0.1279. At the time of writing, the price of XAI is sitting towards the lower end of that range with a price of $0.119, and has a current market cap of $15,283,574 (+5.4%) as denoted on our Dune Dashboard.

XAI stakers were rewarded with an average APY of 11.17% this week, with a daily rewards high of 47,561.58 XAI (an APY of 19.11%) being distributed to our staking vault on May 18th, 2023. This was following a daily volume of $1.8m. As a whole, this week XAI stakers received a total of ​​207,460.70 XAI, or $24,731.98 USD in staking rewards.

The price of 1 svXAI is now equal to 1.1916 XAI, representing a 19.16% accrual on stakers investments. A reminder that the easiest way to stake is to shift directly to svXAI from any coin of your choice.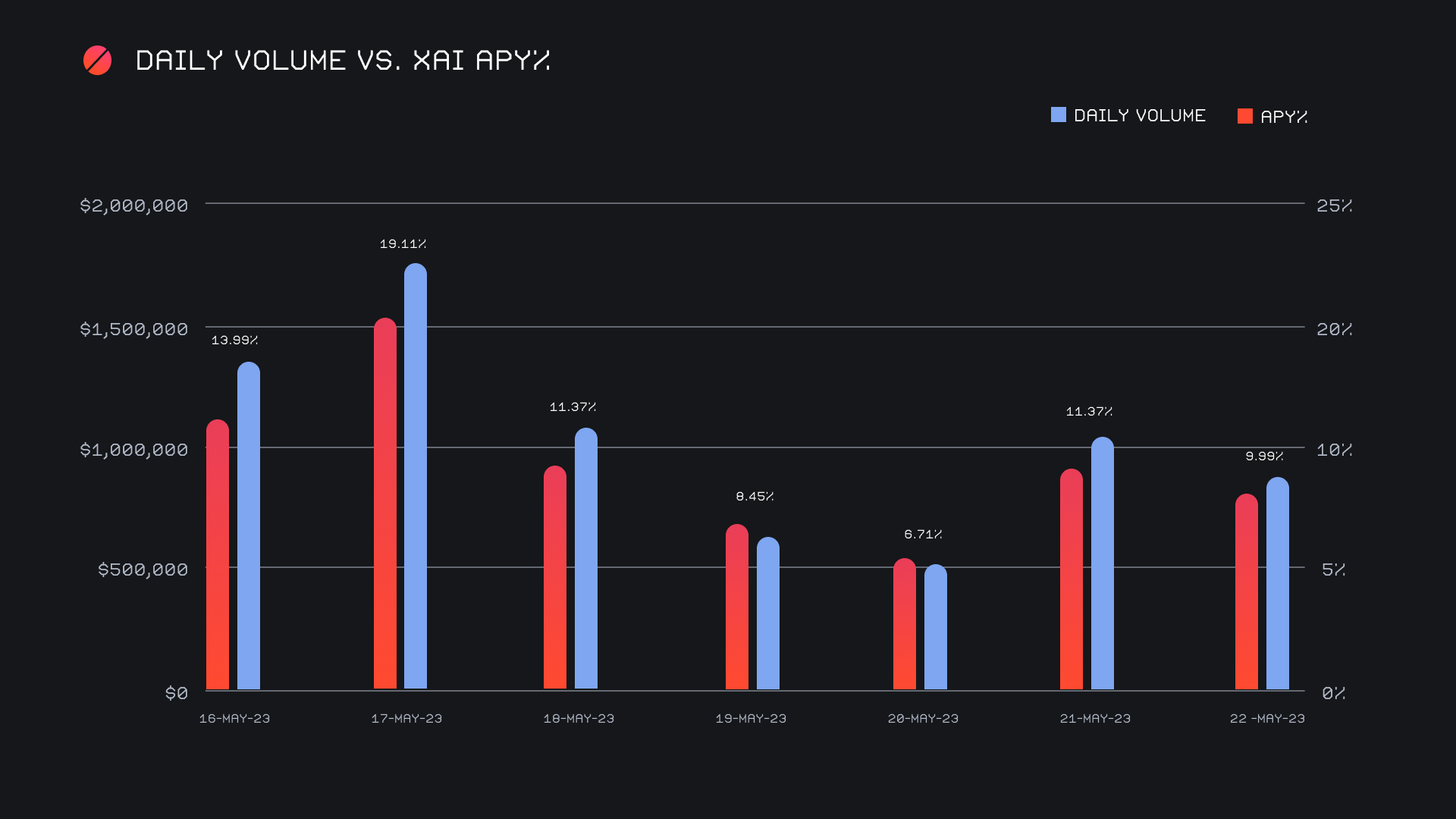 Additional XAI updates:

Total Value Staked: 99,509,376 XAI (+1.3%)
Total Value Locked: $12,206,815 (+3.5%)

General Business News:

As we are now approaching the end of May 2023 the general crypto market seems to be in a lull, with a lack of clarity of what it wants to do next.

Despite little price action throughout the broader market, SideShift finished the period with a gross volume of $7.3m (-25.5%) alongside a shift count of 6,583 (-5.1%). These figures combined to produce daily averages of $1.04m on 940 shifts, thereby maintaining the $1m per day benchmark which we have sustained thus far in 2023. When denoted in BTC, our weekly volume amounted to 268.94 BTC (-24.9%).

What goes up must come down as they say, and it seems that coins which surged last week experienced a sharp decline this week. Although retaining its spot as our most shifted coin, total BTC shift volume fell by a sizable 28% from last week for a net $3.5m (deposits + settlements).

The majority of BTC volume last week can be accredited to a rush of BTC deposits, most of which flowed into USDT (ERC-20). This week proved to be the same but with the BTC inflow slowing significantly, and therefore causing a drop in total BTC volume. Still, the BTC/USDT (ERC-20) pair finished as the week's most popular with $649k. 45% of the deposited BTC volume was shifted into USDT on Ethereum, while accounting for just 8% of the count. This once again indicates the generally larger size of these shifts, a trend which continues to unfold week after week. On the other hand, another common pair coming from BTC deposits sees the opposite of this. Also worth noting is the XMR/BTC pair, which finished second overall, and is not too far back from first place with $554k. XMR user deposit volume continues to remain strong, surpassing $1.1m for the third consecutive week. On the other hand, XMR settlement volume came in just below $500k, showing a large variance between receiving and sending of over $600k.

The other star of last week's report, USDT on Ethereum, experienced much of the same but to an even more significant extent. Total USDT (ERC-20) volume fell by 50.1% for a net $1.7m, marking the largest percentage drawdown for coins in our top 10. This was mainly accounted for by the settlements side, as USDT (ERC-20) user settlements fell from $1.6m to just $826k this week. That being said, the declines were largely seen across the board, and our top 4 settlement coins appear to have hit a monthly low as outlined in the chart below.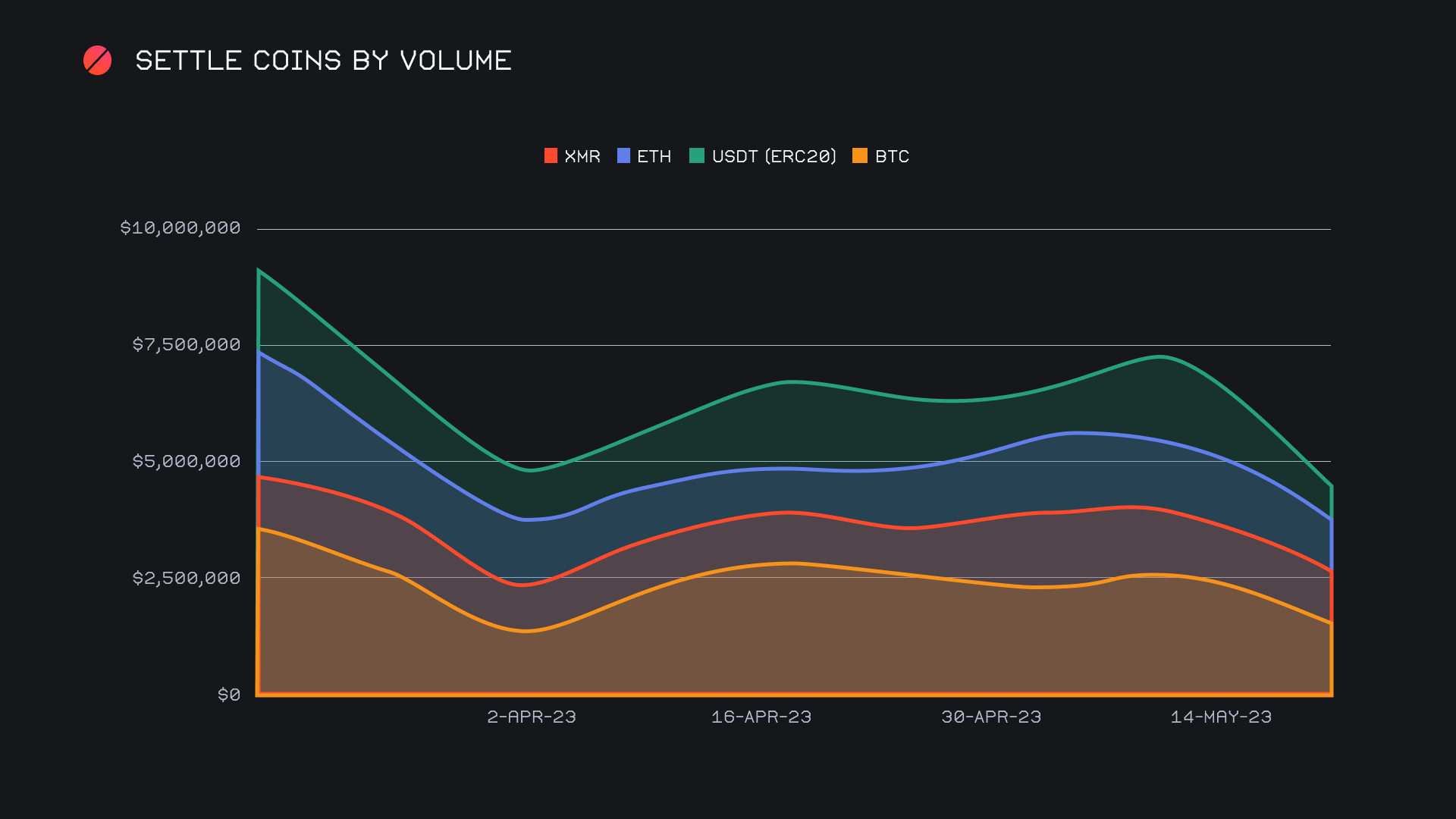 When looking at stablecoin shifting throughout the week, we can note an interesting observation. Five out of the week's top 8 coins by total volume happened to be stablecoins, two of which being the only coins in this top grouping to see week on week volume growth. These were USDT on Tron with $463k (+5%), and USDC on Arbitrum with $440k (+62.4%), which ranked as 7th and 8th for the week, respectively.  

Although these two coins proved to be exceptions, the rest fell victim to the overarching declining trend. Both the inflow and outflow of total stablecoin volume decreased this week, albeit, with stablecoin outflow decreasing to a larger extent. What this means is that there was less demand for stablecoins when compared to the previous week, but this demand still exceeded the supply. This was mostly due to two days of heavy USDT (ERC-20) settlements, as seen on May 16th and 17th. Because of this, we ended the week with a net outflow of -$404k, a decrease of approximately $408k from last week.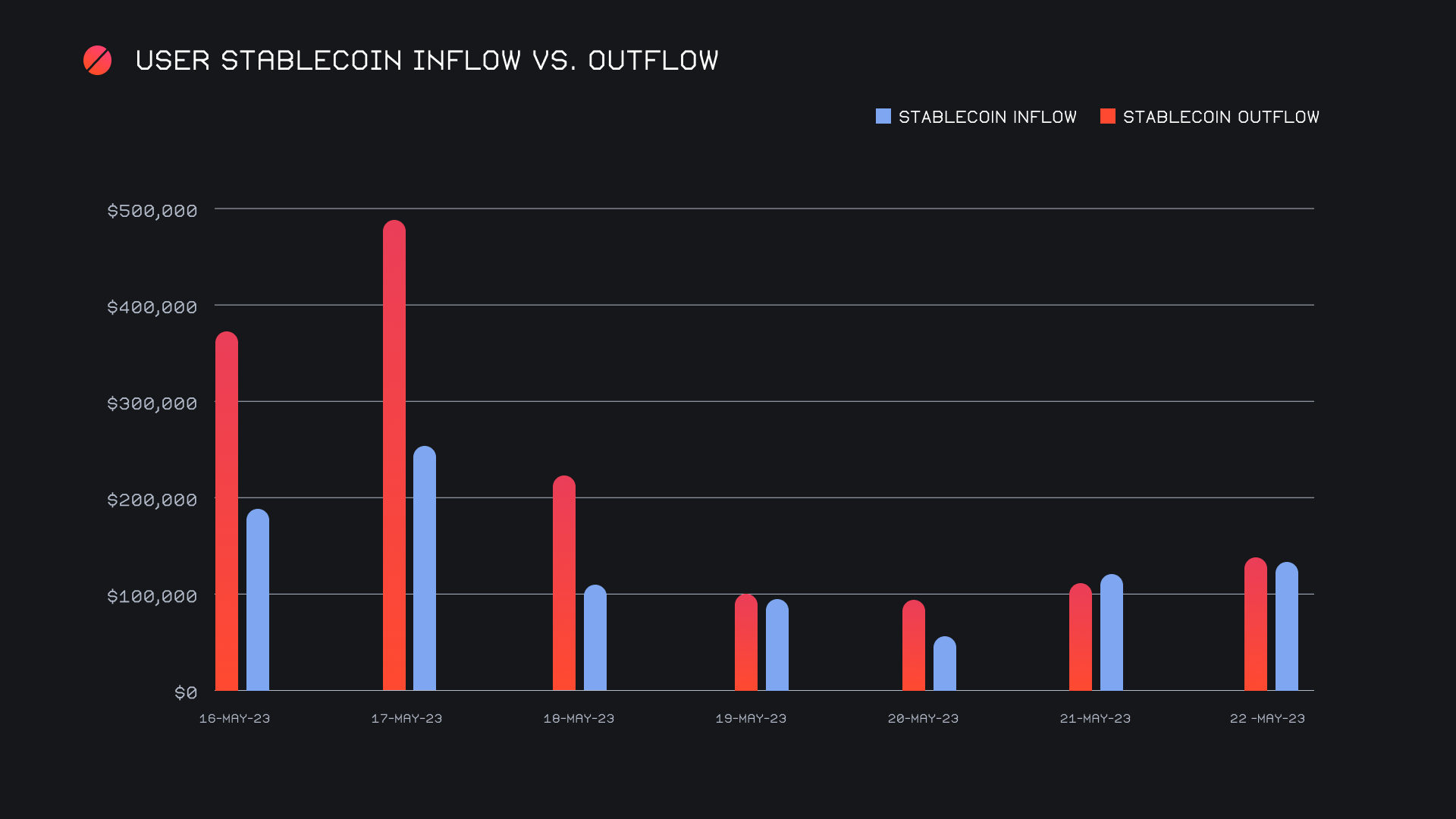 Alternate networks to Ethereum had a slower week, but when considering the overall decline in volume, their relative change wasn't so bad. As a whole, these networks combined for $2.1m, a decrease of just 2%. This is thanks to the strong performance of the Arbitrum network, which finished in first place with $622k (+20.4%). This was largely due to the USDC on Arbitrum shifting that took place. It was enough to surpass the Tron network, which finished with $541k (+14.8%) which also can credit the majority of its volume to a stablecoin (USDT on Tron). The BSC network finished in third with $445k (+2.8%), while Solana took a tumble and dropped 29% to finish with $333k. Ultimately, it is quite positive to see such volume consistently take place on these chains despite the quiet times.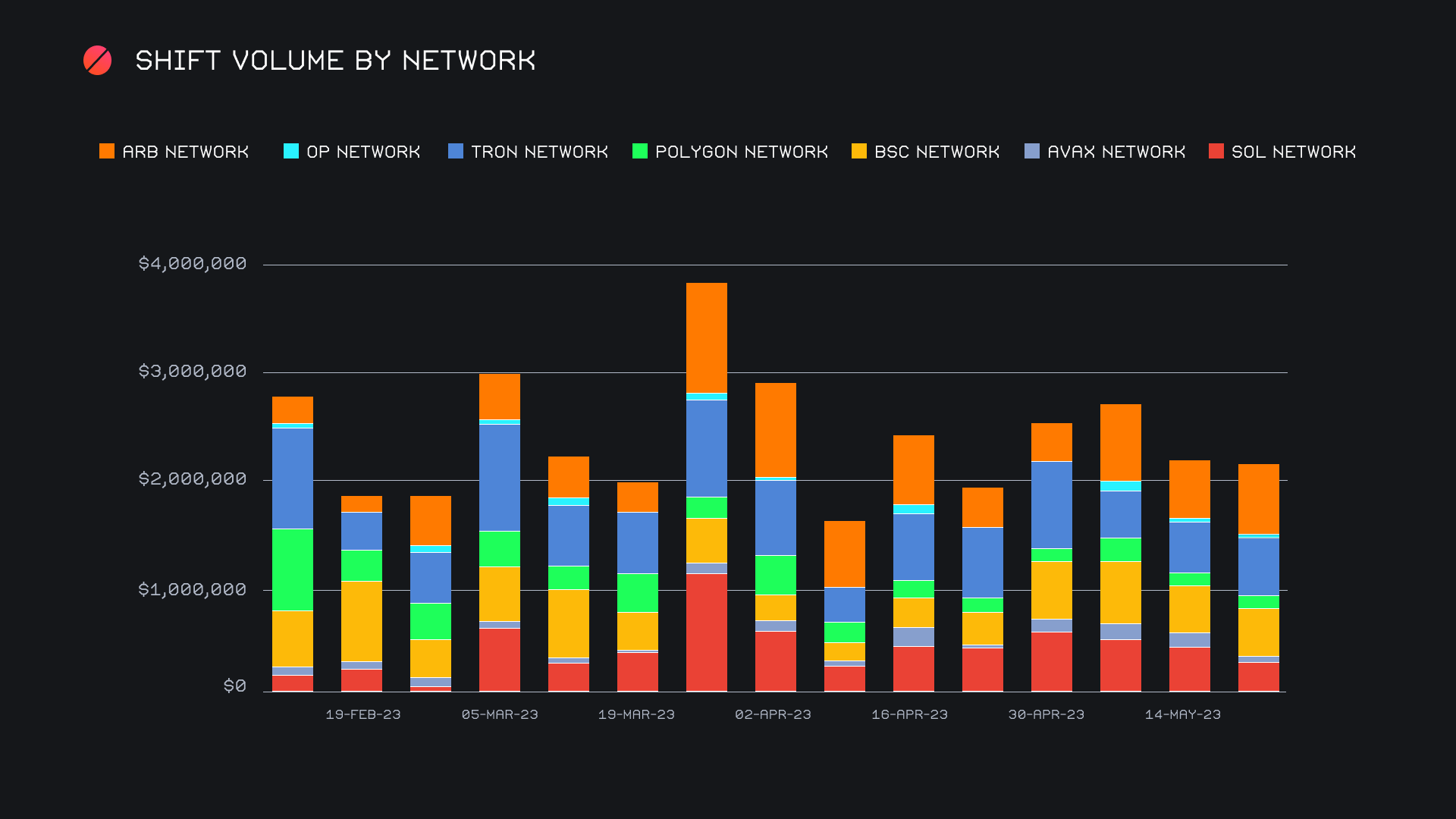 Affiliate News

Looking purely at the change in numbers, our top 10 affiliates had a slow showing, falling 22.1% for a net volume of $1.4m. Shift count did however remain quite steady, only decreasing by 1.1% for a total of 1,729 shifts. Our top ranked affiliate also struggled, this week representing just 6.9% of our total volume but 11% of shift count. This means proportionately they were seeing more shifts occur when compared to last week, but with smaller values.

However, when considering the overall decline in volume, our top affiliates held their own. Our top 10 affiliates represented 18.7% of our weekly volume, a minor increase of 0.8% from last week's proportion.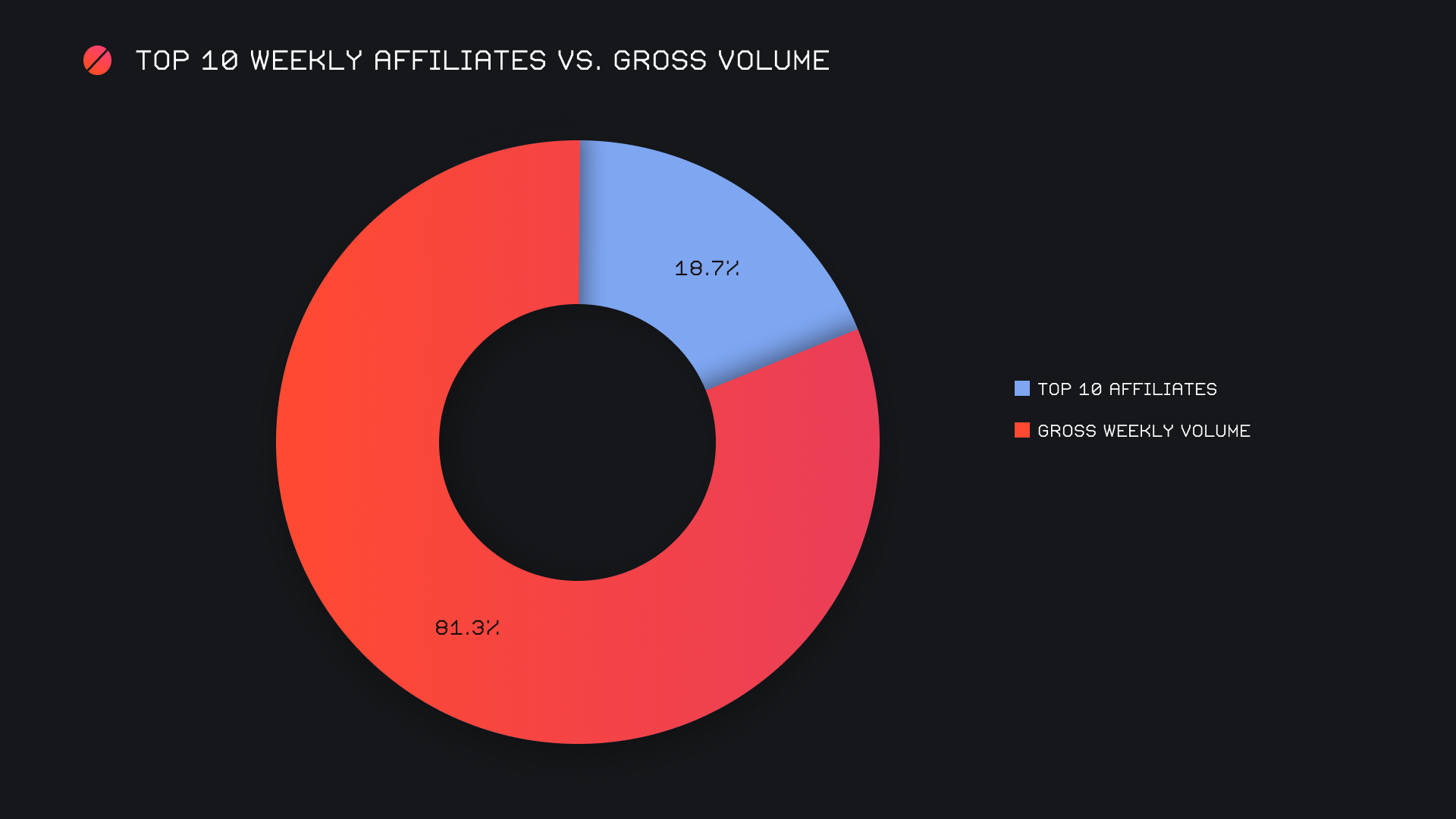 That's all for now. Thanks for reading, happy shifting and we'll see you next time.