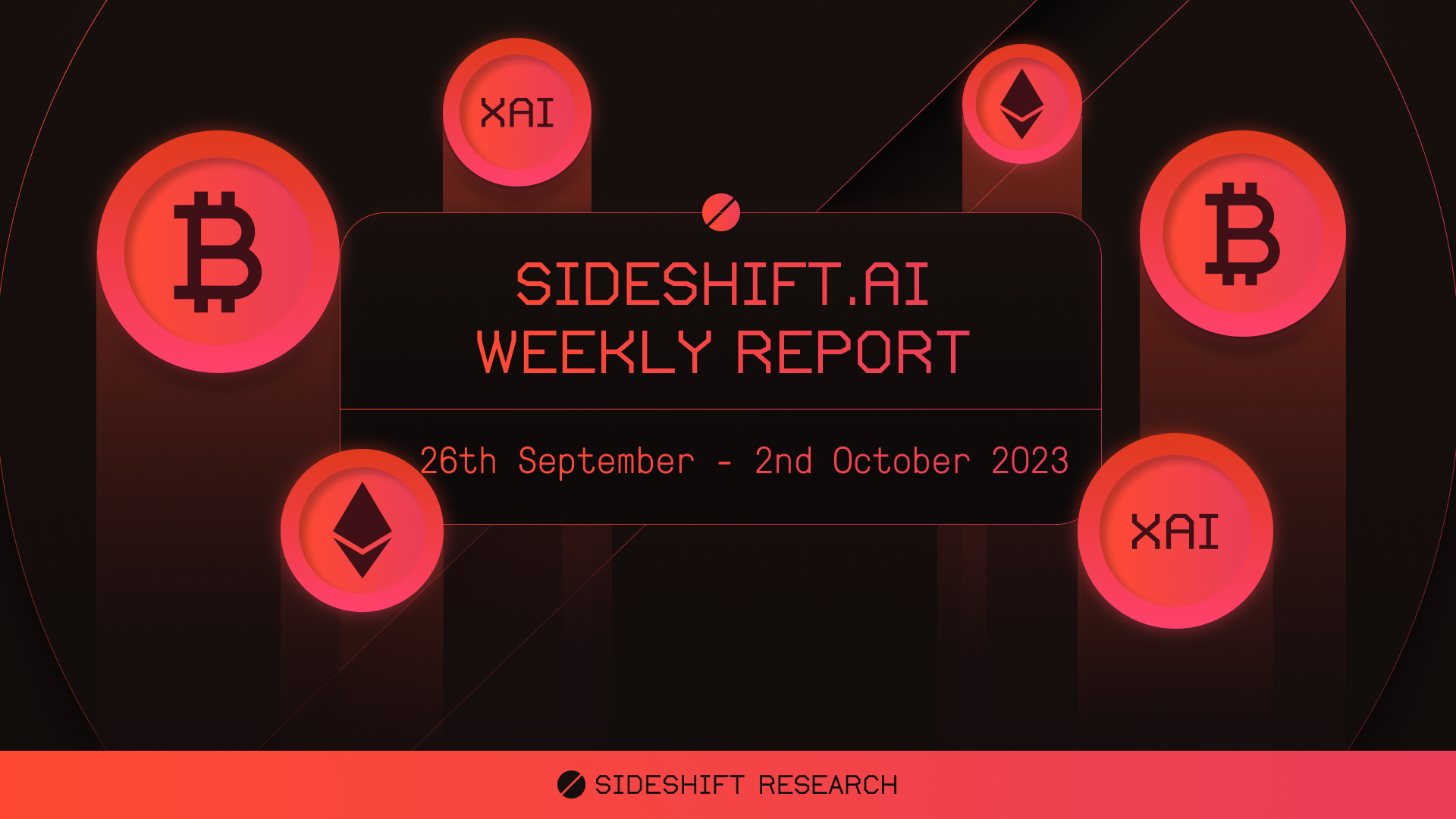 04 October, 2023
SideShift.ai Weekly Report | 26th September - 2nd October 2023
Welcome to the seventy-fourth edition of the weekly stats report - your one-stop shop for all things SideShift.ai.

This week saw SideShift token (XAI) make a gradual climb higher, regaining the $0.08 mark. It spent the week bouncing within the 7 day range of $0.0786 / $0.0840, and at the time of writing is sitting at a price of $0.0823 with a current market cap of $10,148,583 (+4.3%).

XAI stakers were rewarded with a healthy average APY of 11.47% this week with a daily rewards high of 42,302.4 XAI or $3,395.66 (an APY of 14.83%) being distributed to our staking vault on October 2nd, 2023. This was following a daily volume of ~$1.3m. This week XAI stakers received a total of  238,233.84 XAI or 18,749.00 USD in staking rewards.

SideShift's treasury is currently sitting at a value of $4.95m. Users are encouraged to follow along directly with live treasury updates.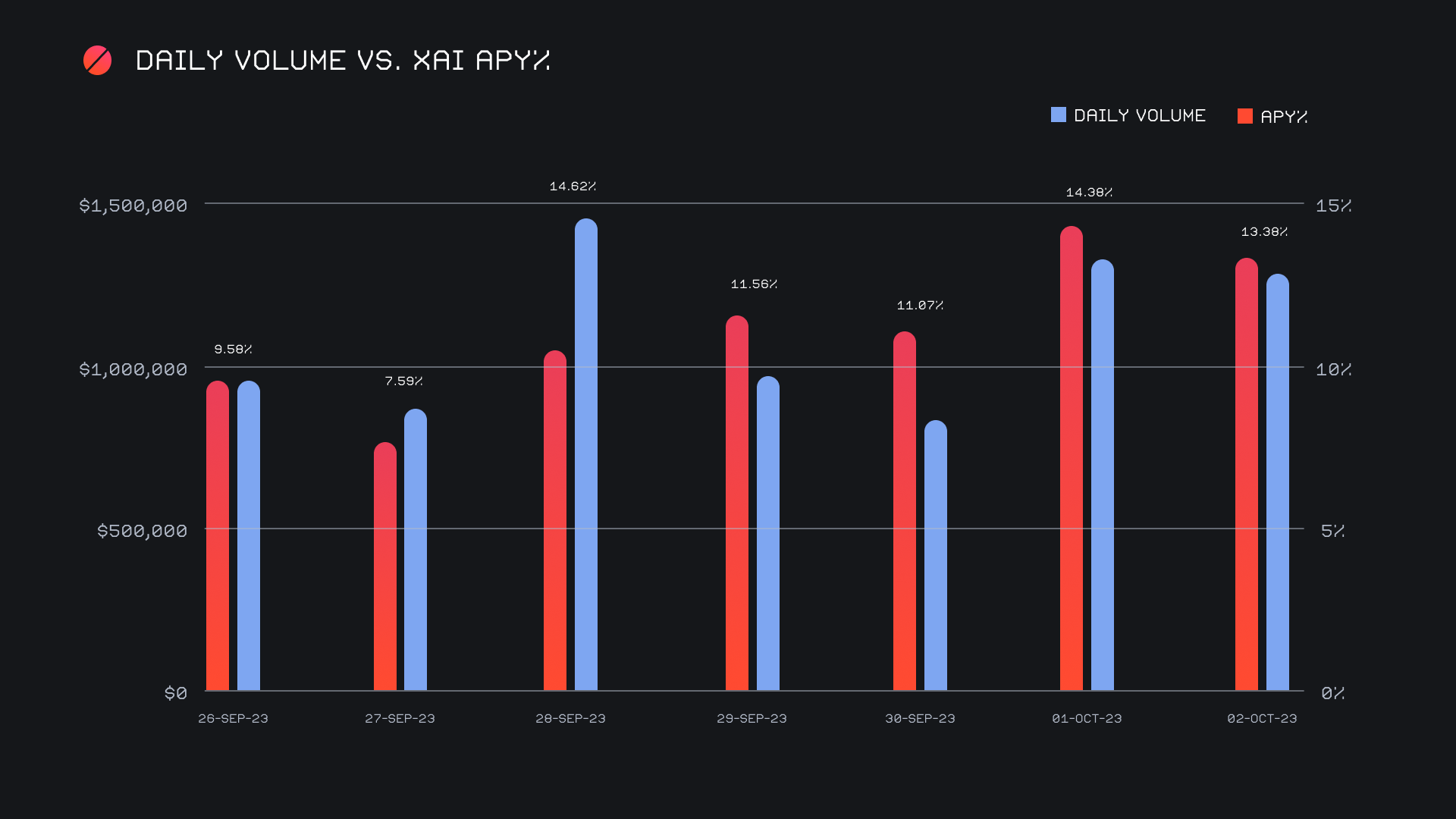 Additional XAI updates:

Total Value Staked: 111,767,686 XAI (+0.2%)
Total Value Locked: $8,806,176 (+0.2%)

General Business News:

BTC rounded off the week printing its most exciting candle seen in the past month, with price surging more than $1,000 on October 1st, 2023 to pierce the $28k mark. For now it seems that bulls were able to defend a key area. Other coins followed suit and enjoyed impressive gains, with SOL topping that list with a near +25% move this week. Crypto twitter is now brimming with bullish sentiment as many now seem confident the worst is firmly behind us.

After a quiet stretch, this buzz was welcomed by SideShift as we saw a 17.9% increase in gross volume to end the period with $7.3m. Gross shift count rose by a similar proportion, with a sum of 6,028 shifts representing a gain of 15.2%. Together, these figures combined to produce daily averages of $1.04m on 861 shifts. Increases were seen across the board, with every top integration noting a rise in gross volume, in addition to shifts being carried out directly on the site. This is further evidence that a change in volatility tends to result in more shifting - at the moment these periods tend to especially result in users moving between stablecoins and bluechip tokens. For now, the majority of low cap alts remain sitting on the sidelines. When denoted in BTC, our weekly volume amounted to 269.91 BTC (+16.5%).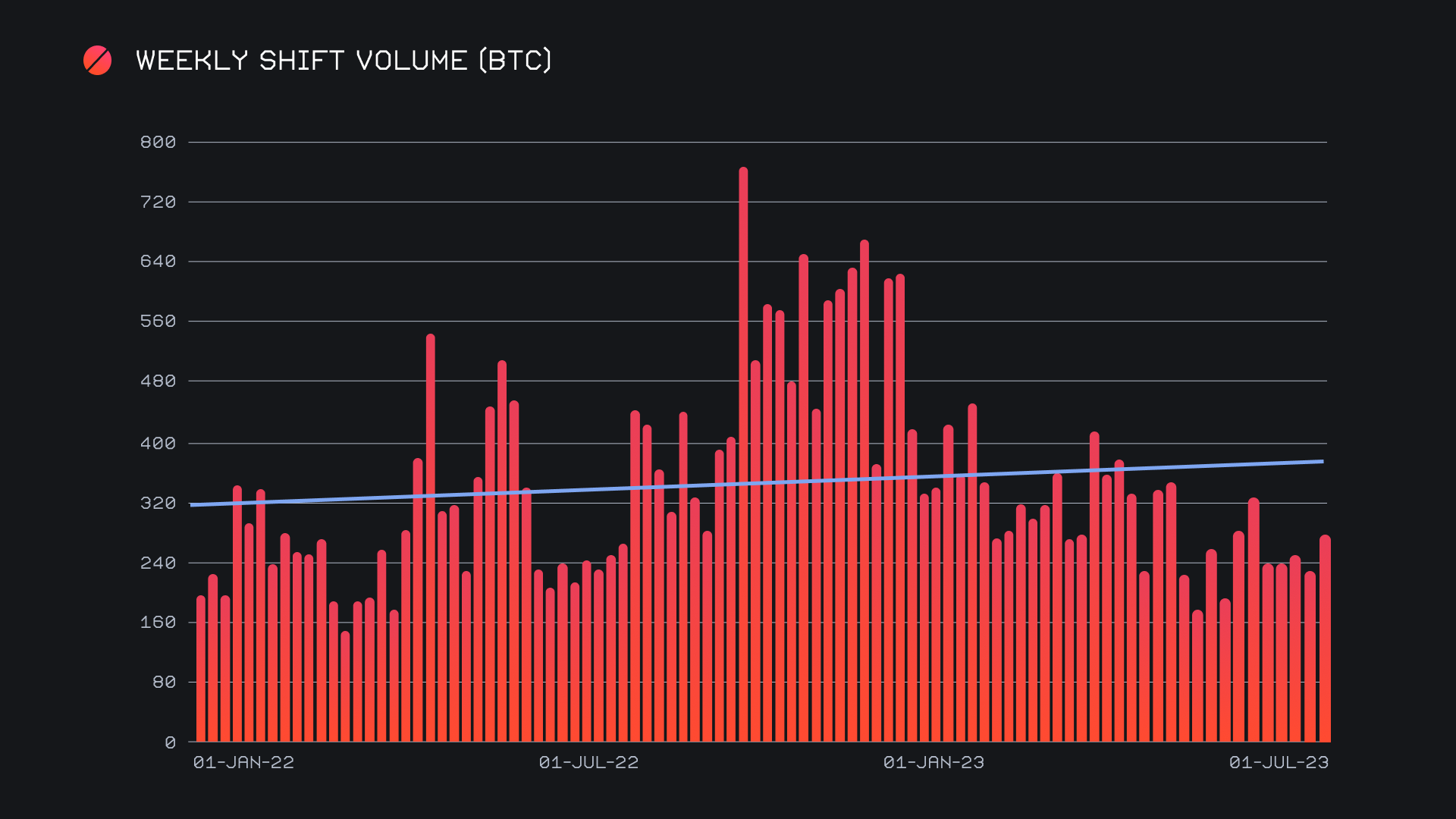 With the rise in BTC's price, one might have expected to see a swell in BTC demand on SideShift. Interestingly, the opposite occurred, indicating that users were buying heavily in the previous week, while shifting to USDT (ERC-20) in the current. From this perspective, it could appear that they are predicting a local top. As our top coin, user BTC deposit volume soared, increasing 96% to end the week with $1.9m. Meanwhile, USDT (ERC-20) settlements more than doubled, with a substantial 114.4% rise producing a gross settle volume of $1.5m. Unsurprisingly, the BTC / USDT (ERC-20) pair reclaimed its spot as our most popular, this week doing so with a gross volume of $824k.

The strong deposit volume of BTC allowed it to remain atop the list with $3.9m when measuring total volume (deposits + settlements), albeit just a +2.5% increase from last week, which saw the volume deriving from the settlement side. USDT (ERC-20) was not far behind with a total volume of $3.0m (+113%), followed by ETH with $2.8m (+11.6%). We were hit with another wave of sizable BTC/BCH, allowing BCH to record the highest change in any top coin with +187.3%. It finished in fourth place this week with a total volume of $922k, the BTC/BCH pair accounting for $395k of that.

A final noteworthy observation among our top coins was the performance of SOL. No doubt due to its strong price action, we recorded a spike of 102.3% in SOL shifting, resulting in a total volume of $581k. The majority of this volume derived from the ETH/SOL pair. In fact, every coin ranked 1-9 enjoyed a positive week on week volume gain, all of which except for BTC enjoying a double digit increase. It is not until we get to 10th placed DOT where we note a decrease, as it dropped 61.2% for $299k following an unusual rush of shift action last week. Cumulatively, this particular group of top 5 coins has now reached a 2 month total volume high with a sum of $11.2m, as outlined in the chart below.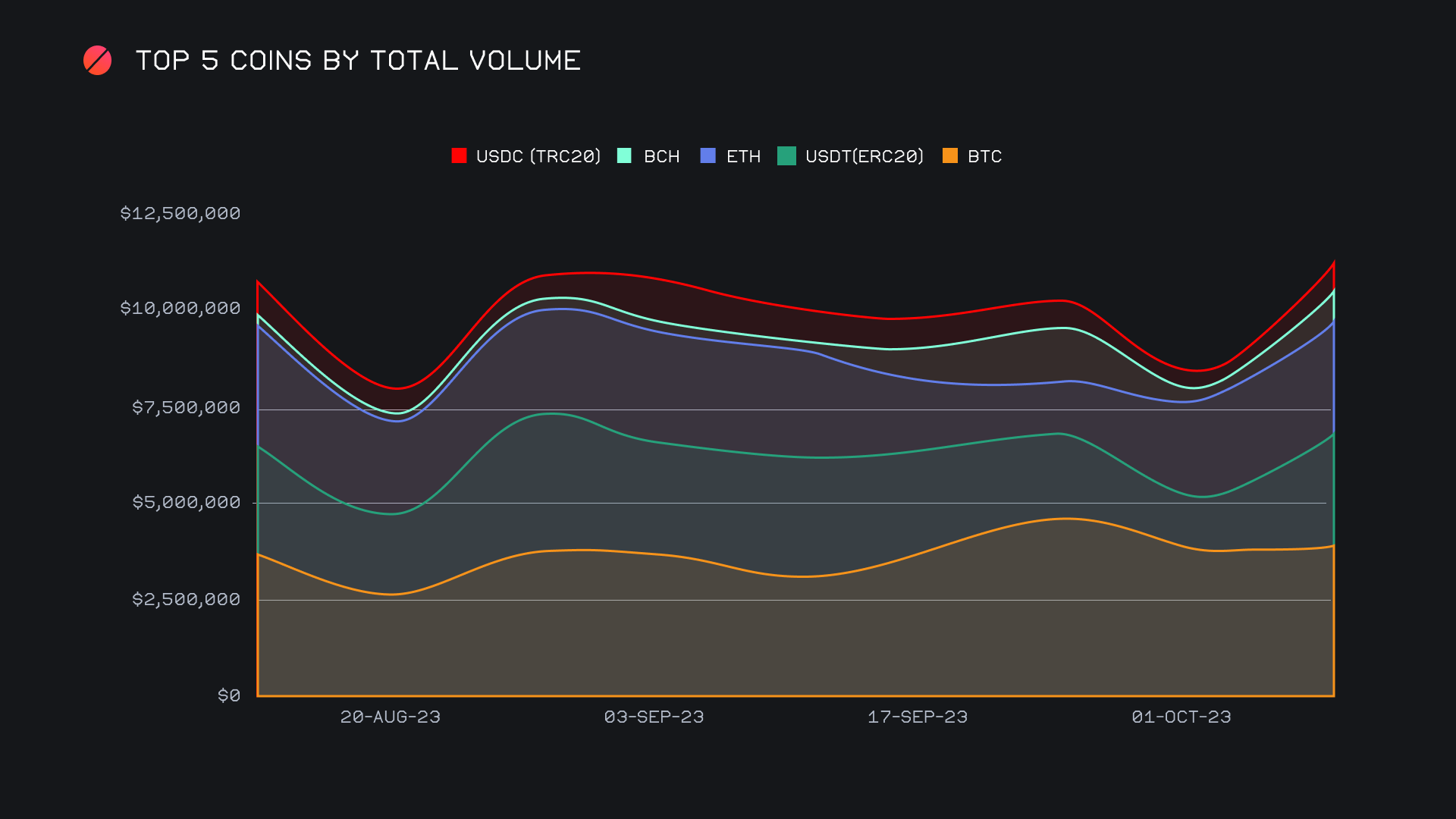 For the first time since the end of June 2023, the Tron network has been replaced as the most active alternate network on SideShift. Throughout that timespan it has confidently remained at the top, with most weeks not even being close. However, this week saw a changing of the tide, with the Binance Smart Chain (BSC) network leapfrogging into first place. Led by a steady inflow of USDT (BSC) deposits, the BSC network ended the period with a combined sum of $755k (+29.8%). The SOL network also managed to surpass the Tron network this week, further speaking to its relative strength. With a combined $711k (+96%) it managed to secure second spot, as the Tron network sat ~$13k lower with a total of $698k (-11.5%). Shift totals on other networks ended substantially lower, with the next closest being the ARB network with $144k (-29.3%). Collectively, alternate networks to ETH summed for $2.5m in total volume, with ~17% of weekly shifts containing a coin on one of these networks.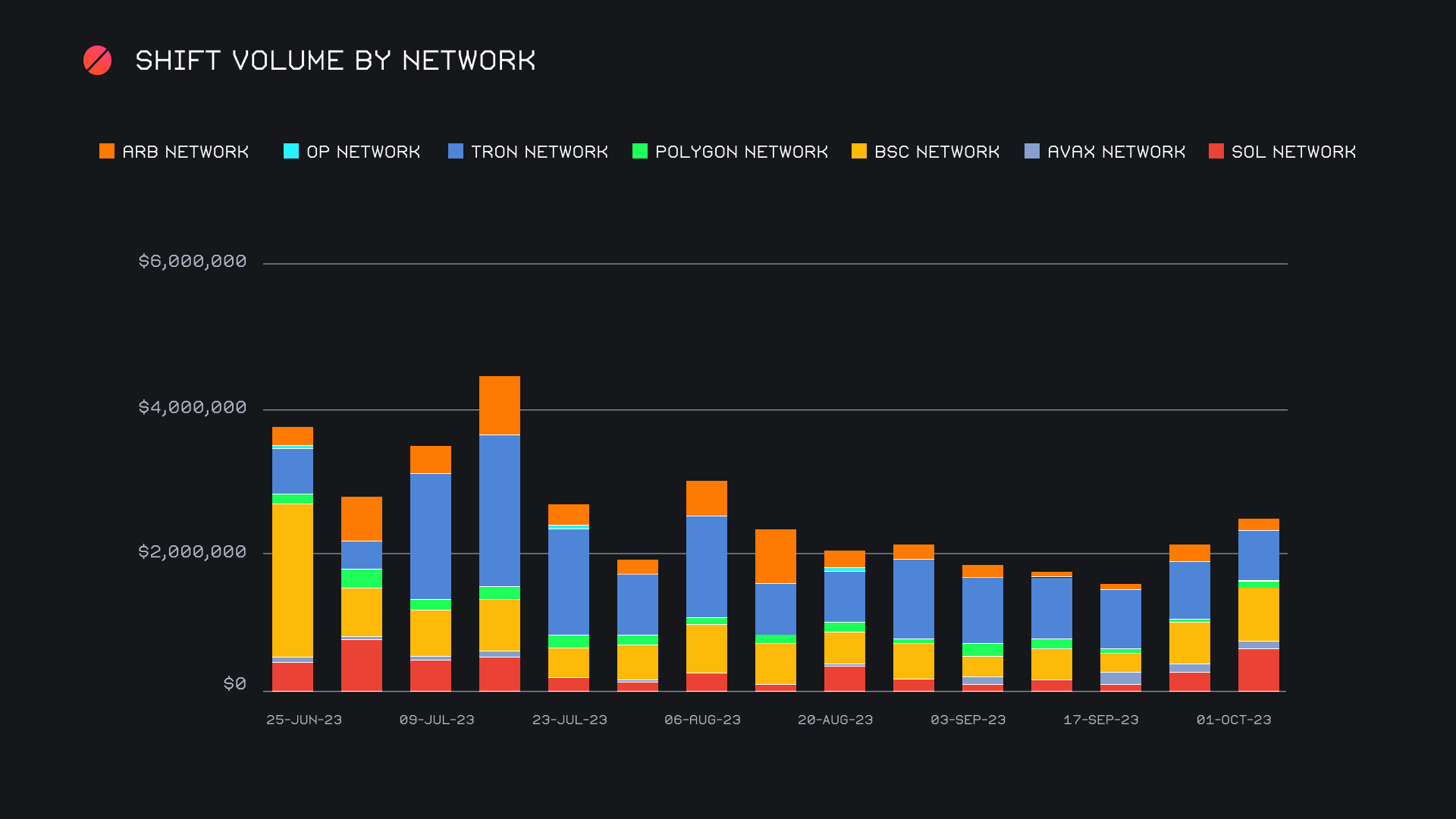 A quick look at stablecoin flows will show a sharp rise in stablecoin settlements, as it looks to have pulled away from deposits. Led by the aforementioned USDT (ERC-20), user stablecoin settlements exceeded $2m, while combined deposits ended just over $1.1m. This produced a net stablecoin outflow of -$914k, a considerable increase of $636k from the previous week's measurement and marks the return to stablecoin outflow levels seen throughout the summer months.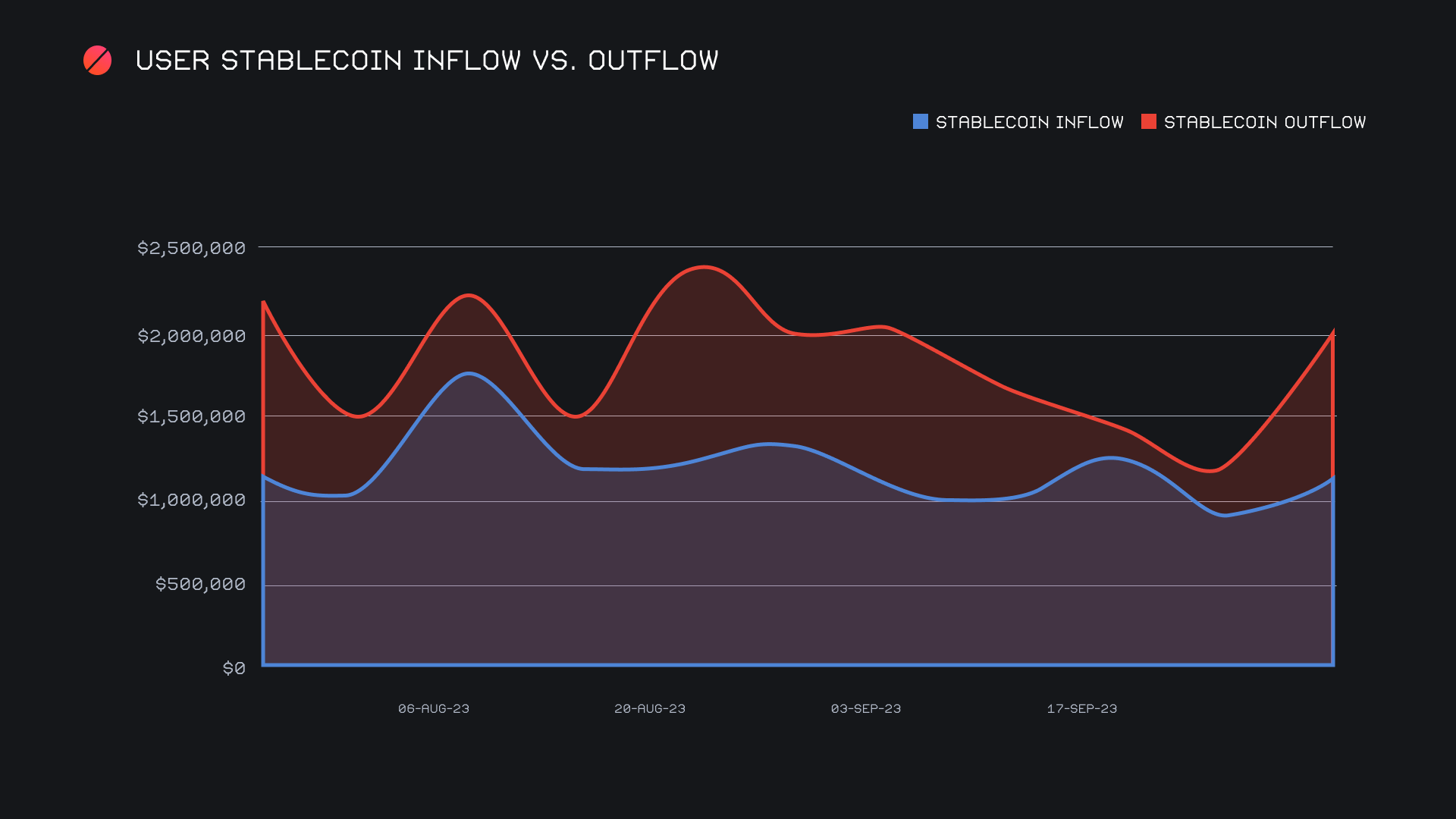 Affiliate News

Our top affiliates were also positively affected by the pumping market, with each top affiliate recording a weekly volume gain. As a whole they netted $2.1m (+36.8%) alongside a shift count tally of 2,538 (+16.8%). This represented approximately 29% of the weekly total.

With an impressive 1,530 shifts (25% of the total), our top affiliate bounced back hard and climbed 75% for a gross $1.2m. However, despite having a lower volume it was our week's second placed affiliate which saw the most notable change. It rocketed +104.9% for a gross $422k.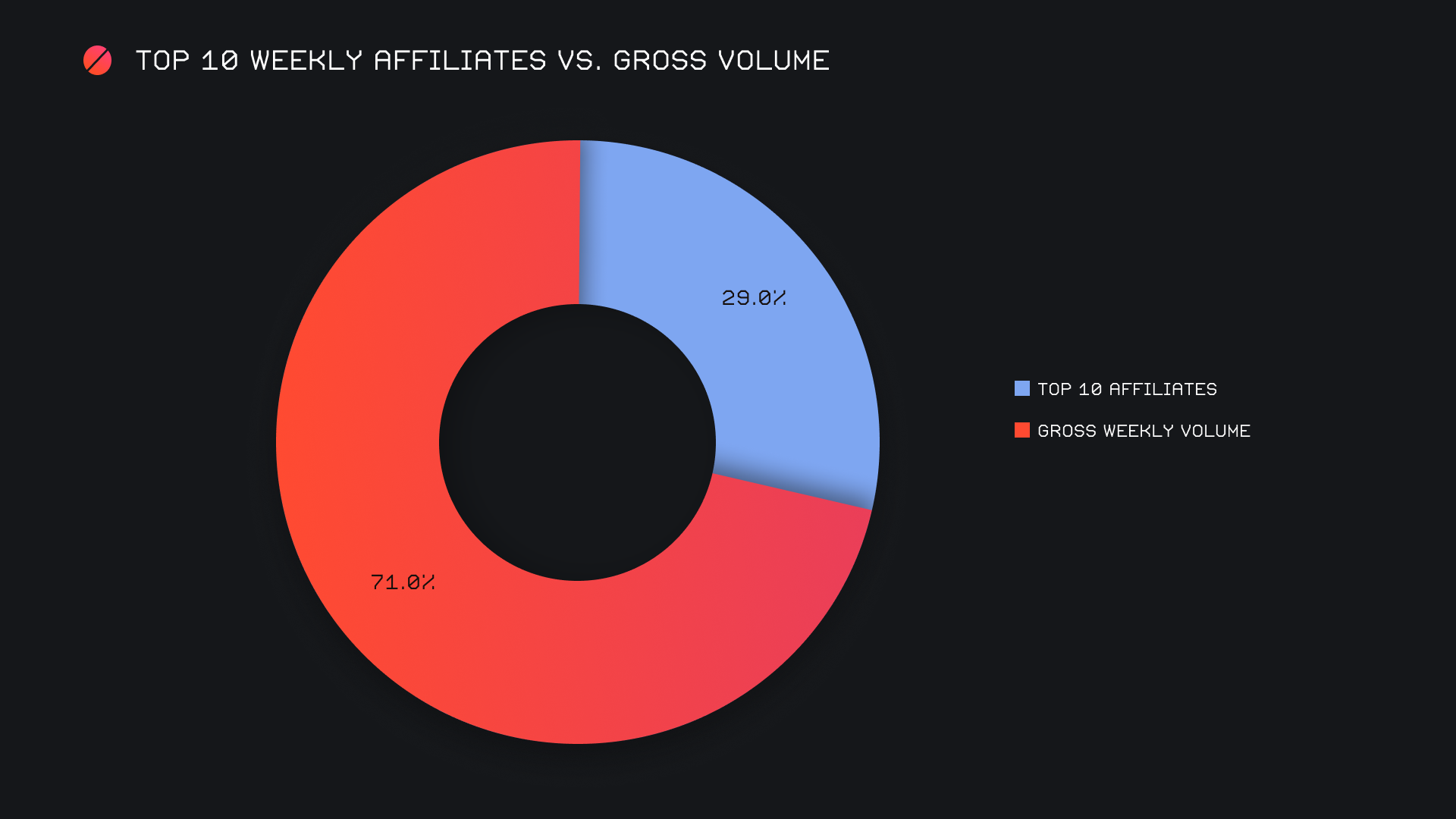 That's all for now. Thanks for reading, happy shifting and we'll see you next time.