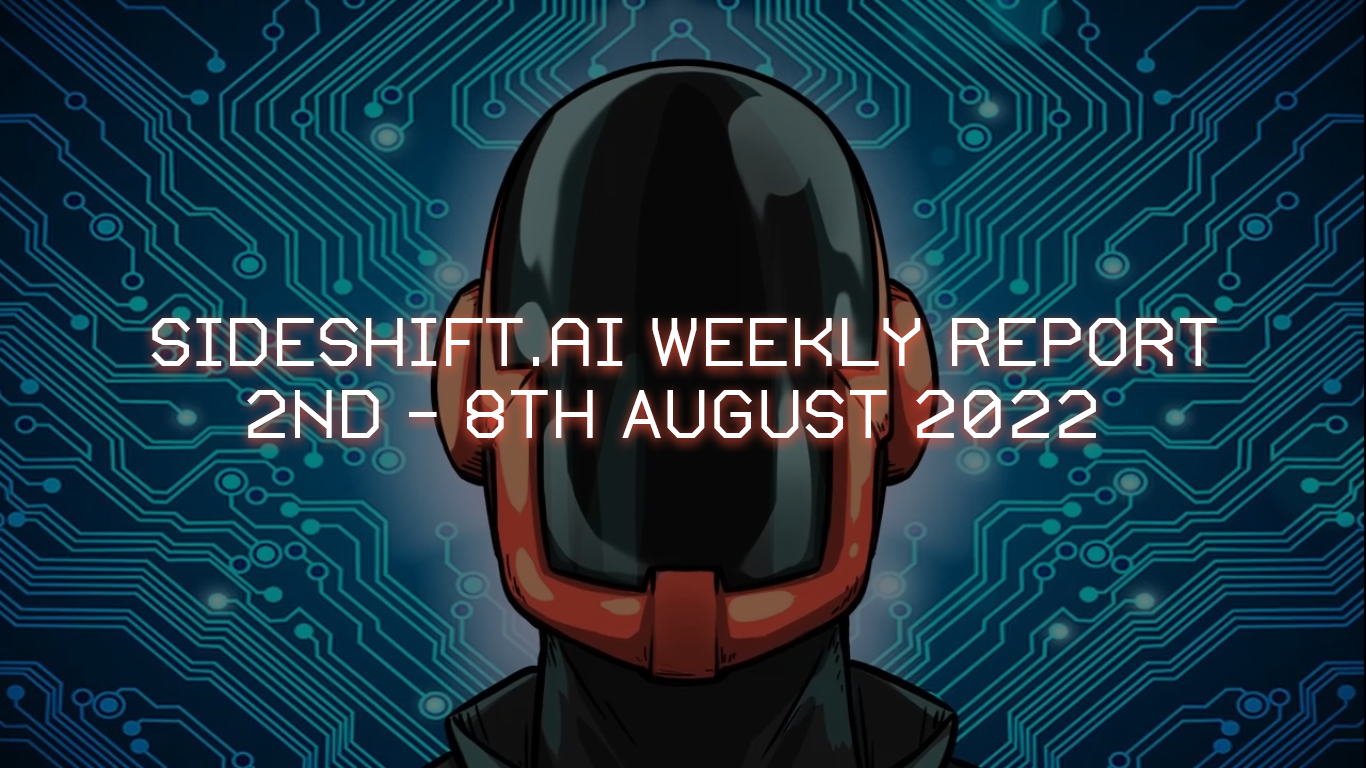 09 August, 2022
SideShift.ai Weekly Report | 2nd - 8th August 2022
Welcome to the fourteenth edition of the weekly stats report - your one-stop shop for all things SideShift.ai.

XAI Token Market Update

Throughout the week SideShift token (XAI) ranged between $0.121930 / $0.156823. At the time of writing the price of XAI is sitting at the lower end of that range, at $0.123896. A current market cap of $11,406,525 places XAI back within the top 900, at position #885.

The reason for the jump in ranking despite the price drop is due to the unlocked Founder Allocation being added to the circulating supply. We would like to note that the founder of SideShift is aware of the market implications should he sell significant amounts of his XAI. Long term growth of SideShift.ai as a service and value growth of XAI remains the founder's objective. The recent price dip noted on August 8th was the result of a single user selling ~480k XAI (~$60k) to BTC.

SideShift is happy to announce that we now have a Dune dashboard. This blockchain ecosystem analytics site provides users with a statistical and transparent breakdown of XAI, svXAI, wallet distribution, and more. Everyone is encouraged to check it out, and click the star at the top right hand side of the page to follow along.

We're also happy to share that we submitted proposals for the listing of XAI and the SideShift Staking Vault on DeBank. Both proposals were quickly approved thanks to your support. Your XAI on-chain balance and SideShift Staking balance are now visible on DeBank.

For our stakers - SideShift averaged an APY of 21.36% this week, with a daily rewards high of 29,813.01 XAI (35.06%) being deposited to our staking vault on August 9th.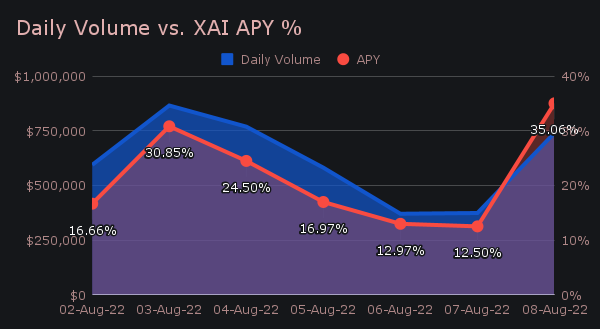 Additional XAI updates:

Total Value Staked: 36,245,331 XAI
Total Value Locked: $4,458,946

General Business News:

This week SideShift experienced ~$4.3m in weekly volume, with daily averages of $614k on 802 shifts. An approximate 11.6% dip in volume was seen in combination with ~3.3% less shifts overall, when compared to last week. However, upon zooming out our volume has remained largely consistent with what has been observed over the course of the past month.

As of late, the primary focus has been on our top 3 coins. Although BTC (-23%), ETH (-21%) and XMR (-2%) remained our most popular coins by total volume (deposits + settlements), they all encountered less overall volume. BTC did however remain our most popular coin, with $963k in deposits and $1.11m in settlements. Now, for the first time now in 5 weeks, networks other than Ethereum have seen an increase in overall volume.

The main catalyst behind this trend was an influx of Solana and USDC on the Solana network - an upwards trend which began last week. Coinciding with the recent Solana Network hack, SideShift saw $381k (+52%) in overall Solana volume, and $254k (+165%) in USDC on Solana. This overall volume netted by Solana is the highest seen in the previous 2 months. The vast majority of this came from the user deposits, and was from a few select users who were likely spooked by the hack and chose to move away from Solana.

Solana was not the only network that saw notable growth this week. BNB totalled $281k (+117%) in overall volume, as it finished 7th among popular coins when measuring overall volume. Along with this, Binance Smart Chain (BSC) represented the highest percentage of shift count among smart contract networks other than ETH (Solana, Binance Smart Chain, Avalanche, Polygon) with 41%. For 7 consecutive weeks it has ranked first among these networks in shift count, but is second to Solana in terms of volume. This tells us that the frequency of shifts on BSC is quite high, but that the general shift size does not necessarily correspond.

Going hand in hand with this increase in alternative network volume were decreases in our top 3 coins concentration. As a whole, the top 3 deposits coins were down 7.9% this week and made up 55.1% of total deposits. Settlements saw a ~1.2% drop and represented 56.8% of the total.

XMR/BTC was this week's top pair with $485k in total shift volume, which accounted for 11.3% of weekly shift volume. As our third most popular deposit coin, 64% of the deposited XMR volume settled to BTC.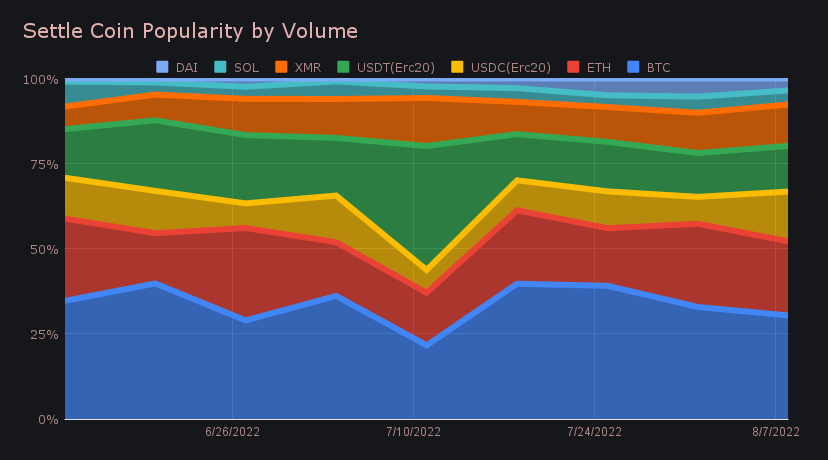 In general news, SideShift had a very busy week as many situations unfolded in the overall crypto market. On August 3rd, a massive DDoS attack was deployed against SideShift which resulted in some temporary downtime for the site. Site traffic increased by 5,000x until we enabled Cloudflare DDoS mitigation. This was resolved within hours and the site was back functioning as normal.

A handful of coins also had issues throughout the week, particularly on the Ethereum network. Sudden changes in gas fees resulted in a backup of payments. We monitored the situation and our engineers deployed a fix to resolve this issue from happening again in the future.

A bug in our Cosmos (ATOM) code resulted in certain deposits going undetected, as well as an instance of an inaccurate payment. Cosmos was briefly disabled as a shift method while our team looked into the underlying issue, and was re-enabled after a couple of days.

Tezos (XTZ) has been somewhat inconsistent due to instability - it was subsequently disabled and re-enabled several times throughout the week. Substantial performance improvements and stability upgrades have been implemented and our processor eventually caught up a few days after being disabled.

After nearly 3 weeks of downtime, Magic Internet Money (MIM) was re-enabled after finding an accurate price source.

Although we saw increased volume on the Solana network, it also had a series of issues. As the network became very congested, deposits were delayed for some users. As a result of instability, SOL was temporarily disabled as a shift method on August 3rd. It was re-enabled very shortly after.

Bear markets are for building, and we are still looking to expand our team. For those interested, be sure to check out current job openings and apply by following the provided links.

Integration News

SideShift integrations ended the week accounting for 27.8% of total shift volume and 33.3% of the total count.

Trezor finished first with a total of $529k in shift volume (12.3% of overall volume). Bitcoin.com placed second with $467k (10.9%), as the momentum from the previous week began to slow. However, shift count from Bitcoin.com remained steady and represented 16.9% of the overall shift count, nearly 5x higher than Trezor.

Cake wallet finished third for the second week in a row, with just 34 total shifts (compared to 137 the previous week). It netted $45k (1.1%), and just outlasted Edge Wallet who was next in line with $44.5k for the week.

Shift count for Zat.gg has been increasing throughout the past month, and this week finished third among integrations. Volume remains consistent ($35k), but perhaps will increase if the trend in shift count continues.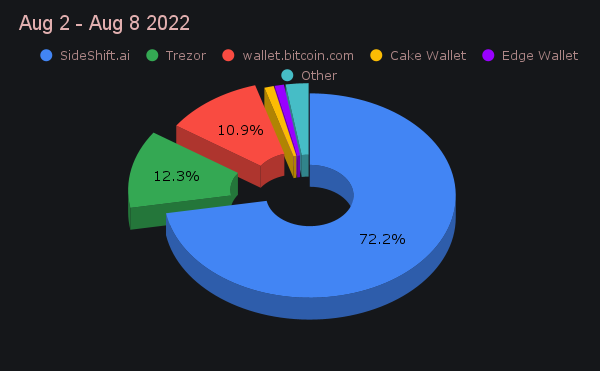 That's all for now. Thanks for reading, happy shifting and we'll see you next time.