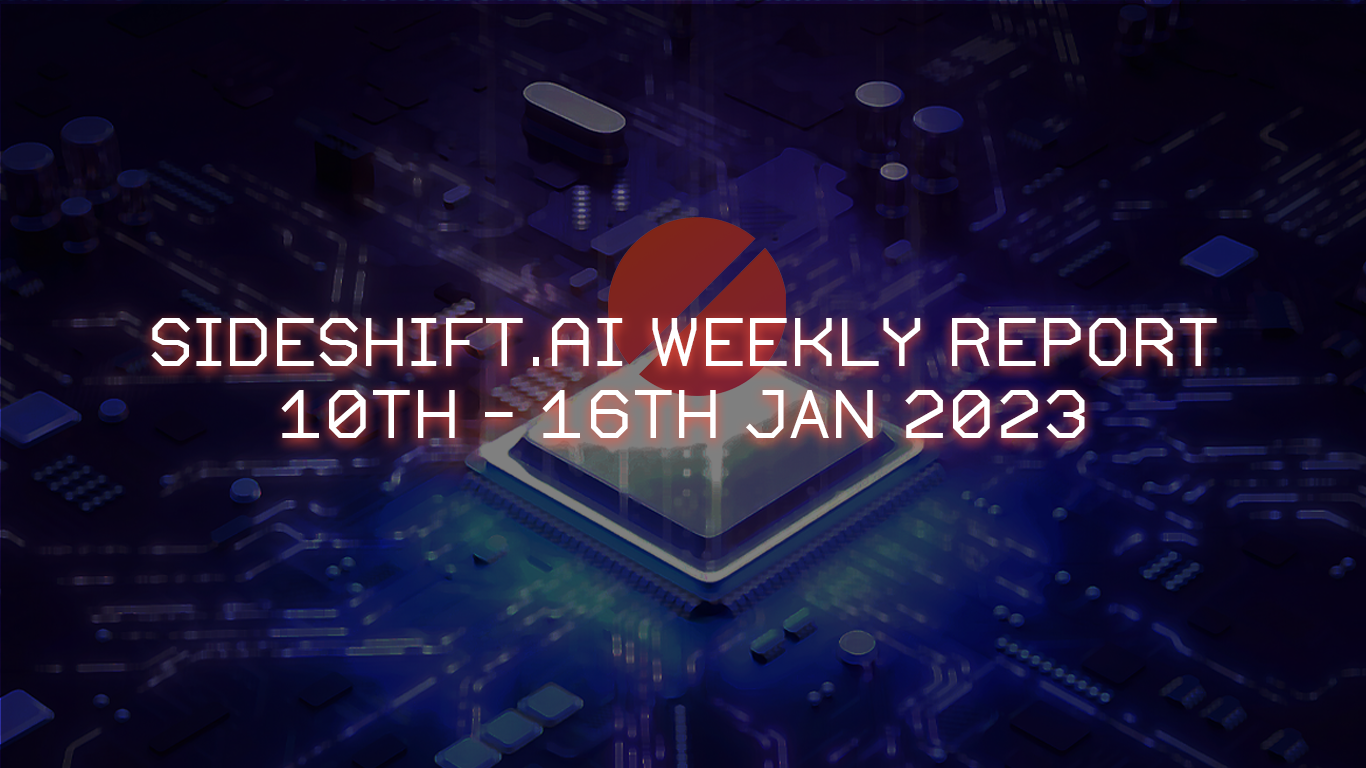 17 January, 2023
SideShift.ai Weekly Report | 10th - 16th January 2023
Welcome to the thirty-seventh edition of the weekly stats report - your one-stop shop for all things SideShift.ai.

XAI Token Market Update

SideShift Token (XAI) continues to remain extremely stable, this week moving within the 7-day range of $0.1123 / $0.1195. Now for the fourth week in a row, it has not moved outside of the $0.11 - $0.12 mark, despite pushing the upper bounds of that range this week. At the time of writing the price of XAI is sitting at $0.1147, and a current circulating supply market cap of $13,507,858 marks a slight increase of 0.5% from last week.

This week XAI stakers were rewarded with a healthy average APY of 25.72%. On January 17th, 2023, a daily rewards high of 80,993.72 XAI was deposited to our staking vault, following a strong daily volume of $3.54m.

SideShift's treasury continues to grow, this week breaching the $2m milestone. A cumulative sum of 150 ETH was added throughout the week, raising the current total to $2.31m. You can follow along with live treasury updates directly, here on zapper.fi.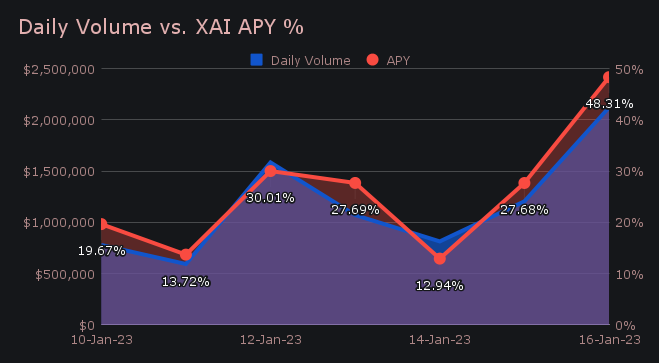 Additional XAI updates:

Total Value Staked: 79,321,438 XAI
Total Value Locked: $9,223,497

General Business News:

This week marked a significant changing of the tide, as the general markets took off and left behind the stagnant crabwalk which established itself in recent months. BTC finally reclaimed the $20k mark, ETH ripped over 20%, and various other shitcoins roared back to life. For a deeper dive into current events unfolding within the crypto world, be sure to check out and subscribe to our weekly newsletter at shitcoin.com.

SideShift noticed the positive effect of Bitcoin's 12 day continual climb, as we had increases in both volume and shift count.

We finished the period with a net volume of $8.17m, representing an increase of 23.6% from the previous week. This was alongside a shift count of 7,146, which marked a rise of 14.9%. These combined to produce daily averages $1.17m on 1,021 shifts, thereby reclaiming the mark of 1,000 shifts per day. When denoted in BTC, this week's volume totalled to 412.46, an increase of 5.7% from the previous report.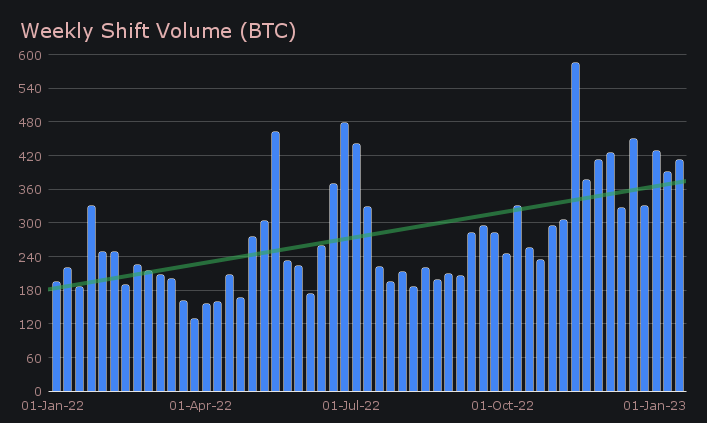 The percentage of volume derived from our top coins this week was notable, particularly our top pair of BTC/BCH. It netted $1.97m, which represented 24.1% of the weekly total - quite a significant amount for just one pair. A majority 56% of the deposited BTC volume settled to BCH this week, with a further 21% settling to USDT (ERC-20).

The high popularity of these coin pairs aided in BTC comfortably seizing first place among deposit coins. As compared to the previous week, BTC deposits saw a sizable increase of 87%, finishing the period with $3.53m. In second place was XMR, which grew 12.5% and netted $1.17m. Rounding off the top 3 was ETH, which continued the growth trend, increasing by 17.5% to total $777k.

An interesting observation has been the ongoing solid performance of ZEC, which this week finished with a deposit sum of $510k. This marks the third time in the past five weeks where ZEC's weekly volume has exceeded $450k. Outlined in the chart below is the ebb and flow it has had, and how this stacks up against our other popular deposit coins. Here it is clear that although some coins have had decent performances, they pale in comparison to BTC's dominance in recent weeks.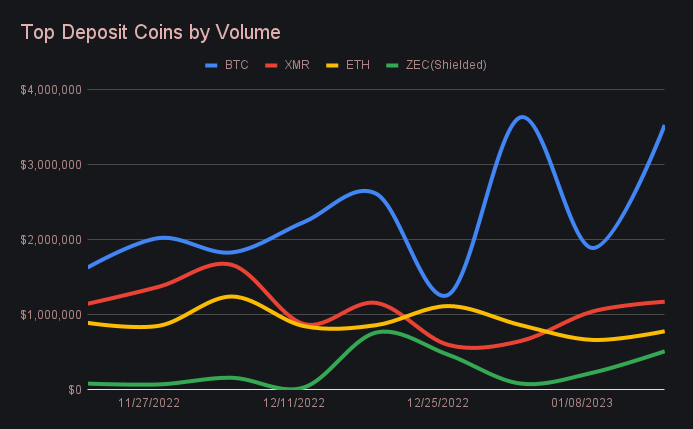 On the settlement side, more unexpected was a significant decrease in users shifting to ETH, which saw a 38.6% drop from the previous week, and knocked it out of its top place in the process. Similarly, another popular settle coin, XMR, saw volume diminish by 27.3% from last week.

Instead, we actually had users begin shifting more to stablecoins across the board as their preferred settle options. This included most notably USDT on Ethereum, which surpassed $1.1m in settlement volume, and represented an increase of 29%. Additionally, we saw more than a 50% increase of USDT on the Tron network, which accounted for $187k of settle volume. USDC on both the Ethereum and Solana networks had sizeable increases, almost doubling from last week to over $600k and $56k, respectively. Finally, a special mention goes to DAI on Ethereum, which increased from just $13k volume last week to over $330k.

As a whole, the proportion of stablecoin settlements has doubled from two weeks ago, increasing from 16% to 32%. It is as if SideShift users suspected the bottom was in a few weeks ago, scooped up cheap coins, and are now deciding to take some profits.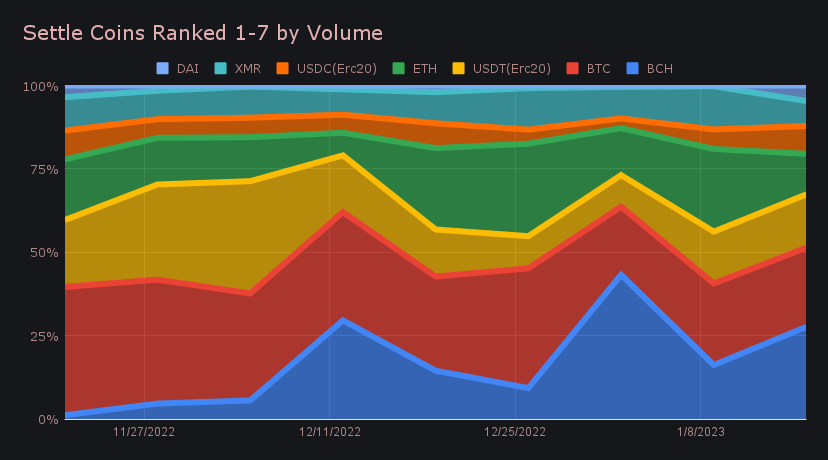 In general day-to-day operations news, we saw some token deposits on Binance Smart Chain that were not detected by our system, requiring some users to be refunded. BTC Lightning settlements also remain disabled due to continued routing issues. Our engineers are looking into a more automated route maintenance solution for this. We also saw issues sending AVAX tokens, which required them to be disabled for roughly a day. This issue however has since been resolved, and AVAX tokens are available as a settle option once again. Finally, SideShift has just listed USDC on the Algorand network, following on from the native ALGO listing last week.

Integration News

This week saw integrations bounce back somewhat, as they combined for a total volume of $1.65m. This accounted for 20.2% of our weekly total, and marked a 4.2% rise from last week's proportion. Shift count returned to familiar territory and summed to 2,559, which represented 36% of all shifts made this week - it continues to remain fairly steady.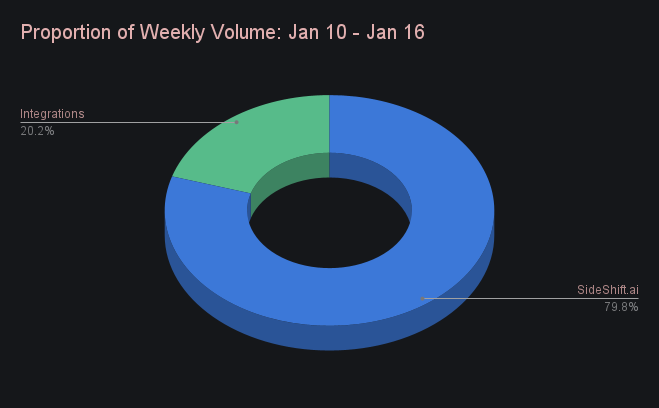 That's all for now. Thanks for reading, happy shifting and we'll see you next time.