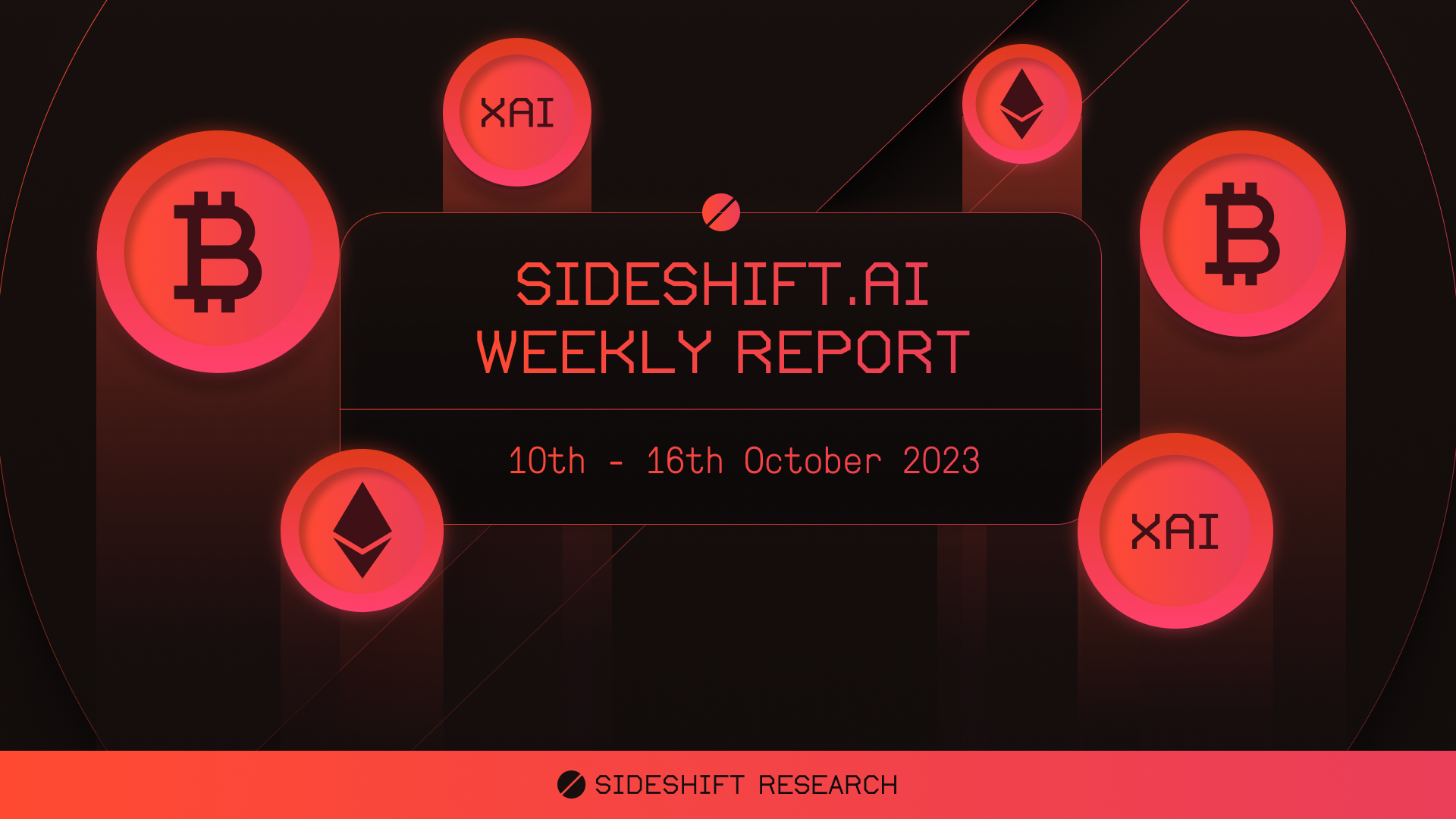 18 October, 2023
SideShift.ai Weekly Report | 10th - 16th October 2023
Welcome to the seventy-sixth edition of the weekly stats report - your one-stop shop for all things SideShift.ai.
This week saw SideShift token (XAI) fall from its previous range and head towards the $0.07 mark, moving within the 7 day bounds of $0.0712 / $0.0831. At the time of writing, XAI is sitting at a price of $0.0756 and has a current market cap of $9,516,062 (-5.3%).

XAI stakers were rewarded with an average APY of 6.91% this week, with a daily rewards high of 33,862.05 XAI or $2,546.26 USD being distributed to our staking vault on October 17th, 2023. This was following a daily volume of $1m. This week XAI stakers received a total of 156,586.49 XAI or 11,430.81 USD in staking rewards.

SideShift's treasury is currently sitting at a value of $4.78m. Users are encouraged to follow along directly with live treasury updates.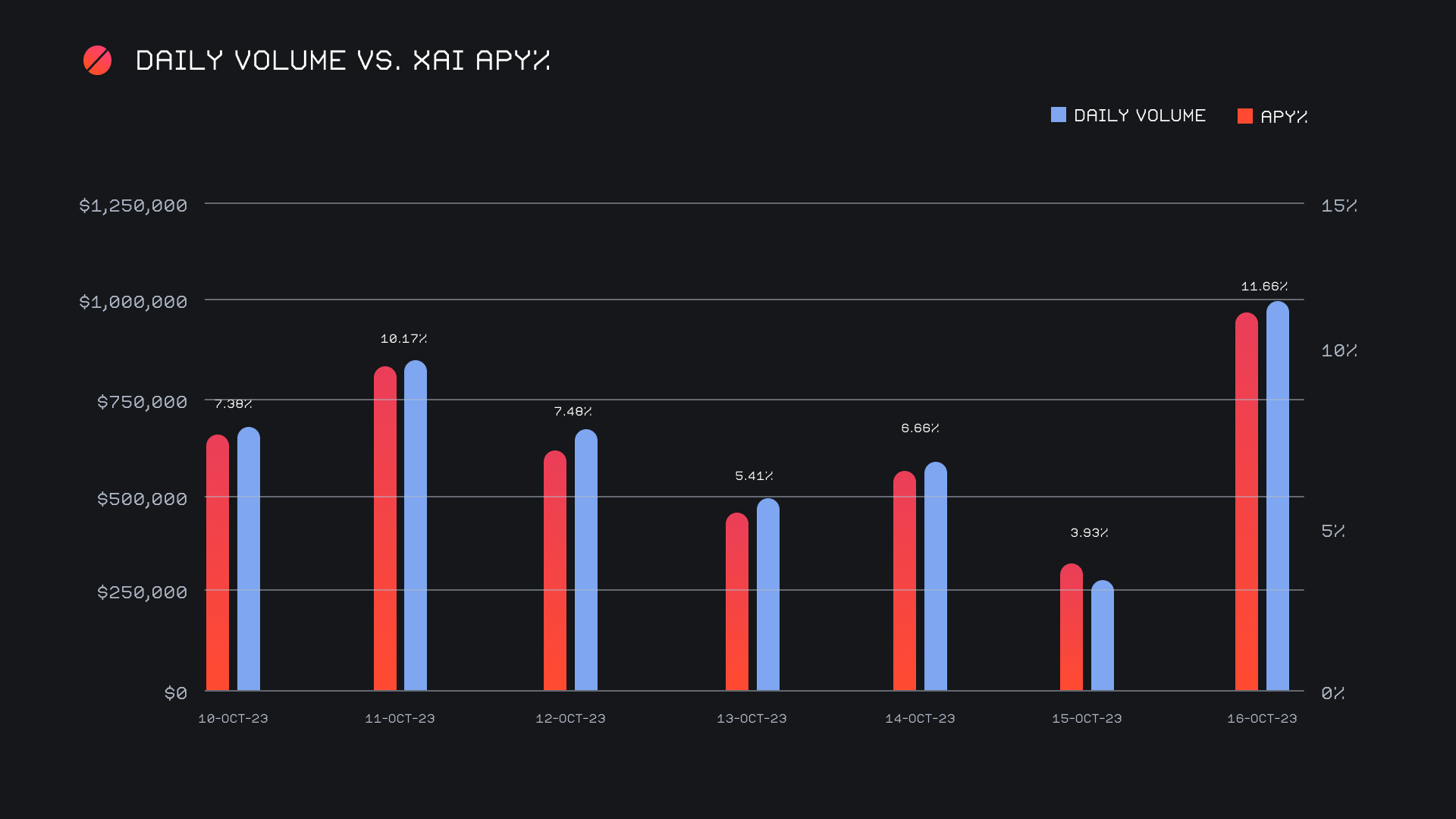 Additional XAI updates:
Total Value Staked: 112,136,431 XAI (+0.1%)
Total Value Locked: $8,466,880 (-4.7%)
General Business News:

Following its ongoing crabwalk, BTC ended the week wicking up to $30k in a sharp and sudden move, as a result of the misleading announcement of a spot BTC ETF approval. The move was quickly retraced, but BTC has since continued trending upwards.

SideShift had a fairly slow week, ending the period with a gross volume of $4.6m (-35.2%) alongside a shift count of 5,413 (-6.8%). As was the case in the previous report, our integrations continued to perform rather steady this week, indicating that volume fluctuations mainly derived from shifts taking place directly on the site. Volume was extremely quiet leading up to the premature ETF approval announcement, at which point we also noted a spike in volume. This resulted in our busiest day of the week, albeit, at just $1m. It is no surprise that the majority of this volume was centered around BTC. However, it should be pointed out that it was not an overwhelming percentage of buying that took place, but rather an even split of BTC buys and sells on October 16th, 2023. Together, these weekly figures combined to produce daily averages of $652k on 773 shifts. When denoted in BTC, our weekly volume amounted to 167.28 BTC (-34.2%).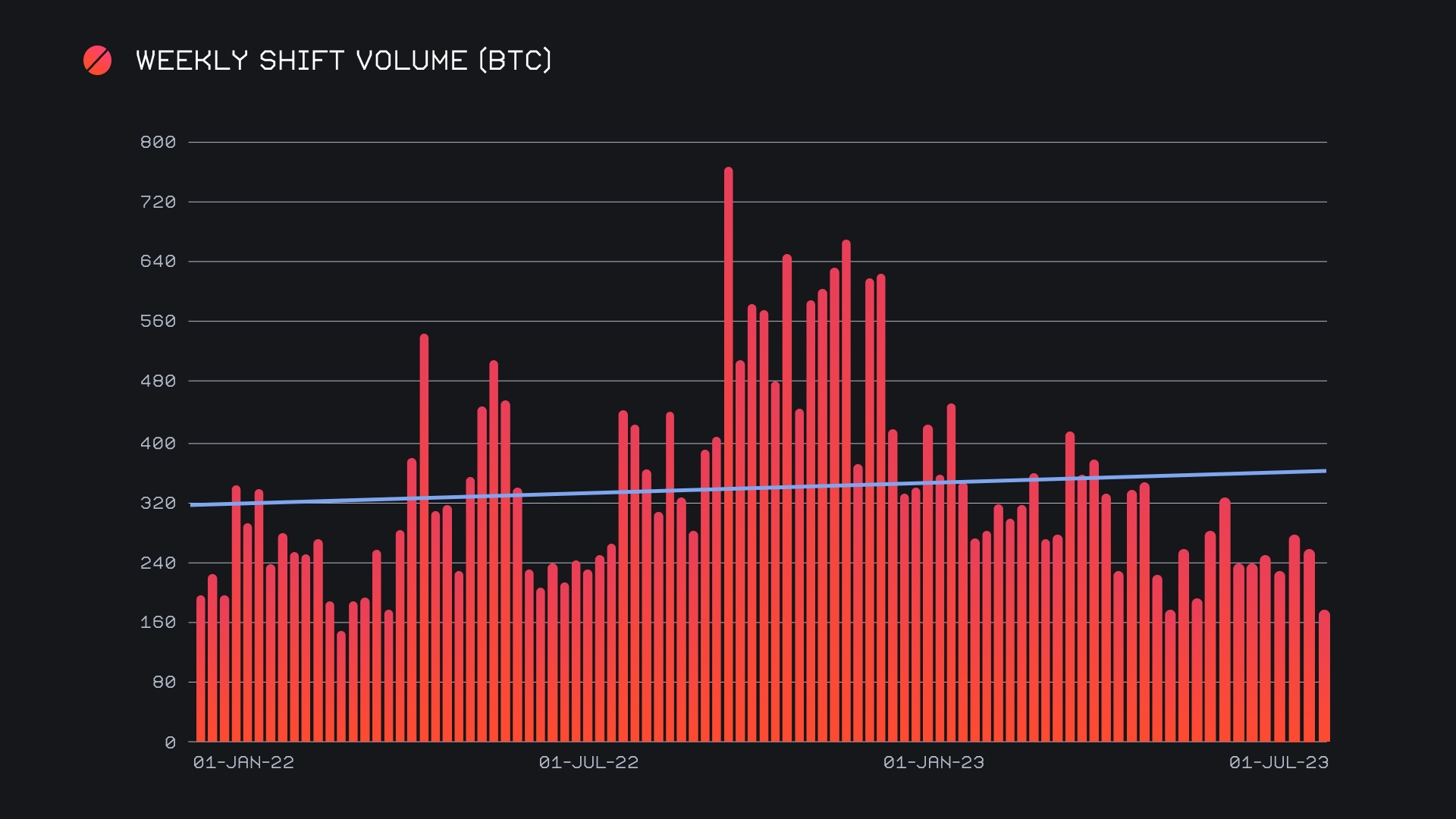 Starting with a look at our top 5 coins by total volume, the drop off is evident as seen in the chart below. Cumulatively, they summed a total volume (deposits + settlements) of $7.6m, a nominal drop of $2.5m from last week, and $2.2m lower than our 2 month running average. Of these, BTC was the coin affected most heavily, as it fell 28.3% for a total volume of $3.1m. Within that total volume BTC composition, user settlements proved to be the more impacted of the two sides, as they dropped 18.5% to $1.1m. In addition to this, we saw fewer deposits among our top coins paired with BTC as the settlement choice. This came following weeks of solid BTC buying on SideShift, and might be indicative that users were simply bored due the general lack of action in the market.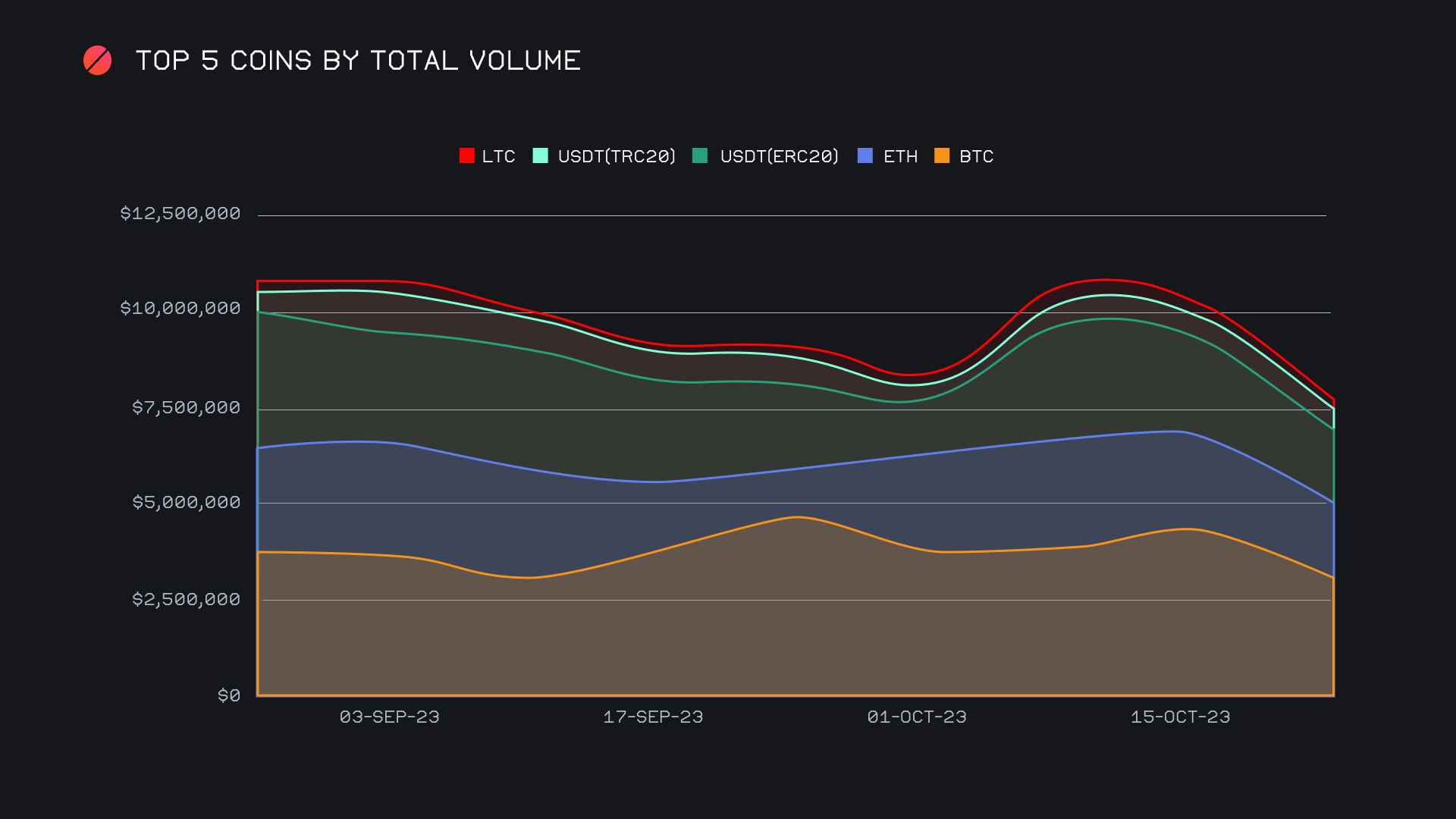 Meanwhile, user settlements of USDT (ERC-20) sat very close behind to BTC with $920k, something which has not changed in a long while. This is due to a steady stream of USDT (ERC-20) demand continually coming from our top integrations, which has been ongoing since nearly the beginning of the year. The BTC / USDT (ERC-20) pair prevailed as the most popular for users once again this week, with $730k in shift volume.
One of the key reasons for the volume decline noted this week was the lack of whale shifting that took place. To analyze this, we looked at shifts with a value greater than $10k over the course of the past two months and charted both their volume and shift count on a weekly basis. The percentage labels represent the proportion of the weekly total, for all shifts with a value >$10k. When charted like this, it is evident that there was a significantly lower amount of large shifts occurring, nearly 40% less than the 2 month average. This circles back to the idea that shifting occurs in waves, and most commonly surges during periods of volatility.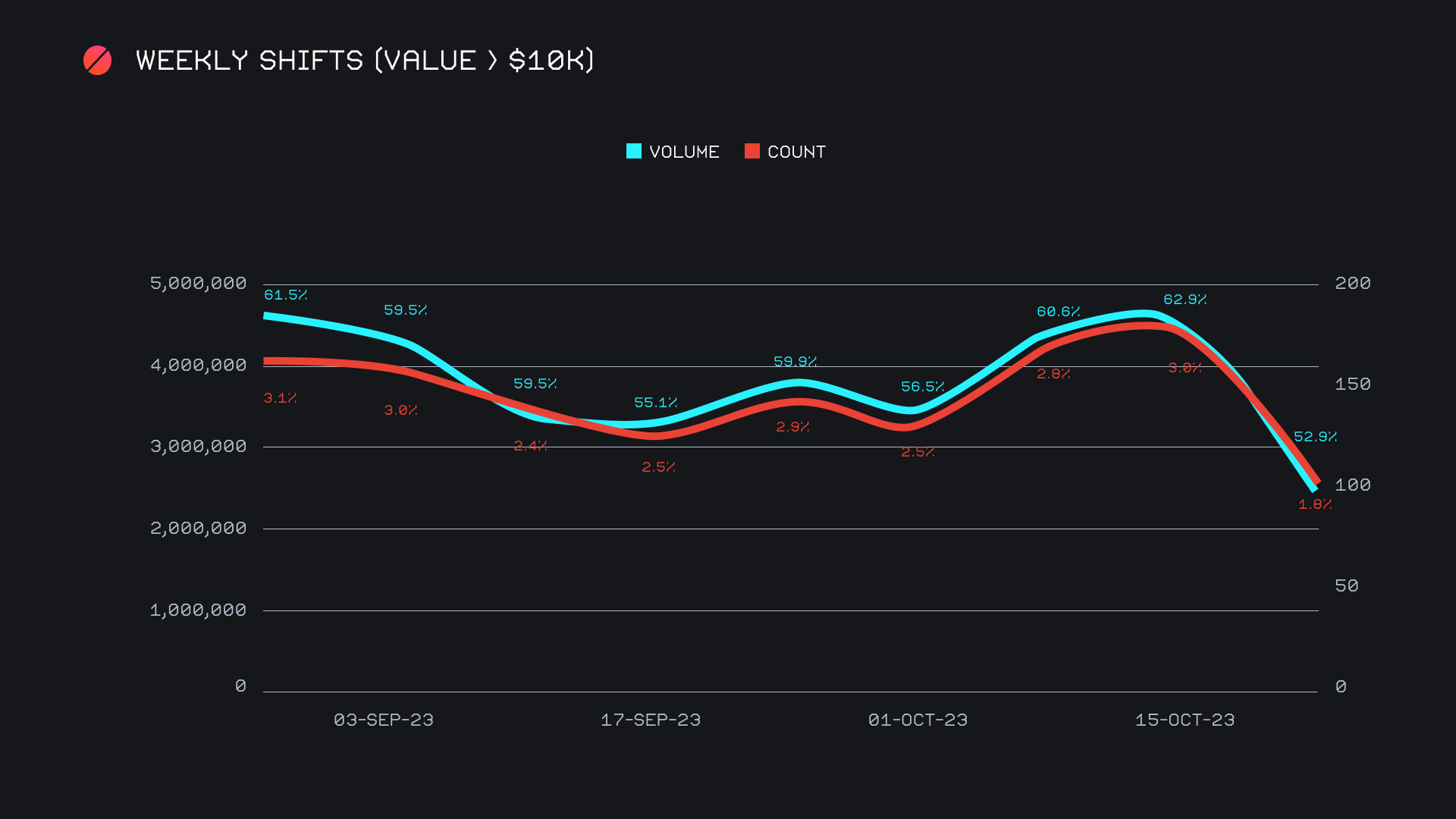 BTC may have had the biggest percentage drop among top coins, but all other top coins still witnessed a drawdown ranging between 15-25% - in other words, declines were seen across the board. Maybe even more convincing is the fact that our top 3 coins of BTC, ETH and USDT (ERC-20) accounted for a dominant proportion of 75% of shift volume this week, far higher than its usual ~60%. This tells us that while interest in our top coins may have dwindled, interest in those outside of the top 3 fell off of a cliff. It will be interesting to observe if yesterday's ETF news translates into BTC centric shifting in the coming weeks, or a more varied spread.

When looking at alternate networks to ETH, we can really visualize the lack of shifts that took place outside of our top coins. A combined sum of $1.3m represents a hefty drop of 47.1%, which is one of the lowest totals for alternate networks recorded since the beginning of the year. The Tron network still led the way in this grouping, falling by a comparatively reasonable 27.8% to end with $636k. The Tron network has by far been the most consistent alternate network, with USDT (TRC-20) constantly seeing shift action. It was other networks which resulted in the rapid decline of this grouping - the SOL network fell -51.3% for $138k, the BSC network a massive -73.5% for $211k and the AVAX network with the largest of all, falling -93.7% to end with just $10k in shift volume. Conversely, the Ethereum network ate into this share, as a majority 51.2% of shifts this week contained an ERC-20 coin.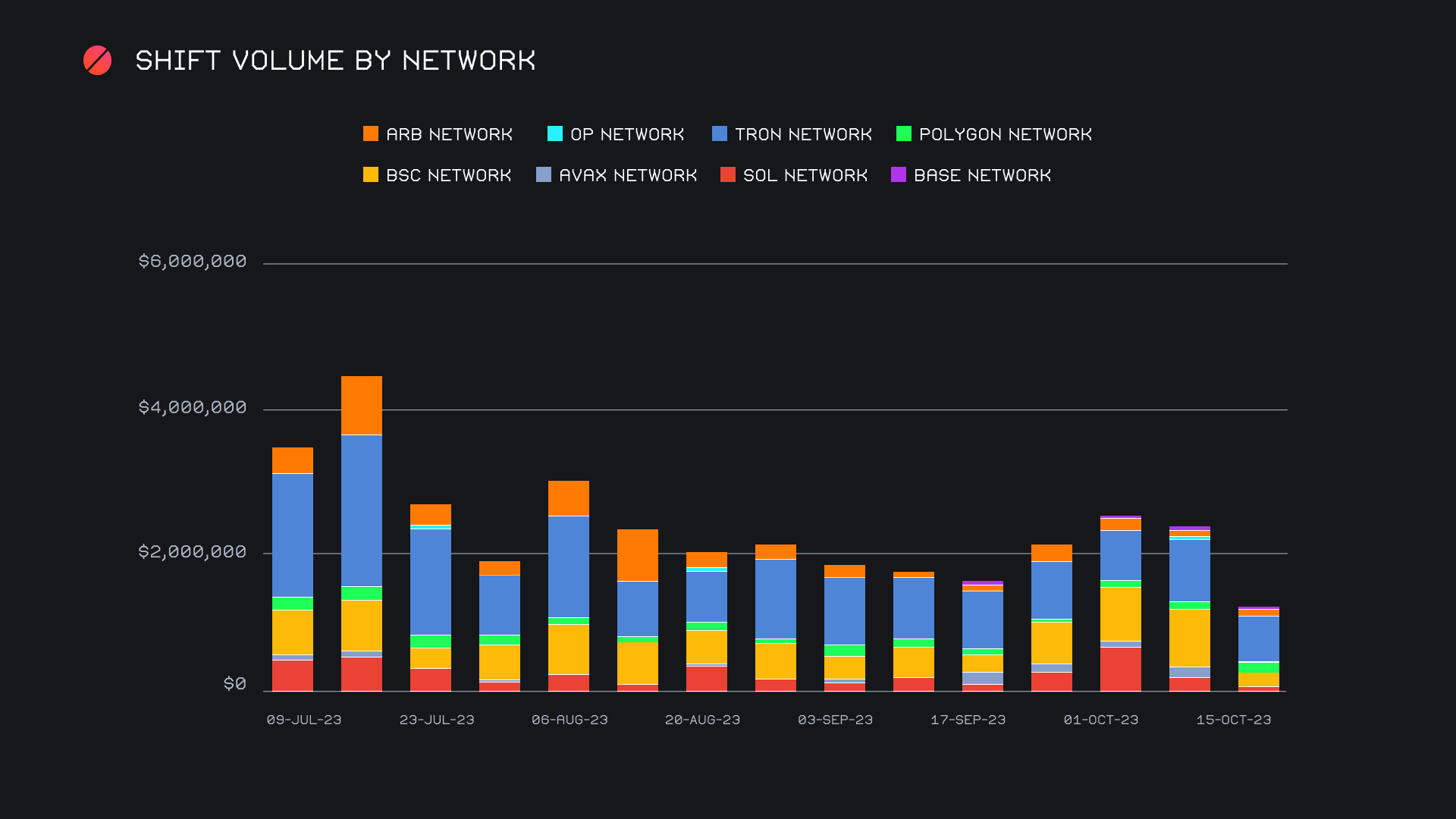 Affiliate News
Our top 10 affiliates carried on with business as usual, declining by a minor -5.6% for a cumulative sum of $2.2m. Combined shift count actually rose by 2.7%, to end with a total 2,074 shifts. The relative stability of our top 10 affiliates resulted in a large jump of its proportion of the total. Due to the total volume decline, top affiliates this week accounted for 44.2% of total volume, a solid 13.9% increase from last week's proportion. Our top affiliate remains unchanged, finishing the week with a respectable $1.0m.
That's all for now. Thanks for reading, happy shifting and we'll see you next time.