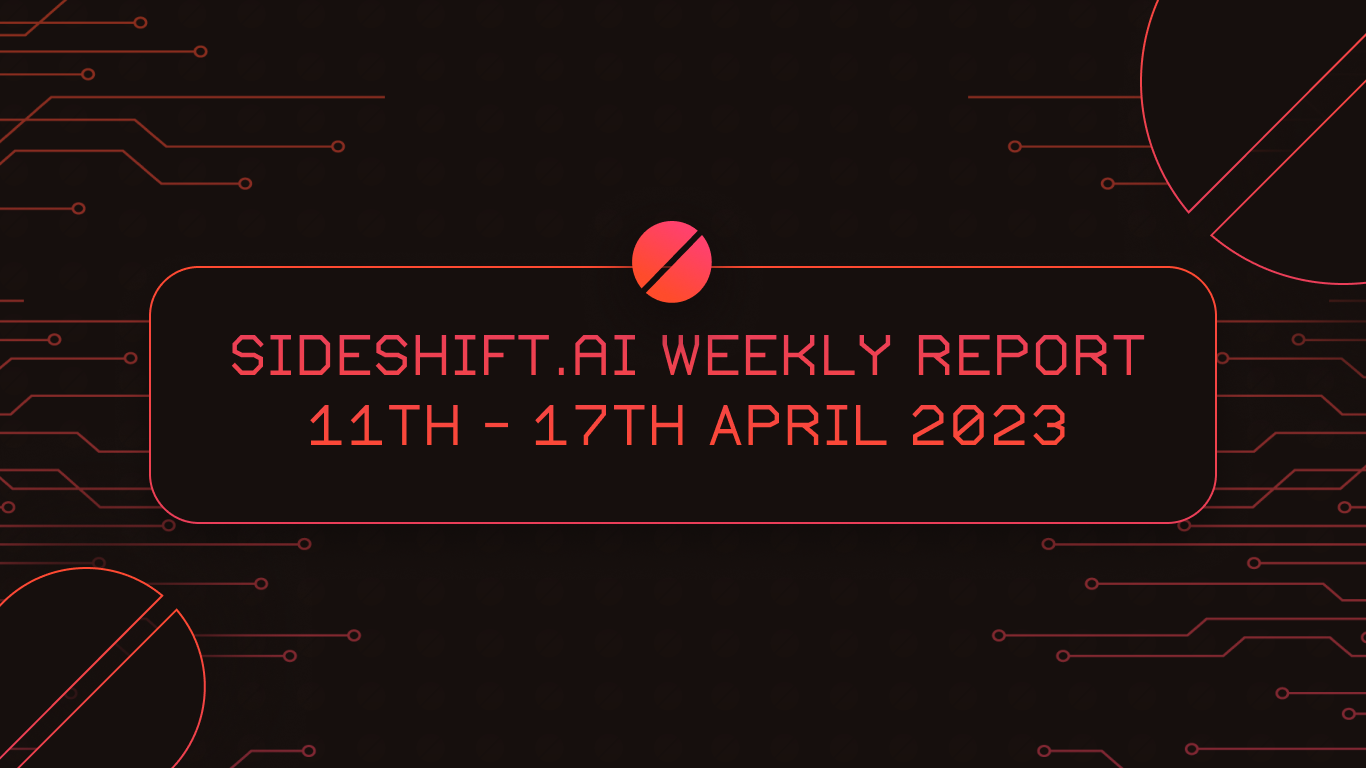 18 April, 2023
SideShift.ai Weekly Report | 11th - 17th April 2023
Welcome to the fiftieth edition of the weekly stats report - your one-stop shop for all things SideShift.ai.

XAI Token Market Update

This week SideShift token (XAI) moved within the 7 day range of $0.1235 / $0.1383. At the time of writing, XAI is currently sitting at a price of $0.1318, and has a circulating supply market cap of $16,127,960 (-3.3%) as denoted on our Dune Dashboard.

XAI stakers were rewarded with an average APY of 13.04% this week, with a daily rewards high of 38,852.94 XAI (an APY of 16.42%) being distributed directly to our staking vault on April 15th, 2023. This was following a daily volume of $1.8m. As a whole, this week XAI stakers received a total of 212,016.65 XAI, or $28,171.29 USD.

100 ETH was added to our treasury over the course of the week, bringing the current total to $4.74m. Users can follow along with live treasury updates directly on zapper.fi.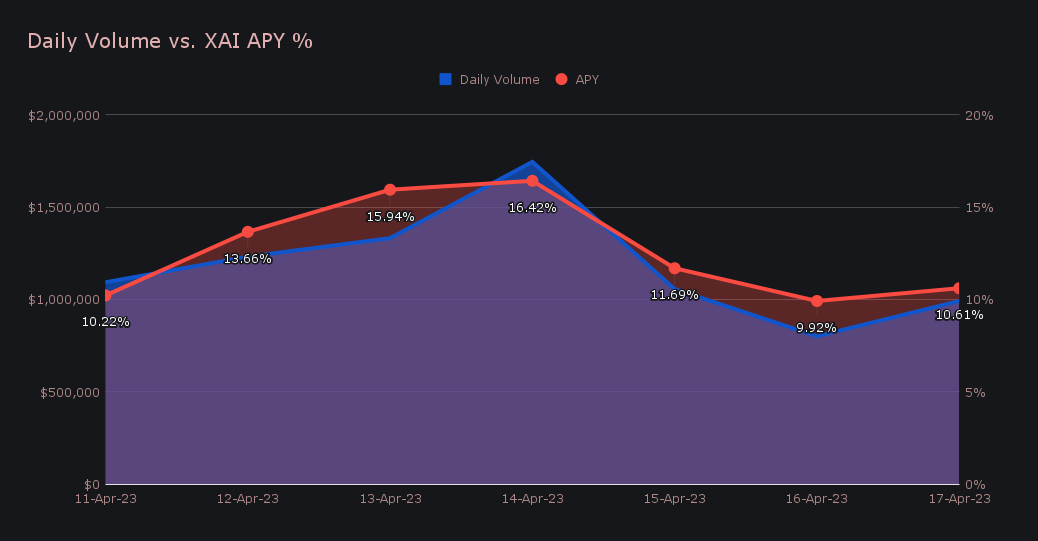 Additional XAI updates:

Total Value Staked: 93,368,982 (+1.3%)
Total Value Locked: $11,900,811 (-4.6%)

General Business News:

This week saw a drop in BTC's volatility, as it continues to hover around the $30k mark. Meanwhile, ETH pierced through $2,100 following the Shanghai upgrade, and other altcoins experienced a surge in price.

SideShift ended the week with a gross volume of $8.3m (+10%) alongside a shift count that fell just shy of 1k per day, with a total of 6,895 (+2.4%). These figures combined to produce daily averages of $1.2m on 985 shifts. Increases seemed to be consistent across networks and integrations, with the vast majority seeing gains when compared to the previous week.

When looking at our weekly volume as denoted in BTC, we saw an increase of +3.4% for a total of 273.3 BTC.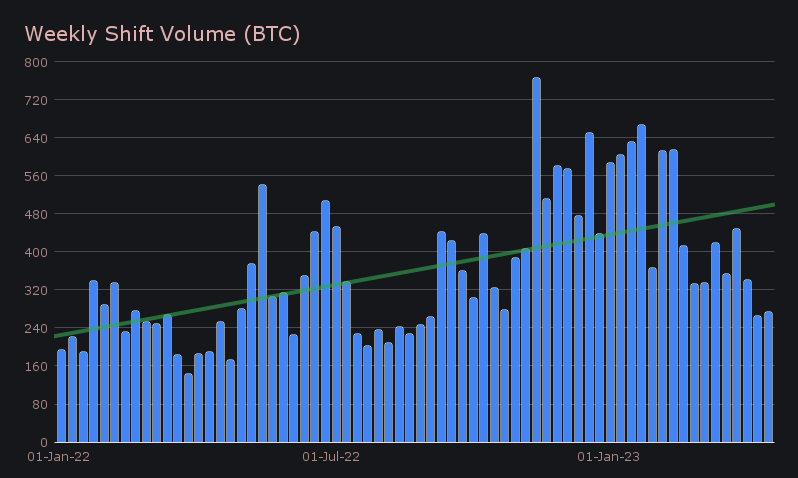 Despite the relative lack of change in BTC's price, it emerged at the top of our most shifted coins, surpassing ETH along the way. Total BTC volume (deposits + settlements) boomed by 57% for $4.4m, far exceeding that of any of our other top coins. The only exception here would be 8th placed USDT on Tron, which saw its total volume shoot up 119%, albeit with a much lower volume total of $525k. BTC's increase was fairly evenly split between deposits and settlements this week, with user volumes summing a respective $1.7m and $1.8m. However when looking at the percentage changes, a 19.4% increase in deposits paled in comparison to a 75.3% increase in user settlements. This suggests that users were, and are, buying the dip.

ETH responded in the exact opposite way, with user deposits increasing 46.1% for $972k, while settlements decreased 31.6% to total $975k. This is possibly a sign of users taking profits from heavy ETH buying we saw last week. ETH's settlement sum was only enough to rank third overall, falling behind both BTC and USDT on Ethereum. USDT (ERC-20) saw some solid interest from users, and surpassed the $1m mark with $1.09m in user settlements (+24.5%). Over 75% of this total came from the BTC/USDT (ERC-20) pair, which alone generated $787k. It continues its run as the most popular shift pair for 2023 thus far.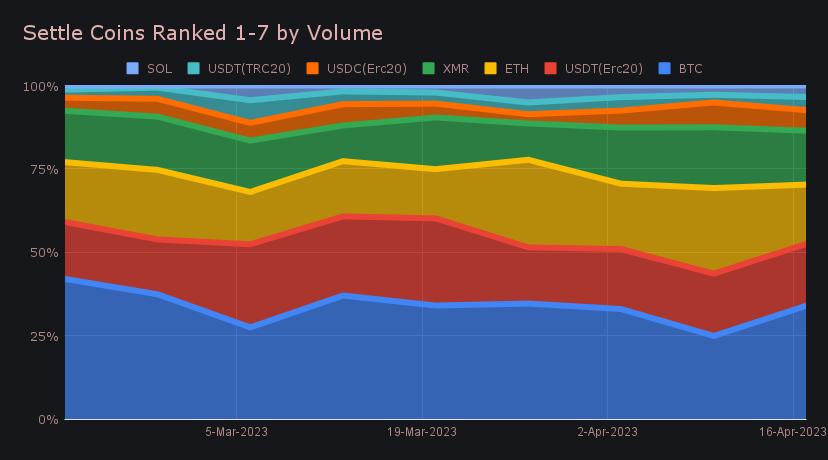 USDT (ERC-20) however was not the only stablecoin to see an increase in demand this week. As a whole, all stablecoins saw a +46.9% change in settlement volume for a gross of $1.84m. 9 out of 12 of our stablecoins shifted this week saw settlements outweigh deposits, with all of these 9 seeing a weekly percentage change of 25% or greater. This compares to a net +8.9% increase ($1.25m) in total stablecoin deposits. This may be indicative of a general conservative attitude of users at the moment, as they prefer to shift to stablecoins, and established coins such as BTC.

A quick look at alternate networks to Ethereum shows a generally positive trend, as 5 out of the 7 saw week on week gains. The Tron network rebounded hard after a slow showing last week and spiked 93% for $612k, enough to secure its spot at the top of the list. This was almost entirely due to the popularity of USDT on Tron, although this stablecoin went against the general pattern of the herd, with deposits outweighing settlements.

Solana's price continued its gradual climb throughout the week, and we saw the effect on SideShift. We noted a 61% jump in SOL shifts, and it was able to secure second place among alternate networks with a gross volume of $476k. Arbitrum also continues to find its footing among these networks, and finished the period in third with $442k (-5.8%). As a whole, these networks had a solid week and reclaimed the $2m mark, and netted $2.2m after a general lack of interest last week.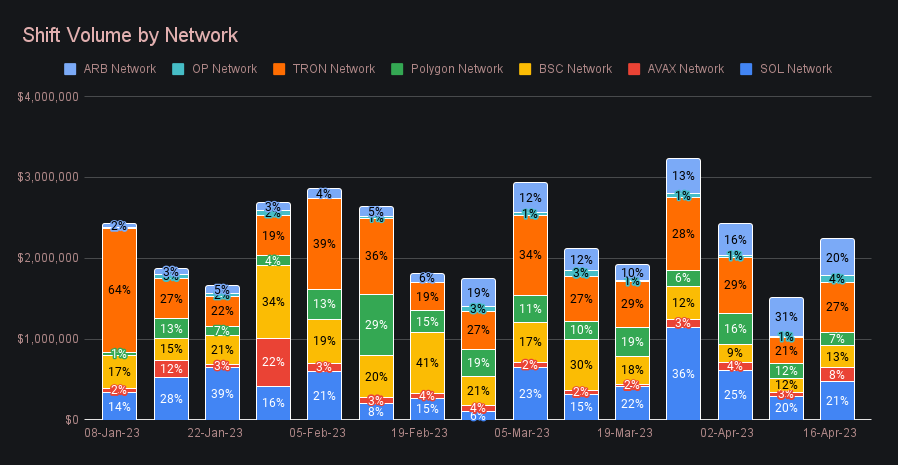 Affiliate News

The top 10 affiliates had a good week, and were a definite contributor to the volume increase we experienced this week. They combined for a net $1.8m (+34.8%), with a shift count of 2,018 (+29.3%). Our top affiliate in particular had a strong performance, accounting for 13.9% of our weekly volume with $1.2m. This is a 5% increase from the previous week. Shift count for this affiliate also grew and increased by 2.9%, as it represented 19.6% of all shifts this week.

All together, the top 10 accounted for 22.2% of total shift volume this week, up 4.1% from the last report.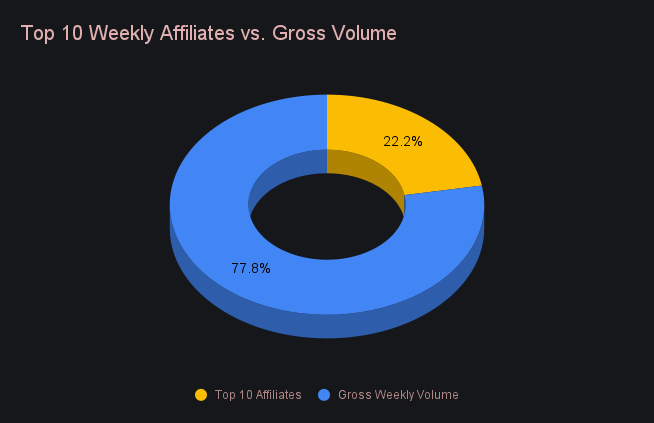 That's all for now. Thanks for reading, happy shifting and we'll see you next time.