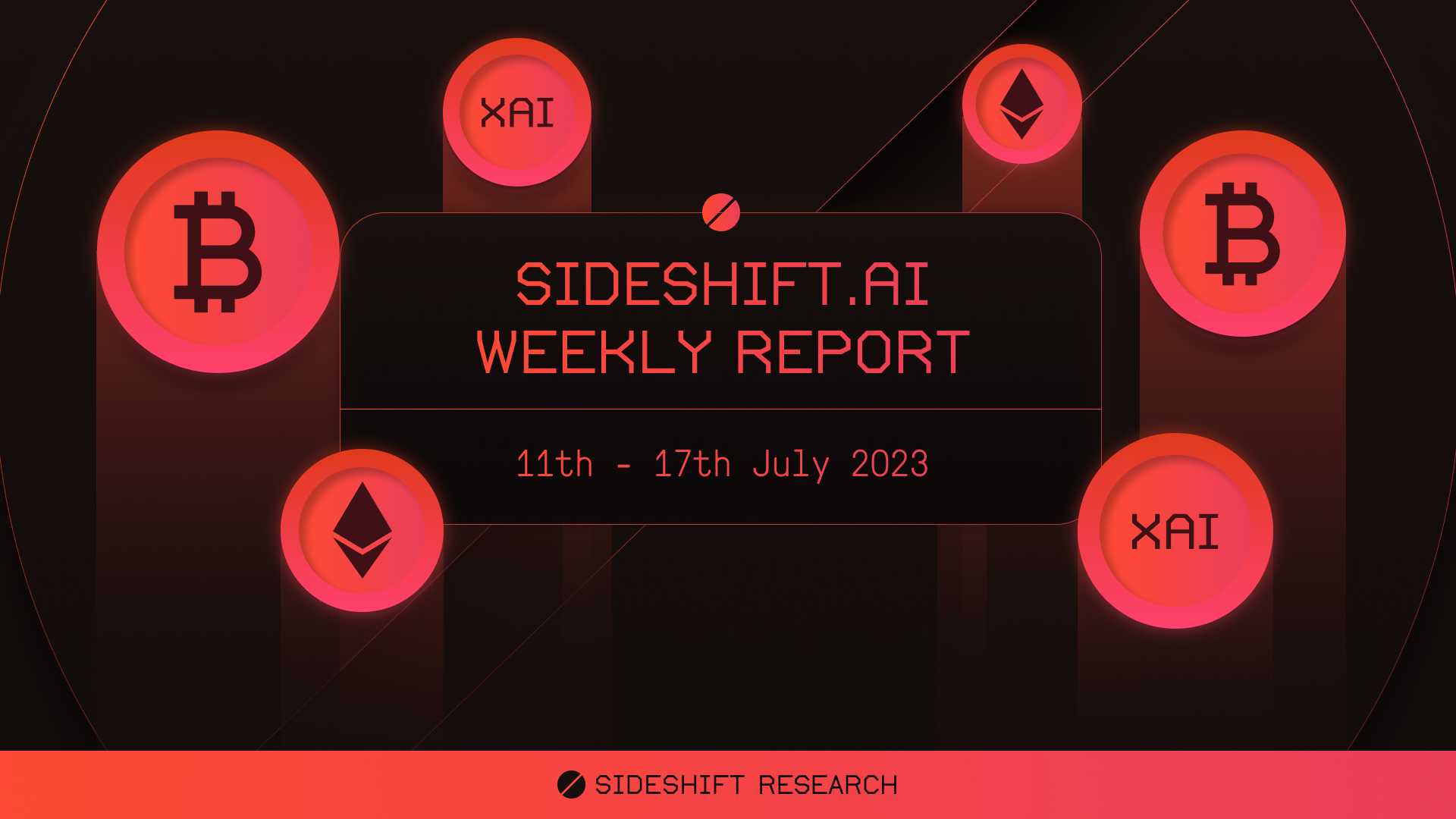 19 July, 2023
SideShift.ai Weekly Report | 11th - 17th July 2023
Welcome to the sixty-third edition of the weekly stats report - your one-stop shop for all things SideShift.ai.

XAI Token Market Update

This week SideShift token (XAI) moved within the 7 day range of $0.1036 / $0.1258 . At the time of writing, the price of XAI is sitting in the middle of that bound at a price of $0.1129. The current market cap of XAI is $14,088,380 (+0.5%) as denoted on our Dune Dashboard.

XAI stakers were rewarded with an average APY of 11.55% this week, with a daily rewards high of 47,227.53 XAI (an APY of 17.13%) being distributed to our staking vault on July 13th, 2023. This was following a daily volume of $2.6m. This week XAI stakers received a total of 222,726.53 XAI or  $24,386.72 USD in staking rewards.

An additional 50 ETH was added to our treasury this week, and the current total is sitting at a value of $5.2m. Users are encouraged to follow along with live treasury updates directly on DeBank.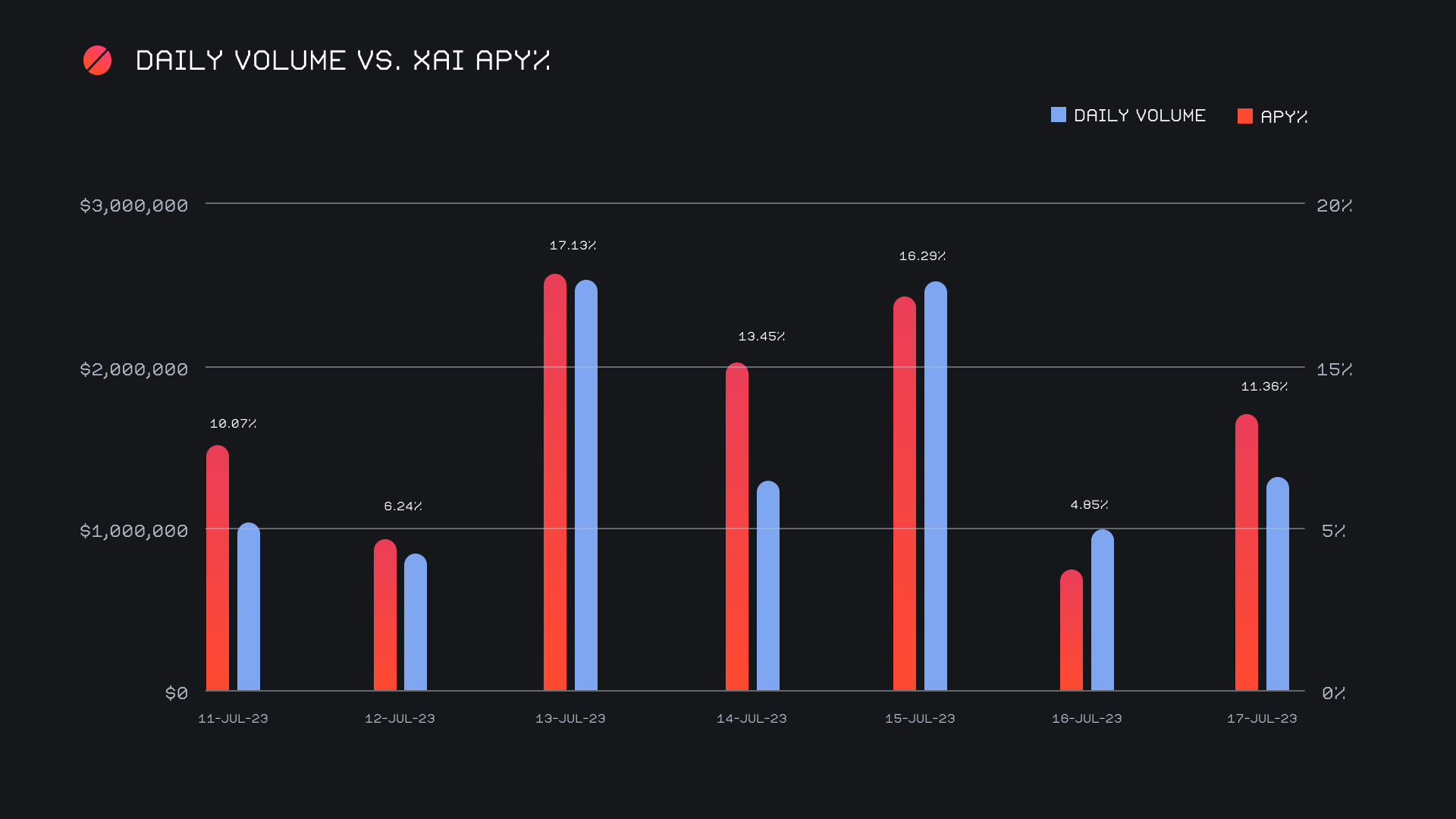 Additional XAI updates:

Total Value Staked: 108,316,574 XAI (+2.1%)
Total Value Locked: $12,199,656 (+0%)

General Business News:

This week saw most altcoins surge, riding the coattails of the positive news from the high profile SEC vs. XRP case. BTC reacted in a more composed fashion and continues to linger around the $30k mark with no major changes from the previous week.

For SideShift, we ended with a gross volume greater than $10m for the second week in a row. This period finished with a volume of $10.6m (+3.5%) alongside a shift count that bounced back from a slower showing last week, to end with a total tally of 6,389 (+15.2%). These figures combined to produce daily averages of $1.5m on 913 shifts. When denoted in BTC, our weekly volume amounted to 346.08 (+3.6%).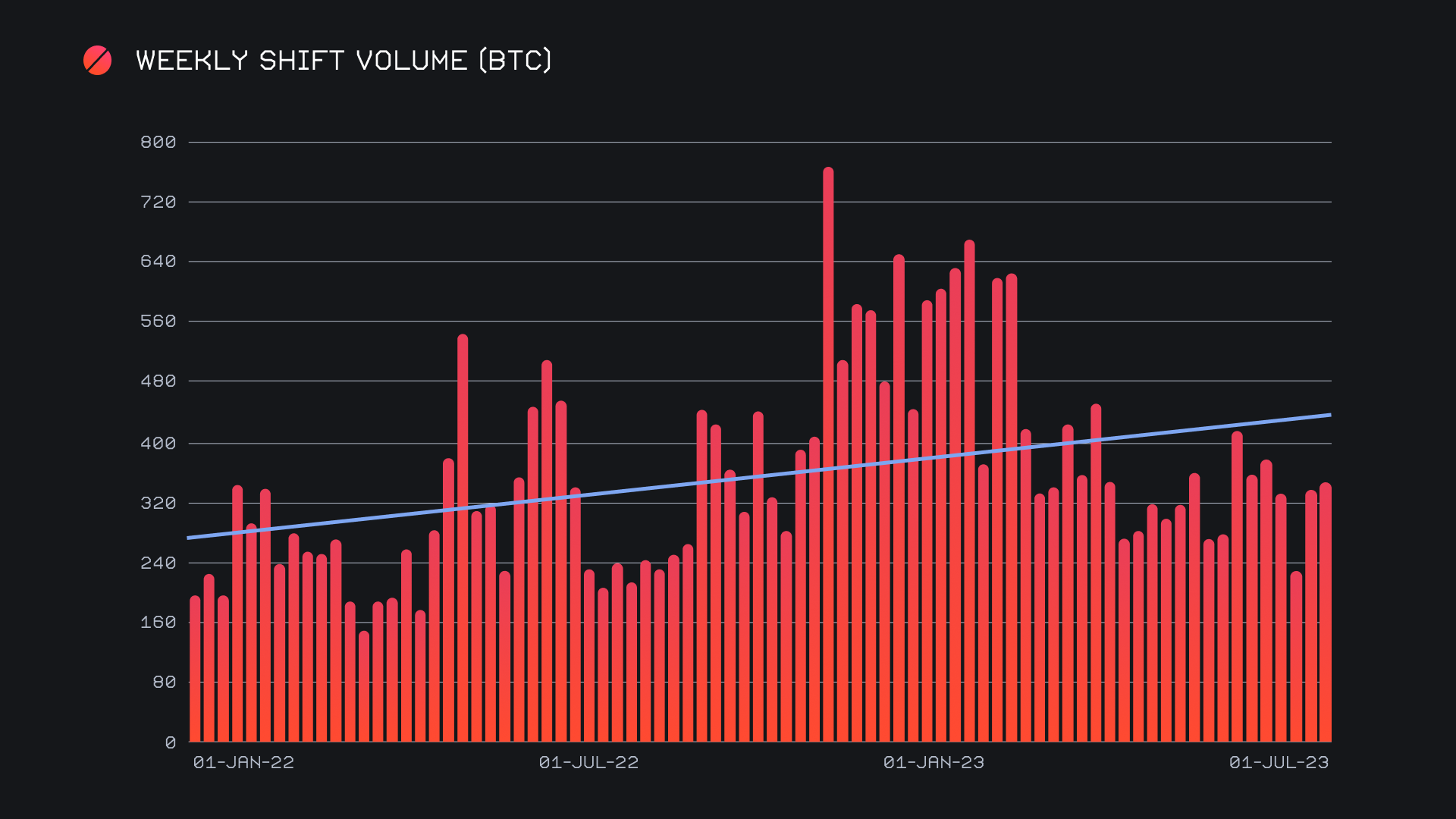 BTC very confidently remained the top shifted coin for the week with a total volume of $7.1m (+22.1%), and now has shown double digit growth in this metric for consecutive weeks. The heavy influx of BTC deposits mentioned in the previous report carried into this week, inching ever closer to yearly highs set in February 2023. With a total of $3.3m (+16.9%), this week's user deposits of BTC were tied for the second highest weekly BTC deposit volume of the year. The ongoing prominence of the BTC / USDT (ERC-20) pair was the main factor behind this, as it accounted for $1.8m in shift volume. A majority 56% of deposited BTC settled to USDT (ERC-20), with a further 22% settling to USDT (TRC-20), speaking to the continued demand for stablecoins.

Meanwhile, Total ETH volume declined by 36.8%, to finish in third place with $2.5m. Last week's high numbers were due to an unusually high amount of user ETH deposits. This week, we saw a hefty 44% decline in these deposits, which proved to be the biggest decline among our top 5 coins by a mile. Interestingly however, user ETH settlements increased by a very similar proportion and breached the $1m mark for the first time in 5 weeks. However, it was not just ETH which saw an eye catching growth percentage. When taking a deeper look, we can actually see quite a few "less popular" coins which saw a sizable jump off of their typical settlement sums. Examples here would include XRP (+741%, $140k), LTC (+159.5%, $135k), and ETH (ARB) (+482%, $93k).

Seeing an increased demand in ETH as well as certain other altcoins could suggest that users might finally be getting more comfortable branching away from so-called "safe assets" and are more willing to hold riskier ones. In the chart below you can note that despite our gross weekly volume increasing, the combined volume of our top 5 did not. This means that the increased volume stems from coins outside of our top 5.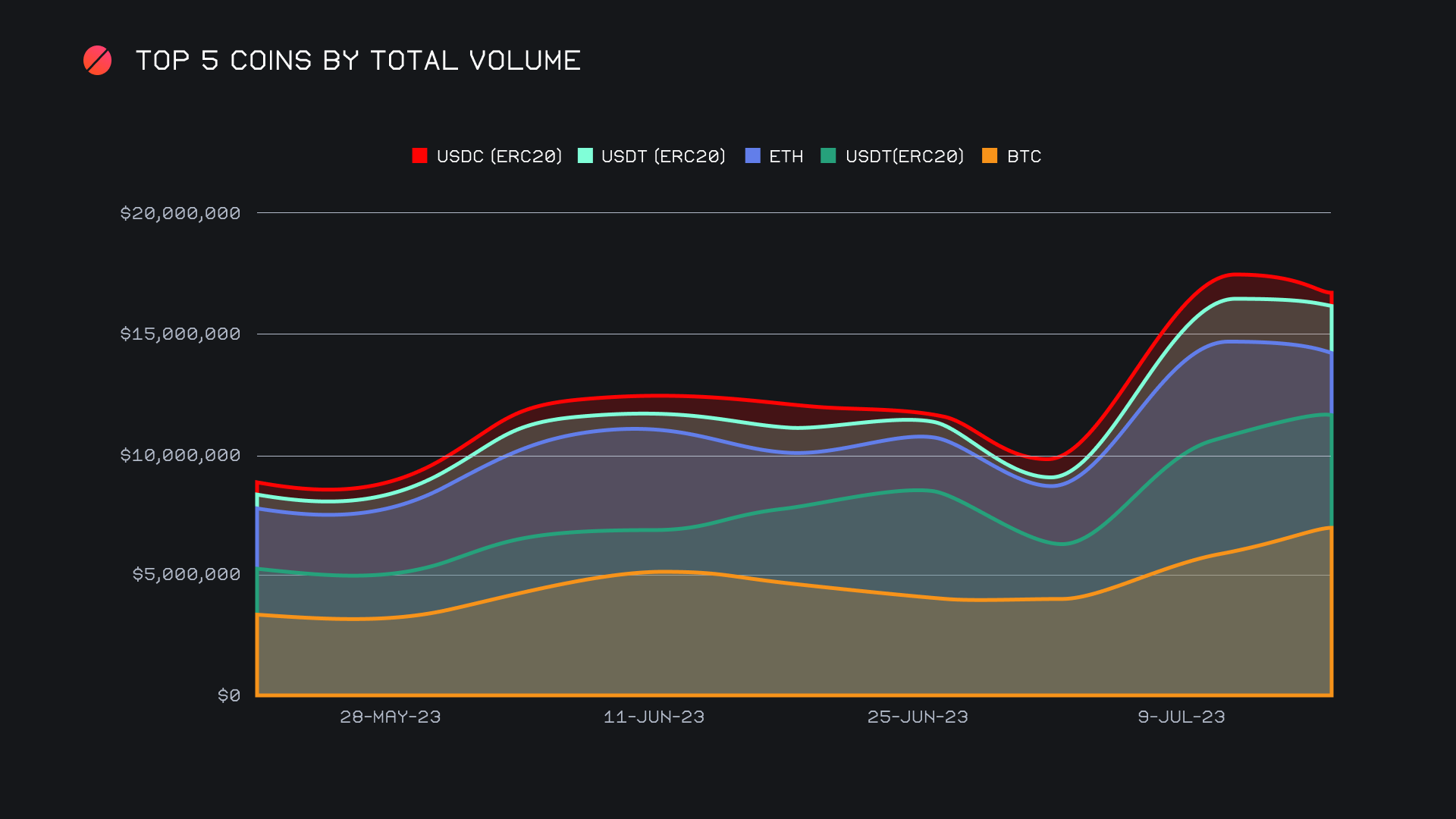 Although nominal stablecoin volume remains quite high, it is important to note that it did not grow proportionally to the change in gross volume. In fact, overall stablecoin settlements actually saw a slight decline in their combined volume. As the vast majority of stablecoin volume comes from USDT (ERC-20), it makes sense to look here first. USDT (ERC-20) settlements declined 8.3% for a total ~$2.3m. The other stablecoins combined to form a mixed bag, with some increasing and some declining. The notable selections here would include USDT (TRC-20) (+3.1%, $826k), and USDC (ERC-20) (-40.1%, $196k). Due to the inconsistency across coins, it makes the most sense to look at the movement of stablecoins as a whole. Below you can observe the slight increase in deposits, combined with the slight decline in settlements. It will be interesting to observe if these minor trends continue alongside more altcoin buying, or if stablecoin dominance will remain high.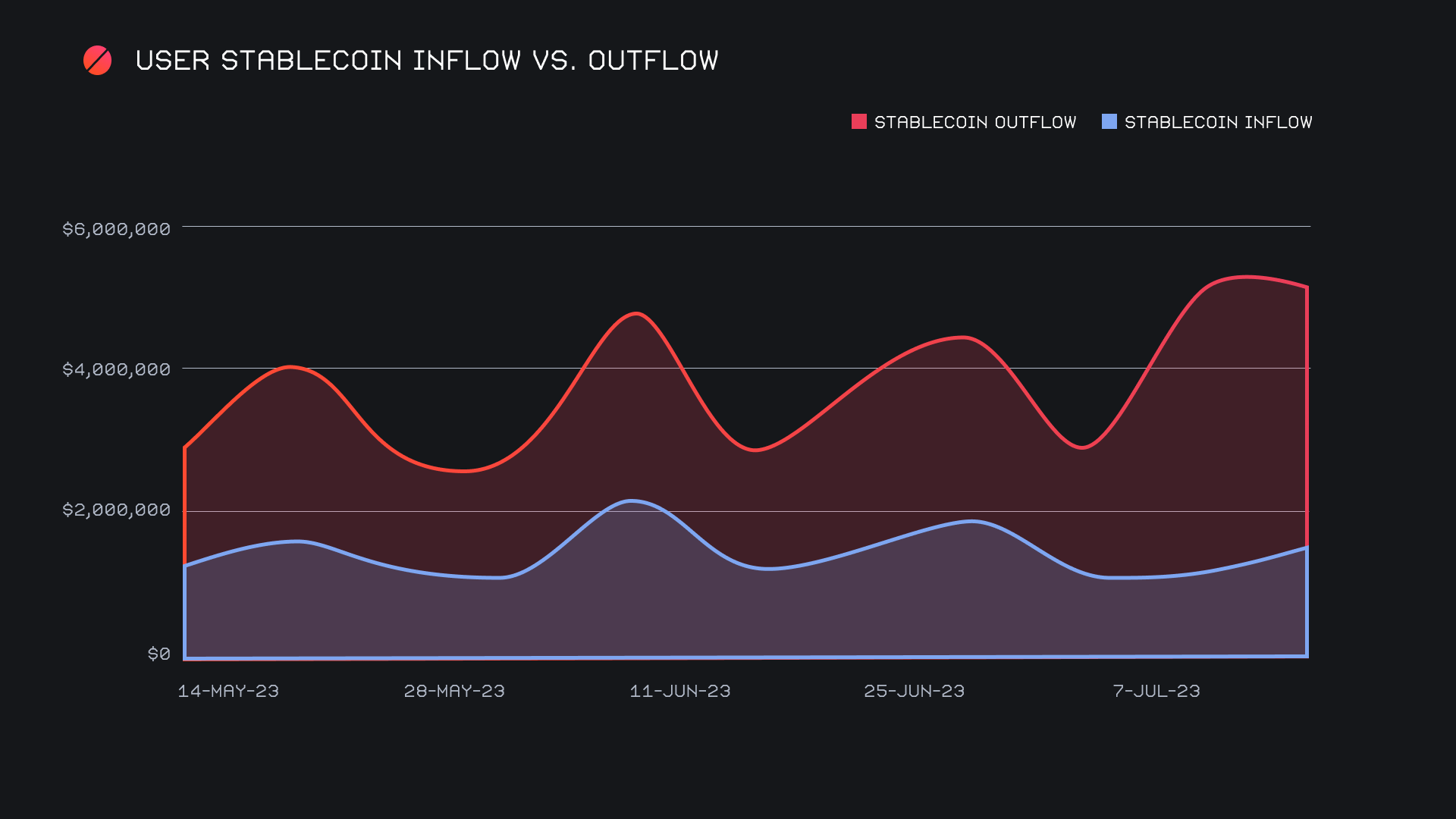 A quick look at alternate networks to ETH further supports the ideas presented in the report so far, as they had an impressive week. The $4m mark was surpassed for the first time in 6 weeks, although this time with what looks to be much more organic growth. Alternate networks combined for $4.4m, with the Tron network leading the way. It grew 19.6% for $2.1m, easily taking the top spot. As is usually the case, this was almost entirely due to USDT (TRC-20) shifting. However, it was not just the Tron network which did well - the Arbitrum network spiked 123.5% for $800k, while the Binance Smart Chain (BSC) network increased 12.9% for $714k. In fact, every alternate network aside from the Avalanche network saw double digit weekly gains. Although a strong showing, it should be mentioned that the combined volume from these networks summed to just over 50% of that of the Ethereum network. Nevertheless, it is encouraging to see increased shifting occur on these alternate networks.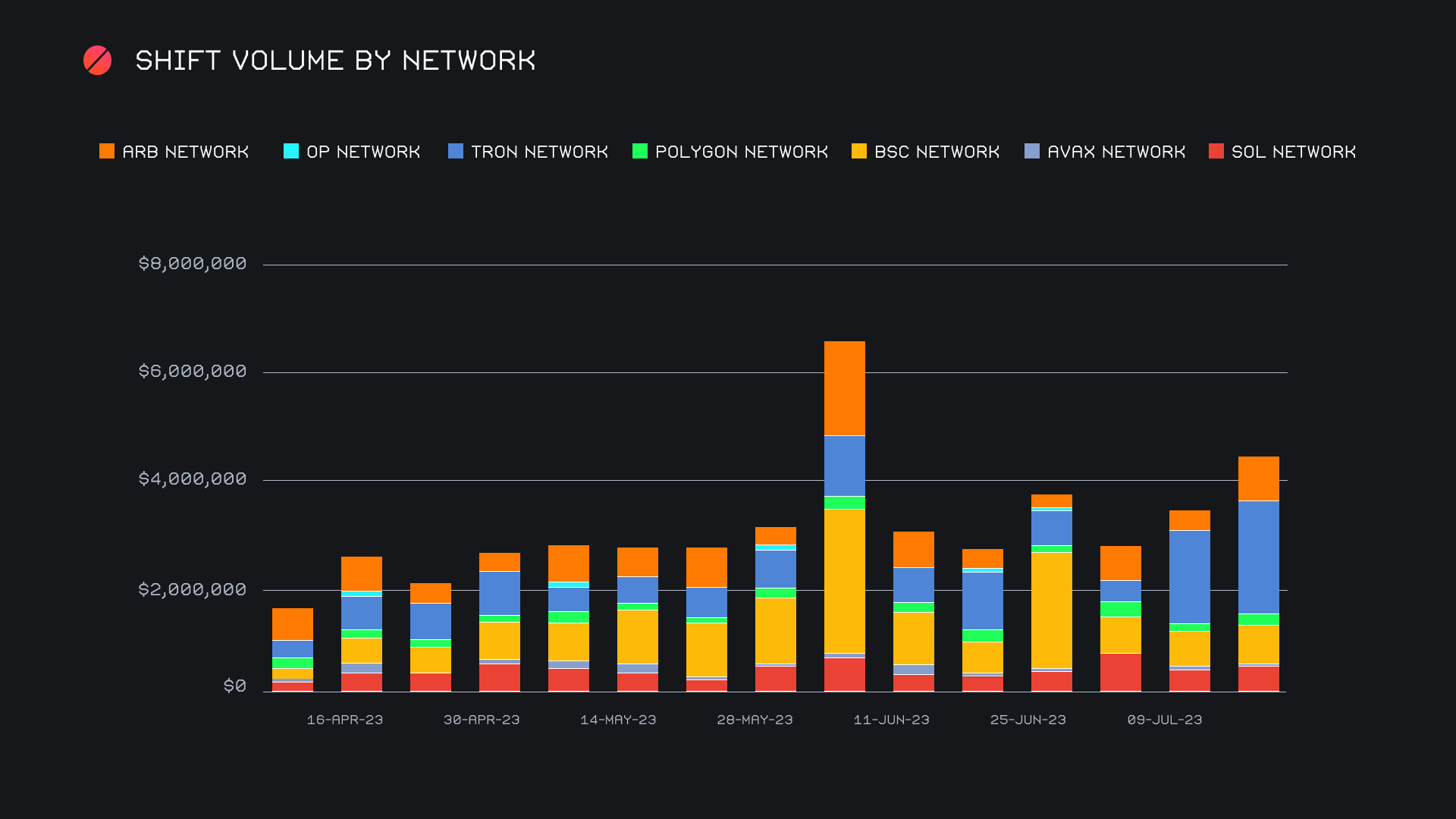 In listing news, SideShift added support for Rollbit Coin (RLB) on the Ethereum network this week. Try shifting to RLB, which is now live from any coin of your choice.
Affiliate News

Our top 10 affiliates had a very good week and rounded off the period with a combined sum of $2.4m (+40.7%). This was accompanied by a shift count which also had a solid increase, as it climbed 18.9% for a total of 2,551 shifts. Our top affiliate ended up accounting for 9.5% of the week's total volume, a slight decline from last week's proportion. This week saw shifting derive from a wider variety of affiliates, with less of an emphasis put solely on our top affiliate.

Overall, the top 10 represented 22.6% of our weekly volume, 5.8% higher than last week's proportion.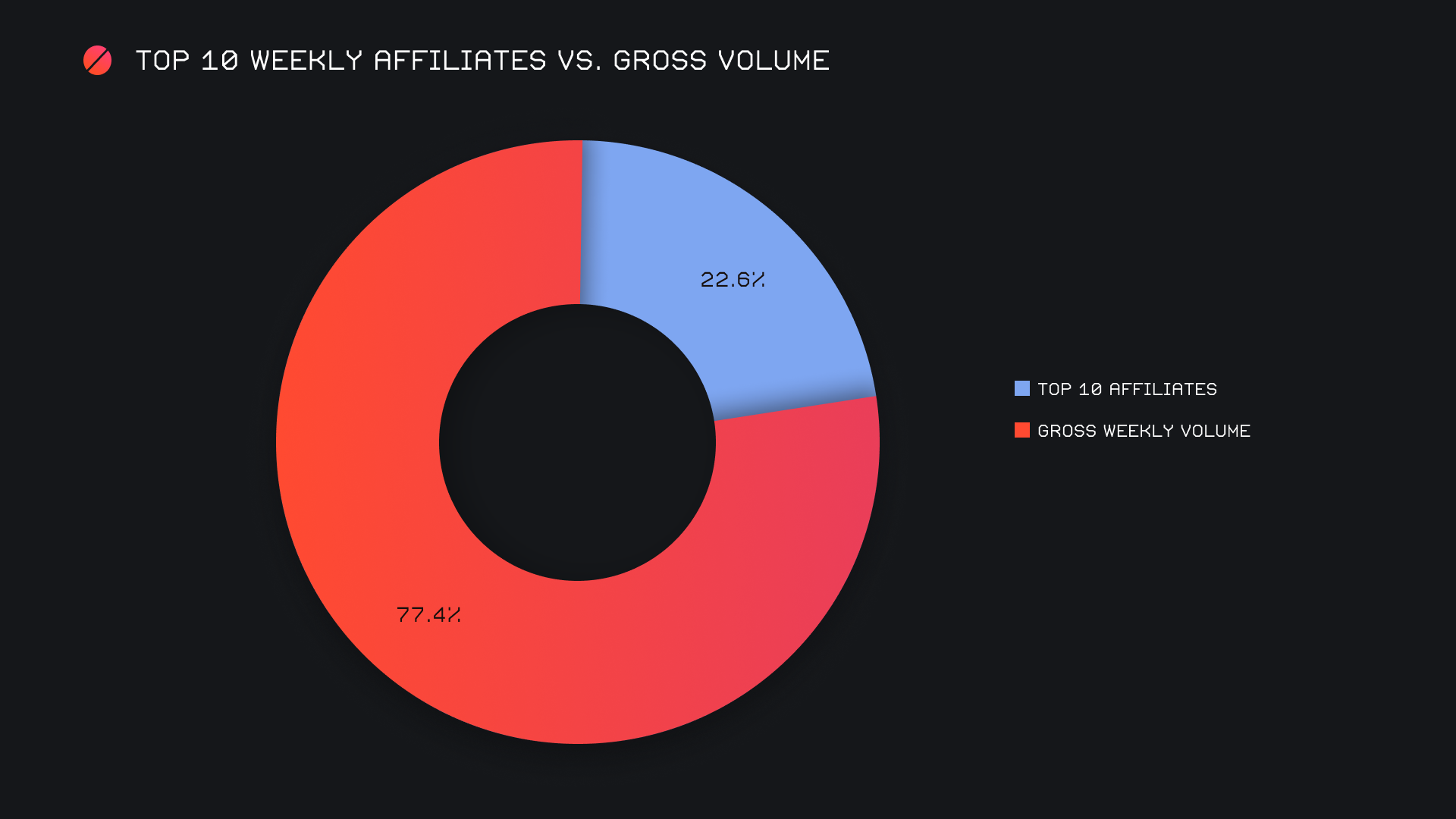 That's all for now. Thanks for reading, happy shifting and we'll see you next time.