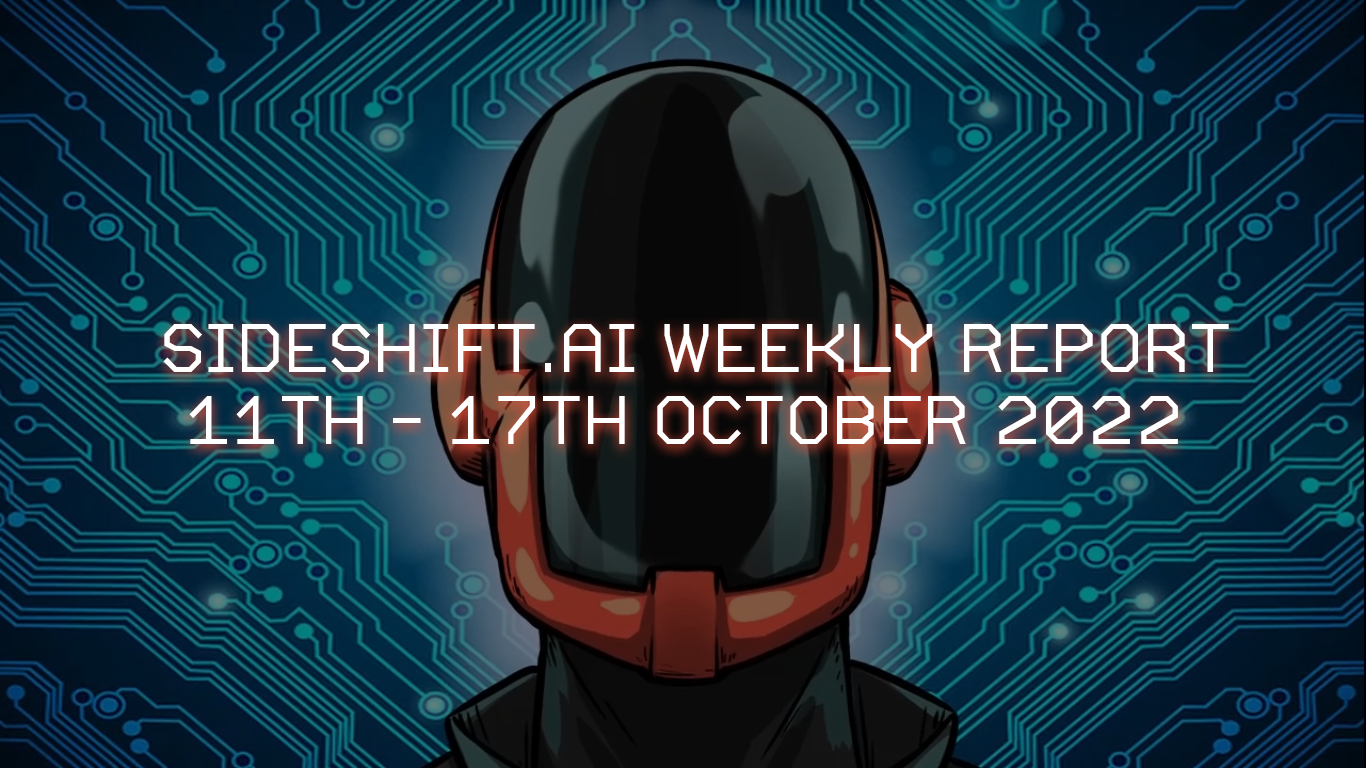 18 October, 2022
SideShift.ai Weekly Report | 11th - 17th October 2022
Welcome to the twenty-fourth edition of the weekly stats report - your one-stop shop for all things SideShift.ai.

XAI Token Market Update

Towards the beginning of the week SideShift token (XAI) encountered a slight dip due to some large selling. It moved within the 7 day bounds of $0.104025 / $0.142640, and since incurring the dip has rebounded slightly, to now hover in the middle of that range.

At the time of writing the price of XAI is sitting at $0.119171, and a current market cap of $11,289,909 (-14.8%) ranks XAI in position #839 overall.

SideShift had a decent but steady week, with volume being quiet over the weekend (as is normally the case). For stakers, this resulted in lower reward payouts on Saturday and Sunday, but despite that, there was a healthy weekly APY. It averaged 25.82%, with a weekly reward high of 38,477.22 XAI being paid to our staking vault on October 14th, 2022. This was following a daily volume of $1.05m.

On October 15th, 2022, SideShift added $150k of USDC (ERC-20) to our treasury, bringing the total current value to a sum of $985k USD, or 50.34 BTC.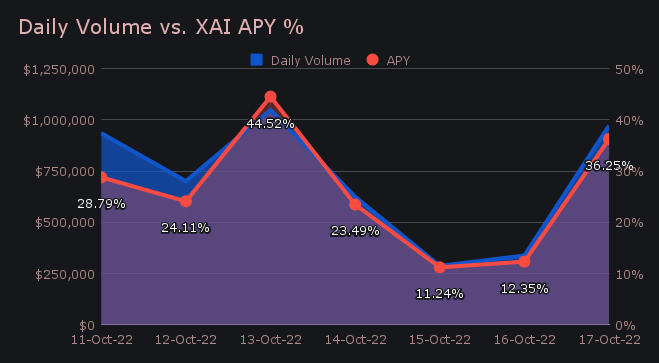 Additional XAI updates:

Total Value Staked: 38,278,889 XAI
Total Value Locked: $4,916,158

General Business News:

Following a standout performance last week, this week saw SideShift come back to observe levels more commonly seen during the past couple of months. We finished the period with a net volume of $4.91m (-24.7%) and a shift count of 6,547 (-6.5%). This produced daily averages of $701k on 935 shifts.

The week was largely driven by BTC, which, as expected, finished as the most deposited coin with a net deposit volume of $1.32m. As a proportion of overall deposits, this accounted for just over ¼ of the total, with 27%. Despite the consistency of our top coin, we did see some other coins making moves. We witnessed steady XMR deposits as the week carried along, and it surpassed ETH to rank as our second most deposited coin. XMR and ETH had respective deposit volumes of $890k and $725k ranking them second and third.

Similar trends were noted on the settle side. BTC retained its position as the most settled coin with $1.25m, while ETH fell in this category as well. USDT on Ethereum ($787k) and XMR ($699k) rose to claim second and third, both overtaking ETH, which saw its settlements drop 59.6%. It finished in fourth with $621k.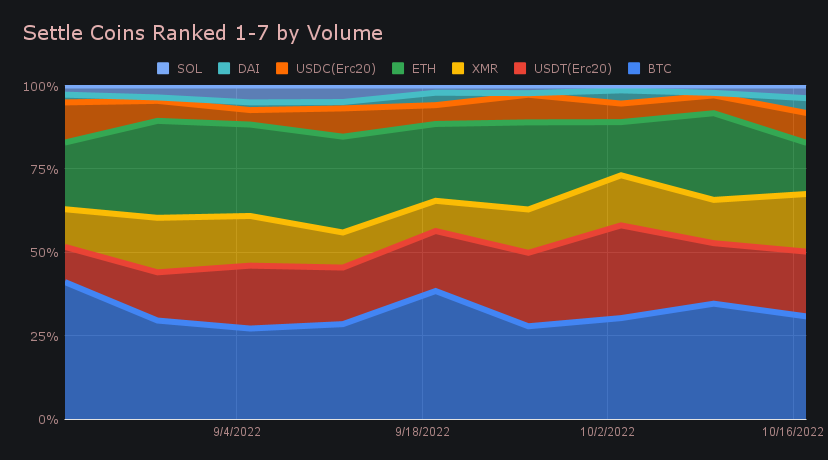 Although BTC remained our most shifted coin in terms of volume and count, it is interesting to point out that 50% of BTC deposits settled to XMR this week, thereby indicating Monero's popularity. The recent success of Cake Wallet most definitely plays a major role in the recent uptick of XMR shifts. XMR finished the period with a total shift count of 2,307, second only to BTC (3,269).

Still, BTC/USDT(ERC-20) remained the most sought-after shift pair. For 7 weeks in a row it has finished as the top pair, however, this week saw its volume dip by 41%. It finished with $495k in weekly volume, representing 10.1% of the total. It seems that the continual shifting to stablecoins over the past few months is indicative of the bearish sentiment felt by users.

Several stablecoins also saw an increase in total volume (deposits + settlements), with 4 of the week's top 8 being stablecoins. Some worthwhile mentions include USDT on Tron ($325k, +116%), and DAI ($271k, +144%), which finished 6th and 7th, respectively. Stablecoins combined to make up ~30% of weekly settlements.

The Tron network continues to perform well, this week representing the highest proportion of volume from EVM chains, aside from ETH. It has achieved this feat in just its 10th week since listing. This growth is mainly due to the increased popularity of USDT on Tron, which has only just had its 7th week on SideShift. You can see the volume growth of the network in the chart below. Despite capturing the highest weekly EVM volume (besides ETH), the TRON network still sat behind Binance Smart Chain, and the Solana network when measuring shift count. Still, it is quickly closing in on Solana in this regard.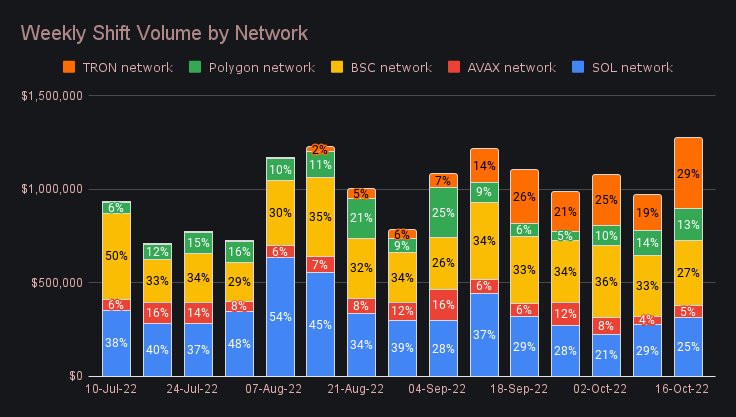 A final observation worth pointing out is that despite the heavy concentration of volume from our top coins,  those outside of the top 10 are slowly growing their percentage share. This is particularly true for the deposits side, where coins outside of the top 10 accounted for roughly 18% of deposits this week. SideShift now supports more than 75 tokens on multiple chains, and intends to continue expanding upon this. Wallets such as Bitcoin.com adding support for multiple chains also contribute to growth on this front. It's exciting to see that the hard work of listing new tokens is resulting in more optionality for users, and more shifts overall.

It was a productive week for SideShift, with our team hard at work on some exciting new developments. Everything functioned very smoothly, and aside from a brief period of Solana instability on Friday the 14th, we experienced no major issues.

Integration News

As shown below, integrations have combined to roughly represent the same amount throughout the year, but have recently grown to account for a larger proportion of the total. In other words, they are performing quite consistently.

All in all, integrations represented 35% of SideShift's weekly volume, which marked a 7.1% increase from last week. They combined for 42.5% of shift count, which happens to be the exact same proportion of count as last week.

That's all for now. Thanks for reading, happy shifting and we'll see you next time.