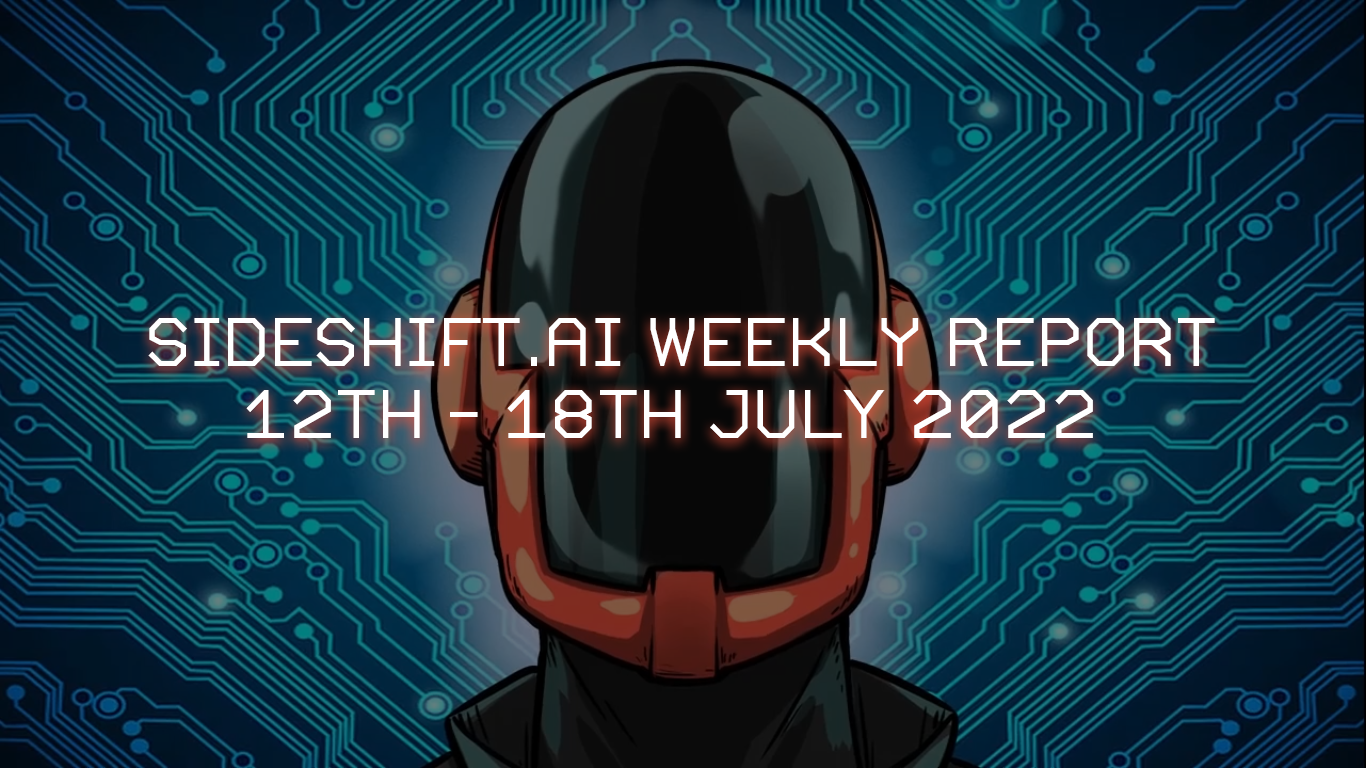 19 July, 2022
SideShift.ai Weekly Report | 12th - 18th July 2022
Welcome to the eleventh edition of the weekly stats report - your one-stop shop for all things SideShift.ai.

XAI Token Market Update

This week SideShift token (XAI) bounced between a range of $0.165091 / $0.188418. At the time of writing, the current price of XAI is $0.171113. A current market cap of $8,102,715 placed XAI in position #949.

Our team continues to work hard towards the completion of the on-chain staking interface on the SideShift.ai site. Significant progress has been made and we hope to have this fully operational within the week. For the less technical, we strongly advise waiting for the completion of the staking dashboard before attempting to claim your svXAI to avoid any unintentional trip-ups. In the meantime, know that XAI rewards are still being accrued and deposited into our vault - the staking dashboard will allow you to easily view all of these details, as well as claim migrated tokens, stake, and unstake.

SideShift averaged a healthy APY of 21.89% this week, with a daily APY high of 49.87% (37,448.91 XAI) being distributed to stakers on July 16th, following a volume of $1.32m.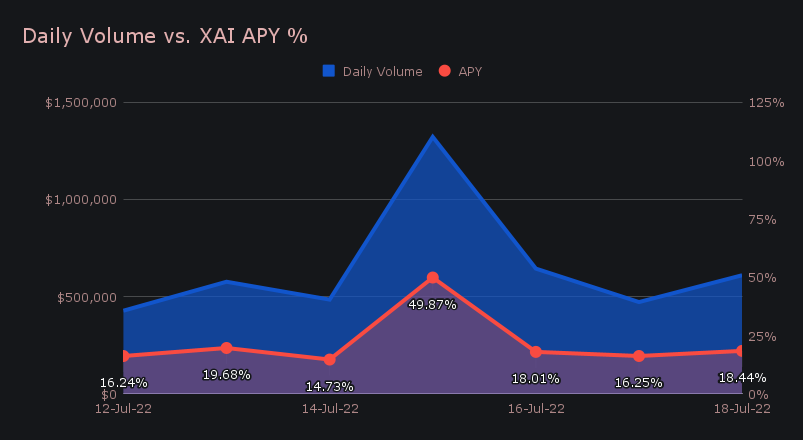 Additional XAI updates:

Total Value Staked: 33,843,332 XAI
Total Value Locked: $5,660,161

General Business News:

A predominantly sideways market for the majority of the last week resulted in a slower overall period for SideShift. We experienced a daily volume average of $648k on 744 shifts, with a total weekly volume of $4.54m. Although weekly shift count remains largely in line with previous weeks, this in fact is the lowest volume week experienced so far in 2022. The recent pump in the market will hopefully translate into people stepping off the sidelines and bring with it continued market volatility.

Last week saw a decline in our top deposit and settle coins (BTC and BCH), and this week saw that trend continue. Interestingly, although the volume of these particular coins shrunk, other coins within the top 3 grew - distribution is happening. BTC remained our most deposited coin, but fell ~50% from the prior week, totalling $1.66m. XMR was our second most deposited coin with $888k, while ETH was third with $711k. These are respective weekly deposit volume increases of ~39% and ~25%. The pattern was similar on the settlements side, as BCH fell ~65% to third place ($724k) and was overtaken by BTC as the top settlement coin ($1.35m, with ~43% growth). ETH ranked as our second most demanded coin, netting $731k in settle volume (~8% higher than the previous period).

Native coins and tokens on other EVM chains encountered more overall shifts as well, although the volume was less significant. Some examples include Avalanche (~$95k in weekly volume with 104% growth week on week) and Cardano (~$72k with 136% growth), as well as USDC (~$39k, 39%) and Matic (~37k, 137%) on the Polygon network. During slower times, it is encouraging to see volume and increased usage on these chains as their ecosystems continue to grow. Having these coins already available allows SideShift to be firmly prepared for what the future may bring.

BTC/BCH remained our top pair for the 12th consecutive week but just hung on by a thread with $599,596 in weekly volume. Of the total BTC deposited to SideShift, 36% was settled to BCH. This is a 67% decrease from last week, and was the first period in many months where we didn't encounter a significant slew of BTC/BCH shifts. XMR/BTC trailed close behind, netting $512,107 to claim second place.

These data points combined with a further 4% drop in the volume percentage of our top 3 settle coins, which this week measured 61.7%, indicate that our volume has begun to trickle outwards, and is no longer heavily concentrated as it was throughout the previous month.

Despite the generally slow week, SideShift has remained stable and kept its focus on growth and efficiency. This week we were happy to list 2 new tokens. The first being The Sandbox (SAND), which is an ERC20 token that powers a multiplayer metaverse (currently ranked 36th in overall market cap). The next listing, which was one of our most heavily requested, is USDT on the BSC network. We are proud to support stablecoins on such a wide array of chains and will continue to expand upon this.

SideShift is happy to announce that Zcash has been re-enabled and shifts are functioning smoothly. In addition, this week we opened additional Lightning channels to some of the biggest hubs, with the goal of enhancing BTC (lightning) shifts and route reliability. We have also added more funds to our Treasury - you can follow the announcements on Twitter and view our treasury here.

Integration News

This week saw Bitcoin.com wallet take the reins and reclaim first place among integrations. The consistency observed across the past months continued, as Bitcoin.com totalled $691k on 796 shifts. This accounted for over 15% of the total volume and almost 18% of the shift count. In second place was Trezor, with $439k (9.7%) throughout the week. Zat.gg placed third, with $61k (1.3%).

It was nice to see Cake wallet experience more overall volume, as they netted ~$16k throughout the period (6.9x higher than last week). Shift count also nearly doubled which is a great sign. Trustee wallet also encountered slight shift count growth, although the volume remains quite low. In total, affiliates represented ~29.5% of weekly volume and 36.9% of shift count, both of which are higher than normal.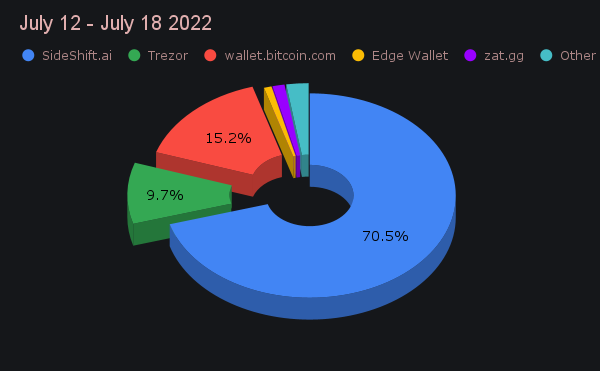 That's all for now. Thanks for reading, happy shifting and we'll see you next time.