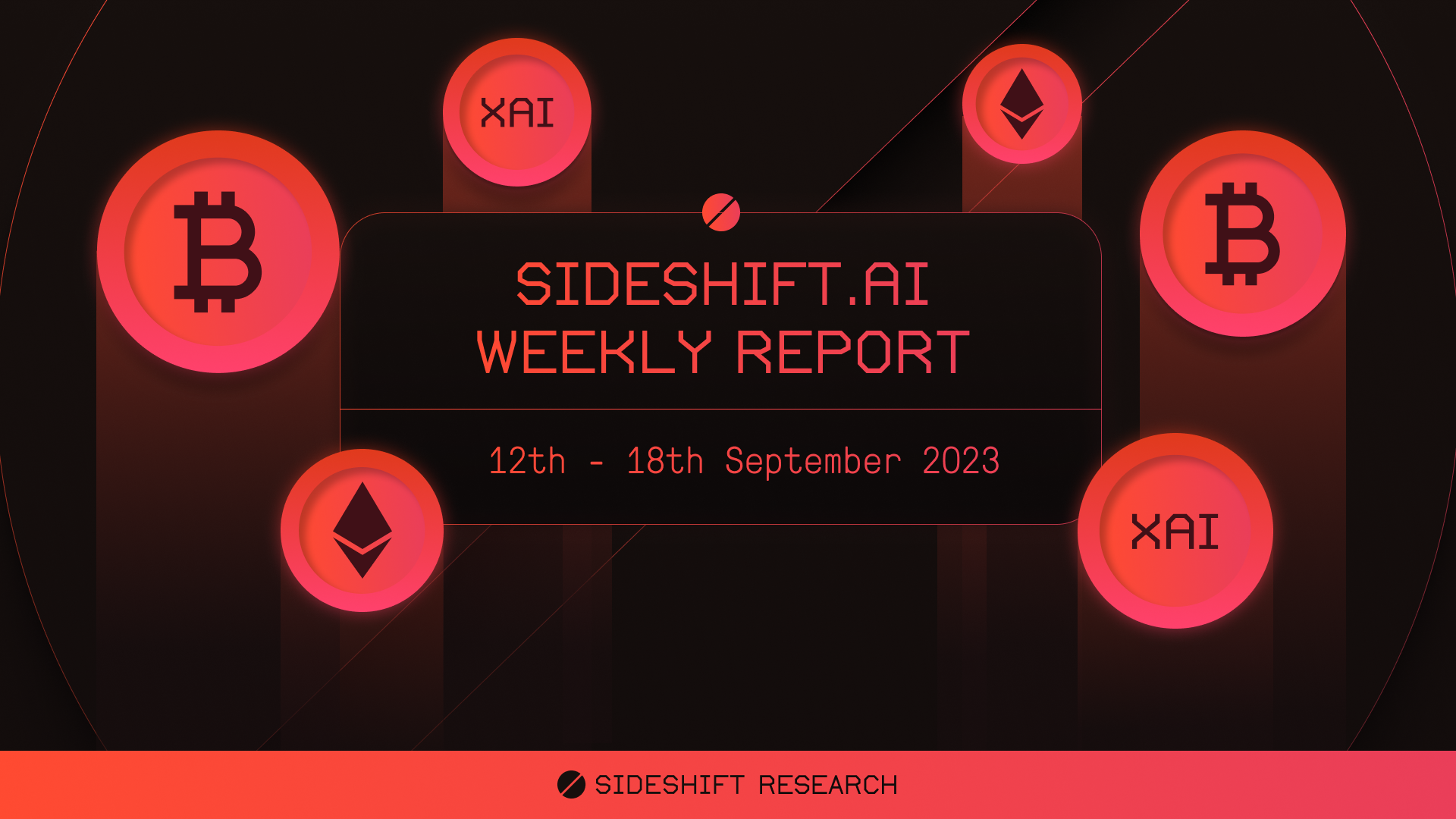 19 September, 2023
SideShift.ai Weekly Report | 12th - 18th September 2023
Welcome to the seventy-second edition of the weekly stats report - your one-stop shop for all things SideShift.ai.

This week SideShift token (XAI) did not waver far from last, moving within the familiar 7 day range of $0.0837 / $0.0879. A gradual climb throughout the week has led to XAI currently occupying territory near the top of that range. At the time of writing, it is sitting at a price of $0.0874 and has a current market cap of $10,939,820 (+1.9%).

XAI stakers were rewarded with an average APY of 9.53% this week with a daily rewards high of 52,719.16 XAI or $4,579 (an APY of 18.89%) being distributed to our staking vault on September 16th, 2023. This was following a daily volume of $1.8m. This week XAI stakers received a total of 192,941.29 XAI or 16,392.29 USD in staking rewards.

An additional 50 ETH was deposited to our treasury this week, bringing the current total to a value of $4.86m. Users are encouraged to follow along directly with live treasury updates.

Additional XAI updates:

Total Value Staked: 111,371,578 XAI (+0.2%)
Total Value Locked: $9,660,371 (+0.2%)

General Business News:

This week saw BTC emerge from the zone it has been lingering in for the better part of the last month. Not only did it blow past $27k, but BTC dominance is now also closing in on 50%. It is clearly leading the charge, which is distinctly evident on SideShift at the moment.

SideShift had a generally positive week, finishing the period with volume up 5.6% for a gross $6.3m. Shift count fell slightly, down 2.2% for a gross 4,974 shifts, meaning we received a higher number of larger scale shifts throughout the week. In particular, several of these large shifts derived from our top affiliate which significantly contributed to its standout performance. Together these figures combined to produce daily averages of $904k on 711 shifts. When denoted in BTC, our weekly volume amounted to 238.95 BTC (+3%).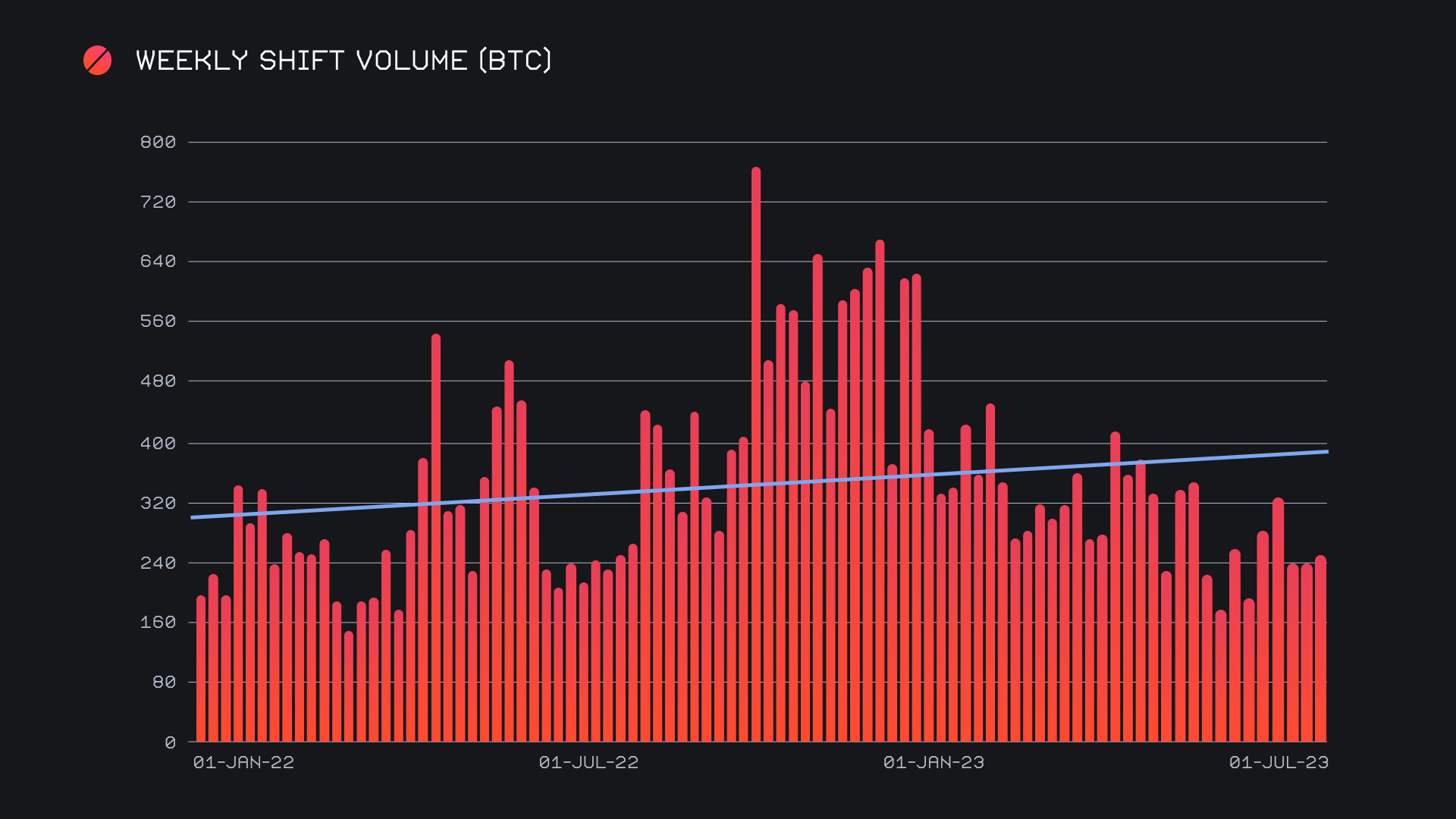 Continuing with the trend outlined in the previous report, BTC once again occupied center stage this week with total volume (deposits + settlements) reaching a 2 month high on SideShift. As our top coin, it increased an impressive 21.6% for a gross $4.6m. With less than half that of BTC, USDT (ERC-20) sat next with $2.1m (-17.8%), followed by BCH, which saw a sizable jump as it netted $1.5m (+77.6%).

Nearly one fourth of all volume shifted this week stemmed from our top two pairs of BTC / USDT (ERC-20) and BTC / BCH, thereby affirming their spots as our top 3 coins. The BTC / BCH pair in particular was head turning, as it exploded from just $12k in weekly volume two weeks ago, to over $646k this week. This speaks to its sporadic behavior, unlike that of our top pair, BTC / USDT (ERC-20). For 14 consecutive weeks now it has remained in first, averaging a weekly volume of $1.1m throughout that timespan. As it appears that market sentiment may slowly be beginning to turn a new leaf, it will be interesting to observe if this pair continues to see demand, or begins to taper off.

Meanwhile, ETH has now declined for 4 straight weeks, this week dipping 22.6% for a fourth placed finish with $1.4m. This comes after extremely strong performances in August, which saw it closing in on our top coin.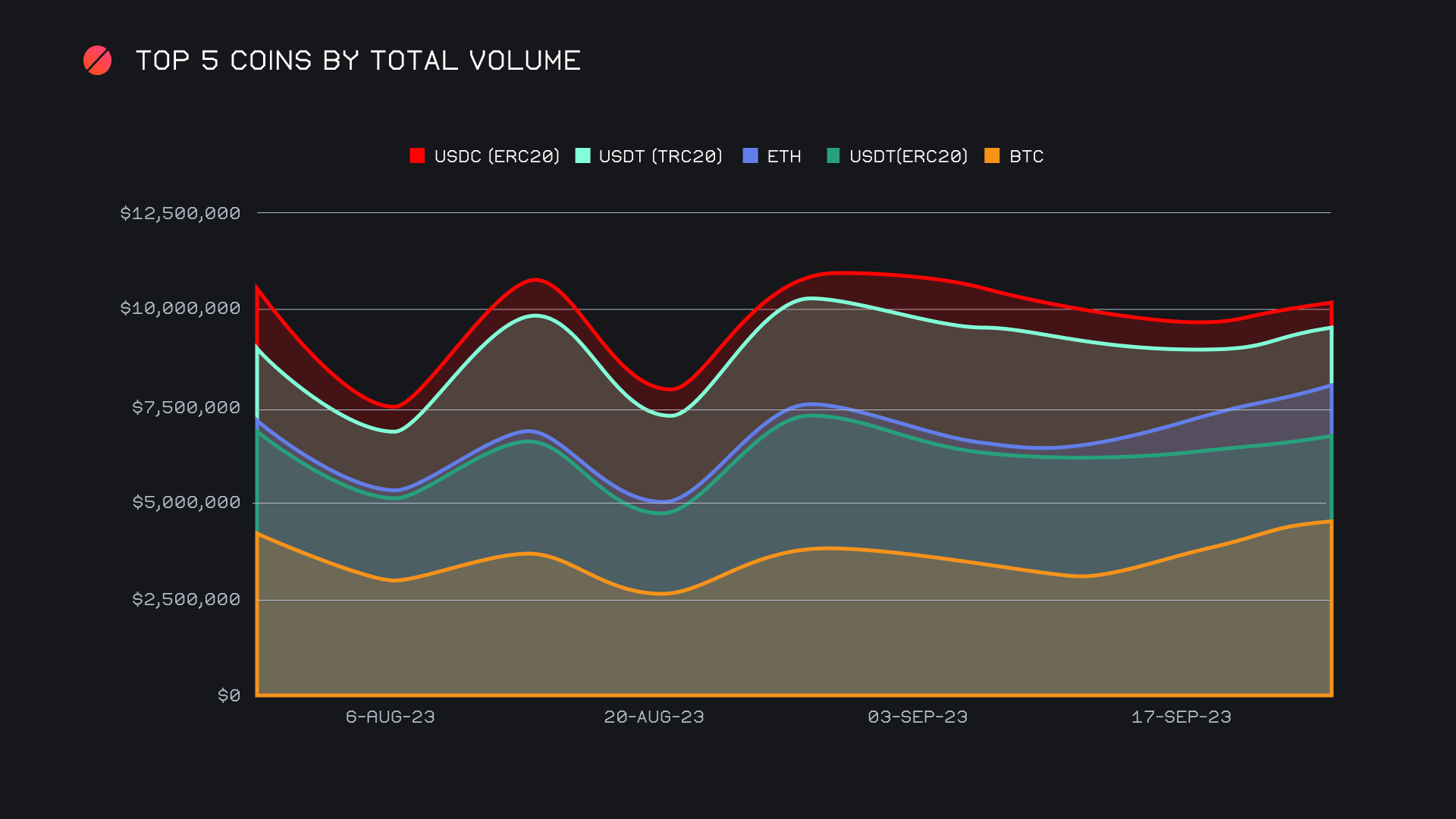 When looking at alternate networks to ETH, it is noticeable that they have lost some steam in recent weeks. Collectively, they have now hit a multi-month low, with volume this week summing to a combined $1.6m (-10.7%). The Tron network alone accounted for more than half of this with $819k (-5%), as for the time being, it seems to be the only alternate network to generate consistent shifting on a weekly basis. Volume on almost all other networks has fallen off sharply, including the Binance Smart Chain Network (BSC) with $240k (-43.9%), and the SOL network with $192k (-25.5%).

The decline in shifting even among the ETH network itself reflects the highly BTC centric mentality at the moment. Whereas just two weeks ago over half of all shifts involved a coin on the ETH network, this week saw just ~35% involving one.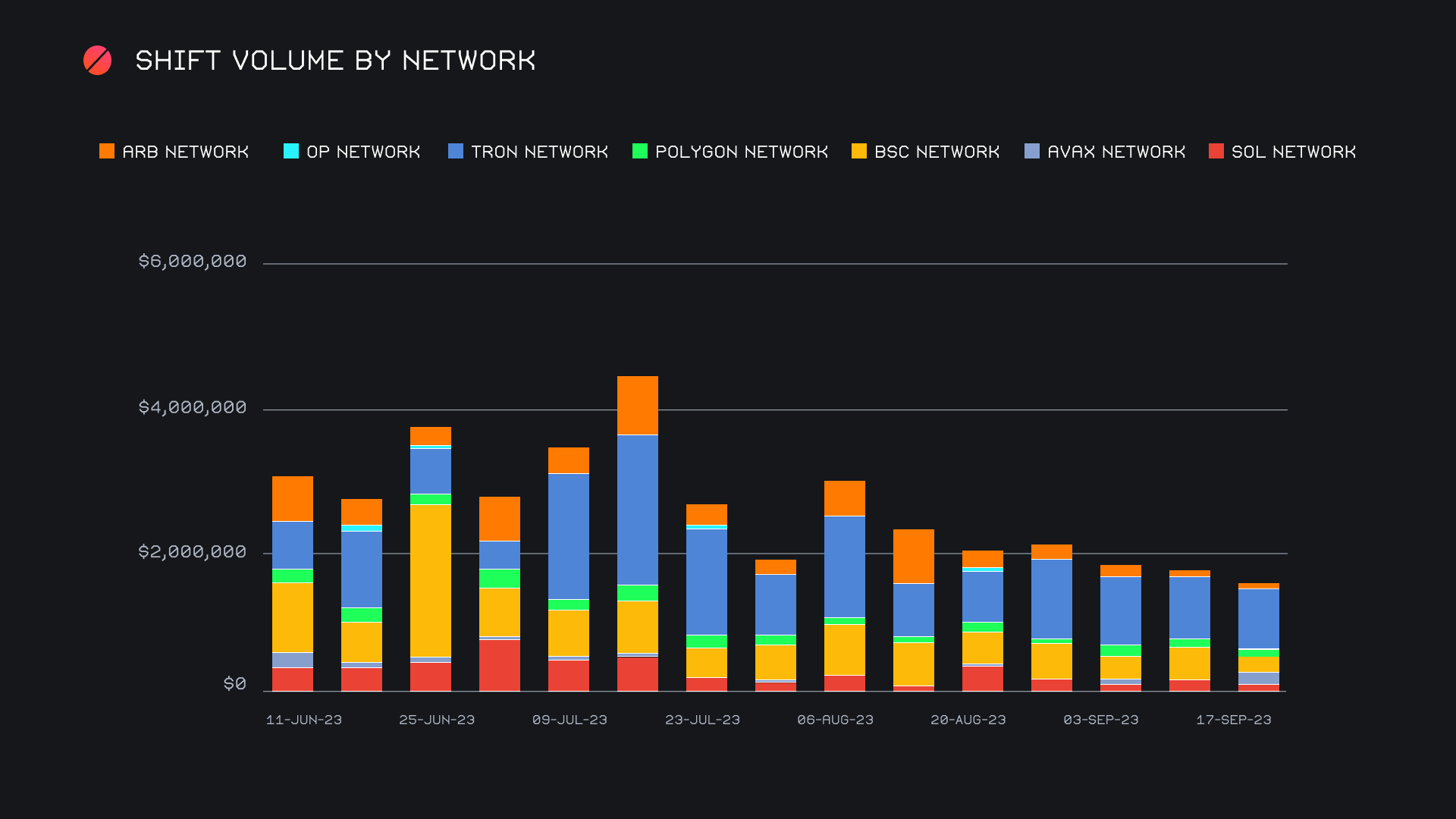 Likely as a result of the upwards momentum observed in the past few days, it appears that stablecoin flows on SideShift are beginning to converge. This means that the level of deposits is closing in on that of settlements, and that slowly but surely users are beginning to step out of their shells. A net stablecoin outflow of -$171k marks the closest that deposits have come to settlements since we began tracking stablecoin flows. While USDT (ERC-20) settlements were still heavily favored over deposits, the opposite was true for nearly every other stablecoin. The flipping of deposits exceeding settlements would be a telling sign of a rather bullish mentality embraced by SideShift users.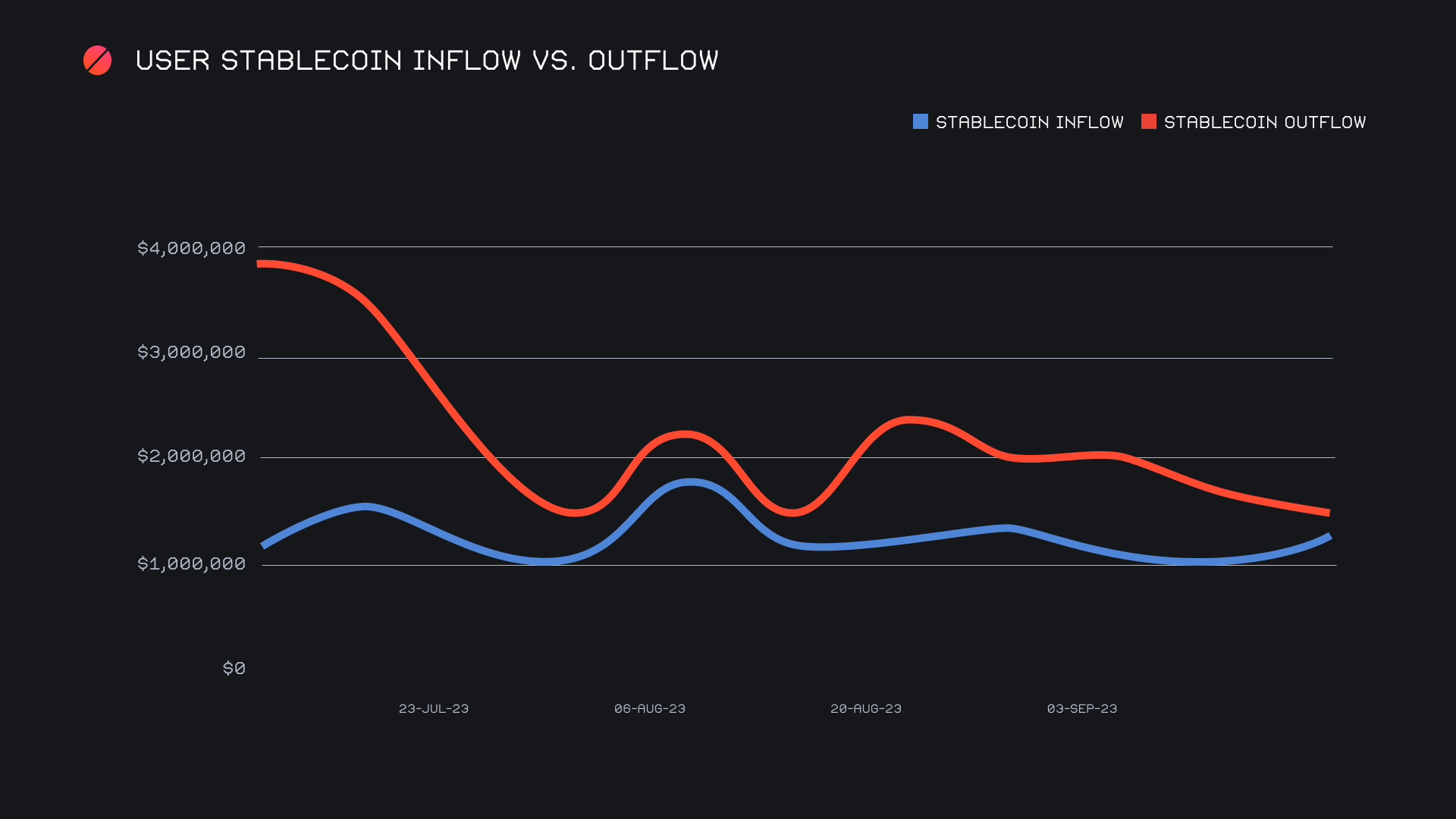 In listing news, SideShift added support for both native USDC and USDT on Avalanche, meaning we now support both the native and bridged versions. These were in addition to a heavily requested one - ETH on the Base network. Shifting with ETH (Base) is now live, available from any coin of your choice.

Affiliate News

The consistency of our top affiliates is something to take note of, and this week was no exception. They combined for a gross $2.9m (+14%), representing 46.5% of our weekly volume. This occurred alongside an equally strong shift count proportion, as the combined 2,194 shifts accounted for 44.1% of the total.

With $1.8m on 1,292 shifts, our top affiliate remains unchanged and looking strong as ever, largely thanks to the prominence of our top pairs. However, it wasn't just our top affiliate to record a positive week, as 4 of our top 5 saw a positive week on week change.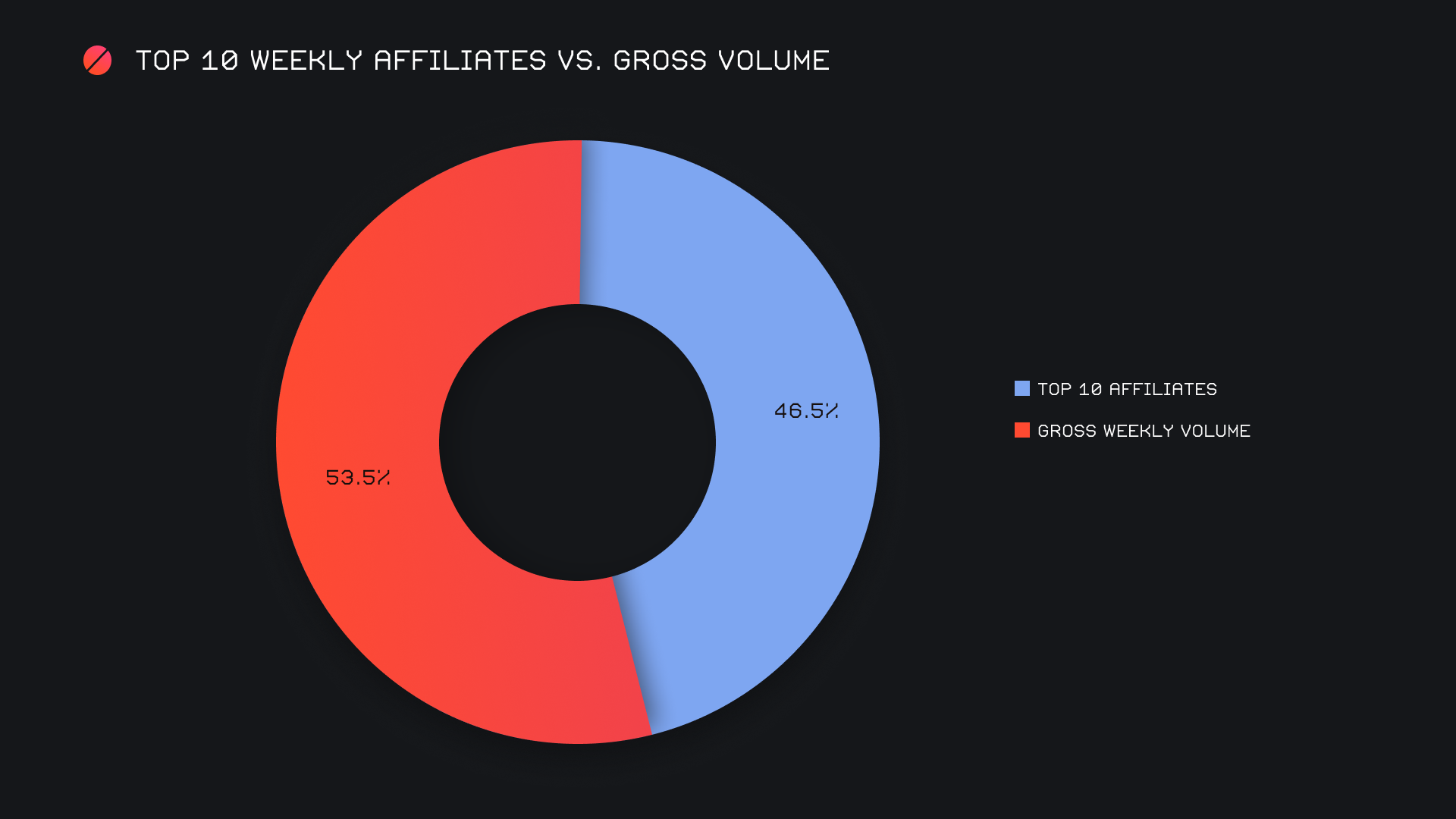 That's all for now. Thanks for reading, happy shifting and we'll see you next time.