20 December, 2022
SideShift.ai Weekly Report | 13th - 19th December 2022
Welcome to the thirty-third edition of the weekly stats report - your one-stop shop for all things SideShift.ai.

XAI Token Market Update

Throughout the week SideShift Token bounced within the 7 day range of $0.1109 / $0.1213, and at the time of writing is sitting at a price of $0.1123. A current circulating market cap of $10,861,699 marks a decrease of 3.3% from this time last week.

XAI stakers were rewarded with an extremely solid average APY of 32.17% this week. A daily rewards high of 54,383.76 XAI (yielding a 41.82% daily return) was deposited to our staking vault on December 15th, 2022, following a daily volume of $1.43m.

The value of svXAI continues to grow, as daily staking rewards accumulate within our vault. Currently, the price of 1 svXAI is equal to 1.1208 XAI, representing a 12.08% return on investment for stakers. Be sure to follow along with XAI, svXAI and other SideShift-related statistics, updated in real-time here on our Dune Dashboard.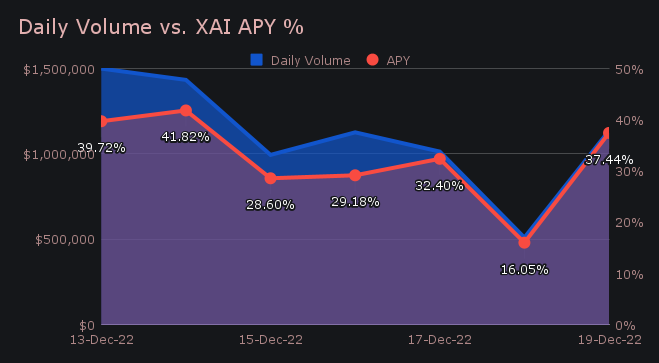 Additional XAI updates:

Total Value Staked: 57,102,265 XAI
Total Value Locked: $6,501,960

General Business News:

Despite the general sideways market movement, SideShift had a very solid week. We bounced back 38.3% to net $7.72m in volume for the period. This was alongside a total shift count of 6,466, which also had an impressive growth percentage of 23.1%. These totals resulted in daily averages of $1.10m on 924 shifts. In BTC terms, this amounted to 450.17 BTC, 37.9% higher than the previous report. This is approaching some of the highest weekly BTC volume levels ever achieved by SideShift, as displayed in the bar chart below.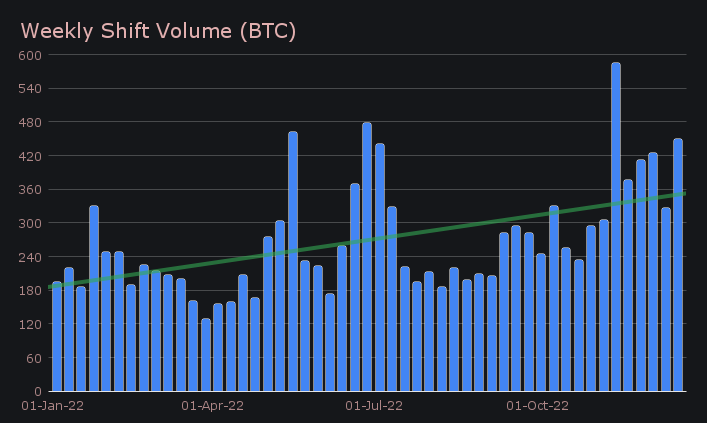 When taking a bird's eye look at the overall performance this week, the first observation is that the vast majority of coins saw significantly more shifting. In fact, when measuring total volume (deposits + settlements), eighteen out of twenty saw an increase from last week. This is something noteworthy, especially considering the lack of volatility in the overall crypto market.

BTC led the pack once again, with net deposit volume growing for the second week in a row. It climbed by 16.9% to total $2.61m, and maintained its usual position as our most deposited coin. XMR ranked second with $1.16m, as a jump of 32.4% helped it breach the $1m mark after falling below this level last week. A big contributor to this was the XMR / BTC pair, which accounted for $542k of weekly volume. Rounding off the top 3 was ETH, which saw a modest increase of 1.5% to sum to $858k. Also worth mentioning was fourth-placed ZEC (shielded), which increased nearly 25x to sum $760k in deposits.

On the settlement side, the story is much of the same, as the top 3 remain an extremely familiar bunch. BTC retained its title as the most popular settle coin with a total volume of $1.89m (+14.8%). Following an unusually slow week, ETH exploded by 374.9% to grab second place with $1.63m, marking the highest recorded volume since the boom in May 2022. You can see the significance of the dip and proceeding spike that ETH encountered in the chart below.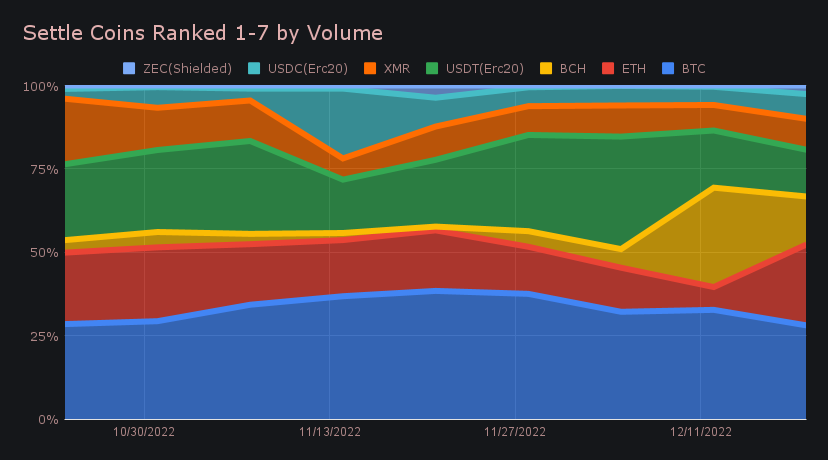 In particular, this came from the peculiar pair of ZEC (shielded) / ETH, which yielded $701k in shifts for the week. 92% of the deposited ZEC (shielded) settled to ETH this week, and arrived in large but steady chunks as the period progressed. In third place was BCH, which had a healthy settle volume once again, but fell short of the standout figure achieved last week. It dropped by 35.3% and netted a sum of $967k.

This BCH settle volume is almost entirely due to the resurgence of the once dominant pair of BTC / BCH. It finished as our most popular shift pair for the second consecutive week, with a total of $927k. An incredible 96% of the settled BCH derived from BTC, indicating the lack of diversity of coins shifting to BCH.

Interest in stablecoins remains low, as total stablecoin settlement volume continues to hover around the 23% mark. This is nearly 15% lower than the record highs reached only a couple of weeks ago. You can observe in the chart below that over the course of the past month the general trend for stablecoin settlements is tilted downwards. That being said, USDT on Ethereum did finish as the fourth most settled coin with $940k. Still, now for the second week it has finished with only half the settlement sum of our most popular coin, BTC. For the time being, it seems users are more interested in accumulating established coins such as BTC and ETH.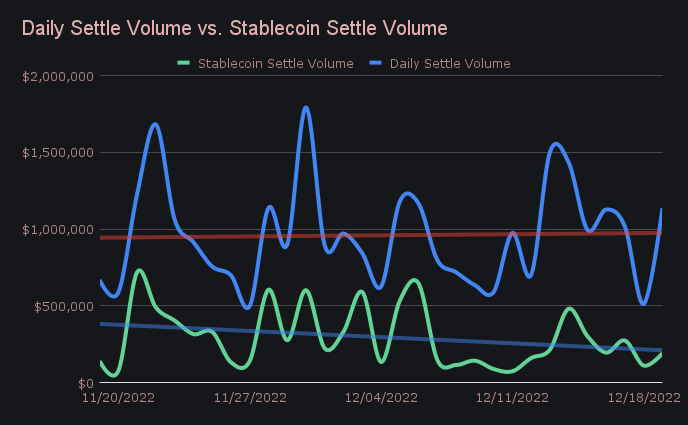 Further supporting the notion that users are predominantly interested in "popular" coins, is the general lack of shifting to coins outside of the top 10. Although most coins did indeed see a net increase in shift volume, coins outside of the top 10 have only combined to account for 5-7% of total weekly volume in recent weeks. For some reference, this figure has typically been at or above the 10% mark. We will continue to track this and see if any trend reversal is supported by this category growing.

In listing news, SideShift added support for GMX on both the Avalanche and Arbitrum networks. GMX is the utility and governance token of the decentralized perpetual exchange, GMX. The token has a current market cap of $395m, ranking it 83rd overall (try shifting to GMX for yourself here). Additionally, we listed the Gains Network token (GNS). GNS is the native token of an innovative DeFi ecosystem built on the Polygon network. A current market cap of $111m ranks GNS #210 overall (users are also encouraged to try shifting to GNS here)

Overall, SideShift had a great week, with solid volume and few issues arising. This allowed us to hone our attention on listings as well as refine small details. As 2023 now sits just around the corner, our intentions remain the same - a sharp focus on growth while making SideShift as user-friendly as possible. So much was achieved in 2022, and it is exciting to think about what the coming year holds in store. Thank you for joining us along the way.

Integration News

All together, integrations rounded off the week combining for $1.55m in volume, which represented 20% of the weekly total. As a proportion of overall weekly volume, this once again marks one of the lowest achieved since mid-2022. However, despite this total being lower in recent weeks, it's promising to see that the shift count remains consistent. All integrations summed to total 2,245 shifts this week, accounting for 34.7% of the weekly total. Users continue to shift, as the volume comes and goes in waves.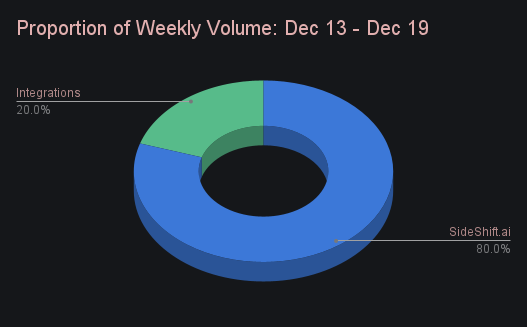 That's all for now. Thanks for reading, happy shifting and we'll see you next time.