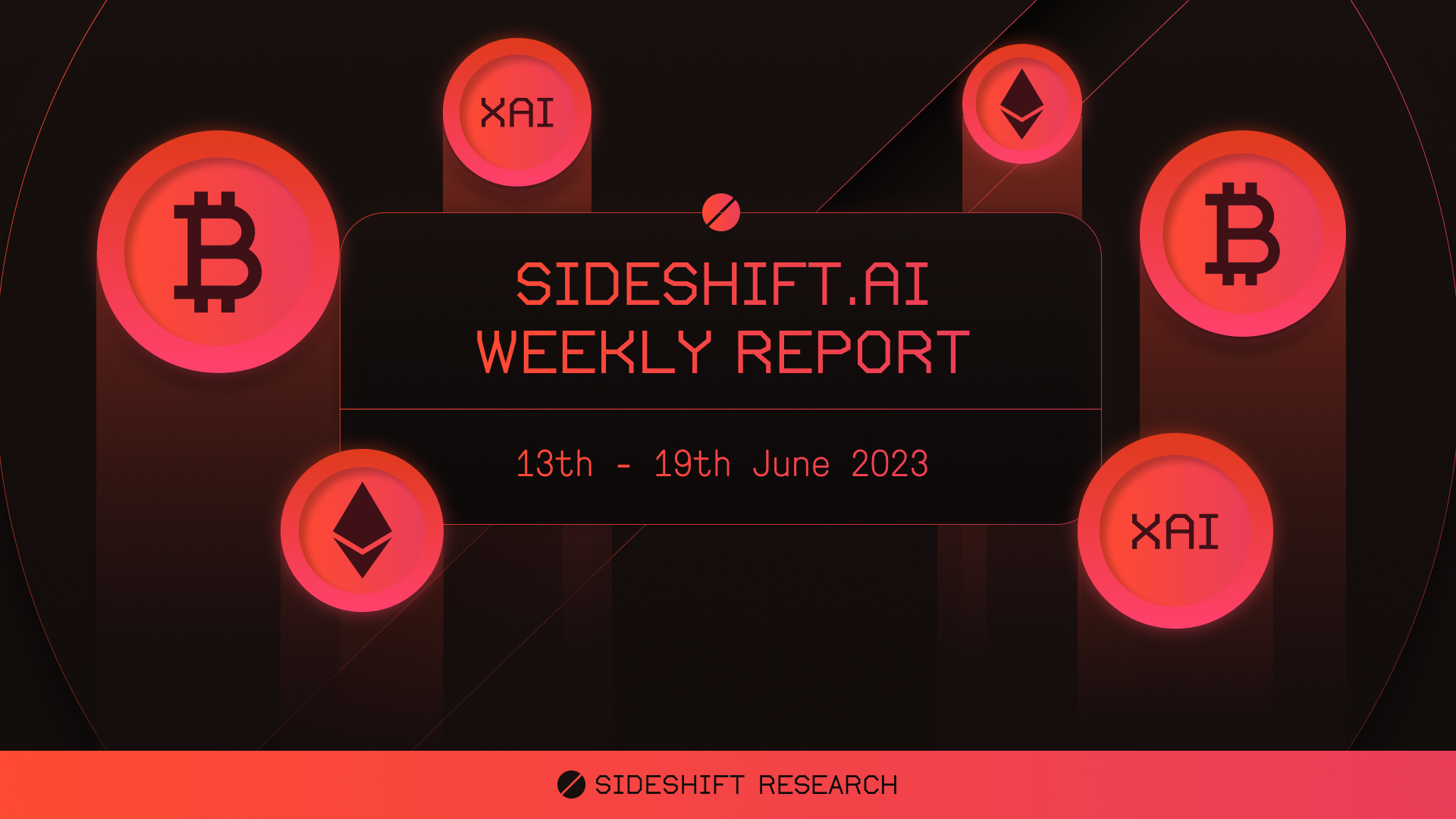 20 June, 2023
SideShift.ai Weekly Report | 13th - 19th June 2023
Welcome to the fifty-ninth edition of the weekly stats report - your one-stop shop for all things SideShift.ai.

XAI Token Market Update

This week SideShift token (XAI) moved within the 7 day range of $0.1055 / $0.1304 and followed a similar chart pattern to the broader crypto market. At the time of writing, the price of XAI is sitting at $0.1194, and has a current market cap of $14,517,886 (-4.1%), as denoted on our Dune Dashboard.

XAI stakers were rewarded with an average APY of 11.9% this week, with a daily rewards high of 62,905.97 XAI (an APY of 24.66%) being distributed to our staking vault on June 14th, 2023. This was following a daily volume of $2.0m. This week XAI stakers received a total of ​254,881.53 XAI, or $29,868.29 USD in staking rewards.

The price of 1 svXAI is now equal to 1.2041 XAI, representing a 20.41% accrual on stakers' investments. A friendly reminder that the easiest way to participate in XAI staking is to shift directly to svXAI from any coin of your choice.

Additional XAI updates:

Total Value Staked: 105,499,394 XAI (+1.1%)
Total Value Locked: $12,129,265 (-5.5%)

General Business News:

This past week began with the BTC price taking a sharp and sudden decline, followed by a gradual climb to a near two week high. The majority of other coins followed this same general pattern.

SideShift remained steady, ending the period with a gross volume of $8.8m (-5.8%) alongside a shift count of 6,789 (-4.7%). Together, these numbers produced daily averages of $1.3m on 970 shifts, just ~$80k lower than the previous week's average. When denoted in BTC, this week's volume totalled 337.11 BTC, a decrease of 4.7% from last week.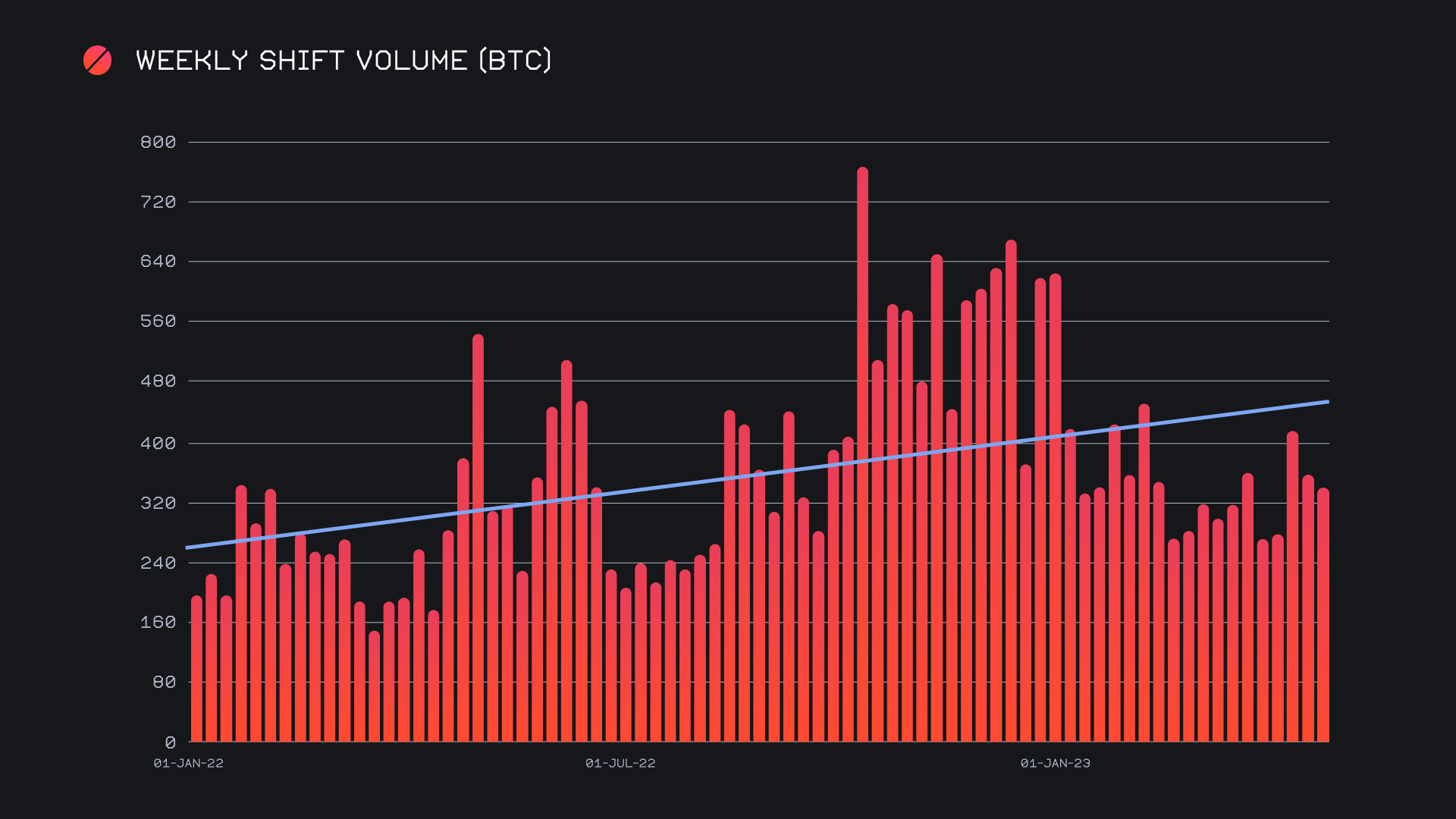 With a total volume (deposits + settlements) of $4.6m, BTC finished at the top of the list despite incurring a drop of 11.1%. This was due to a decreased user demand for BTC, with settlements dropping 26.7% for a net $1.7m on the week. It seems that BTC's price falling below $25k at the beginning of the week spooked many, with only the strong hands left to scoop up the dip. Conversely, the total volume of USDT (ERC-20) spiked by a hefty 81.3%, placing it second overall with $3.1m. As expected and aligning with the decreased activity of BTC, an increase in USDT (ERC-20) settlements were the driving force behind its rise. When the BTC price was crashing at the beginning of the week, the data shows us that many people were buying USDT (ERC-20) along with other stablecoins. USDT (ERC-20) user settlements jumped by 47.5% for a net of $1.3m. You can note the expansion of USDT (ERC-20) below, along with the decline of BTC.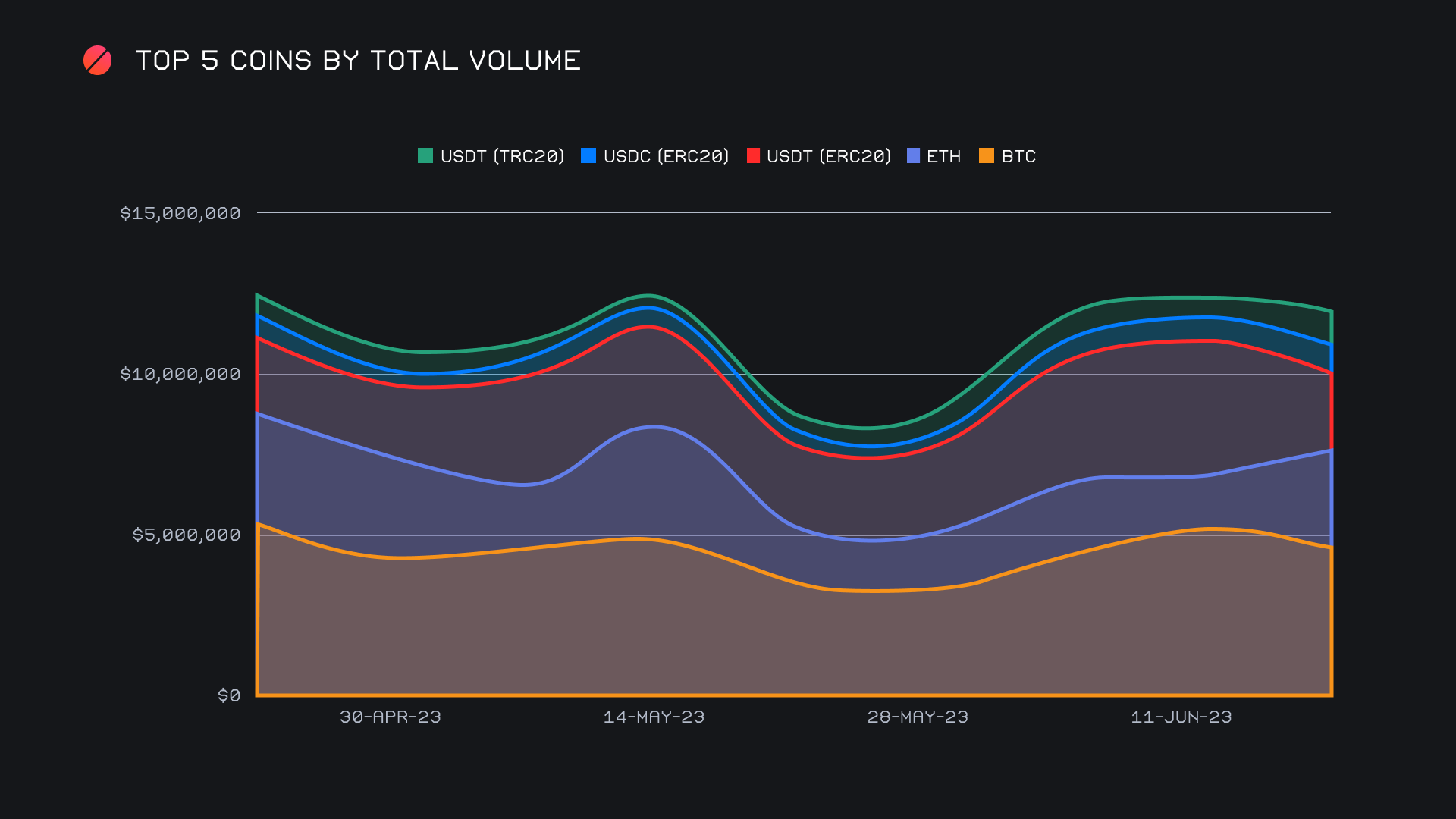 Expanding on the above chart is the recent behavior of ETH. With a sizable decrease of 46% overall, ETH experienced the biggest total volume drop among our top 8 coins. Total volume for ETH dropped more than $1.9m from last week, summing to $2.3m for a fourth placed finish. Primarily, this was due to a steep decline in ETH deposits - last week the ETH/BTC pair netted $1.2m in shift volume alone. This week, the pair generated just $292k. Instead it was overtaken by the BTC/USDT (ERC-20) pair, which prevailed as the week's most popular with $977k.  

Although USDT on the Ethereum network led the way among stablecoins, it was not the only to see an increase in demand. USDT on Tron grew by 49.3% for a total of $450k, while USDC on the Ethereum network increased by 74.1% for $378k. In fact, this trend was common across most stablecoins. Even less popular choices such as USDT on Binance Smart Chain (BSC) ($90k) and USDC on the Solana network ($32k) saw very respectable increases in settlements. They rose by a respective 104.7% and 133.8%, albeit with smaller total volumes due to less deposit volume. Combined stablecoin settlements climbed 41% for a total ~$2.3m. This exceeded stablecoin deposits by approximately $840k, as they summed to a lesser ~$1.5m. Net stablecoin outflow pulled upwards this week, diverging from inflow, as shown in the below chart.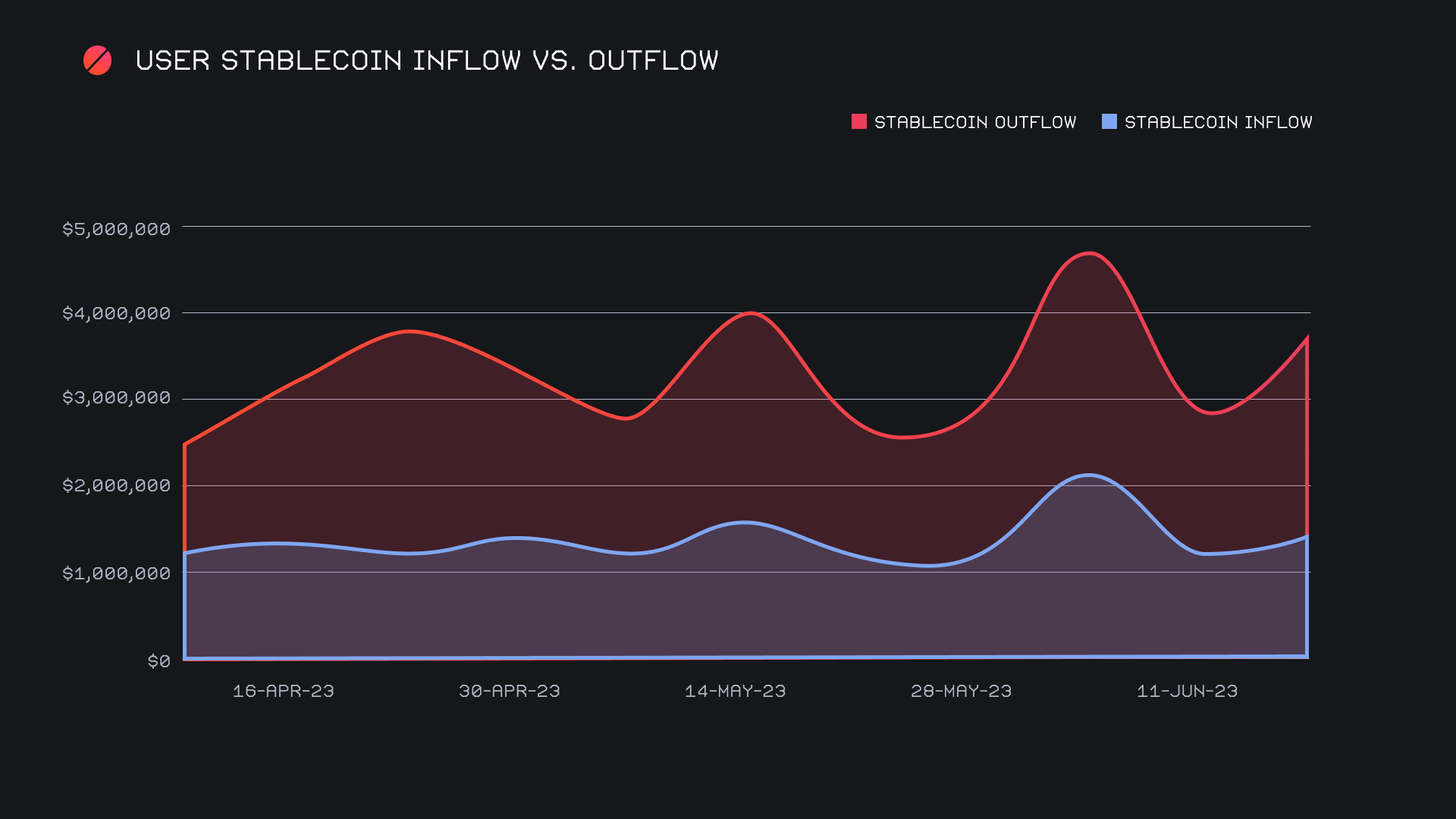 When taking a look at the performance of alternate networks to ETH this week, we can note a few changes. The Tron network roared back to life, surpassing the $1m mark for only the second time in the past four months. Because of the popularity of USDT on Tron shifting, the Tron network ended with a net volume of ~$1.1m, standing head and shoulders above the rest. In second place was the BSC network which fell 41.5% for a total of $566k. This comes on the heels of a few monstrous weeks, where it rocketed as high as $2.7m just two weeks ago. In third place was the SOL network with $411k, which was enough to out-do the ARB network, as it also incurred a rapid decline, falling 45.1% for $339k. As a whole these alternate networks combined for $2.7m, 12% lower than last week's sum. As a comparison, total shift volume on Ethereum netted $6.6m and accounted for approximately 38% of all shifts this week.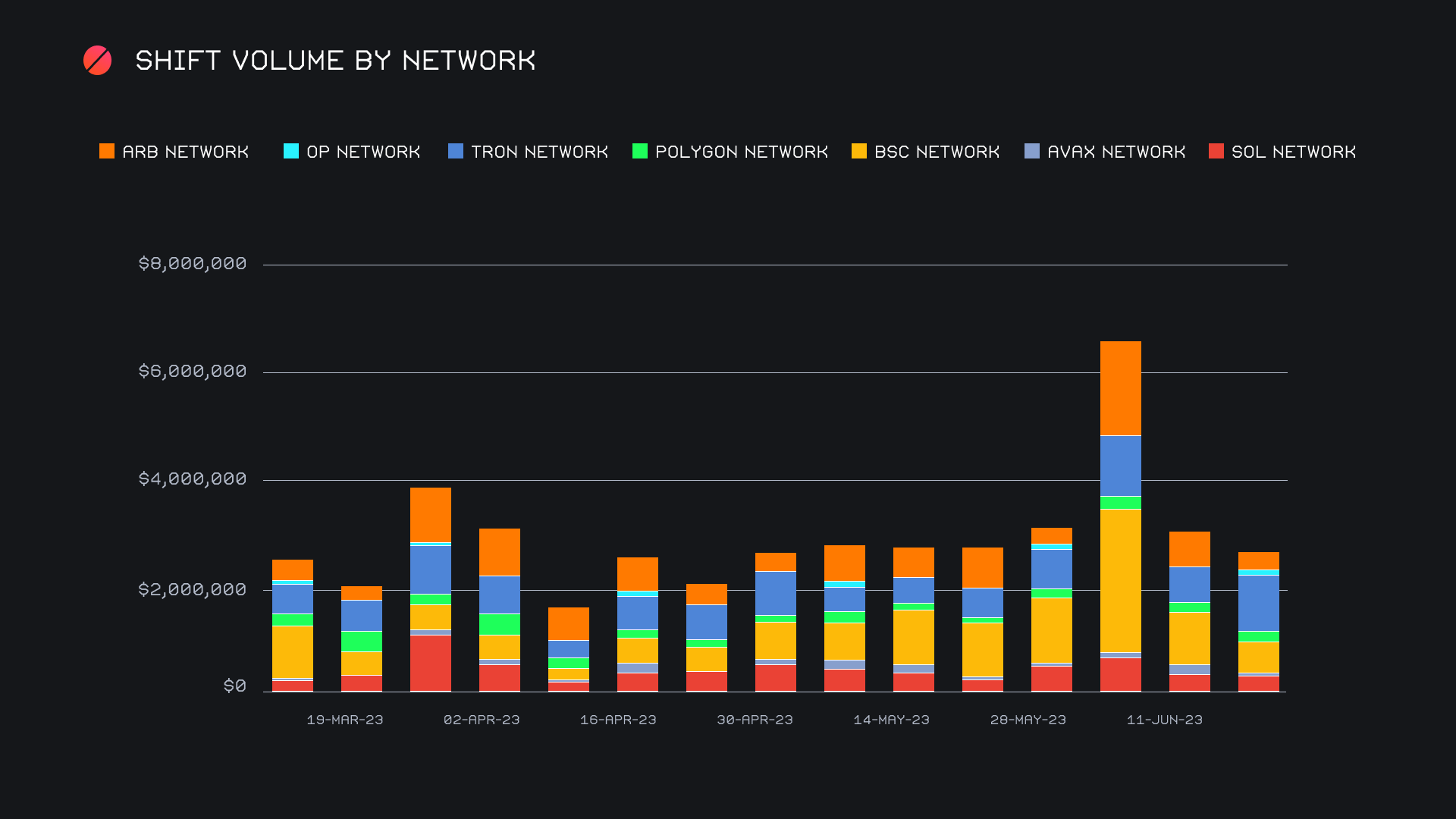 Affiliate News

Our top 10 affiliates rounded off the week with a combined total of $1.6m (-8.6%). Shift count on the other hand behaved oppositely, rising 6.8% for a final count of 1,882. Our top affiliate had a solid performance, accounting for 10.8% of the week's total volume and a respectable 14.5% of total shift count.

Overall, our top 10 represented 18.5% of the week's gross volume, a minor change of -0.5% from last week's proportion.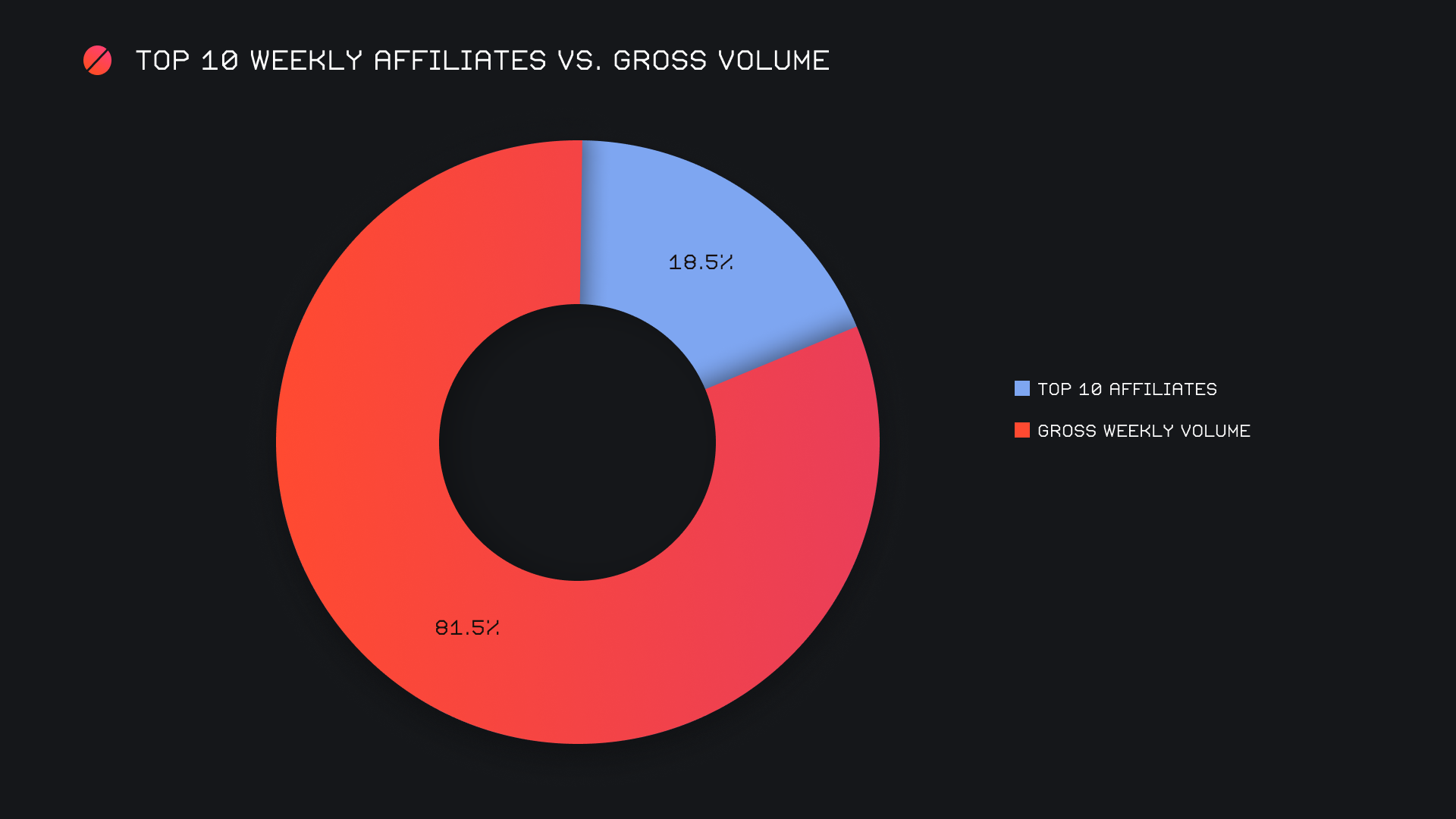 That's all for now. Thanks for reading, happy shifting and we'll see you next time.