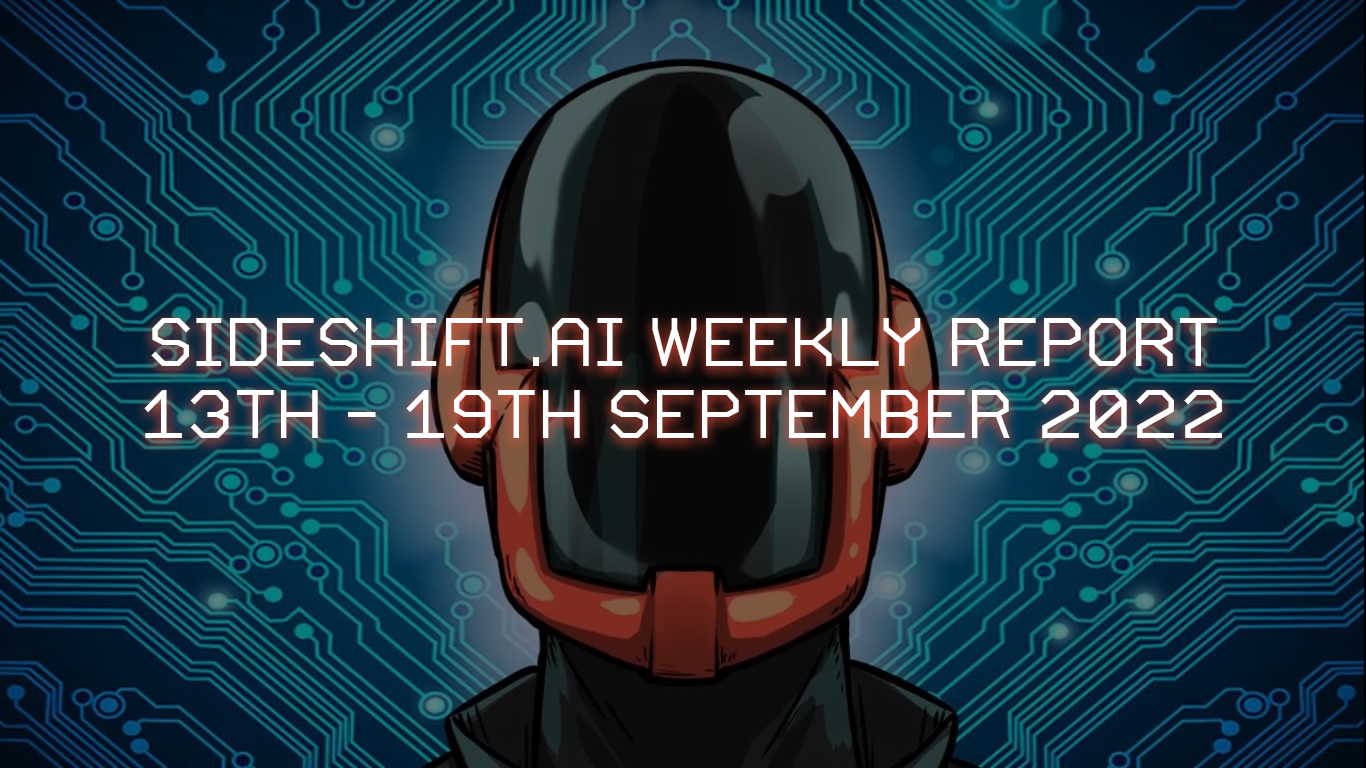 20 September, 2022
SideShift.ai Weekly Report | 13th - 19th September 2022
Welcome to the twentieth edition of the weekly stats report - your one-stop shop for all things SideShift.ai.
XAI Token Market Update

Throughout the week SideShift token (XAI) experienced some big price volatility and moved within the range of $0.073647 / $0.358234. At the time of writing, the price of XAI is sitting at $0.147532, a 17.2% increase from this time last week. A current market cap of $13,741,881 (+32.3%) places XAI within the top 800, in position #770.
The price of 1 svXAI is now 1.0511 XAI, equating to a 5.1% appreciation for those who have staked XAI since the migration. Don't forget that the easiest way to participate in XAI staking is to shift directly to svXAI from any coin of your choice - users can do so here.
XAI stakers were rewarded with an average APY of 29.5% this week, ~2.3% higher than our all time average. A weekly rewards high of 34,278.01 XAI (39.5%) was deposited to our staking vault on September 17th, following a daily volume of $1.04m.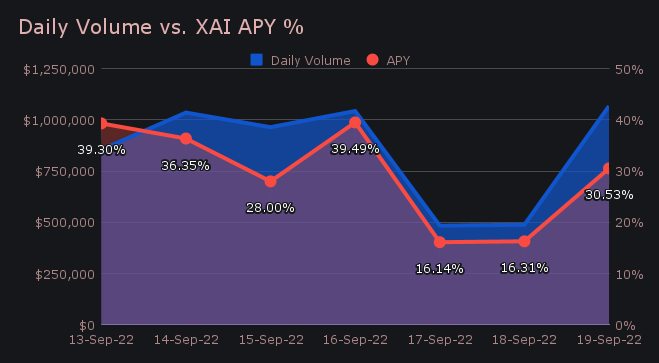 Additional XAI updates:

Total Value Staked: 37,718,467 XAI
Total Value Locked: $5,488,209
General Business News

This week SideShift experienced a net weekly volume of $5.94m (+4.1%) accompanied by a total shift count of 6,887 (+9.3%). This resulted in daily averages of $848k on 984 shifts.
Following a short lived pump to end last week, this week saw the market take a quick reversal as sentiment slid back into bearish territory. SideShift however saw more overall shift action with the heavy focus on Bitcoin, despite the price sitting below $20k.
BTC finished this week as SideShift's most settled coin, taking a big leap of 43% to claim first place with $1.95m. Considering this was our most popular coin, the increase is quite significant. In fact, this week marked the highest BTC settlement volume since mid June, a period when net site volume was ~29% higher than it is now. You can see BTC settle dominance trending upwards in the chart below.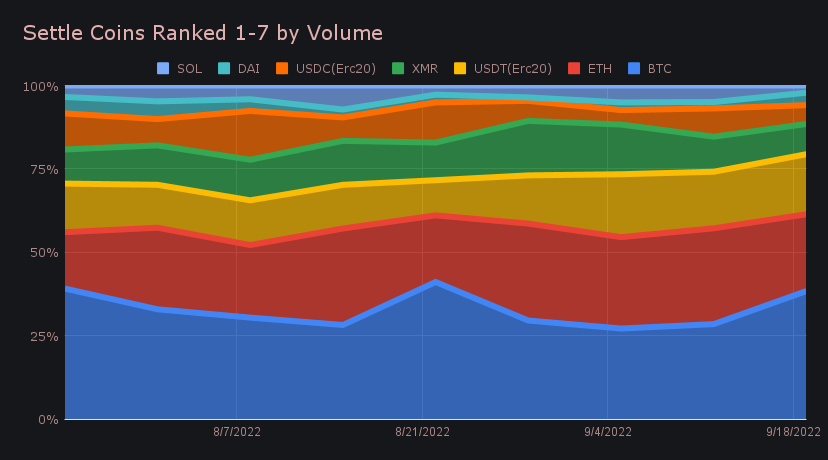 Ethereum lost some steam following The Merge, as ETH settlements on SideShift fell by 14.9% to place second with $1.17m. The opposite was true for most stablecoins, as 3 out of 4 that sit within our top 10 coins saw more settlements. Settlement increases were notable for USDT on Ethereum (+12.6%, $914k settle volume), DAI (+106.6%, $189k) and USDT on Tron (+25.4%, $98k). The exception to this trend was USDC on Ethereum, which fell by 29.3%.
As a whole, it appears that stablecoins have been more popular recently. This week stablecoins represented 23.4% of total settlements, a figure which has been incrementally on the rise for the past month.
On the deposits side, BTC also finished first with $1.6m, followed by ETH ($1.17m) and XMR ($818k).
Although the majority of this week's shifts involved BTC, it was encouraging to see a generally higher shift count among most coins. Of our top 15 coins, 11/15 saw an increase in overall shifts with 7 of those having an increase greater than 10%.
Two particular coins which saw increased shift count as well as volume were USDT on Tron and Tron's native token, TRX. They finished just outside of our top 8 settle coins in positions 9 and 10, with respective settle volumes of $98k and $84k. Both also encountered shift count growth >30% from last week, the majority of which came from Trustee wallet. Keep in mind, this is only the 3rd week since listing for USDT (TRC-20) and the 6th for TRX. Witnessing the continual growth of a newly listed chain in the throws of a bear market is a very encouraging sign.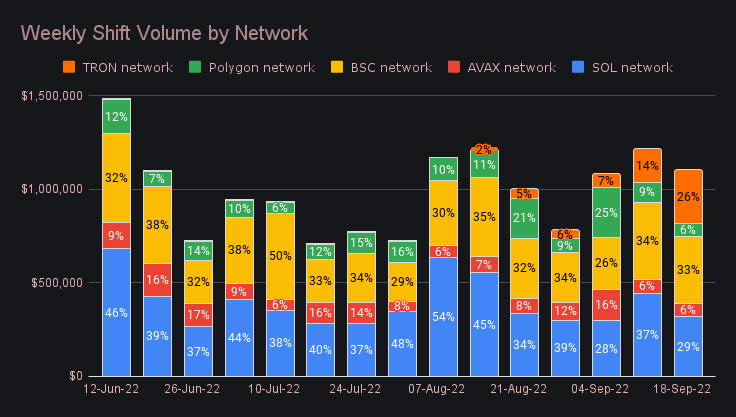 As reflected by the price, XAI also encountered more shift action with increases in shifts to XAI (ERC-20) and svXAI. Following a very quiet period with few shifts last week, this week saw a handful of bigger shifts settling to svXAI and XAI on Ethereum. They had respective settle totals of ~$38k and ~$37k.
BTC/USDT(ERC-20) remained the most popular shift pair, now for the third straight week. It accounted for 12.9% of weekly shift volume and 3.3% of weekly count. 48% of the deposited BTC volume this week settled to USDT(ERC-20). It wasn't surprising to see that BTC was involved in each of our top 4 shift pairs, twice as the deposit coin and twice as the settle coin.
In listing news SideShift added USDC on Tron, which is now the 4th asset that is supported on the Tron network.
Overall it was a solid week for SideShift with a few minor errors and no significant downtime. Instability with our DASH node resulted in some delayed shifts - it has since been upgraded and all stuck shifts were resolved within hours. We also experienced a brief period where "error loading rate" appeared on site, which can happen from time to time. It was quickly fixed and shifts were back to normal.
Integration News

Integrations had a very big week and accounted for 39.3% of total weekly volume (+3.5%). This portion has now increased in consecutive weeks, and is about 10% higher than seen at the beginning of the month. Integration shift count represented 35.7% of the total (+4.6%).
That's all for now. Thanks for reading, happy shifting and we'll see you next time.