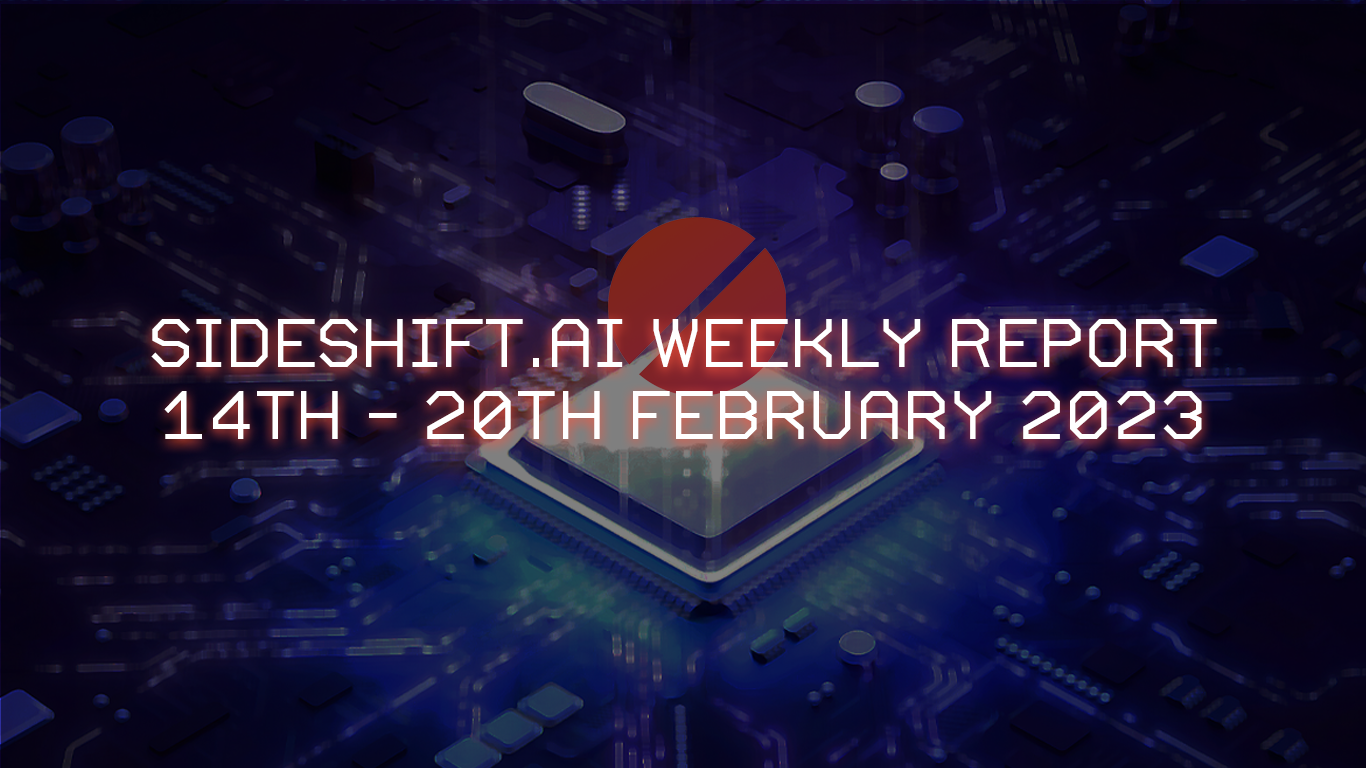 21 February, 2023
SideShift.ai Weekly Report | 14th - 20th February 2023
Welcome to the forty-second edition of the weekly stats report - your one-stop shop for all things SideShift.ai.

XAI Token Market Update

Throughout the week SideShift token continued the price behavior established in the previous report, moving within the 7-day range of $0.145 / $0.1526. At the time of writing the price is sitting at $0.1458, and has a current circulating supply market cap of $17,231,725 (-2.9% from last week), as denoted on our Dune Dashboard.

XAI stakers were rewarded with an average APY of 14.32%, with a daily rewards high of 44,357.91 XAI (yielding an APY of 21.07%) being deposited directly to our staking vault on February 16th, 2023. This was following a daily volume of $1.52m. Across the 7 day period, a cumulative sum of 207,361.93 XAI, or $26,817.63 USD was paid to XAI stakers.

The price of 1 svXAI is now equal to 1.1581 XAI, indicating a 15.81% return on stakers investments. The easiest way to stake with SideShift is to shift directly to svXAI directly from any coin of your choice.

In treasury news, a milestone was achieved this past week as we surpassed the $3m mark. An additional 100 ETH was deposited as the week continued, bringing the current total to $3.2m. Users are reminded they can follow along with live treasury updates directly on zapper.fi.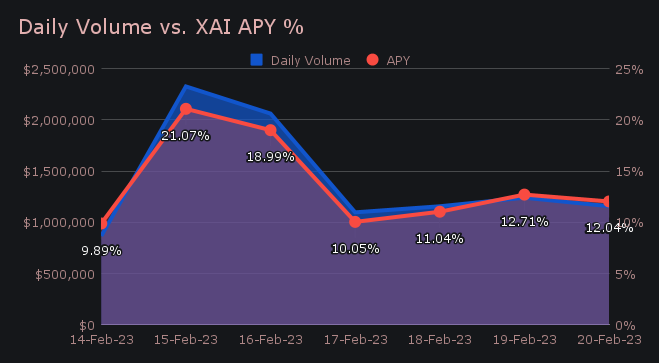 Additional XAI updates:

Total Value Staked: 84,900,274 XAI
Total Value Locked: $12,552,505

General Business News:

SideShift had a generally steady performance as BTC's price lingered on the doorstep of $25k, threatening to barge its way through. The mostly sideways price action throughout the week resulted in a slight decrease in overall shift volume when compared with the previous, but produced a respectable total nonetheless. We saw a jump in shifting take place as we headed into the weekend, prior to cooling off by the time Saturday rolled around.

The week ended with a gross volume of $9.9m (-26.7%) alongside a shift count of 6,770 (-0.5%). These figures combined to produce daily averages of $1.4m on 967 shifts, and yielded an average shift amount of $1,463. When denoted in BTC our weekly volume percentage change was more notable, dropping 33.1% from the standout performance last week to total 411.58 BTC. It should also be noted that BTC's USD price increased over the past 7 days, thereby further exaggerating the decrease in our weekly BTC volume sum.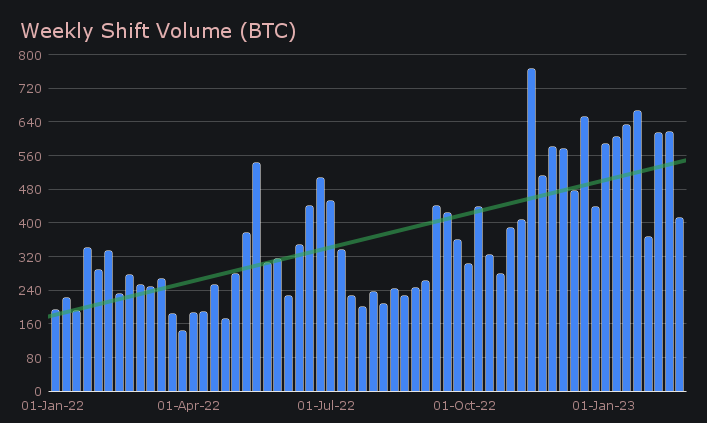 Perhaps as expected, BTC remained the focus of users and retained its position as our most shifted coin, both on the deposit and settlement sides. That being said, total BTC shift volume netted just $6.4m, an approximate 31% decrease from last week's total of $9.2m. A key reason for this was the lack of BTC/BCH shifts, as the pair typically catapults these coins to the top of their respective lists.

Still, enough BTC/BCH shifting unfolded throughout the week to retain its spot as the most popular shift pair. It rounded off the period with $952k on a shift count of 284, producing an average shift volume of $3,352.

Conversely, our second most popular coin, ETH, saw total shift action climb by 16.4% to net $2.9m. Primarily this was due to an increase in deposits, which rose 18.7% and ended with $1.53m. In particular the popularity of the ETH/BTC pair was responsible for this, as it saw $757k throughout the period - a respectable sum but not quite enough to dethrone BTC/BCH. Despite the increase in ETH volume, it should be noted that this was still less than half that of BTC, thereby speaking volumes to the dominance BTC has.

ETH wasn't the only coin which ate into the volume dominance typically occupied by BTC - USDT on Ethereum also saw modest ~6% jumps in both deposits and settlements, enough to place it third on both sides (liquidity included). USDT (ERC-20) settlements in particular was the focus of users - it overtook BCH to place second among user shifts, with $1.25m. Interestingly, almost $750k of this sum was shifted to from BTC, indicating some users were looking to flee to the safety provided by USDT. The jump in USDT (ERC-20) deposit volume can largely be credited to liquidity rebalancing.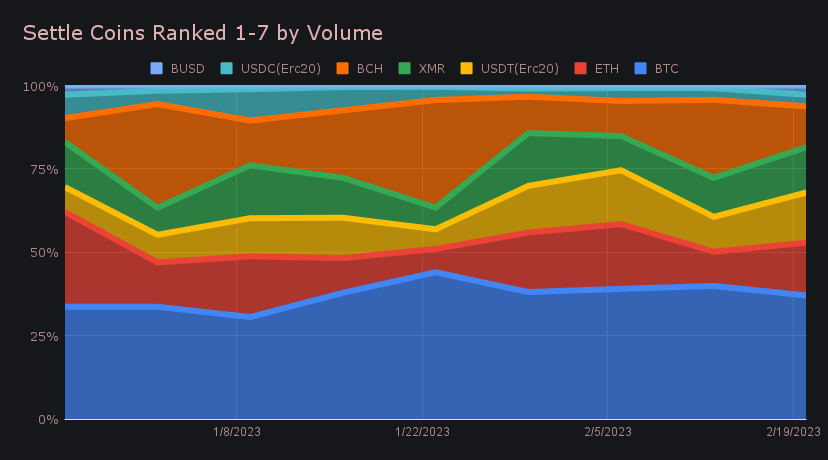 When looking at volume for various EVM networks on SideShift, this week we saw Binance Smart Chain (BSC) increase to place second behind the Ethereum network with a total volume of $916k. This was pretty evenly split between deposits and settlements, and clearly surpassed the previous second placed Tron network, which netted just $342k in volume. This is quite the decrease for Tron, considering in recent weeks there has been multiple times where it has been at or above the $1m weekly volume threshold. You can note BSC's increase below, but it should also be considered that all EVM networks saw a decrease in shift activity.

Contributing to this jump in BSC volume was a 37.3% rise in BUSD deposits, which resulted in a weekly deposit sum of $204k. $157k of this total was shifted into USDT (ERC-20), perhaps indicating uncertainty among users with the ongoing Binance FUD. This total was just enough for BUSD to crack into the top 8.

In listing news, SideShift added support for Woo Token (WOO), the native token of the Woo Network - a deep liquidity network connecting both CeFi and DeFi services. WOO has a current market cap of $416m, ranking it #100 overall. We also added support for Synapse (SYN), an interoperability protocol designed for securely sending arbitrary data between blockchains. SYN has a current market cap of $192m, ranking it #170 overall. Users are encouraged to try shifting to WOO, or shifting to SYN from any coin supported by SideShift.

Overall, everything has been running very smoothly with no major problems arising. There were, however a few minor things which came up - Zcash (ZEC) underwent an upgrade to the network during the week, which required us to temporarily disable it as a shift method. We've managed to get settlements back online but are currently still working on enabling deposits again. Also, Arbitrum network shifts have been slow at times this week. Primarily this was settlements taking longer to confirm into the blockchain, but also a handful of deposits having issues detecting. We have made adjustments to the network fees paid, however the arbiscan API was also under maintenance which might have had an impact on Arbitrum shift speeds.

Affiliate News

Our top 10 affiliates combined to total $1.68m, a ~9% nominal drop from last week. However, it should be noted then looking at the top 10 compared to the weekly volume total, the proportionate percentage actually increased.

A few changes took place here. Whereas last week saw a heavy volume concentration coming from our first placed affiliate, this week saw it far more dispersed across the board. Next, these top 10 combined for a net shift count of 2,261 (+4.7%), showing an increase in affiliate shift count despite a minor decrease when looking at the site overall. Lastly, when compared with total user shift volume, the top 10 affiliates represented 16.9%, a ~3% jump from the last report.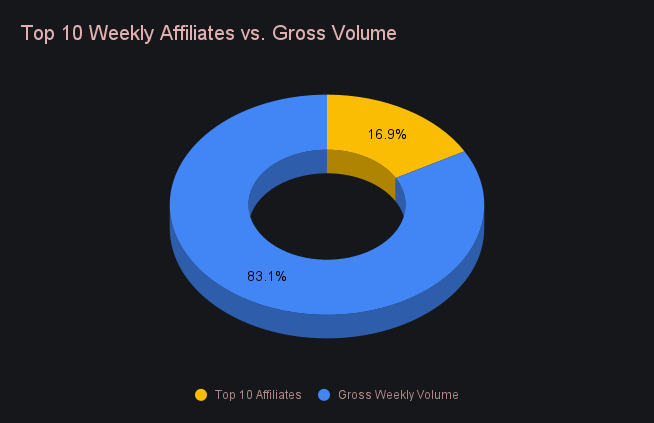 That's all for now. Thanks for reading, happy shifting and we'll see you next time.