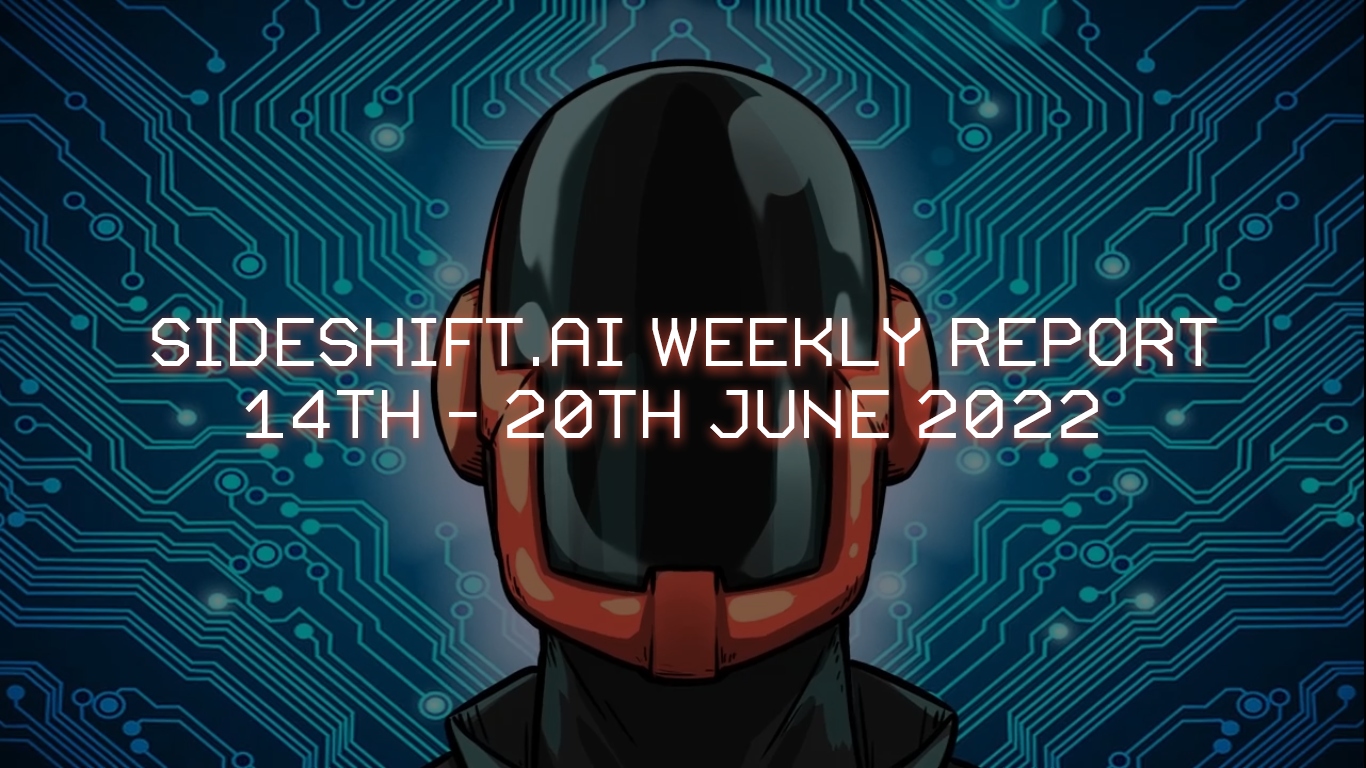 21 June, 2022
SideShift.ai Weekly Report | 14th - 20th June 2022
Welcome to the seventh edition of the weekly stats report - your one-stop shop for all things SideShift.ai.

XAI Token Market Update

At the time of writing SideShift token (XAI) is sitting at the absolute low end of the weekly range with a price of $0.164743. This week's price bounced between $0.163835 / $0.200578 and incurred a drop which came late on June 21st. XAI finished the off week in position #900 with a market cap of $8.07m.
It's a great time to be a XAI staker, as the APY averaged 36.77% for the week (~10% above our all time average). On June 21st a weekly high reward sum of 64,204.45 XAI was distributed to stakers which amounted to an incredible APY of 106.58%. This was the result of both a decrease in XAI price and steady overall site volume.
XAI has also had quite an increase in overall shift volume on SideShift.ai, as deposits and settlements combined for $172k this week. This is nearly 2.5x higher than the previous period, and ranked XAI as our 9th most popular coin when measuring deposits and settlements together. The majority of this XAI volume came from the deposits side, with the most popular pair of XAI/XMR totaling $56,393 for the week.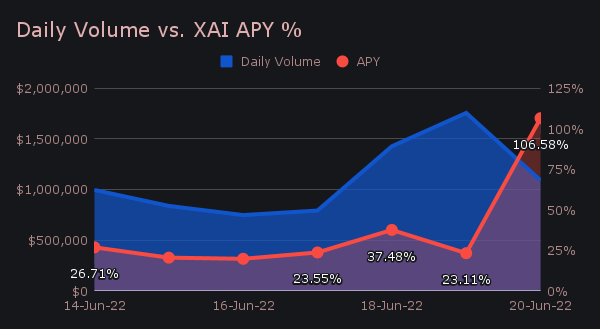 Additional XAI updates:
Total Value Staked: 32,604,199 XAI
Total Value Locked: $5,225,002

General Business News:

SideShift had a very solid week netting $7.64m in weekly volume for a daily average of ~$1.1m. Shift count has remained on par with previous weeks, yielding a total of 6,096 shifts. An unusually busy weekend resulted in volumes of $1.43m, and $1.76m on the 18th and 19th, respectively. This is atypical, as SideShift usually encounters more action on weekdays. Statistically our numbers look very similar to last week, but the distribution is indeed very different.
BTC deposits were in full charge this week, representing a huge 45% ($3.46m) of weekly deposit volume. Bitcoin also proved to be the most sought after settle coin, accounting for 27% ($2.03m) of settle volume and edging out BCH (24%) for first place. These deposit and settle totals are the highest volumes observed in the past 5 weeks for a single coin.
From this deposited BTC, 49% ($1.7m) was shifted to BCH, which has now remained our most popular pair for the 8th consecutive week. An additional 34% of BTC deposits were shifted to USDT and USDC on the Ethereum network, when combined. This means a whopping 83% of BTC was shifted to just 3 coins. ETH has taken a back seat for the time being, accounting for a modest 10% of each the deposit and settle volume, and leveling out at around ~$750k per side.
As the market continues to slide there was no surprise that we noticed a big uptick in overall stablecoin activity, with 51% of our weekly shift volume containing a stablecoin on one side. Overall stablecoin volume as a deposit vs. settlement however was quite balanced, with respective totals of 26% and 25%.
USDT on the Ethereum network was most favored by users, and ranked 3rd most popular in both deposits and settlements. For our top stablecoin, market sentiment seemed to remain quite fearful though, as settlements ($1.06m) outweighed deposits ($789k). The same can be said for USDC on Ethereum which was the second choice among stablecoins and ranked 5th most popular in both deposits and settlements, with settlements ($633k) once again outweighing deposits ($458k).
The increased use of stablecoins on SideShift is clear - even less favored stablecoins DAI and USDC on the Polygon network nearly doubled in overall action this week, with respective total volumes (deposit + settlements) of $234k and $142k. The below chart displays total stablecoin action when compared to overall SideShift daily volume for the past month - a prominent uptrend can be seen.
A final note is a recurring pattern in the percentage concentration of our top 3 coins. Now for the second week, the "top 3" settle coins made up ~65% of overall volume. Interestingly, the exact same percentage is true for the deposit side. The coins however have rotated slightly, with USDT(erc20) now joining BTC and ETH on the deposit side, and BTC and BCH on the settle side. This will be an interesting metric to observe as market sentiment changes over time. Perhaps, this percentage will be larger during bear markets and smaller during bull markets. We will keep close watch.
Throughout the week SideShift functioned smoothly, with only brief downtime due to Cloudflare issues. Zcash (ZEC) was also temporarily disabled due to an issue generating deposit addresses. It has since been resolved and everything is functioning normally.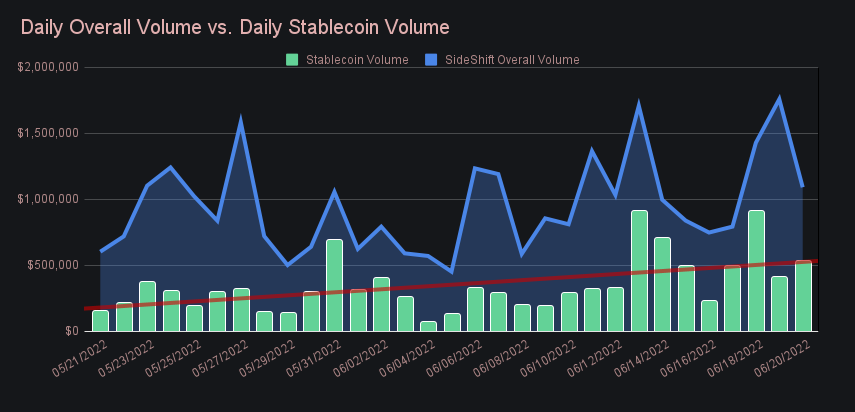 Integration News

Integrations had a big week, with Trezor and bitcoin.com alone accounting for 34% of weekly volume. Trezor obtained the highest portion of weekly volume ever seen this past week, representing ~24% ($1.83m) of the total. It has however done higher volume in dollar terms though, with a handful of weeks in the past generating >$2m. Still, this week's volume marks a continued rise over the course of the past 5 weeks.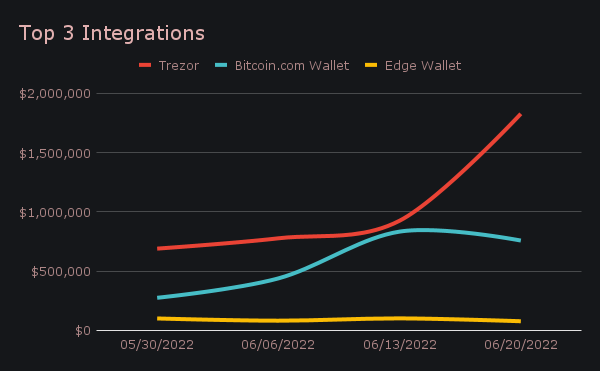 Bitcoin.com wallet also remains strong and sits firmly in second place, totaling ~10% ($758k) of shift volume and ~16% of shift count this week. In third place was Edge wallet, remaining largely unchanged from last week with 1% ($78k) of volume.
As a percentage of weekly volume, this is the highest integration volume observed in recent months.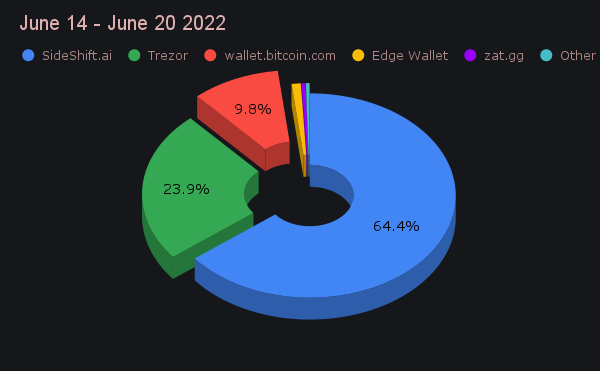 That's all for now. Thanks for reading, happy shifting and we'll see you next time.