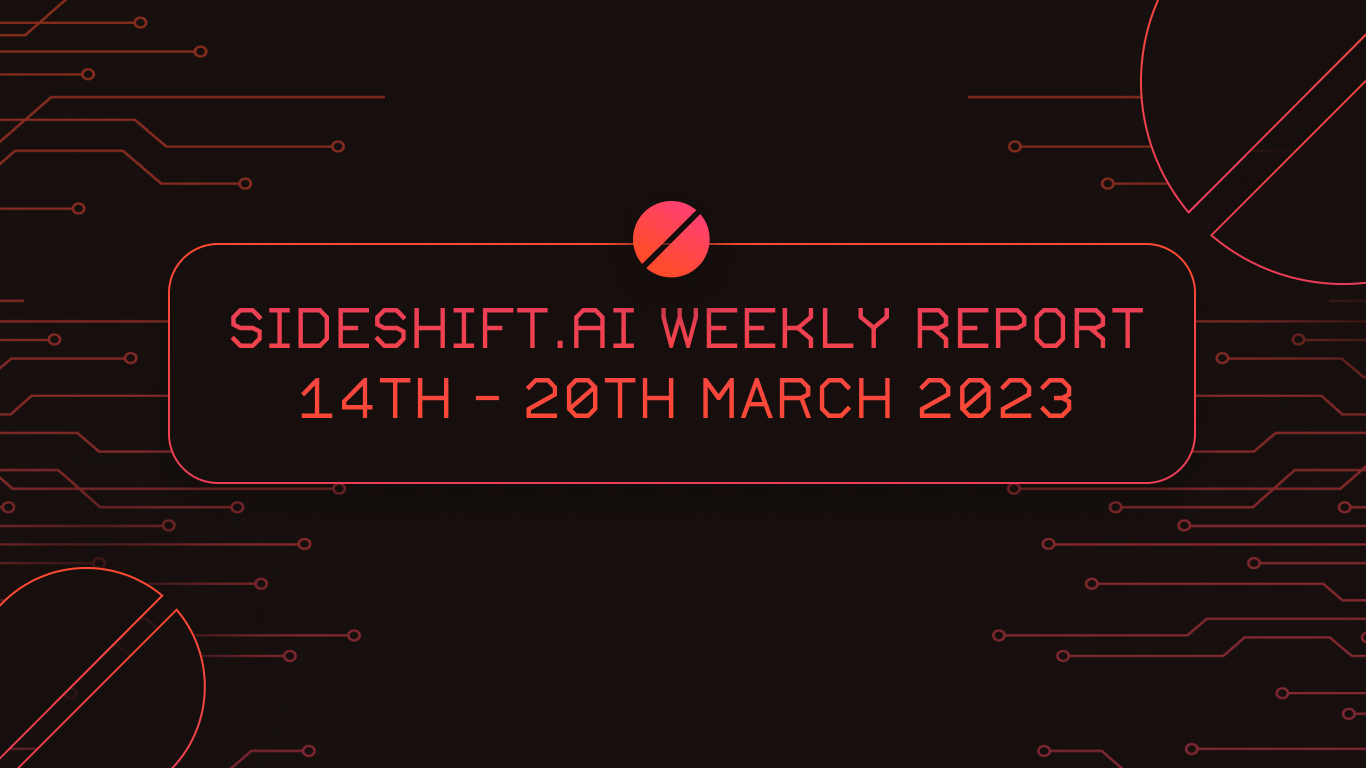 21 March, 2023
SideShift.ai Weekly Report | 14th - 20th March 2023
Welcome to the forty-sixth edition of the weekly stats report - your one-stop shop for all things SideShift.ai.

XAI Token Market Update


This week SideShift token moved within the 7 day range of $0.1397 / $0.1543, and at the time of writing is sitting at a price of $0.1425. As denoted on our Dune Dashboard, the current circulating supply market cap of XAI is $17,065,766, which marks a minor 0.8% increase from the previous week.

XAI stakers were rewarded with an average APY of 13.1% throughout the week, with a daily rewards high of 36,056.15 XAI (an APY of 16.01%) being distributed directly to our staking vault on March 18th, 2023. This was following a daily gross daily volume of $1.6m. As a whole, this week stakers received a total of $30,286.20 USD, or 212,516.96 XAI.

The price of 1 svXAI is now equal to 1.1681 XAI, indicating a 16.81% return on stakers investments. A friendly reminder that the easiest way to stake with SideShift is to shift directly to svXAI from any coin of your choice.

50 ETH was added to our treasury this past week, bringing the current total to $3.58m. Users can follow along with live treasury updates directly on zapper.fi.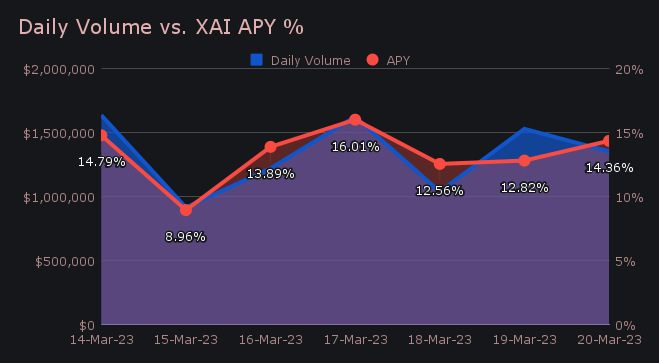 Additional XAI updates:

Total Value Staked: 89,702,705 XAI
Total Value Locked: $12,983,569

General Business News


This past week was generally positive for the overall crypto markets, with the total crypto market cap making a gradual climb over the past 7 days.

SideShift ended the week with a gross volume of $9.32m (+3.1%) alongside a shift count of 7,630 (+12.8%). In fact, this shift count marks the highest count ever recorded by SideShift - a key reason for this week's surge was the strong performance of integrations, the majority of which saw double digit percentage changes in both volume and count.

These weekly sums combined to produce daily averages of $1.33m on 1,095 shifts, a minor change in average daily volume, but with over 100 additional shifts occurring daily. This is interesting when you consider that shifts >$20k had the biggest change in weekly count among categories (>$1k, >$10k, >$20k), indicating not only that more users are starting to shift, but starting to shift larger amounts. This is largely in line with the trend which was pointed out in the previous report, which is the growing frequency of larger scale shifts.

Due to the strong appreciation of BTC's value in USD, SideShift's weekly volume has come lower when denoted in BTC and ended the week at 353.47 BTC, a decrease of 15.5% when compared to the previous week.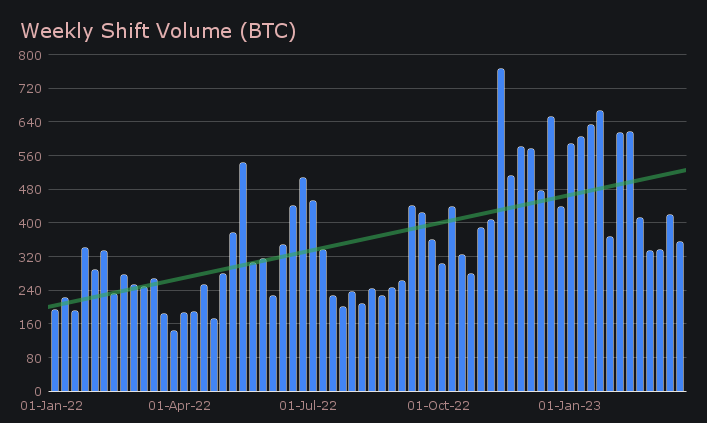 BTC dominance has been trending up since the beginning of the year, but a closer look will show a recent spike taking place this past week. With this in mind, it is no surprise that BTC once again remained the heavy focus of shifters. Total BTC shifts (deposits + settlements) finished first among all coins, growing 11.6% and accounting for $5.3m. Despite the ongoing pump in price, it's interesting to note that the majority of this BTC shifting is derived from the deposits side. Generally speaking, this means in the past week users were more inclined to sell their BTC as opposed to continuing to ride the pump and HODL.

Hand and hand with this was the fact that our most popular shift pair for the week was once again BTC/USDT(erc20), which finished with $1.59m (17.1% of the weekly total). Perhaps this is an indication of users' mentality to take some profits off of the table following the consecutive weekly uptrend for BTC. As pointed out in the last report, the directionality is very much BTC to USDT (ERC-20), with the opposite pairing of USDT (ERC-20) / BTC seeing just 25% of the volume of the former ($408k). It will be an intriguing pattern to track at which point this reverses, and more BTC buying begins.

USDT (ERC-20) finished as the week's second most demanded coin, with settle volume growing 22.5% to end with $2.07m. This far outweighed even all other stablecoins combined, and despite USDT (ERC-20)'s growth in demand, all other stablecoins fell 21.3% to total just $941k in settle volume. Instead of stables, coins such as XMR and SOL saw jumps in demand. XMR settlements boomed by 61.2% this week to finish with $1.23m, while SOL had a respectable increase of 33.6%, even though at a much lower volume of $167k. Certain other coins such as LTC, ATOM and FTM saw significant growth in settle volume, perhaps an early indication of alt season coming. You can note in the chart below the general downtrend of BTC settlements, while other top coins seem to be growing over time.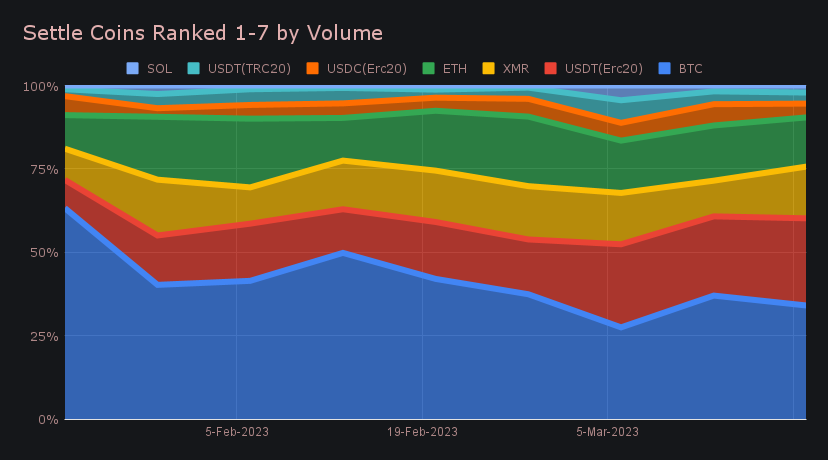 A quick look at our networks shows a mixed bag - half had week on week volume increases while half decreased. The front-runners of BSC and OP had a sharp drop off in shift activity, falling respectively by 47% and 80%. Instead, Polygon increased 68.5% to net $337k, while SOL similarly rose 27% to total $414k. These were enough to rank a respective 2nd and 3rd, when excluding the Ethereum network. Claiming first place among networks was TRON, hardly wavering from its benchmark last week, and changing just 0.4% for $564k.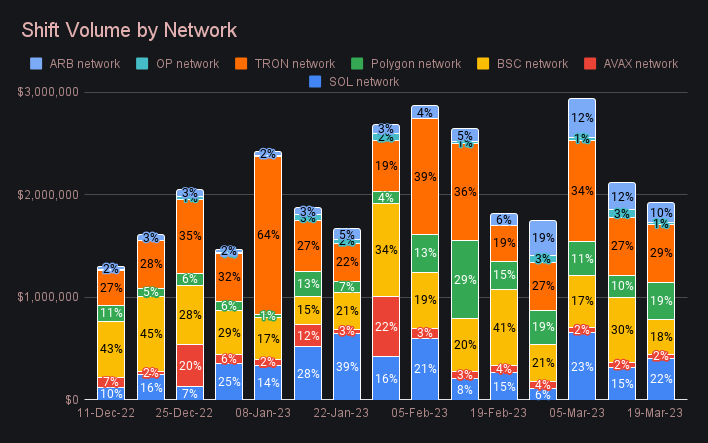 Affiliate News


The top 10 affiliates combined for a very respectable $3.23m, 42.2% higher than last week's total. This came following a >50% increase which took place last week, thereby speaking volumes to the growth top affiliates have had in the past month. Shift count for the top 10 grew 19.8% and totalled 2,394. Our top affiliate had a big impact on this growth in both volume and count. It alone represented 20.4% of weekly volume and 19% of weekly count, more than double that of the next nearest affiliate.

As a whole, the top 10 represented 34.7% of this week's volume, an increase of 9.6% from last week's report.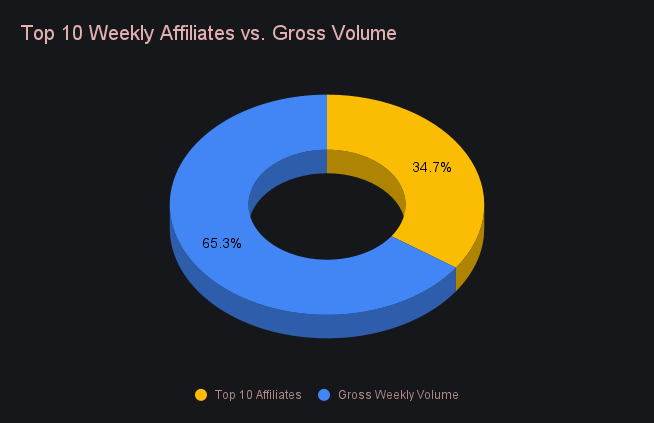 That's all for now. Thanks for reading, happy shifting and we'll see you next time.