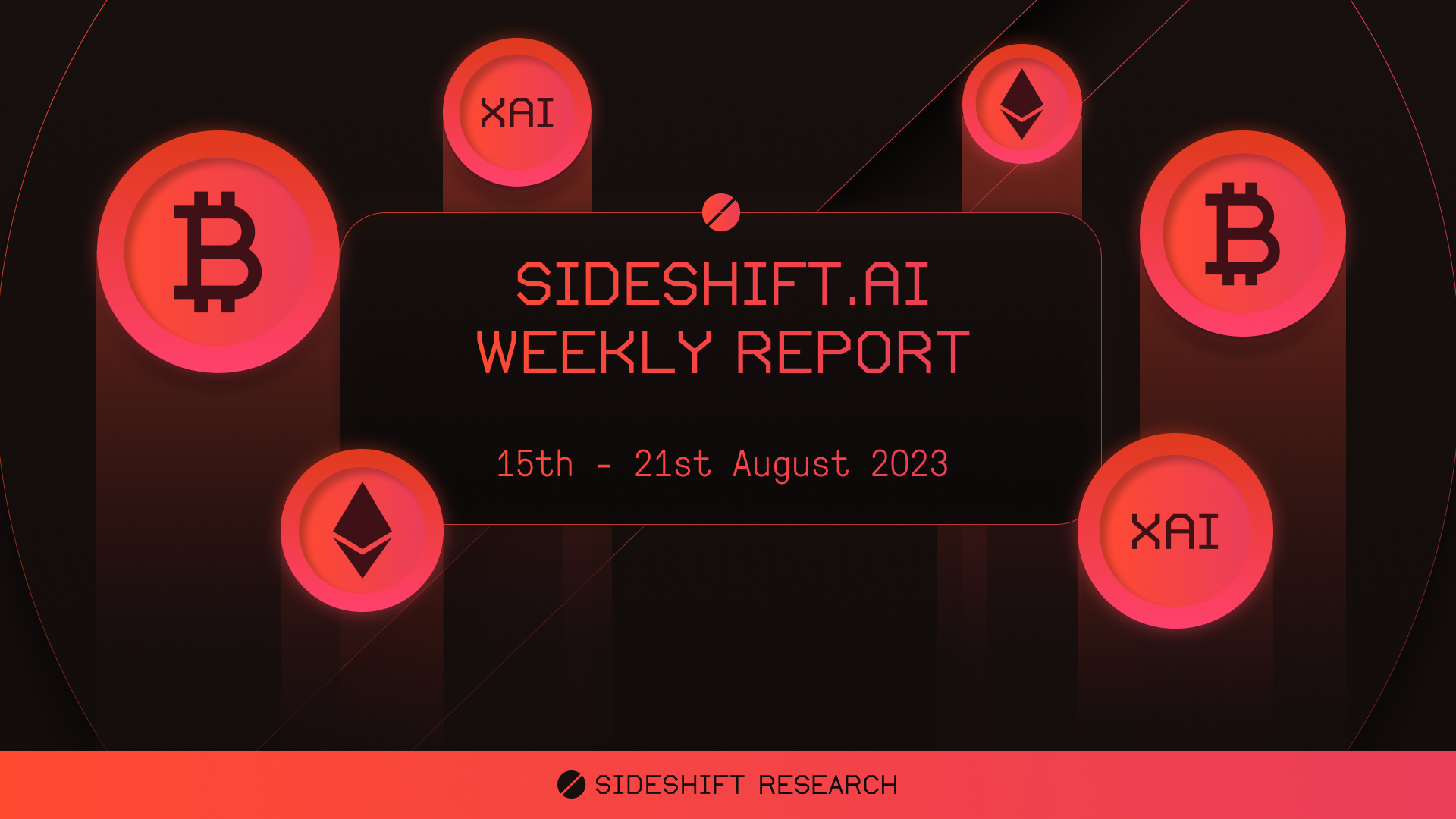 23 August, 2023
SideShift.ai Weekly Report | 15th - 21st August 2023
Welcome to the sixty-eighth edition of the weekly stats report - your one-stop shop for all things SideShift.ai.

This week SideShift token (XAI) price has dipped below $0.10, sitting just below this throughout the week after starting at $0.1021. At the time of writing, the price of XAI is currently at $0.096040 and has a current market cap of $12,015,542 (-9.01%).

XAI stakers were rewarded with an average APY of 9.98% this week with a daily rewards high of 42,314 XAI or $4,212 with an APY of 14.98%. being distributed to our staking vault on August 18th, 2023. This was following a daily volume of $1.85m. This week XAI stakers received a total of 200,506 XAI or $19,604 USD in staking rewards.

1 svXAI is now equal to 1.2277 XAI, representing a 22.77% accrual on stakers investments. A friendly reminder that the easiest way to participate in XAI staking and earn daily rewards is to shift directly to svXAI, from any coin of your choice.

The SideShift Treasury current total is sitting at a value of $4.81m. Users are encouraged to follow along with live treasury updates directly on our Treasury Page.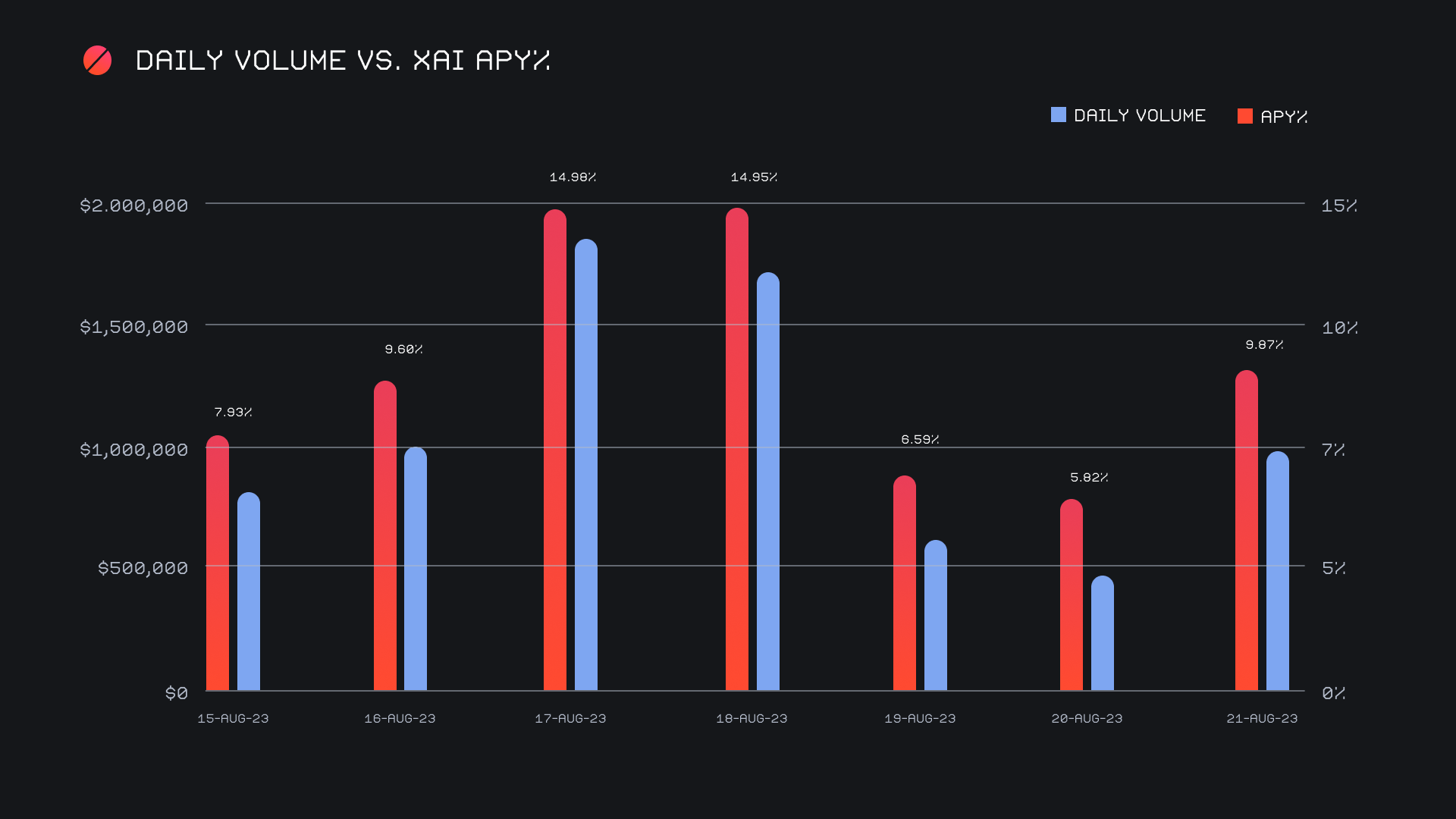 Additional XAI updates:

Total Value Staked: 110,734,532 XAI (0.0%)
Total Value Locked: $10,634,945 (-9.1%)

General Business News:

We finally saw some volatility in the crypto market, although not in the way many people would have hoped for. 17th August saw a sudden and sharp decline in prices, with both BTC and ETH losing over 10% of their value in a matter of hours, while alt coins fared even worse in the sell-off. This sparked over $1 billion in liquidations, the largest in a single day since June 2022.

The crash in prices coincided with various macro news, such as concerns with China's economy, high interest rates, as well as continued regulatory uncertainty. There were also reports of Elon Musk's SpaceX selling their BTC holdings.

The volatility proved good for SideShift, ending the week with a gross volume of $7.5m (+31.5%), together with a rather flat shift count of 5,298 (-0.5%). Volume actually peaked during the sell-off on 17th August, with SideShift seeing over $1.85m in volume, and then continuing into the following day with $1.73m. Volume then reduced back down below $1m daily as the market began to settle again, to give an overall daily average of just over $1m on 757 shifts for the week. When denoted in BTC, our weekly volume amounted to 278.53 BTC (+44.3%), which is a higher increase compared to volume denoted in USD as a result of a lower BTC price.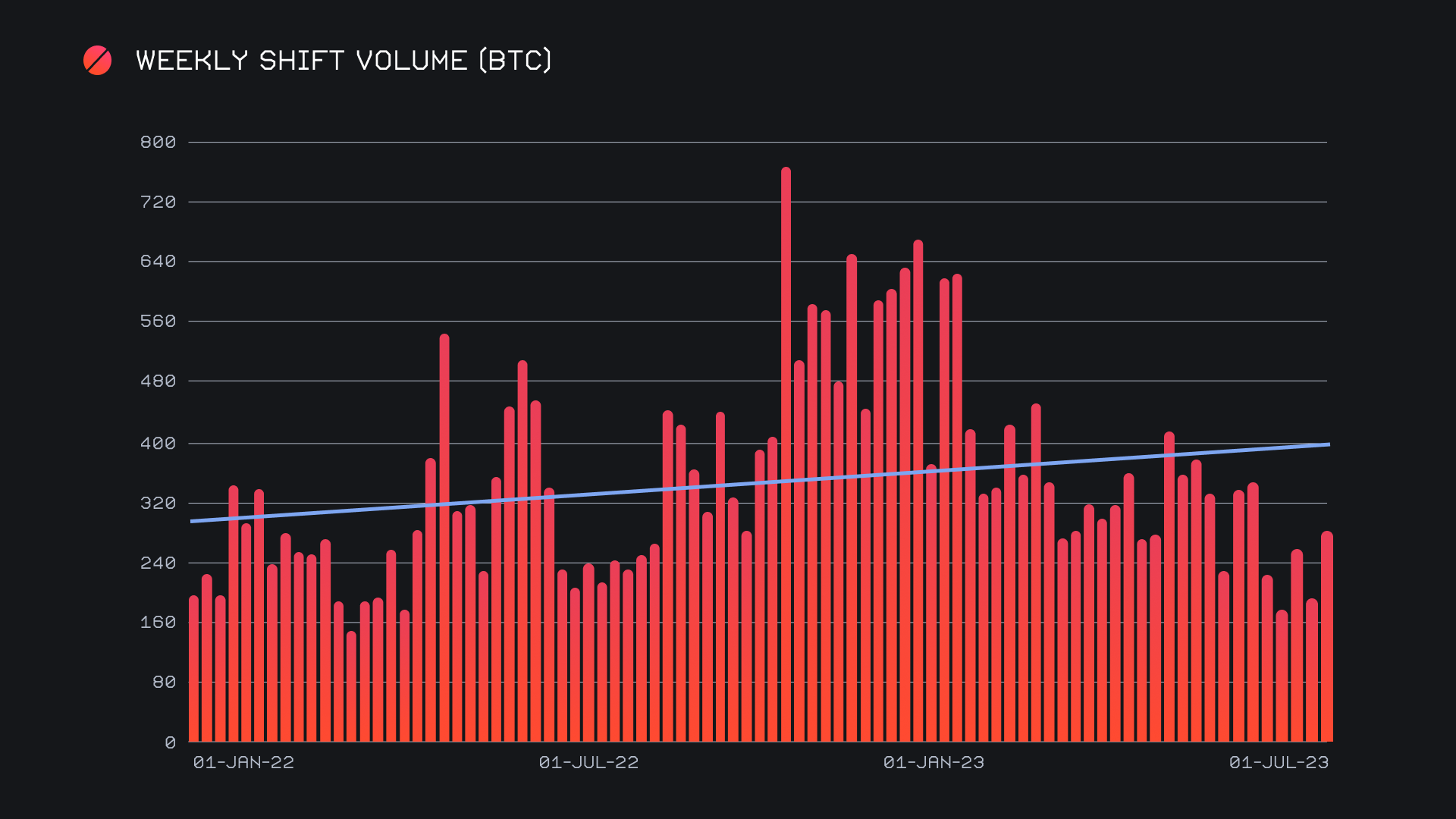 User deposit volume was heavily concentrated around our top 3 coins, BTC, USDT(erc20), and ETH, which together accounted for two thirds of the total volume. BTC was once again crowned king with $1.74m in deposit volume, a decent 30.66% increase from last week. This was well ahead of 2nd placed ETH with $970k (+49.6%) of user deposit volume, while USDT(erc20) ranked 3rd with $701k, which is still a surprising 82.7% jump from the previous week. The only other real notable mention for deposit volume is Cardano (ADA) with $247,557 (+1,313.4%), a whopping increase from previously sitting below $20k volume per week.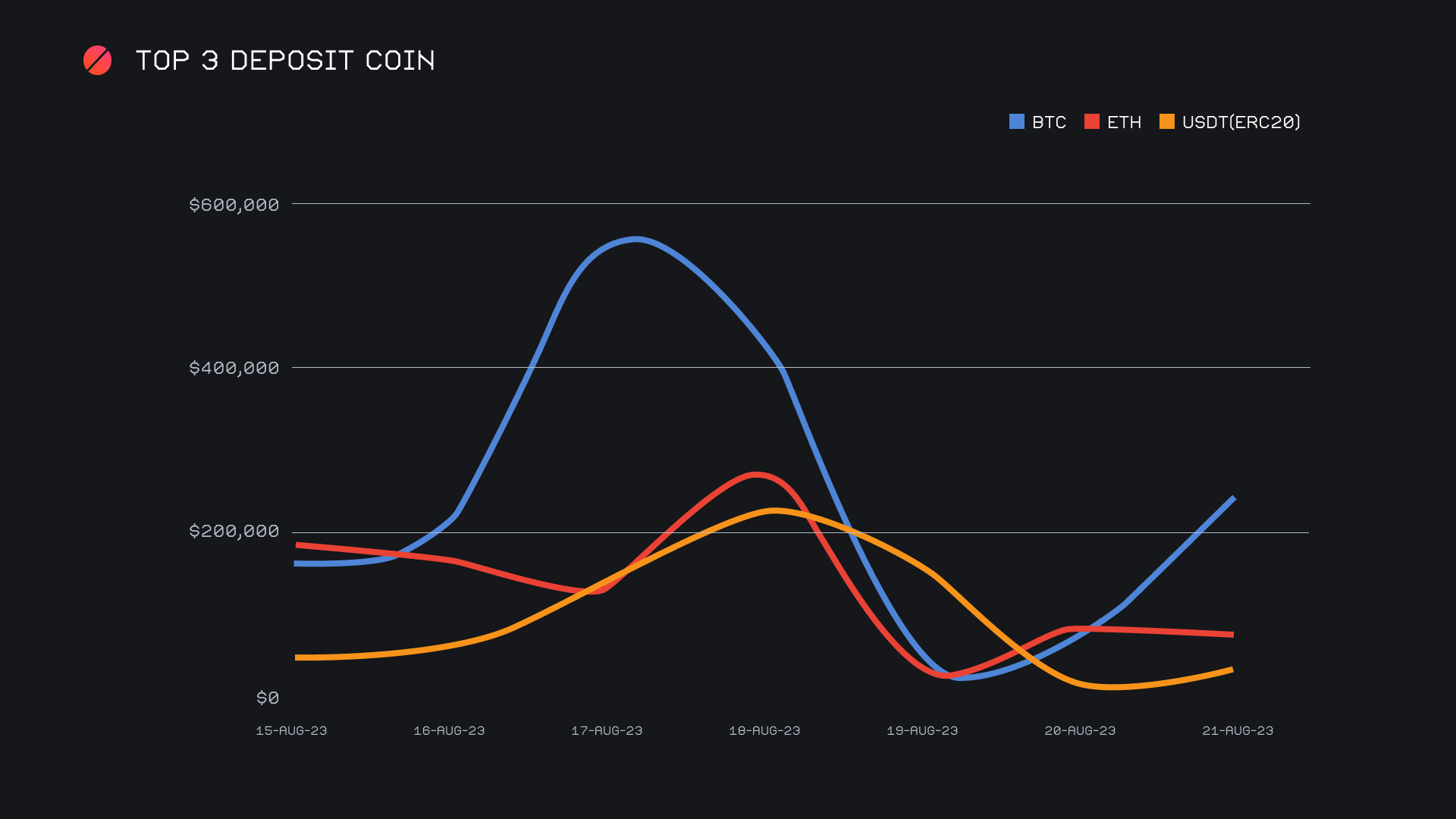 User settlement volume also saw a central popularity among the same 3 top coins, although with a different ranking. Here we actually saw USDT(erc20) slide into 1st place with $1.6m (+61.2%), which in no doubt was fueled by the market fear during the sell-off. BTC and ETH settlements were then close to each other at around $1.1m between them, a 39% increase for BTC, while being the same volume for ETH as the previous week.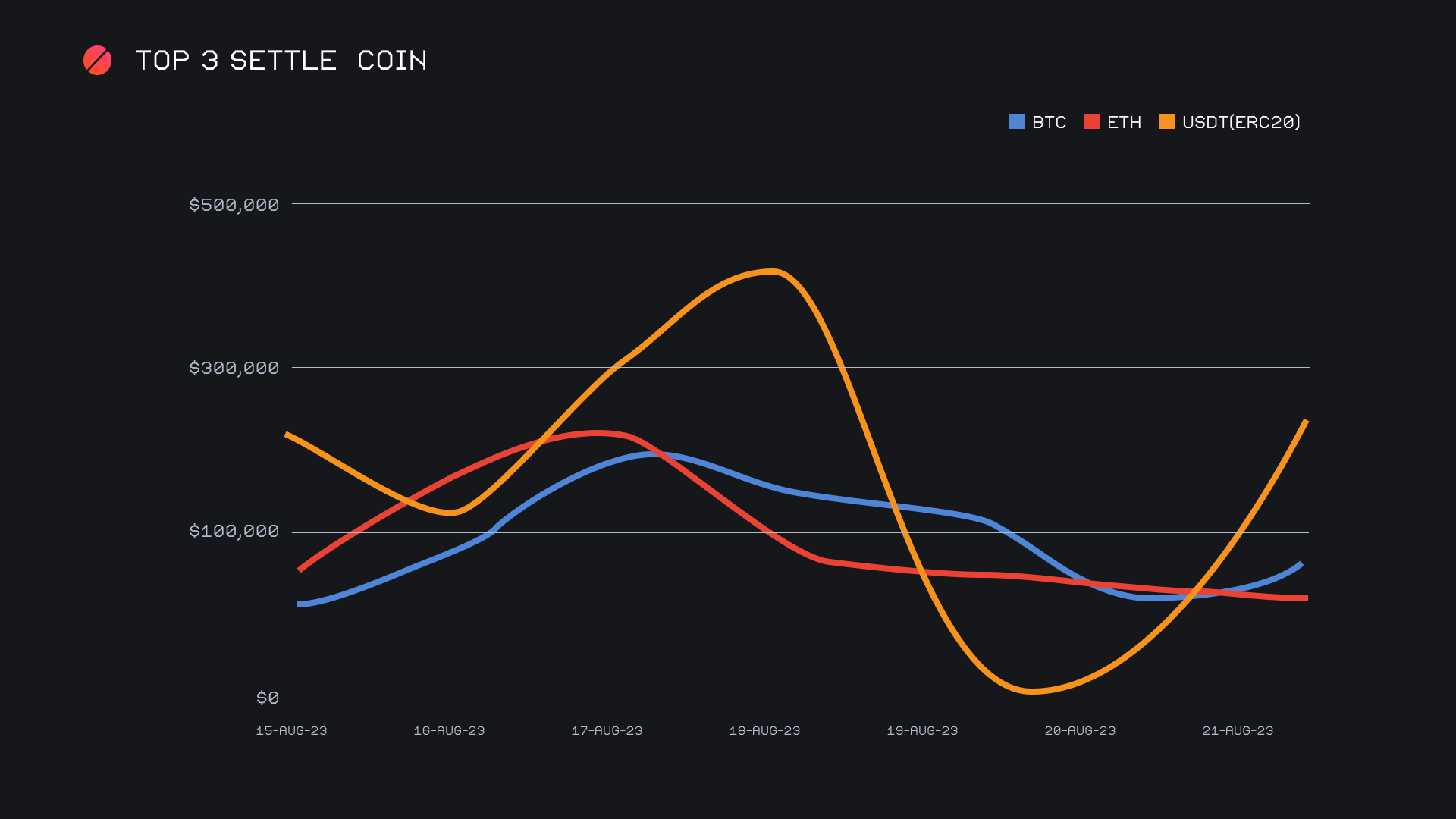 With each having the most deposit and settle coin volume respectively, you would have guessed the most popular coin pairing was indeed BTC/USDT(erc20), which alone brought in $1.1m in user volume, representing 69% of all user BTC deposits as well as 64% of all settlements to USDT(erc20). Interestingly here, although lower numbers, most USDT(erc20) user deposits were in fact shifting to BTC, making this reverse pairing also rather popular with $380k and making up 54% of the total USDT(erc20) deposits.

Fueled by USDT(erc20) settlements, volume on the Ethereum network increased 20.8% to $6.2m of the total volume (deposits + settlements). The next most popular EVM network remained TRON with 705k (-5.2%), which in turn was powered by USDT(tron) settlement volume of $273,190 (-16.29%) and to a lesser extent increased TRX native deposits of $79k (+69.7%). Arbitrum network was knocked out of 2nd place after its strong performance last week, with a sharp 64.6% drop to now be sitting 4th among EVM networks with $255k total volume. This was replaced by Binance Smart Chain (BSC) that just managed to scrape in with $454k (-19.7%), while SOL was very close behind with $450k, a 154.7% increase from last week, to place 3rd.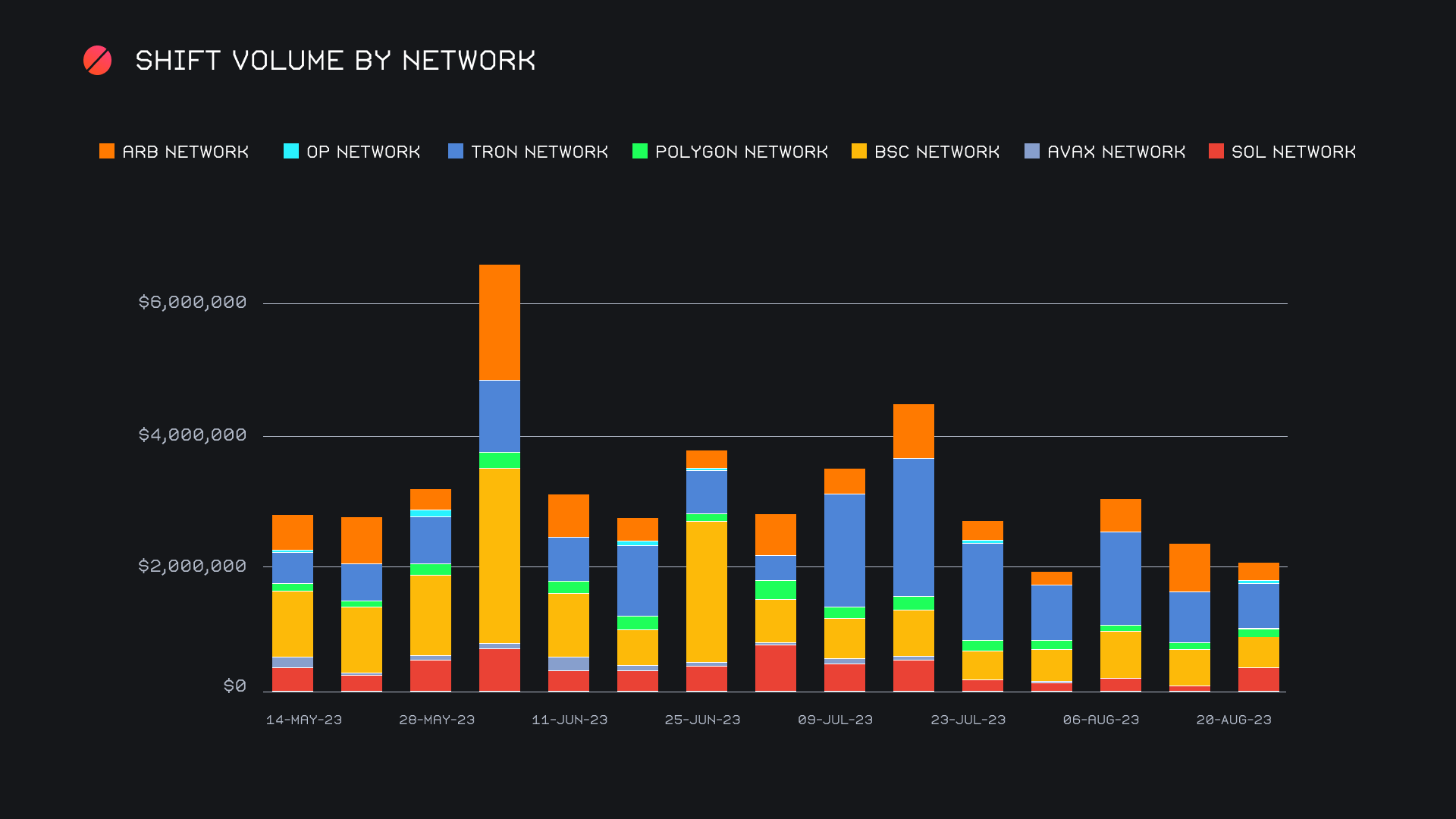 It was definitely an interesting week for stablecoins, going beyond the popularity of USDT(erc20) alone. We saw a total $2.37m of user settlement volume for stablecoins throughout the week, which was a sizable 57.4% increase from the previous. USDC(erc20) proved to be strong here with $423k (+122.3%). While overall user stablecoin deposit volume remained flat with a $1.2m total (+0.6%), delving into these individually shows that the increase in USDT(erc20) deposit volume also came with a reduction in others. USDC(erc20) saw volume almost halve to $114k (-49.1%), similar also with USDT(tron) at $163k (-46%) and to a lesser degree USDT(BSC) with $59,594 (-23.4%) of user deposit volume. These were only offset by increased USDT(erc20) deposits.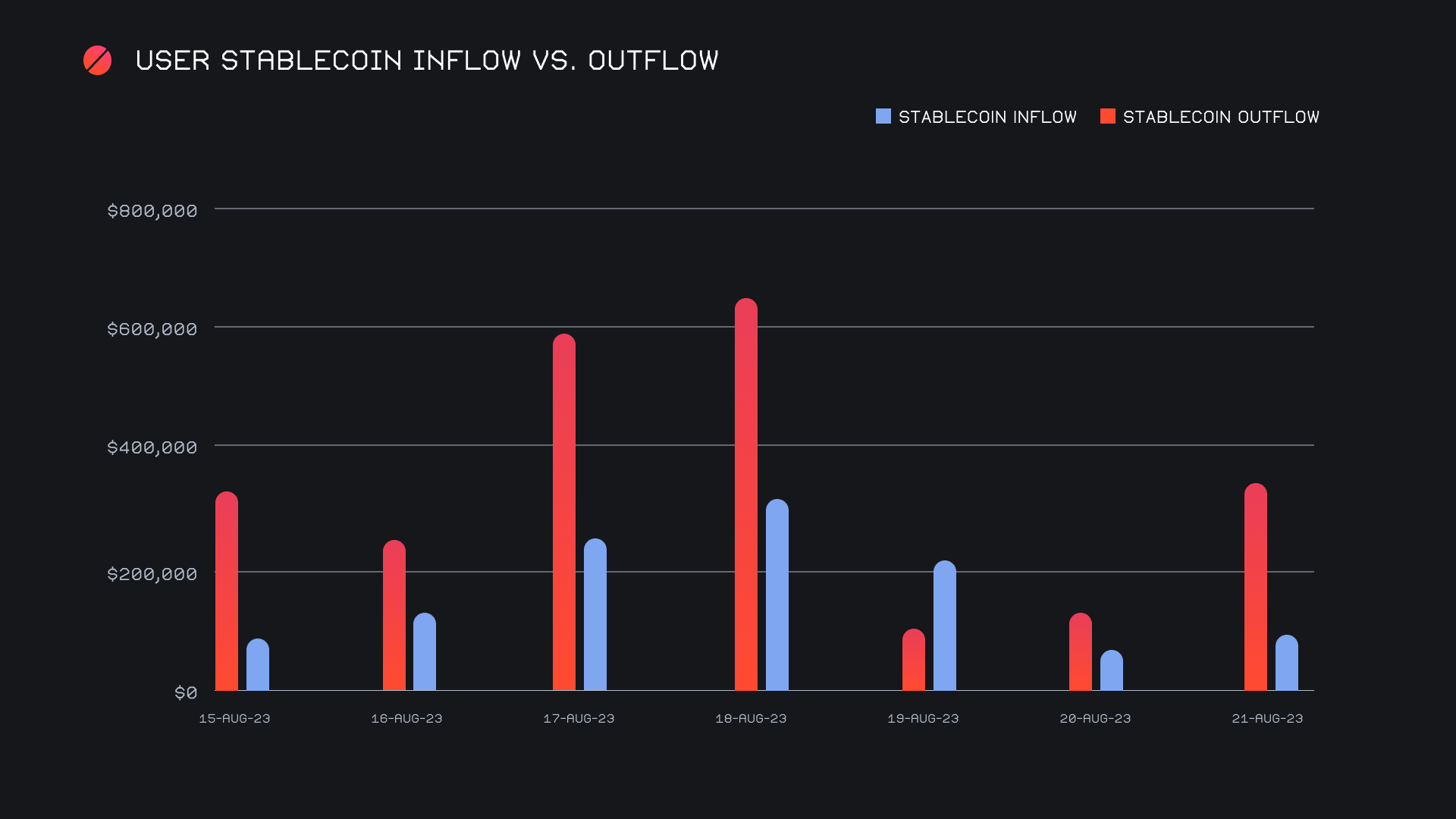 Affiliate News

Affiliate volume saw a bounce back above $2.1m, which was a healthy 15.6% increase from last week. However, this represents a lower 29.2% of the total volume, over 4% less compared to last week. This indicates that user volume on SideShift outpaced the performance of integrations, despite its dollar increase in volume. Still, 2,179 shifts came from integrations, representing 41.6% of the total shifts. Our top affiliate remained strong as ever, with $1.43m, making up 19.1% of the total volume from 1,229 shifts, being 23.2% of the total shift count. Our second placed affiliate was still far behind at $492k, with a lower 168 shifts.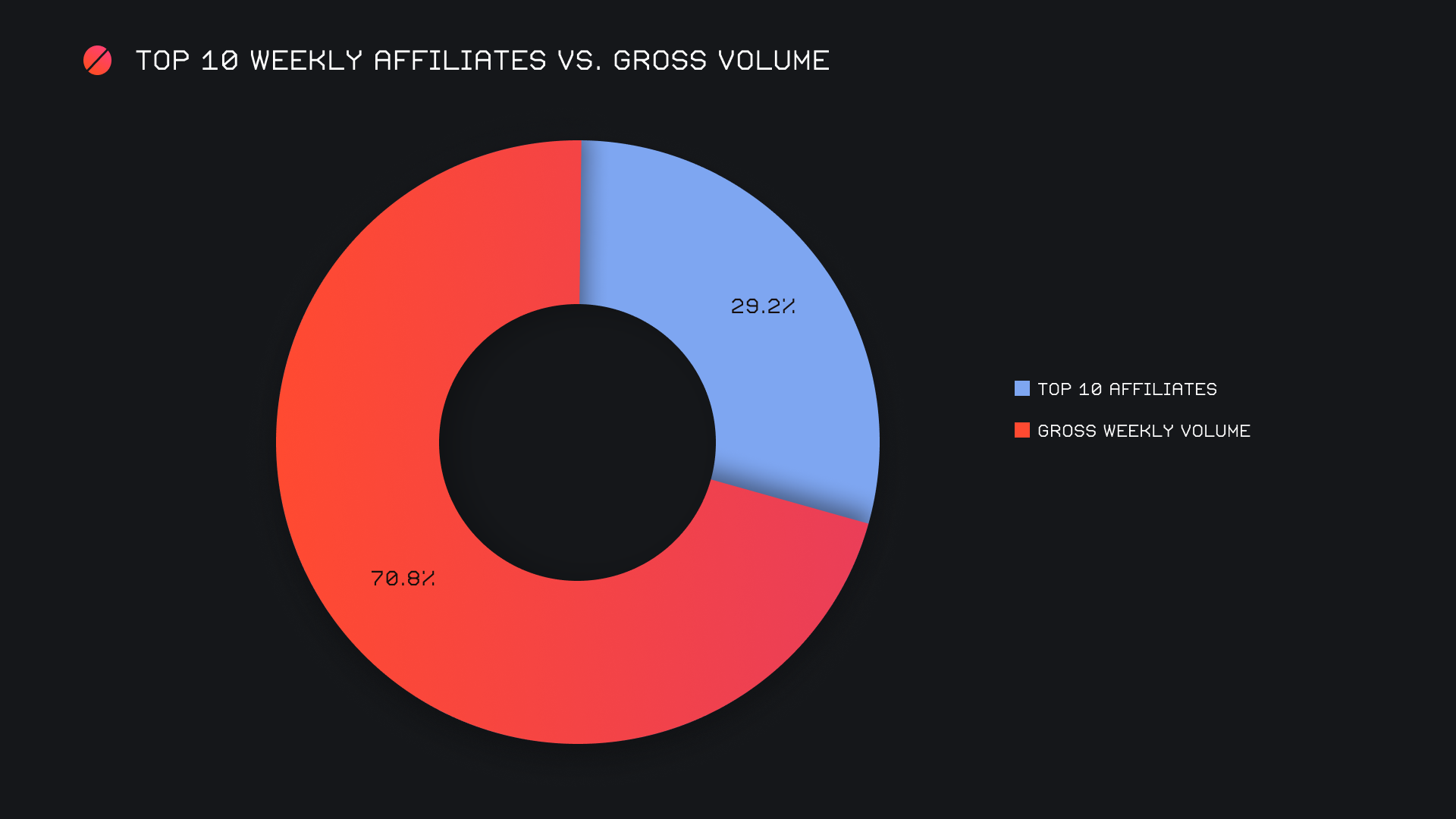 That's all for now. Thanks for reading, happy shifting and we'll see you next time.