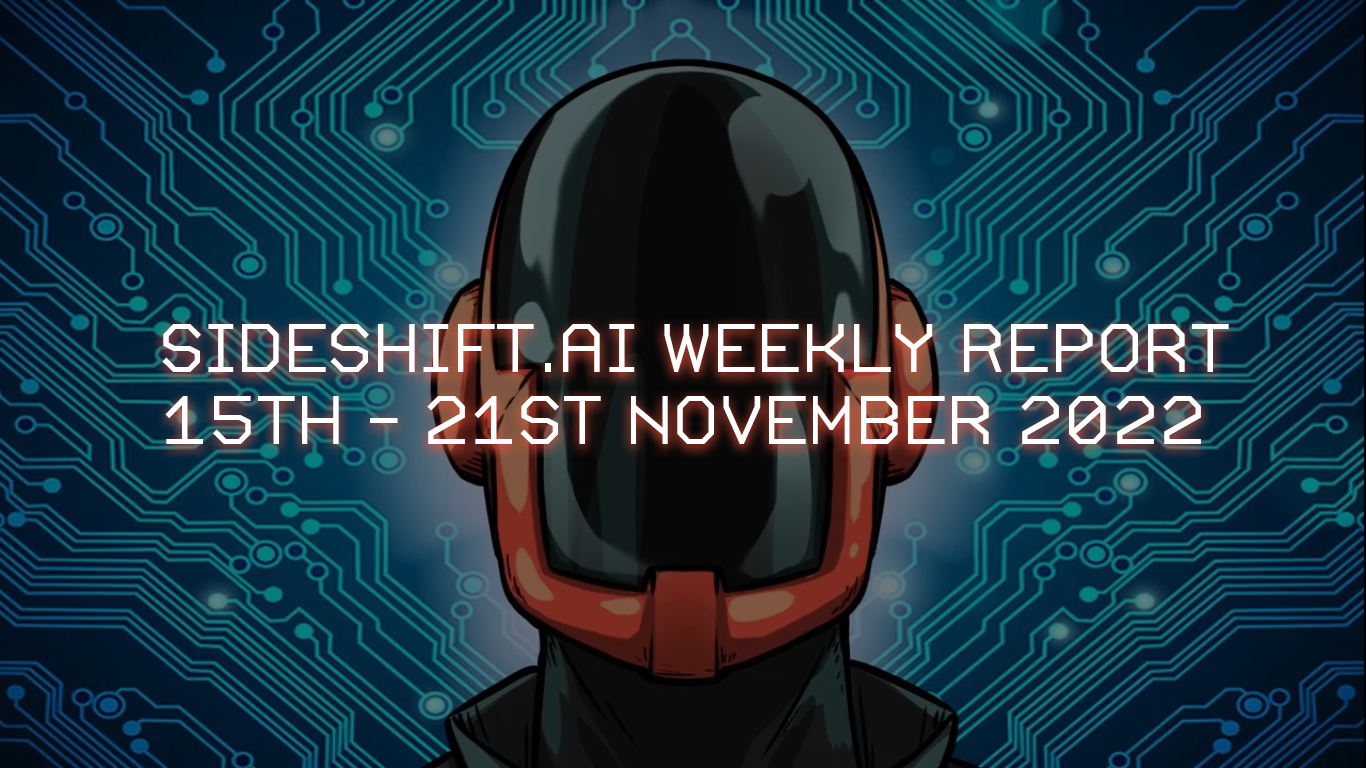 22 November, 2022
SideShift.ai Weekly Report | 15th - 21st November 2022
Welcome to the twenty-ninth edition of the weekly stats report - your one-stop shop for all things SideShift.ai.

XAI Token Market Update

This week SideShift token (XAI) fluctuated within the 7 day range of $0.1096 / $0.1228, on par with averages seen throughout the previous 3 months. At the time of writing, the price of XAI is sitting at $0.1125, with the circulating market cap measuring $10,692,068 (-0.7% from last week).

XAI stakers were rewarded with a very healthy average APY of 33.96% over the previous week. SideShift saw solid volume and shift count, with a daily rewards high of 43,348.88 XAI being deposited to our staking vault on November 18th, 2022. This amounted to 49.72%, and followed a net daily volume of $1.17m.

1 svXAI is now equal to 1.0984 XAI, meaning that as of today stakers have accrued a total of 9.84% on their investment. Be sure to follow along with related svXAI and XAI statistics, updated in real time here on our Dune Dashboard.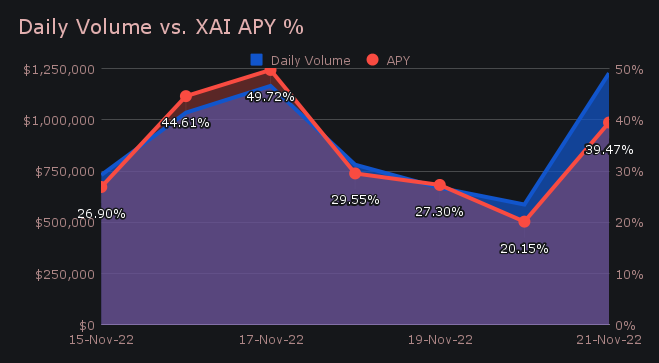 Additional XAI updates:

Total Value Staked: 39,364,495 XAI
Total Value Locked: $4,455,751

General Business News:

In the wake of a standout week, shift action on SideShift slowed slightly, but ultimately performed quite well as the month of November moved along. We finished the period with a net weekly volume of $6.19m (-37.2% from last week) on 6,600 shifts (-8.0%). This produced daily averages of $885k on 943 shifts. Keep in mind that although these are drastic percentage changes, they are all measured against a crazy anomaly which unfolded last week. When denoted in BTC, these numbers translate to a weekly volume total of 376.21 BTC - a large drop from last week's spike, but ultimately still form a trendline which is firmly tilted upwards.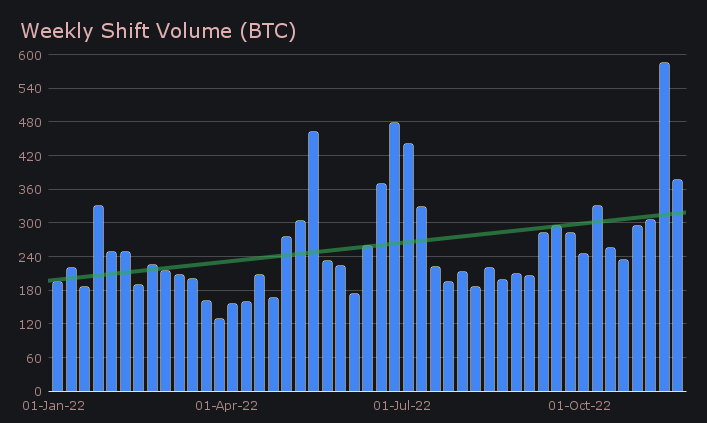 The vast majority of coins saw a decrease in overall shifting, with only a handful of exceptions. BTC remained our most deposited coin with $1.63m (-27.1% from last week), approximately 26% of total deposits. This was followed by XMR, which had a growth spurt of 78.8% to finish with $1.14m. In fact, XMR was one of only two "top 10" coins which saw an increase in total weekly volume. Placing third was ETH, with deposits dropping 50.9% to net $889k.

Every top 10 coin saw a percentage change which was greater than 20% (excluding SOL), whether that be positive or negative. In most cases, it was closer to 40%. These drastic percentage fluctuations tell us just how quickly things can change within the course of one week and support the notion that "more coins are better". On that note, this week saw a decent amount of "less popular" coins being deposited in bulk. Some examples of these include XRP, BCH, and MATIC.

The pattern of both SOL and stablecoins on Solana leaving the ecosystem and being shifted to the Ethereum Network continued this week. SOL was the other token within our top 10 which saw an increase in total volume, up 9.1% when measuring deposits + settlements. It had a total volume of $275k, which was largely driven by the deposits side.

BTC / USDT (ERC-20) has remained the top pair for 3 straight months now, dating back to late August. This pair ended the week with $752k in volume, as 46% of deposited BTC volume settled to USDT (ERC-20). The XMR/BTC pair trailed very close behind and netted $707k, double the volume observed last week. This pair was mainly responsible for the big increase in XMR deposits which was noted earlier in the report.

On the settle side, BTC was our most demanded coin with $2.01m, down 37% from last week's sum of $3.19m. This was followed by USDT (ERC-20) with $1.05m (-24.5%), and ETH with $949k (-34.9%). Notable in 6th place was Zcash (shielded), which saw settlements rise by 136.9% to net $192k. This was largely due to a sizable one time influx of user(s) shifting from MATIC towards the end of last week.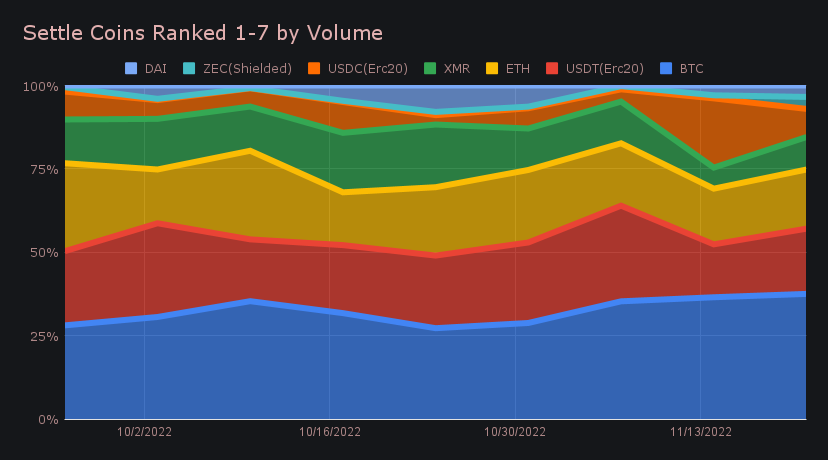 It appears that fear among users is possibly dissipating, as fewer shifts to stablecoins took place this week. Total stablecoin settlements combined represented 27.8%, 10% lower than noted in the previous report. Some newsworthy updates in this regard are USDC (ERC-20) settlements summing to $452k, down ~75% from the $1.8m boom seen last week. DAI settlements also slowed, although to a much lesser extent, down 28.5% to net $184k. Instead of stablecoins, it looks like BTC buying is taking place on SideShift.

In listing news, SideShift notably added Polkadot (DOT), one of the few chains we weren't previously supporting. DOT is an open source, sharded multi-chain protocol, which was designed to provide a foundation for Web3. DOT currently ranks 12th overall, with a market cap of $5.73b.

The week was fast paced with many moving parts. We experienced some instability with Solana as a result of major exchanges suspending support for stablecoins issued on the Solana network. Shift methods on SOL were temporarily disabled, until stability returned a handful of hours later. Additionally, adding DOT caused some minor issues with our system that resulted in some delays in XMR deposits being detected. Another impact was it delayed certain shift pairs from processing. These issues were quickly detected and fixed by our team.

Integration News

Integrations finished the period with a combined $2.43m (39.2% of the total), a -32.5% reduction from last week. Shift count also witnessed a decrease, and was down 11.1% to net 2,497 - this represented 37.8% of the total weekly count.
That's all for now. Thanks for reading, happy shifting and we'll see you next time.