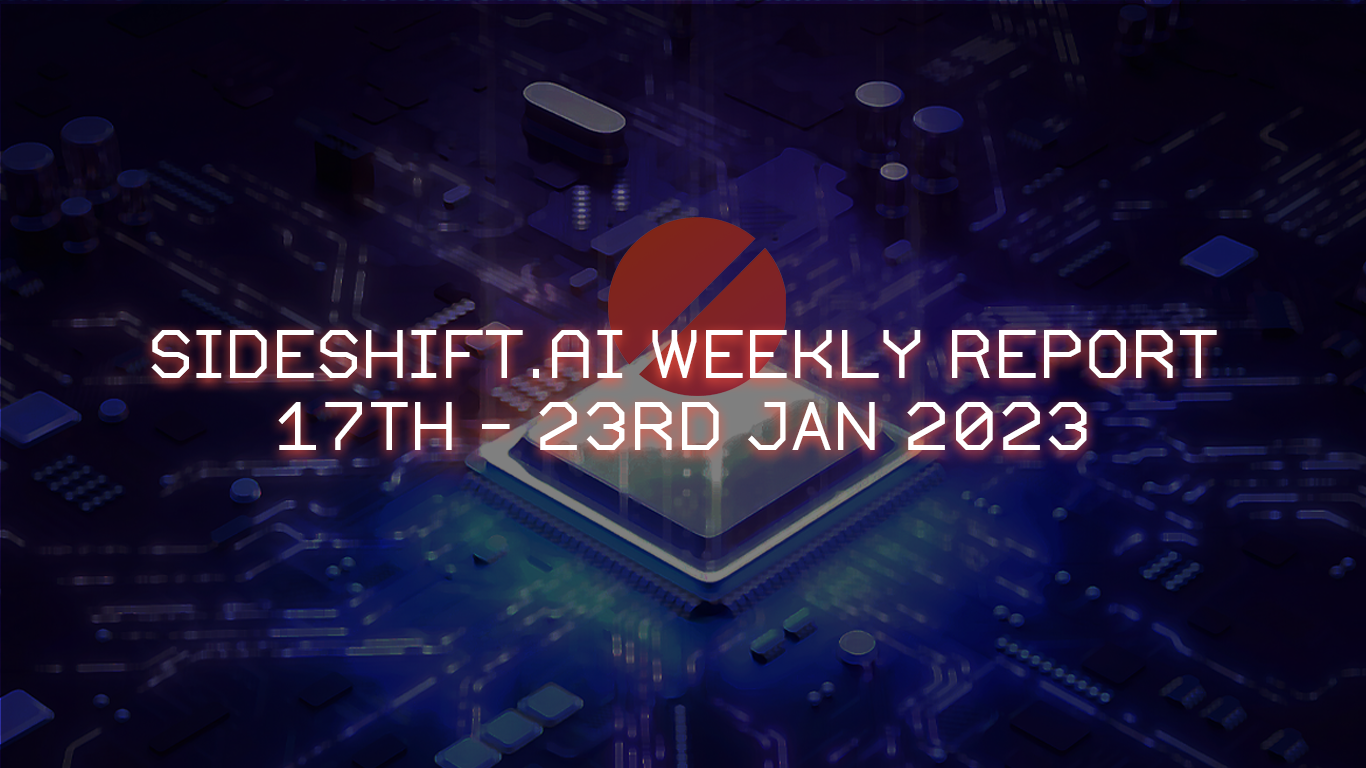 24 January, 2023
SideShift.ai Weekly Report | 17th - 23rd January 2023
Welcome to the thirty-eighth edition of the weekly stats report - your one-stop shop for all things SideShift.ai.

XAI Token Market Update

Following nearly two months of confinement within the bounds of $0.11 - $0.12, XAI finally managed to break out. It surged upwards on January 19th, 2023 and reached a high of $0.14, before settling nicely into the $0.13 range. At the time of writing, the price of XAI is sitting at $0.1355 and has a current circulating supply market cap of $15,988,659 (+18.4%), as recorded on our Dune Dashboard.

A volatile week resulted in an APY averaging 25.25%, with a daily rewards high of 88,432.76 XAI being paid to our staking vault on January 18th, 2023. This was following a very strong daily volume of $3.45m.

The value of 1 svXAI is now equal to 1.1447 XAI, indicating an appreciation of 14.47% on stakers investments. Users are reminded they can easily stake XAI from any coin of their choice, by shifting directly to svXAI.

Throughout the course of the week, a cumulative 100 ETH was added to SideShift's treasury, bringing the current total to $2.57m. You can follow along with live treasury updates directly on zapper.fi.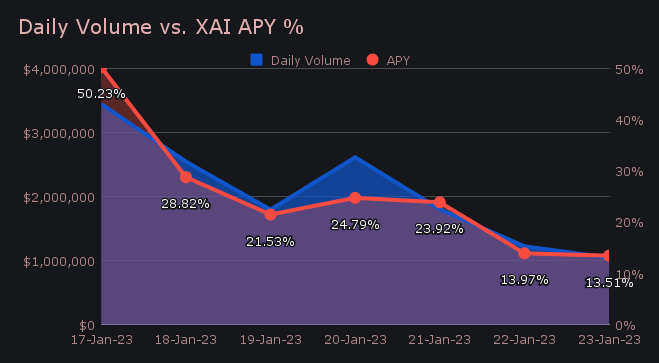 Additional XAI updates:

Total Value Staked: 80,743,683 XAI
Total Value Locked: $10,596,801

General Business News:

The general market continues to buzz with positive sentiment in the wake of last week's significant rally. Volatility spilled over into this week, and SideShift saw weekly volume climb as a result.

SideShift finished the period with $14.5m (+15.5% from last week) in weekly volume, alongside a shift count of 6,483 (-10.6%). This marks one of our strongest weeks in the past year, and was achieved despite a minor decrease in shift count from last week's high. These figures combined to produce daily averages of $2.07m on 926 shifts. When denoted in BTC, this week's total summed to 665.8, representing a rise of 5.4% from the previous week.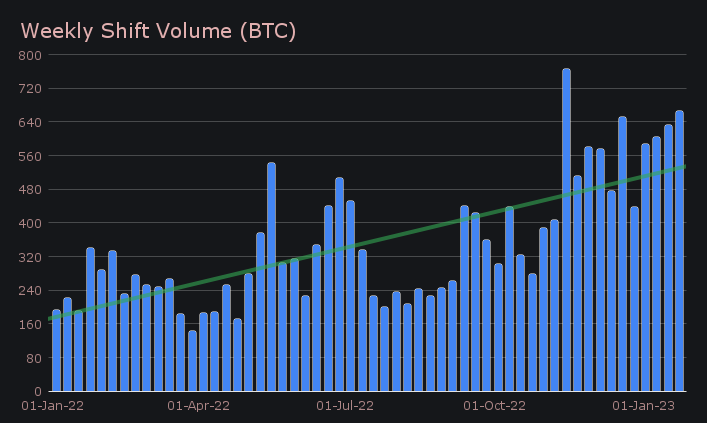 The absolute star of the show this week was once again the dominant shift pair of BTC / BCH. A constant stream of large shifts throughout the period allowed the pair to achieve an impressive volume of $4.1m, making up 28.3% of the weekly total. When you consider the fact that shift count for the pair totalled just 315 (4.9%) the consistently large size of these user shifts becomes apparent, with an average of $13k per shift. For comparison, the next closest pair was more than 5 times smaller - BTC / USDT (erc20) with $543k.

Due to the strength and high demand of this pair, it is no wonder that BTC deposits trumped every other coin. 37.8% higher than last week, it finished in first place with a deposit volume total of $5.56m. Mainly because of liquidity rebalancing which was needed to fulfill the high demand of the BTC / BCH shifts, BCH deposits finished in second place, with $4.15m. This is more than double the deposit volume we had last week, and nearly ten times larger than recorded just one month ago. Rounding off the top 3 was ETH, which witnessed deposits fall an even 10% from last week, to finish with $1.07m.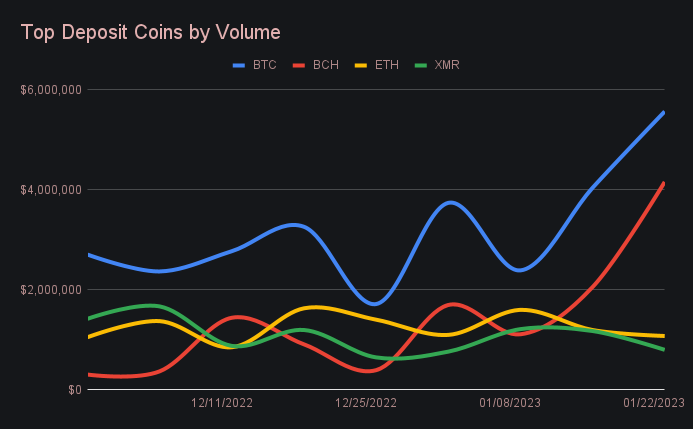 On the settlement side, the trend was very similar with BTC and BCH running the show. These two coins alone combined to account for 67% of our weekly settle volume. The momentum that BTC picked up last week only continued, and as the price rose, so did demand. BTC settlements grew by 46.6% to claim first place with a very respectable $5.63m. The aforementioned popularity of BCH resulted in a doubling of last week's volume, as it finished in second with $4.15m. Such a heavy emphasis was placed on our top two coins, and their dominance is really made clear in the area chart below.

Following million dollar settlement weeks, third and fourth placed ETH and XMR had a decline in interest, seeing respective settlement volume decreases of 15.2% and 31.5%. ETH however did still remain the second most settled coin by shift count (1,137 shifts), which tells us of its ongoing prevalence. It was the only coin aside from BTC which finished the week with more than 1,000 shifts.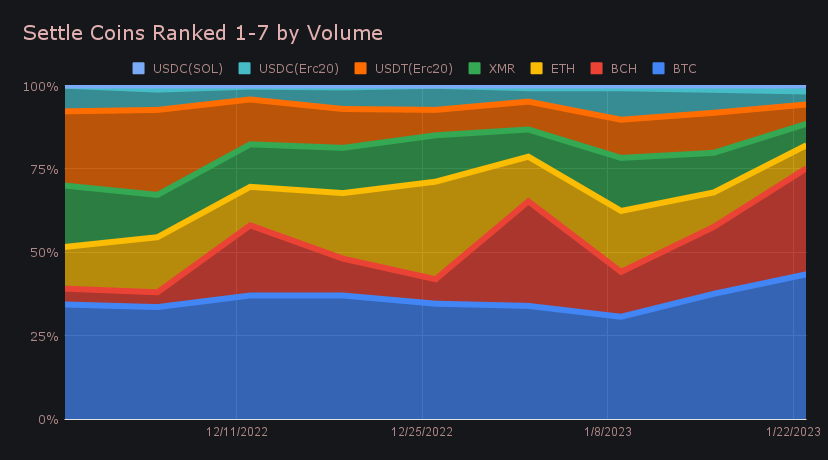 The brief period of stablecoin buying pointed out in last week's report was short lived, as the stablecoin settlement sum has come back to a level closer to its usual 20% benchmark. All stablecoins combined to represent 24% of the week's shifts, with the leader of this group - USDT on Ethereum - falling 38.7% to net $753k.

Although interest in stablecoins seems to be waning as all eyes are focused on BTC, we did see some stablecoin shift spikes on various chains. An example was USDC on Solana, which saw its total volume (deposits + settlements) rise 63.4% to total $449k. Additionally, USDC on Artibrum, which was only just added last month, spiked nearly 700%. It finished in our top 12 coins this week, with a total sum of $234k. Stablecoins on these alternate networks continue to be solid additions for SideShift.

In listing news, SideShift added support for the Ethereum token, Gala (GALA). GALA is the token which powers Gala Games, a platform used for blockchain gaming. With a current market cap of $367m, Gala ranks in position #98 overall. Be sure to check out GALA and try shifting for yourself.

The operations of the shift service overall went smoothly, considering the large volume. One very minor issue was certain delays with the Optimism network, which resulted in a small amount of shifts taking longer than expected. It has since been resolved and all shifts have been settled. Finally, a few low liquidity coins such as SWEAT and TON have temporarily been disabled due to unfavorable rates.
Integration News

Integrations combined for a total volume of $1.25m, 24% lower than last week. When compared to the strong volume which took place directly on SideShift's site, integrations represented just 8.7% of the total. As they continue to find their footing, it is encouraging to see shift count has remained fairly steady over past months and is continually near the 2,000 shifts / week mark. This week's count measured 2,168, which was 33.4% of our total weekly count.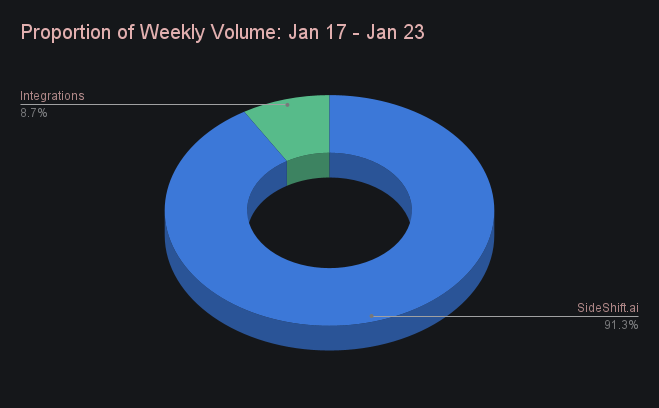 That's all for now. Thanks for reading, happy shifting and we'll see you next time.