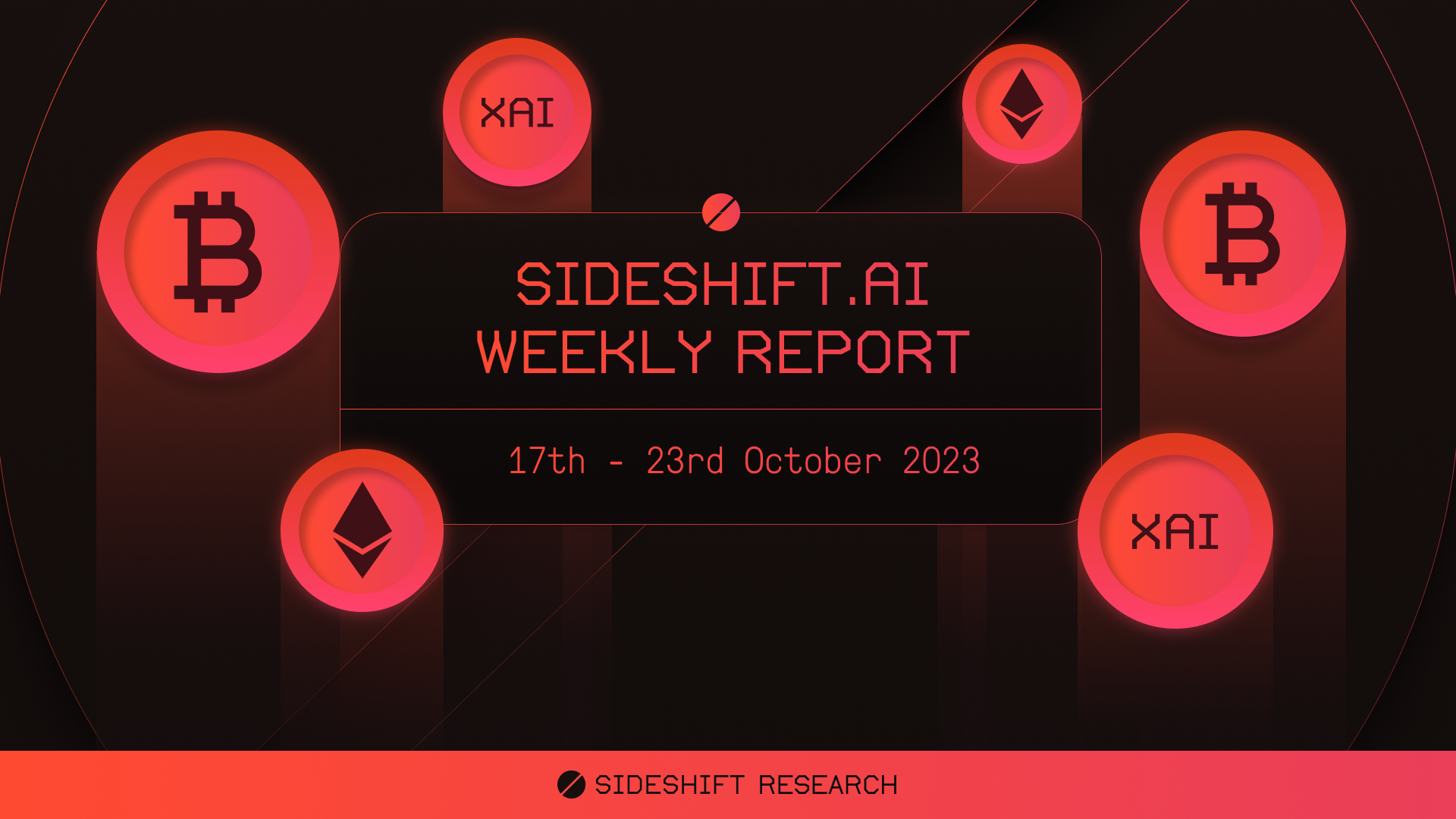 24 October, 2023
SideShift.ai Weekly Report | 17th - 23rd October 2023
Welcome to the seventy-seventh edition of the weekly stats report - your one-stop shop for all things SideShift.ai.
SideShift ended the week with a daily volume of $1.5m, a welcome boost after some slow days. SideShift token (XAI) moved within the fairly narrow 7 day range of $0.0723 / $0.0782, and is currently trading at a price of $0.0754 with a market cap of $9,484,074 (-0.3%).

XAI stakers were rewarded with an average APY of 9.28% this week, with a daily rewards high of 44,147.94 XAI being distributed to our staking vault on October 24th, 2023. This was following the previously mentioned daily volume high of $1.5m. This week XAI stakers received a total of 207,506.29 XAI or 15,770.48 USD in staking rewards.

An additional 50 ETH was added to SideShift's treasury this past week, bringing the current total to a value of $5.34m. Users are encouraged to follow along directly with live treasury updates.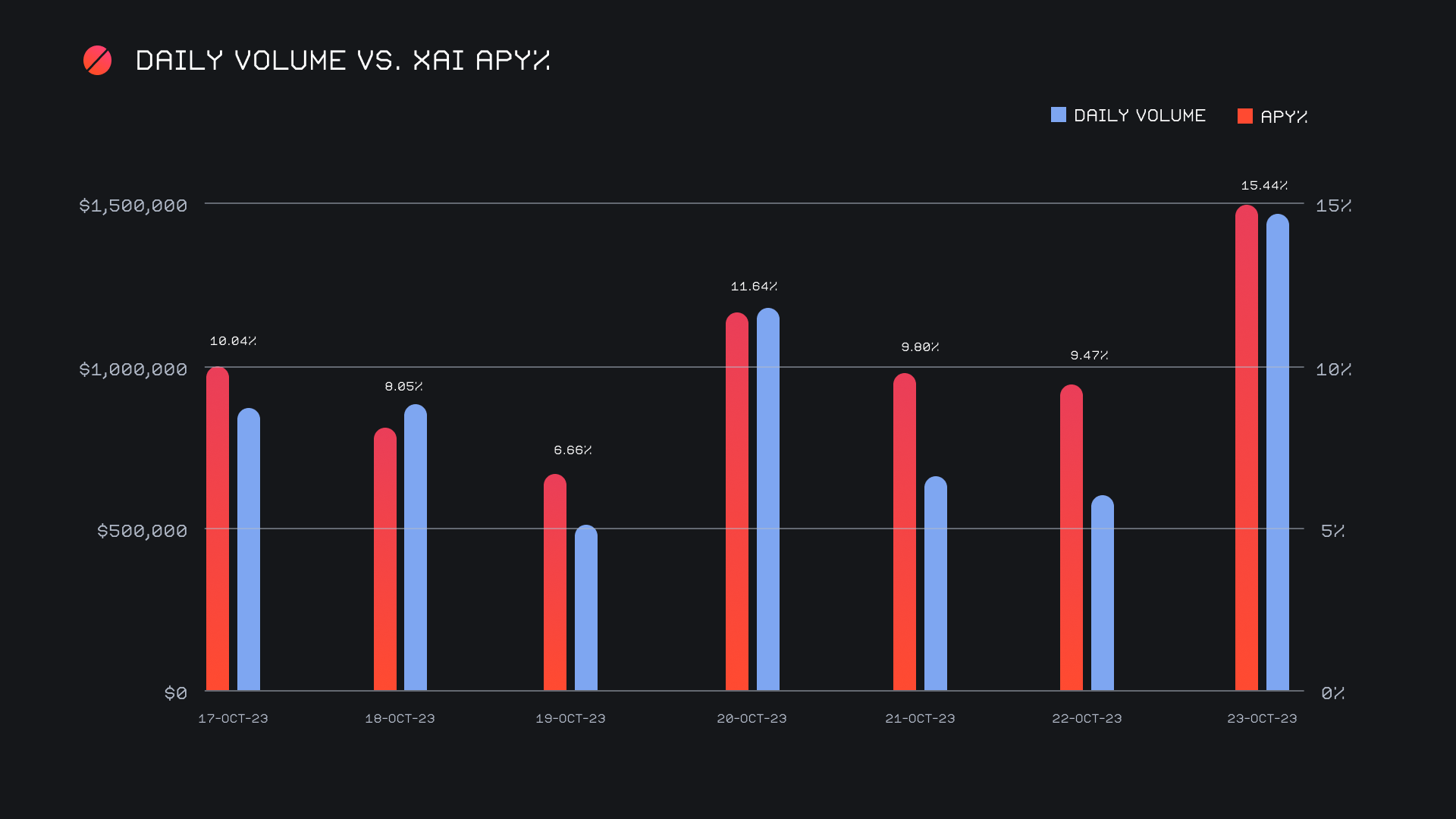 Additional XAI updates:
Total Value Staked: 112,346,870 XAI (+0.2%)
General Business News:

The week brought with it another heavy wave of ETF excitement, this time thrusting BTC's price upwards to touch the $35k mark. The majority of other coins happily followed suit and enjoyed a steady stream of green candles. However, it is extremely clear that Bitcoin is leading the charge, as BTC dominance has reached a high of 54.1% at the time of writing.

SideShift bounced back, with gross volume jumping +35.3% from last week for a more familiar weekly sum of $6.2m. Shift count saw a positive move as well, rising +18.9% for a gross 6,434 shifts. The positive change in volume can most notably be attributed to an increase in shifts carried out directly on the site, something which was very lackluster in the previous week. This is true for both the size of the shifts, as well as the overall count. With that being said, our top integrations maintained their strength and saw a bump in collective volume, affirming to us that the week's increases were noted across the board. Together, these figures combined to produce daily averages of $882k on 919 shifts. When denoted in BTC, our weekly volume amounted to 206.03 (+23.2%) BTC.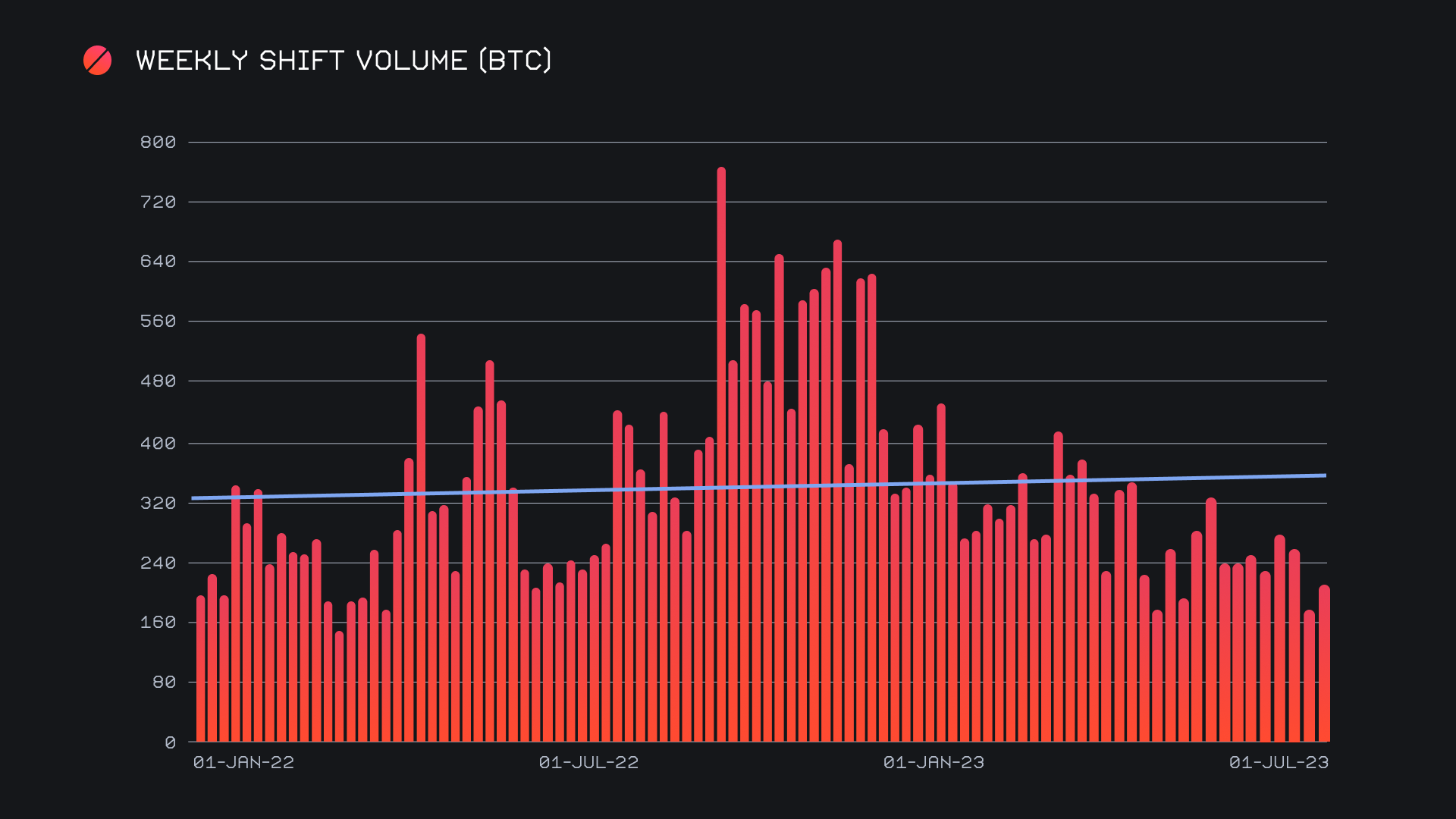 A look at our top 5 coins by total volume can help us paint a picture of where the increase in shifting came from. As a whole, our top 5 summed for $9.6m in total volume (deposits + settlements), with BTC and USDT (ERC-20) being the respective first and second placed finishers. With a healthy increase of +33.4%, BTC regained the $4m threshold this week and continued to be the focal point. Although we are still seeing a nominally higher value of deposits as compared to settlements for BTC, this week user settlements saw the greater percentage gain, indicating an uptick in interest. User BTC deposits finished with $1.8m (+27.6%) as compared to a settlement total of $1.4m (+33.2%). Watching to see if this sum surpasses that of deposits in the coming weeks will be a telling sign of the genuine attitude embraced by SideShift users. For now, deposits continue to remain the victor, despite the bullish change in BTC's price.
Meanwhile, total volume for USDT (ERC-20) saw an equally impressive rise of 32.7%, although finishing with a lesser total of $2.4m. Here, we saw the inverse pattern as compared to BTC, with user deposits gaining on settlements, which depicts the same general idea. For USDT (ERC-20), user deposits ended with $564k (+112.4%) as compared to a settlement total of $1.1m (+21.3%). The BTC/USDT (ERC-20) pair finished as the most shifted pair among users with $835k, a sum pretty much on par with the previous weeks. This tells us that although our top pair still played a role, the source of the increase in BTC and USDT (ERC-20) shifts came from a wider combination of coins. Particularly notable are those which ranked 6-10, all of which saw a gain exceeding +60%, and in the case of BNB, reached as high as +244% with a total volume of $359k.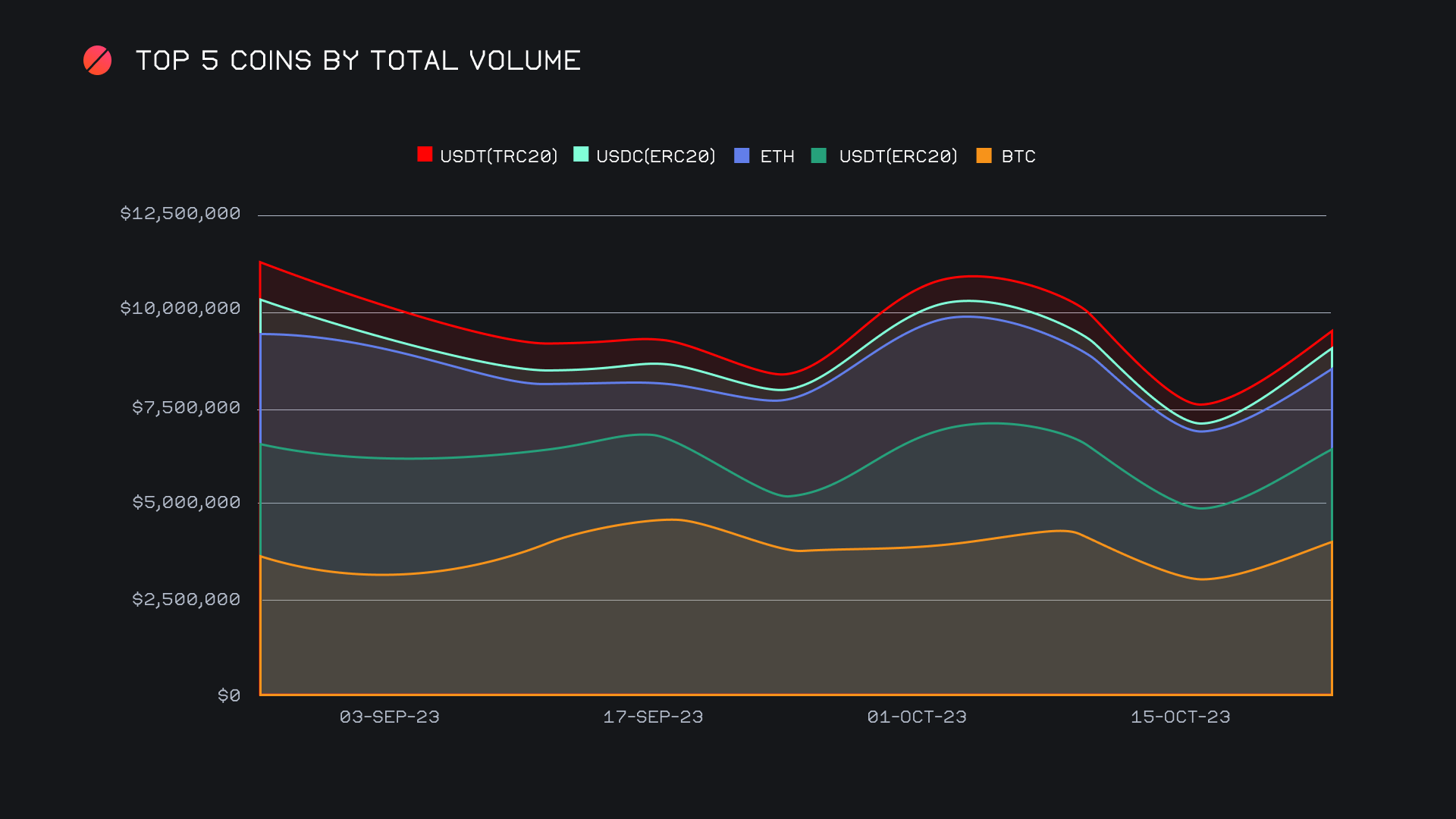 Building on the idea that volume derived from a wider scope is the fact that our top 3 coins of BTC, USDT (ERC-20) and ETH noted a decline in their collective total volume. Last week, this percentage soared to more than 75%, meaning over ¾ of shift volume included one of these coins. Although still high at ~69%, it appears that a local top for this metric may be in.
Alternate networks to ETH also contributed to the rise this week, as they finished with a combined $1.6m (+25.2%). For the first time in a long while, the Tron network was not at the forefront. It ended in second place with $453k (-27.8%), which is almost entirely due to a lesser amount of USDT (TRC-20) shifting. Instead, it was the Binance Smart Chain (BSC) network which leapfrogged into first, surging +147.4% for a total $522k. In third place was the SOL network with $265k (+91.9%), which, similar to the BSC network, saw its increase as a direct result of shifting of the network's native coin. With a 30% rise in SOL's price this past week, it was no surprise to see an increase in user activity. Despite the rise in shifting on alternate networks, this was still the second lowest volume sum in recent months for this metric. This circles back to the notion of all eyes being on BTC for the time being, and that one would expect this category to experience a sustainable surge in the later stages of a bull market.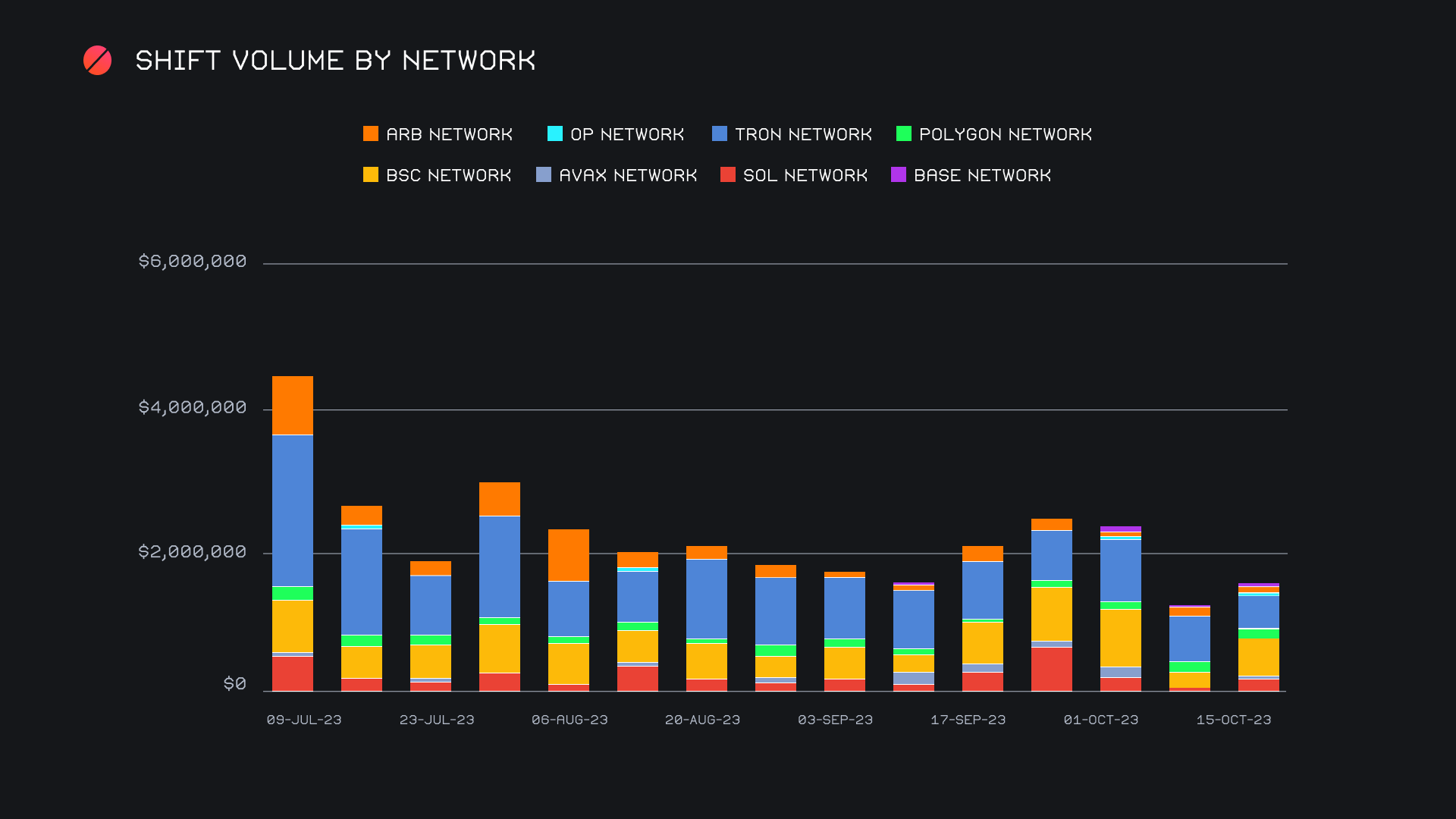 Affiliate News
Our top 10 affiliates had a strong showing, growing a hefty +27.1% for a cumulative $2.6m. Our top affiliate from recent weeks was steady once again, with $1.1m in volume. However, our second place affiliate accounted for the majority of the cumulative rise, as it exploded +73.5% ($938k in volume) for the week. Shift count for our top affiliates had a similar story, as a total count of 2,594 shifts marked a rise of +25.1%. Overall, our top affiliates represented 41.5% of total volume, 2.7% lower than last week's proportion.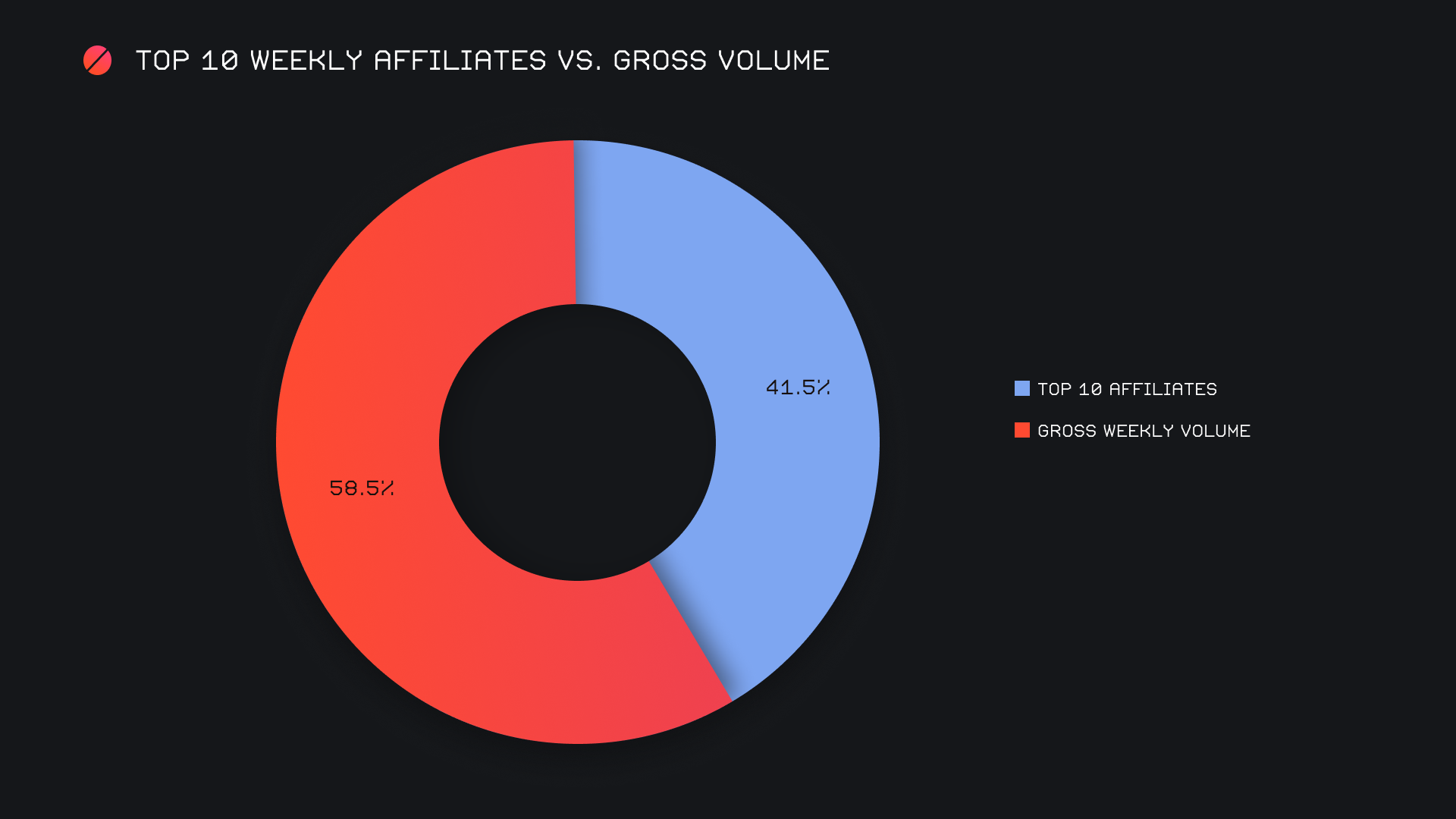 That's all for now. Thanks for reading, happy shifting and we'll see you next time.