25 April, 2023
SideShift.ai Weekly Report | 18th - 24th April 2023
Welcome to the fifty-first edition of the weekly stats report - your one-stop shop for all things SideShift.ai.

XAI Token Market Update

This week SideShift token (XAI) bounced within the 7 day range of $0.1134 / $0.1347. At the time of writing, XAI is currently sitting at a price of $0.1218, and has a circulating supply market cap of $14,654,473 (-9.1%) as denoted on our Dune Dashboard.

XAI stakers were rewarded with an average APY of 15.33%, with a daily rewards high of 66,480.03 XAI (an APY of 29.38%) being distributed directly to our staking vault on April 21st, 2023. This was following a daily volume of $2.3m. As a whole, this week XAI stakers received 257,215.01 XAI, or $32,454.10 USD in staking rewards.

The price of 1 svXAI is now equal to 1.1811 XAI, representing an 18.11% accrual on stakers investments. A reminder that the easiest way to stake is to shift directly to svXAI from any coin of your choice.

Additional XAI updates:

Total Value Staked: 94,490,604 (+1.2%)
Total Value Locked: $11,525,964 (-3.2%)

General Business News:

As the month of April is coming to an end, the general market is looking shaky with high volatility and relatively low volume.

SideShift felt the same general sentiment, with a flurry of USDT (ERC-20) settlements leading the charge. Despite the nervous market behavior, SideShift finished the period up 7.4% from last week, with a gross volume of $8.9m. This was accompanied by a shift count which increased even more aggressively, jumping 12.8% for a total of 7,775 shifts. Together, these sums produced daily averages of $1.3m on 1,111 shifts.

The combination of the decrease in BTC's USD value, along with SideShift's volume increase resulted in a higher weekly volume percentage increase when denoted in BTC. The period ended up by 14.4%, for a total of 312.57 BTC.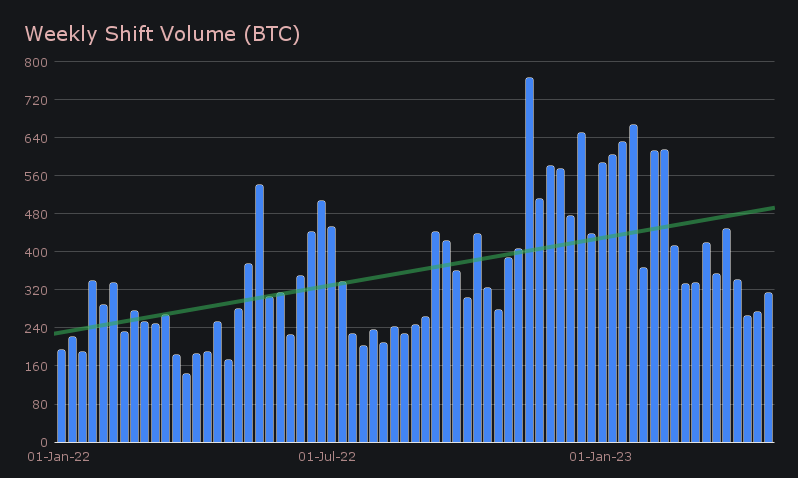 The narrative remains largely in line with that outlined in the previous report, with BTC blazing the trail. Although not uncommon to see higher BTC volume vs altcoins during periods of uncertainty, it's still significant to note BTC's dominance. When looking at total volume (deposits + settlements), it netted $5.3m (+21.4%) to finish head and shoulders above all other coins. For reference, just two weeks ago ETH trumped all coins to emerge first; this week, ETH's total volume was less than half that of BTC, with $2.2m (-15.3%).

The driving force behind this was the popularity of the BTC / USDT (ERC-20) pair, which alone generated $1.5m in user volume. It was more than triple that of the next closest pair, which was XMR/BTC with $406k. As previously noted, USDT on Ethereum was the most sought after coin this week, as it saw $1.7m in user settlements to lead all coins. BTC placed second with $1.4m, followed by ETH with $982k. The chart below outlines net settlements, but even here you can note the increased demand for USDT (ERC-20) over the past few weeks, while conversely interest in ETH seems to be dwindling.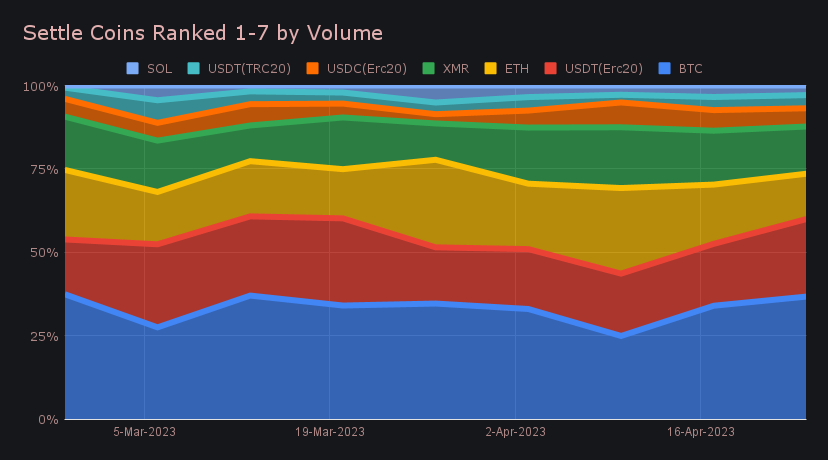 USDT on Ethereum wasn't the only stablecoin to gain traction this week. Total stablecoin volume (deposits + settlements) rose 30.1%, and shifts involving a stablecoin accounted for 32.1% of the weekly total, 5.5% higher than last week's proportion. From this total volume, we saw net flow favor settlements over deposits by a margin of $1.4m, as users were shifting more to stablecoins than from stablecoins. You can note the sharp diversion between inflow and outflow this past week in the chart below. This is likely a reflection of sentiment from SideShift users at the moment, which represents users preferring stablecoins over volatile assets during this market trend.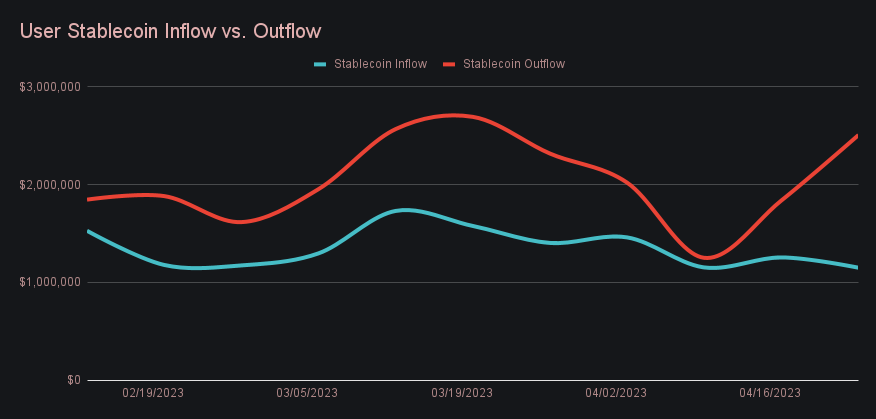 It was a slower period for alternate networks to Ethereum on SideShift, as volume on these chains dropped by a combined 19.2%, to sum $1.8m. This came in the wake of a $2.2m week, which is far closer to the average recorded over the past three months. With five out of seven alternate chains experiencing red weeks, TRON was one of the few to go against the grain. With $664k, it managed to outperform SOL ($470k), BSC ($290k), and ARB ($217k), which had a steep 50% decline after consecutive weeks of ascent. This decline in combined volume aligns with other trends noted in the report so far, and simply tells us that during quieter times, generally less capital is allocated to altcoins or alternate chains.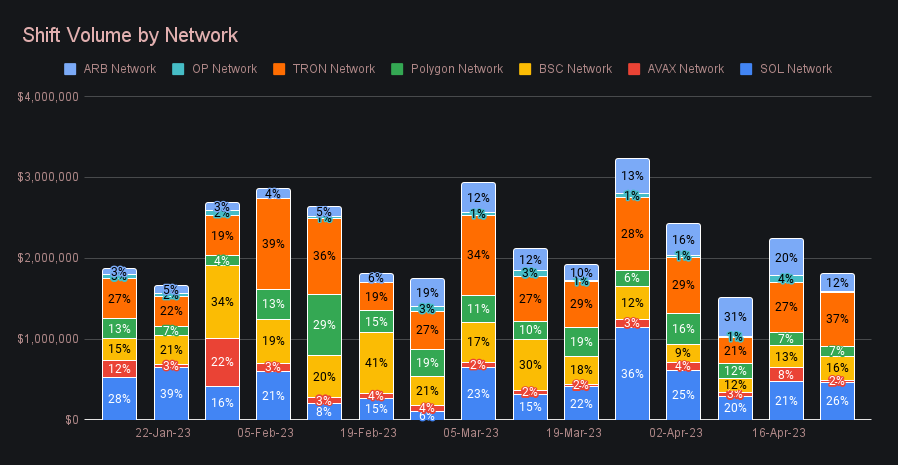 Although these other networks struggled to produce significant volume, they did however see a very strong shift count. A sum totalling 3,815 has only been outdone twice before, which were the two consecutive weeks in March 2023 which breached the 4,000 mark. SOL led the way here with 854, followed by BSC with 743, and then ARB with 667. A weekly shift count which is ~17% higher than its running 3 month average is promising, and speaks to the utility of SideShift for shifting on multiple chains.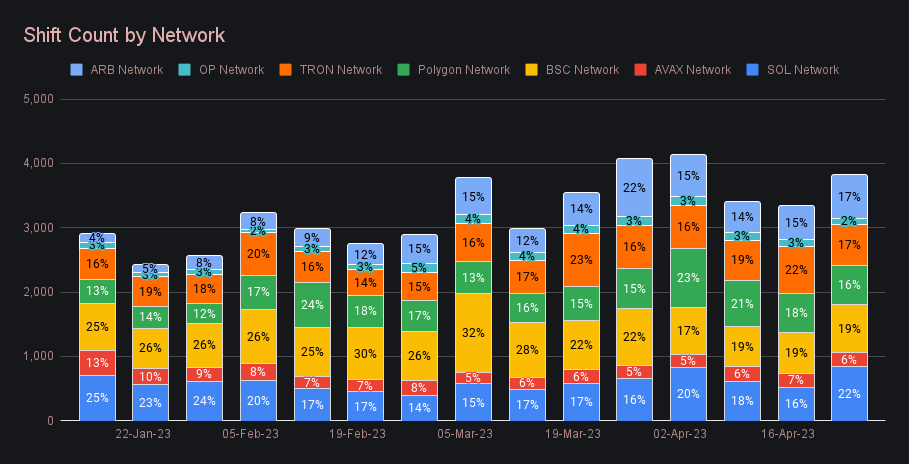 In listing news, SideShift added support for 3 additional ERC-20 tokens this week. Pepe (PEPE) is now here to make memecoins great again. With a market cap of $99m, it ranks #2618 overall. Rocketpool (RPL) is a decentralized ETH2 staking pool, and currently sits #56 overall with a market cap of $873m. Finally, Frax Shares (FXS) is the non-stable governance token for the Frax Protocol. With a market cap of $806m, it ranks #76 overall. Shifts are now live to PEPE, RPL and FXS from any coin of your choice.

In general news, SideShift underwent a main database upgrade on April 24th, 2023, which resulted in a slight delay for some shifts. The upgrade was a success, and all delayed shifts were settled within the hour.

Affiliate News

The top 10 affiliates rose by a modest 1.3% to sum $1.9m in weekly volume. Conversely, shift count declined 13.7% for a net 1,741 shifts. Our top affiliate had an outstanding week, accounting for 15.1% of our total weekly volume and 13.1% of our total weekly count. For this affiliate these sums marked a 1.2% volume increase, but a decrease in shift count of 6.5%. This tells us that they had fewer shifts, but with larger values.

All together the top 10 represented 21% of shift volume this week, 1.2% lower than last week's proportion.

That's all for now. Thanks for reading, happy shifting and we'll see you next time.