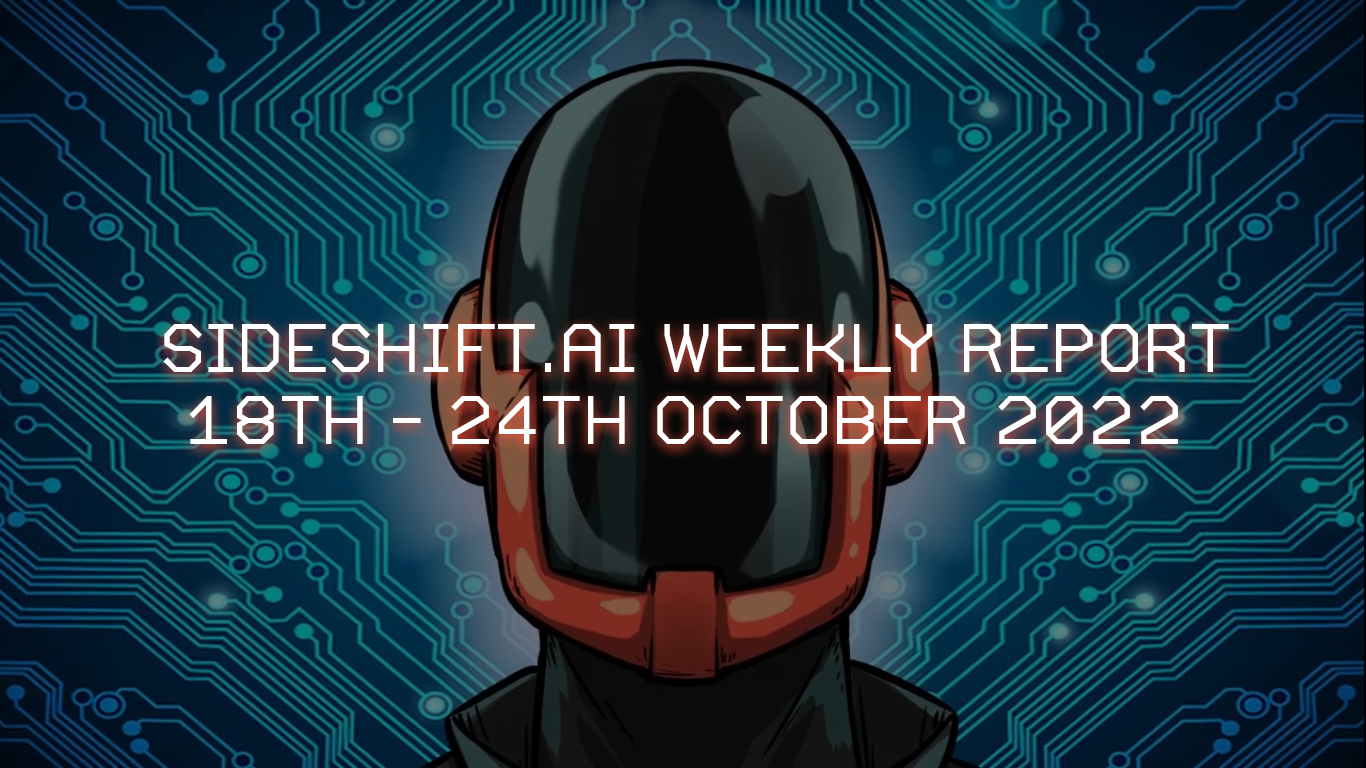 25 October, 2022
SideShift.ai Weekly Report | 18th - 24th October 2022
Welcome to the twenty-fifth edition of the weekly stats report - your one-stop shop for all things SideShift.ai.

This week contained a milestone, as today marks the 200th week since SideShift's inception. It is exciting to think of where we will be in 200 more, and we thank everyone who has been along for the ride.

XAI Token Market Update

SideShift token (XAI) has remained relatively stable since encountering some price action which was noted in the previous report. This week it moved within the 7-day range of $0.1176 / $0.1396, and at the time of writing, is sitting at a price of $0.1396 with a current market cap of $12,511,437.

Overall it was a fairly steady week, with volume once again being slow over the course of the weekend. This resulted in an average APY which was slightly lower than our all time average, but still otherwise healthy at 22.44%. A weekly rewards high of 27,135.87 XAI was deposited to our staking vault on October 25th, 2022, following a daily volume of $871k.

Users who have staked XAI since the migration on-chain have now accrued a net increase of 7.37% on their holdings. A friendly reminder that you can follow along with live XAI statistics here at our Dune Dashboard.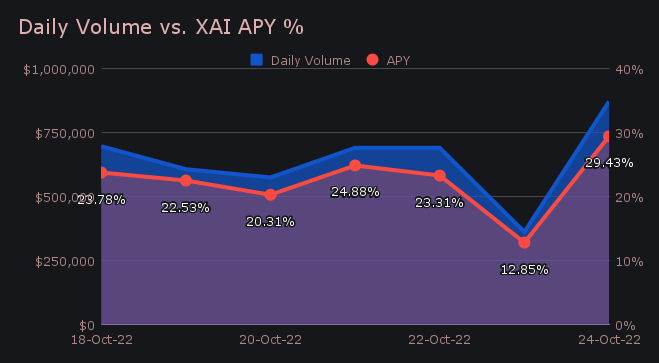 Additional XAI updates:

Total Value Staked: 38,436,655 XAI
Total Value Locked: $5,118,609

General Business News:

As the general market remains quiet, it seems the majority of people are sitting on the sidelines, watching the lack of volatility and waiting for a move in one direction or the other.

The narrative for SideShift remained unchanged, with trends noted in the previous period carrying over into this week. SideShift ended the week with a net volume of $4.50m (-8.66%) and a shift count of 6,486 (-0.95%). This resulted in daily averages of $642k on 927 shifts. When denominating volume in BTC, this week netted 232.81 BTC, a slight decrease from last week's total of 255.78 BTC.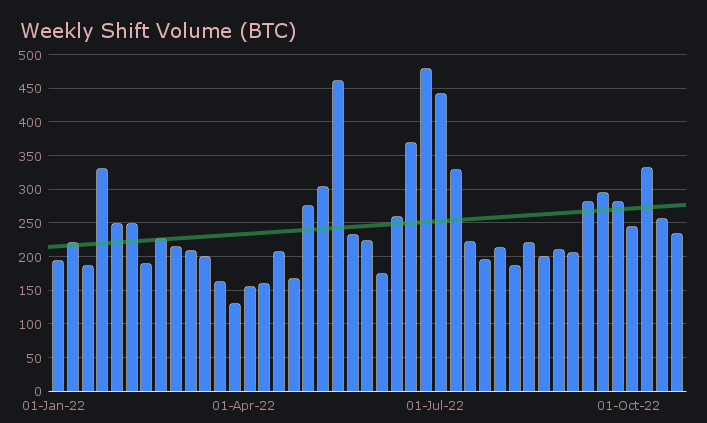 BTC remained our most shifted coin, and did so despite overall volume (deposits + settlements) dropping by 16.4%. It sat atop the deposits list with a net volume of $1.14m (-14.5% from last week). This was on par with the typical trend seen in recent months, as it accounted for roughly ¼ of total deposits. ETH climbed 6.3% to reclaim second ($771k), and surpassed XMR, which fell 29% to place third ($630k).

Noteworthy was fourth placed ZEC, which encountered over a 110x boom in deposit volume from last week. It ranked 4th with $284k, substantially more than the sub $2k average typically recorded in recent months. The pattern for ZEC in fact seems to be low weekly volumes, followed by a sizable bulk of shifts occurring once every 2-3 months. In this instance, it was ZEC - DAI shifts coming from Trezor.

On the settle side, BTC refused to step down from first place, although USDT (ERC-20) did take a shot at it. BTC settlements ended the week netting $1.02m (-18.4%), the lowest it's been in 2 months. You can note BTC's weakening dominance in the chart below. On the other hand, USDT (ERC-20) grew 1.6% and took second place with $813k. Third placed ETH also saw gains, rising 23.2% to finish the week with $765k.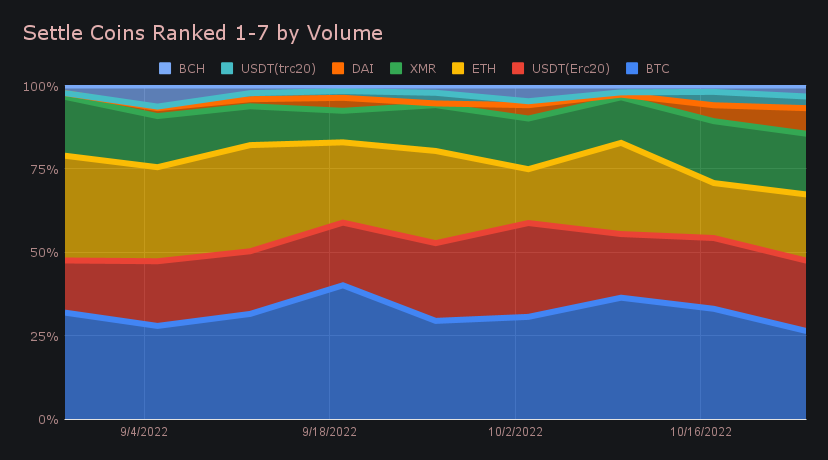 BTC/USDT (ERC-20) continues its reign as the most popular shift pair, now extending its streak to 8 weeks. It showed a minor volume increase and finished with a sum of $520k, which represented 11.6% of the weekly total.

Furthering the conservative mindset is the ongoing prevalence of stablecoin settlements, which combined to account for just greater than 30% of total settlements this week. It is worth noting that this was recorded as ~20% just 2 months ago.

In listing news, SideShift added support for 2 coins this week. First was Paxos Gold (PAXG), a gold-backed, ERC-20 token. Each token is backed by 1 fine troy oz (t oz) of a 400 oz London Good Delivery gold bar, stored in Brink's vaults. PAXG is currently ranked #71, with a market cap of $533m. Next was Quant (QNT), an ERC-20 token used to power Quant Network's Overledger brand of enterprise software solutions. QNT is currently ranked #30, with a market cap of $2.15b.

By and large the week unfolded to be predictable and hassle-free. One minor issue was a delay in XAI commission appearing within users account balances - this was acknowledged by our team and resolved I within the day. Deposits and settlement totals for our top 3 coins essentially mirrored one another, which lessened the burden on our liquidity trading and resulted in smooth user shifting. For our engineers, fewer issues allowed them to focus on site improvements, expansion, and new listings.  

Integration News

Integrations remain in a lane of their own, disregarding noise from the rest of the market and continuing to perform very steadily. This week noted a combined sum of $4.5m, representing 41% (+7%) of the weekly sum. The proportion for shift count was similarly high with 41.5% (-1%), with a grand total of 2,688 shifts.

That's all for now. Thanks for reading, happy shifting and we'll see you next time.