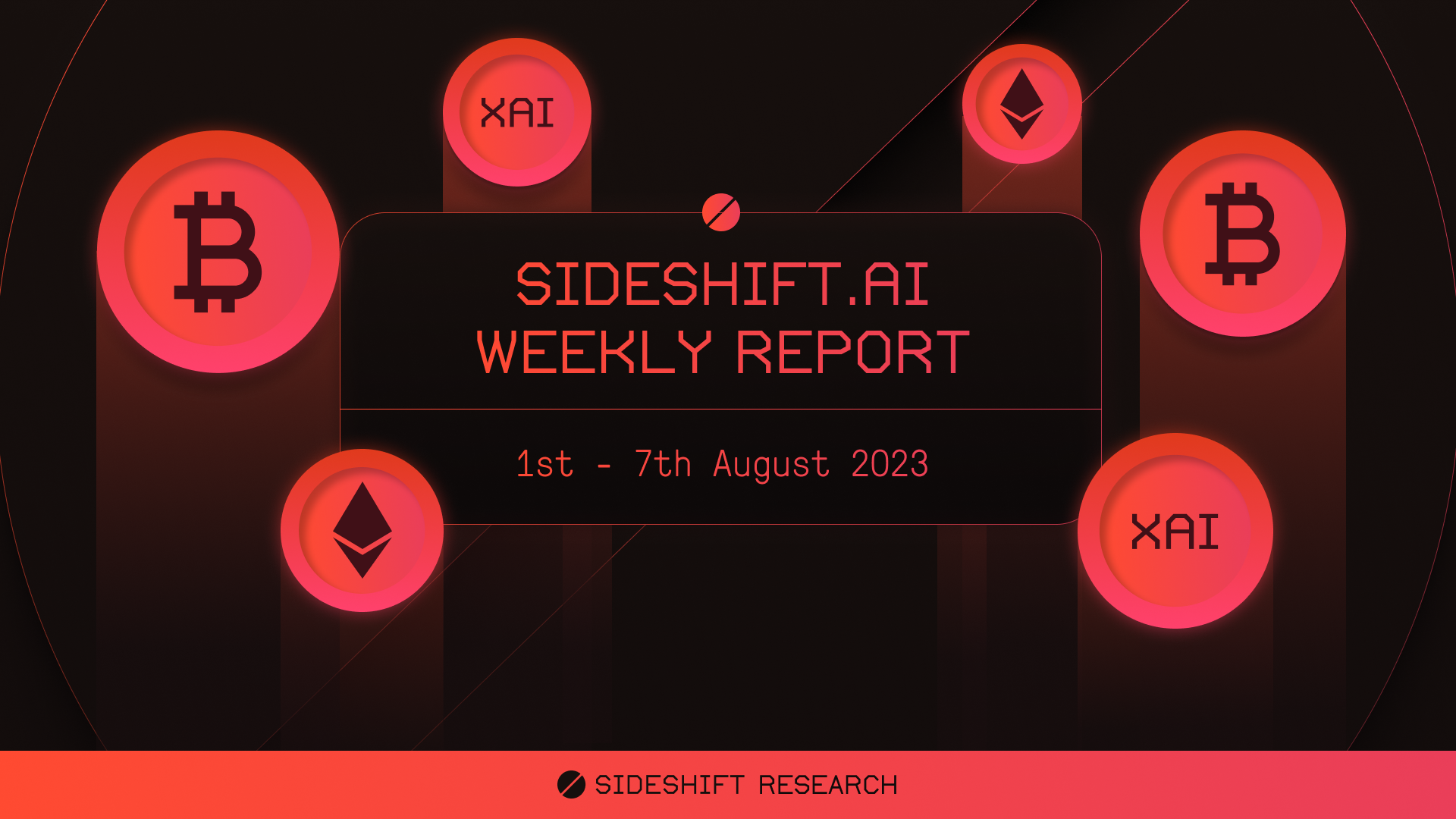 09 August, 2023
SideShift.ai Weekly Report | 1st - 7th August 2023
Welcome to the sixty-sixth edition of the weekly stats report - your one-stop shop for all things SideShift.ai.

XAI Token Market Update

This week SideShift token (XAI) bounced within the 7 day range of $0.1038 / $0.1097, falling sharply before undertaking a gradual climb which continued throughout the week. At the time of writing, XAI is currently sitting at a price of $0.1091 and has a current market cap of $13,167,173 (-0.2%).

XAI stakers were rewarded with an average APY of 9.08% this week, with a daily rewards high of 36,237.47 XAI (an APY of 12.73%) being distributed to our staking vault on August 4th, 2023. This was following a daily volume of $1.2m. This week XAI stakers received a total of  189,503.18 XAI or $19,997.13 USD in staking rewards.

1 svXAI is now equal to 1.2238 XAI, representing a 22.38% accrual on stakers investments. A friendly reminder that the easiest way to participate in XAI staking and earn daily rewards is to shift directly to svXAI, from any coin of your choice.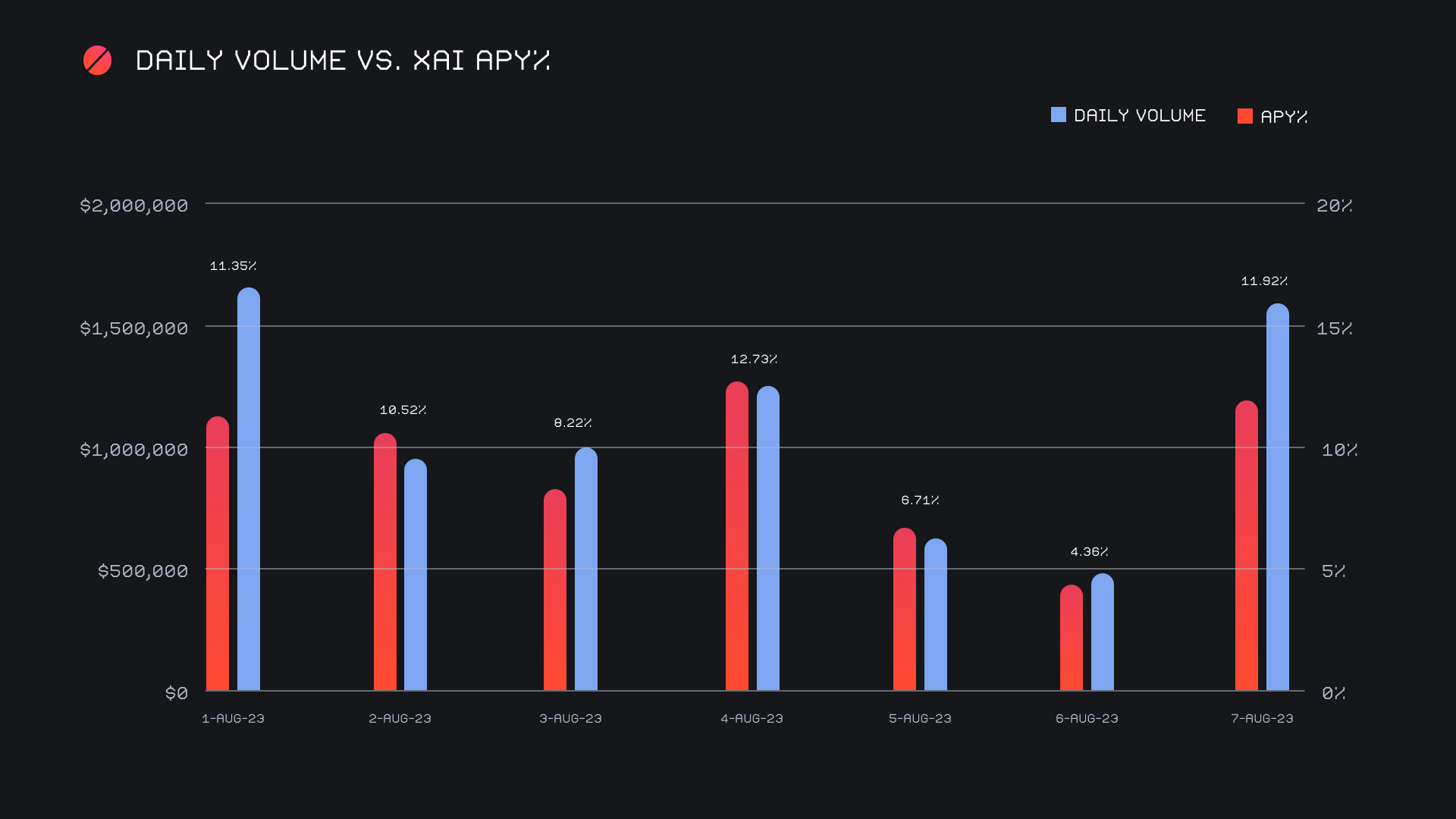 Additional XAI updates:

Total Value Staked: 110,622,425 XAI (+2.2%)
Total Value Locked: $11,255,772 (-4.7%)

General Business News:

This general market continues to remain quiet, with little unfolding in the past week aside from the Curve hack emerging at the forefront of the news. The bollinger bands for the market leading BTC continue to tighten on all timeframes, as many are holding their breath and waiting for a move in one direction or another.

In the wake of a very slow showing, SideShift rebounded hard off of last week's lows to see numbers more typically achieved throughout the year. By comparison the gains are attractive, but a zoomed out view will show that these are more normalized figures. The general lack of volatility is still acting as a barrier for sustained volume growth, and resulting in weekly fluctuations which largely mimic the price movement of market leading coins.

We rounded off the period with a gross volume $7.6m (+47%) alongside a shift count of 5,668 (+3.3%), a substantial volume increase but a relatively insignificant change in count. Together, these figures combined to produce daily averages of $1.1m on 810 shifts. Due to BTC's lack of price movement, our weekly volume denoted in BTC climbed by an identical 47%, for a total of 257.99 BTC.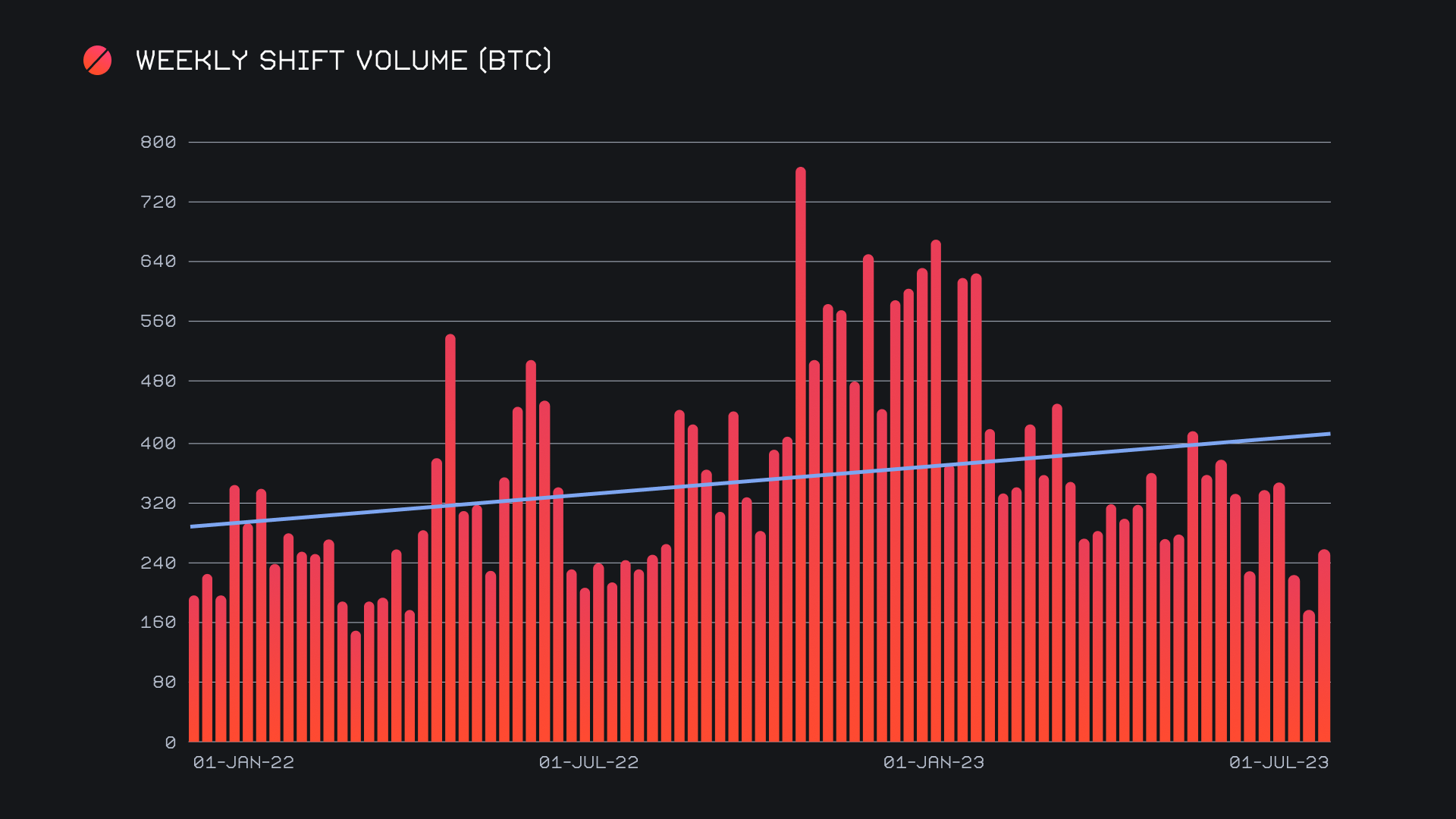 As a whole our top 5 coins summed for a total volume (deposits + settlements) of $11.7m, climbing out of the valley created last week, as outlined in the below chart. With a total volume of $3.7m (+24.5%), BTC retained its top spot and controlled the majority share of shift action, however this was not the highlight among our top coins. Instead, it was the runner up ETH which saw an explosion in shifting, more than doubling from last week's sum to end with just over $3m. You can see it diverging from BTC below. Interestingly however, this mainly stemmed from user deposits of ETH, not settlements. A deeper look reveals that a majority 51% of user ETH deposits were shifted to BTC ($692k), and although we recorded a 16.7% rise in user ETH settlements, it still sat $678k lower than first placed BTC. This explains to us that the user demand is still very much centered on the market leader, BTC.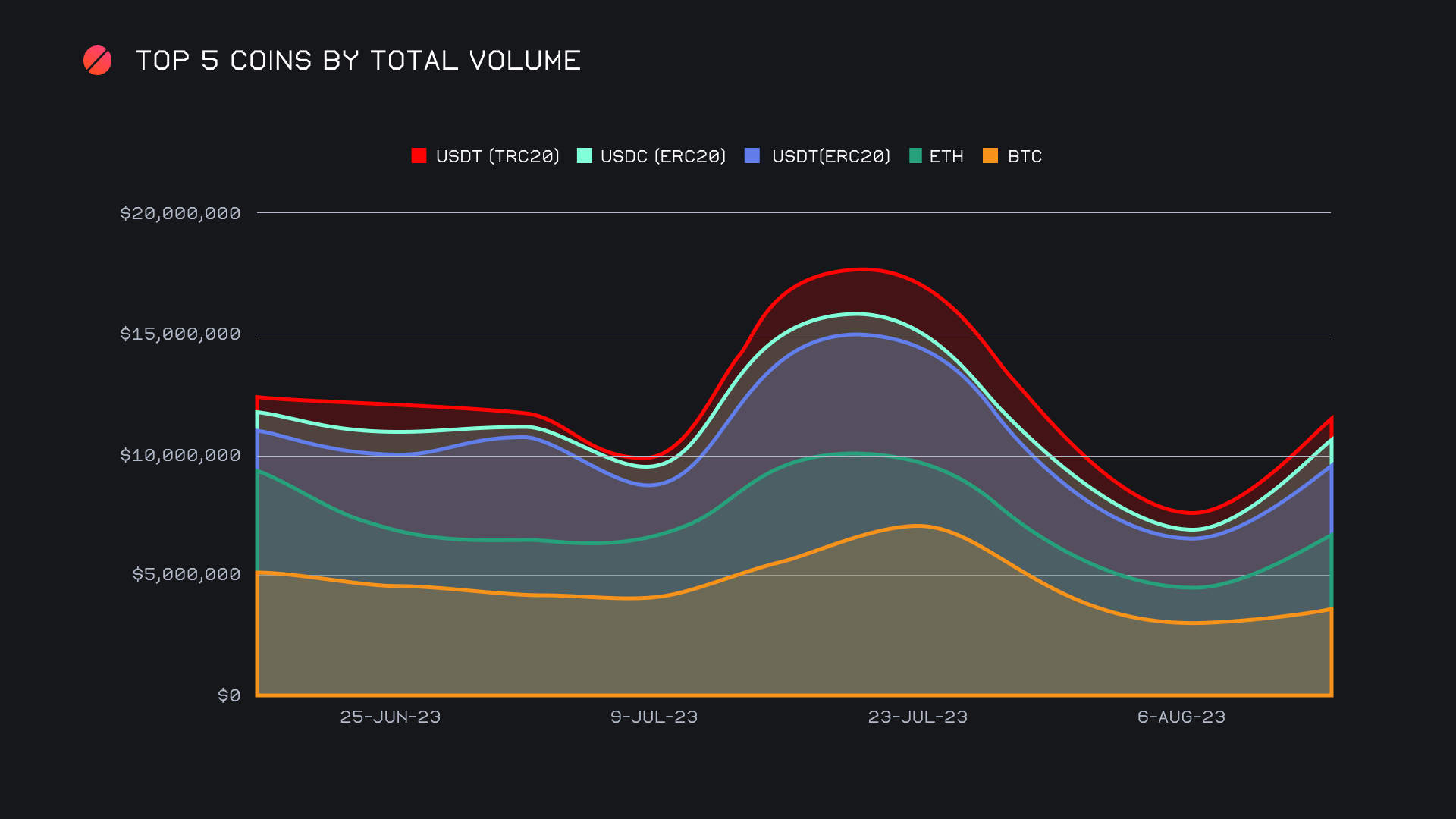 It was only our top 4 coins which cracked the $1m mark by total volume, with fourth placed USDC (ERC-20) being the newest addition to the group. It saw the most substantial volume growth by far among our top coins, ripping nearly 5x for a net $1.2m. We noticed a significantly stronger demand for USDC this week, although it still only achieved approximately 43% that of our most popular stablecoin, USDT (ERC-20). With that in mind, it was only stablecoins USDT and USDC on the Ethereum network which saw a settlement volume exceeding that of deposits. For all others, the opposite is true. This all leads to the idea that for the time being, it is clear users are more focused on stacking BTC along with dominant stablecoins, and all signs indicate shifting is flowing here. It will likely take a significant market pump before this is challenged. You can observe both the inflow and outflow of stablecoins increasing in the chart below, but will notice that the outflow is increasing at a faster rate.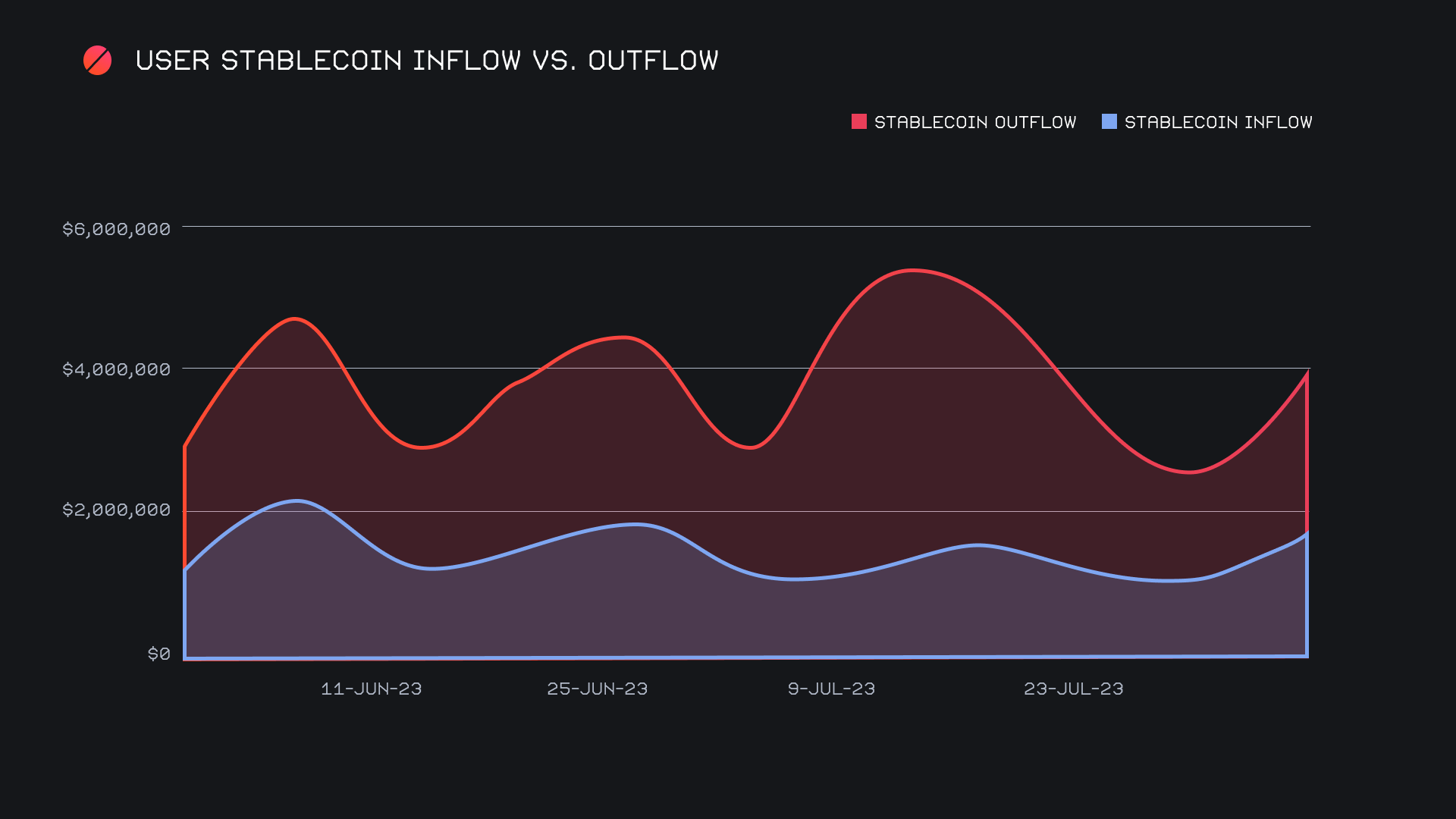 A look at alternate networks to ETH shows that they combined for a net $3m, with the Tron network alone accounting for nearly half of that with $1.4m (+70.4%). In recent weeks, it has clearly established itself as the leader in this category, thanks to the ongoing popularity of USDT (TRC-20). The Binance Smart Chain (BSC) network finished in second with $695k (+40.5%), while the ARB network jumped after its slowest week in months, to finish in third with $464k (+149.5%). USDT on the BSC network contributed heavily to its success, while USDC on ARB was also quite impactful in the Arbitrum network's success. The pattern here being that stablecoins on these alternate networks drive a significant share of shift volume, with the native coin taking the back seat (in most instances).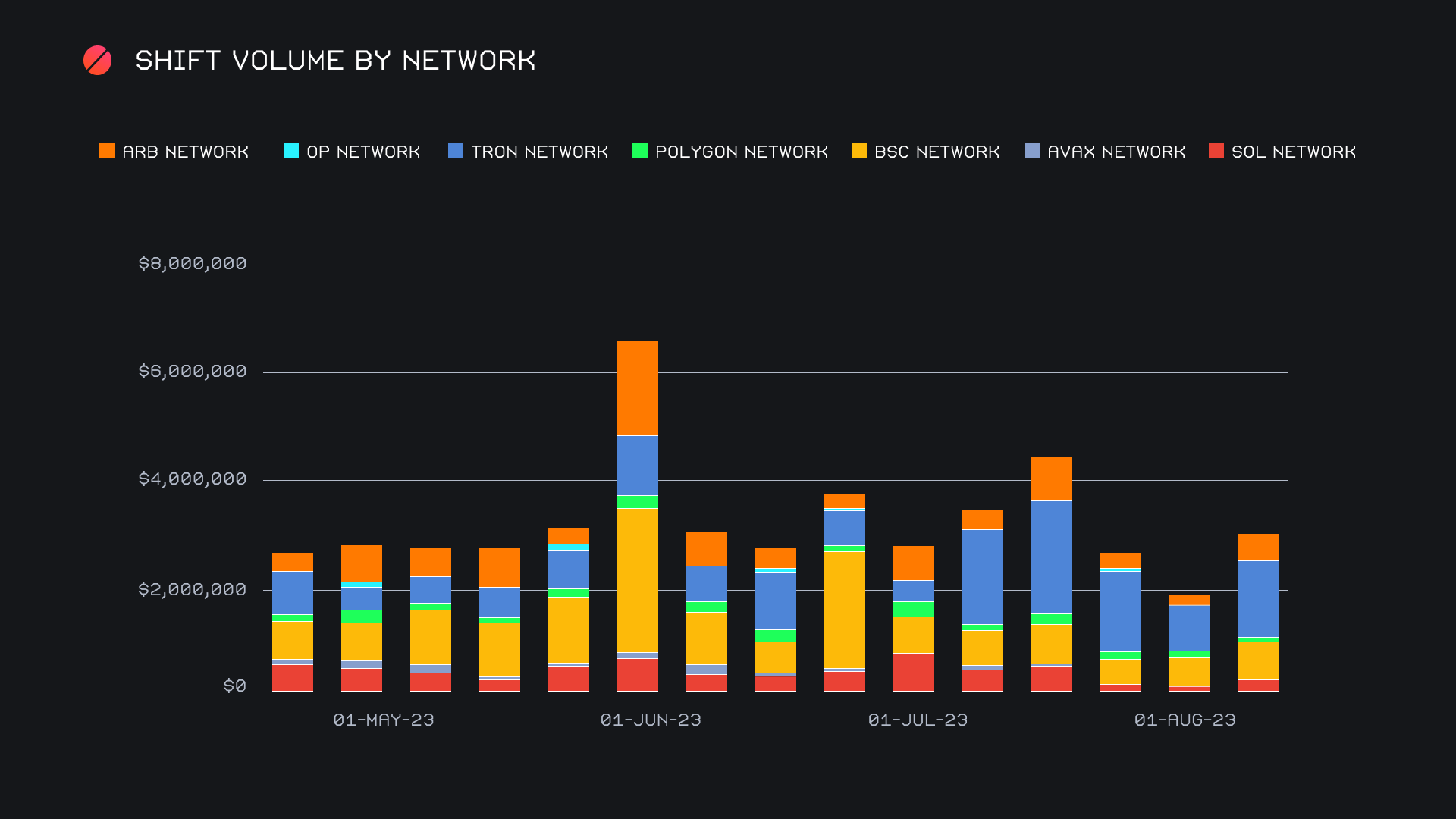 Although volume on these alternate networks has been quite varied week to week, it is worth mentioning the relative stability of shift count. In the above chart, you will see the summed volume has quite a wide range, spanning from $2m lows to over $6m highs in the past few months. Shift count meanwhile has fluctuated very minorly and continues to hang around the 4,000 per month mark. This tells us that the use of these networks continues to remain steady, even though volume may look somewhat discouraging at times. Ultimately this is a promising sign.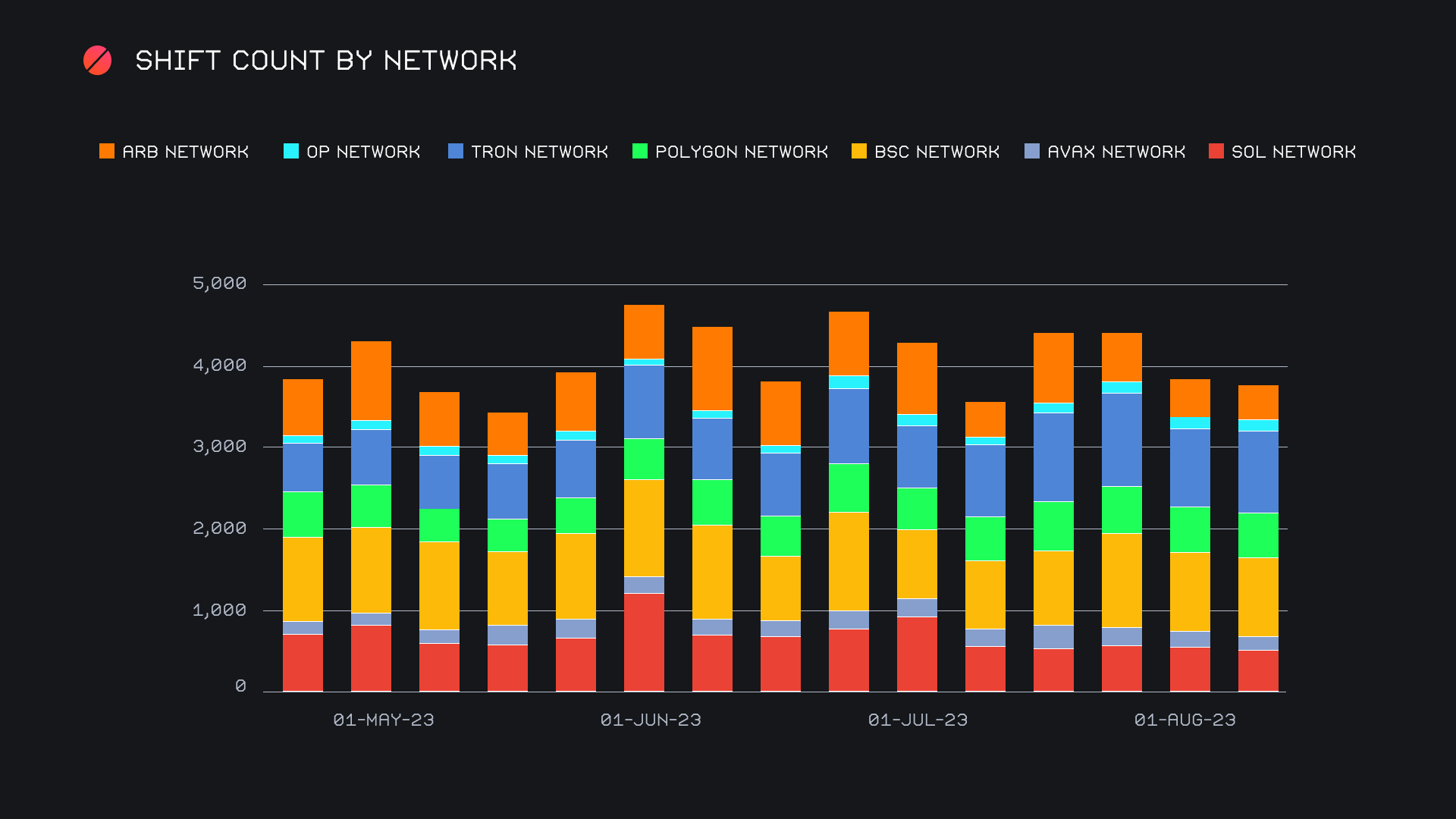 Affiliate News

Our top 10 affiliates continue to shine bright, this week increasing 23.5% for a combined sum of $2.6m. Shift count was more or less steady, falling by 7.9% for a total of 2,063 shifts. Our top affiliate is doing exceptionally well, as it has now seen greater than $1m in volume in 6 of the past 8 weeks. It seems largely unaffected by outside noise and continues to plug along. This week, it represented 16.3% of our weekly volume and 23% of our weekly shift count. The second placed affiliate was close on its heels however, representing 12.2% of weekly volume, and finishing just shy of $1m.

Overall, the top 10 accounted for a solid 35.3% of weekly volume and 36.4% of count.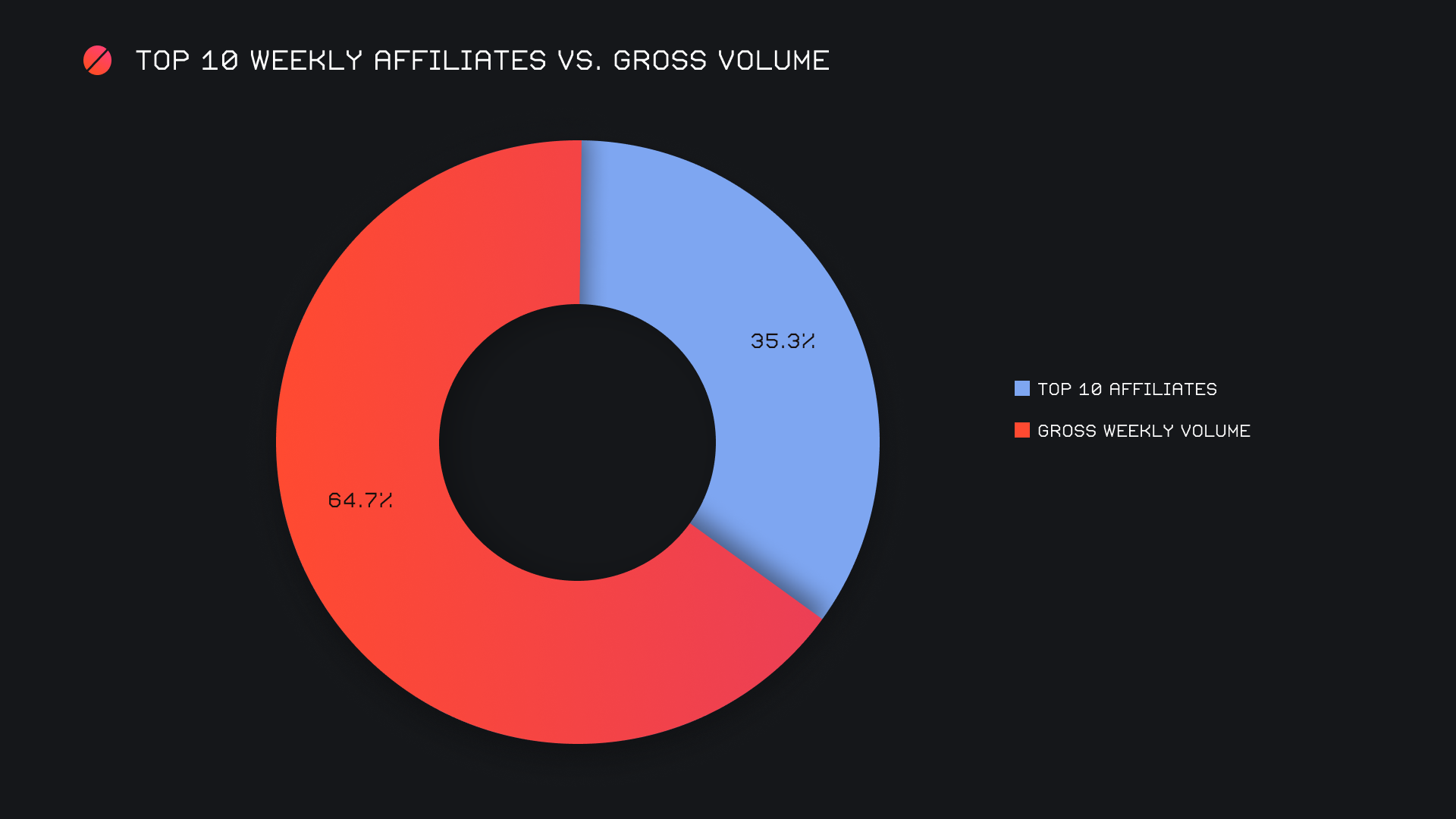 That's all for now. Thanks for reading, happy shifting and we'll see you next time.