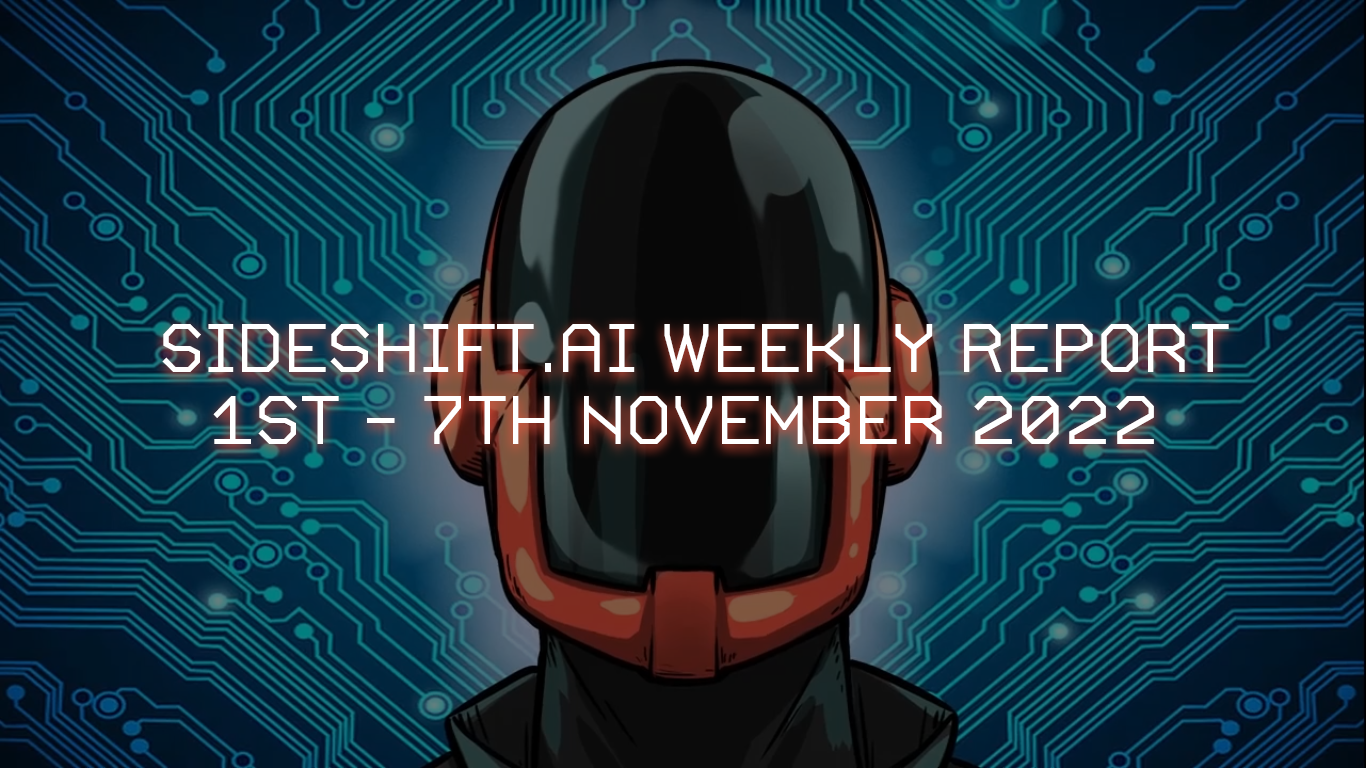 08 November, 2022
SideShift.ai Weekly Report | 1st - 7th November 2022
Welcome to the twenty-seventh edition of the weekly stats report - your one-stop shop for all things SideShift.ai.

XAI Token Market Update

This week SideShift token (XAI) bounced within the 7 day range of $0.1109 / $0.1452, and maintained price levels from the end of October. Currently, the price of XAI is sitting at $0.1279, with the XAI circulating supply Mcap measuring $12,329,254.

SideShift had an eventful week, ending the period with a bang. Despite a relatively slow weekend, we had a couple of standout days which contributed to a strong average APY of 34.22%, a figure 7% higher than our all time average. On November 8th 2022, a daily rewards high of 65,404.53 XAI was deposited to our staking vault, following a net daily user shift volume of $1.86m. In percentage terms, this amounted to a fantastic daily APY of 85%.

XAI stakers have now accrued a total of 8.38% on their investment since the move on-chain, meaning that 1 svXAI = 1.0838 XAI. If you have yet to stake, remember that the easiest way to do so is by shifting directly to svXAI from any coin of your choice. You can do so here.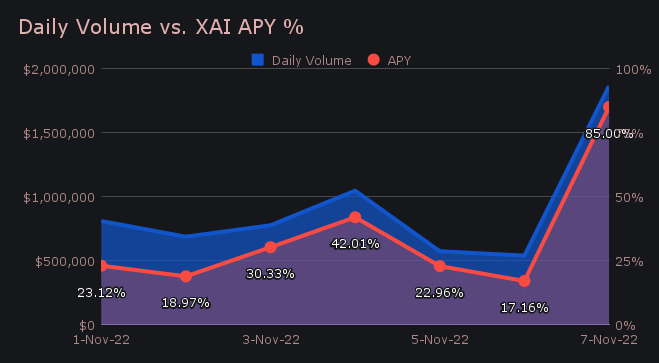 Additional XAI updates:

Total Value Staked: 38,865,860 XAI
Total Value Locked: $4,974,574

General Business News:

This past week was definitely an action packed one, filled with various large scale announcements and unfolding dramas. For a deeper dive into current crypto news, be sure to check out our most recent newsletter at shitcoin.com/newsletter.

It appears that most of the overall market gains which accumulated last week have now vanished, and that the bears are persistent in prolonging the sideways / downwards trend. The market shot up, only to retrace right back to where it was 7 days ago. For SideShift however, it seems that any volatility is good.

We ended the period with a net volume of $6.30m (+4.51% from last week) and a total shift count of 7,281 (-2.26%). Although a subtle decline in shift count, this figure remains one of our highest weekly counts ever, and it is encouraging to see it sustain its mark above 7k per week. Volume and shift count combined to produce daily averages of $900k on 1,040 shifts. When looking at weekly volume in BTC terms, this week's total amounted to 305.09 BTC, marking an increase of +3.9%.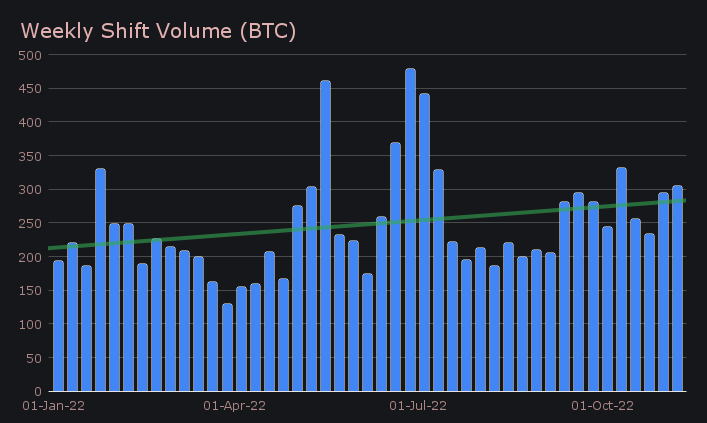 The gross daily volume of $2.73m enjoyed on November 7th, 2022 marked our best day since May 12th, 2022, when site volume hit a record high of $5.30m. At the time of writing, November 7th sits firmly within our top 5 best days to date.

Total BTC volume remained strong, dropping just 0.45% from last week to net $3.27m, a sum which was split quite evenly between deposits and settlements. BTC finished as our week's most deposited coin with a total of $1.60m, -15.8% from the heavy influx of BTC noted in the previous report. In second place was XMR with $952k (+9.1%), followed by USDC on Ethereum, which saw deposits explode by a whopping 124.5% to net $874k.

This growth in USDC on Ethereum deposits was largely accredited to a flurry of USDC (ERC-20) / UNI (ERC-20) shifts. This pair was the third most popular of the week, achieving a total volume of $390k. Typically a less popular option, these shifts resulted in UNI (ERC-20) settlements booming by nearly 25x to be our week's 5th most settled coin. Still, this pair fell short to the top coin pairing of BTC/USDT (ERC-20), which ranked as our most popular pair for the 10th straight week. It claimed first place with a volume of $710k, although XMR/BTC was very close behind with $697k.

On the settlement side, the ranking pattern noted in the previous report played out once again. BTC grew 20.67% and finished the week as our most settled coin, a title that it has now held since late August. It claimed first place with $1.67m, and was followed by USDT (ERC-20) with $1.39m (+19.95%). ETH ranked third with $906k (-13.34%), and was one of the few top settlement coins that saw a decrease in volume. You can see the consistency of BTC, as well as the decrease in ETH outlined in the chart below.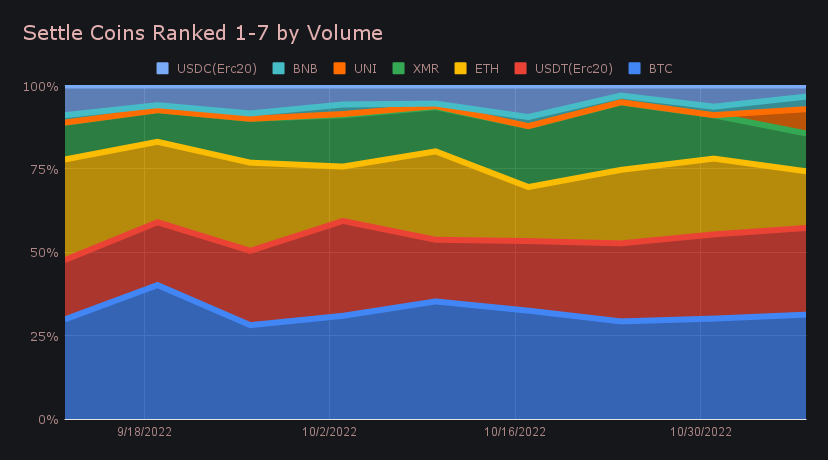 The TRON network had a very solid week, ranking as the second most popular network by volume - only the Ethereum network was higher. However, it is worth mentioning that SideShift supports 40+ assets on Ethereum, so it is more feasible to compare TRON to similar sized networks (SOL, AVAX, BSC, Polygon). Among these, the TRON network finished first with $544k in shift volume, $468k of which came from USDT (TRC-20). The network's growing popularity is evident in the chart below.

It should also be noted that the typical weekly shift count for TRON is lower than other networks. This week it finished in third place with 533 shifts, while BSC (883) and SOL (565) claimed first and second. What this means is that the average shift size for TRON shifts is higher than other networks. This isn't surprising when you consider the fact that USDT is the most popular asset on TRON, and that stablecoins tend to see higher shift values in general.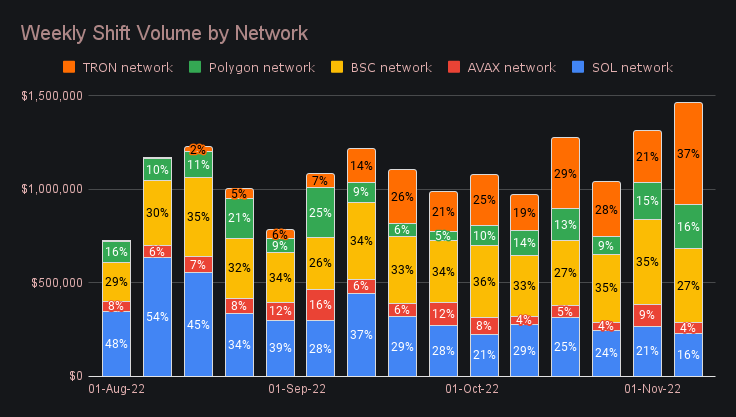 In general news, SideShift had a steady week with little to no downtime. Some instability with our BTC (lightning) node resulted in it being disabled as a shift method for a short period. It has since been upgraded and re-enabled. A similar issue unfolded with Cosmos, which has also since been upgraded, resolved, and re-enabled.

Integration News

Integrations as a whole slowed slightly, combining to account for $1.92m, or 30.41% of weekly volume (-12.41% from the previous period). Despite the volume dip, they still accounted for 43.28% of weekly shift count, +0.59% from last week. Now, for the 7th week in a row, integration shift count as a proportion of the total has refused to drop below 40%.

That's all for now. Thanks for reading, happy shifting and we'll see you next time.