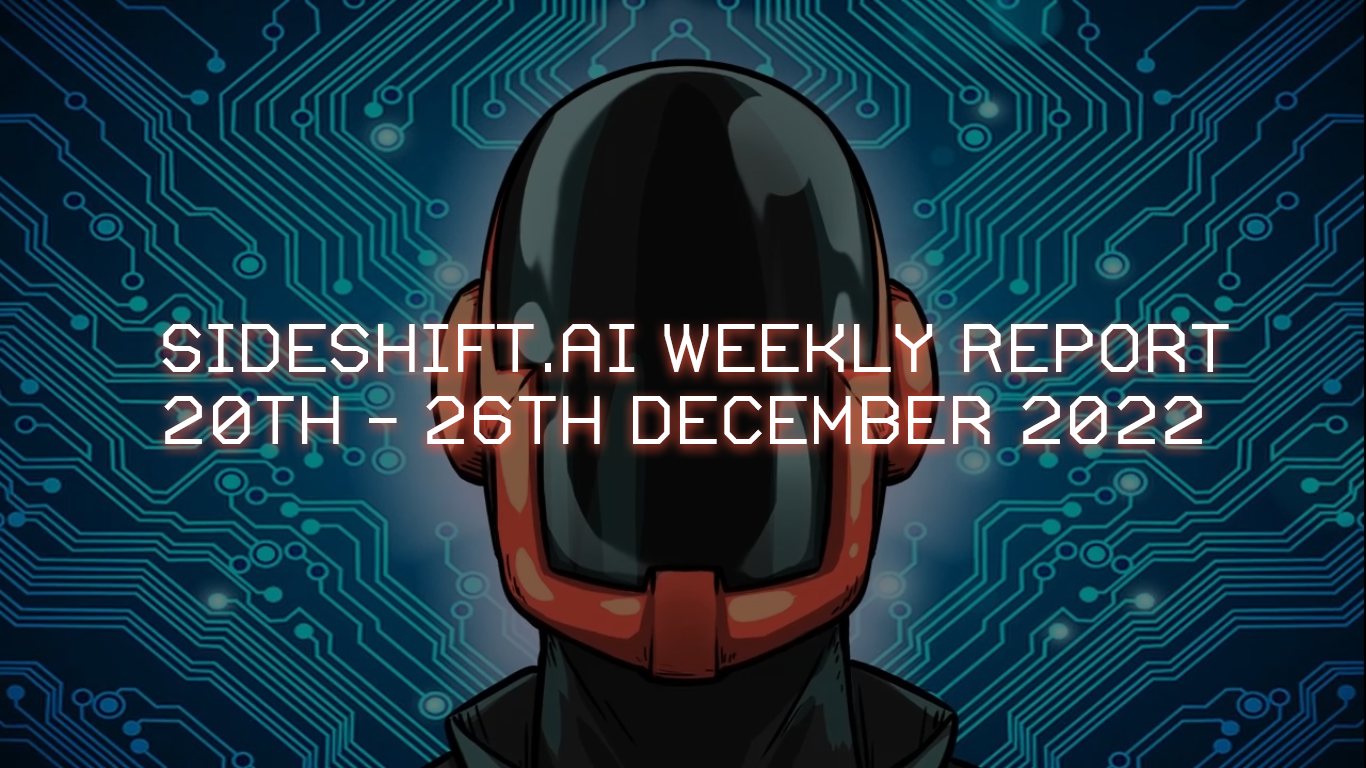 28 December, 2022
SideShift.ai Weekly Report | 20th - 26th December 2022
Welcome to the thirty-fourth edition of the weekly stats report - your one-stop shop for all things SideShift.ai.

XAI Token Market Update

This week SideShift Token didn't waver from the $0.11 mark, only moving ever so slightly between the tight 7 day range of $0.1117 / $0.1191. At the time of writing, the price of XAI is sitting at $0.1147, and has a current circulating supply market cap of $11,163,166 (+2.8% from last week) as denoted on our Dune Dashboard.

XAI stakers were rewarded with an average APY of 21.58% throughout the week. A daily rewards high of 44,297.69 XAI (yielding a 32.72% daily return) was deposited to our staking vault on December 21st, 2022, following a daily volume of $1.10m.

SideShift's treasury currently has a balance of $1,148,430, or 68.78 BTC. A friendly reminder that users can follow along with our treasury account details directly here on DeBank.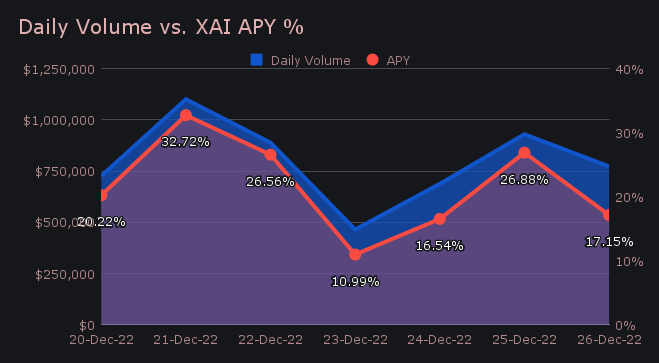 Additional XAI updates:

Total Value Staked: 61,580,958 XAI
Total Value Locked: $7,132,642

General Business News:

Over the Christmas holidays, little to no action unfolded in the general market. Following a solid performance last week, volume on SideShift dropped 27.8% to net $5.57m. Accompanying this was a total shift count of 5,647, marking a decrease of 15.5%. These totals produced a daily average of $796k alongside a shift count of 781.

It's worth pointing out that this 20-30% volume change has now been ping-ponging back and forth for the entire month of December, with the shift count following a similar trend. When denoted in BTC, this week's volume totalled to 330.75 BTC, representing a 26.5% decrease from last week.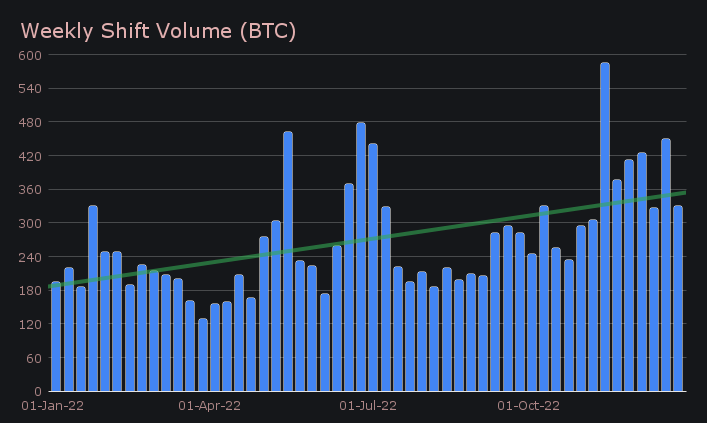 Although this week saw less shifting for the majority of coins, there are still a few notable mentions. Let's begin with this week's deposits. Sat at the top of the list was BTC, which fell 51.6% from last week to net $1.26m - this was the lowest BTC deposit volume recorded since mid-August. Still, it managed to hang on to its first place title despite the significant decrease in volume. Right behind was ETH, which underwent a surge of 29.7% to net $1.11m. Rounding off the top 3 was XMR, which also had a substantial drop, as it fell 48.4% to sum $596k in deposits.

Despite falling to 5th on the deposits list, ZEC deserves a mention for its ongoing strong performance. This is now the second week ZEC deposits have finished within the top 5, this week doing so with a volume of $464k. Additionally, the unusual pair of ZEC / ETH was the period's most popular, as it yielded a total of $428k. It also was quite popular as a settle option, finishing 6th amongst our most settled coins. It ended the period with $370k in settlements (+113.7%), which ranks as one of the highest settle volumes achieved by the coin in 2022.

On that note, ZEC was the only coin among our top 6 settle coins to see an increase from last week. BTC retained the top spot for the third consecutive week, with a settle volume of $1.47m (-21.9%). In second place was ETH with $1.63m (-30.2%), while XMR placed third with $510k (-18.2%). Aside from the top 3, volume among settle coins was relatively low, but a few mid level coins seemed to pique the interest of some users. USDT on Tron grew by 102% to net $268k, while AVAX boomed by over 30x to total $199k.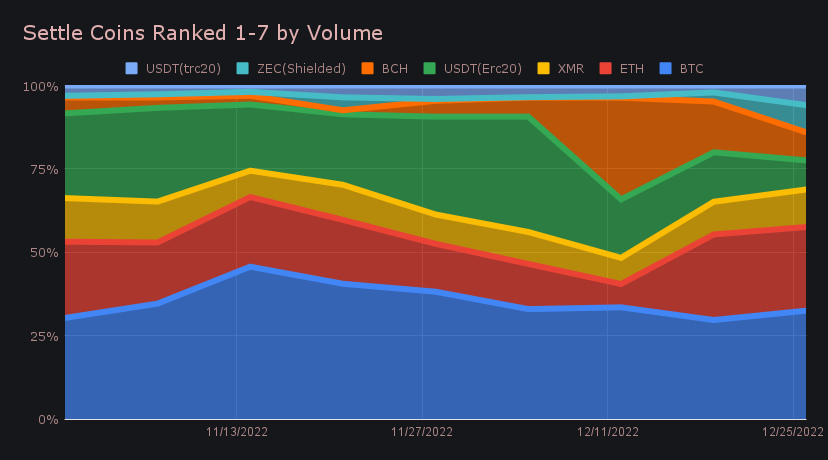 The chart above also outlines the decrease of interest in both USDT on Ethereum and BCH. Although they finished 4th and 5th in settlements, volumes were significantly lower than those in past weeks. Additionally, we have seen an increase in settlements to coins outside of the top 10. This percentage has rebounded back to the normal ~10% mark, indicating that users are slowly beginning to dabble with other coins. Persistent listing on our end will surely aid in the growth of this figure.

Another interesting statistic is that stablecoin settlements combined for a meager 17.5% of volume, marking the lowest level for this metric in the second half of 2022. The biggest contributors to this are the fact that our top 2 settlement stablecoins of USDT and USDC on Ethereum had respective decreases of 58% and 65% - perhaps an indication that fear is beginning to dissipate.

Networks other than ETH are slowly beginning to trend upwards once more, further supporting the notion that users are slowly venturing out into other coins. All together, the Tron, BSC, SOL, AVAX, and Polygon networks combined for $1.32m in volume, a ~20% jump from last week's sum. In particular, Tron is beginning to pick up steam again, while shifting on BSC has slowed slightly. You can also observe the impact the aforementioned AVAX shifts had on this total. All together, shifts on the Avalanche network combined to account for 17% of the total this week, a figure far larger than seen in past months.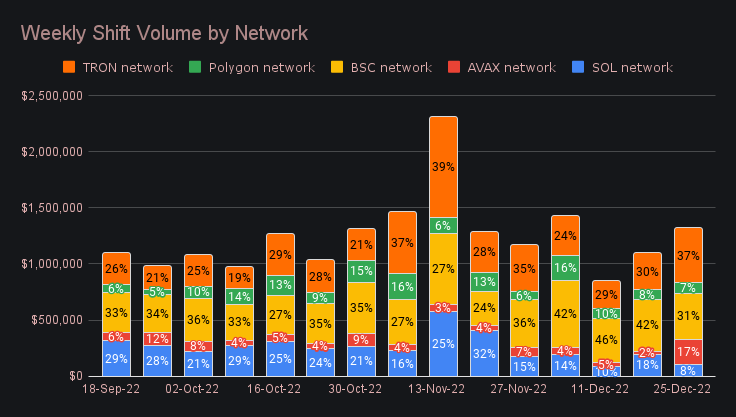 Overall, SideShift had a very steady and stable week with no downtime. There were no major issues, and aside from a minor backup in XMR settlements causing a brief delay for a handful of users, everything was smooth as normal.

Integration News

Integrations had a slower week, dipping below the $1m mark for the first time in many months. They combined for $995k, which represented 17.9% of the weekly total. It was mentioned in the previous report that despite decreases in volume, shift count continues to remain steady - this statement continues to be true. Shifts from integrations summed to total 1,773, which measured to be 32.4% of the total, a figure largely on par with those recorded throughout 2022.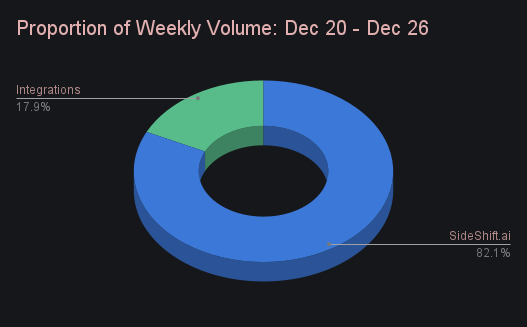 That's all for now. From everybody at the SideShift team, we're wishing you a very Happy New Year. Thanks for reading, happy shifting and we'll see you next time.