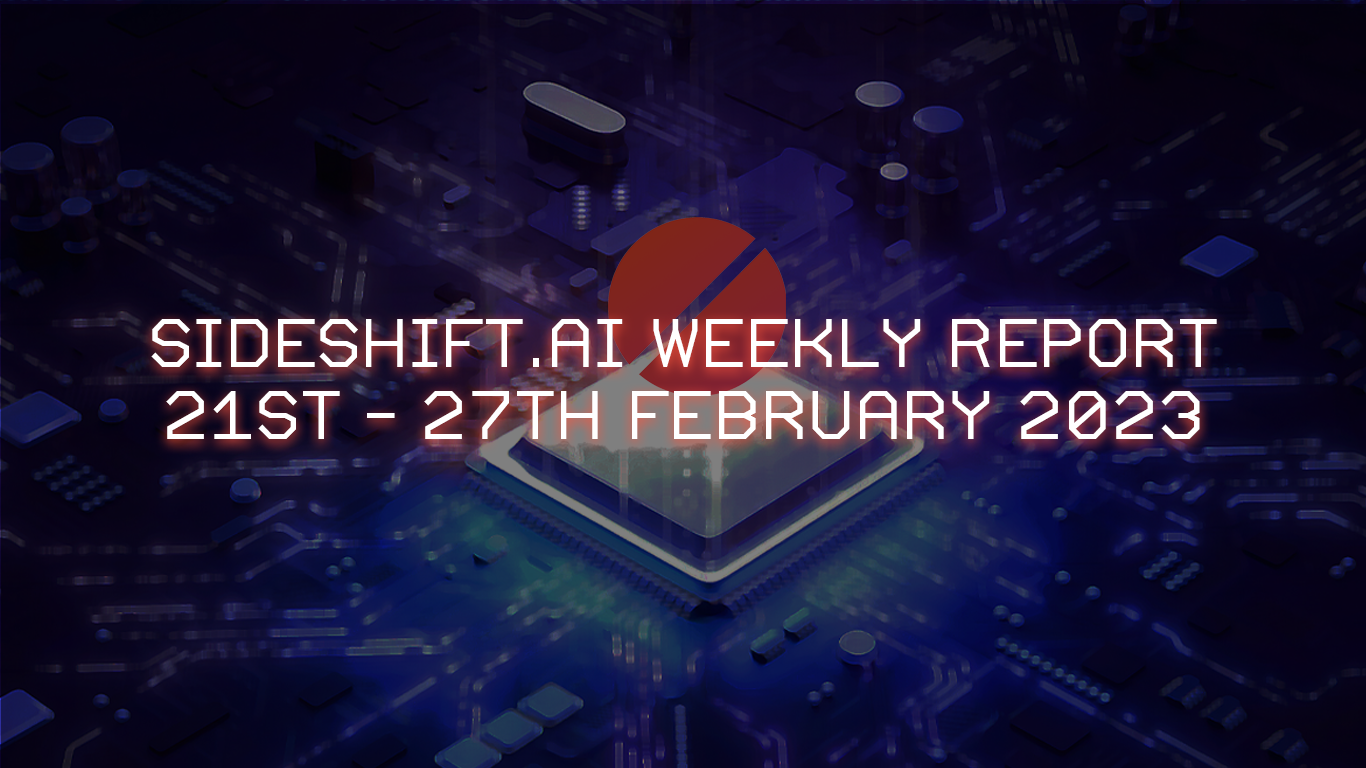 28 February, 2023
SideShift.ai Weekly Report | 21st - 27th February 2023
Welcome to the forty-third edition of the weekly stats report - your one-stop shop for all things SideShift.ai.

XAI Token Market Update

SideShift token (XAI) exhibited fairly stable price behavior, spending the previous 7 days within the range of $0.1391 / $0.1499. As denoted on our Dune Dashboard the price of XAI is sitting at $0.1492, with the current circulating supply market cap being up slightly, increasing by 3.1% to total $17.8m.

XAI stakers were rewarded with an APY which averaged 11% throughout the week, with a daily rewards high of 32,014.86 XAI being distributed to our staking vault on February 28th, 2023. Since the time of the last report, a cumulative $23,750.46 USD, or 172,714.28 XAI was paid to XAI stakers.

The price of 1 svXAI is now equal to 1.1609 svXAI, representing a 16.09% return on stakers investments. The easiest way to stake XAI is to shift directly to svXAI from any coin of your choice.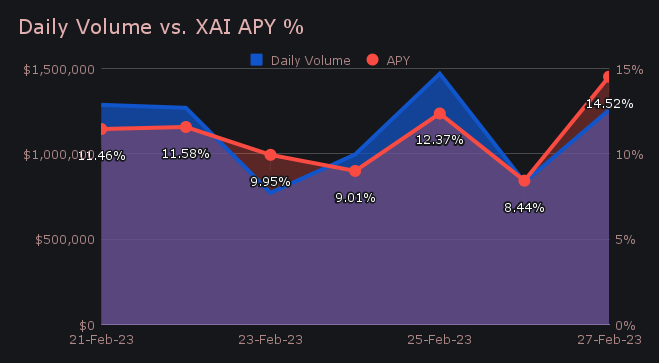 Additional XAI updates:

Total Value Staked: 86,249,226 XAI
Total Value Locked: $12,426,788

General Business News:

After touching the $25k mark at the beginning of the week, BTC's price generally trended downwards, bringing the majority of the market along with it.

Overall volume for SideShift was $7.89m this week, which is down from $9.9m achieved in the previous week (-20.37%). This came about during a less volatile period in the market, with BTC price moving less than $500 in price from its average for the week, compared to over $900 the week prior. Similarly ETH saw less than a $23 price swing from its average, compared to over $51 the previous week.

The lower volume this week is also reflected in a lower amount of larger shifts compared to last week. For example, we had 161 shifts which had a value greater than $10k, compared to 196 shifts the week prior (-18%). Moving up in size, shifts with a value greater than $20k totalled 106, which was 25% lower than last week's sum of 142.

SideShift averaged a daily shift volume of $1.13m on 940 shifts, with an average shift value of $1,199 during the 7 day period. When denoted in BTC, our weekly volume totalled 332.81 BTC, 19.2% lower than last week.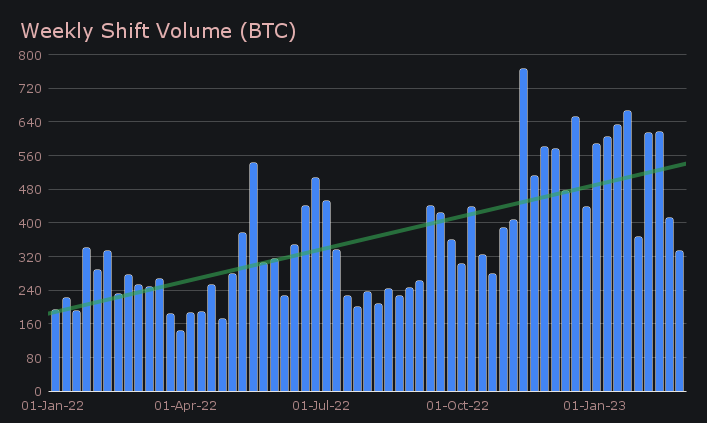 BTC remained the focus of user shifts, leading the pack with a net total volume of $4.63m for the week (deposits + settlements), despite falling 27.1%. This was mainly the result of users shifting to BTC, with the ETH / BTC pair reigning supreme and claiming the position of our week's most popular shift pair with $732k. XMR also saw a strong deposit volume being shifted to BTC, with the XMR / BTC pair yielding $570k in user volume. These pairs blasted past the previously dominant BCH, which saw its settle volume drop 93% week on week, totalling just $71k.

Stablecoins continue to play a major role in shifting on SideShift, with some unexpected trends unfolding this week. While USDT on Ethereum saw a dip in weekly volume from over $2.5m down to just $2m (-20%), all other stablecoins together saw noteworthy growth to achieve a combined volume of $2.2m (+16%). In fact, 5 out of our top 8 weekly settle coins were stablecoins, with DAI (+97%, $193k) and USDT on BSC (+123%, $172k) seeing significant spikes in settle volume.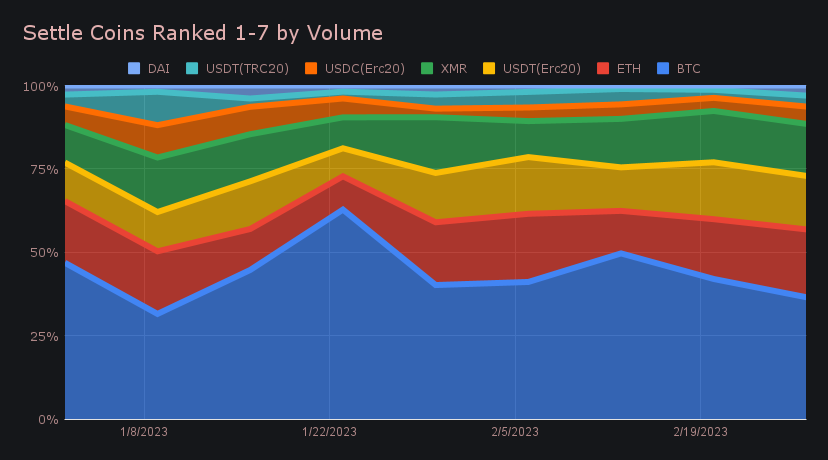 Looking at EVM chains listed on SideShift - the ETH network continues to be the largest with relatively stable volume week on week, finishing this week with over $6m. The Tron network has jumped back into second place with $468k total volume for the week (+36.60%). This was almost entirely led by USDT(tron) with $452k, which was up a respectable 41%. This saw the Tron network displac Binance Smart Chain (BSC), which now sits in third place among EVM chains with $366k volume, (a sizable 51% drop). Among other EVM chains, the SOL network saw volume decrease 58% to total $112k, which could have been partially as a result of a temporary network outage. Polygon on the other hand was up over 21% with $332k volume to place 4th among EVM chains, just behind BSC network.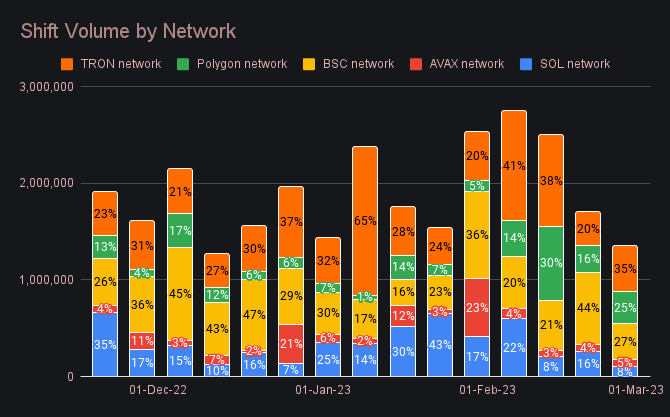 In listing news, SideShift added support for Aptos (APT), a layer-1 blockchain network created by Aptos Labs. APT is currently ranked 34th overall and has a market cap of $1.98b. Users can now try shifting directly to APT from any coin of their choice.

In general news, we only have a few announcements to make as the week carried on very smoothly. Firstly, Zcash (ZEC) deposits remain disabled since their upgrade. Our engineers are working on this and SideShift should have this online again within the next week. Next, we have disabled MIM (avax) due to an issue sourcing the rate, which resulted in shifts not processing.

Affiliate News

Our top 10 affiliates combined for a total $1.44m, 14.1% lower than last week's sum. Their shift count changed in a similar fashion, decreasing 13.9% to total 1,948. This coincides with the previously mentioned fact that this week saw less shifts with a value greater than $20k - less large volume shifts. Our top affiliate however performed quite well, rebounding to account for 48% of this top 10 sum.

As a whole, the top 10 represented 18.3% of the weekly shift volume, a minor increase from last week's proportion of 16.9%.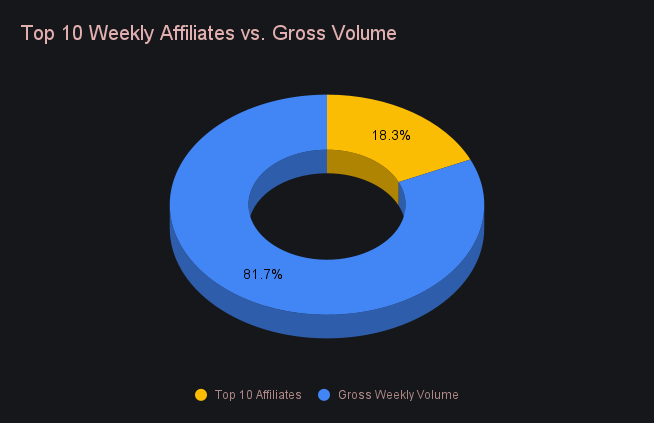 That's all for now. Thanks for reading, happy shifting and we'll see you next time.