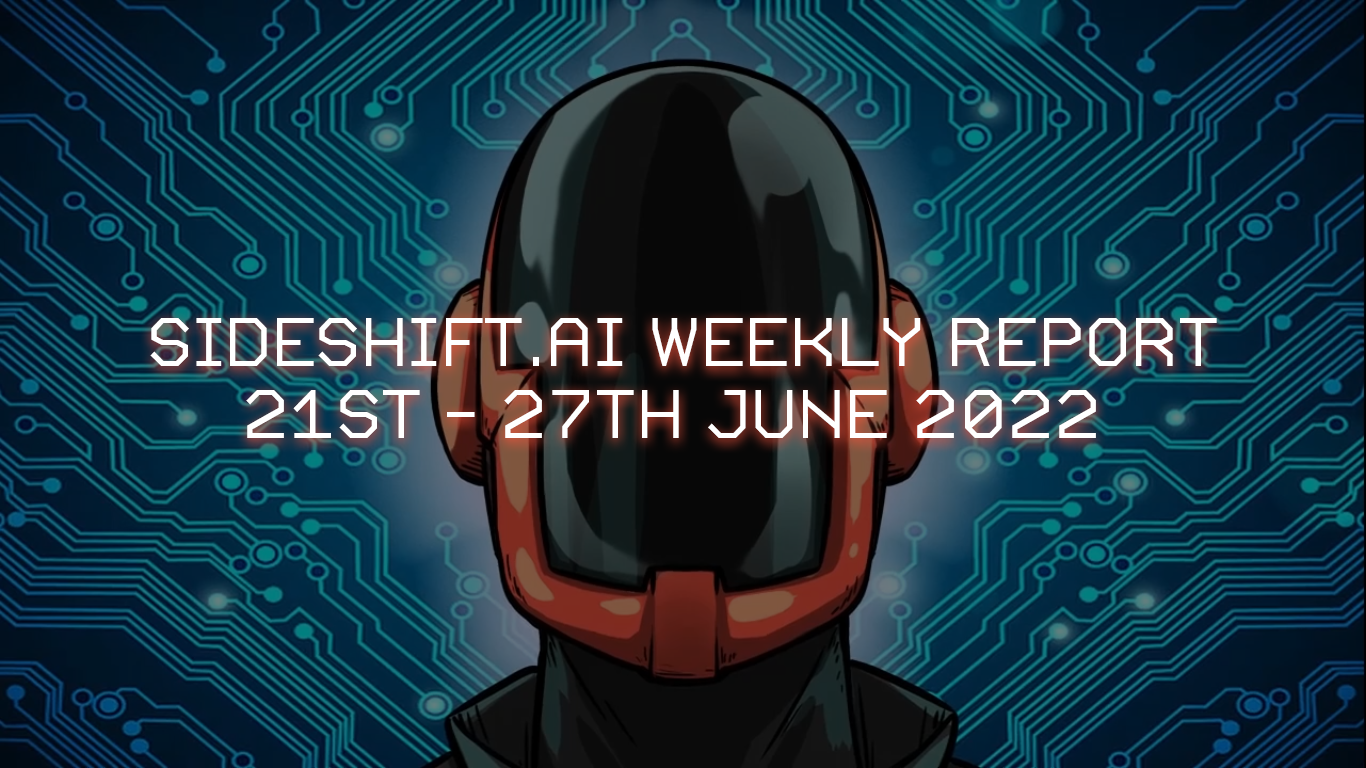 28 June, 2022
SideShift.ai Weekly Report | 21st - 27th June 2022
Welcome to the eighth edition of the weekly stats report - your one-stop shop for all things SideShift.ai.

XAI Token Market Update
The price of XAI is currently hovering around the $0.17 mark and bounced within a seven day range of $0.165993 / $0.177299. When looking at the price history of XAI over the past 10 months, the lower end of this range has demonstrated support, with price bouncing up from this area a few times now. Only when looking back a full year will you find XAI at a cheaper price, a period when the price jumped from $0.10 to $0.30. XAI finished the week in position #925 with a market cap of $7.97m.

As volume was steady this week, the APY shined. It averaged a daily payout of 55.01% which is ~29% higher than the yearly average, and in fact is the highest weekly average noted since tracking this statistic. On June 23rd a weekly rewards high of 101% (62,269.59 XAI) was distributed to stakers following a volume day of $1.9m. XAI stakers have now enjoyed consecutive weeks with a daily APY that was >100%.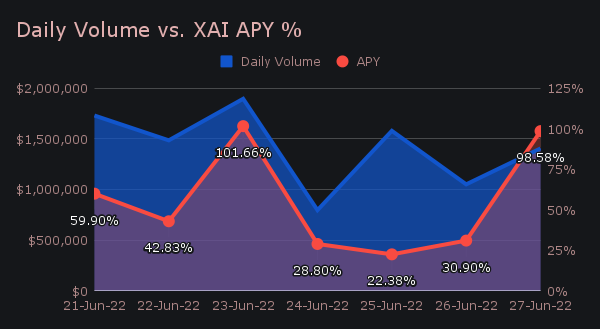 Additional XAI updates:
Total Value Staked: 32,748,702 XAI
Total Value Locked: $5,510,443

General Business News
SideShift had a strong week, and saw a 30% volume increase from the previous. Our weekly volume totalled $9.95m, and did so with 15% less shifts. The total shift count for the period was 5,174, which is actually the lowest weekly count observed in 2022 thus far. This week saw a daily average of $1.42m on 739 shifts, with a very large portion of shift volume coming from a few select coins.

This week brought an incredible frenzy of BTC deposits - just shy of $7m - which smashed our record for a single coin's weekly deposit volume. BTC alone accounted for 70% of deposit volume, and second place wasn't even close (XMR with $543k). This high concentration of BTC deposits was almost entirely shifted to BCH, with the BTC/BCH pair representing $5.84m of weekly volume. This figure also was record breaking, and was the highest weekly volume that's been achieved by a single pair.

BTC/BCH has now been the most popular pair for 9 straight weeks, and this week alone represented 58.72% of volume - a figure that is >12x higher than the second most popular pair (BTC/ETH with $463,825). The directionality was very much one way, with discrepancies in BTC and BCH deposit/settle volume being very noticable. The respective differences for deposits vs. settlements were $6.98m vs. $917k for BTC, and $179k vs. $6.14m for BCH.

Stablecoins were of far less interest this week when compared to last. Whereas a majority of shifts last week (51%) contained a stablecoin, this week totalled just ~16%. ⅔ of this 16% came from users shifting to stablecoins, with only ⅓ coming from deposits. People are not separating from their stablecoins yet, perhaps expecting yet another dip and waiting to pounce. Still, BTC/USDT (ERC20) ranked as our third most popular shift pair with $325k in weekly volume, but paled in comparison to our most popular pair of BTC/BCH.

As noted last week, the concentration of value in the top 3 coins has grown once again. Our top 3 settle coins of BCH, BTC, and ETH accounted for a staggering 80% ($7.92m) of settle volume. The top 3 deposit coins combined for an identical 80% of deposit volume, but with XMR replacing BCH.

As a result of the CoinFLEX drama, we saw a quick boost in SmartBCH deposits on June 23rd. $260k of SmartBCH was shifted into BCH, ranking it as our 5th most popular deposit coin for the week. This was substantially higher than the typical $4-5k range seen in recent weeks, and mostly came from one single user.

Subsequently, as the situation continued to develop we had to disable SmartBCH and FlexUSD deposits. Aside from this SideShift functioned smoothly and looks to be closing out the month with the monthly volume trendline firmly tilted upwards.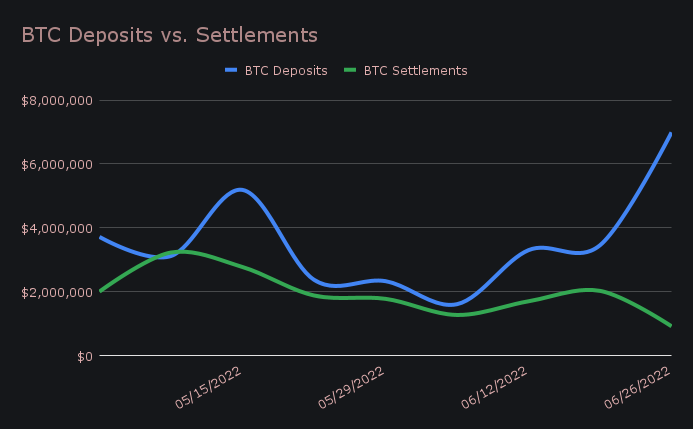 Integration News
As a whole, this week's integration volume was dialed back a bit when compared to the very strong showing last week. Bitcoin.com held steady and surpassed Trezor to claim first place in weekly affiliate volume with $734k (7.4%).

Trezor slowed down, netting $668k (6.7%) for the week, but overall is still looking very healthy with the weekly average being $1.05m for the last month. Once again in third place was Edge Wallet, with $71k (0.7%) in weekly volume.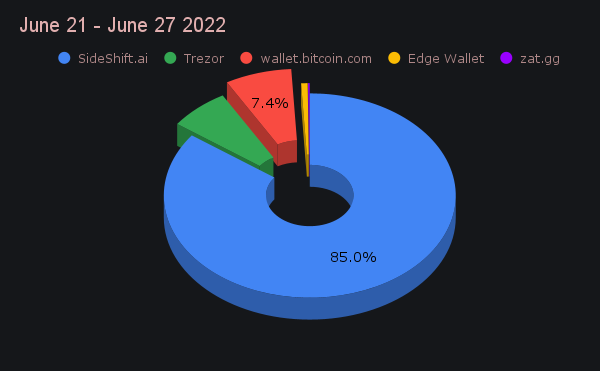 That's all for now. Thanks for reading, happy shifting and we'll see you next time.