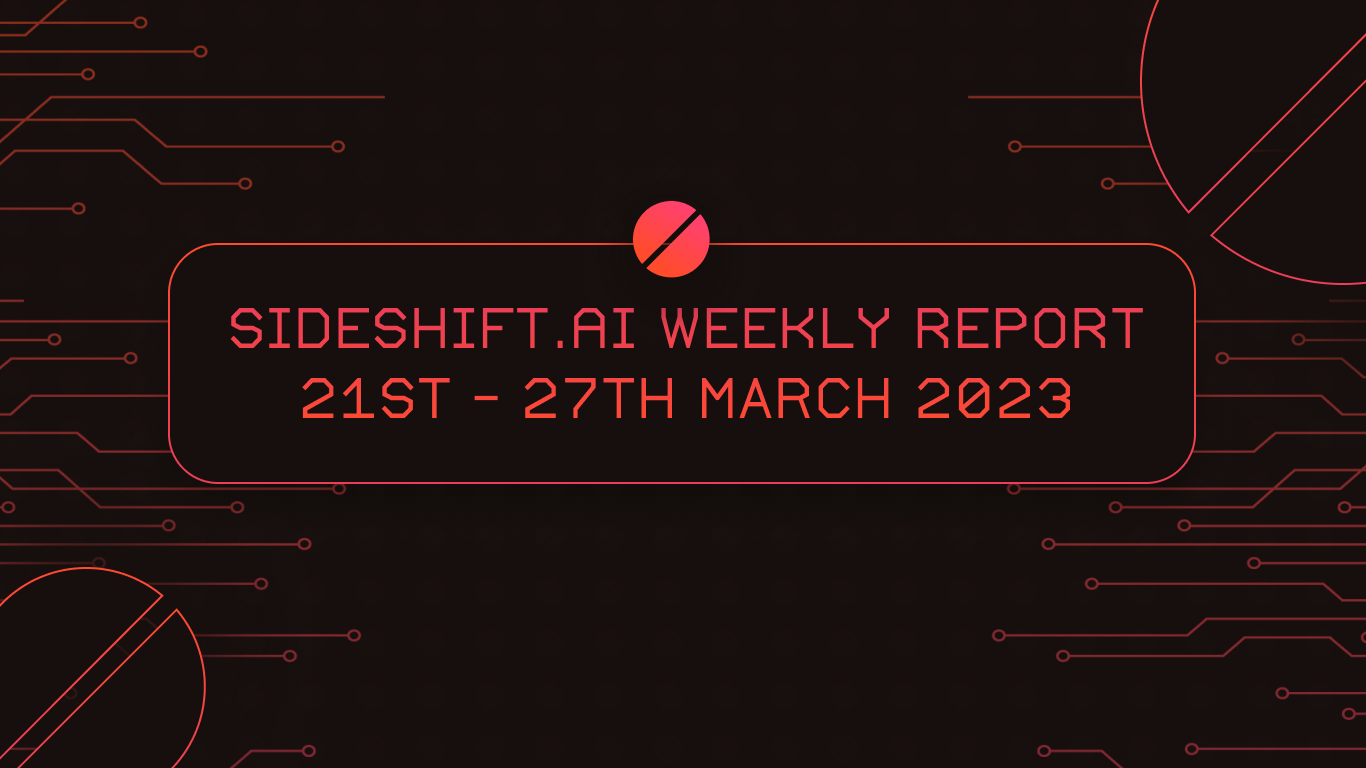 28 March, 2023
SideShift.ai Weekly Report | 21st - 27th March 2023
Welcome to the forty-seventh edition of the weekly stats report - your one-stop shop for all things SideShift.ai.

XAI Token Market Update

Throughout the week SideShift token (XAI) moved between the 7 day range of $0.1394 / $0.1511. At the time of writing, it is pushing on the upper bound of that range, with a price of $0.1509. As denoted on our Dune Dashboard, the current circulating supply market cap of XAI is $18,029,147, which marks a 5.7% increase from the previous week.

XAI stakers were rewarded with an average APY of 16.77% this week, with a daily rewards high of 74,818.2 XAI (an APY of 35.51%) being distributed directly to our staking vault on March 28th, 2023. This was following a very strong daily volume of $4.3m. As a whole, this week XAI stakers received a total of 256,409.91 XAI, or $37,810.91 USD.

Another 50 ETH was added to our treasury this past week, bringing the current total to $3.65m. Users can follow along with live treasury updates directly on zapper.fi.

Additional XAI updates:

Total Value Staked: 89,968,407 XAI
Total Value Locked: $13,202,864

General Business News:

The last week of March ended up being a generally positive one for SideShift, despite the unfolding sideways chop throughout the broader market.

Weekly volume on SideShift moved with a bang, leaping 32.5% off of last week's total to sum $12.4m. Accompanying this was a steady 5.2% increase in shift count, which brought the weekly total to 8,072. This is a significant achievement, as it marks the first time ever that weekly shift count has surpassed the 8k mark. The vast majority of the increases in both shift and volume derived from shifts taking place directly on SideShift.ai.

When looking at our weekly volume performance as denoted in BTC, the move was slightly smaller but still robust, as it increased 26.7% for a total of 447.98 BTC. This is quite positive when you consider the fact that BTC's price continues to linger around 9 month highs.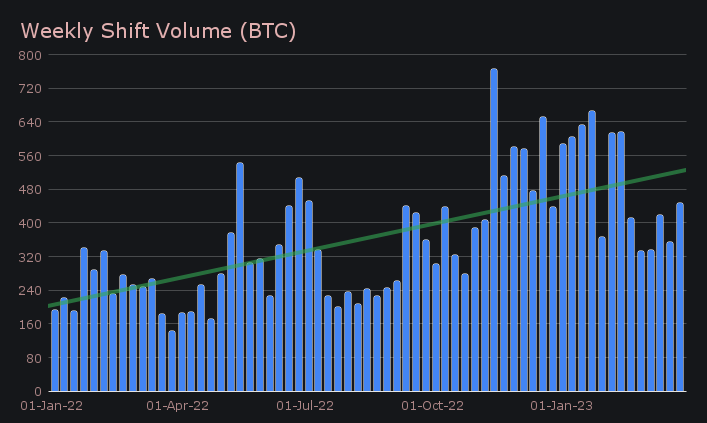 An average shift value of $1,530 this week is a healthy 25.9% increase from last week's $1,215. This came with a huge increase in shifts with a value greater than $20k - a count totalling 169 shifts (+60.95%) represented over $6.8m of the total volume (+44.5%). In fact, over 91% of our volume this week was for shifts with a value exceeding $1,000. This category however consisted of just 1,427 shifts, only 17.7% of the total shift count. This is outlined in the chart below, with the percentage labels representing the portion of total volume / count for each given week - "larger scale" shifts account for an extremely high proportion of volume, but a consistently lower proportion of shift count.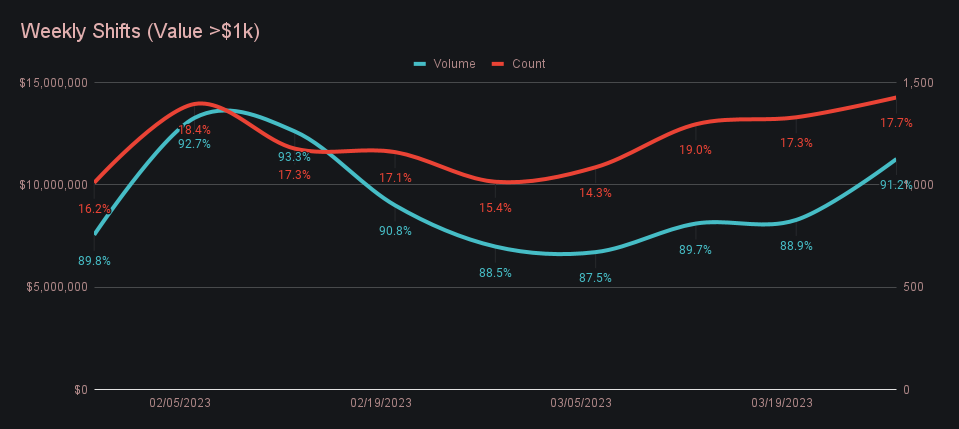 Shaking up the conventional norm, ETH replaced BTC as the most deposited coin by users, a feat not commonly accomplished. It surpassed total BTC deposits, but just barely, squeaking past with $2.5m. This massive 111.4% spike from last week was only $88k higher than total BTC deposits, which netted $2.41m (-7.4%). Another interesting observation was an explosion of USDC deposits on the Arbitrum network, as it witnessed more than a 23x jump to see deposits sum $301k.

A look at the settlement side shows a similar change in ETH volume, but this was predominantly liquidity volume to balance out the high influx of deposits. Instead, here it was clear that BTC was the preferred settle coin for users - it trumped all other coins with $2.7m in user settlement volume. USDT (ERC-20) also maintained its popularity as it saw $1.7m in user settlements. Once again, the BTC/USDT (ERC-20) shift pair heavily contributed to this, as it ranked as the most popular pair with $1.3m. However, this wasn't in its usual dominant manner, as ETH/BTC was right behind with a weekly total of $1.29m. Finally, after a lengthy dormant period, SOL had a sizable 216% increase in settle volume, firmly entering the top 5 with $528k.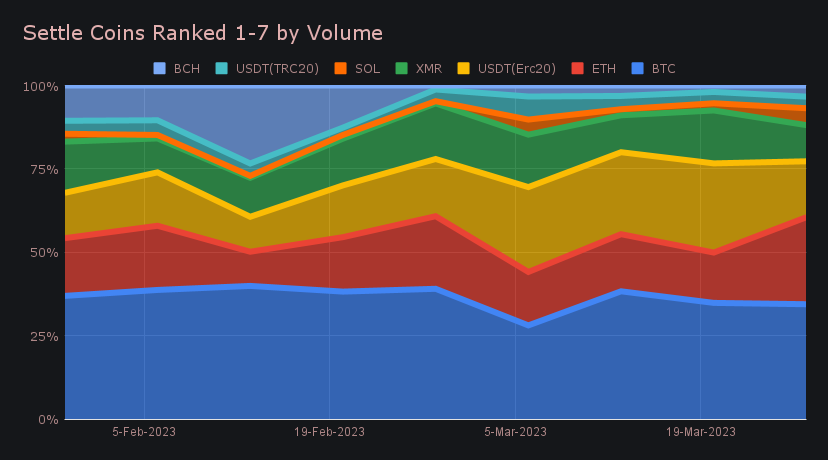 Shifting of coins on an alternate network to ETH had a fantastic week. These networks saw total volume reach more than $3.2m, a huge lift-off of 68.60% from last week's sum, which was just under $2m. This represented over a quarter of our total volume and is the first time alternative networks breached $3m in total shift volume. Several of these networks saw triple digit week on week gains.

Along with the listing of the ARB token, the Arbitrum network saw $433k in volume (+130.1%), AVAX surpassed $100k (+182.8%), and even the OP network had a respectable volume of $43k (+191.6%). However, among all of this various network attention, the clear standout was SOL. An increase of 178.2% saw it reach over $1.1m to take the top spot among chains other than Ethereum, with the ETH/SOL pair alone generating $400k in shift volume. In fact, it was only the Polygon network that saw a decline from the previous week, with $203k (-44.5%). A zoomed out look at the below chart looks like a general uptrend for these alternative networks.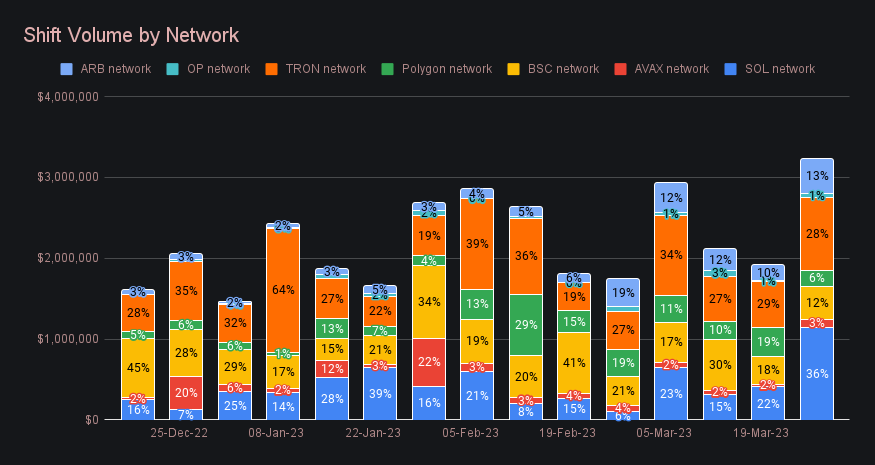 In listing news, SideShift added support for 2 new coins this week. As previously mentioned, the long awaited Arbitrum token (ARB) was finally rolled out and SideShift was quick to add it to our list of shiftable assets. ARB is the governance token of the Ethereum Layer 2 scaling solution, Arbitrum. With a current market cap of $1.44b, it is ranked #38th overall. SideShift was also happy to add support for NEAR Protocol (NEAR), a decentralized dApp platform and Ethereum competitor, focusing on developer and user friendliness. NEAR currently sits #35 overall with a market cap of $1.58b. Users are encouraged to try shifting to ARB, or shifting to NEAR from any coin of their choice.

SideShift had a very smooth week with very few interruptions. Network congestion amidst the ARB airdrop resulted in some slower shift times for some Arbitrum related shifts, but ultimately nothing more than a handful of hours.

Affiliate News

Our top 10 affiliates combined for $2.37m, a decrease of 26.6% from last week's impressive performance. This was following back to back increases of >50%, so a drop is not entirely unexpected. A net shift count of 2,216 represented a drop of 7.4% for our top 10. These decreases also coincide with the previously stated fact that this week saw far more shifts taking place directly on the site.

Our top affiliate accounted for 10.6% of weekly volume, only half of the proportion achieved last week. Still, it performed objectively well and saw 15.4% of total shift count. As a whole, top affiliates this week represented 19.2% of our volume, and a healthy 27.5% of total shift count.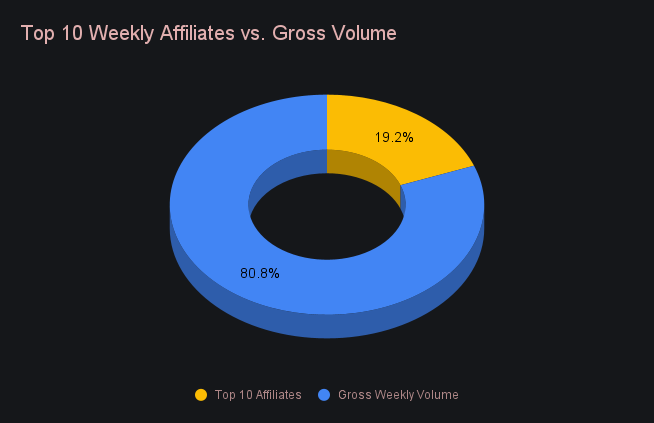 That's all for now. Thanks for reading, happy shifting and we'll see you next time.