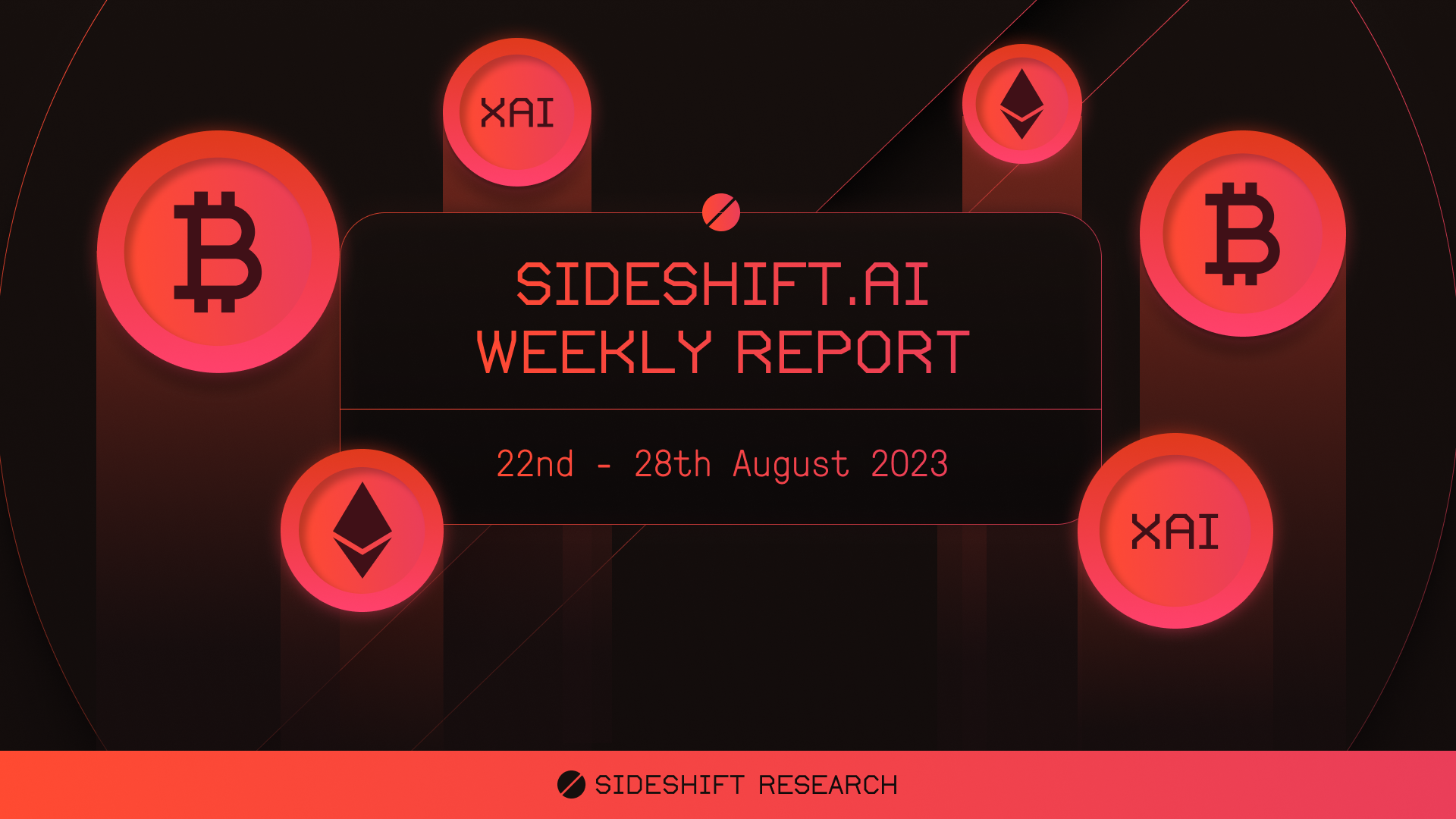 30 August, 2023
SideShift.ai Weekly Report | 22nd - 28th August 2023
Welcome to the sixty-ninth edition of the weekly stats report - your one-stop shop for all things SideShift.ai.

This week SideShift token (XAI) continued to linger just below the $0.10 mark, moving within the 7 day range of $0.0898 / $0.0956. At the time of writing, XAI is currently sitting at $0.0950, and has a current market cap of $11,680,702 (-2.8%).

XAI stakers were rewarded with an average APY of 10.21% this week with a daily rewards high of 36,752.90 XAI or 3,423 with an APY of 12.89%. being distributed to our staking vault on August 23rd, 2023. This was following a daily volume of $1.4m. This week XAI stakers received a total of 209,893.97 XAI or $19,310.25 USD in staking rewards.

1 svXAI is now equal to 1.2300 XAI, representing a 23% accrual on stakers investments. A friendly reminder that the easiest way to participate in XAI staking and earn daily rewards is to shift directly to svXAI, from any coin of your choice.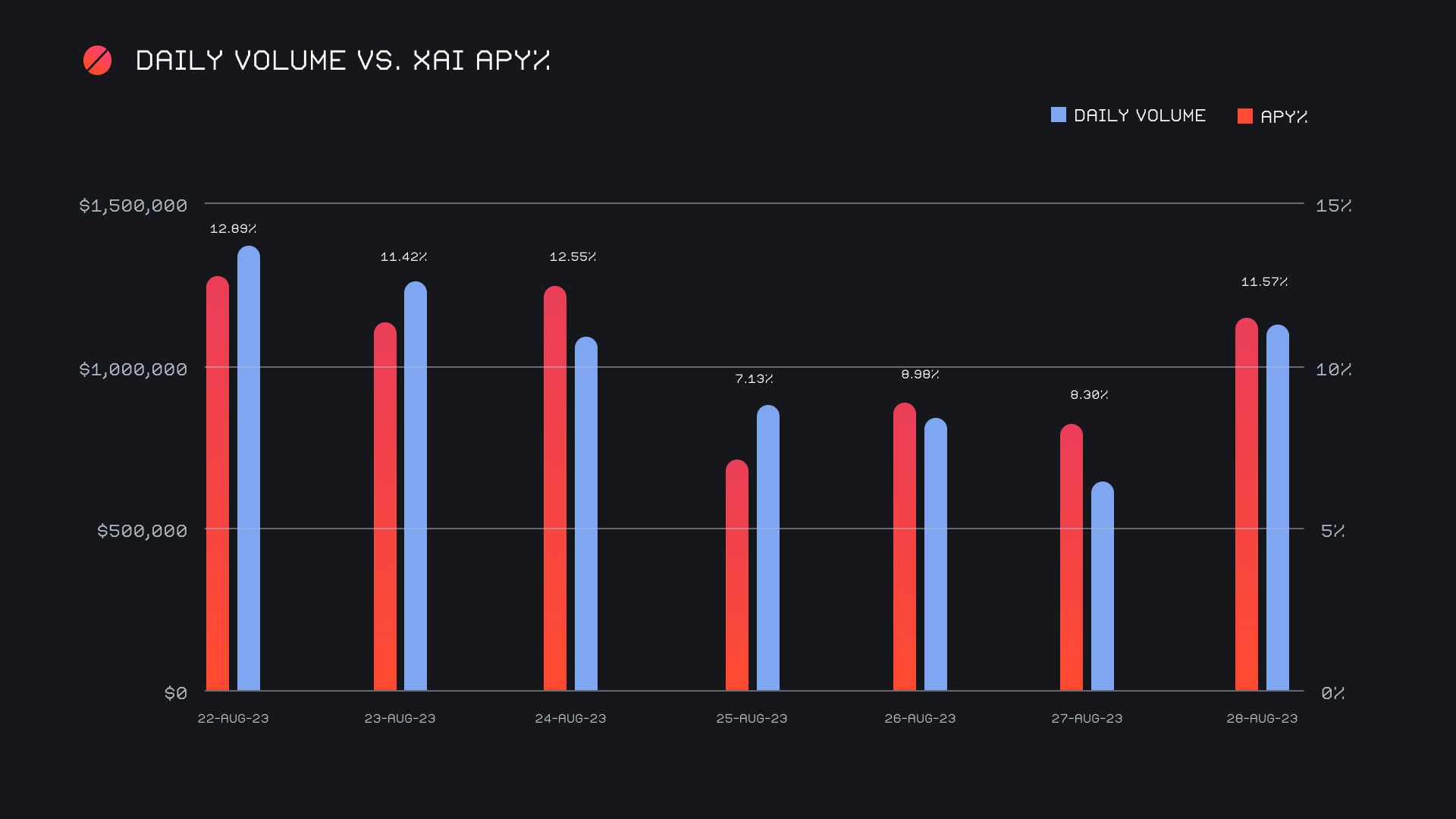 Additional XAI updates:

Total Value Staked: 110,947,408 XAI (+0.2%)
Total Value Locked: $10,308,124 (-3.1%)

General Business News:

A BTC chart which was almost perfectly flat was the byproduct of an extremely lackluster week, with a ~2% change on August 24th, 2023 being the most price action experienced throughout the past 7 days. With BTC now desperately clinging onto the $26k mark, it appears that a rather bearish outlook has swept over the general market.

With that in mind, it was promising to see SideShift plug on with figures very similar to that of the previous week. We ended the period with a gross volume of $7.2m (-3.2%) alongside a shift count of 5,193 (-2%), minimal changes which mirrored those of the broader market. We began the week strong, with volume ranging between $1.1m - $1.3m in three consecutive days. Heading into the weekend we saw shifting cool off as it typically does, with volume dipping by 20-30%. This led to us recording a daily average of $1.04m on 742 shifts throughout the week. When denoted in BTC, our weekly volume amounted to 276.99 BTC (-12.5%).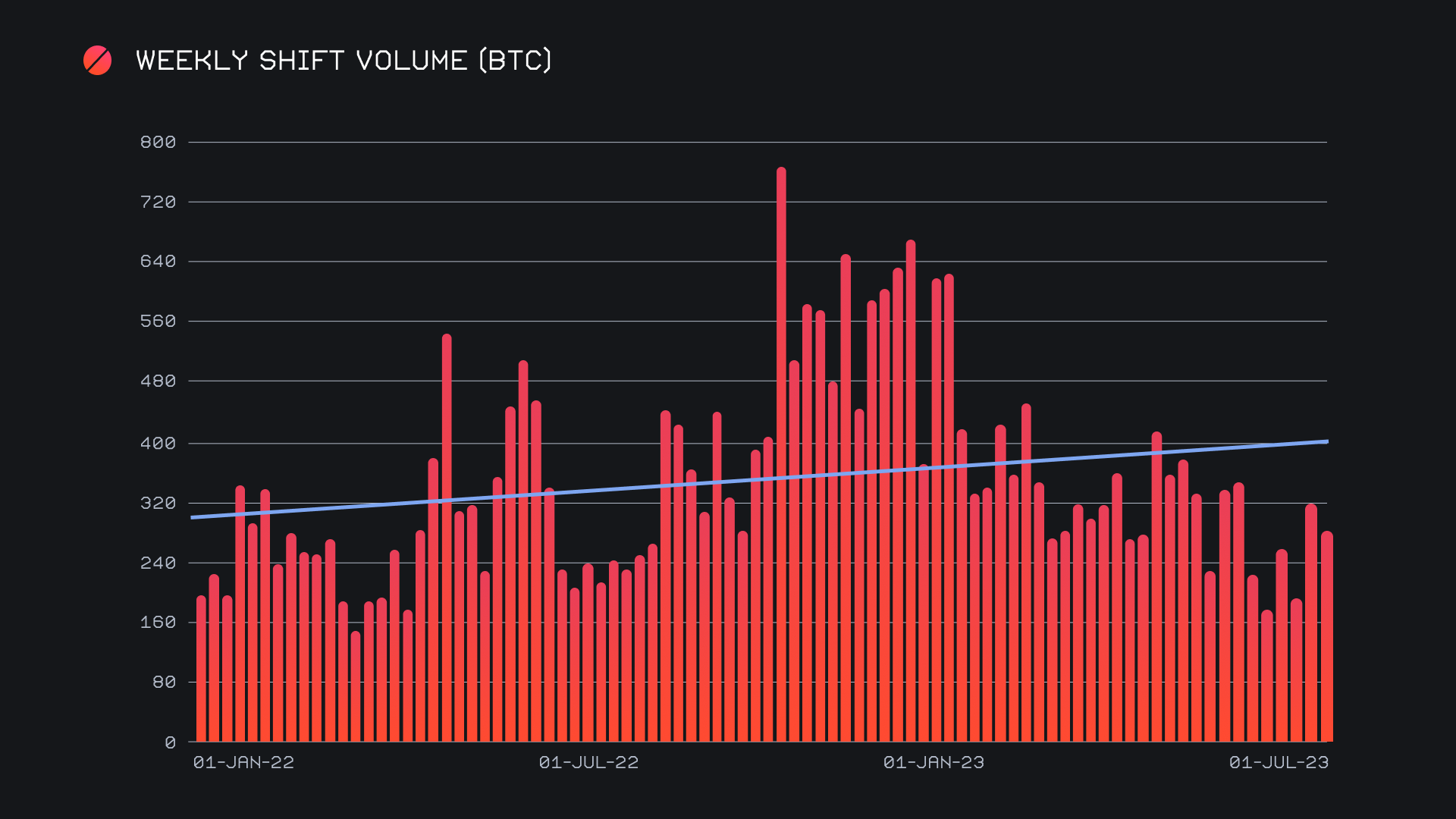 As is often the case, user shifting heavily revolved around our top 3 coins, BTC, ETH and USDT (ERC-20). When looking at total volume (deposits + settlements), these three coins were the only ones to breach $1m in weekly volume, and did so with ease. With $3.7m, BTC sat atop the list, incurring a minor change of just -1.5% from last week. For nearly 3 straight months now, the BTC / USDT (ERC-20) pair has been our most popular, this week doing so with $955k. The pair is also a central reason that BTC was our most commonly deposited coin from users, while USDT (ERC-20) being the most demanded. 56% of the deposited BTC from users was shifted to USDT (ERC-20) this week. The total volume of each of the three top coins was actually closer to the $3m mark, thereby speaking to the intense concentration of shifting occurring here. It is unsurprising to see users gravitate towards these coins during periods that are rather somber. All together they represented ~65% of weekly shift volume, standing firmly above the rest.

Second placed ETH was the highest ranked coin to see a weekly increase, as a 6.2% gain now marks a rise in ETH shifting for the third consecutive week. Zooming out slightly, we can also note the rise of USDT (TRC-20). An 82.8% jump here represents the highest change among our top coins, and even some of those outside of the top 10. Although some settlement volume was noted, it was predominantly user deposits of USDT (TRC-20) which led to a total volume of $990k, enough to secure fourth place overall.

This uptick in USDT (TRC-20) shifts surely led the charge for the Tron network, as it came to account for a far larger proportion of shifting on alternate networks to ETH this week. While these alternate networks combined for a total $2.1m (+3.3%), the Tron network grew 56.6% to secure the top spot with $1.1m. You can visualize its growth in the below chart. Interestingly, this coincided with a decrease in nearly every other network. With $489k (+7.7%), the second placed Binance Smart Chain (BSC) network was the only other to see a rise. All others saw a decline at or exceeding 30%, including the third placed SOL network, with $266k (-40.9%).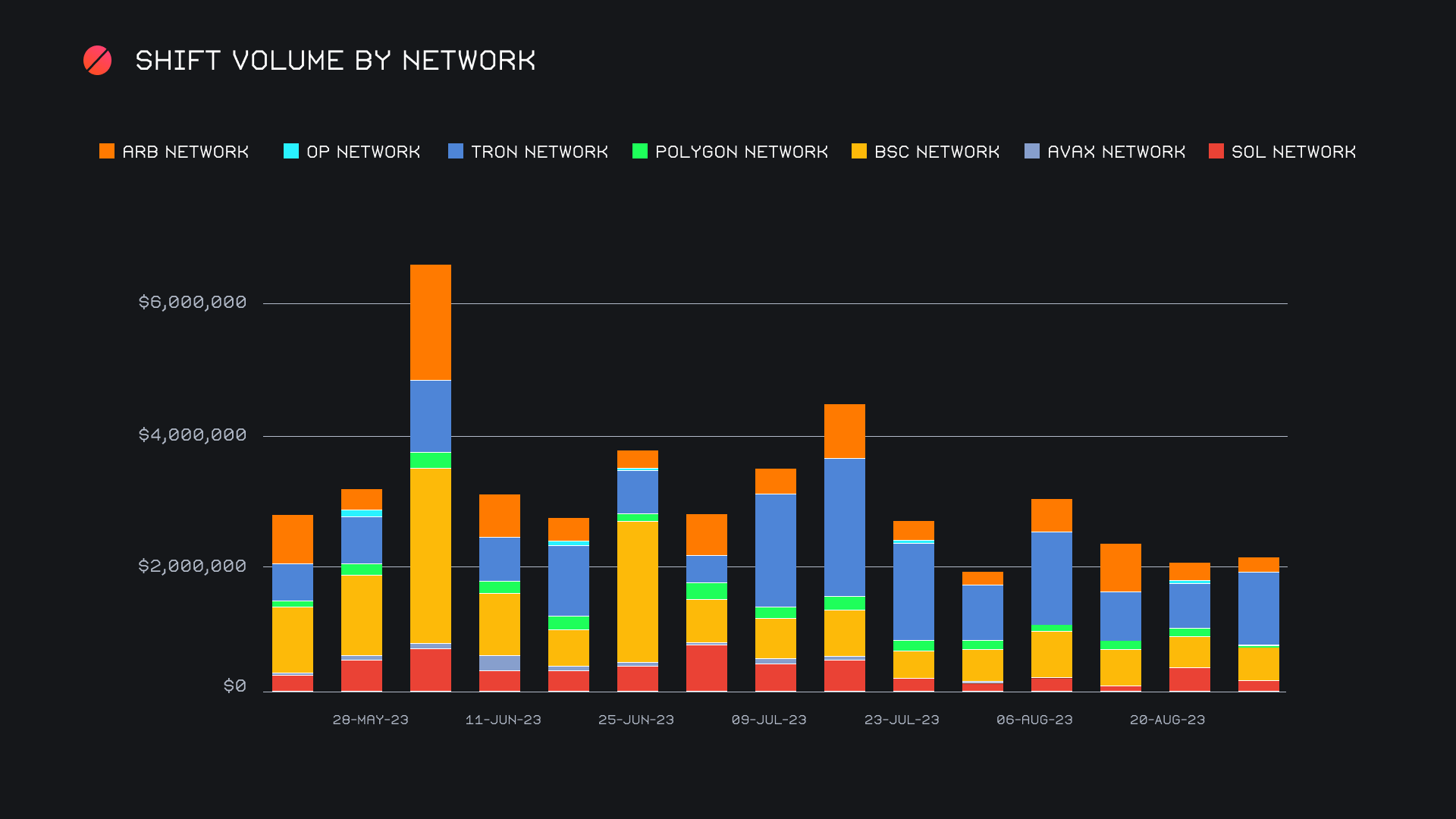 As we continue to track and observe stablecoin flows on SideShift, it is noteworthy to compare how it aligns with general market movement. As outlined below, the surge in settlements on August 24th, 2023 came immediately following the only positive change in BTC's price throughout the week. This is likely an indication of fearful users, and an attempt to try to extract maximum value from the risk-on assets they are holding. With that being said, stablecoin settlements did fall 15% for a combined $2.03m in the wake of last week's surge. Instead, it was stablecoin deposits which saw an increase (+7.9% for $1.3m), and a varied one at that. Whereas USDT (ERC-20) was the focal point of settlements, the same could not be said for deposits. It did remain our most deposited stablecoin with $464k (-33.9%), but others such as USDT (TRC-20), USDC (ERC-20),  and USDT (BSC) were not far behind. They had respective deposit volumes of $349k, $283k, and $134k, and all more than doubled in deposit volume when compared to the previous week.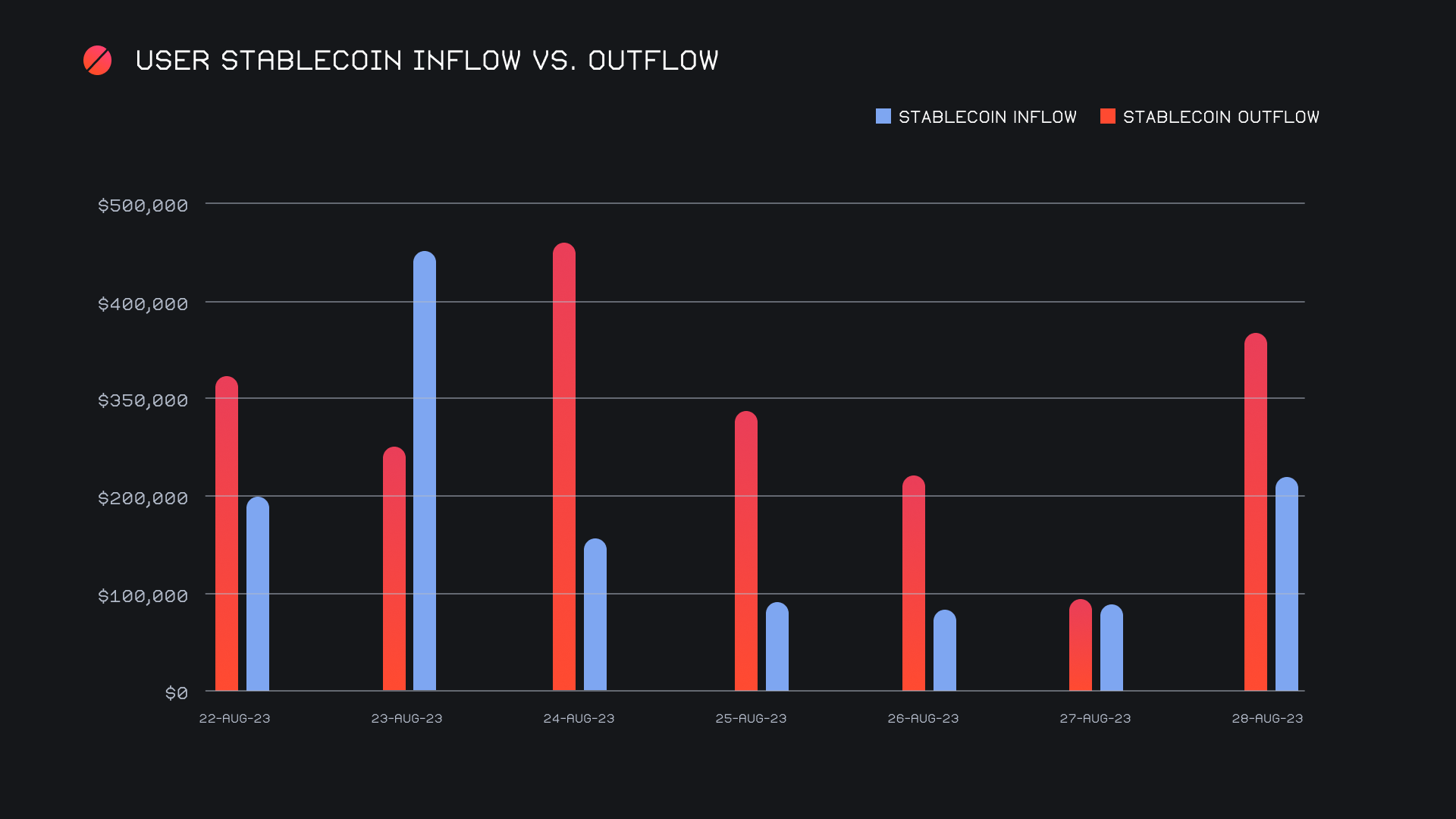 Affiliate News

Affiliates had another strong performance, rising a further 10.4% from last week's already healthy sum. They combined for $2.4m with 2,267 shifts (+3.6%), which ultimately represented 33.4% of the weekly total. For the better part of the year our integrations have proved to be a steady source of shifting, particularly our top affiliate. This week was no different, as it accounted for 17.8% of weekly volume with $1.3m. Our second placed affiliate saw a vicious comeback, doing more than a 12x from last week's slow showing. It ended with $510k on a far lesser shift count of just 119.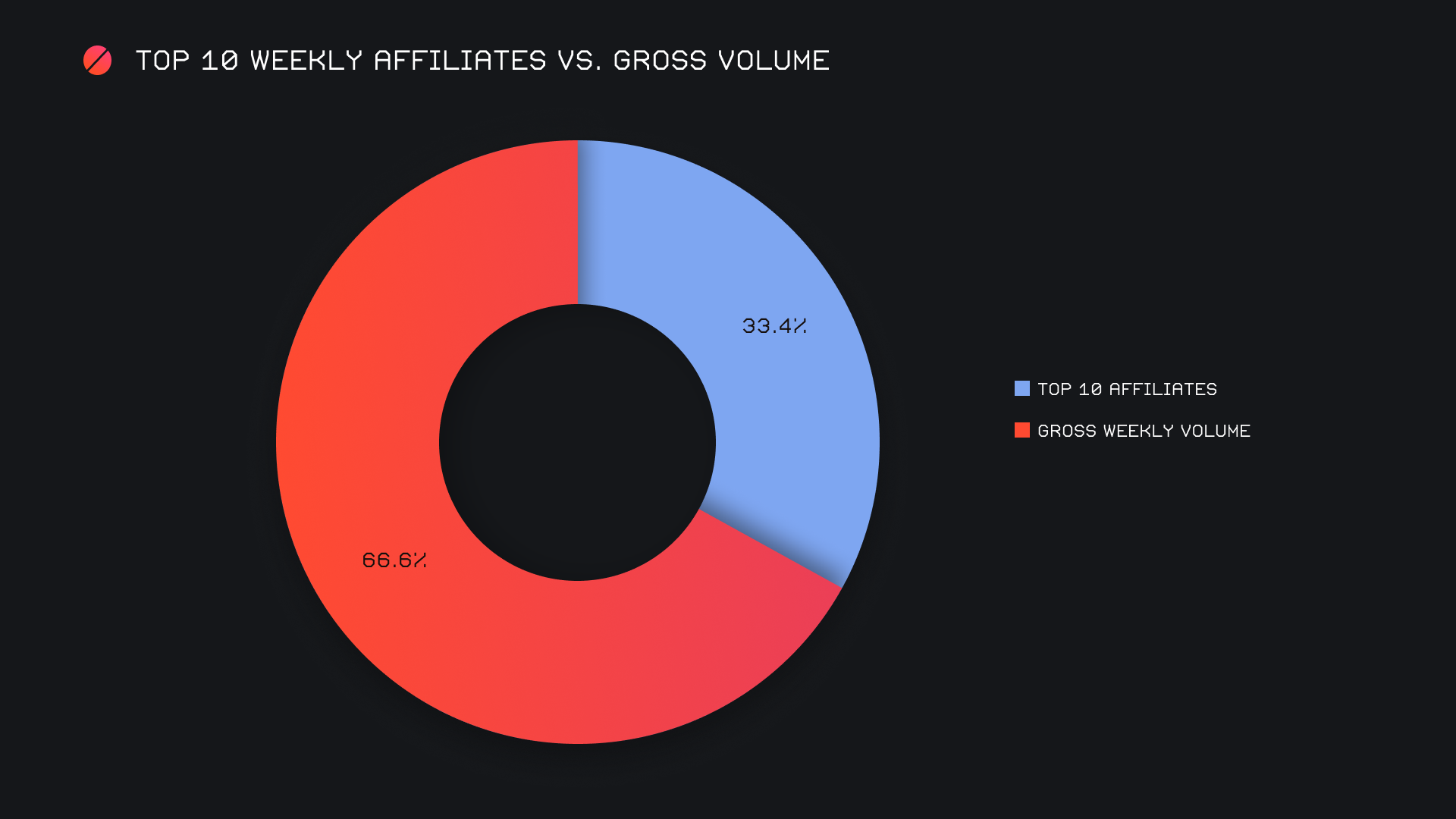 That's all for now. Thanks for reading, happy shifting and we'll see you next time.