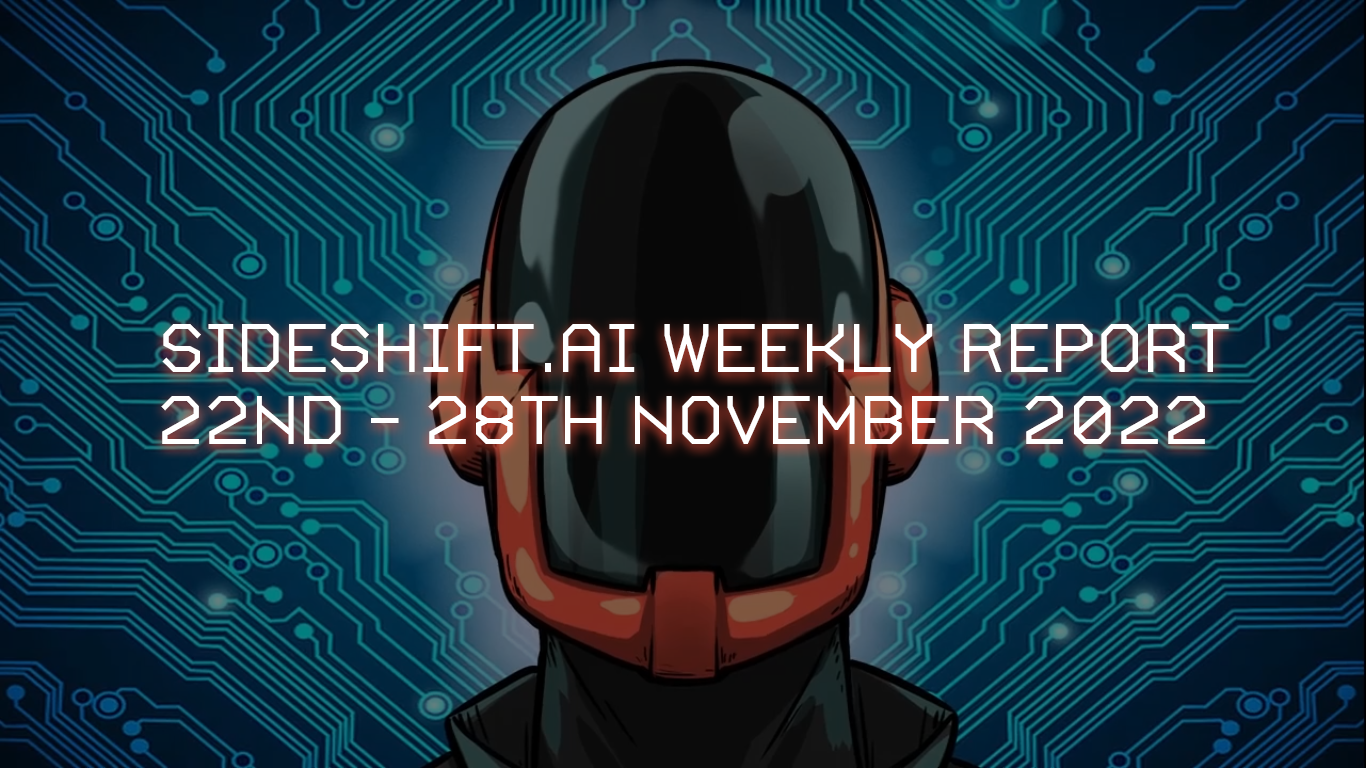 29 November, 2022
SideShift.ai Weekly Report | 22nd - 28th November 2022
Welcome to the thirtieth edition of the weekly stats report - your one-stop shop for all things SideShift.ai.

XAI Token Market Update

This week SideShift token (XAI) fluctuated within the 7 day range of $0.1072 / $0.1129. At the time of writing, the price of XAI is sitting at $0.1125, the exact same price which was noted this time one week ago. The current circulating market cap of XAI measures $10,826,091, marking a 1.3% increase from last week's total.

Another solid week for SideShift resulted in XAI stakers receiving an average APY of 32.48% for the period. On November 23rd, 2022, a daily rewards high of 50,714.93 XAI was deposited to our staking vault, following a net daily volume of $1.68m.

XAI stakers have now accrued greater than 10% on their investment, as 1 svXAI now equals 1.1044 XAI. If you have yet to do so but are curious about XAI staking and rewards, remember that you can shift directly to svXAI from any coin of your choice, here. Additionally, you can read more about XAI staking at our FAQ.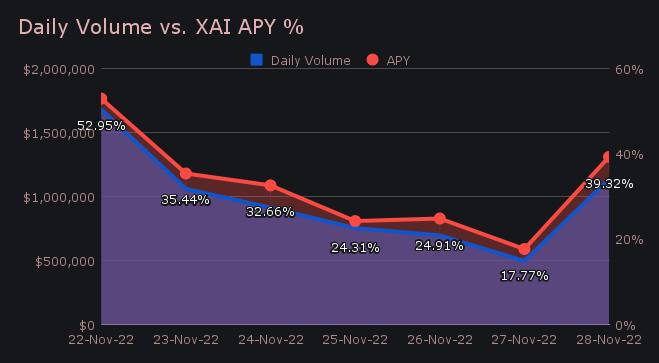 Additional XAI updates:

Total Value Staked: 43,781,363 XAI
Total Value Locked: $4,843,439

General Business News:

SideShift had a good week, even as the market is beginning to slow following the initial contagion panic. We ended the period with a net volume of $6.75m (+8.9% from last week) alongside a shift count of 6,417 (-2.8%). This produced daily averages of $964k on 917 shifts. When denominated in Bitcoin, this weekly volume amounted to 411.91 BTC (+9.5%).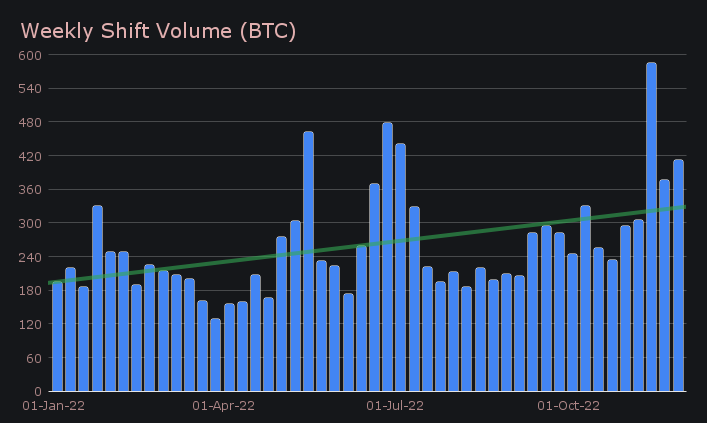 This week heavily revolved around our top 3 coins of BTC, USDT on Ethereum, and XMR, all of which saw overall increases in total volume (deposits + settlements). Beginning with deposits, the top deposit coin of BTC witnessed growth of 24.3% and ended with a net deposit volume of $2.02m to claim first place. This is only the second time since July which has seen BTC deposits greater than $2m on a weekly scale, with the other instance occurring at the beginning of October.

In second place was XMR, which has now seen deposits climb in consecutive weeks. It finished with a total of $1.37m to mark an increase of 20.1%. This was followed by ETH in third, which was down 4.2% and had $852k in deposits.

Supporting this increase in BTC deposit volume was the top coin pairing of BTC / USDT (ERC-20), which reigned supreme for the 13th consecutive week. It yielded a sizable $1.24m for the period, as 61% of deposited BTC volume settled to USDT (ERC-20). This pair alone accounted for 18.3% of weekly volume, and tells the tale of the general attitude of users at the moment - seek safety in stablecoins. The second most popular pair of XMR / BTC also had a large impact, as it netted $878k in volume over the course of the week.

Stablecoins as a whole accounted for 35.1% of settlements, a figure that ranks as one of the highest ever observed. It was trumped only by the percentage recorded two weeks ago (37.1%) which occurred in the midst of the FTX meltdown. This week's high percentage is accredited by and large to USDT on Ethereum's sizeable settlement levels, but it should be noted that USDT on Tron also saw settlements rise by 29%.  

Further supporting the fearful state of mind is the lack of shifts occurring on alternate chains. Networks other than Ethereum combined for a volume of $1.16m, marking a 5 week low. This is particularly noticeable on Solana, which has now witnessed its lowest shift volume proportion in recent months. You can see this unfolding in the bar chart below.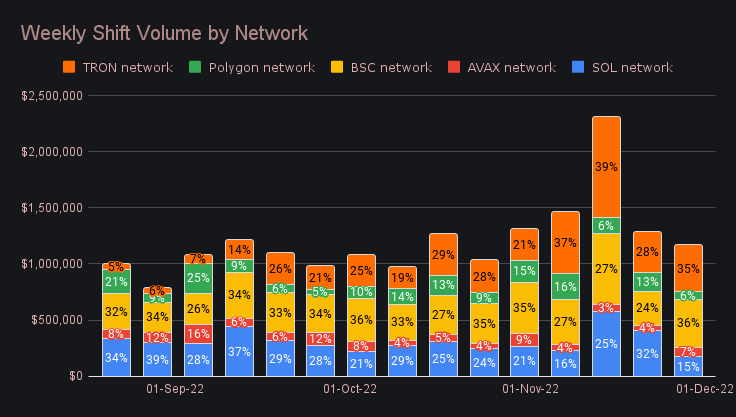 On the settlement side BTC also finished in first place with $2.15m (+6.8%). In second was USDT (ERC-20) which jumped 57.5% to net $1.65m - this is one of highest settlement volumes achieved by USDT (ERC-20) so far in 2022. The rise in USDT (ERC-20) settlements over the past few weeks is evident in the area chart below. ETH placed third with $807k, following a decrease of 14.9%. Aside from these top 3, the only other coin which saw a somewhat significant change was BCH, which grew 4.5x to finish with $267k.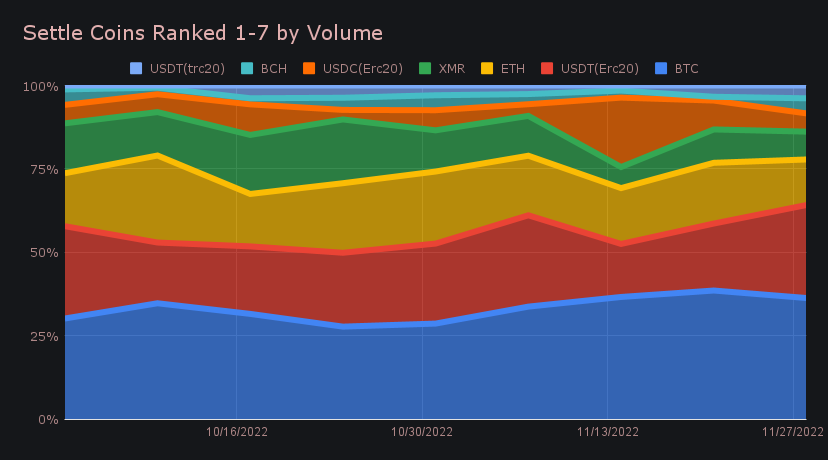 All in all, SideShift had a steady week with little downtime. The exception was a brief period on the morning of November 29th. It was attended to and resolved within the hour. We've also had some instability with Ethereum on Arbitrum, which resulted in a temporary disabling for a few hours. It has since been resolved and re-enabled.

As the bear market drags along, our team continues to keep our heads down and our feet moving forwards. A sharp focus is placed on growth, and we are always looking for the right people. If you think you would be a fit, be sure to check out current job postings at sideshift.ai/jobs.

Integration News

Integrations closed out the period with a combined $2.99m in shift value, 22.9% higher than the previous week. As a proportion of the total weekly volume, this amounted to 44.3%, a figure which is pushing the boundary for the highest proportion ever recorded. Regarding shift count, integrations totalled 2,318 shifts.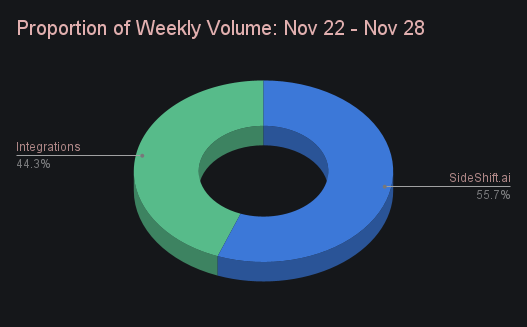 That's all for now. Thanks for reading, happy shifting and we'll see you next time.