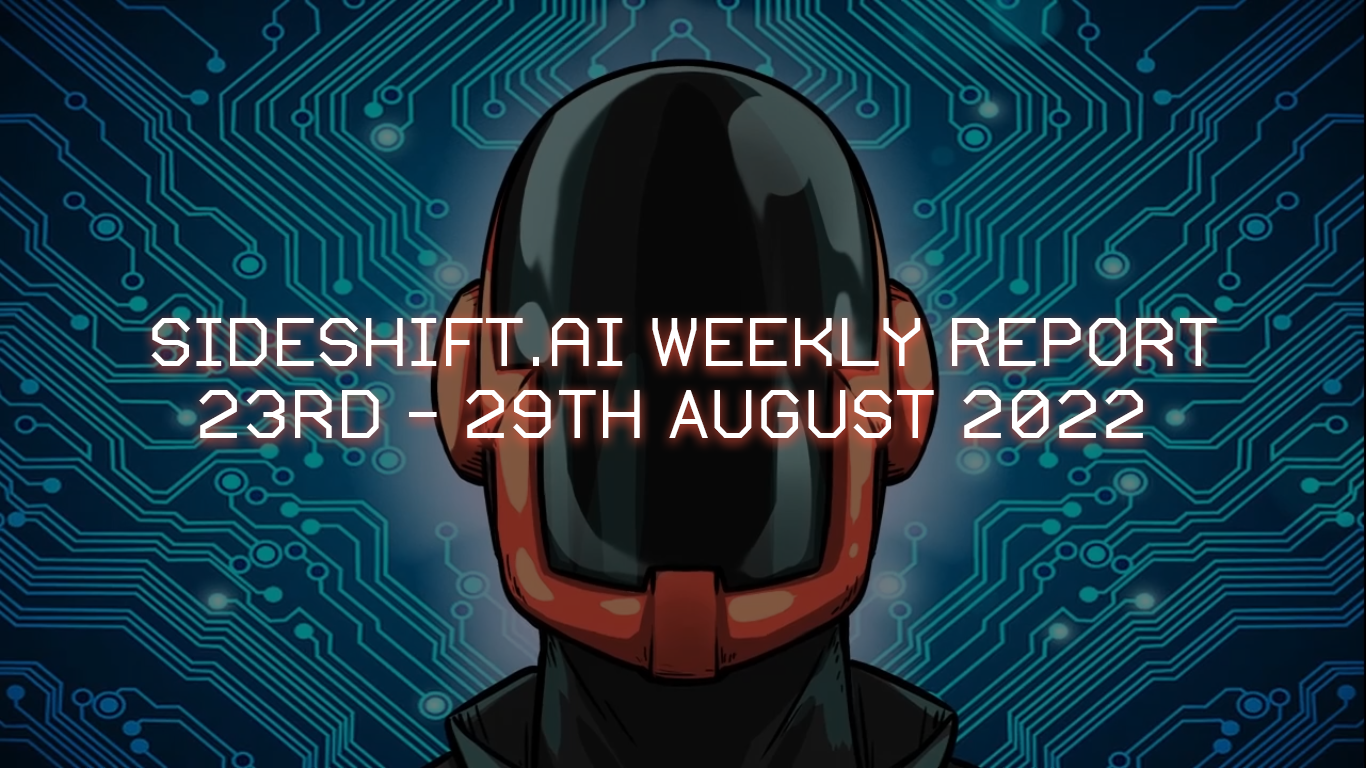 30 August, 2022
SideShift.ai Weekly Report | 23rd - 29th August 2022
Welcome to the seventeenth edition of the weekly stats report - your one-stop shop for all things SideShift.ai.

XAI Token Market Update

This week the price of SideShift Token (XAI) increased slightly, moving within the range of $0.115773 / $0.121867. At the time of writing, the price of XAI is sitting at the upper bound of that range, at $0.120576. A current market cap of $11,175,529 marks a 1.46% increase from last week and places XAI 16 spots higher, in position #859.

Since the migration on-chain, the accrued value of staked XAI is now at 3.58% (1 svXAI = 1.0358 XAI); be sure to check out SideShift.ai's Dune Dashboard for live XAI and svXAI stats updates.

Stakers enjoyed an average APY of 26.81% this week, with a daily reward high of 30,473.31 XAI (35.28%) being paid to our staking vault on August 30th, following a daily volume of $749k.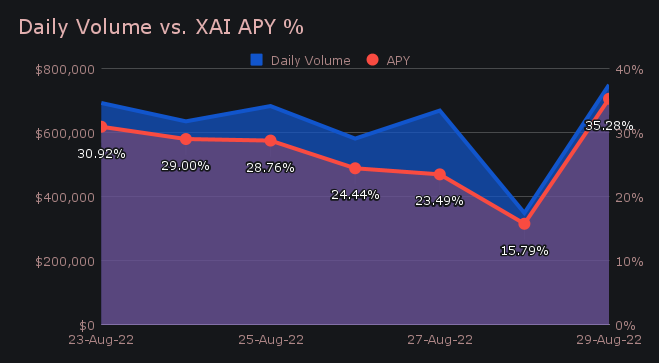 Additional XAI updates:

Total Value Staked: 36,873,760 XAI
Total Value Locked: $4,355,529

General Business News:

This week heavily revolved around our top 3 coins ;  BTC, ETH and XMR. Generally speaking, it appears that outside of these top coins, shifts were less frequent and with less overall volume. There were however a few exceptions. As the bear market continues to trudge along, users are evidently less interested in lower cap coins and prefer to stay within the confines of more established assets.

Throughout the week, SideShift had a net weekly volume of $4.36m (-3.9%) with a total weekly shift count of 5,630 (-5.1%) for daily averages of $623k on 804 shifts.

This week saw BTC retain its spot as both our top deposit and settle coin, now for the second week in a row. Total weekly BTC settlements amounted to $1.11m, despite incurring a 28.4% drop from last week. Conversely, BTC deposits grew by 32% to net $1.32m for the week. In fact, BTC has remained our most deposited coin every week since mid February 2022, a period where it was briefly surpassed by XMR.

Not far behind in the ranks was Ethereum, which on the settle side recorded a 45% bounce ($1.09m) to claim second spot. ETH deposits also placed second, with a net deposit volume of $930k (-4%) for the week. With the Ethereum merge creeping closer, it's not surprising to see a jump in settlements as well as overall shift volume and count.

The pattern of coins ranking the same on both deposit and settle sides continued this week as XMR placed third again. A 24.1% increase in XMR deposits brought the total to $706k, while the settlement side experienced a jump of 44.3% to net $612k. You can see the dominance that our top 3 settle coins have had very clearly in the chart below, which depicts the settle volume of top coins over the course of the past 2 months.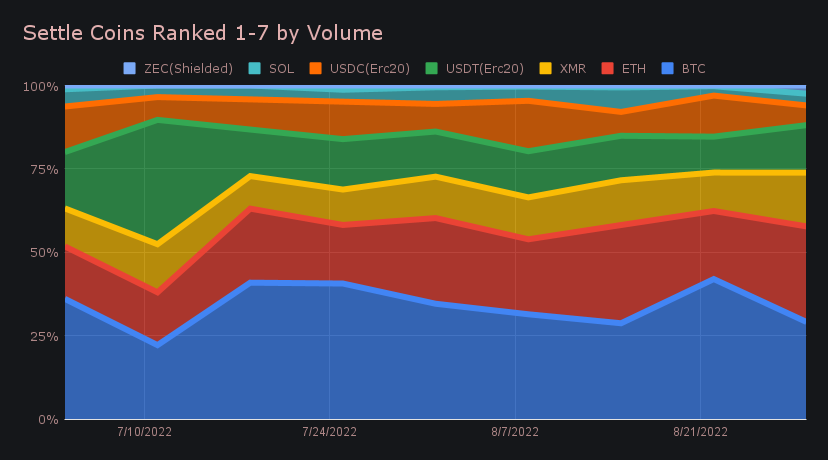 A few exceptions to the overarching bearish trend observed this week was the performance of Solana, as well as Zcash (shielded). SOL observed a modest 9.9% gain in overall volume ($210k) to rank as our 6th most shifted coin, while overall Zcash (shielded) shift volume spiked by 212.6% for a weekly total of $120k. The jump in settle volume ranked it as the 7th most popular settle coin this week.

The week's most popular shift pair of ETH/BTC totalled $493k, representing 11.3% of weekly shift volume and 5.6% of shift count. 55% of the deposited ETH volume settled to BTC this week. It is interesting that this was our most popular pair, due to the fact that both total ETH deposits and BTC settlements actually decreased this week.

In listing news, this week SideShift introduced HEX on the Ethereum chain as a shift option for users. HEX describes itself as a "certificate of deposit" on the blockchain - a current market cap of $7.41 billion ranks HEX in position #201.

Overall, it was a quiet week for SideShift allowing us to continue working on bigger projects and clean up old ones. Throughout the week we experienced no major issues aside from some brief downtime on August 24th, which was due to a DNS issue with our hosting provider - it was resolved within a few hours and didn't affect all users.

Integration News

Integrations ended the week representing 29.6% (-3%) of weekly shift volume and 31.3% (+1.3%) of shift count.

Bitcoin.com and Trezor swapped places for the 5th consecutive week, as Bitcoin.com wallet grabbed the top spot among integrations with a weekly volume of $547k (12.5%). Trezor trailed right behind and netted $496k (11.4%).

Bitcoin.com was once again the dominant leader in shift count, with 1,026 shifts (18.2% of the total) over the course of the week. Trezor was next with 217 shifts, but had a higher average shift value of $2,285 as compared to Bitcoin.com's $533.

Zat.gg had a strong week, bouncing by 116.1% to claim third place with a weekly shift volume of $133k. This surpassed Exchangeinincognitobot, who fell 33.2% to finish fourth place with $74k. Still, Exchangeinincognitobot has shown solid growth in recent weeks when compared with previous months.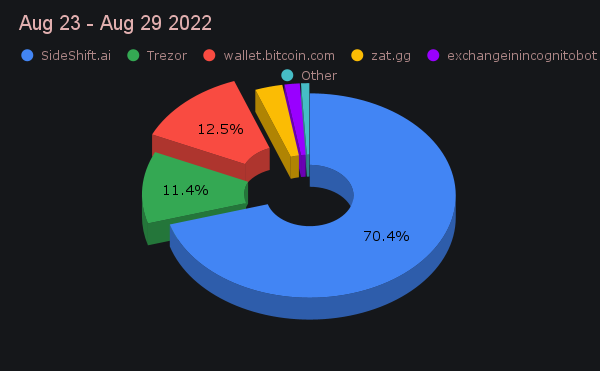 That's all for now. Thanks for reading, happy shifting and we'll see you next time.