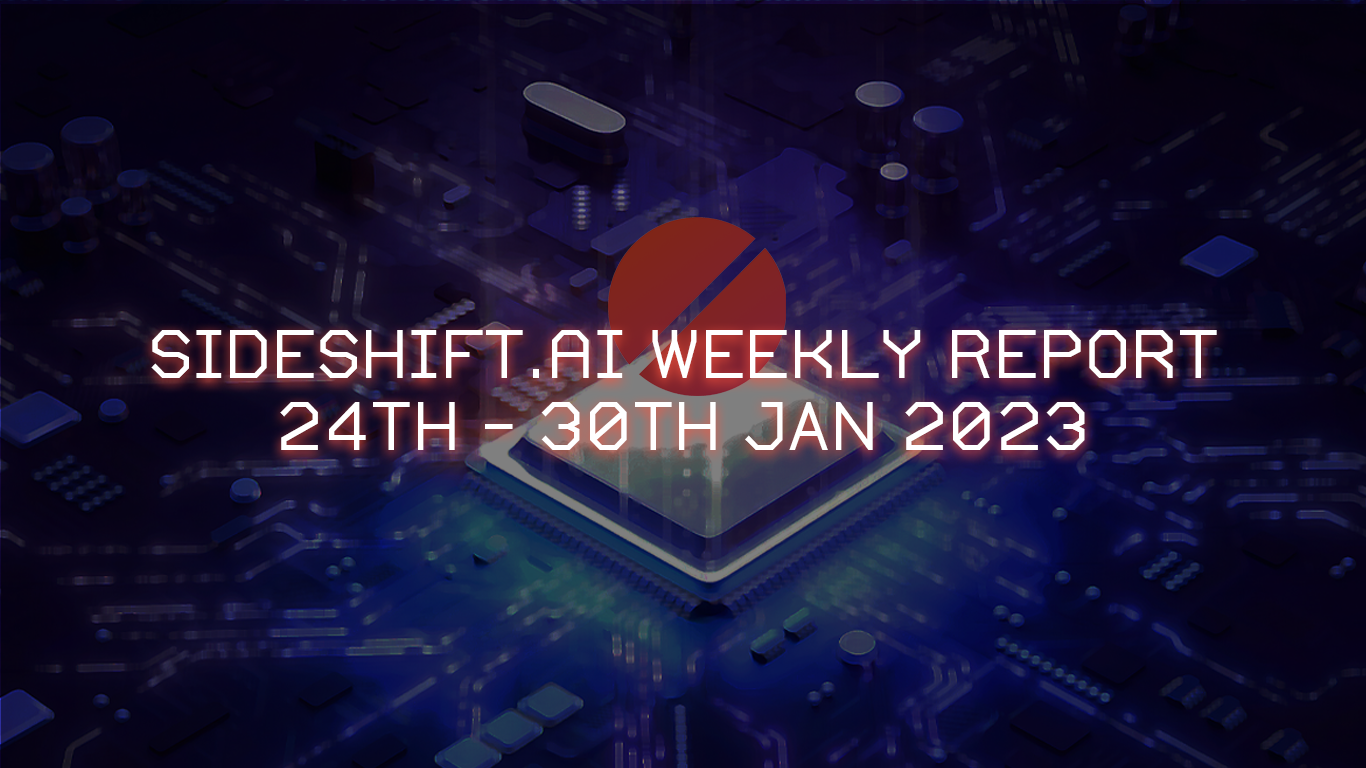 31 January, 2023
SideShift.ai Weekly Report | 24th - 30th January 2023
Welcome to the thirty-ninth edition of the weekly stats report - your one-stop shop for all things SideShift.ai.

XAI Token Market Update

This week SideShift Token continued to climb, moving within the 7 day bounds of $0.1337 / $0.1485. At the time of writing, the price of XAI is sitting at $0.1418 and has a current circulating supply market cap of $16,760,075, representing an increase of 4.8% from last week.

XAI stakers were rewarded with an APY averaging 13.54% throughout the period, with a daily rewards high of 47,374.97 XAI (a 23.82% APY) being deposited to our staking vault on January 31st, 2023. This was following a daily volume of $2.21m.

In treasury news, 50 ETH was added on January 30th, 2023, bringing the current total to $2.60m. You can follow along with live treasury updates directly on zapper.fi.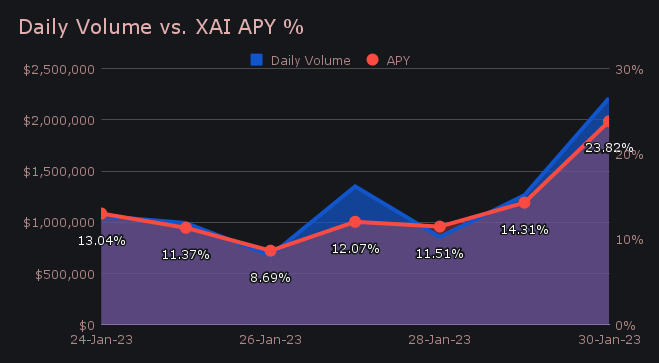 Additional XAI updates:

Total Value Staked: 82,013,133 XAI
Total Value Locked: $11,399,005

General Business News:

After a string of successive daily green candles that pulled us from the trenches, it seems that the market is now taking a brief period to cool down and consolidate, ever so slightly.
Following one of the strongest weeks we've ever had, SideShift also cooled off and returned back to volume levels seen more consistently throughout the past year. We finished the period with $8.42m (-41.9%) alongside a shift count of 6,243 (-3.8%). These sums combined to produce daily averages of $1.20m on 892 shifts. When denoted in BTC, the weekly volume change was even more dramatic, as it decreased 45.1% to net 365.33 BTC.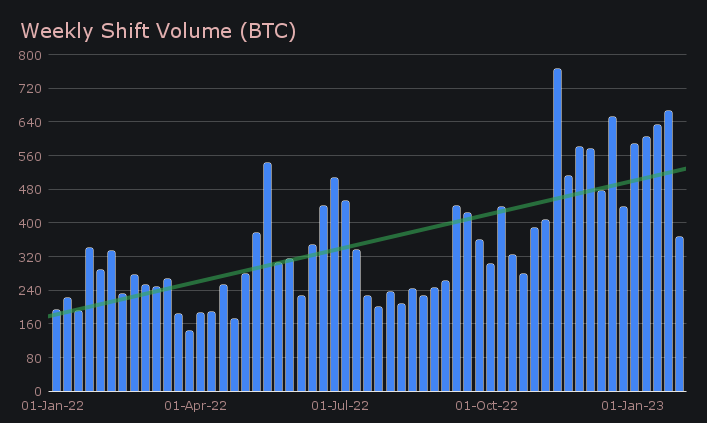 Our volume revolved around BTC more than ever, as this week it represented a whopping 39% ($2.3m) of user's deposit volume to SideShift. Although we didn't experience the intense BTC/BCH shifts as we did last week, BCH still managed to remain the most popular settlement pair for BTC deposits. It represented $588k in total shift volume (25% of the deposited BTC), but was very closely followed by USDT on Ethereum with $539k (23%).

Even though the limelight was shined on BTC, other coins still seemed to garner more attention from SideShift users when compared to last week. ETH deposits climbed 20.3% and cracked the $1m mark, as it finished in second place with $1.29m. XMR was very close behind in third, as it grew 25.3% to net $955k. More unusually was a near 250% jump in BNB deposits, which finished as the week's 6th most deposited coin, with $390k.

Interestingly, a majority 73% of this deposited BNB volume was shifted to AVAX, which mainly contributed to the more than 20x increase recorded in AVAX settlements ($296k). It's great to see less common shifts emerge among the top pairs, and observe how users are utilizing SideShift. You can note the effect this pair had on proportionate network shifting in the bar chart below, and in particular how abnormal the spike in AVAX volume was.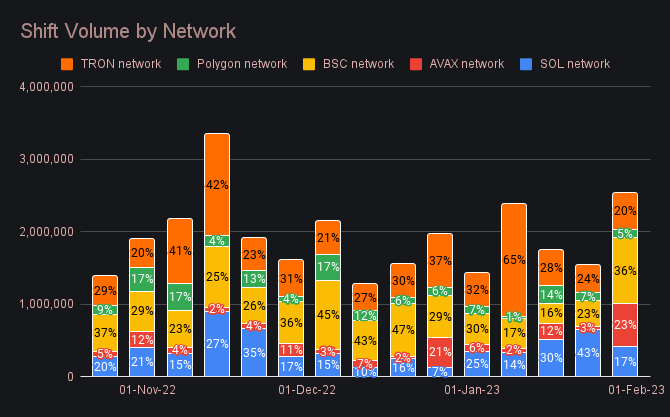 Another noteworthy mention on the settle side was the drastic fall in BCH settlements. Although expected without the huge presence of the BTC/BCH shifts, it still should be noted that BCH settlements fell sharply, and declined by 83.2% to finish the week with $695k.

The volatility of coins outside the top 3 tends to be quite sporadic on both the deposit and settle sides, but what is evident is the relative stability of our top coin, BTC. You can see in the chart below how it constantly has remained near ~30% of settle volume, with BCH in particular oscillating wildly back and forth. The volume swings become even more pronounced the further you move down the ranks. This week saw BTC make up 22% ($1.3m) of settlements from SideShift, with XMR being the most popular deposit coin as its pairing.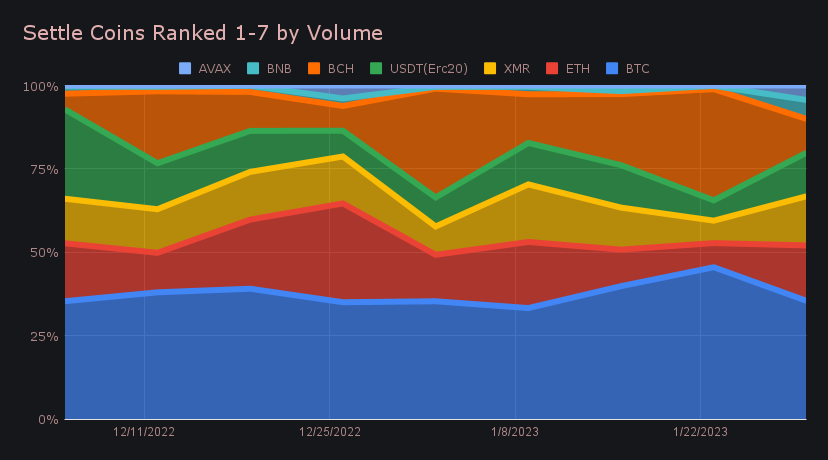 A dive into user stats showed that the top 10 website users shifted a total of $1.35m over 209 shifts, for an average of $6,480 per shift. This average shift value was $5,519 higher when compared to the overall sum of $961 for all shifts, which tells us that comparatively speaking, these 10 users are shifting much more than the rest. These top users made up over 22% of the total user volume this week.

In general news, SideShift remained stable throughout the week, with very few interruptions. This has allowed our team to keep our heads down, and remain focused on some exciting changes that we have in the works.

Integration News

A look at our top 10 affiliates show us that they combined for a total $1.50m in weekly volume. These same 10 had a cumulative 2,086 shifts, which resulted in an average shift value of $718. In fact, this was $244 lower than our overall average, which indicates that we received smaller shifts from integrations as compared to directly on our site. This sum represented 25% of the user volume shifted this week, a strong bounce from last week's low.

That's all for now. Thanks for reading, happy shifting and we'll see you next time.