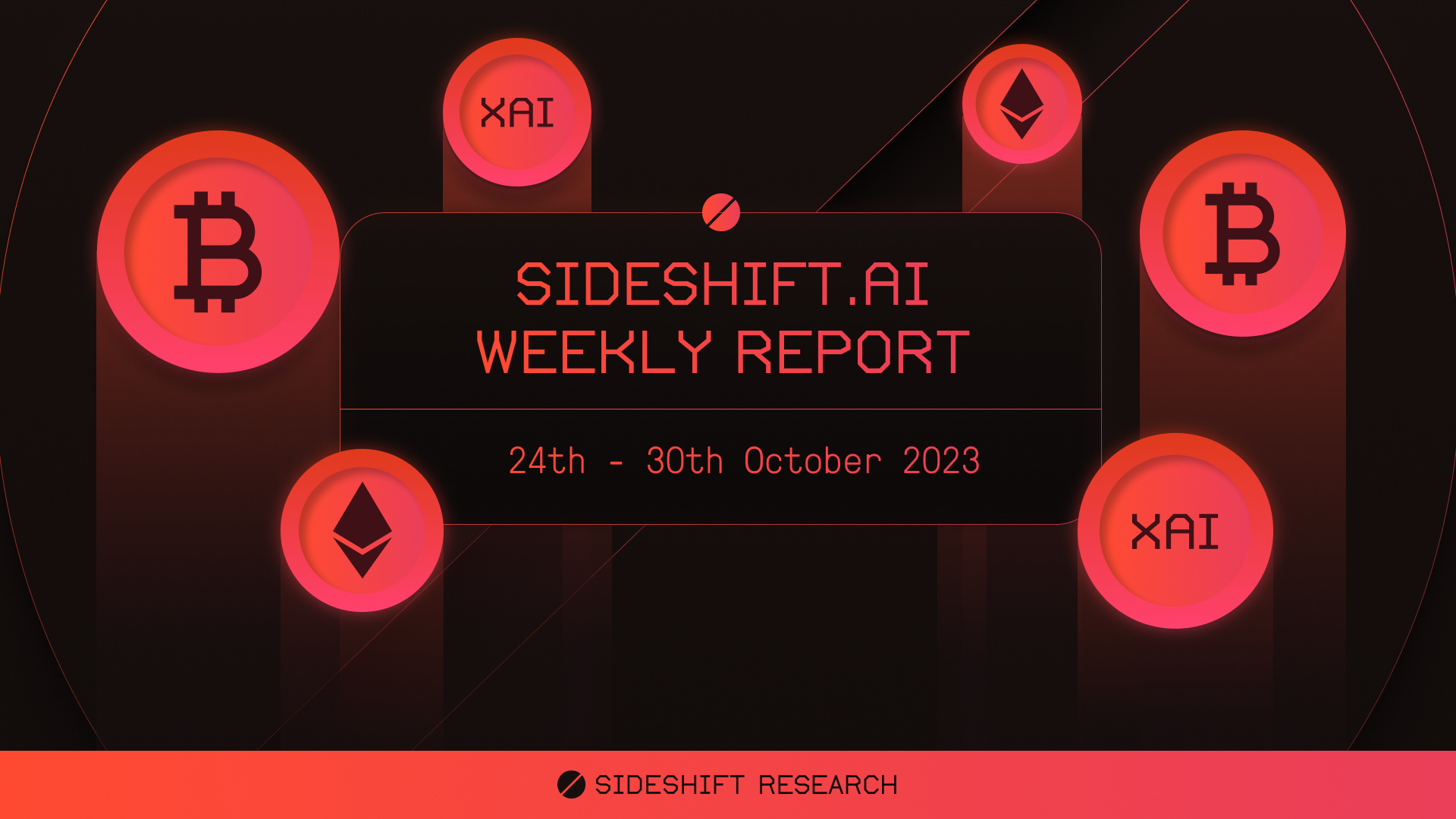 01 November, 2023
SideShift.ai Weekly Report | 24th - 30th October 2023
Welcome to the seventy-eighth edition of the weekly stats report - your one-stop shop for all things SideShift.ai.
This week SideShift started the week off strong and saw momentum carry on throughout. SideShift token (XAI) moved within the 7 day range of $0.0732 / $0.0802, and is currently trading at a price of $0.0772 with a market cap of $9,576,772 (+1%).

XAI stakers were rewarded with an average APY of 12.1% this week, with a daily rewards high of 58,986.06 XAI being distributed to our staking vault on October 25th, 2023. This was following a daily volume high of $2.5m. This week XAI stakers received a total of 250,336.32 XAI or 20,352.34 USD in staking rewards.
The price of 1 svXAI is now equal to 1.2502 XAI, representing a 25.02% accrual on stakers investments. A friendly reminder that the easiest way to participate in XAI staking is by shifting directly to svXAI, from any coin of your choice.

Additional XAI updates:
Total Value Staked: 112,608,313 XAI (+0.2%)
Total Value Locked: $8,669,090 (+2.4%)
General Business News

This week saw the general market hold strong, as a largely positive energy continues to hang in the air. The majority of news is still revolving around the FTX/SBF trial, although chatter and excitement continues to resurface regarding a potential spot BTC ETF.

For the second consecutive week, SideShift has experienced a weekly volume growth exceeding 35%. This week saw gross volume jump an impressive 40.6% to end the period with $8.7m. Meanwhile, gross shift count actually experienced a slight dip of -4.5% for a total of 6,146 shifts, indicating that we saw a substantial increase in large scale shifts this week. Our top integrations enjoyed a boost in shifting, but the majority of the increase in gross volume can be attributed to shifts occurring directly on the site. Together, these figures combined to produce daily averages of $1.2m on 878 shifts. When denoted in BTC, our weekly volume amounted to 253.94 BTC (+23.2%), a nearly identical weekly change to that noted in the previous report.
A look at the chart for our top 5 coins by total volume speaks for itself and puts into perspective the welcome increase in shifting experienced this week. Due to an overwhelmingly dominant proportion of user deposits, BTC confidently secured its place as the week's most shifted coin. For some context of its popularity as a deposit option among users, its deposit total of $2.5m (+37%) was more than 2.5x higher than even second placed ETH, which finished with $990k in user deposits. Finishing with a sum of $5.3m (+29.2%), BTC's total volume (deposits + settlements) managed to surpass $5m this week which marked the first time any coin has done so since mid July.
Meanwhile, the total volume of USDT (ERC-20) saw an equally welcome increase of +45.1%, although here stemming from a wave of user demand. User USDT (ERC-20) settlements clawed their way to the top, climbing +47.9% to end with $1.7m. This even surpassed user BTC settlements, which actually saw its demand slightly decrease, as it fell -4.2% for a second placed finish of $1.4m. As is typically the case, this rush of USDT (ERC-20) settlements can largely be attributed to our most popular pair of BTC/USDT (ERC-20), which this week ended with $1.1m to trump all others. Aside from these top two, all other top coins saw total volume gains exceed 25%, but it was fourth and fifth placed USDC (ERC-20) and SOL which had the most significant week on week change. They recorded respective triple figure increases of +184.4% (a total volume of $1.7m), and +250.4% (a total volume of $747k).
Just as large scale shifts were the achilles heel of volume two weeks ago, they proved to be the catalyst this week. When analyzing shifts with a value greater than $10k, we can observe a significant rise in both shift volume and the proportion of the total. A total of ~$5.5m worth of shifts had a value which exceeded the $10k mark this week, representing 63% of our weekly volume. In combination with the relatively stable level of shift count, this is a concrete sign that more whale shifting took place this week. This week's levels signify a 15 week high in both the nominal sum of whale shifting, as well as its overall proportion. Volatility in the market translates to whale shifting, which in turn translates into higher volume on SideShift.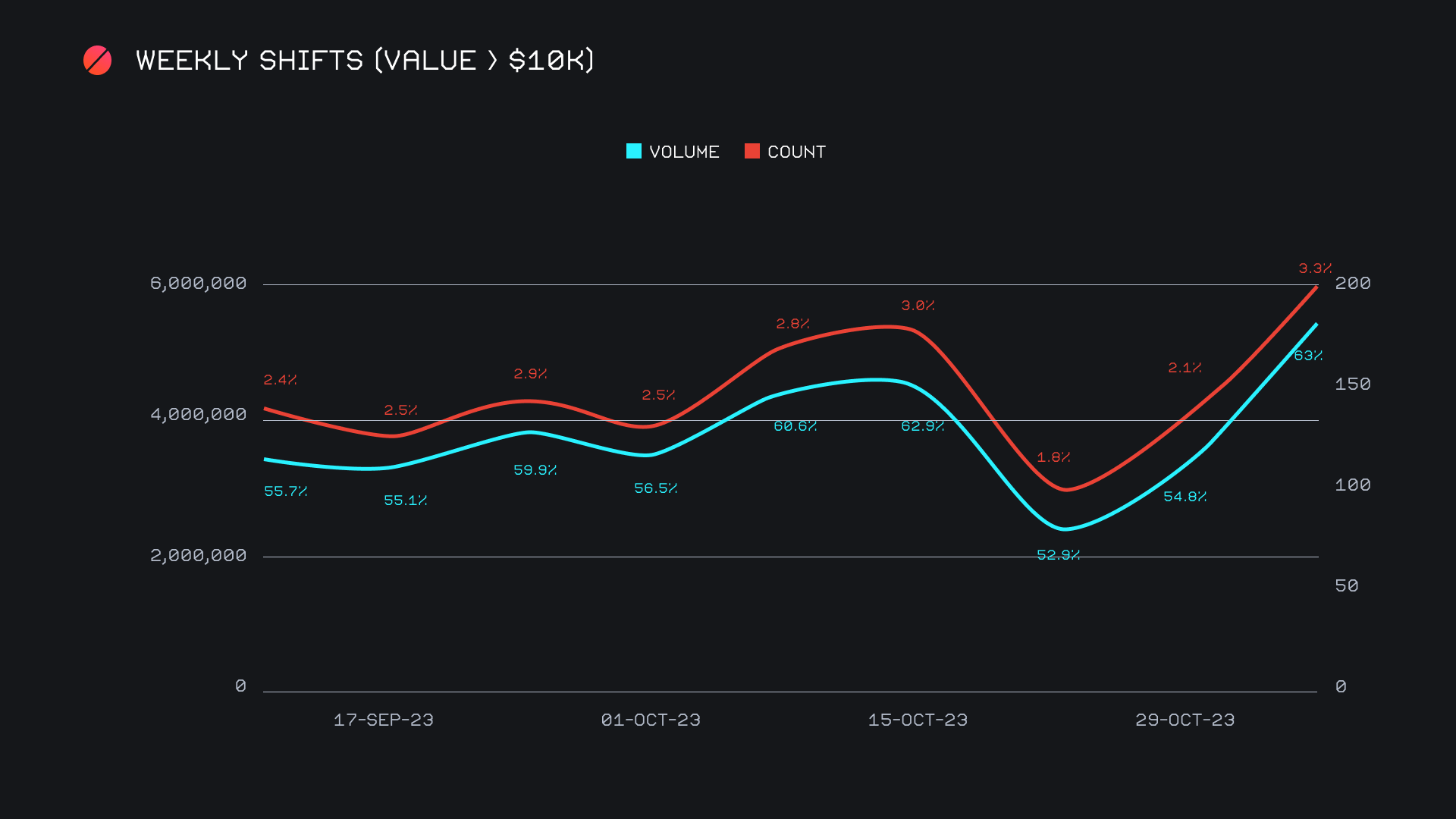 When diving into alternate networks to ETH we can note some solid increases in shifting, as they have eaten into the intense concentration that the ETH network has amassed in recent weeks. The SOL network came back with a vengeance, with shift activity spiking +229.9% for a total $874k to lead all alternate networks. This was mostly due to a rise in user demand, which no doubt is a result of the ongoing strength of SOL in recent weeks. In second sat the TRON network with $731k (+61.4%), followed by the Binance Smart Chain (BSC) network with $469k (-10.2%). The anomaly here was the ARB network which has continued to see shifting dwindle, closing the week down -29.2% for just $75k overall. Shifting on the ARB network appears to be the most volatile of all alternate networks, fluctuating massively month to month. With a collective sum of ~$2.5m, these alternate networks have now bounced nearly 100% from the lows established just two weeks ago.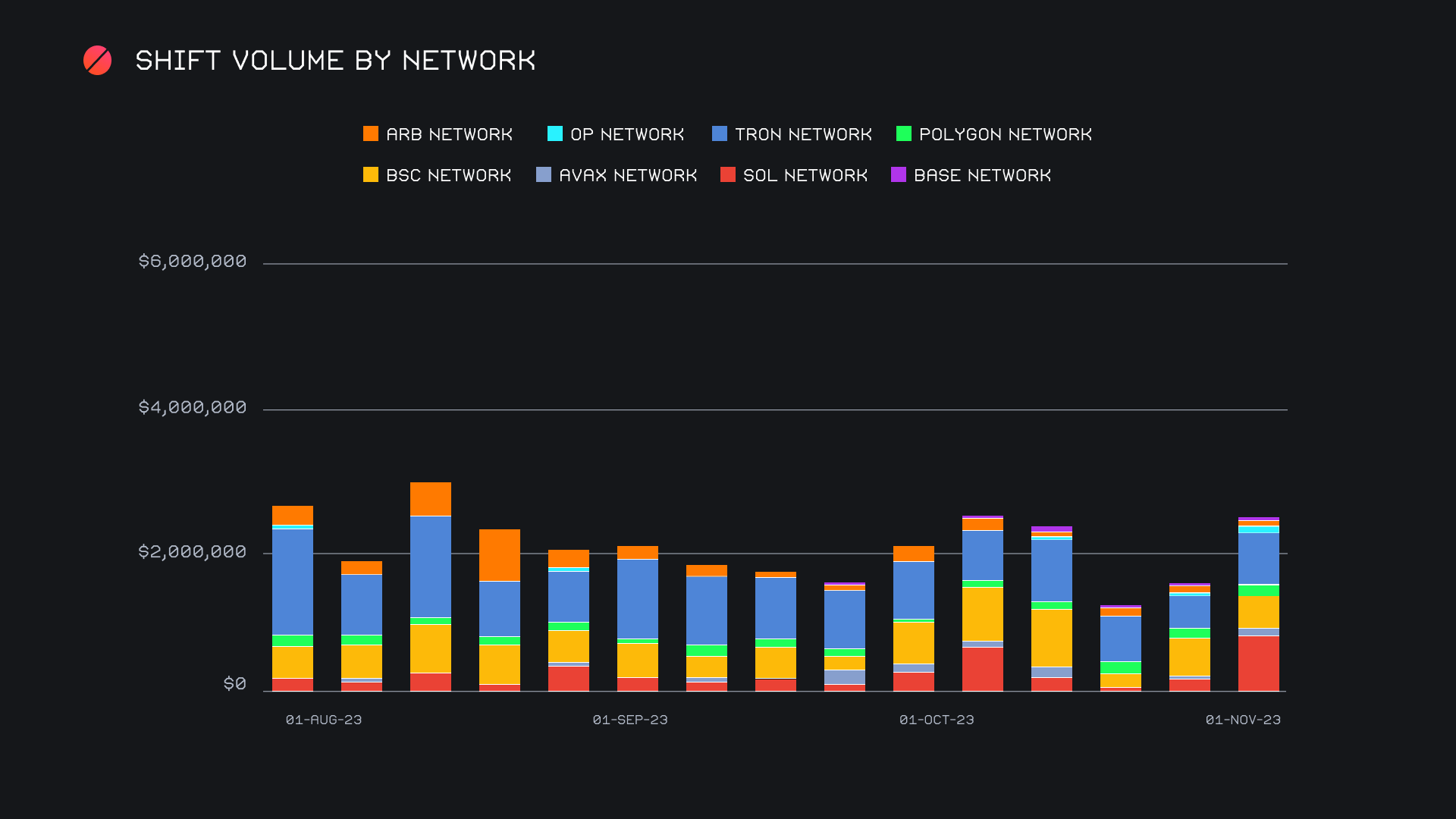 A final interesting observation is that the surge in stablecoin volume mainly occurred on October 24th, 2023, coinciding with the hefty market pump. Along with being our highest volume day of the week, it was also a dominant day for stablecoin shifting, as seen in the chart below. October 24th alone saw ~$860k in stablecoin settlements, with USDT (ERC-20) and USDC (ERC-20) accounting for respective settlement totals of $467k and $306k. This gives the impression that users are still keen to capture some gains, moving into stablecoins during periods of upwards volatility.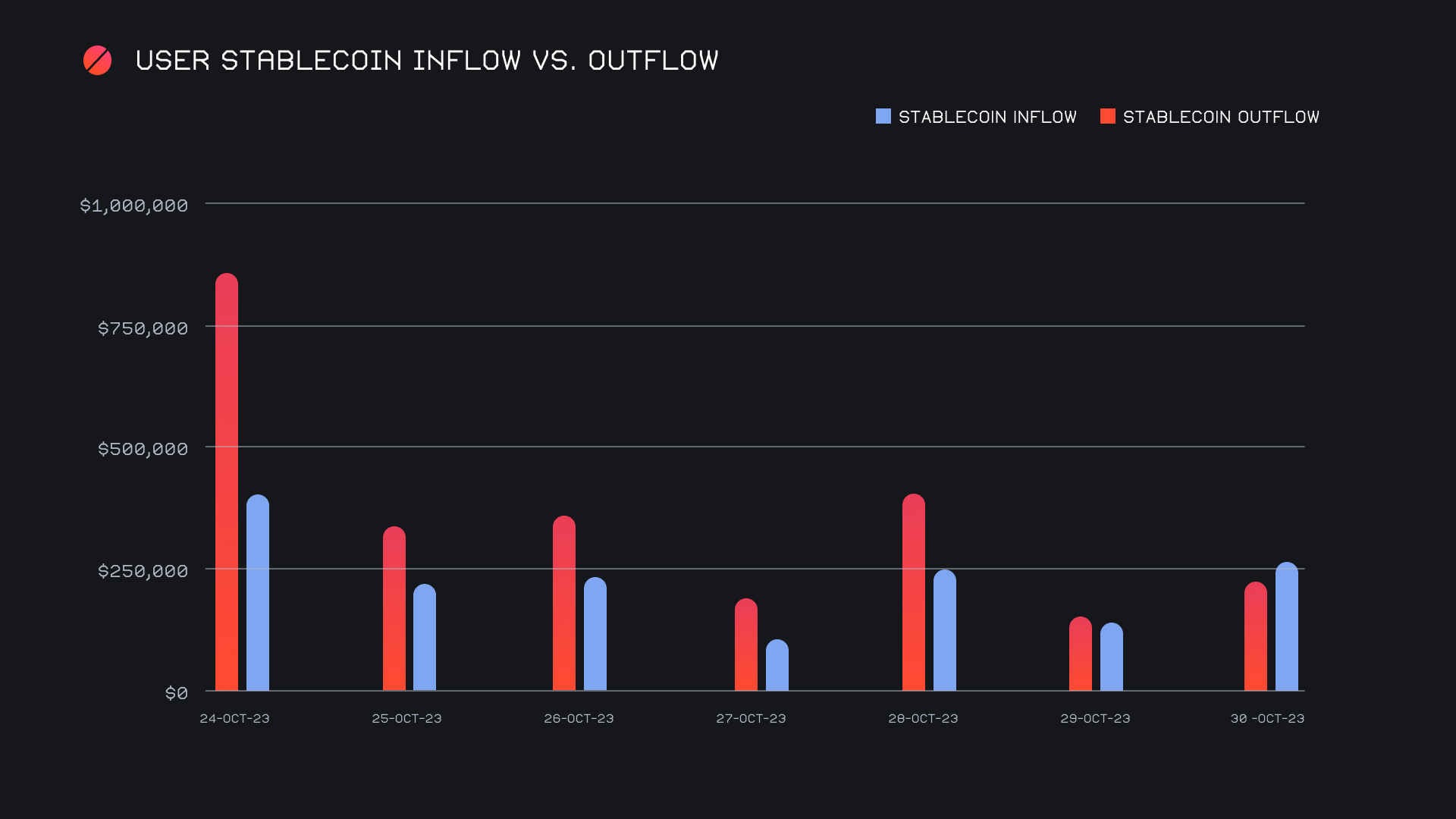 Affiliate News
SideShift's top 10 affiliates were no exception to the upwards trend and collectively summed for a sizable $3.1m (+20.9%). The majority of affiliates saw an increase in volume, with the exception of our top placed affiliate. Instead there was a shaking up of the order, as the former number 2 seized the top spot with $1.3m this week. Similar to shifts which took place directly on the site, the count of our top affiliates was rather steady, increasing a minor 2.8% for 2,666 shifts. Overall, our top affiliates represented 35.7% of total volume, 5.8% lower than last week's proportion.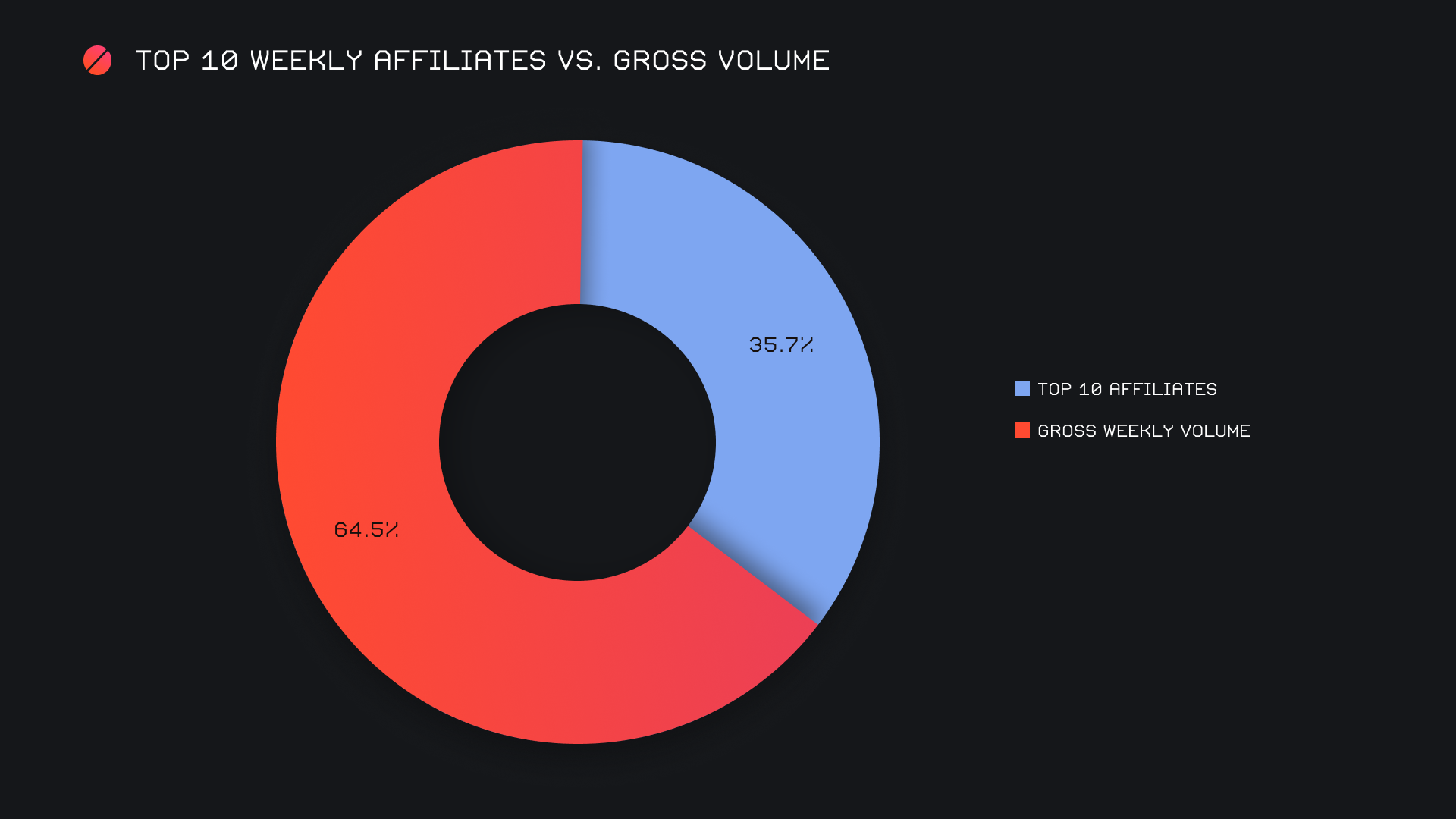 That's all for now. Thanks for reading, happy shifting and we'll see you next time.