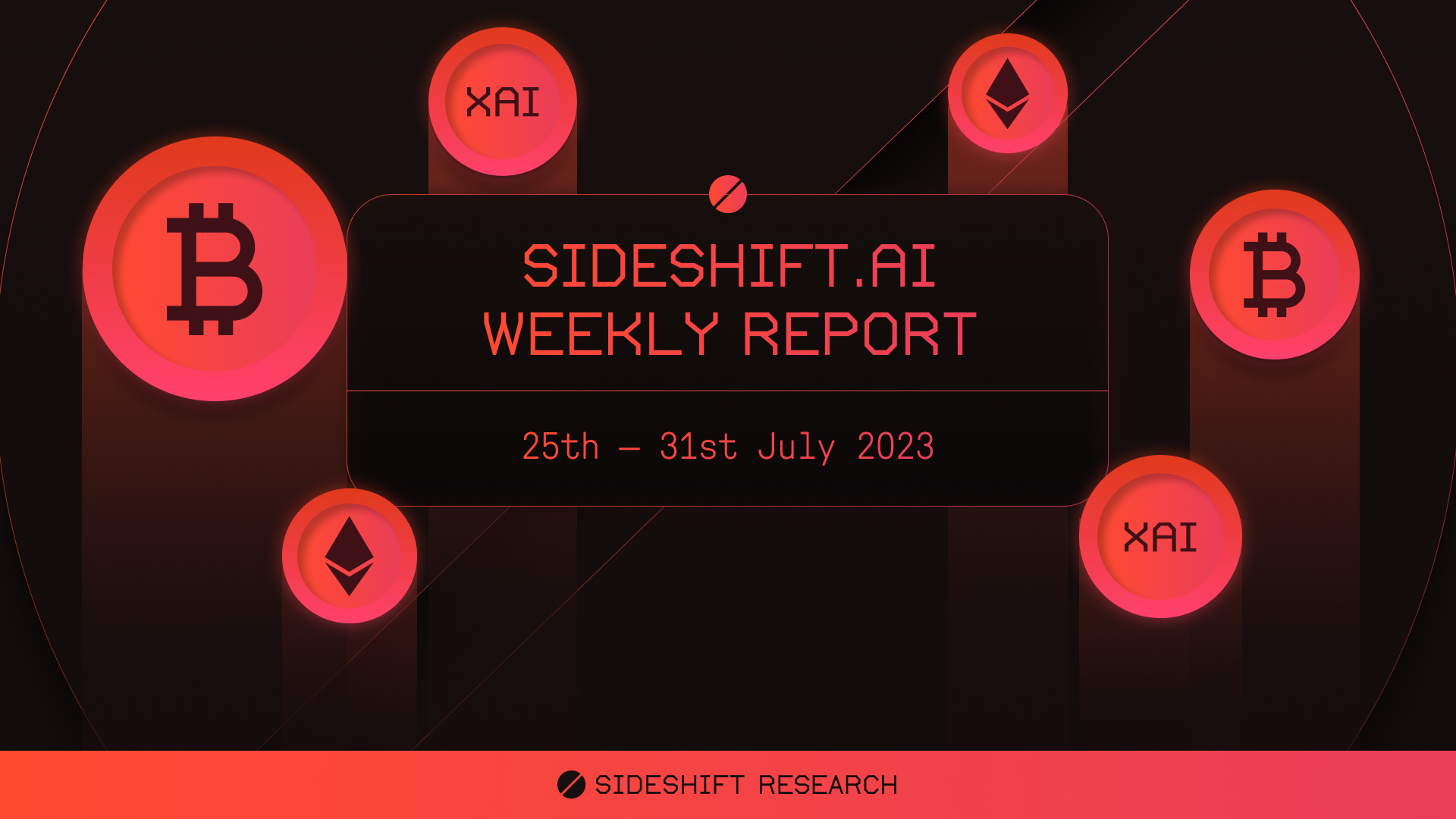 02 August, 2023
SideShift.ai Weekly Report | 25th - 31st July 2023
Welcome to the sixty-fifth edition of the weekly stats report - your one-stop shop for all things SideShift.ai.

XAI Token Market Update


This week SideShift token (XAI) moved within the 7 day range of $0.1011 / $0.1163. At the time of writing, XAI is currently sitting at a price of $0.1086, and has a current market cap $13,195,033 (-6.9%) as denoted on our Dune Dashboard.

XAI stakers were rewarded with an average APY of 7.0% this week, with a daily rewards high of 22,712.78 XAI (an APY of 7.81%) being distributed to our staking vault on July 31st, 2023. This was following a daily volume of $787k. This week XAI stakers received a total of 139,864 XAI or $14,842.10 USD in staking rewards.

1 svXAI is now equal to 1.2173 XAI, representing a 21.73% accrual on stakers investments. A friendly reminder that the easiest way to participate in XAI staking and earn daily rewards is to shift directly to svXAI, from any coin of your choice.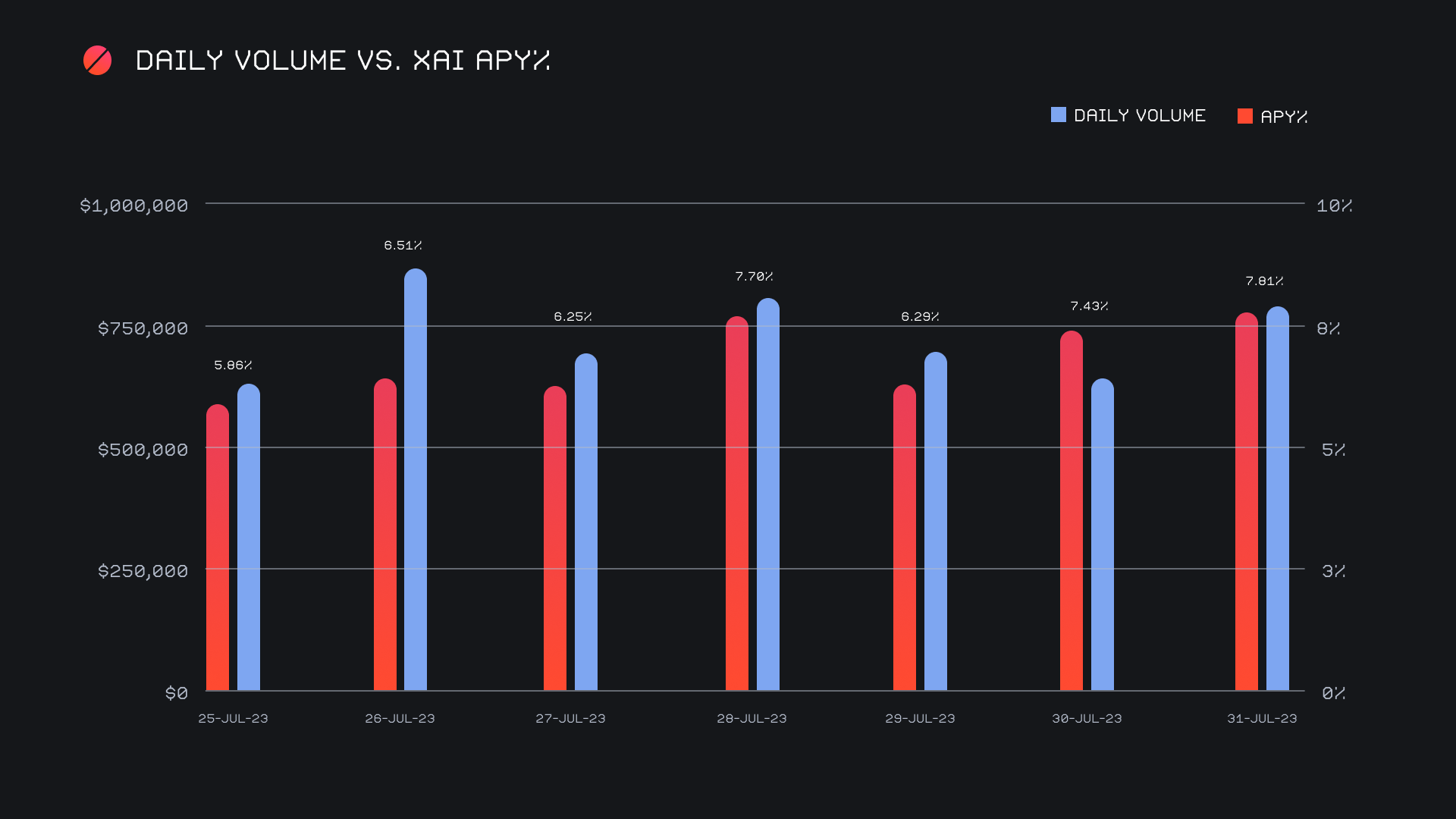 Additional XAI updates:

Total Value Staked: 108,264,465 XAI (-0.2%)
Total Value Locked: $11,815,206 (-4.5%)

General Business News


BTC spent the better part of the past month crawling along sideways, and this week it didn't hesitate to continue that trend. It decided to break down to finish the week, leaving a stale energy and general lack of excitement throughout the broader market.

SideShift had another slow week, ending the period with a gross volume of $5.1m (-22.9%) alongside a shift count of 4,486 (-6.5%). It is quite possible that this summer lull is the result of users taking the lack of volatility as an excuse to step away from their computers - the ebb and flow is constant throughout the year. This week's totals combined to produce daily averages of $733k on 784 shifts. When denoted in BTC, our weekly volume amounted to 175.31 BTC (-22.6%).

The decline in shifting was fairly spread across coins, although it is true that our top coins saw the biggest nominal changes. Nine out of ten of our top coins saw a decrease in total volume (deposits + settlements), with 7th placed USDT (BSC) being the only one to increase (+14.6% on $235k). With that in mind, respectable levels of shifting to BTC still unfolded, as BTC proved to be one of only few coins to swim upstream and directly oppose the flow of the majority.

Despite incurring a 27.8% decrease in total volume (to end with $3m for the week), BTC settlements actually spiked an impressive 53.7% for $1.3m. A move of this size for our top settle coin is quite a notable observation, especially when the other top settlement coins fell by ~20-60%. USDT (ERC-20), ETH, and USDT (TRC-20) were the other coins which made up our top 4, and the only other coins to see any significant volume for that matter. They saw respective settlement declines of -20.3%, -24.8%, and -61.5%.

Meanwhile, deposits of USDT (ERC-20) and ETH saw respective deposit increases of 43.7% ($444k) and 28.9% ($568k). It should be no surprise that the top settlement coin for these deposits was indeed BTC. This could suggest that users are losing faith in coins across the board right now, while also seeing the opportunity to scoop up BTC. Since BTC has been the true market leader so far this year, it makes sense to see other coins flowing into it. Overall, our top 5 coins have now reached a multi month low, however this is not indicative of the strength of BTC buying on SideShift.

This rise in BTC buying also coincided with a decrease of user stablecoin settlements. With a combined sum of just $1.5m, cumulative stablecoin settlements dipped to the lowest levels seen since early April, 2023. The biggest changes here stemmed from a lack of demand for USDT (TRC-20), which fell 61.5% with $194k in volume for the week, and USDC (ERC-20), which fell an even more dramatic 67.3% to finish with just $89k in user settlements. These two are much more turbulent with wide variances, while our most popular USDT (ERC-20) tends to be the more stable of the group. Even still, USDT (ERC-20) settlements fell 20.5% and ended the week with ~$1.1m.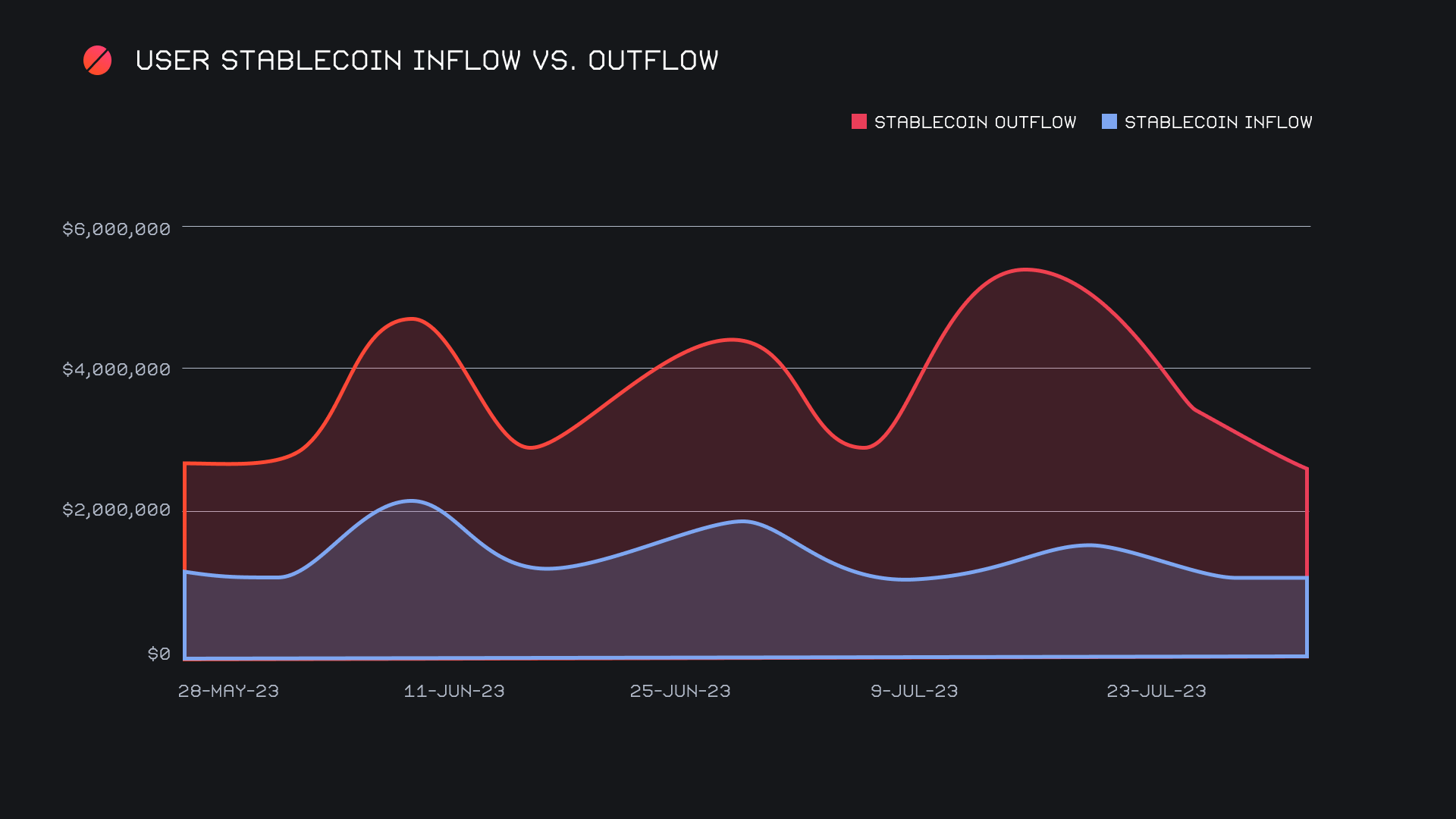 Alternate networks to ETH fell by a further 28.8% for a sum of $1.9m this week. Within this group, the Tron network once again prevailed as the dominant network with $831k as it sat ~68% higher than the second placed Binance Smart Chain (BSC) network. The BSC network was actually one of the only networks to see weekly gains as it increased 16.7% for $495k. A steady but gradual rise in the price of BNB is likely what led to more BNB shifting to unfold, as we noted a rise in both deposits and settlements. The SOL network finished in third place, with $225k (-10.4%). Ultimately, a downwards stair stepping pattern (notable in the chart below) has now resulted in the sum for alternate networks dipping below the $2m mark for the first time in four months.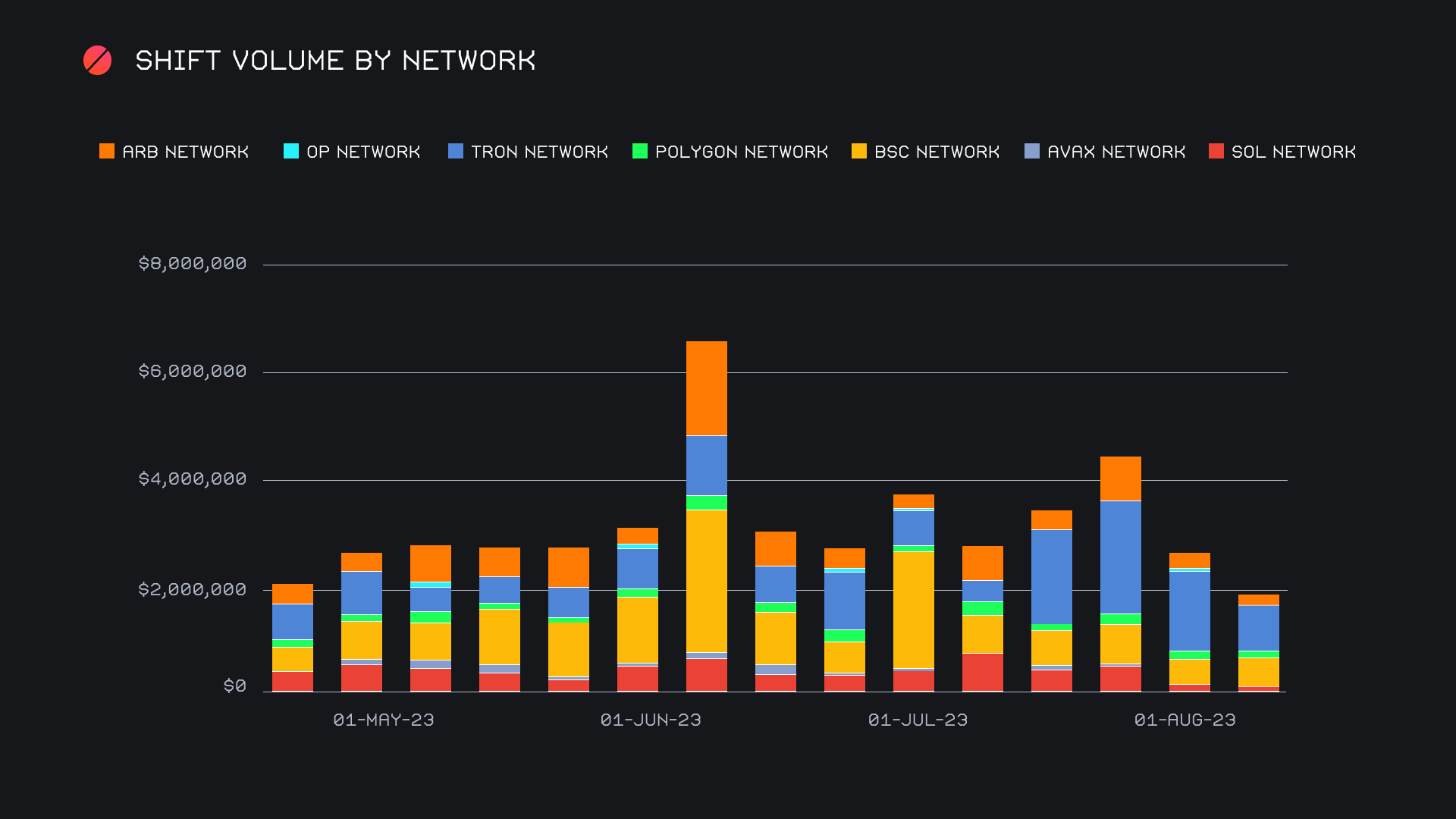 In listing news, SideShift added support for Worldcoin (WLD) on the Ethereum Network. Try shifting to WLD now from any coin of your choice.

Affiliate News


Our top 10 affiliates once again had an outstanding week when compared to overall volume. Together, they combined for $2.2m (-2.1%) with a total shift count of 2,240 (+7.6%). This is now another consecutive week outlining the unfazed behavior exhibited by our integrations despite a quiet backdrop. Our top affiliate once again remained unchanged, and accounted for 20.2% of our total weekly volume. The second placed affiliate however has emerged out of the dark in the past month, climbing to heights never before achieved. It represented 9.8% of the week's volume.

Overall, the top 10 accounted for an astonishing 42% of our weekly volume and 41% of our weekly count.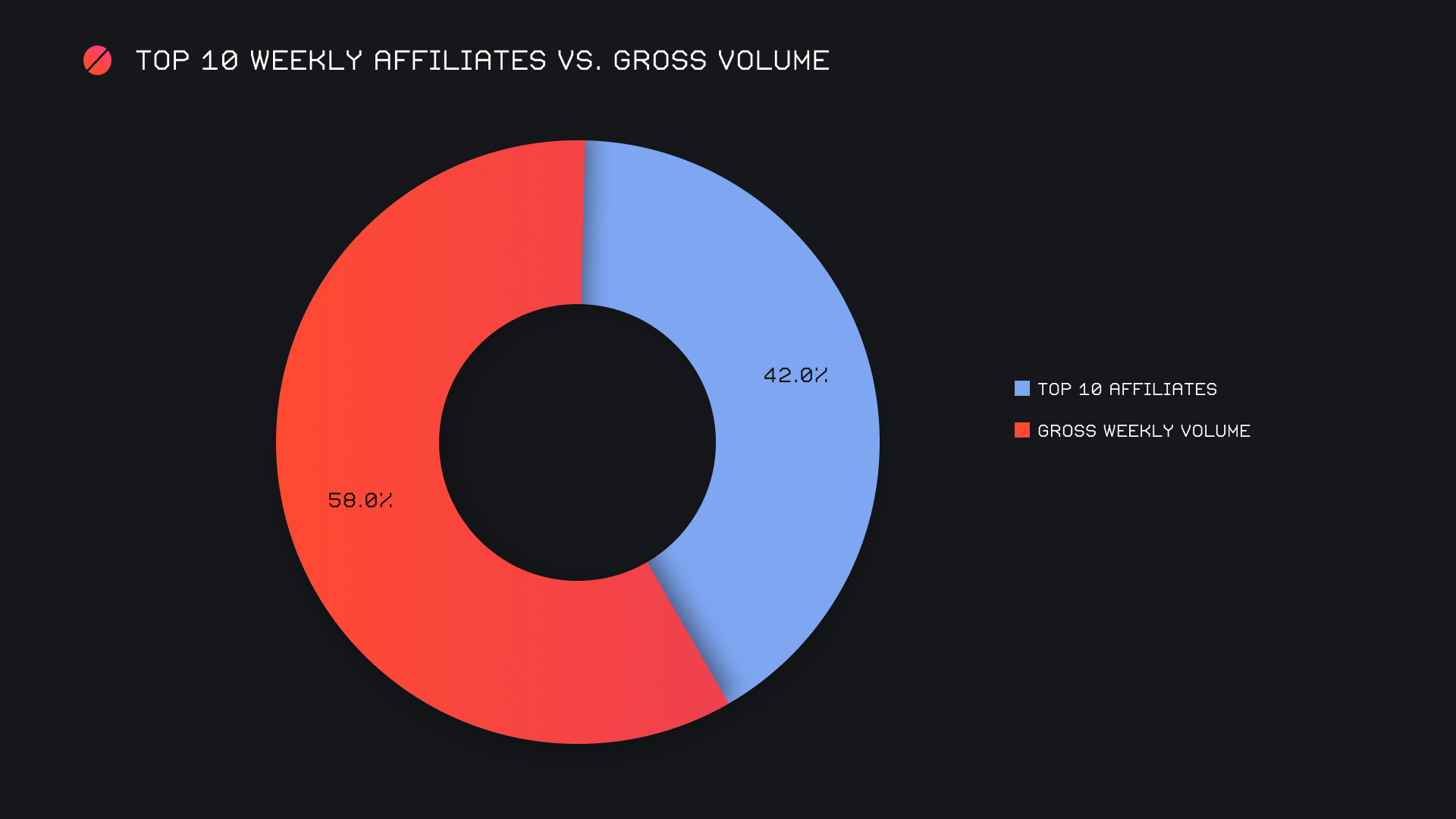 That's all for now. Thanks for reading, happy shifting and we'll see you next time.