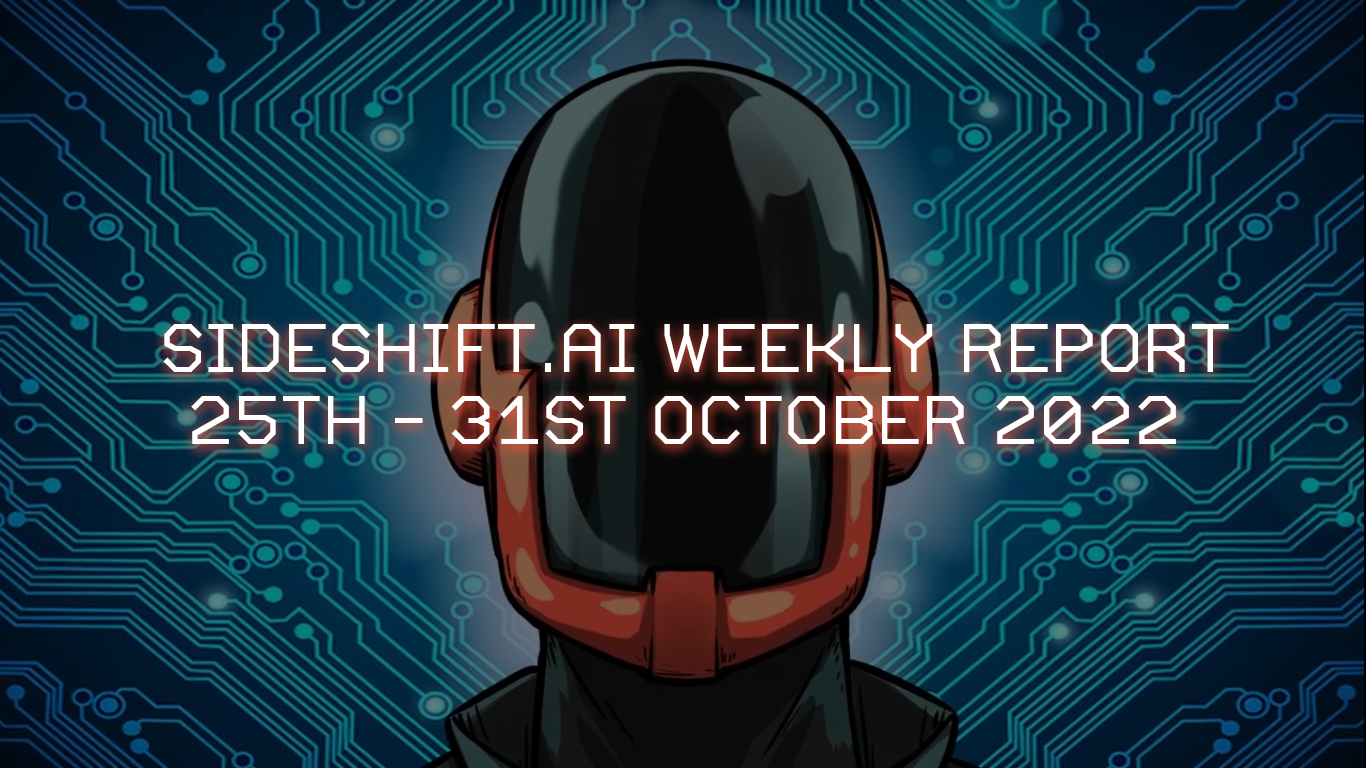 01 November, 2022
SideShift.ai Weekly Report | 25th - 31st October 2022
Welcome to the twenty-sixth edition of the weekly stats report - your one-stop shop for all things SideShift.ai.

XAI Token Market Update

Throughout the week the price of the SideShift token (XAI) moved within the 7 day range of $0.1254 / $0.1453, inching slightly higher than levels noted in the previous report. At the time of writing the price is sitting at $0.1416, with a current market cap of $13,635,606.

SideShift had a steady week with solid volume carrying on through the weekend. This produced an average APY of 27.28%, which is almost exactly on par with our all time average (currently 27.1%). A weekly rewards high of 37,902.46 XAI was deposited to our staking vault on October 27th, 2022, following a daily volume of $1.15m.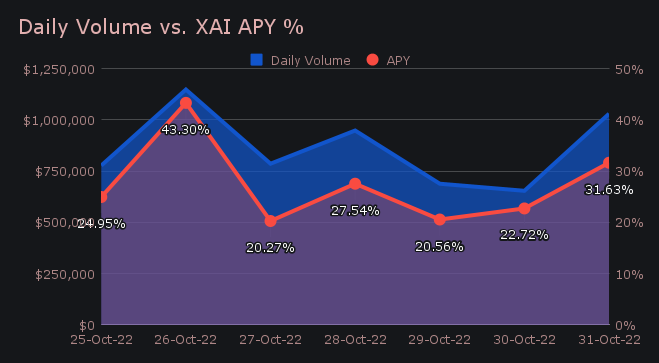 Additional XAI updates:

Total Value Staked: 38,630,386 XAI
Total Value Locked: $5,469,355

General Business News:

This week saw the overall market pop, following multiple months of consolidation. The market momentum was reflected on SideShift, as we recorded the second highest weekly volume observed in the past 4 months. SideShift finished the week netting $6.03m (+33.95%) - in BTC terms, this amounted to 296.7 BTC (+27.3%).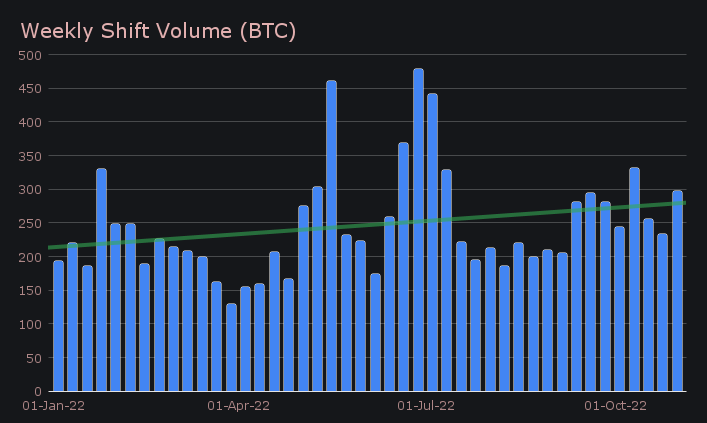 Alongside this volume spike was a total shift count of 7,448 (+14.8%). This was the highest recorded weekly shift count to date, and integrations played a big role in this achievement. Volume and shift count combined to result in daily averages of $862k on 1,064 shifts for the period.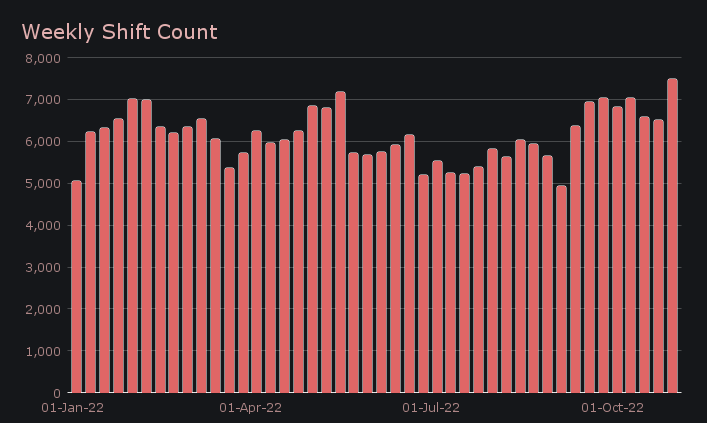 Total BTC volume really took a leap, increasing 52.1% ($3.29m) when measuring combined deposits and settlements. This was largely driven by the deposit side, which totalled $1.90m, over twice as high as second placed XMR. Still, XMR deposits had a solid week, growing by 38.4% to net $872k. In third was ETH with $815k (+5.7%). These 3 coins along with USDT (ERC-20) have come to be the definitive top 4 for the better part of the year, dwarfing the volume produced by other coins.

It is interesting that BTC deposits were so much higher than settlements, despite the positive move in BTC price. BTC represented nearly ⅓ of total deposits with 47% of this total settling to USDT (ERC-20). In fact, the BTC/USDT (ERC-20) pair reigned supreme as the most popular, now for the 9th consecutive week. It tallied $887k in shift volume, which was more than double the next closest pair (ETH/BTC with $407k). Perhaps this is indicative of ongoing bearish sentiment from users, and tells us that we aren't out of the woods quite yet.

On the settlement side, volume concentration among our top 3 coins was also high. All top 3 coins finished with settle volume exceeding $1m, and had gains of >35% when compared to the past week. It's no surprise that BTC finished in first place with $1.36m in settlements. USDT (ERC-20) grew by 42.8% to net $1.61m, and ETH placed third with $1.05m.

Aside from USDT (ERC-20), several other stablecoins saw substantial percentage increases in weekly settlements. Examples include USDC (ERC-20) (+178%, $292k) and BUSD (BEP-20) (+346%, $109k). In fact, all but two stablecoin options saw positive week-on-week settlement growth. They combined to account for 32.5% of total weekly settlements, a 2.4% rise from the previous week. This is yet another statistic which has hit the highest level seen in recent months.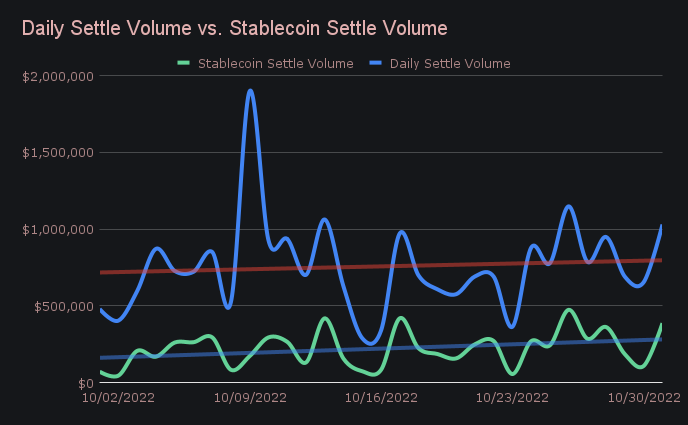 Settlement volume on SideShift for coins outside of the top 10 continues to hover around 10%, a level that it has stayed at for most of the year. Despite little movement, it is still good to see the occasional boom in "less popular" coins. To list a couple, the total volume of ADA increased by 717% to net $108k. Next, following Elon's acquisition of Twitter and the massive DOGE rally, DOGE volume on SideShift grew by 716% and summed to $151k.

In general news, SideShift had a busy week with some exciting developments in the works. We continue to build and grow - remember that you can check out current job postings at sideshift.ai/jobs.

Aside from our usual tasks, we had a few minor issues arise, the biggest of which was a backup of shifts that occurred on Saturday evening, and resulted in sent deposits going undetected on our end. Our engineers were quick to respond, and all stuck shifts were resolved within a couple of hours. On a separate note, we have had a few ATOM and FTM deposits go undetected for different reasons - we have since disabled these as shift options while our team continues to investigate the underlying issue.

Integration News
Integrations on SideShift had another stellar showing, representing 42.8% (+1.8% from last week) of weekly volume and 42.7% (+1.2%) of weekly shift count. In dollar terms, integrations combined to net $2.58m, a 39.5% increase from last week's sum of $1.85m.
That's all for now. Thanks for reading, happy shifting and we'll see you next time.