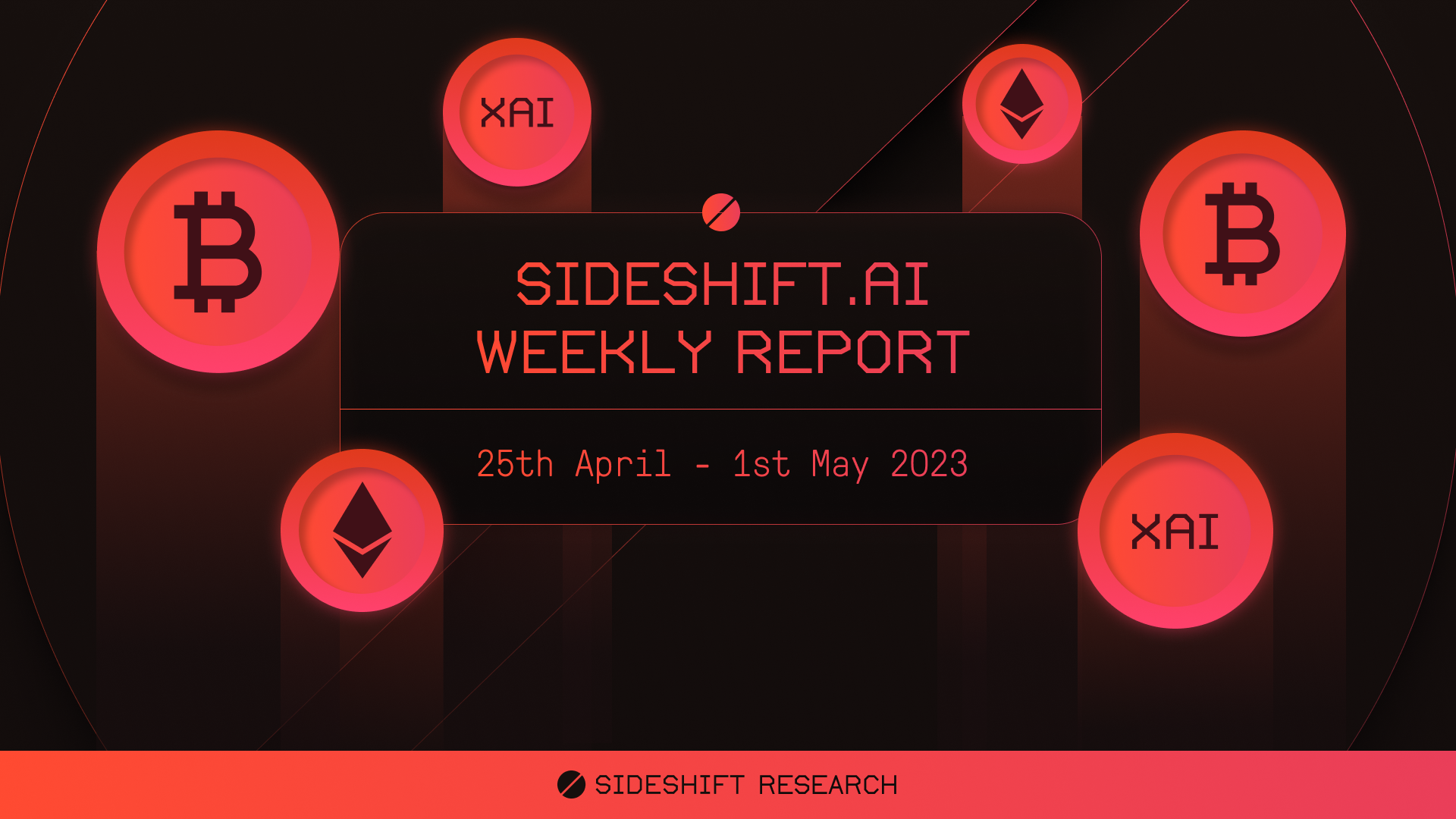 02 May, 2023
SideShift.ai Weekly Report | 25th April - 1st May 2023
Welcome to the fifty-second edition of the weekly stats report - your one-stop shop for all things SideShift.ai.

XAI Token Market Update

This week SideShift token (XAI) moved within the fairly narrow 7 day range of $0.1211 / $0.1293. At the time of writing, the price of XAI is sitting at a price of $0.1227, and has a circulating supply market cap of $15,480,676 (+5.6%) as denoted on our Dune Dashboard.

XAI stakers were rewarded with an average APY of 14.08% this week, with a daily rewards high of 55,897.53 XAI (an APY of 23.8%) being distributed directly to our staking vault on April 29th, 2023. This was following a daily volume of $2.2m. As a whole, this week XAI stakers received 241,200.92 XAI, or $29,536.97 USD in staking rewards.

The price of 1 svXAI is now equal to 1.1841 XAI, representing an 18.41% accrual on stakers investments. A reminder that the easiest way to stake is to shift directly to svXAI from any coin of your choice.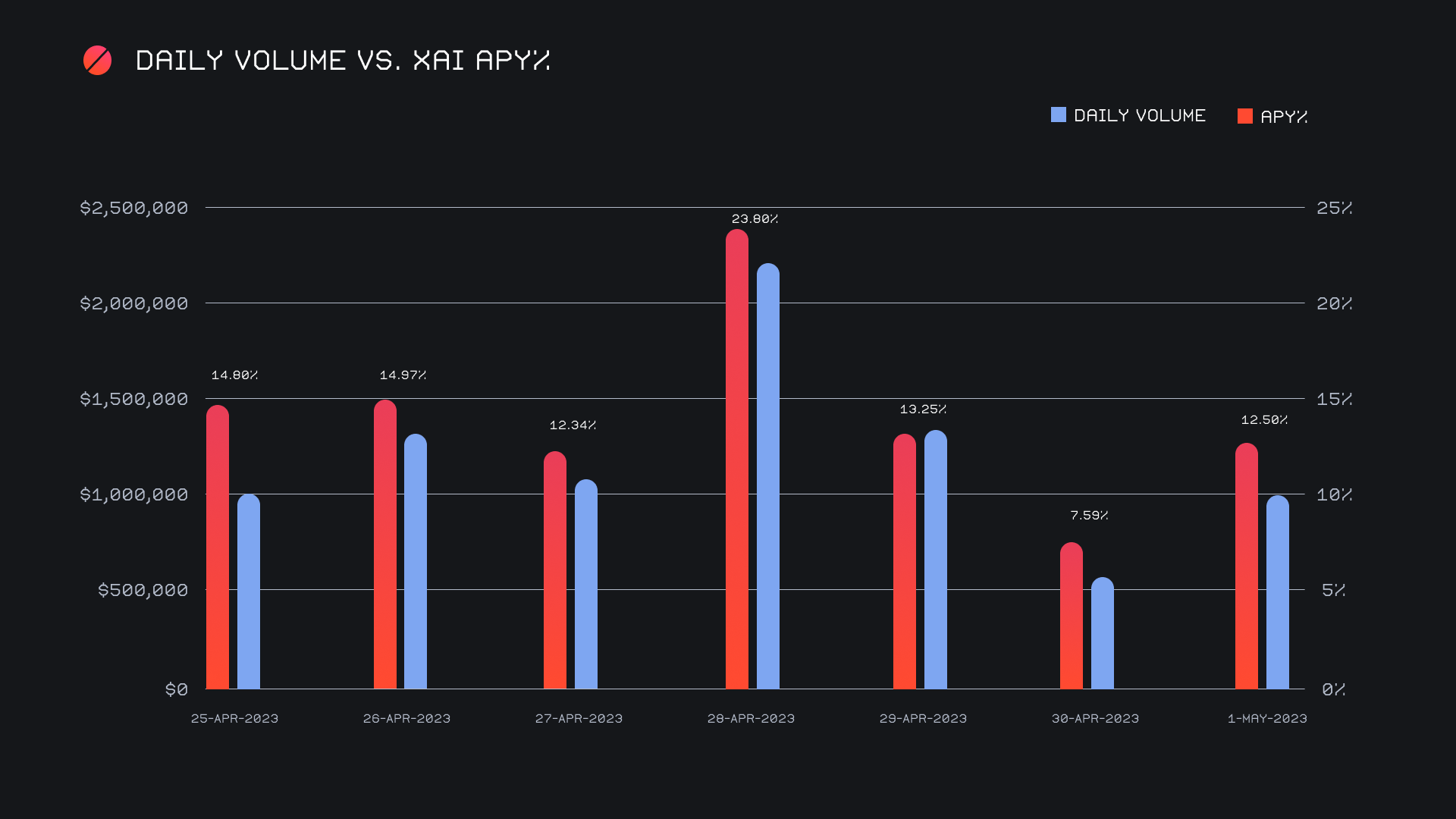 Additional XAI updates:

Total Value Staked: 95,749,507 XAI (+1.3%)
Total Value Locked: $11,765,699 (+2.1%)

General Business News:

This past week was an interesting one in the broader crypto world with BTC attempting to retest the $30k resistance mark, and PEPE absolutely exploding onto the scene, leading the narrative for all memecoins.

SideShift had a solid week with steady shifting taking place and generated $8.5m (-3.8%) alongside a record setting shift count of 8,722. Although volume was quite consistent with levels seen in recent weeks, it was very encouraging to see shift count so strong. These figures combined to produce daily averages of $1.2m on 1,246 shifts.

Because BTC spent most of the week lingering around the $29k (a price point higher than that of last week) our weekly volume as denoted in BTC fell by a larger amount than its USD denomination. The period finished with a net volume of 294.94 BTC, 5.6% lower than last week's sum.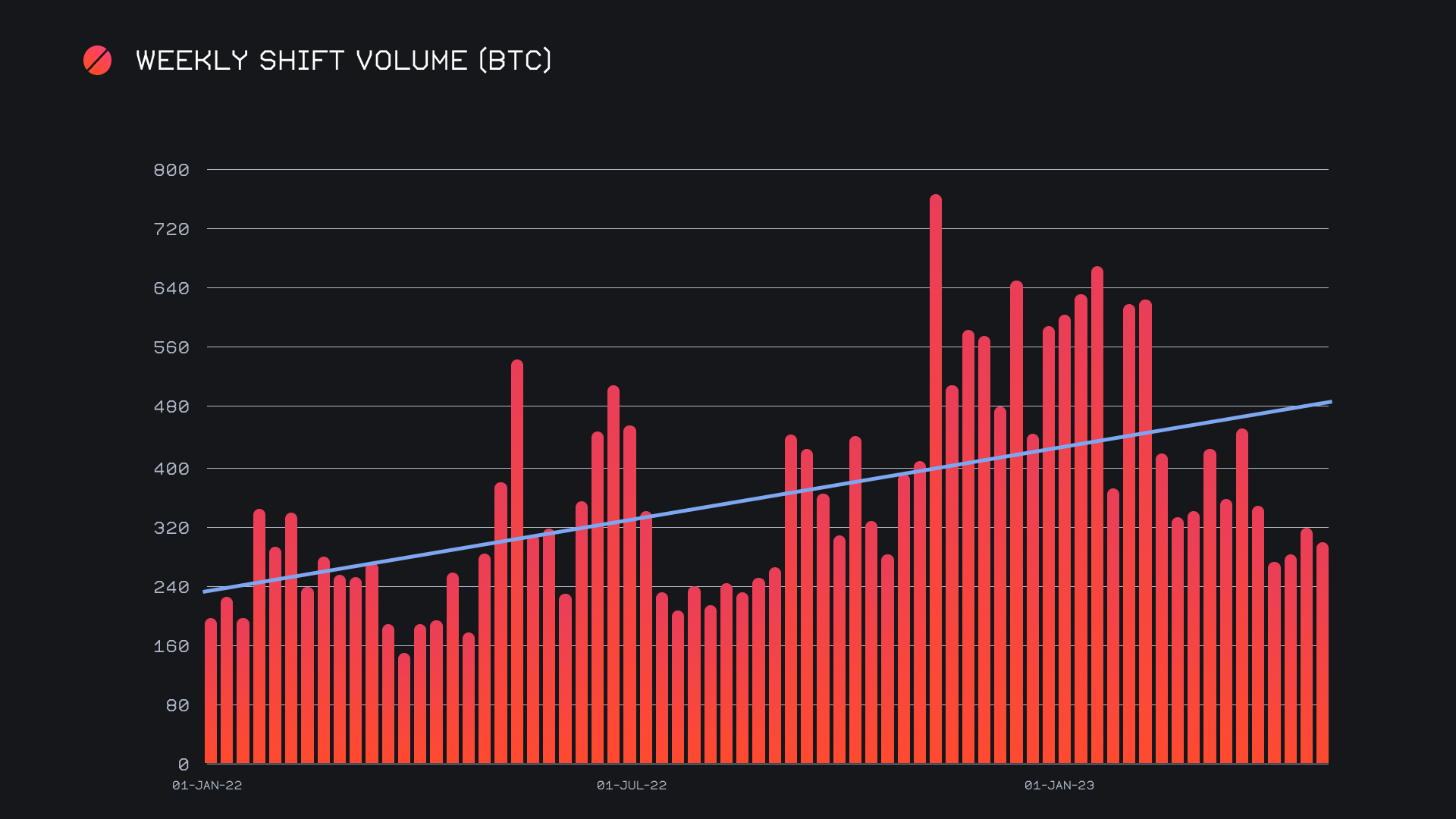 A look at the dispersion of coins shows us that although the influx of deposited coins was quite varied this week, the majority of these deposits flowed into BTC and USDT (ERC-20). Although it is not uncommon at all for these two coins to sit atop the settle coin rankings, this week they did so in a dominant fashion. BTC settlements from users jumped 29.7% for a total of $1.8m. Although second placed USDT on Ethereum fell by 9.2% from last week, it still had $1.5m in user settlements, 82% higher than that of third placed ETH ($849k). A broader look at our top 4 settlement coins shows a decent uptick in gross volume of both BTC and USDT (ERC-20), after hitting what looks like a local low at the beginning of April. These two coins, along with ETH and XMR, almost always make up the top 4 coins, although it is indeed interesting to note the concentrations of each over time.

While BTC settlement volume increased this week, we saw the opposite for deposits, which decreased by a significant 33.9% to scrape in just over $1.0m in user volume. An evident sign of users choosing to play it safe, we saw other less popular coins with noteworthy increases in deposit volume. This included Shiba Inu on the Ethereum network with  $77k of deposits, a whopping 3150% increase, along with XRP with $131k (+36.2%), BCH with $72k (+44.4%), and DOGE with $42k (+168.7%). Overall, coins outside of the top 10 represented 15.4% of our total deposit volume, compared to last week's 9.8%.

One key contributor to the prevalence of BTC and USDT (ERC-20) settlements was the huge inflow of ALGO we saw. In the span of just 2 weeks, the weekly deposit sum for ALGO roared from an unnoticeable $2.1k, to now $910k. A substantial 142% increase from last week, this was enough to firmly rank as the week's fourth most deposited coin.

Not only did ALGO manage to emerge among our top coins, but it also was the unlikely source of the new top coin pair. With $636k, ALGO/USDT (ERC-20) was the pair which finally managed to outdo the BTC/USDT(ERC-20) pair ($543k), which has consecutively held the title since the end of February 2023. What's interesting about the volume from this pair is that it doesn't appear to have come from a handful of large shifts, but rather many smaller sized ones (<$1,000) occurring constantly throughout the week. For some reference, the shift count ratio for ALGO/USDT(ERC-20) to BTC/USDT (ERC-20) was nearly 8:1 (1,301 vs. 168). Regardless of the reasoning, it is great to see a coin surge on SideShift which has remained dormant for so long.

Although USDT on Ethereum saw a decent amount of settle volume thanks to the popularity of the aforementioned pairs, the net outflow of stablecoins actually decreased by ~$803k. The dip in the market last week clearly sent people flocking to the safety of stablecoins, but it appears that this week users prefer BTC. A net outflow of $555k was led almost entirely by USDT on Ethereum, as the majority of other stablecoins actually experienced more deposits than settlements. In the chart below you can observe the outflow line dipping back down to narrow the gap, following a divergence last week.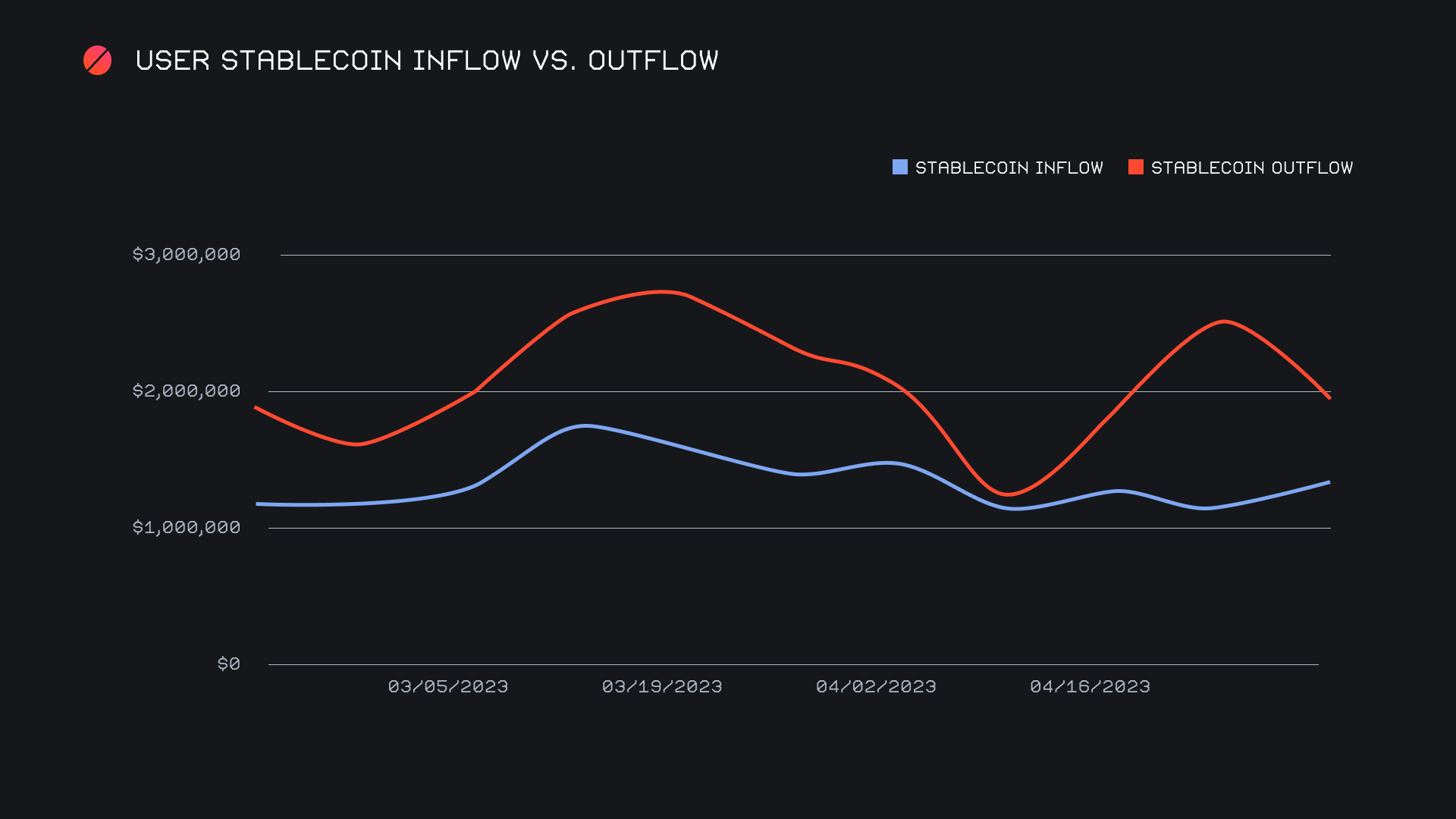 A quick look at alternate networks to Ethereum shows a strong rebound of 32.7% for a net sum of $2.4m. The Tron network led the way here and accounted for ⅓ of this total with $799k. This was mostly due to a spike in USDT (tron) deposits, which grew 121.6% for $354k. Despite an impressive 86% jump on BSC ($539k) and 29% on SOL ($604k), this activity on Tron was enough for it to remain in its position as the most shifted network aside from Ethereum.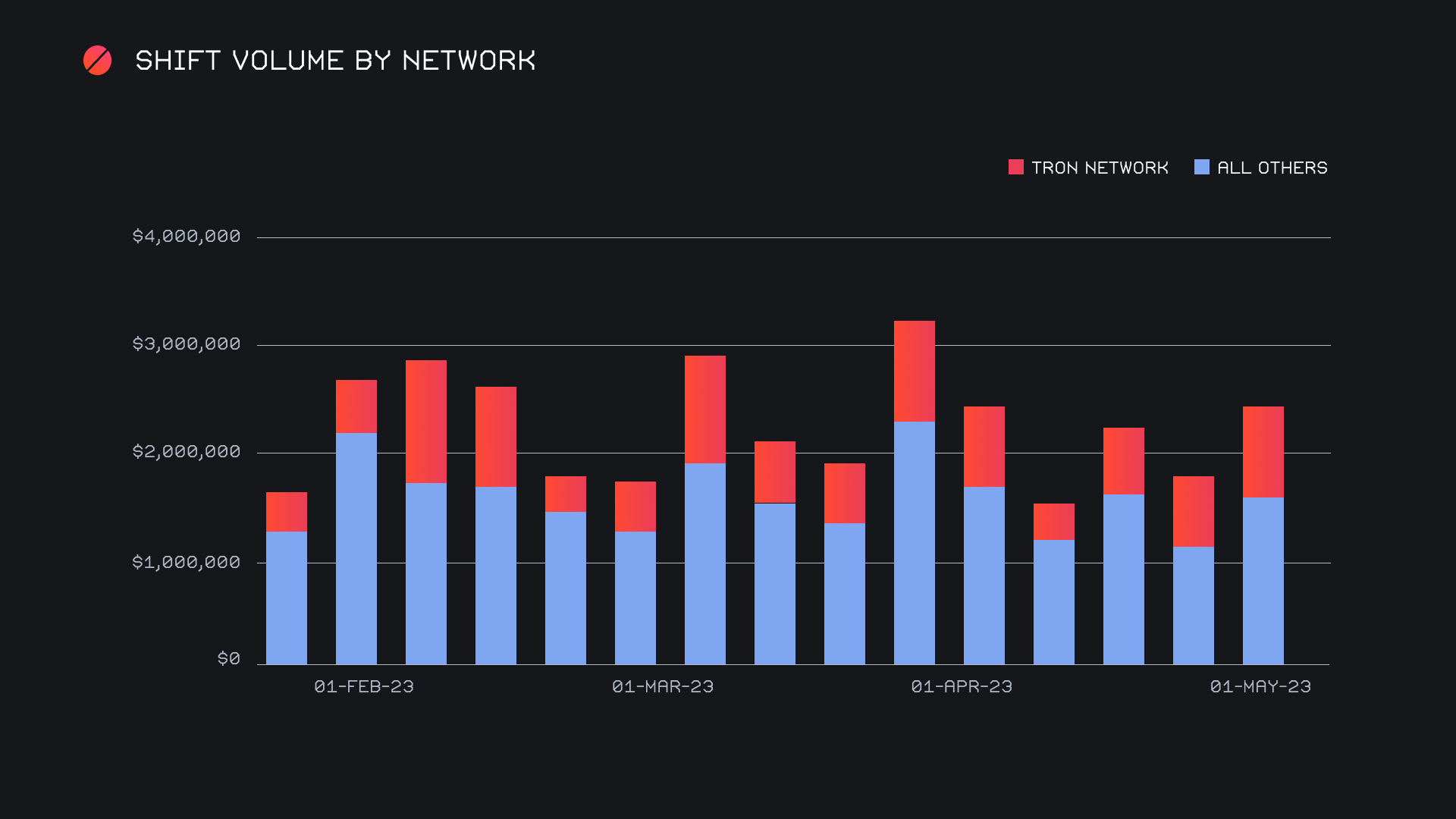 Affiliate News

The top 10 affiliates had a peculiar week, with volume decline by 25.8% for $1.4m, but count increasing 8% for a total 1,880 shifts. This sum represented 21.6% of our total weekly shift count, and played a major factor in achieving the record breaking shift count total. Our top affiliate slowed down, following a stellar performance last week. It accounted for 8.3% of our weekly volume, and 11.8% of shift count.

All together, the top 10 represented 16.2% of shift volume this week, 4.8% lower than last week's proportion.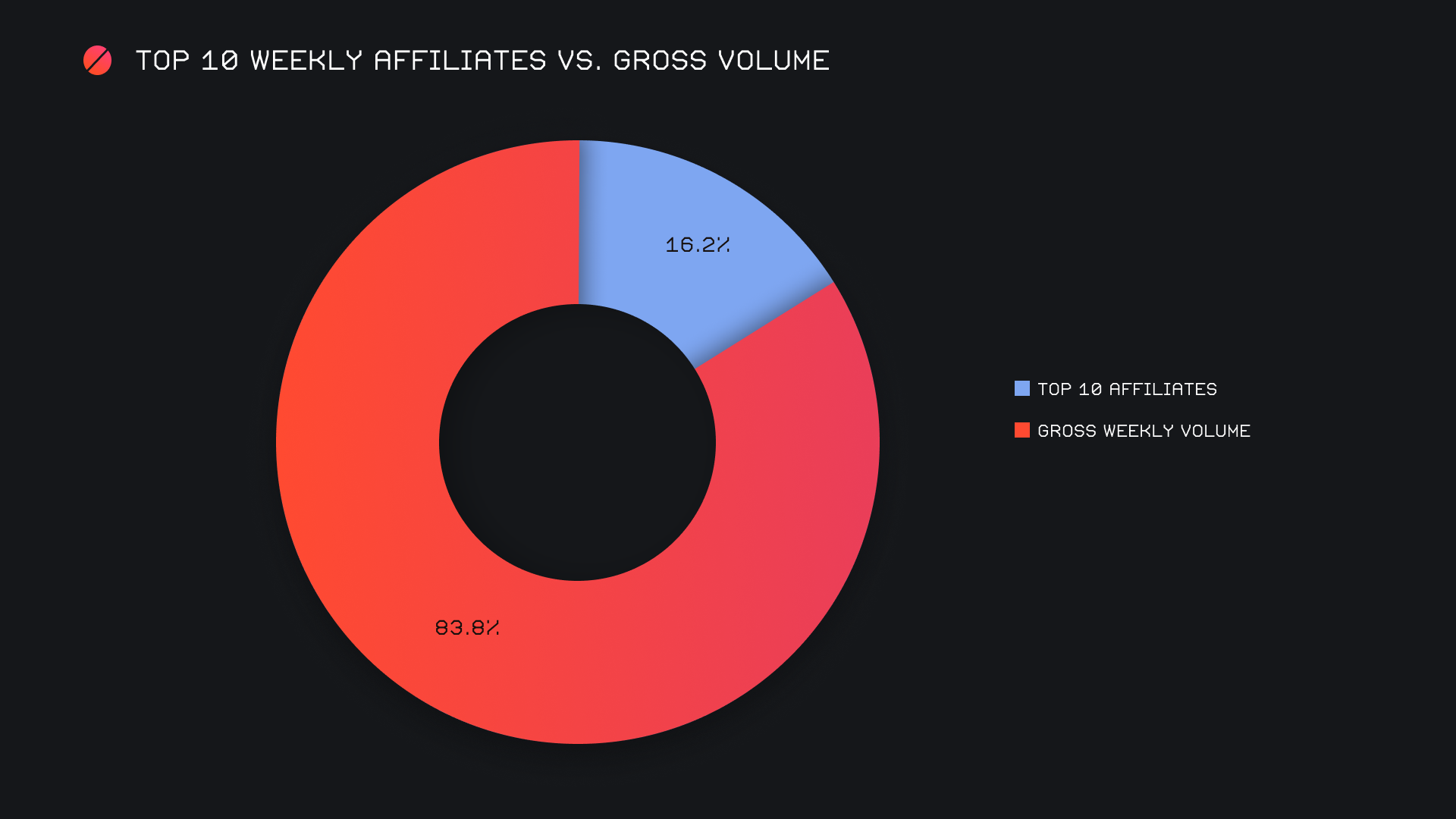 That's all for now. Thanks for reading, happy shifting and we'll see you next time.