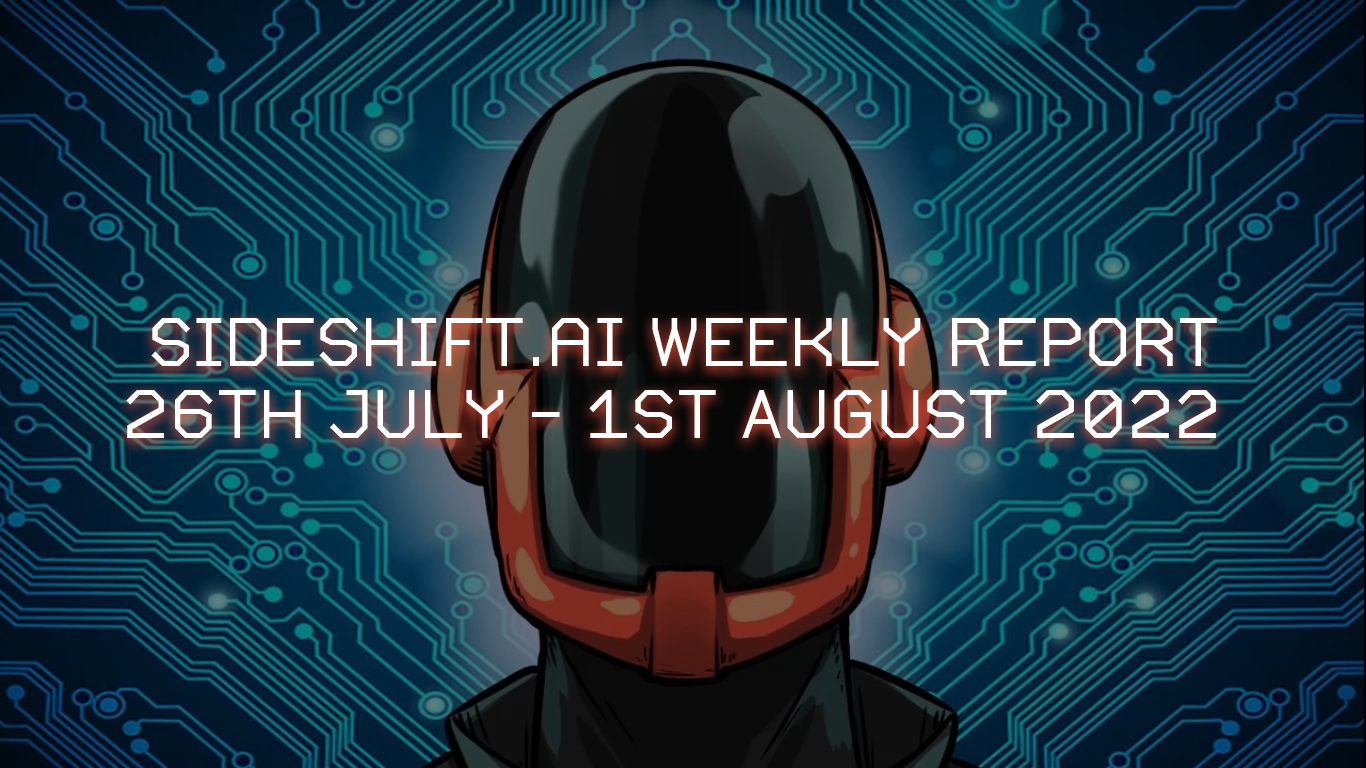 02 August, 2022
SideShift.ai Weekly Report | 26th July - 1st August 2022
Welcome to the thirteenth edition of the weekly stats report - your one-stop shop for all things SideShift.ai.

XAI Token Market Update

This week SideShift token (XAI) bounced within a range of $0.118592 / $0.168473. A quick dip to the weekly low was due to SideShift inadvertently selling XAI on Balancer, in addition to sending XAI to the on-chain staking vault on behalf of our users. This bug was subsequently resolved, and XAI was repurchased back on the market. At the time of writing, the price of XAI is $0.151486, and a current market cap of $7,282,372 positions XAI in place #998.

The staking dashboard is continually being updated. Users can now easily view their investment yield directly on their account page. Auto-staking was also reintroduced this past week, with a slight modification from how it used to function. Now, once a user ticks the "auto-stake" box, our system will begin to count any commission earned or any XAI deposited to your balance held at SideShift. Once this count reaches 1,000 XAI, a shift to svXAI will automatically take place and SideShift will send the XAI to the on-chain staking vault on the user's behalf. Network fees are covered by SideShift for auto staking. Users can now also shift directly to svXAI from any other coin listed on SideShift.ai, which increases optionality, simplifies the staking process, and reduces fees for the user.

Overall XAI momentum carried into this week as XAI continued to move on chain. This volume once again was mainly from the deposits side, which resulted in XAI finishing 5th among deposit coins with a total of $238k. XAI ranked 7th ($299k) among our most popular coins when measuring total volume (settlements & deposits).

For our stakers, daily APY averaged 22.04% this week, with a daily rewards high of 26,439.56 XAI (32.03%) being deposited to our staking vault on July 29th.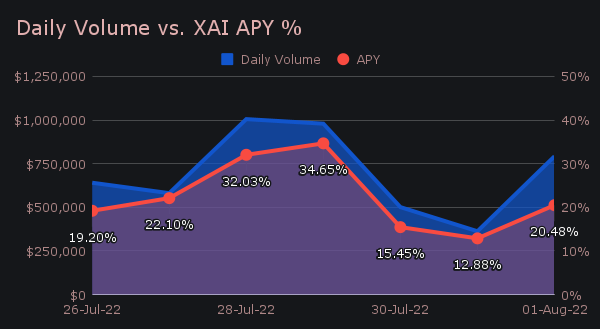 Additional XAI updates:

Total Value Staked: 35,944,496 XAI
Total Value Locked: $5,323,699

General Business News:

Over the course of the week, SideShift experienced $4.86m in weekly volume, with daily averages of ~$695k on 829 shifts. A ~9.5% volume increase from last week was accompanied by 7.6% more shifts overall, as our shift count has now climbed in back to back weeks. The general market remains quite calm, but there has been interesting discussions around the ETH2 merge. This is possibly a contributing reason as to why ETH settlements grew by 57% this week, as ETH finished second in both settle and overall volume.

The trend in recent weeks seemed to mainly be that our top coins were shrinking in overall volume percentage - this week however saw a slight reversal. BTC remained our most shifted coin, netting ~$2.7m in overall volume (deposits & settlements), which amounted to a 9% increase from last week. This pattern was also noted in our other top coins, as ETH finished in second place with $1.82m (+29%), and XMR in third with $1.24m (+33%). As a whole, our top 3 deposit coins represented 63% of total weekly deposits, a 6% increase from last week.

Since February 2022, BTC has finished every period as SideShift's most deposited coin - this week was no exception. Last week it appeared that people were stacking sats as the market lulled along. However, along with the minor relief rally came an influx of BTC, as BTC deposits grew by 32% ($1.43m net). It appears that users displayed more interest in less established coins alongside the recent market bounce. ETH and XMR followed suit, with $871k and $777k in deposits. Conversely, popular stable coins USDC and USDT on the Ethereum network saw less deposit volume, with respective sums of $561k (-14%) and $172k (-32%).

The narrative on the settle side was quite similar. As a sum, our top 3 coins made a slight gain and represented ~58% of total settlements, up ~2.4% from last week. Our top 3 settle coins were BTC, ETH and USDT (ERC-20). BTC remained our top settle coin and finished with $1.28m, a ~9% drop from last week.

Also similar to the deposit side, USDC and USDT on the Ethereum network had less settle volume (-21% and -4%, respectively). This drop in BTC and USDT (ERC-20) tells us that ETH settlements were solely responsible for the increase in our top 3 settlement volume percentage.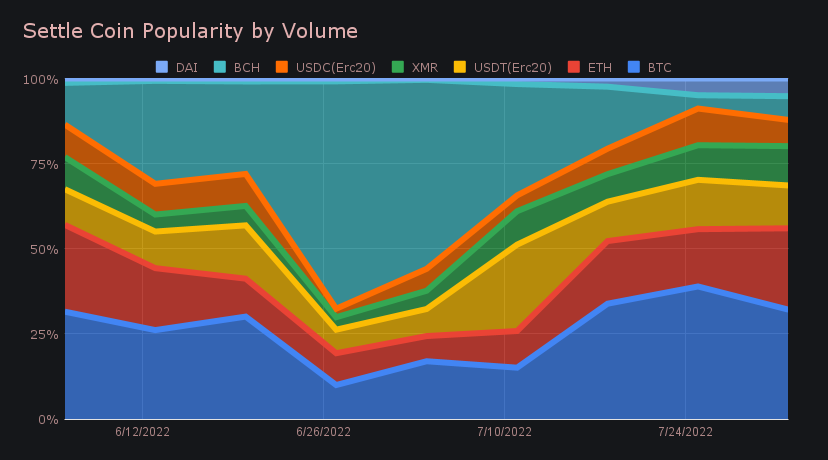 Our top pair of BTC/ETH was the primary contributor to the growth of ETH settlements observed this week, as 36% of the deposited BTC volume settled to ETH. As a whole, this pair represented 10.7% ($518k) of weekly volume and 6.1% (352 shifts) of weekly shift count. XMR/BTC was not far behind, finishing the week with $492k in shift volume.

Despite more of a focus on top coins this week, certain native coins and tokens on other EVM chains experienced more shifts. Solana had a total shift volume of $250k (27% higher than last week), while USDC on Solana finished the week with $96k (18% growth). Some further examples include Cardano (ADA) ($62k, +40%) and USDC on the Polygon network ($62k, +17%).

In general news, this week SideShift was happy to list the Graph (GRT), an indexing protocol for organizing blockchain data. The Graph is currently ranked 61st with a live market cap of ~$804m. SideShift remained stable throughout the week with no downtime. Tezos (XTZ) was disabled as we had some undetected deposits. This was a result of our processor being very far behind - it is in the process of catching up now. We also experienced some minor delays in ERC-20 settlements due to sudden spikes in gas fees, but all shifts were eventually settled within the hour.

Integration News

SideShift integrations had another solid week, representing 33.6% of weekly shift volume and 36.6% of weekly shift count.

Trezor climbed back to first place with a weekly volume of $715k (14.7% of total volume). Bitcoin.com was a close second with $671k (13.8%) and once again displayed a very steady shift count of 1,160 (20% of total count), as strength continued from last week. Shifts from Bitcoin.com were the primary reason why our overall weekly shift count for integrations was so high.

Cake Wallet made some big gains to seize third place. This was the first time since integrating that Cake Wallet has placed top 3, as it did so with $57k (1.2%) in weekly volume - nearly 9x higher than last week.

Affiliate becovi.com also enjoyed a volume jump after a slow period last week, totalling $35k. Other integrations were largely flat, with some minor fluctuations here and there.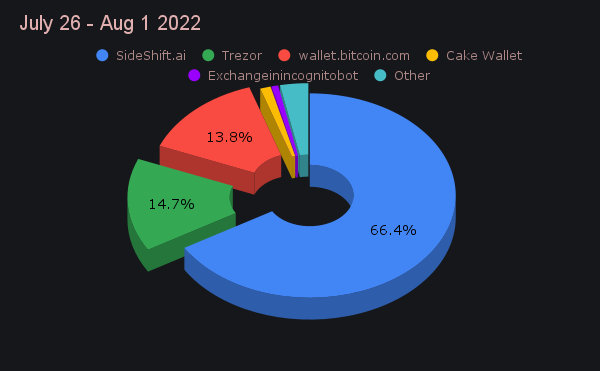 That's all for now. Thanks for reading, happy shifting and we'll see you next time.