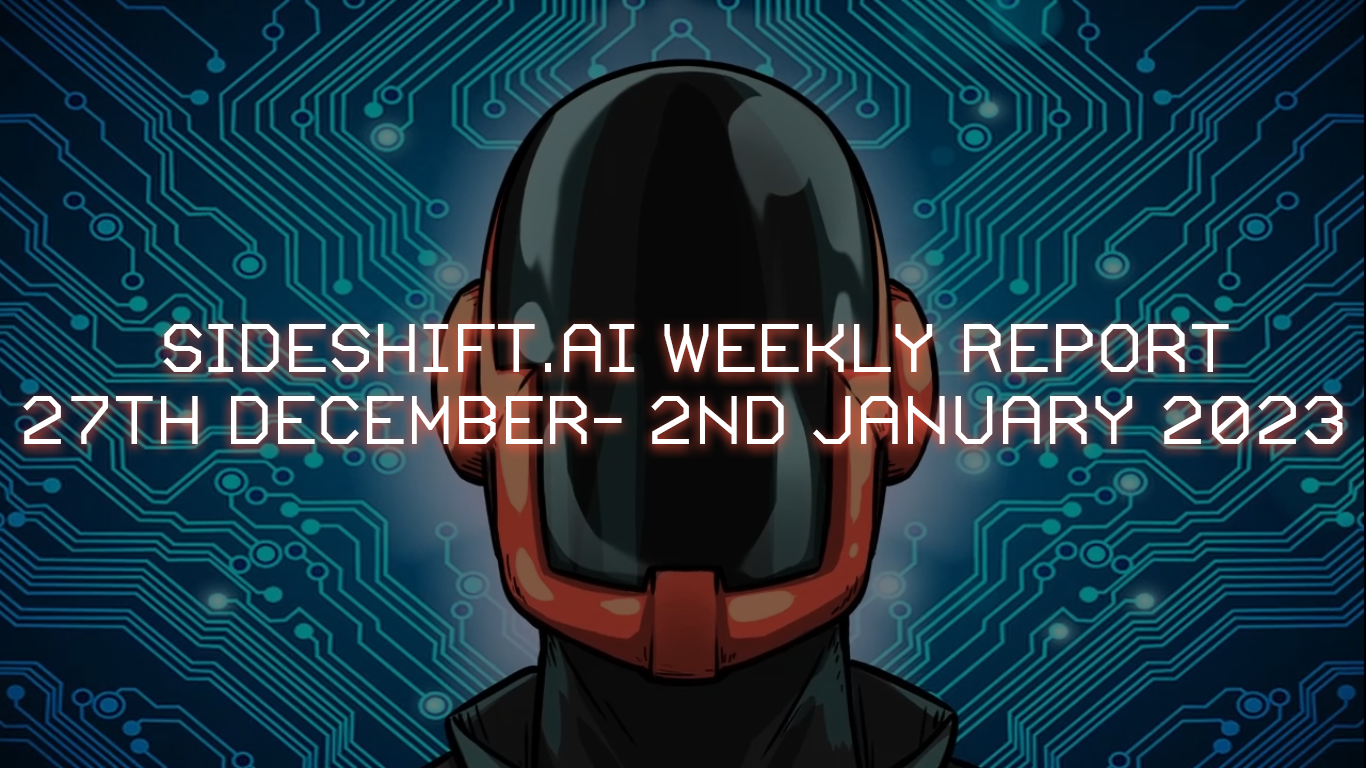 04 January, 2023
SideShift.ai Weekly Report | 27th December 2022 - 2nd January 2023
Welcome to the thirty-fifth edition of the weekly stats report - your one-stop shop for all things SideShift.ai.

XAI Token Market Update

This week SideShift token maintained its extremely steady behavior, moving within the 7 day range of $0.1102 / $0.1168. Now for back to back weeks, the price of XAI has not wavered from the $0.11 mark. At the time of writing, the price of XAI is sitting at $0.1143, and has a current circulating supply market cap of $10,965,701 (-1.78% from last week) as denoted here on our Dune Dashboard.

XAI stakers were rewarded with a solid average APY of 29.59% throughout the week, approximately 1.92% higher than our all-time average. A daily rewards high of 85,277.05 XAI (yielding a 60.29% return) was deposited to our staking vault on December 31st, 2022, following a healthy daily volume of $2.17m.

The value of svXAI continues to increase as XAI deposits accrue within our staking vault. 1 svXAI is now worth 1.1305 XAI, representing a 13.05% return on stakers investment. Be sure to learn more about XAI token and staking in our white paper, and try staking for yourself here.

On January 3rd, 2022, 50 ETH was added to SideShift's treasury, bringing the current value to $1.66m.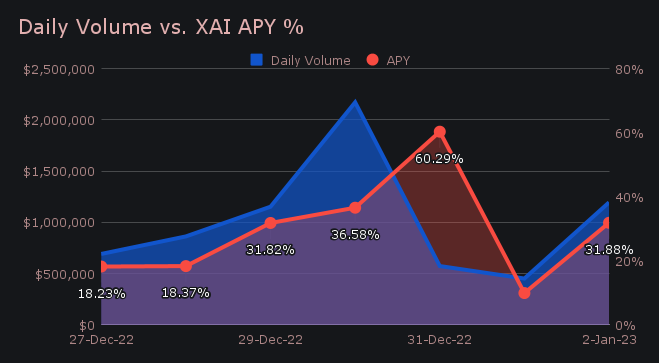 Additional XAI updates:

Total Value Staked: 66,127,723 XAI
Total Value Locked: $7,517,670

General Business News:

Along with the new year came a continuation of the ping pong trend pointed out in last week's report. Once again, a volume percentage change of 25% took place, but this time back on the upside. SideShift had a very solid week, with volume growing 27.5% to net $7.10m. Shift count also experienced growth, but to a far lesser extent, increasing just 2.34% to total 5,595 shifts. These figures combined to produce daily averages of $1.05m on 799 shifts. When denoted in BTC, this week's volume totalled to 427.43 BTC, representing a 29.23% increase from last week.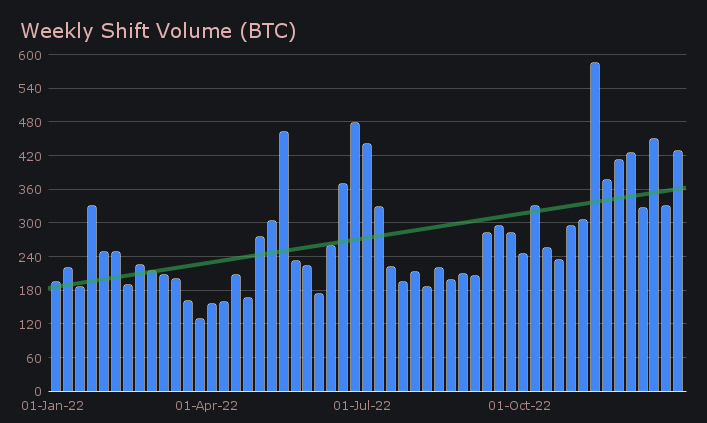 The most noticeable observation this week was the huge volume increase in both BTC and BCH shifts. Although half of our top 10 coins saw overall increases in shifting, these two did so with a bang. When measuring total volume (deposits + settlements) BTC and BCH saw respective increases of 77% and 424%, clearly defining themselves as our top-volume coins.

The driving force behind this was the return of the once dominant shift pair of BTC / BCH. It netted $2.46m for the week, representing a staggering 34.7% of weekly volume, one of the highest proportions ever recorded for a single pair. The average sizes of these shifts were substantial, with the pair accounting for just 4.6% of the weekly shift count. A majority 69% of the deposited BTC volume was shifted to BCH this week.

BTC retained its position atop the deposits list, this week being more than four times larger than the runner up. It ended with $3.60m in deposits, as it had a huge increase of 184.8% from last week. In fact, this was the highest BTC deposit volume since June 2022, and among the highest single coin deposit volumes of 2022 (a handful ranged in the $4-5m mark). In second place was ETH, which fell by 22.7% to total $860k. Finishing off the top 3 was XMR, as it witnessed deposits grow by 8.4% to net $646k.

On the settle side, first placed BCH had an even more dramatic change. An increase of 592.3% produced a net settle volume of $2.63m, which attained the title as the period's most demanded coin. This recent spike is made evident in the chart below. In second place was BTC, which fell by 15.5% and totalled $1.24m. ETH performed similarly, with settlements falling 24.7% and claiming third with $857k.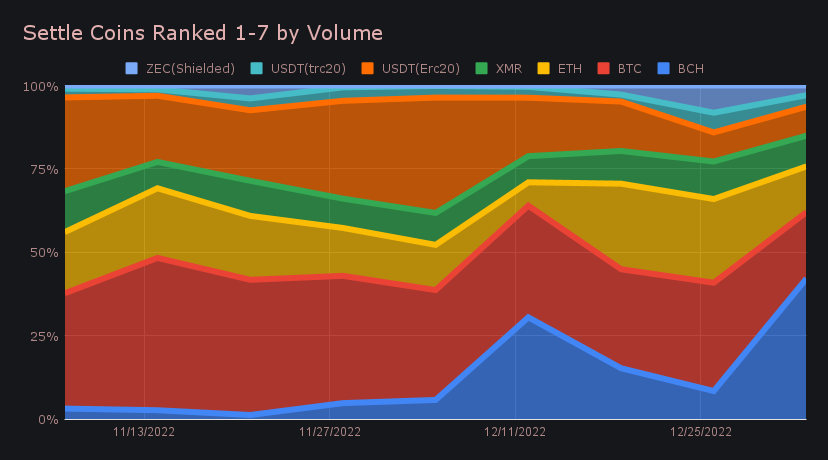 Interest in stablecoins continues to linger at a relatively low level, as combined stablecoin settle volume accounted for only 16.6% of this week's total. This percentage has now been on a steady decline for the better part of a month, as outlined in the chart below. You can note that the trendlines for daily settle volume as compared to stablecoin settle volume are now clearly pointed in opposite directions, which tells us that people are shifting, just much less so to stablecoins. Nevertheless, it should be noted that four of our top 10 settle coins were stablecoins. This means they are still seeing some demand, but are greatly outweighed by our top coins at the moment.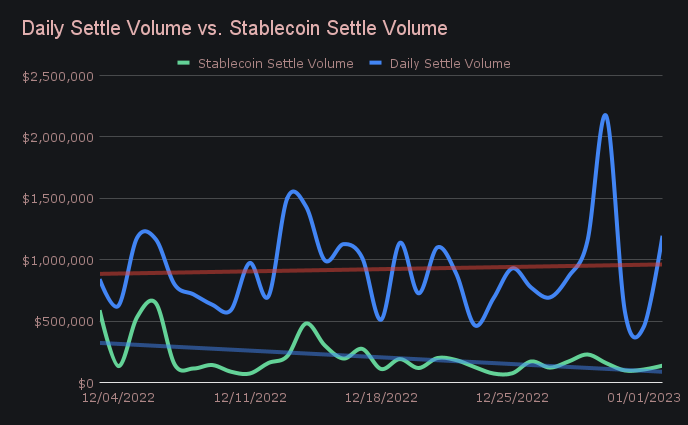 A brief look and comparison of volume on various networks tells us much of the same - shifting on Ethereum is preferred, while other chains have come to take a backseat in the minds of users. Following a mid November spike which saw these networks shoot over $2m in combined weekly volume, the sum is now back to its typical ~$1m benchmark. BSC continues to account for the highest relative proportion (ETH aside), with BUSD deposits being most popular within the network. Shifting on Tron is also plugging along, with USDT (TRC-20) settlements being the major contributor there. This points towards the idea that despite generally lower volumes, stablecoins seem to be the catalyst for shifts occurring on alternative networks. We will continue to expand our coin support, so watch out for more stablecoin offerings across new networks in the future.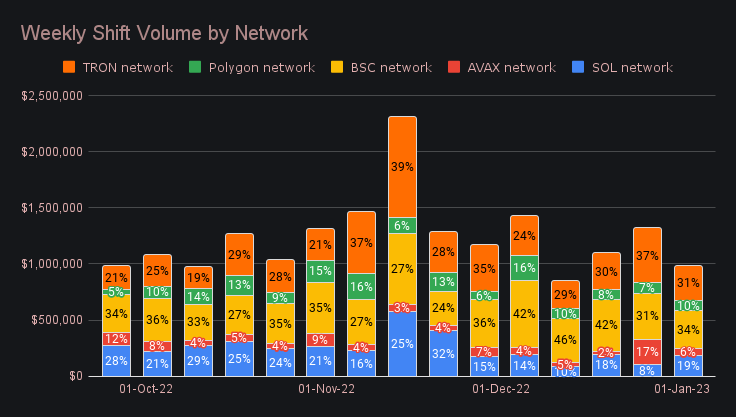 In listing news, SideShift added support for Toncoin (TON), the decentralized layer-1 blockchain developed in 2018 by the messaging platform, Telegram. A current market cap of $2.72b places TON in position #23 overall. Be sure to try shifting to TON for yourself here.

Overall, SideShift had a fantastic week, despite the recent lack of price action in the market. We encountered no downtime or major issues throughout the week, and shifts were processed smoothly. Our mentality for the coming year remains the same as it always has, sharply focused on innovation and growth.

Integration News

Volume from integrations continues to slow, as this week they combined to account for just 14.5% of the weekly total. When looking back to the beginning of 2022, this proportion marks a yearly low. This week integrations produced a combined sum of $1.03m, a figure which is slightly higher than last week's total, despite the proportion being lower. A combined shift count of 1,687 represented 30.2% of the total, a percentage which has been fairly common throughout the previous year.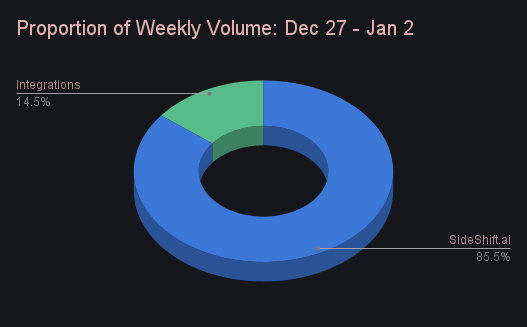 That's all for now. Thanks for reading, happy shifting and we'll see you next time.