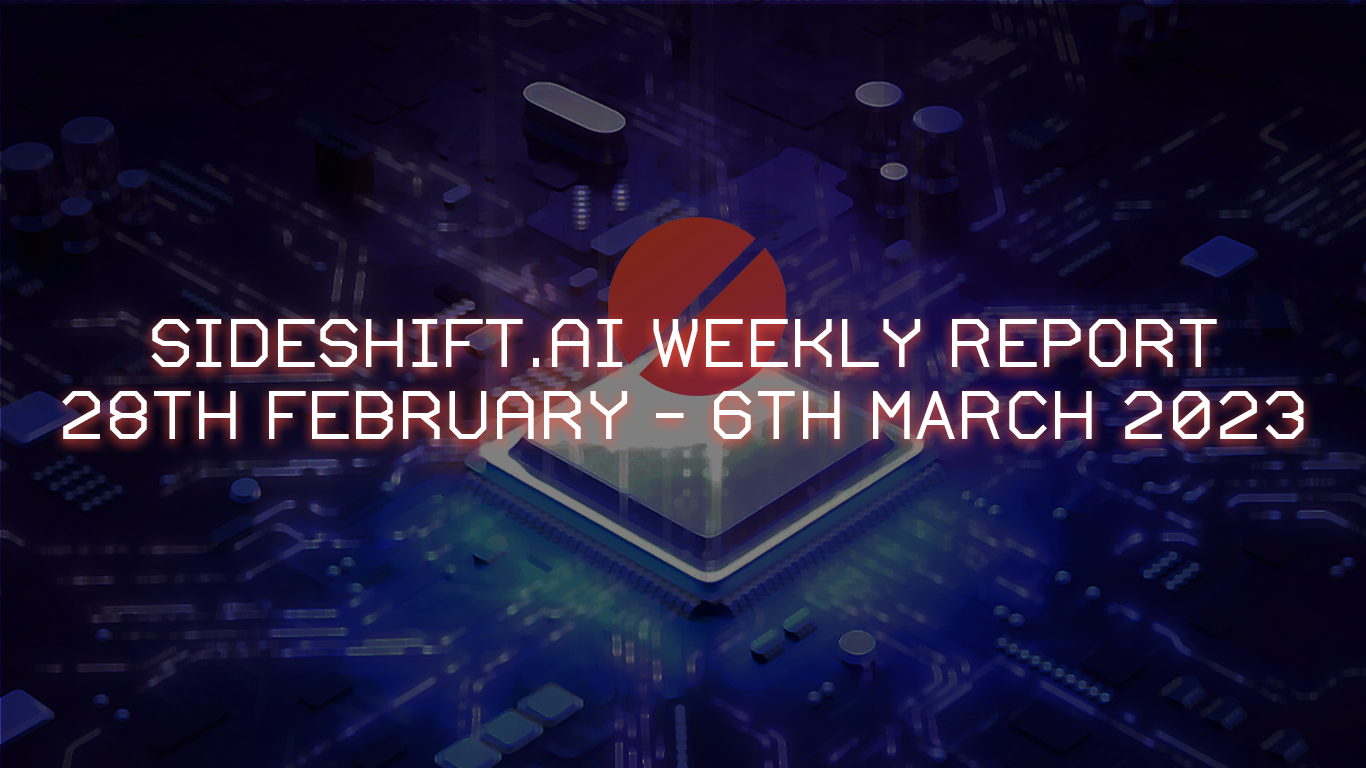 07 March, 2023
SideShift.ai Weekly Report | 28th February - 6th March 2023
Welcome to the forty-fourth edition of the weekly stats report - your one-stop shop for all things SideShift.ai.

XAI Token Market Update

SideShift token (XAI) spent the 7 day period in a range slightly higher than that noted in last week's report, moving between the bounds of $0.1441 / $0.1515. At the time of writing the price of XAI is sitting at $0.1496, and as denoted on our Dune Dashboard has a circulating supply market cap of $18,033,909 (+1.3%).

XAI stakers were rewarded with an average APY of 9.7% over the course of the week, with a daily rewards high of 28,886.84 XAI being distributed directly to our staking vault on March 1st, 2023. As a whole, this week stakers received a total of $22,737.49 USD, or 160,065.60 XAI.

The price of 1 svXAI is now equal to 1.1623 svXAI, representing a 16.23% return on stakers investments. The easiest way to stake XAI is to shift directly to svXAI from any coin of your choice.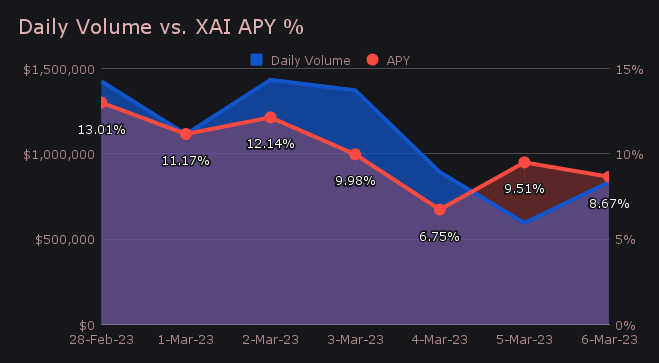 Additional XAI updates:

Total Value Staked: 86,411,608 XAI
Total Value Locked: $12,658,436

General Business News:

The crypto market overall was more volatile compared to the previous week, with a hard and sudden move causing a brief, but significant drop in prices on Friday, March 3rd. BTC fell over $1,000 within an hour, and ETH around $100 in the same timeframe. The days prior to the drop ended up marking the daily volume highs for SideShift for the week, with extremely flat behavior unfolding ever since.

This week saw a gross volume which was approximately 2.8% lower than last, as we rounded off the period with a total of $7.7m. However, due to the drop in BTC's price, you will see that our weekly volume actually rose 0.7% when denoted in BTC, to total 334.96 BTC. Despite a slight dip in USD volume, weekly shift count rose 15.1% to net 7,571. This jump in shift count can largely be accredited to a surge in small scale referral shifts. When combined, these figures produced daily averages of $1.1m on 1,082 shifts.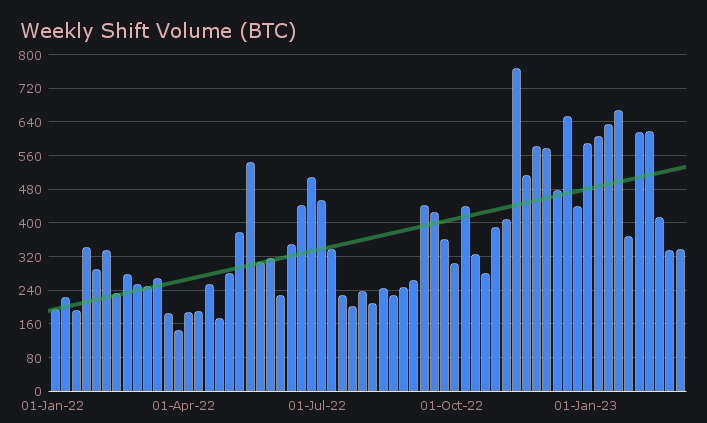 Shaking up our top performing coins, USDT on Ethereum has overtaken ETH native to claim second place in volume. Last week saw around $2m in overall volume for USDT, while this week had over $3.1m, a 52% increase. ETH on the other hand saw a decrease from over $2.5m previously, down to $2m this week.

Similarly, our top coin of BTC saw a total volume drop of 24%, falling from $4.6m to $3.5m (note the continued weekly decrease below). The general decrease in shift volume among our top coins seems to have flowed to EVM chains, with several chains showing double digit increases this week.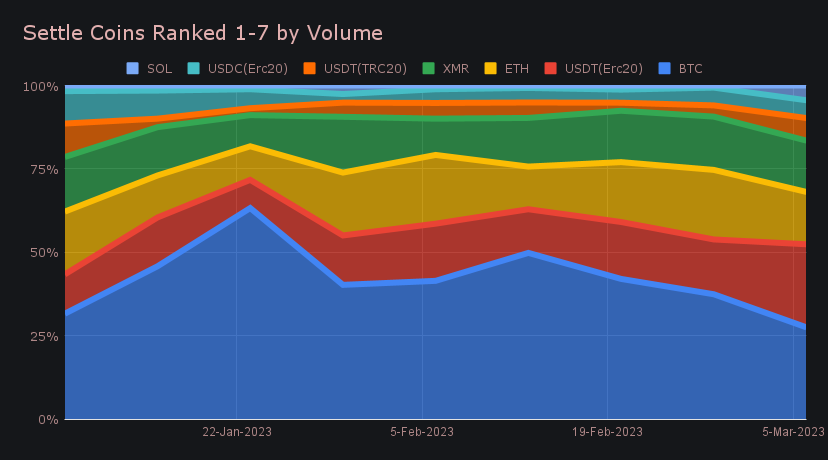 Most notable was a strong showing from coins on the Solana network, with not only USDC on SOL seeing a large increase, but SOL itself as well. SOL posted $514k in weekly volume, a massive 500% increase from the week before. This brought the Solana network to rank as the second most popular chain (Ethereum aside), and overtook Binance Smart Chain, which had a similar volume of $503k, but a far more moderate percentage change (+37%). The Tron network still remains the most popular chain other than Ethereum, well ahead of the others. Shifts on Tron this week generated $983k, an impressive 110% increase. Still, it should be noted that this volume on Tron is almost entirely due to USDT (TRC-20) shifting, with little interest being shown in other tokens.

Arbitrum is also beginning to pick up, now growing in nominal shift volume for the third straight week. This week it netted $364k, which was enough to surpass the Polygon network. With a lot of buzz surrounding Arbitrum, weekly volume will be an interesting metric to follow and perhaps an indicator to help guide future coin listings. Overall, volume from EVM chains hit a 4 month high this past week and is closing in on the $3m mark, as shown in the chart below.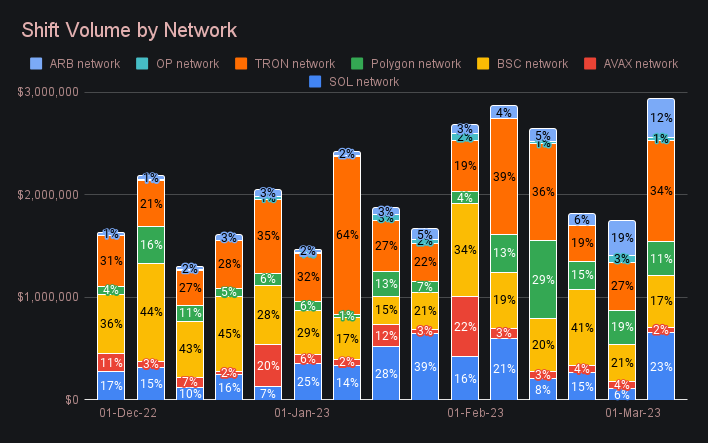 Other stablecoins also are continuing to show growth amidst current market conditions. BUSD on Binance Smart Chain saw an overall volume of $109k (+136%), USDT on Tron $860k (+90%), and the largest percentage increase USDC on Solana with $143k (+496%). On average, ⅓ of both gross deposits and settlements contained a stablecoin this week, setting a multi month high. This, along with the previously mentioned surge in USDT on Ethereum shifts is perhaps indicative of fear lingering within the market.

In listing news, SideShift added support for Ethereum on the Arbitrum Nova chain, a chain built on Arbitrum's AnyTrust technology which is optimized for ultra-low-cost transactions. Users are encouraged to try shifting to ETH (Arbitrum Nova) from any coin of their choice.

In general news, Zcash shifts have now been re-enabled after being offline for a short period to apply the latest update to the network. Also, certain Arbitrum shifts may have encountered slight delays this past week due to a sudden surge in gas fees - our engineers have since looked into gas estimation for Arbitrum shifts so that this delay should not happen again.

Affiliate News

The top 10 affiliates combined for $1.51m, 4.9% higher than recorded last week. The change in shift count was even more prominent, as it rose 21.9% to total 3,375 shifts. As previously mentioned, this increase in shift count was largely due to a spike in small volume referral shifts. All together, volume from the top 10 represented 19.7% of the weekly total, a minor 1.4% bump from last week.

Our top affiliate had a particularly strong week, representing 63% of the volume generated by the top 10. This is a further 15% increase from last week, thereby indicating its significance among affiliates.

A friendly reminder to visit our integrations page if you're looking to integrate with SideShift.ai.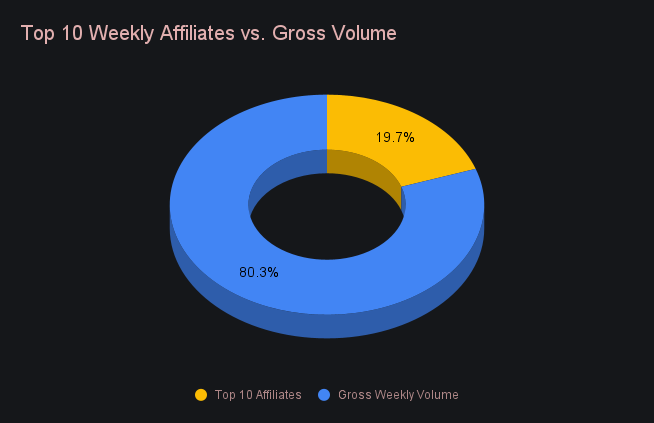 That's all for now. Thanks for reading, happy shifting and we'll see you next time.