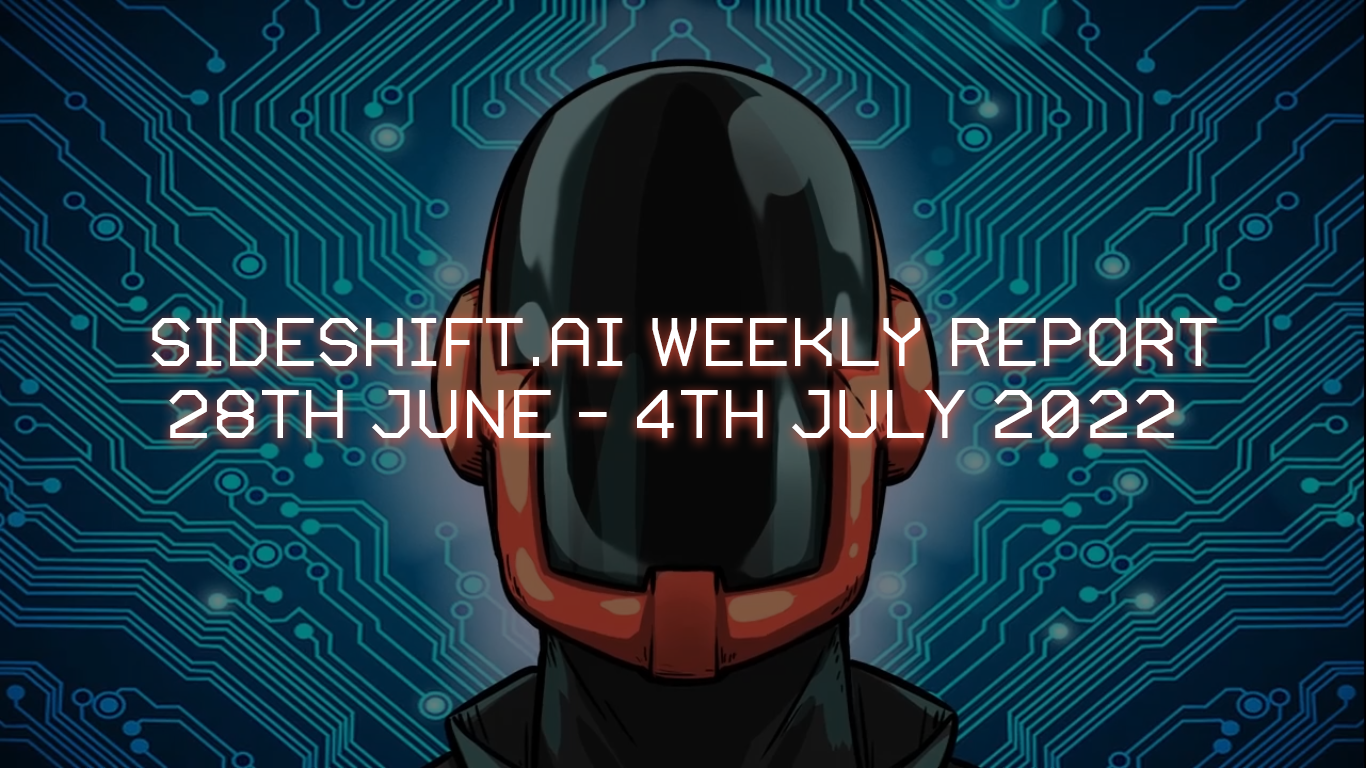 05 July, 2022
SideShift.ai Weekly Report | 28th June - 4th July 2022
Welcome to the ninth edition of the weekly stats report - your one-stop shop for all things SideShift.ai.

XAI Token Market Update
This week XAI fluctuated between a weekly range of $0.159486 / $0.195566, with the current price firmly situated in the middle at $0.173210. At the time of writing the market cap of XAI sits at $8.14m which places SideShift in position #911.

Recently the APY has been quite strong, averaging 45.84% for the week. Now, for the 3rd consecutive week there has been a daily APY payout that was >100%. This week we had 2 days where daily volume exceeded $2m ($2.04m on June 28 and $2.26m on July 4), which no doubt helped achieve this healthy APY.

It is exciting to see that SideShift (XAI) ranked 8th among our most popular coins for the week when calculating total volume (deposits + settlements). This week measured $252k in total XAI action, mostly split down the middle between deposits and settlements. This is a 381% increase from last week, potentially in anticipation of the move to on-chain staking. A close eye will be kept on how this action changes as a result of the transition.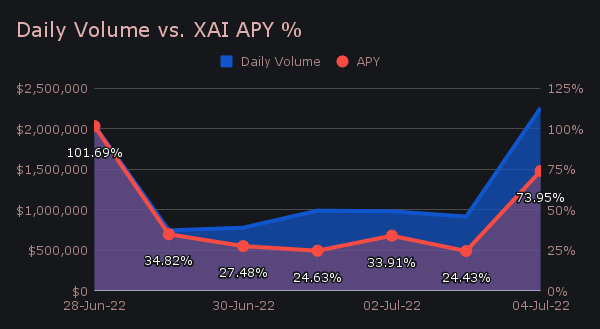 Additional XAI updates:

Total Value Staked: 37,369,502 XAI
Total Value Locked: $6,295,297
General Business News:
This week SideShift's weekly volume totalled $8.71m with daily averages of $1.24m on 788 shifts. Volume wise, this is a slight drop from the previous week (-12%), however the volume trendline from the month of June was conclusively up. Total shift count showed modest growth from last week totalling 5,514, with the vast majority of coins seeing more overall shifts. Once again this week, a heavy concentration of volume derived from a few select coins.

The narrative remains largely unchanged from last week with the major emphasis being placed upon BTC/BCH shifts. BTC deposits netted $5.71m, far exceeding any others and thereby continuing the trend. In recent weeks BTC deposits have blown everything else out of the water, typically larger than the runner up by 8x or more. Second place in deposit volume this week was ETH, with $659k. Conversely, BCH settlements summed to $4.38m, with BTC in second at $1.35m. As of late, a very large portion of our volume is coming from these BTC/BCH shifts, most of which are performed directly on the SideShift.ai site.

BTC/BCH remained the top pair for the 10th consecutive week and accounted for $4.29m in weekly volume. This represents nearly 50% of our total weekly volume with just 5.98% of weekly shift count, indicating the average size of these shifts continues to be very large. These shifts have most certainly helped SideShift throughout the bear market and have remained consistent over the course of the past 2.5 months.

Despite the heavy focus on BTC and BCH, certain other coins and networks are showing more overall activity. Stablecoins USDC and USDT on the Ethereum networks respectively ranked 5th ($893k) and 6th ($882k) in total volume, with USDC increasing 84% from last week. Largely, the settle side is responsible for these percentage increases.

This week saw SOL activity increase 45% ($292k in total weekly volume), while BNB experienced 46% growth from last week ($236k). SOL volume has significantly slowed in recent months (as have BNB, AVAX, MATIC), likely as a result of the ongoing network drama. We will continue to closely monitor the network activity of these coins on SideShift and see if this was a genuine change of sentiment or just an anomaly.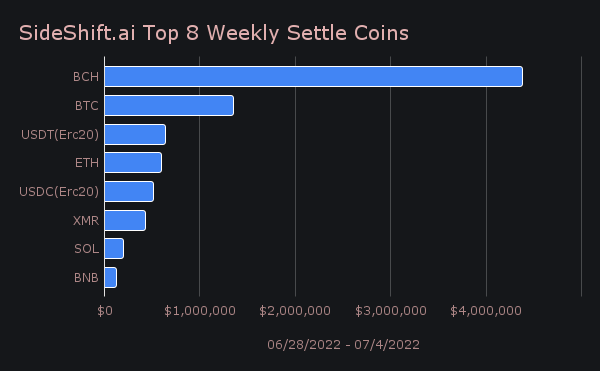 The top 3 settle coins (BCH, BTC, USDT (erc20) ) again showed significant strength, representing 73.1% of settle volume. Coins ranked outside of the top 10 hit a record low, accounting for just 3.8% of settle volume. In recent months this percentage usually averages around 8-10%. Although there was minor growth in some larger cap coins, the small caps are getting less attention than ever.

SideShift had a few minor issues over the course of the weekend. Fantom's official node RPC was hacked, which resulted in us having to disable FTM as a shift method - it has since been re-enabled. Next, our Zcash wallet was struggling and had to be taken offline as our engineers perform maintenance. Finally, our site load went over capacity and we had to upgrade some hardware which resulted in our load dropping from 99.99% to 30%.

Currently, everything is enabled and functioning smoothly, with the exception of Zcash which we are hoping to have back within a few days.

Integration News
In affiliate news, Trezor bounced back to have a respectable weekly volume of $935k, representing 10.7% of the total. This move reclaimed first place among affiliates and is just shy of the last month's weekly average of $1.05m.

Bitcoin.com steadily continues to truck along in second place, with $601k (6.9%). This too is largely on par with its weekly average of $591k in recent months. Shift count has also been consistently high, this week representing 14% of the total. It is second in count only to shifts carried out directly on SideShift.ai.

Edge wallet placed third once again, but had a quiet week of $59k (0.67%) and has continually slowed in the past month. As a whole, integrations represented ~18% of weekly shift volume and ~27% of weekly count.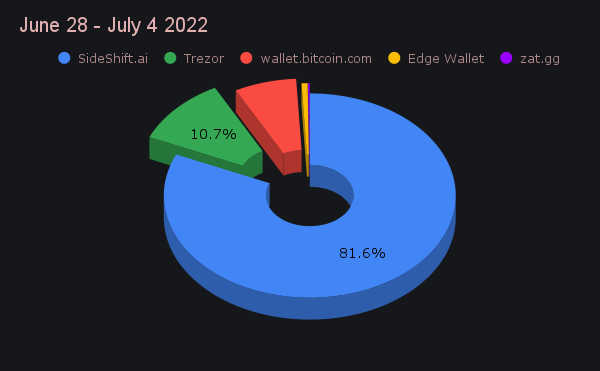 That's all for now. Thanks for reading, happy shifting and we'll see you next time.