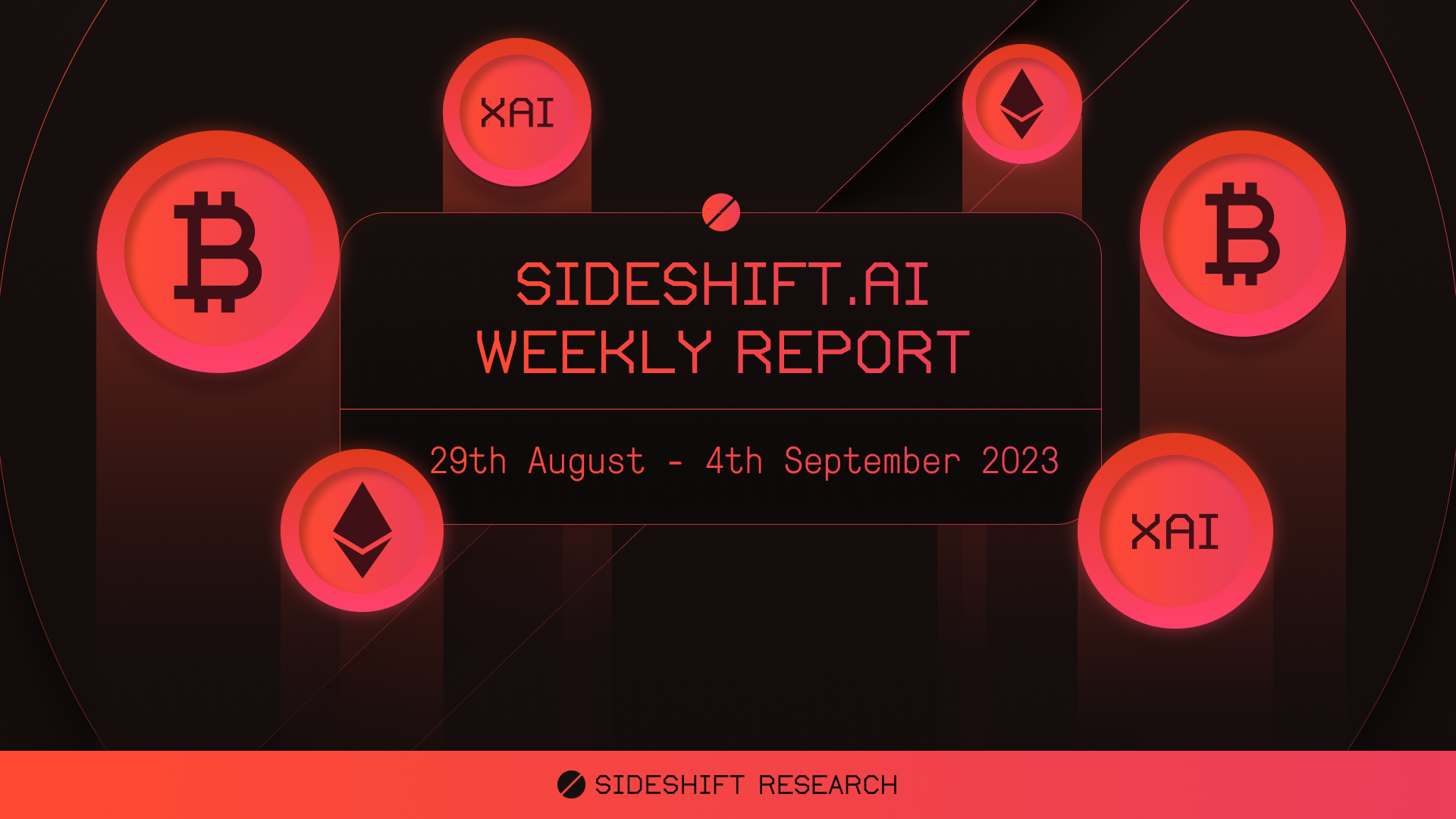 06 September, 2023
SideShift.ai Weekly Report | 29th August - 4th September 2023
Welcome to the seventieth edition of the weekly stats report - your one-stop shop for all things SideShift.ai.

This week SideShift token (XAI) continued to bounce between a fairly similar range as the previous week, moving within the 7 day bounds of $0.0869 / $0.0955. At the time of writing, XAI is sitting at the lower end of that range at $0.0888, and has a current market cap of $11,709,724 (+0.3%).

XAI stakers were rewarded with an average APY of 9.26% this week with a daily rewards high of 32,934.42 XAI or $3,072 (an APY of 11.45%) being distributed to our staking vault on August 30th, 2023. This was following a daily volume of $1.4m. This week XAI stakers received a total of 174,907.13 XAI or 16,616.18 USD in staking rewards.

1 svXAI is now equal to 1.2319 XAI, representing a 23.19% accrual on stakers investments. A friendly reminder that the easiest way to participate in XAI staking and earn daily rewards is to shift directly to svXAI, from any coin of your choice.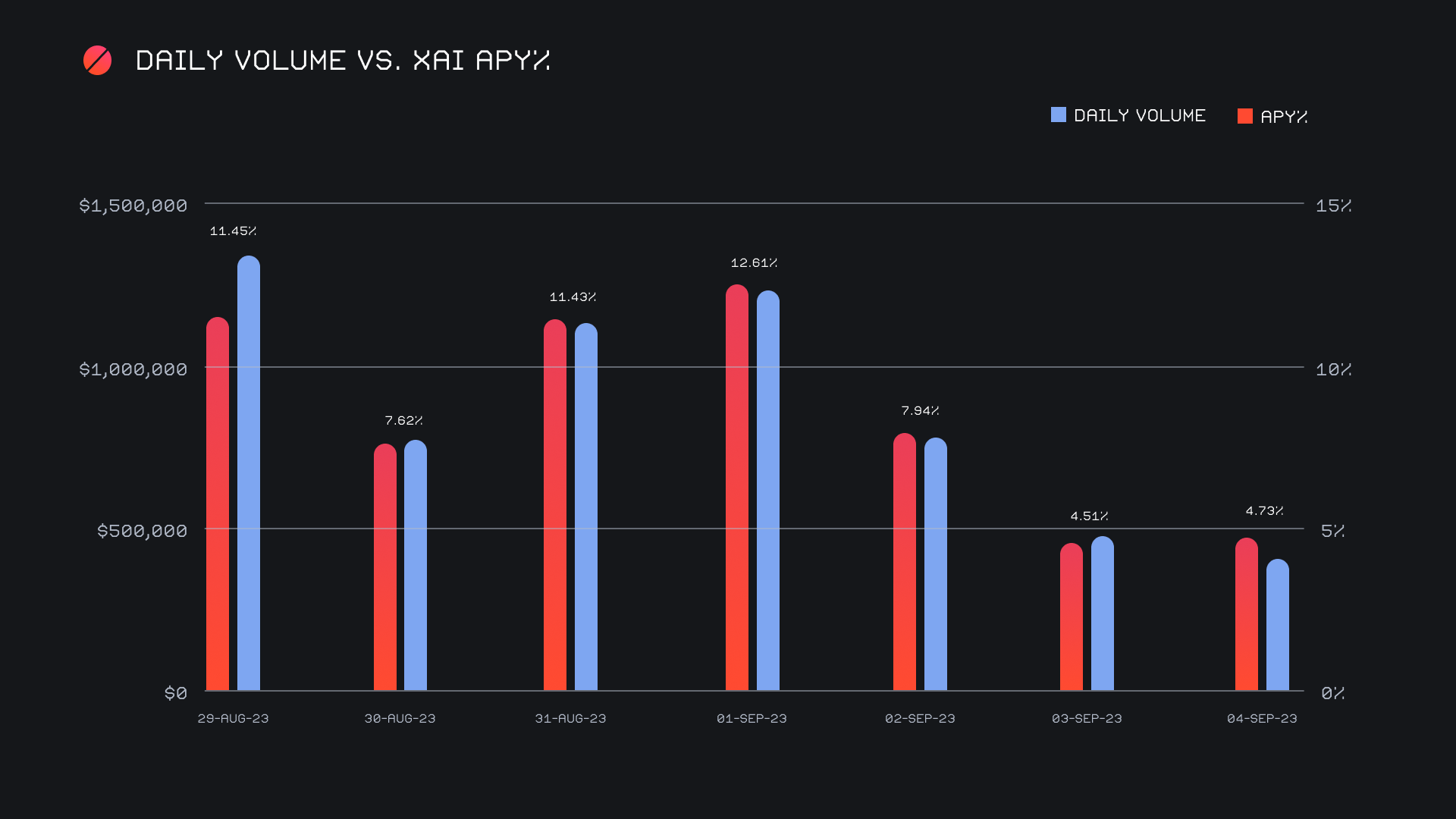 Additional XAI updates:

Total Value Staked: 111,026,408 XAI (+0.1%)
Total Value Locked: $10,355,433 (+0.5%)

General Business News:

This past week was a rather unusual one, beginning with the very bullish announcement that Grayscale had won their ongoing court case with the SEC, thereby resulting in a massive green candle. The positivity was short lived however, as just two days later all of the gains were engulfed, as the SEC decided to delay the decision of any spot ETF proposals. Back at ~$26k BTC we sit.

SideShift started the period strong with 3 of the first 4 days generating volume that exceeded $1.1m, but began to slow as the week came to a close. A 15% drop in gross volume resulted in $6.2m for the week alongside a shift count that behaved the opposite way, increasing 11.8% for a gross 5,805 shifts. The steady performance of our integrations majorly contributed to both our volume and count this week, as they have proven to do so time and time again throughout the summer months. Together, these figures combined to produce daily averages of $879k on a shift count of 829. When denoted in BTC, our weekly volume amounted to 232.76 BTC.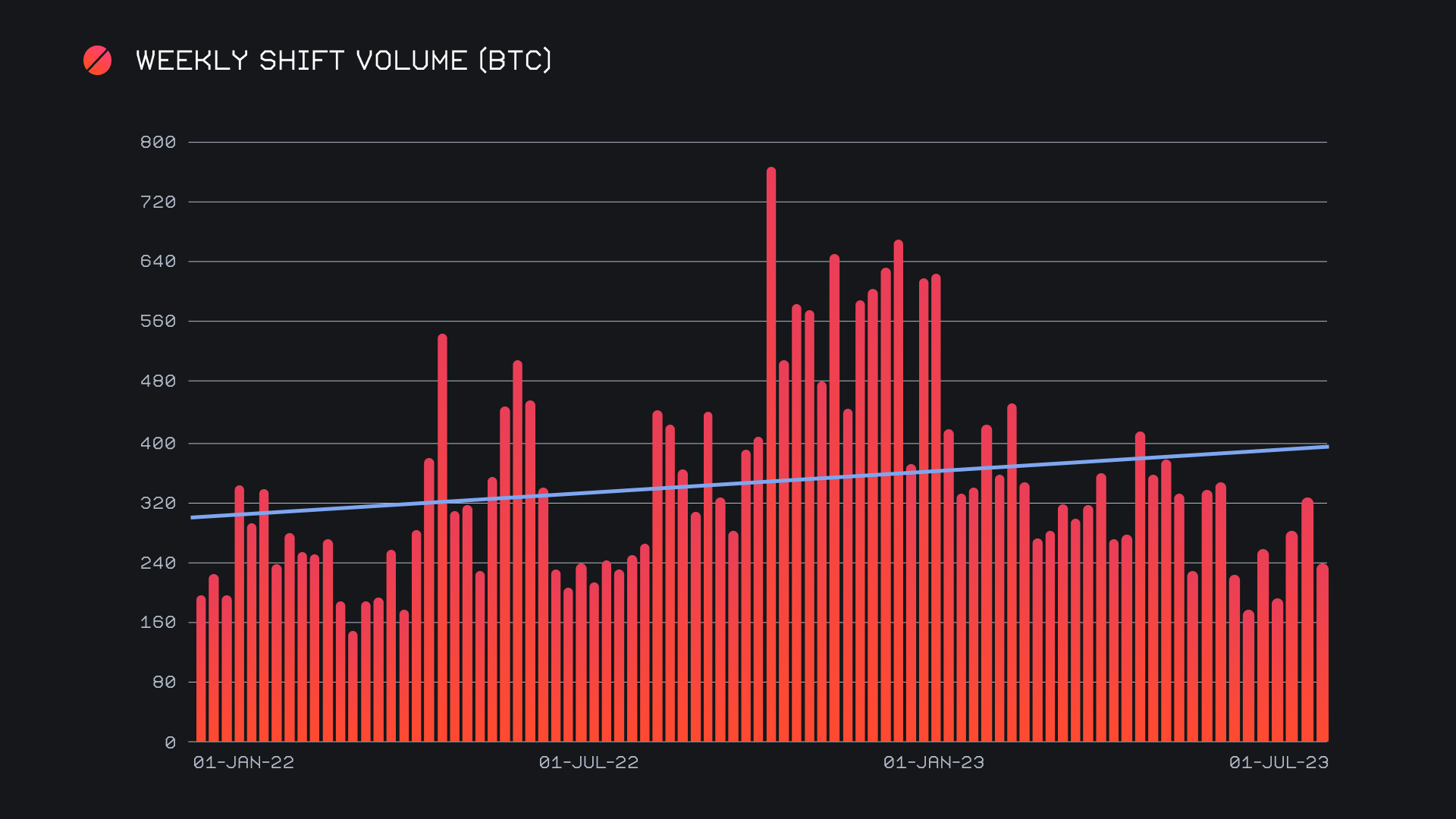 BTC continued to remain the central focus of shifting, although only just hanging onto first place this week. A total volume (deposits + settlements) of $3.1m narrowly beat out USDT (ERC-20), which was nipping at its heels with $3.07m. A lower overall weekly volume combined with a rise in USDT (ERC-20) demand should come as no surprise, considering the rather lackluster energy circulating at the moment. For the 12th straight week the BTC / USDT (ERC-20) pair has reigned supreme, this week out-doing all other pairs by a hefty margin with $943k. The discrepancy between USDT (ERC-20) deposits vs settlements is notable, and is largely driven by the popularity of this pair.

With that in mind, it should be noted the relative strength of ETH. Despite the aforementioned ~15% drop in overall site volume, the nominal volume of ETH hardly budged, moving just -3% for a total $2.8m. Together, these top 3 coins accounted for a dominant 72.7% of shift volume, reaching one of the highest proportions we have recorded for this metric. For some comparison, the next closest was USDT (TRC-20) with $820k, and then a steep dropoff to fifth placed USDC (ERC-20), which finished with just $296k. Just two of our top ten coins saw increases in total volume, with 10th placed BNB being the only other aside from USDT (ERC-20) to see a weekly gain.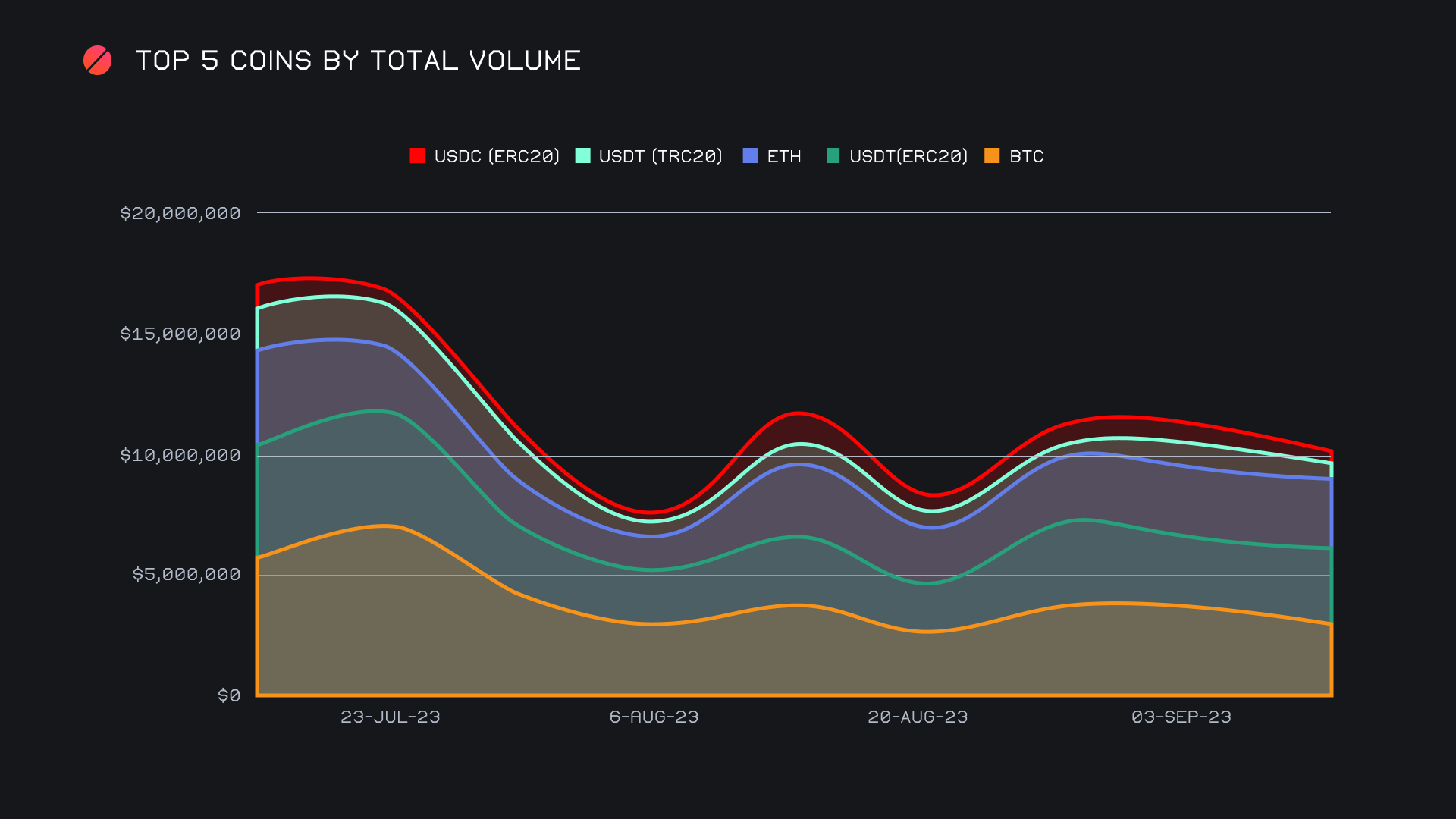 With such an intense concentration on our top 3 coins, shifting on alternate networks naturally saw a decline. A cumulative sum of $1.8m (-13.%) was led once again by the TRON network, which alone accounted for half of the shifting occurring on alternate networks, with $921k (-16.6%). With less than ⅓ the volume of the Tron network, the Binance Smart Chain Network (BSC) placed second with $288k, despite incurring the biggest decline among alternate networks with -41.1%. In third was the SOL network, as it also witnessed declines but to a lesser extent. It finished down 23.5% for a net $204k. Aside from the ETH network, one of the few to see a positive change was the Polygon network. Although sitting lower with a net volume of $179k, a rush of USDC (Polygon) shifting resulted in activity on SideShift increasing 235.6%. Still, the heavy preference towards shifting on the ETH network is easily notable, as this week shifting on ETH accounted for a majority 51.3% of all shifts that took place.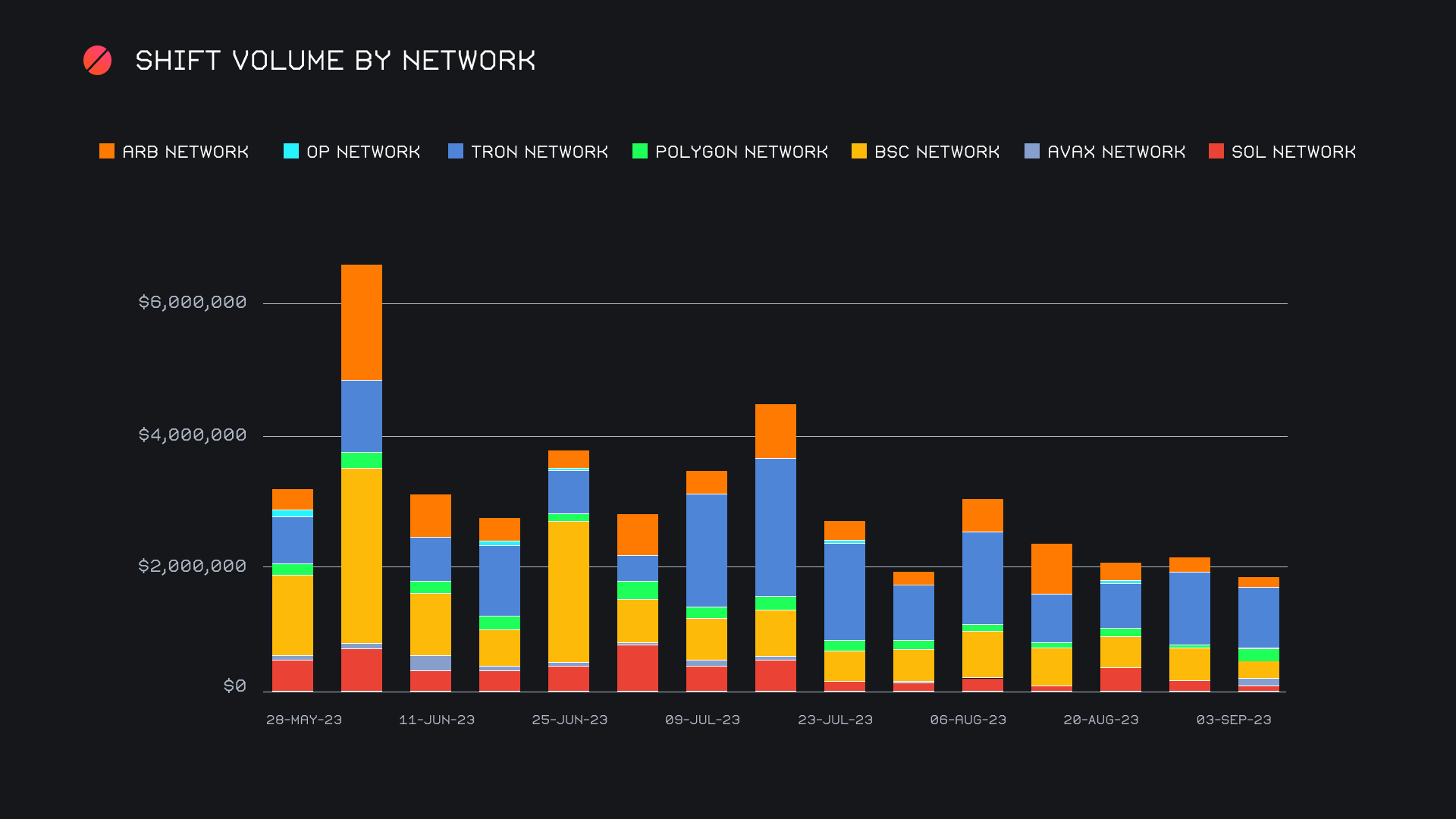 Stablecoin settlements drastically outperformed that of deposits, as this week yielded a net stablecoin flow of -$944k. As outlined in the chart below, you can see a mass outflow occurred on September 1st, 2023, which directly coincided with the market dumping. A deeper look shows the most common source of the stablecoin settlement surge came from ETH/USDT(ERC-20) shifts, as nearly 75% of deposited ETH that day was shifted to USDT (ERC-20). As a whole, stablecoin settlements finished right at $2m, less than a 1% change from last week and therefore speaking to its ongoing prevalence. With $1.6m (+13.2%), USDT (ERC-20) settlements sat more than 7x higher than second placed USDC (ERC-20), which ended with $204k (-29.6%). User demand for USDT (ERC-20) has now surpassed $1m in 11 of the previous 12 weeks, with some of those finishing at, or over the $2m mark. This is a telling sign that uncertainty continues to linger in the market, and based on the behavior these past few months we shouldn't expect any big changes in the immediate future.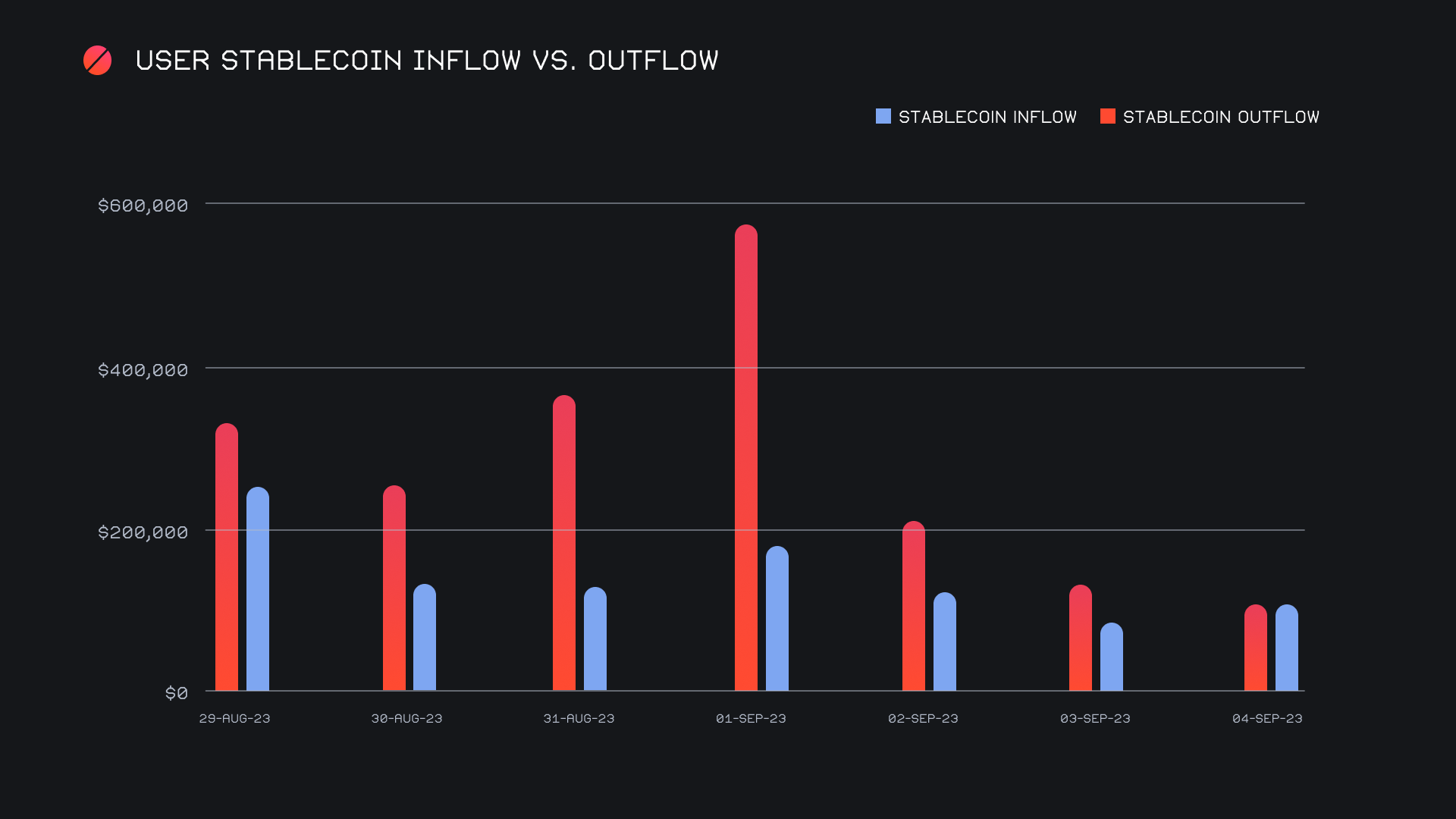 Affiliate News

Our affiliates continue to shine bright, this week accounting for over half of the volume seen from users. As compared to gross volume, their combined proportion totalled 37.3% (+4.3%), with shift count representing a commanding 51.2%. Our top affiliate in particular carried on largely unaffected from the previous week, therefore causing its proportion to rise. With $1.3m, it claimed 20.7% of volume and 23.9% of shift count. We did have a change-up in second place however, with our new runner up achieving its place with $474k on 163 shifts.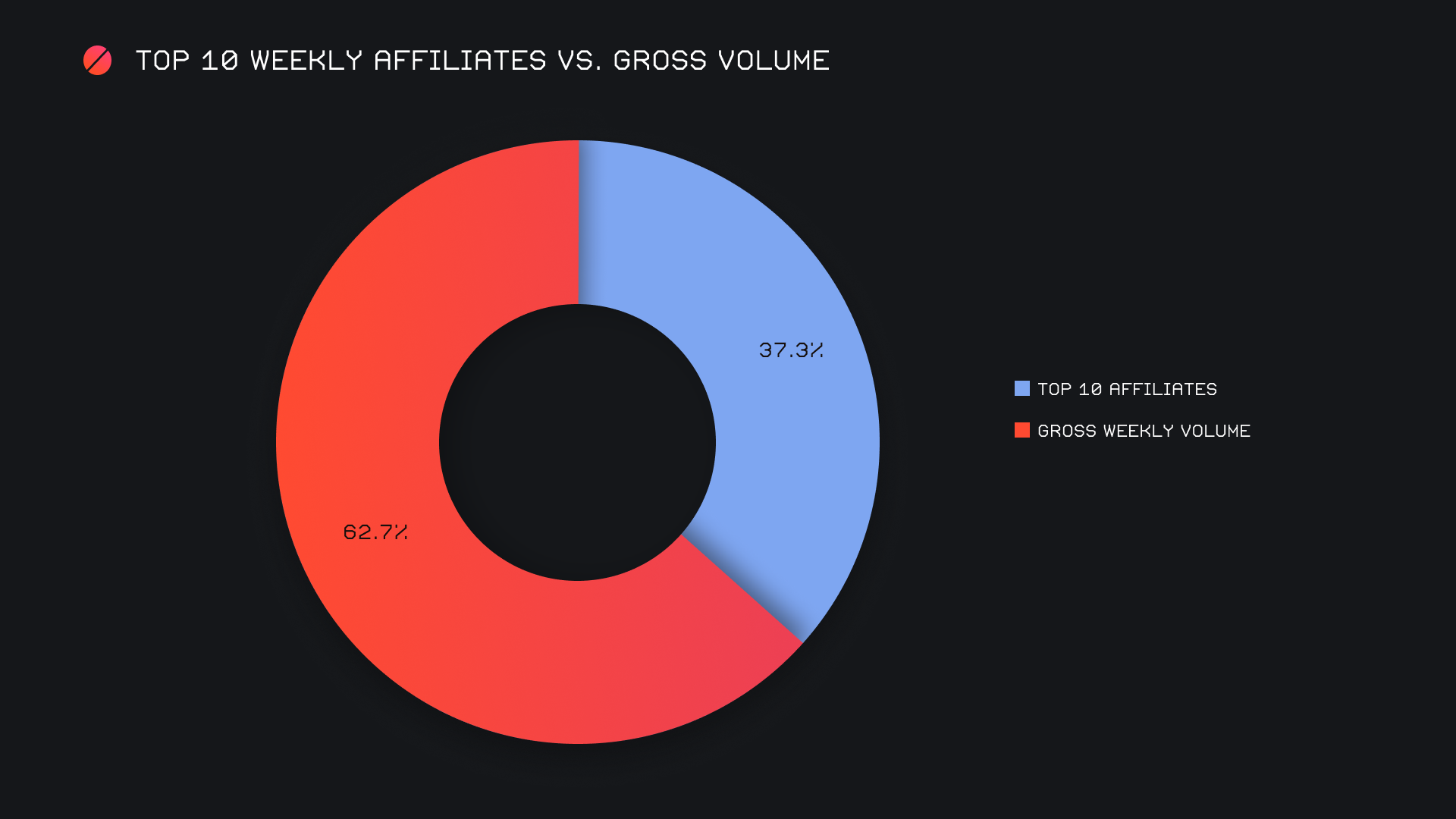 That's all for now. Thanks for reading, happy shifting and we'll see you next time.