06 December, 2022
SideShift.ai Weekly Report | 29th November - 5th December 2022
Welcome to the thirty-first edition of the weekly stats report - your one-stop shop for all things SideShift.ai.

XAI Token Market Update

This week SideShift Token (XAI) remained stable, moving within the tight 7 day range of $0.109 / $0.1181. At the time of writing the price of XAI is sitting at $0.1139. A current circulating market cap of $10,816,687 marks a minor decrease of 0.09% from the previous report.

XAI stakers were rewarded with a very steady APY throughout the week, which averaged to 33.83% for the period. A daily rewards high of of 64,761.9 XAI (63.61%) was deposited to our staking vault on November 30th, 2022. This followed a respectable net daily volume of $1.79m.

The price of 1 svXAI is now equal to 1.1105 XAI, indicating an 11% return on investment for those who have staked XAI since the migration. Be sure to follow along with real time svXAI and XAI updates here on our Dune Dashboard.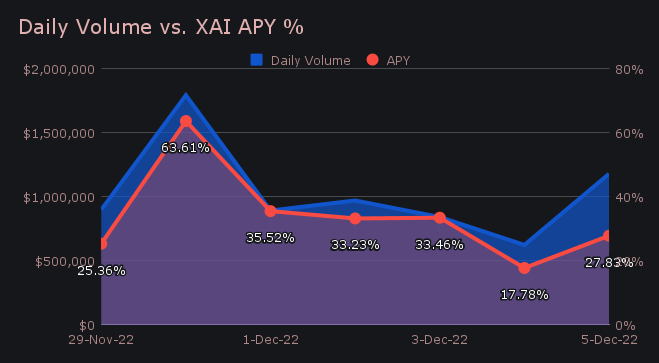 Additional XAI updates:

Total Value Staked: 52,394,461 XAI
Total Value Locked: $5,955,424

General Business News:

SideShift had a strong week with momentum carrying on throughout the weekend. We concluded the period with a net volume of $7.20m (+6.7% from last week) alongside a shift count of 6,368 (-0.8%). These sums resulted in daily averages of $1.03m on 910 shifts. In BTC terms, this amounted to 424.23 BTC, marking an increase of 3.0% from last week.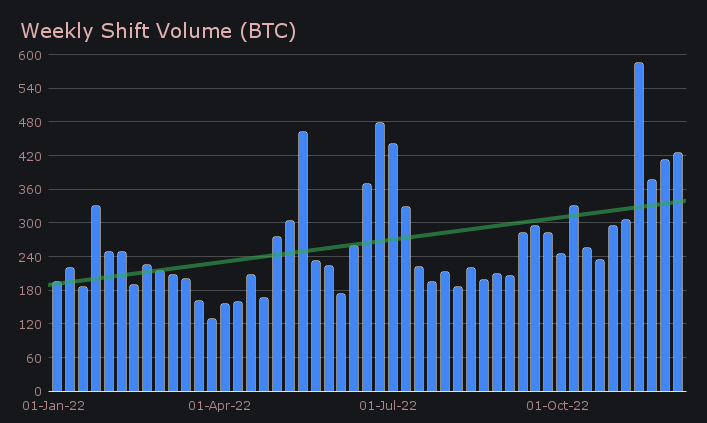 This week's narrative remains quite similar to last, with the heavy focus being on our top coins. When looking at total volume (deposits + settlements), BTC, USDT (ERC-20), ETH and XMR comprised the top 4, as they typically do. Three of these coins saw double digit increases in total volume, with the lone exception being BTC, which fell 9.4%.

Starting with deposits - BTC remained the most deposited coin, with a total of $1.83m (-9.6% from the previous week). It has now held this title for the better part of the year, and this week was no exception. In second place was XMR, which saw its deposits grow by 21.1% to net $1.66m. ETH followed with an even more dramatic rise, climbing 45.6% to net $1.24m. Perhaps unsurprisingly, the vast majority of this deposit volume was shifted into either USDT (ERC-20) or BTC.

On that note, BTC / USDT (ERC-20) retained its title as our most popular shift pair, now for the 14th straight week. In back to back weeks, it has now claimed first place in dominant fashion, this week netting $1.20m (representing 16.6% of weekly volume). However, the pairs of XMR / USDT (ERC-20) and ETH / BTC also performed quite well, with respective sums of $662k and $633k.

Stablecoin settlements combined to represent 37.1% of the weekly total, noting a rise of 2.1% from last week. This is the pushing against the upper boundary for stablecoin settlement proportion, and ties the record for the highest percentage recorded. The demand for USDT (ERC-20) is mainly responsible for this rise, but it should be noted that USDT and USDC on other chains such as BSC and Polygon recorded settlement sums far above their all time averages. The below chart compares total stablecoin volume (deposits + settlements) to daily volume on SideShift for the past 30 days - you can observe that volume spikes usually coincide with more stablecoin shifting. Recently, the majority of this has been driven from stablecoin settlements.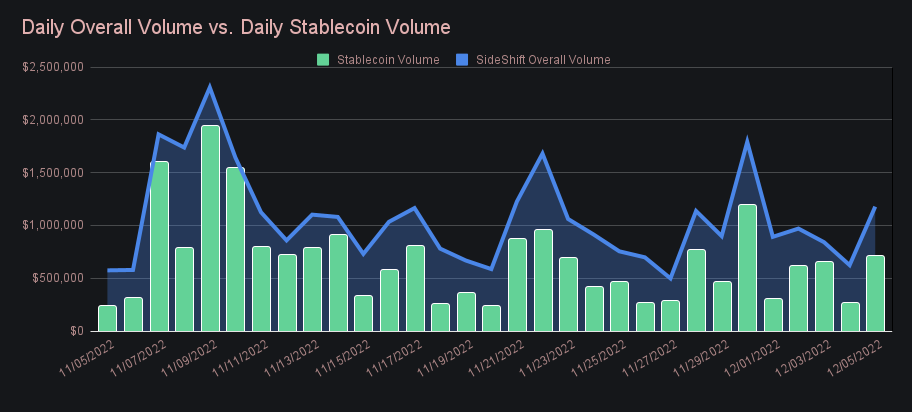 On the settlements side, USDT (ERC-20) seized first place with a settle volume of $2.04m (+24.0%). This move dethroned BTC, which had held the title for the previous 11 weeks. It is also among the highest weekly settle volume for a single stablecoin this year. The rise in popularity of USDT (ERC-20) is notable in the chart below. BTC was however very close behind, with $1.95m (-9.2%). The same can not be said for third placed ETH, which was less than half that of BTC. It finished with $801k, marking a slight decrease of 0.8%. One out of the norm boom was Zcash (transparent), which saw its settlements more than 30x from last week, to net $203k. These sporadic settlement bursts appear to happen from time to time with Zcash, as mentioned in previous reports.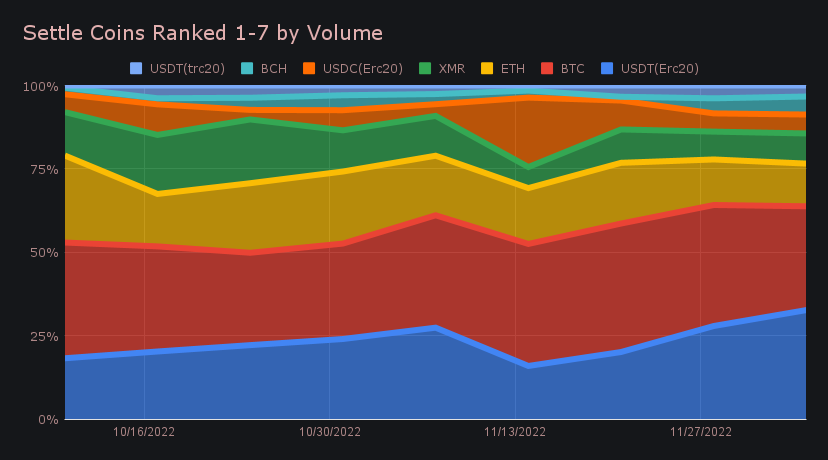 Shifts on networks other than ETH are slowly creeping upwards, with recent growth being driven by stablecoins. In fact, most of the volume displayed in the bar chart below is accredited to stablecoins on those respective networks. This week, the BSC network accounted for 42% of the total, which is the highest proportion seen in recent months (ETH aside). This is due to a large increase in BUSD deposits, which were then settled to either USDT on Polygon, USDT on Ethereum, or ETH. We will continue to keep a close eye on how BSC performs in the coming weeks.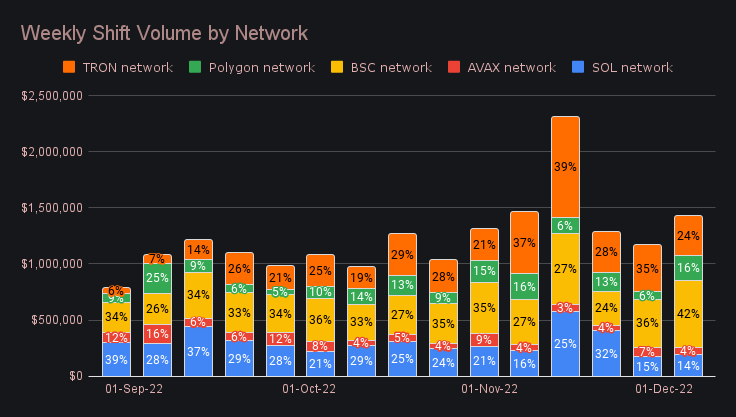 In general, our team has been busy working on new features, and refining old ones. If you think you would be a fit for SideShift, we highly encourage you to check out the current job postings at sideshift.ai/jobs. We had a mostly stable week with a few instances of brief downtime, which resulted in a slight delay for certain users shifts. This was due to some minor instability on our backend - an issue which was attended to and resolved within the hour in both cases.

Integration News

Integrations ended the period with a superb performance, combining for a weekly volume total of $3.49m. In percentage terms this amounts to a record setting 48.4% of the weekly total, and is a 4.1% rise from that noted in the previous report. Shift count for all integrations totalled 2,585, which represented a respectable 40.6% of the weekly total. Shift count for integrations has now reclaimed the 40% benchmark, after dipping below for the previous 3 weeks.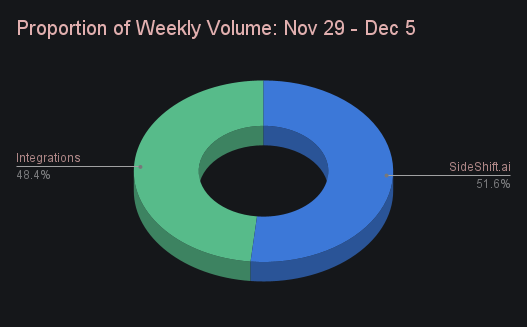 That's all for now. Thanks for reading, happy shifting and we'll see you next time.