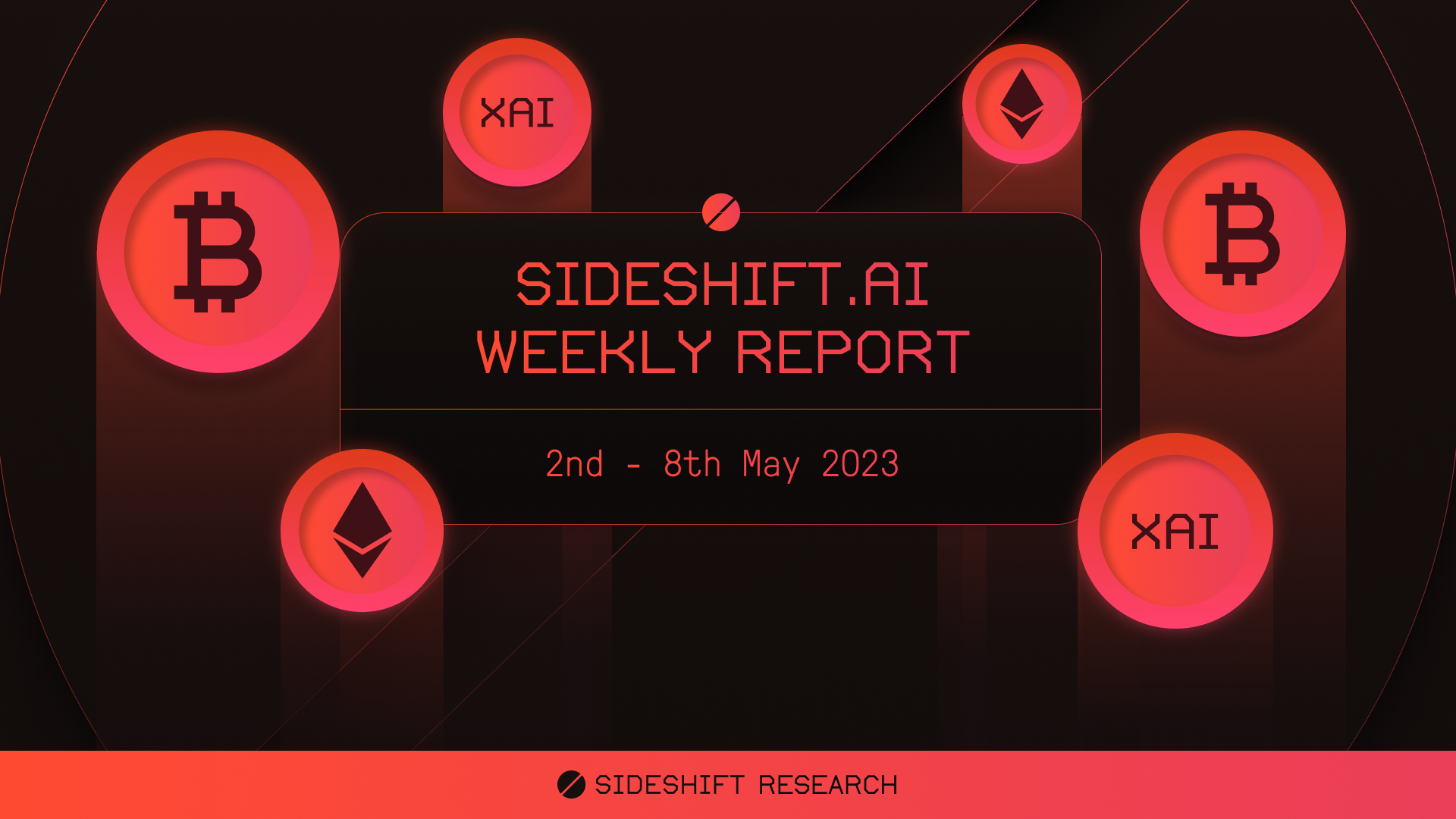 09 May, 2023
SideShift.ai Weekly Report | 2nd - 8th May 2023
Welcome to the fifty-third edition of the weekly stats report - your one-stop shop for all things SideShift.ai.

XAI Token Market Update

This week SideShift token (XAI) moved within the 7 day range of $0.1158 / $0.1306. At the time of writing, the price of XAI is sitting at a price of $0.1239, and has a current circulating supply market cap of $15,050,800 (-2.8%) as denoted on our Dune Dashboard.

XAI stakers were rewarded with an average APY of 16.49% this week, with a daily rewards high of 50,239.69 XAI (an APY of 20.84%) being distributed directly to our staking vault on May 8th, 2023. This was following a daily volume of $1.8m. As a whole, this week XAI stakers received a total of 266,968.75 XAI, or $32,232.47 USD in staking rewards.

The price of 1 svXAI is now equal to 1.1859 XAI, representing an 18.59% accrual on stakers investments. A reminder that the easiest way to stake is to shift directly to svXAI from any coin of your choice.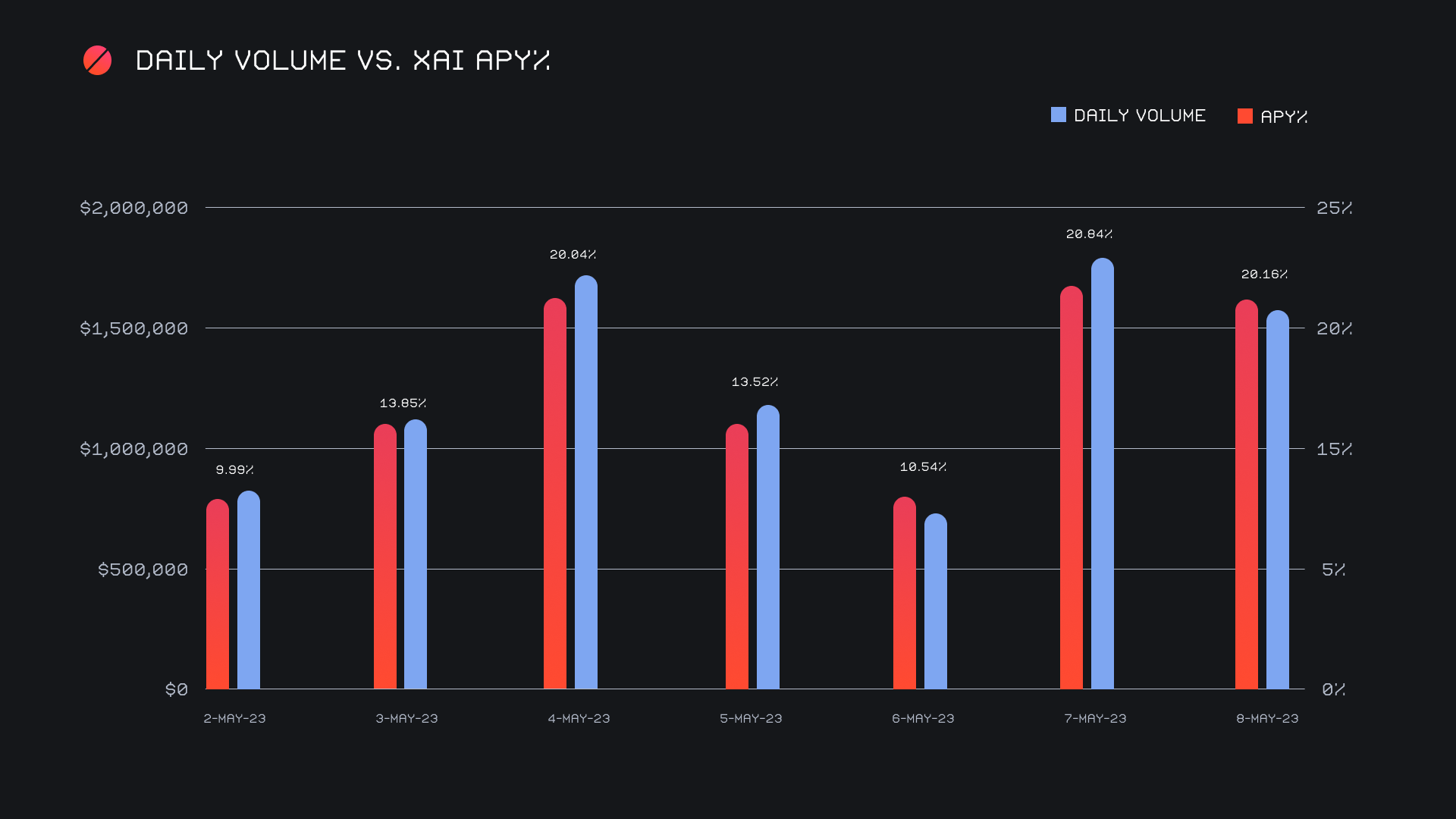 Additional XAI updates:

Total Value Staked: 97,935,780 XAI (+2.3%)
Total Value Locked: $12,013,782 (+2.1%)

General Business News:

This week was a fairly interesting one in the crypto world - BTC experienced some of the most intense network congestion to date, ETH fees skyrocketed, and certain memecoins continued to soar.

As for SideShift, we ended the period with a gross volume of $9.0m, an increase of 5.5% from the previous report. This volume increase unfolded despite a sharp decline in total shift count, as it fell by 20.3% for a gross 6,957 shifts. These figures combined to produce daily averages of $1.3m on 994 shifts. When denoted in BTC, our weekly volume increased by 6.6%, for a total of 314.35 BTC.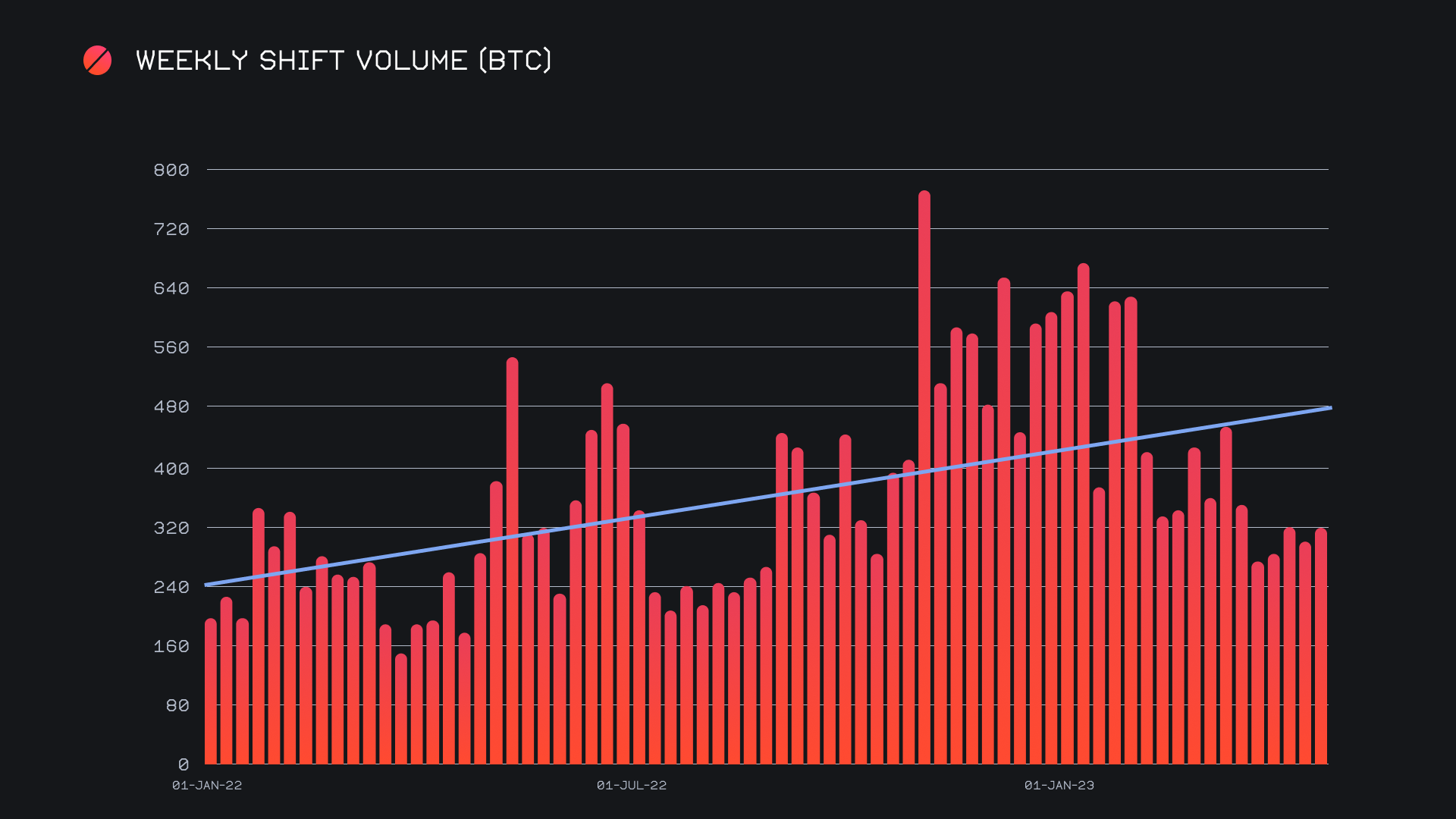 The drop in shift count but maintenance of volume suggests that there was quite an increase in larger scale shifts. To support this, we can look at the numbers and see that the amount of shifts with a value >$1k increased this past week to a recent high of over 1,250. This is represented by the red line in the chart below. These shifts also made up 18% of the total shift count for this week, which is over a 6% increase in its proportion of total shifts, which has not been seen in over 2 months. In addition, the volume proportion for shifts >$1k also enjoyed a healthy 8.4% increase from last week, but you can note that the sum (blue line) has remained fairly consistent in dollar terms at around $7.5m for the past 6 weeks.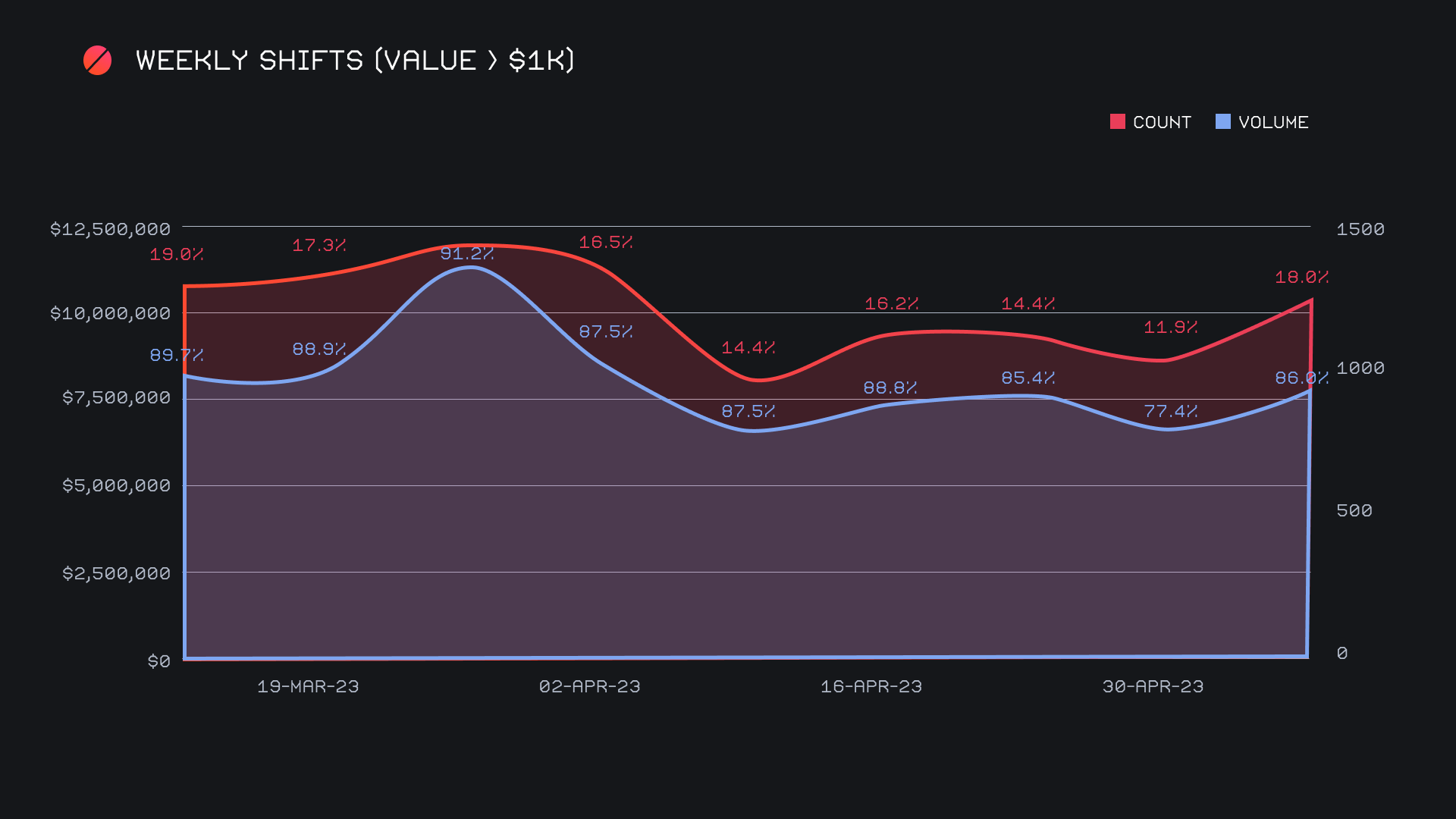 Both BTC and ETH continue to remain our most popular coins on SideShift, but the deposit and settle patterns for these coins tend to ebb and flow for users. This week saw $1.8m in user BTC deposits, an impressive 66.9% jump from last week's lower than usual sum of $1.1m. This proved to be the second highest positive percentage change among our top 8 coins, while accounting for a significant proportion of volume. Conversely, it was Ethereum settlements which saw a sizable spike, as they grew 86.7% for a total $1.6m in settlements. This was still outdone by BTC's settlements which summed $2.0m, but had the highest percentage change by far among the top 8 coins. From this, it seems that users' confidence in BTC is growing, and even outdoing stablecoins this week.

Although BTC and ETH are in the spotlight, it also needs to be mentioned that XMR is right there alongside them. XMR experienced a surge in deposits, increasing 58.1% for a total $1.5m - enough to secure second place among user deposits. The XMR/BTC shift pair alone recorded $714k, with 49% of the deposited XMR shifting to BTC. This proved to be the week's most popular pair, out-doing that of BTC/USDT(ERC-20) with $598k, and BTC/ETH with $544k. You may note below, the increase in both ETH and XMR settlements, although the XMR increase is mainly due to liquidity rebalancing necessary to even out the influx of deposits received.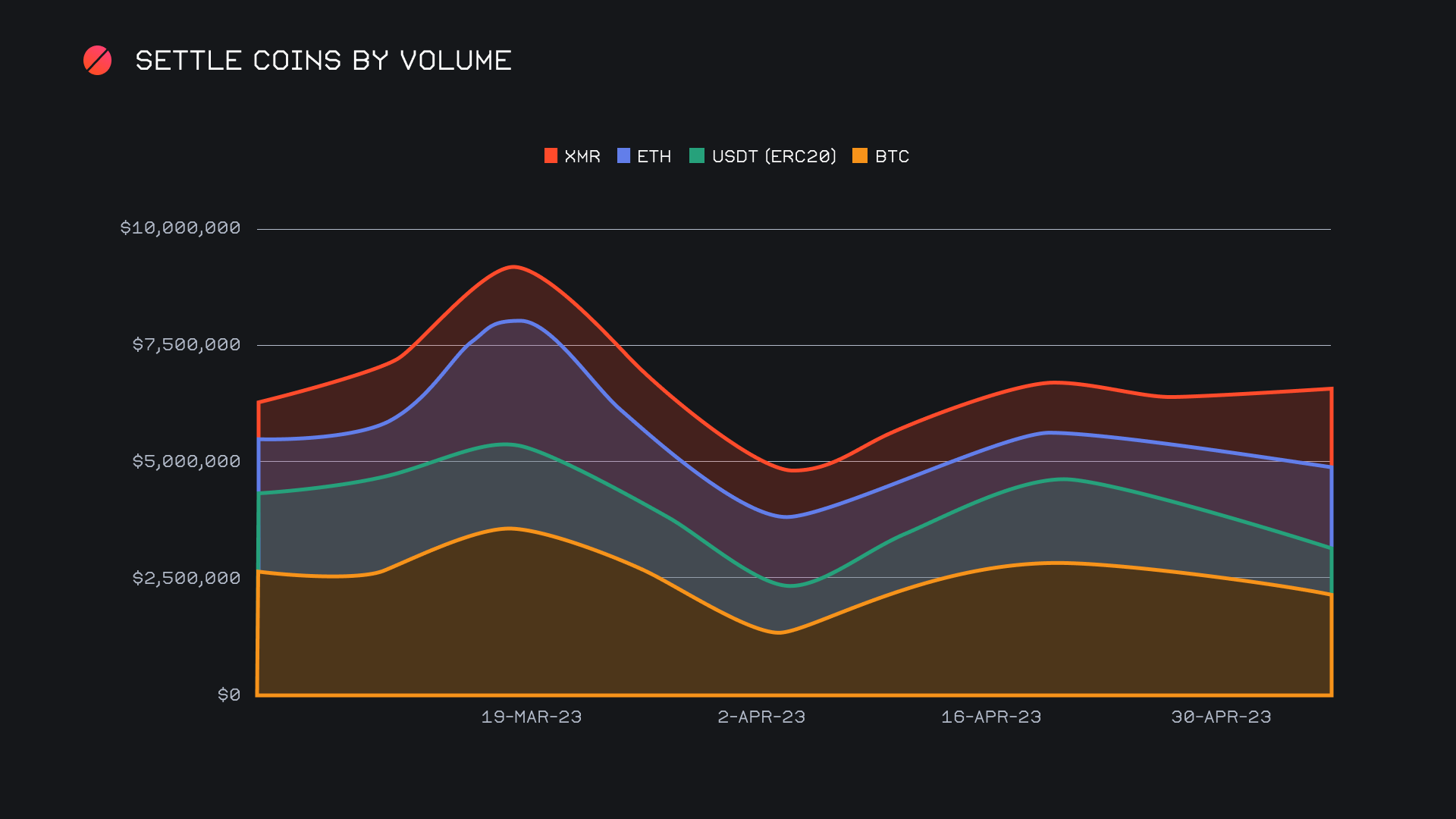 Both BTC and ETH remain our most popular coins on SideShift, but also with different movements this week. The flow here was certainly in the direction of user's depositing BTC for settlement to ETH, something that we have seen in the past although the reverse more recently.

It was a tale of two stablecoins this week, with USDT and USDC both moving in opposite directions.. SideShift actually saw a noteworthy drop in volume amongst USDT stablecoin options for various networks in both deposits and settlements. The total volume for USDT on Ethereum, our most popular coin, was down a significant 37.8%, below $2m volume, as compared to last week's $3.1m. USDT on Tron network also had a measly showing of below $400k (-43.7%), largely contributing to this network's poor performance. BUSD on Binance Smart Chain also only brought in below $35k (-72.9%). It was left up to USDC to pick up the slack, showing a 60.4% increase on the Ethereum network with $595k, $164k on Polygon network (+206.6%), and $110k on Solana network (+255.1%). However, this was not enough to make up for USDT's poor showing, and overall stablecoin volume was down 18.8% on the deposit side and a similar -19.8% for settlements.

Overall, the volume for various EVM networks remained consistent from the previous week, however a deeper dive into the stats shows some performed better than others in comparison. TRON network has been knocked out of its top spot among alternate chains to Ethereum, with a 45.3% drop in volume to $437k. Indeed it was the Binance Smart Chain that has come back to reclaim first place after some time, with $572k in volume (+6.1%). The SOL network clawed into third place among alternate chains, with $547k volume, but was still down 9.4% from last week's second place finish. Other notable mentions include Arbitrum network, which increased 103.5% with $404k after a slow showing last week, the OP network with $86k, a whopping 532.3% increase, and the Polygon network with $222k (+83.1%). All together these alternate chains had a total $2.4m which represented over a quarter of the total volume for the week, although this a modest 0.6% increase in dollar terms.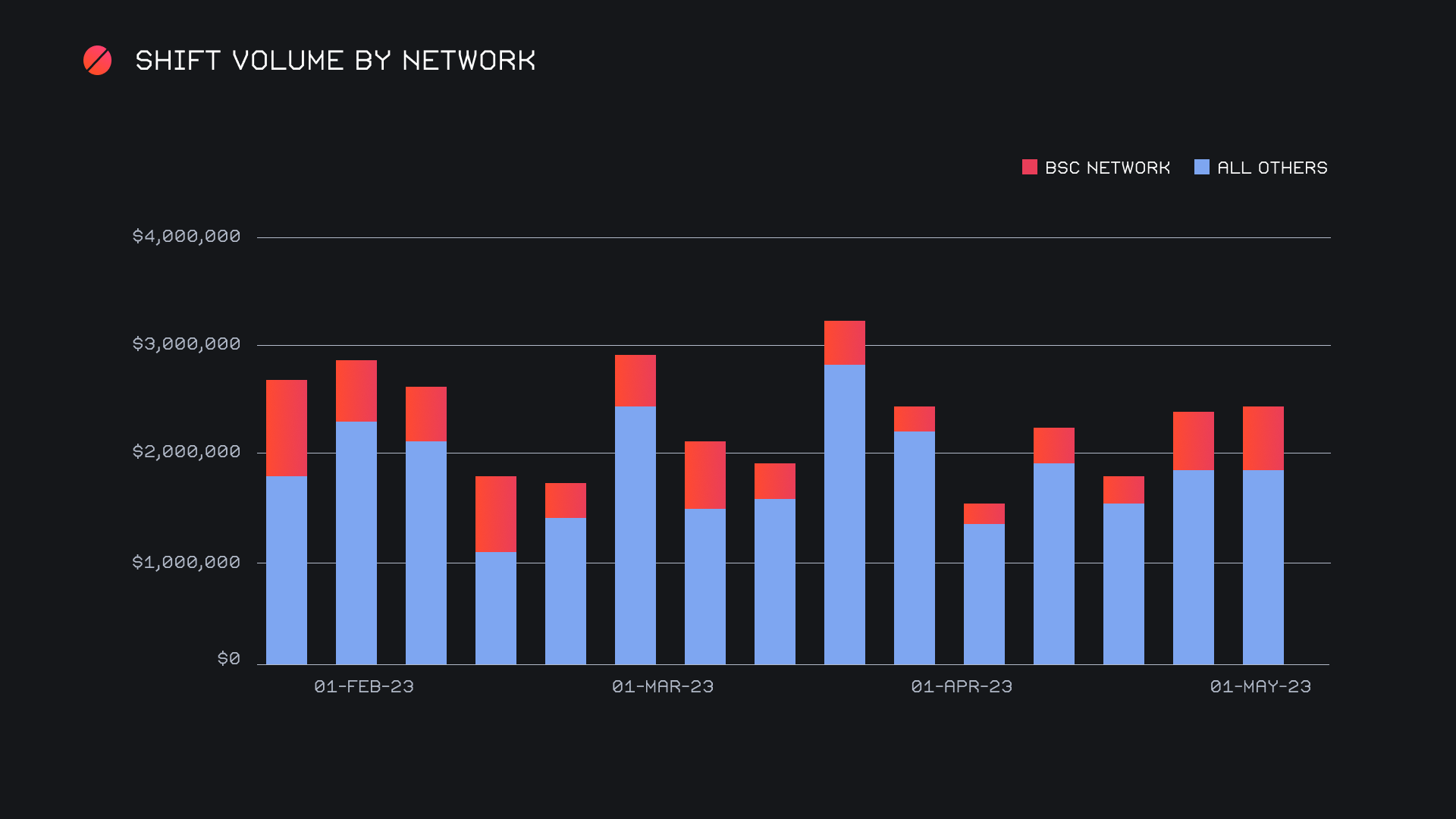 In listing news, this week SideShift added support for both DAI and WBTC on the Arbitrum Network. Shifting is now live, and users are encouraged to try shifting to DAI (ARB) or WBTC (ARB).

In general news, the heavy congestion of the BTC network has resulted in higher fees, slower confirmation times for many users, and therefore slower shift times. This congestion is ongoing - if this happens to you and you have any questions, feel free to contact our support for any clarification and they would be happy to help.

Affiliate News

The top 10 affiliates had a solid bounce, increasing by 26.7% for ~$1.7m. On the other hand, shift count declined by 20.1% for a total of 1,503 shifts. This aligns with the previously mentioned trend of increased volume alongside decreasing count. Our top affiliate performed slightly better than last week, as it accounted for 9.7% of our weekly volume.

All together, the sum from our top 10 represented 19.4% of our weekly volume, 3.2% higher than last week's proportion.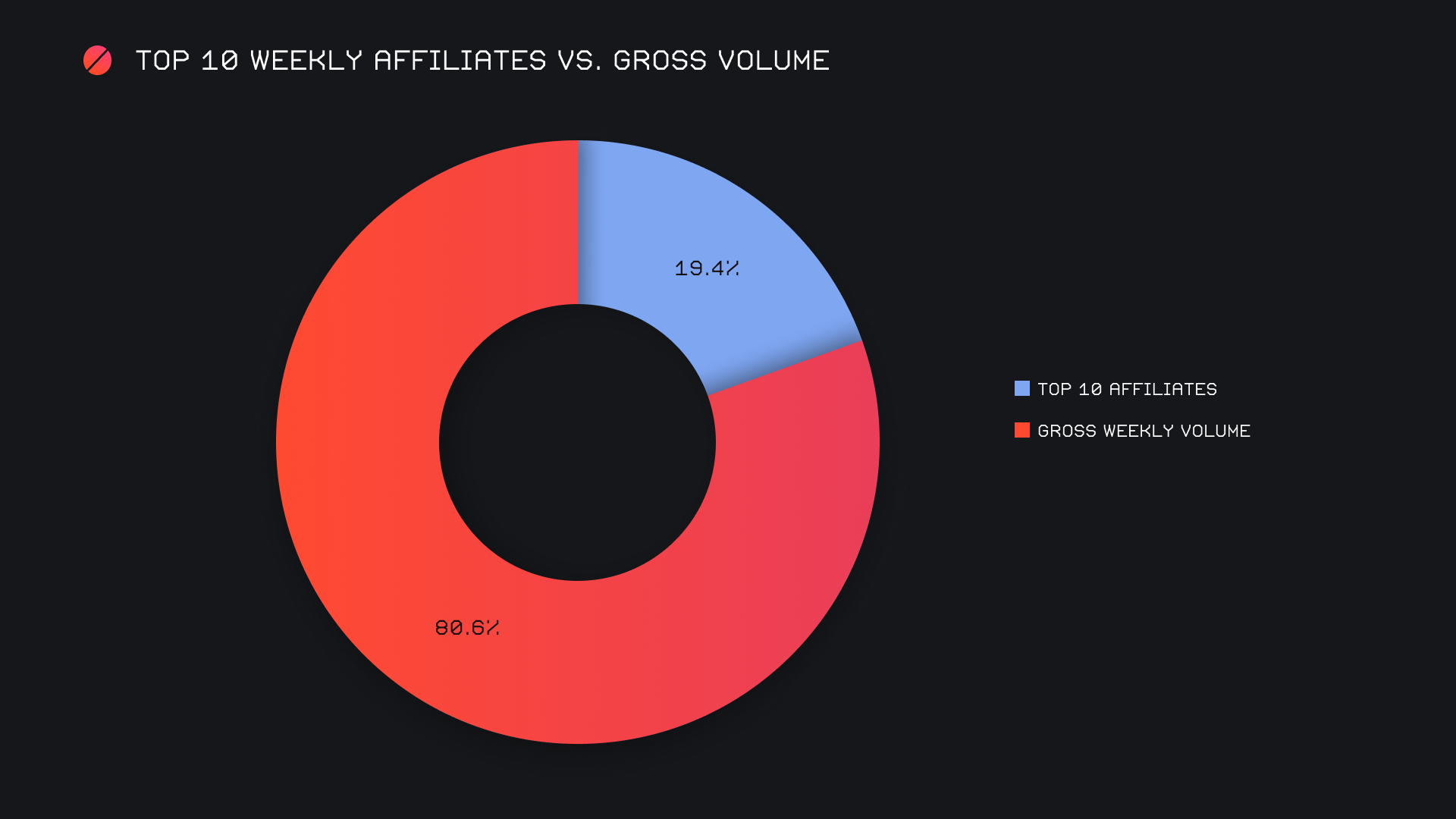 That's all for now. Thanks for reading, happy shifting and we'll see you next time.