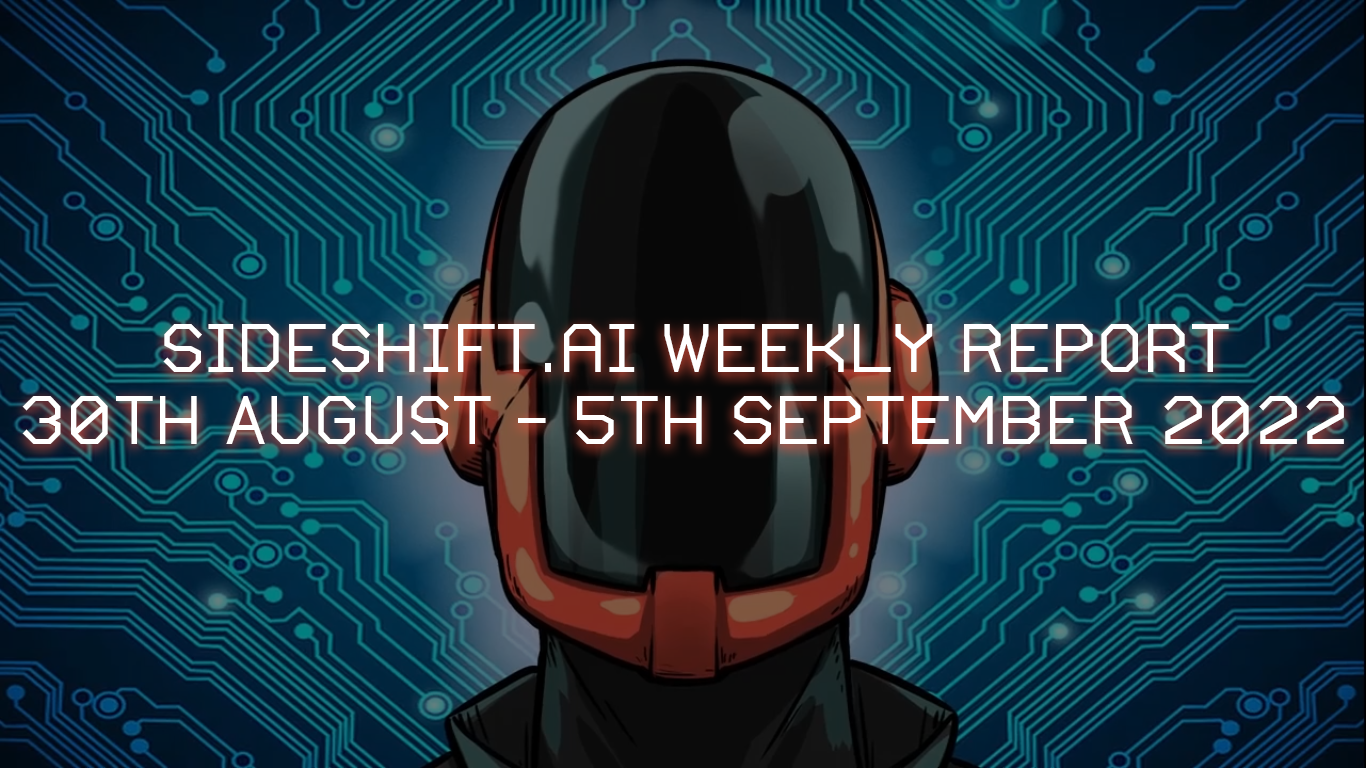 06 September, 2022
SideShift.ai Weekly Report | 30th August - 5th September 2022
Welcome to the eighteenth edition of the weekly stats report - your one-stop shop for all things SideShift.ai.

XAI Token Market Update

This week the price of SideShift token slowly ranged higher, moving within the boundaries of $0.118999 / $0.127040. At the time of writing, a XAI price of $0.125598 marks a ~4.2% increase when compared to this time last week. A current market cap of $11,646,068 places XAI in position #836, 23 spots higher than last week.

Since the migration on-chain, staked XAI has accrued 4.06% in additional value (1 svXAI = 1.0406 XAI); don't forget to check out SideShift.ai's Dune Dashboard for live XAI and svXAI stats updates.

SideShift also wants to remind users to be wary of telegram impersonators and fake group accounts. We will never DM you or ask for shift information via telegram. When in doubt, always contact support directly via the chat box at the bottom right corner on the SideShift.ai home page.

XAI stakers were rewarded with an average APY of 27.12% this week. On September 3rd, a weekly high of 29,496.91 XAI (33.76%) was paid to our staking vault, following a daily volume of $791k.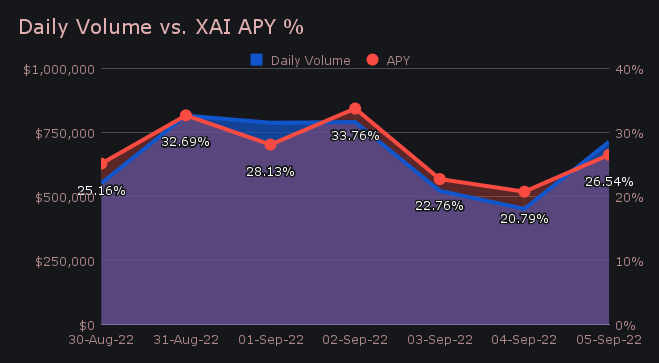 Additional XAI updates:

Total Value Staked: 37,165,342 XAI
Total Value Locked: $4,653,938

General Business News:

SideShift had a net weekly volume of $4.64m (+6.4%) with a total weekly shift count of 5,825 (+3.5%). This resulted in daily averages of $663k on 832 shifts.

This week's narrative was similar to last, with the vast majority of shifts revolving around our top 3 coins (BTC, ETH, XMR). Not only were they our top 3 when looking at volume and shift count, but they also unsurprisingly made 3 of the top 4 coin pairs for the week. Although these remained our top coins, it's worth pointing out that all 3 coins saw a decrease in total volume (deposits + settlements) from last week despite having more overall shifts.

With the Ethereum merge being right around the corner, it appears that SideShift users are bullish on ETH. It finished as the week's most popular settle coin with a volume of $1.04m (-4.4% from last week), just barely outdoing BTC, which placed second with $1.03m (-6.8%). USDT on Ethereum finished as our third most settled coin with $716k, a solid 32.2% increase from last week.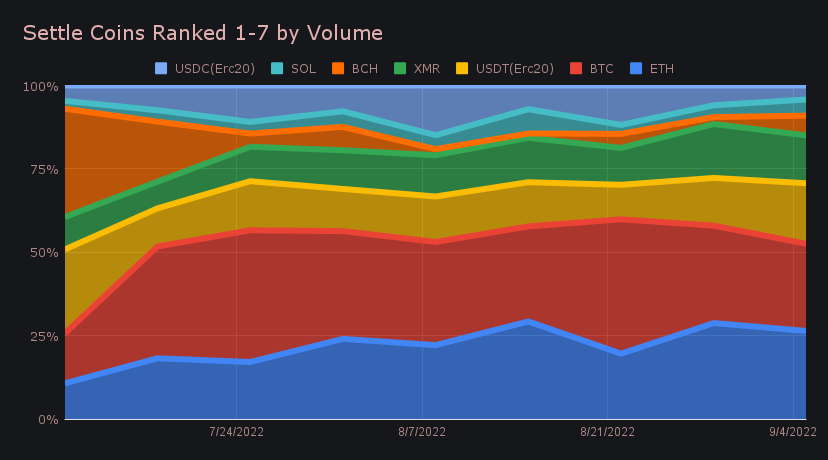 The deposits side saw BTC retain its multi-month streak of being our most deposited coin, with a total weekly deposit volume of $1.35m (+2%). This was followed by ETH ($807k, -13.2%) and XMR ($627k, -11.2%).

Although our top 3 coins saw slight decreases in total volume, it was interesting to observe that coins ranked 4-15, all experienced volume increases.

In particular, native tokens on several EVM's saw a big spike in deposit volume, which undoubtedly aided in our net weekly volume increase. BNB, MATIC on Polygon, and Avalanche ranked 6th - 8th in deposits, and had respective deposit volume increases of 79.6% ($184k), 529.4% ($154k), and 643.7% ($142k). In almost all of these instances, the majority of this deposit volume flowed into ETH. It will be interesting to track how this continues in the coming week.

The chart below shows a breakdown of the chains which generate the most volume, aside from Ethereum. It looks like the trend is slowly beginning to creep upwards, after hitting a possible low point in mid July.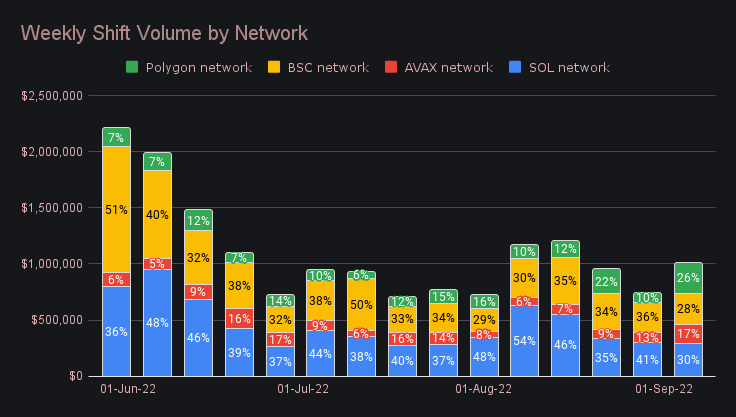 The week's top coin pair of BTC/USDT(erc20) represented 11.5% of weekly volume ($531k) and just 2.6% of weekly count, indicating the average shift size was quite large ($3.47k). Most of these shifts came from integrations, with the majority coming from Bitcoin.com wallet. 40% of the deposited BTC volume was shifted into USDT (erc20) this week.

In listing news, SideShift had a very busy week adding several new coins. USDT on Tron was listed at the beginning of the month - it has since totalled ~40k in shift volume.

We were also happy to add a handful other smaller cap tokens on Ethereum. The list includes Amp (AMP), Bone ShibaSwap (BONE), Decentraland (MANA), Frax (FRAX), Lido (LDO), Loopring (LRC), TrueUSD (TUSD) and Synthetix (SNX). As of writing they are all live and ready to shift.

SideShift had a generally quiet week with no downtime, and no major issues. Minor instability with the Solana and Tron networks may have resulted in certain shift delays for some users, but any issues that did arise were resolved within hours. The focus for us remains on building and listing. Be sure to join our telegram group chat to stay in the loop, and interact directly with our team.

Integration News

Integrations finished off the week accounting for 30.9% of weekly shift volume (+1.3%) and 30.2% of shift count (-1.1%).

That's all for now. Thanks for reading, happy shifting and we'll see you next time.