06 June, 2023
SideShift.ai Weekly Report | 30th May - 5th June 2023
Welcome to the fifty-seventh edition of the weekly stats report - your one-stop shop for all things SideShift.ai.

XAI Token Market Update

This week SideShift token (XAI) moved within the 7 day range of $0.1110 / $0.1247. At the time of writing the price of XAI is sitting near the very top of that range at a price of $0.1245, and has a current market cap of $14,475,477 (-1.9%) as denoted on our Dune Dashboard.

XAI stakers were rewarded with a healthy average APY of 18.39% this week, with a daily rewards high of 73,128.96 XAI (an APY of 30.04%) being distributed to our staking vault on June 1st, 2023. This was following a daily volume of $2.5m. This week XAI stakers received a total of ​329,394.23 XAI, or $38,648.75 USD in staking rewards.

The price of 1 svXAI is now equal to 1.1980 XAI, representing a 19.80% accrual on stakers' investments. The easiest way to participate in XAI staking is to shift directly to svXAI from any coin of your choice.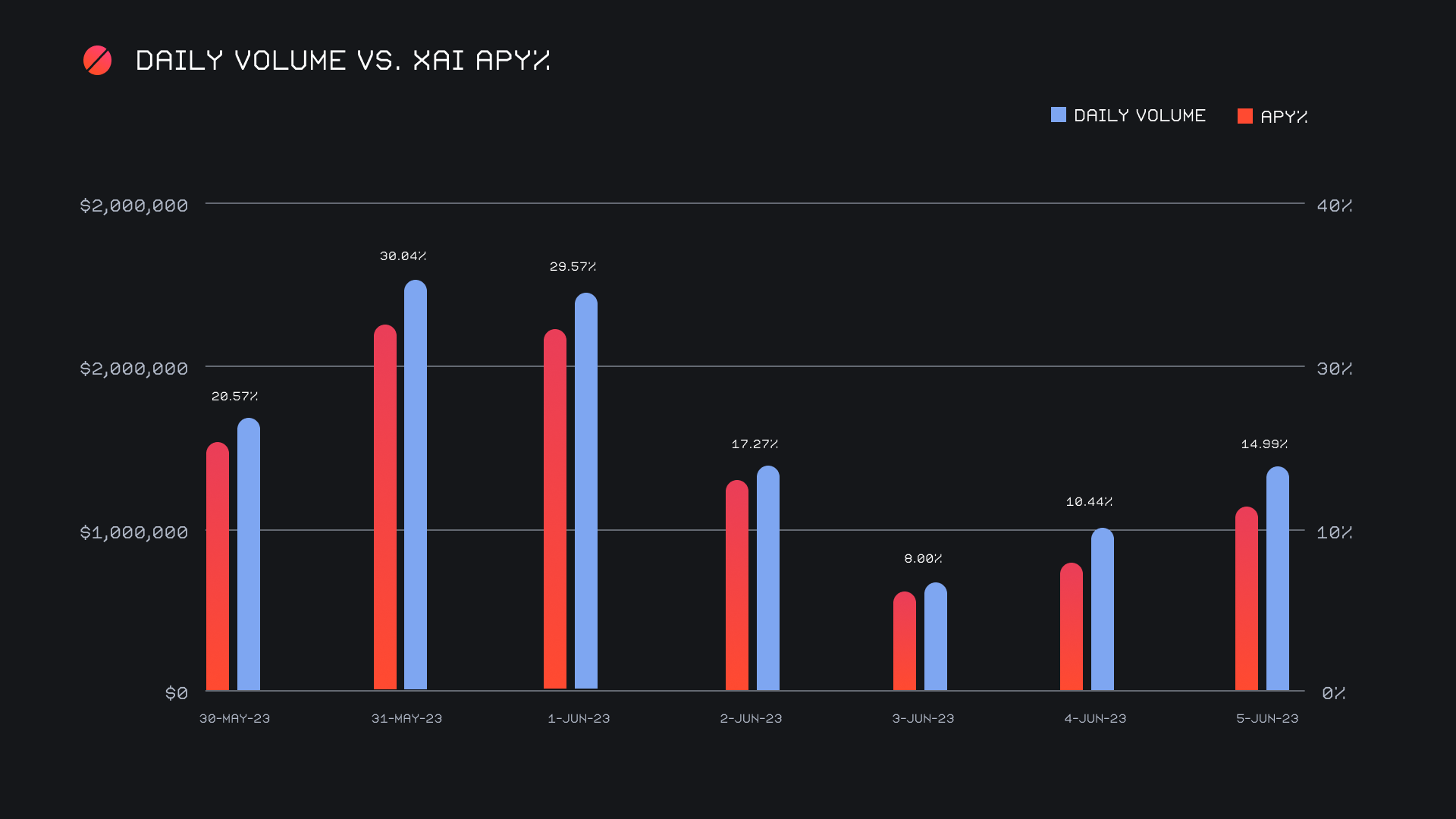 Additional XAI updates:

Total Value Staked: 102,017,131 XAI (+1.4%)
Total Value Locked: $12,013,537 (+3.4%)

General Business News:

A wave of FUD spilled over the news this week and sent the general market tumbling, but SideShift continued on unaffected.

SideShift ended the period well, and showed consistent strength throughout the week. We finished with a gross weekly volume of $11.1m (+50.4%) alongside a shift count of 7,788 (+39.7%). It should be noted that the majority of this sizable jump came from shifts which occurred directly on the site, a good sign amidst the generally negative sentiment floating around the current market. Together, these figures combined to produce daily averages of $1.6m on 1,113 shifts. When denoted in BTC, our weekly volume amounted to 412.36 BTC (+50.5%), a percentage increase almost identical to that of our USD volume change.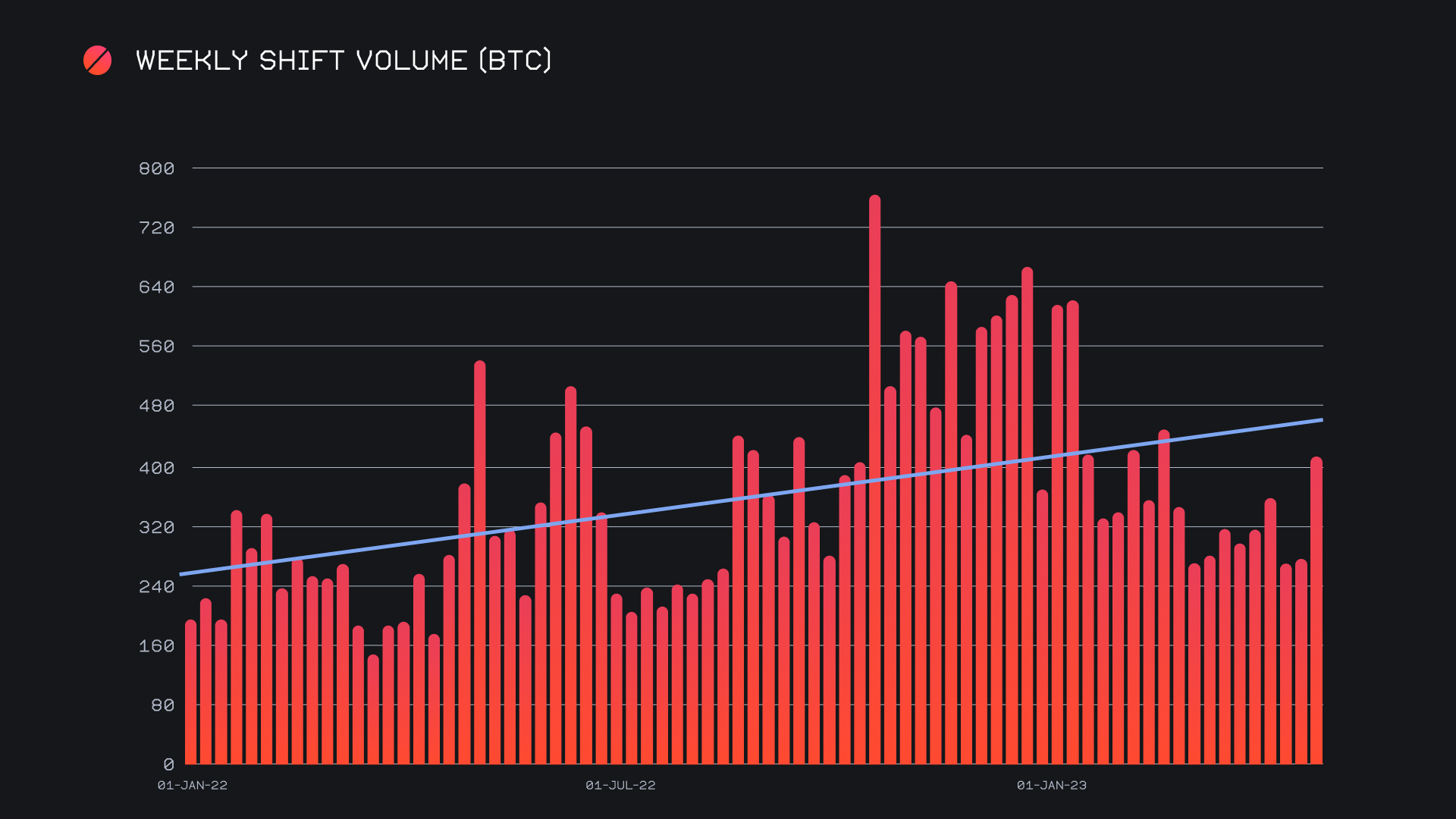 The weekly performance was green across the board for the vast majority of coins, as all of our top 10 coins saw greater than a 20% increase in week on week volume. Starting with our top 4, they remain unchanged with BTC once again leading the way. BTC saw a 31% increase in total volume (deposits + settlements) for a gross $4.4m. This was followed by the likely suspects - ETH, which netted $3.8m (+39.4%), XMR with $3.1m (+53.9%), and USDT (ERC-20) with $2.2m (+31.7%). It was a fairly even split between deposits and settlements for these coins, with the exception of XMR, which saw $1.5m in user deposits (+45%) as compared to just $645k in user settlements (still, a healthy increase of +40.9%). This discrepancy resulted in a hefty amount of XMR liquidity shifting, and therefore a large amount of XMR being traded. The result was a gross settlement sum of $1.6m, which represented an increase of 63.1%, the highest among our top 4. You can observe this change in the chart below.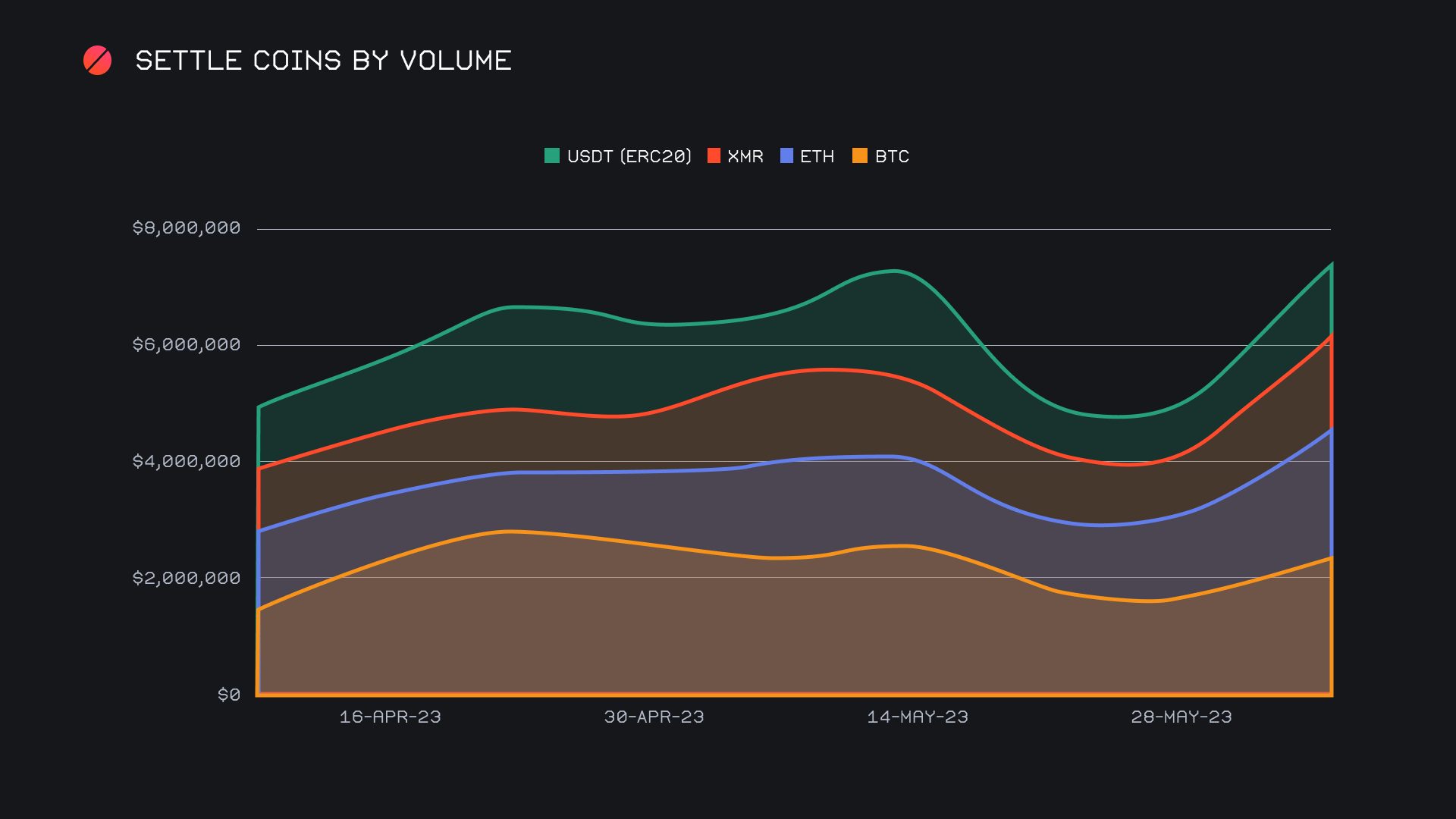 Although increased activity among our top coins played a role in the larger volume experienced this week, it is much more interesting to note the significant role played by alternate coins, and alternate networks. As a whole, alternate networks to ETH had a monster week, climbing 109% for a total $6.6m. Collectively, these chains zoomed past Ethereum, which sat $900k below with $5.7m in total weekly volume (deposits + settlements). The absolute standout within this group was BSC, with total volume increasing by a substantial 119% from last week, for a net $2.7m. USDT on BSC was the main cause of this, as it alone accounted for $1.4m.

Alongside BSC's outstanding performance were the noteworthy numbers achieved by both the Arbitrum network, and the Tron network. Falling in second place, the Arbitrum network generated $1.7m, rebounding hard from last week's measly performance, with a hefty increase of 487.6%. Here again, stablecoins accounted for the bulk of the shifting. USDC on Arbitrum was the main contributor, as it alone saw a tenfold increase and summed $1.0m. Newly added USDT on Arbitrum was no slagger either though, as it garnered $541k, a whopping 46x spike from last week. In third place was the Tron network, as it grew 50.6% for a total $1.1m. In addition, all other networks performed relatively well, all with a week on week growth percentage larger than 25%. Seeing the increased activity across all networks is a very promising sign - you can see just how significant this week was for alternate networks in the bar chart below.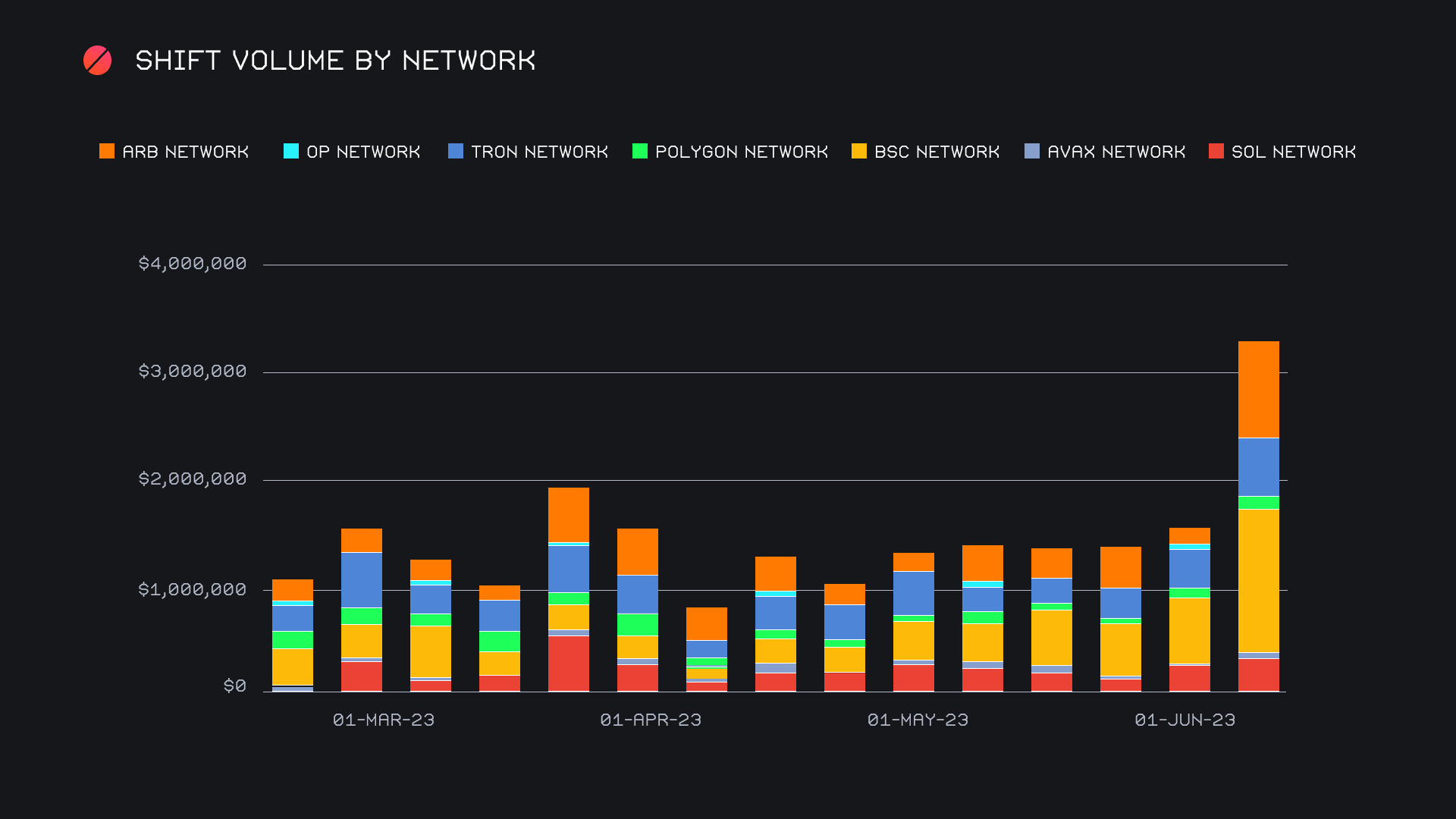 Many shifts this week revolved around stablecoins, with the aforementioned impressive performance of stablecoins on alternate networks playing a big role. Overall, we saw fairly large increases on both the deposits and settlement side when looking at all stablecoins combined. Deposits had the larger growth of the two sides, climbing 84.2% for a net $2.2m. Stablecoin deposits unsuccessfully attempted to close the gap to stablecoin settlements, which rose a lesser 54.3%, but still totalled $2.6m. You can note this upwards motion for both sides in the chart below. Also notable is the clear 2 month high for stablecoin shifting, as total stablecoin volume from users (deposits + settlements) summed to $4.7m.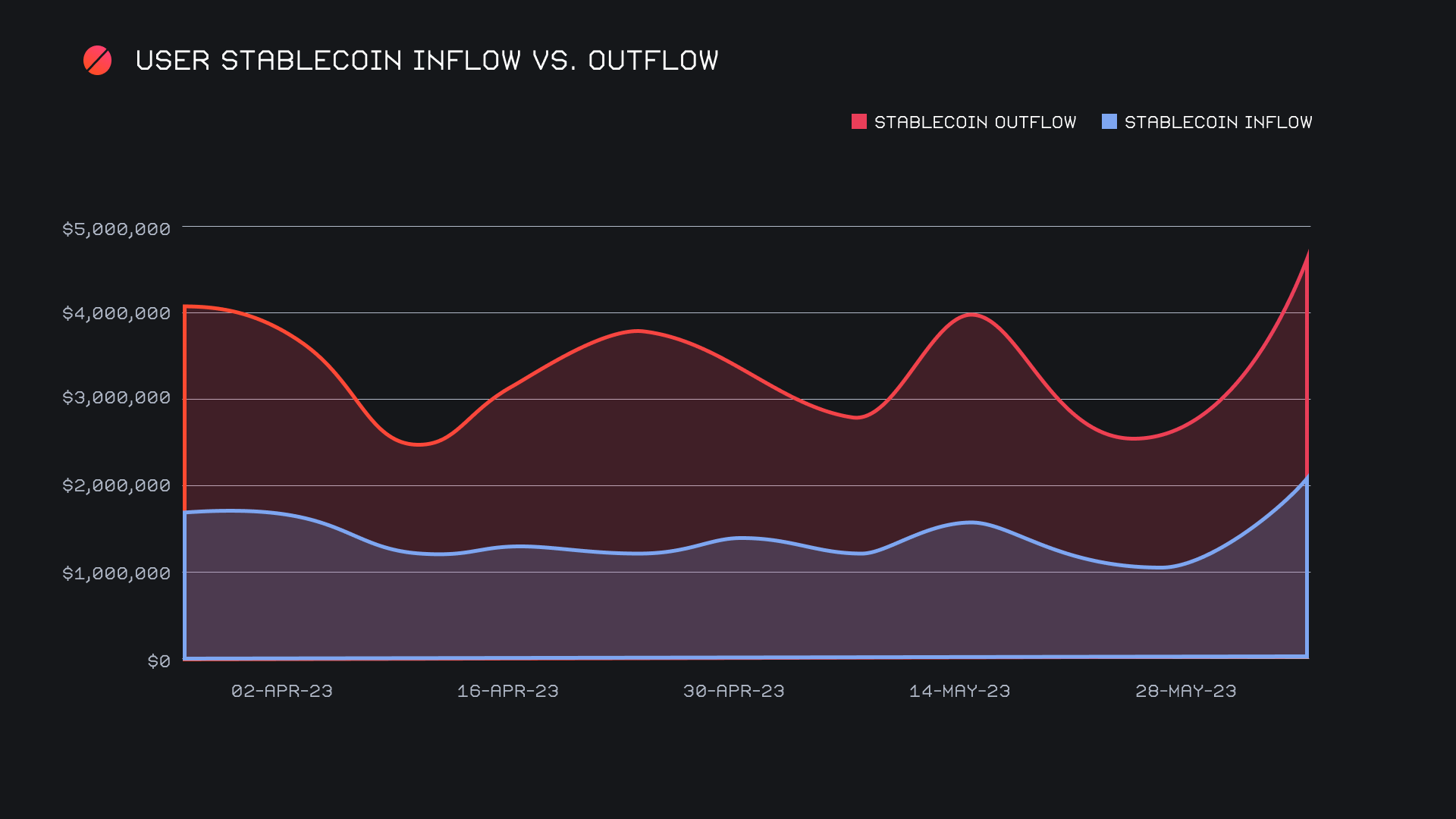 Affiliate News

Despite the volume increases seen across the rest of the SideShift metrics, our top 10 affiliates remained pretty much on par with the numbers recorded in the previous report. Combined volume increased by 4% for a total of ~$1.7m, however, shift count did grow 17.9% for 1,979 shifts. Our first placed affiliate accounted for just 5.9% of the week's shift volume, 5.4% lower than last week's proportion.

Overall, the top 10 represented 15.4% of our weekly volume, which is 6.9% lower than they achieved in the previous week.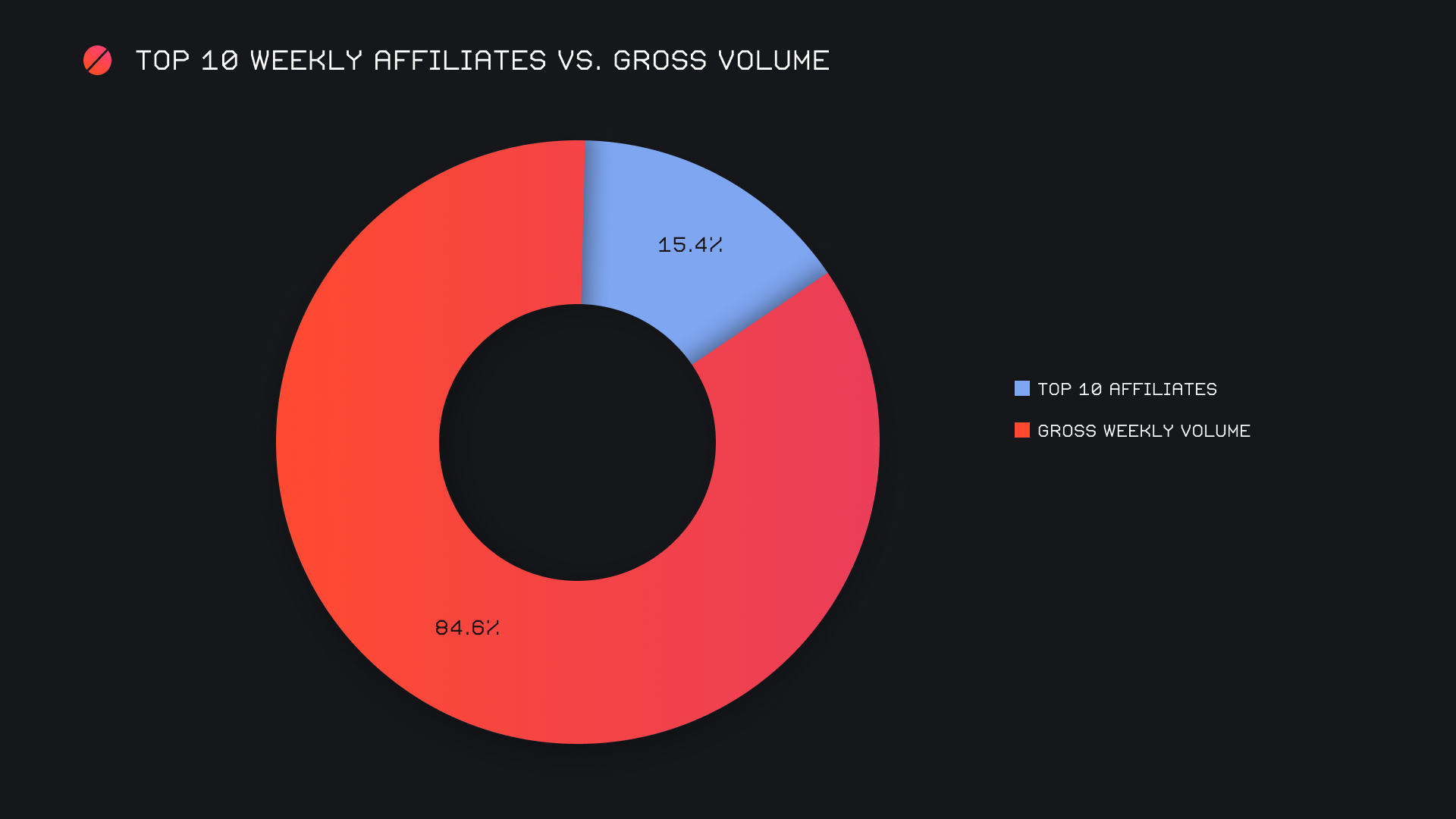 That's all for now. Thanks for reading, happy shifting and we'll see you next time.