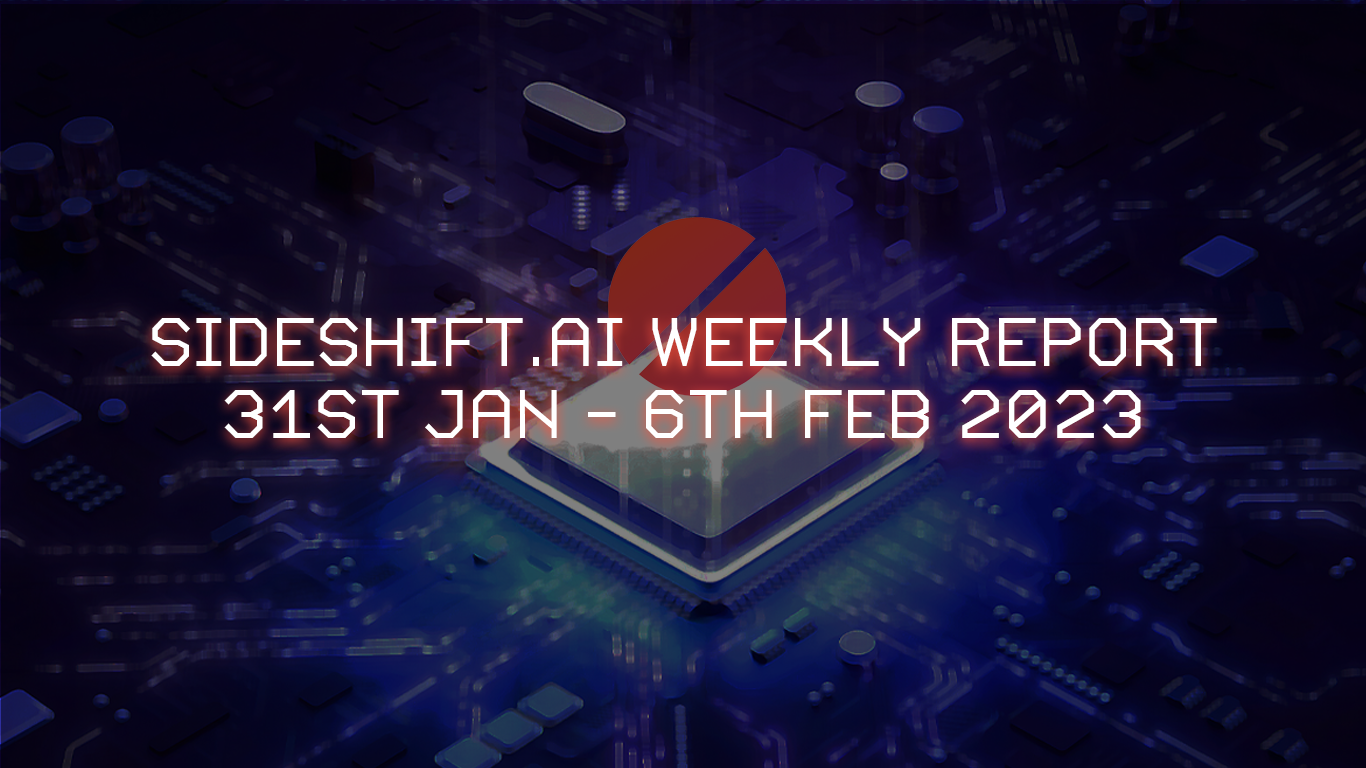 07 February, 2023
SideShift.ai Weekly Report | 31st January - 6th February 2023
Welcome to the fortieth edition of the weekly stats report - your one-stop shop for all things SideShift.ai.

XAI Token Market Update

SideShift token (XAI) navigated the week in a very similar manner as the previous, moving within the newly established 7 day range of $0.1344 / $0.1477. Currently, the price is sitting right at the upper edge of that bounds with a price of $0.1471, as XAI closed out the week near range highs. As denoted on our Dune Dashboard, a circulating supply market cap of $17,573,733 marks an increase of 4.9% from last week.

XAI stakers were rewarded with an average APY of 20.78% throughout the period, with a daily rewards high of 69,563.02 XAI (an APY of 36.25%) being deposited to our staking vault on February 2nd, 2023. This was following an extremely solid daily volume of $4.0m. As a whole, the 7 day rewards total which was paid to stakers amounted to $42,452.25 USD, or 292,209.89 XAI.

The price of 1 svXAI is now equal to 1.1516 svXAI, representing an accrual of 15.16% on stakers investments. Users are reminded that they can easily stake XAI from any coin of their choice, by shifting directly to svXAI.

In treasury news, 50 ETH was added to on February 2nd, 2023, bringing the current total to $2.75m You can follow along with live treasury updates directly on zapper.fi.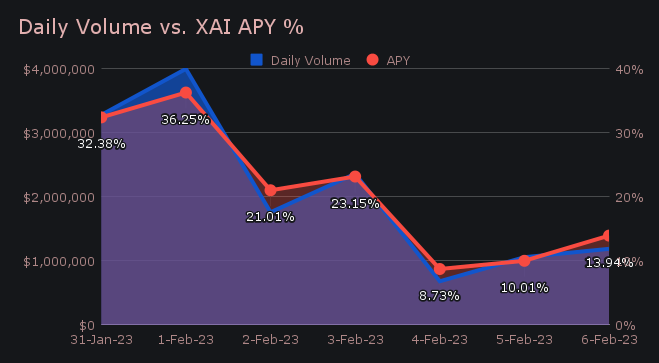 Additional XAI updates:

Total Value Staked: 82,395,672 XAI
Total Value Locked: $11,810,596

General Business News:

Following a slower week which aligned with Bitcoin's mostly sideways price action, this week SideShift bounced back sharply and returned to territory which is pushing the boundaries of our strongest weeks recorded to date.

SideShift finished the period with a gross volume of $14.3m, an impressive jump of +70% from last week. This was alongside a shift count which grew +20.7% to total 7,599 - a sizable increase for a figure which typically remains relatively stable. These figures combined to produce daily averages of $2.05m on a very healthy 1,086 shifts. When denoted in BTC, our weekly volume amounted to 612.90 BTC, representing an increase of +67.8% from the previous week.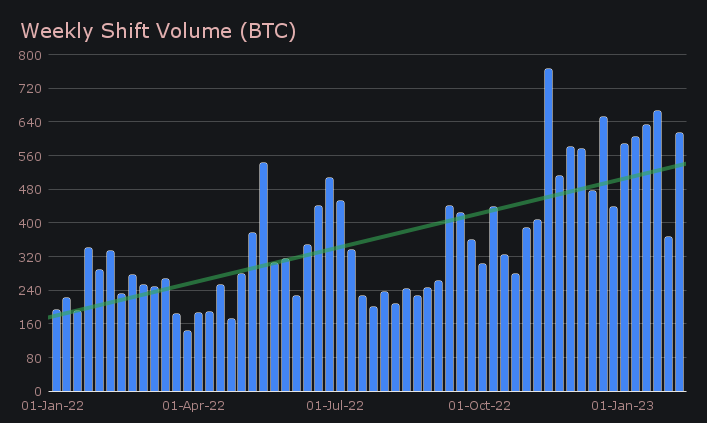 The narrative of BTC driving the majority of shift action once again played out this week, with BTC accounting for nearly one third of both settlements and deposits, far exceeding any other coin's volume. BTC deposits surged, rising 86% to claim the spot as our most deposited coin with $4.55m. The return of the notorious BTC/BCH pair most certainly aided in this BTC jump, as the pair alone generated $1.19m in weekly shift volume.

With that being said, BTC/BCH was not the only pairing which sparked the interest of users this week. ETH/BTC saw more than a 4x growth in shift volume, which contributed to a doubling of ETH deposits week on week. Total ETH/BTC shifts netted $1.04m, which accounted for nearly half of the deposited ETH throughout the period. ETH placed as our second most deposited coin, and increased 84.6% from last week to total $2.39m.

Liquidity rebalancing which was necessary to help fulfill the demand of popular shift pairs also played a part in volume changes among our most popular coins. Not only was this apparent in the cases of BTC and ETH deposit increases, but also BCH, which grew 75.3% to rank as the week's 4th most deposited coin with $1.24m. Deposit volume among all 4 of our top coins rebounded sharply, as shown in the chart below.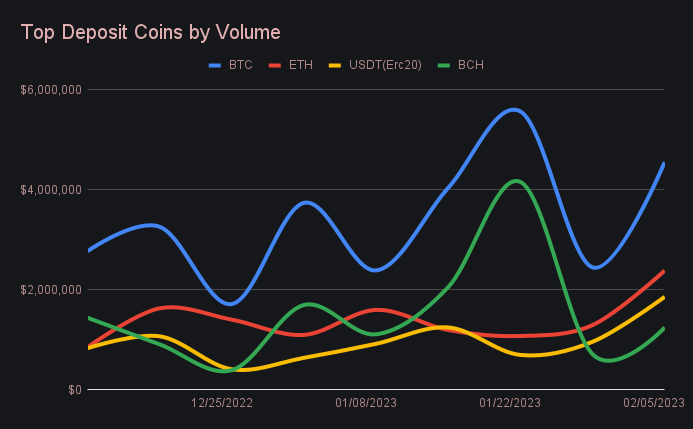 The changes on the settlement side were even more notable, with half our top 8 coins undergoing an increase of 100% or greater. The ranking pattern of the top 3 unfolded in the exact fashion as the deposits side - BTC was the most settled coin with $4.62m (+90.5%), while ETH placed second with $2.30m (+84.6%). In third was USDT (ERC-20), which boomed by 114.2% to total $1.91m and reclaim its spot among the top 3. Interestingly, this is the highest settlement volume achieved by USDT (ERC-20) since late November 2022, a time when most of the market was moving to stables, just after the FTX meltdown.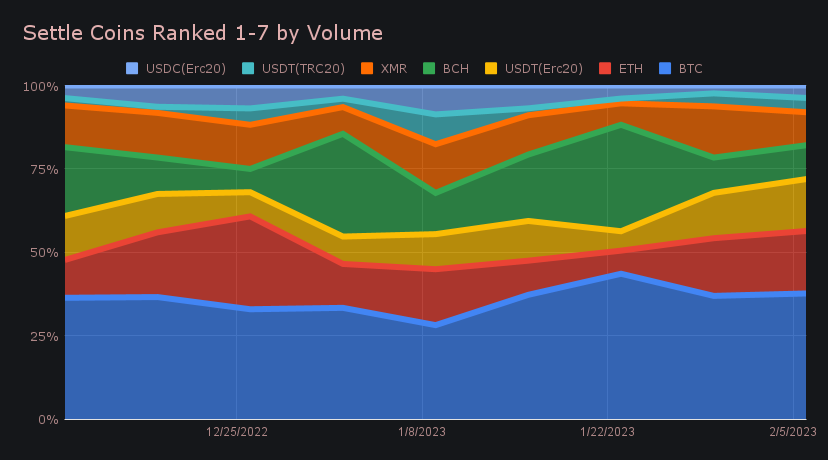 A handful of other L1s which are seeing a lot of chatter on Twitter had even more explosive percentage changes this week, perhaps an indication of people buying into the news. A few examples include MATIC, which grew 351% to total $189k, and FTM, which although nominally small at $49k weekly, grew more than 8x from its baseline settlement sum.

A quick look at networks tells us that the Tron network garnered a lot of shift action this week, and clearly defined itself as the second most popular chain option, next to Ethereum. In the previous 4 months, shift activity on a chain other than Ethereum has exceeded $1m weekly only 3 times - all 3 of these were Tron, with the most recent being this week. It finished with $1.12m, with almost all of this volume coming from USDT (TRC-20) shifts. It represented 41% of the shift volume among alternative networks to ETH this week.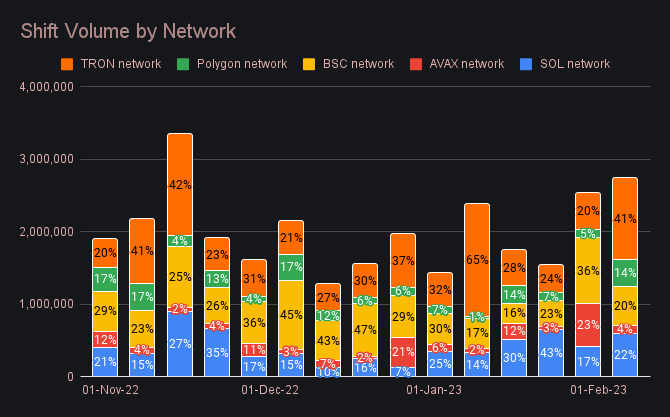 In listing news, SideShift added support for Magic (MAGIC) this week, which is the utility token of Treasure, an NFT-based gaming ecosystem built on Arbitrum. With a current market cap of $424m, MAGIC ranks #97 overall. Users are encouraged to try shifting to MAGIC from any coin of their choice.

SideShift experienced no major interruptions throughout the week, allowing us to ship new features, improve current ones, and add new coins. A handful of users reached out with concerns of delayed ERC-20 shifts, but our support team was quick to act and resolve any issues.

Affiliate News

Our top 10 affiliates performed quite well this week and combined for a total of $2.79m in shift volume, approximately 86% higher than the sum recorded in the last report. This was achieved with a cumulative shift count of just 2,276. This count represented an increase of only 9.1%, quite small in comparison to the spike recorded in volume. Together these figures combined to produce an average shift value of $1,228, an increase of $510 per shift from last week. As a whole, volume attributed to our top 10 affiliates represented a solid 40% of the user shift volume this week.

That's all for now. Thanks for reading, happy shifting and we'll see you next time.