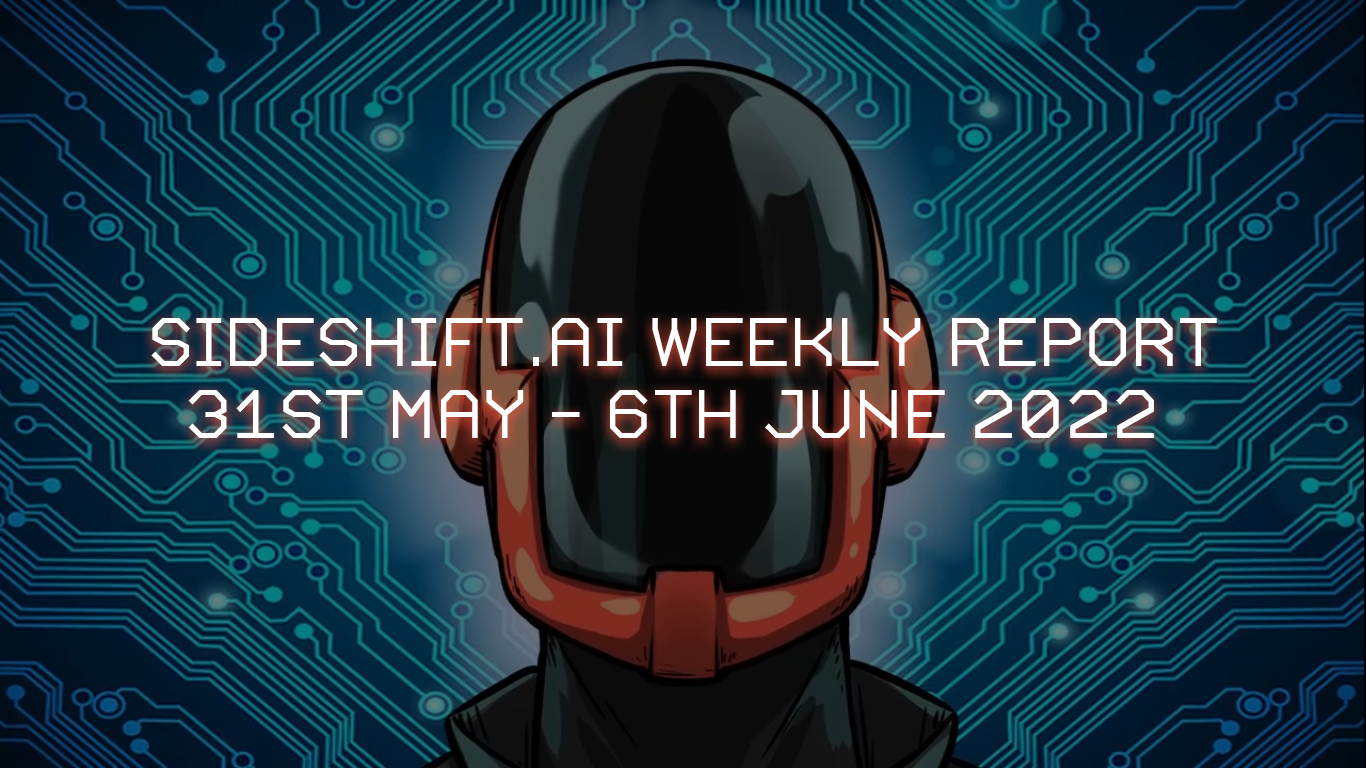 07 June, 2022
SideShift.ai Weekly Report | 31st May - 6th June 2022
Welcome to the fifth edition of the weekly stats report - your one-stop shop for all things SideShift.ai.

XAI Token Market Update

This week's APY ranged from the low teens to mid-twenties and had a daily average of 16.83%. Lower market volatility has resulted in less shifts and therefore a lower APY than previous weeks. The weekly APY high was 25.46%, following a daily volume of $1.23m on June 6th.

SideShift Token's market cap was slightly down from the previous week and is currently sitting at $9.7m. This places XAI #926, as it continues flirting with the top 900. The current price of XAI is $0.210033, which is just lower than the average seen over the past 30 days ($0.216946).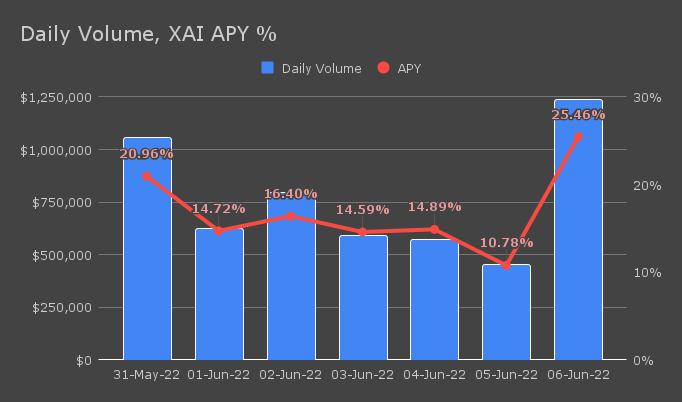 Additional XAI updates:

Total Value Staked: 32,937,926 XAI
Total Value Locked: $6,730,536

General Business News:

Market sentiment remains largely bearish as the generally downward trending market seems to trudge along. This week our daily volume average was ~$0.76m per day, which is about 20% lower than the previous week. BTC remains our most popular coin and is always responsible for a large portion of our overall volume. However, the overarching negative trend has also now impacted BTC, with total volume (deposits + settlements) being down 30% from the prior week. Our second most popular coin (ETH) was also down, but to a lesser extent of only 5%. Although total ETH volume was lower week on week, there was a reversal of trend which saw ETH settlements now exceed deposits. Ethereum accounted for $1.03m (~19.4%) of weekly settlements.

Despite lower overall BTC and ETH volumes, we have seen more people buying stablecoins throughout the week. Stablecoins accounted for $1.2m (22%) of settlements compared to $0.86m (14%) last week. It should however be noted that overall volume was lower as well, thereby inflating the percentage of the total. USDT and USDC on the Ethereum network placed 4th and 5th in settle popularity, with $423k and $386k in settle volume, respectively. These ranked behind the typical "top 3" settlement choices of BTC, ETH, and BCH.

Additionally, stablecoins DAI and USDC on the Solana network were also among the handful of coins that saw overall volume growth week on week. It's not surprising to see people stack stablecoins during a week where the market was largely stagnant. An interesting find was an influx of Cardano, which accounted for $216k worth of deposits - our highest since listing. This surge ranked it 9th in overall popularity for the week.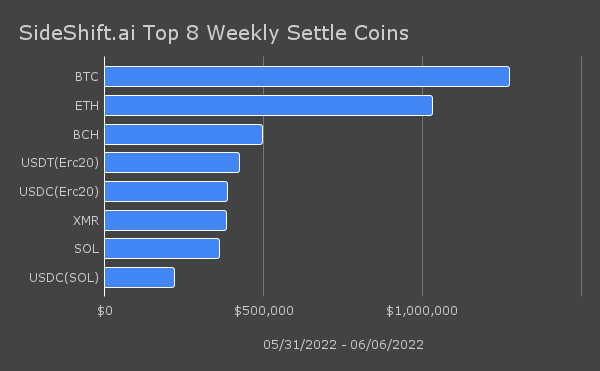 The BTC/BCH popularity streak remains alive, but barely, with the bulk of BTC/BCH shifts coming late on June 6th. It has now been the most popular pair for 6 consecutive weeks, although the pair volume is much lower this week compared to last ($453k vs. $1.01m). As of late, people instead seem to be more focused on BTC, ETH, and stablecoins.

BNB is also maintaining its overall popularity with this week seeing a big jump on the settlement side, whereas the prior saw an increase in deposits. It was our 3rd most popular deposit coin, with $475k in deposit volume. Additionally, BNB/ETH was our 3rd most popular shift pair, accounting for $320k (~6%) of weekly shift volume.

The market is continuing to move sideways with little market action - perhaps people are HODLing their coins and reluctant to shift. Nevertheless, shifts are settling smoothly and SideShift.ai is utilizing this downtime to focus on bigger picture tasks. Some network errors occurred last week such as SOL going down - we temporarily disabled SOL as a result. We also encountered some minor Stellar (XLM) and Zcash (ZEC) issues. Some deposits went undetected on our end and in some cases, caused a delay for users. These issues have since been resolved and shifts are processing normally once again.

Integration News

Both Trezor and bitcoin.com wallet represented a larger percentage of total volume this past week. Volume for both integrations increased, while overall volume decreased. Trezor accounted for $777,060 (14.6%) of the total, while bitcoin.com represented $439,034 (8.7%).

In the case of bitcoin.com wallet, this is almost 60% higher than last week and is fairly consistent with the weekly volume seen throughout the past few months. It is nice to see steady (and rising) integration volume during times when everything else seems to be quiet.

Edge wallet placed third again, with $82,278 in weekly volume (0.4% of the total).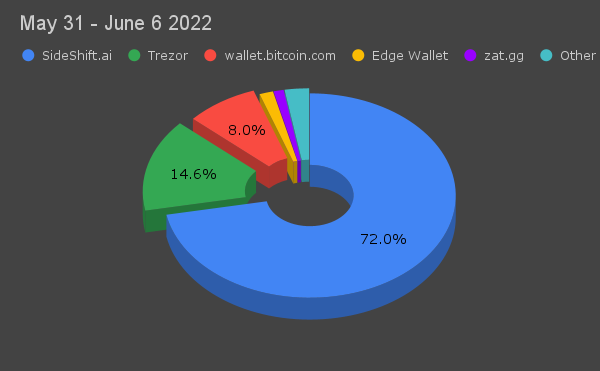 That's all for now. Thanks for reading, happy shifting and we'll see you next time.