08 November, 2023
SideShift.ai Weekly Report | 31st October - 6th November 2023
Welcome to the seventy-ninth edition of the weekly stats report - your one-stop shop for all things SideShift.ai.
SideShift token (XAI) spent the week moving within the 7 day range of $0.0757 / $0.0834, reaching the lower bounds as the week came to a close. At the time of writing, XAI is sitting at the bottom of the range at a price of $0.0760, and has a current market cap of $9,510,292 (-0.7%).
XAI stakers were rewarded with an average APY of 9.88% this week, with a daily rewards high of 40,835.34 XAI being distributed to our staking vault on November 2nd, 2023. This was following a daily volume of $1.3m. This week XAI stakers received a total of 201,714.28 XAI or 15,249.60 USD in staking rewards.

SideShift's treasury has a current total value of $5.74m. Users are encouraged to follow along with live treasury updates, via sideshift.ai/treasury.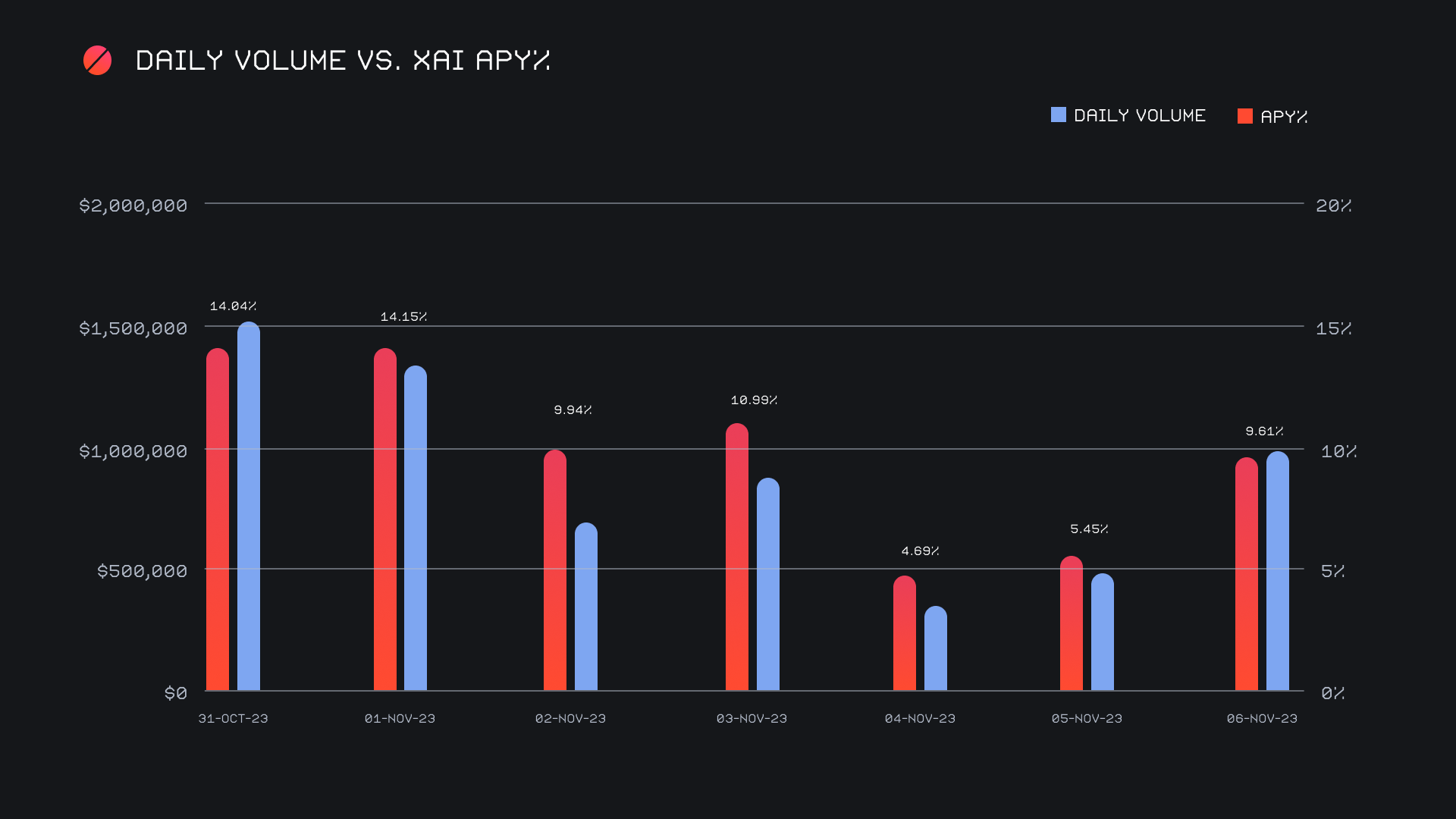 Additional XAI updates:
Total Value Staked: 112,850,967 XAI (+0.2%)
Total Value Locked: $8,445,421 (-2.6%)
General Business News

With BTC's price hanging around the $35k mark, momentum has spilled over onto other coins while BTC pauses to catch its breath. The majority of the top 100 enjoyed a green week, with several seeing weekly gains exceed double digits. This rang true for some top 10 coins such as Ripple (XRP), Cardano (ADA) and Solana (SOL), however, it was Pancakeswap (CAKE) which emerged at the forefront of weekly gainers, rocketing an impressive +78% on the week.

In the wake of a strong performance last week, SideShift ended the period with a gross $6.2m (-28.6%), a figure closer to its running 2 month average. This occurred alongside a shift count which was impacted to a lesser extent, falling -4.2% for a total of 5,889 shifts. It was mentioned in the previous report that the surge in volume was a result of an increase in shifts being carried out directly on the site. Similarly, this week's decline can be attributed to the same factor. It should be noted that integration volume as a whole also declined, but to a lesser extent. Together, these figures combined to produce daily averages of $886k on 841 shifts. When denoted in BTC, our weekly volume amounted to 177.25 BTC (-30.2%).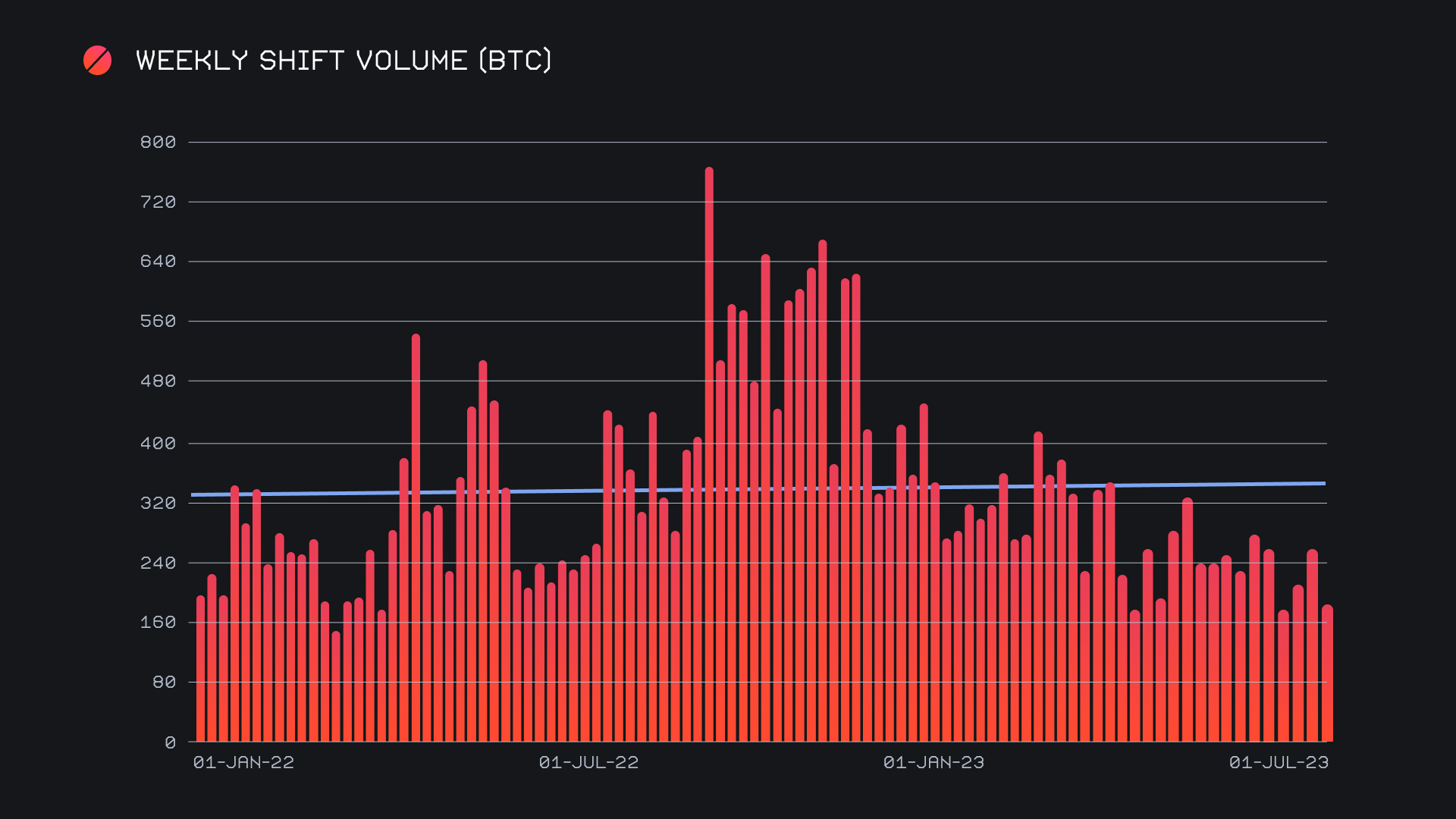 Although the chart for our top 5 coins by total volume appears to be largely declining in nature, a deeper look reveals more than meets the eye. BTC remained atop the list with $3.4m, despite incurring a substantial decline of -35.3%. This was mainly a result of a decrease in BTC user deposits, which dropped more than 38% for a net $1.5m. User BTC settlements also were impacted by the stagnant behavior of the industry's top coin, as BTC settlements on SideShift fell -15% for $1.15m. This was enough of a decline to dethrone BTC as our most demanded coin, as the focus of users turned elsewhere.

Instead, it was ETH which caught the eye of most users, as settlements climbed +23.4% for a total $1.2m, just enough to squeak its way past BTC for the top spot. Interestingly, this represented the only coin among the top 10 to see a rise in weekly settlement volume. All others had a decline of 15% or greater. This allowed ETH to withstand the decline in total volume experienced by most coins, as its behavior was relatively flat, actually increasing a minor +2% for a total $2.7m.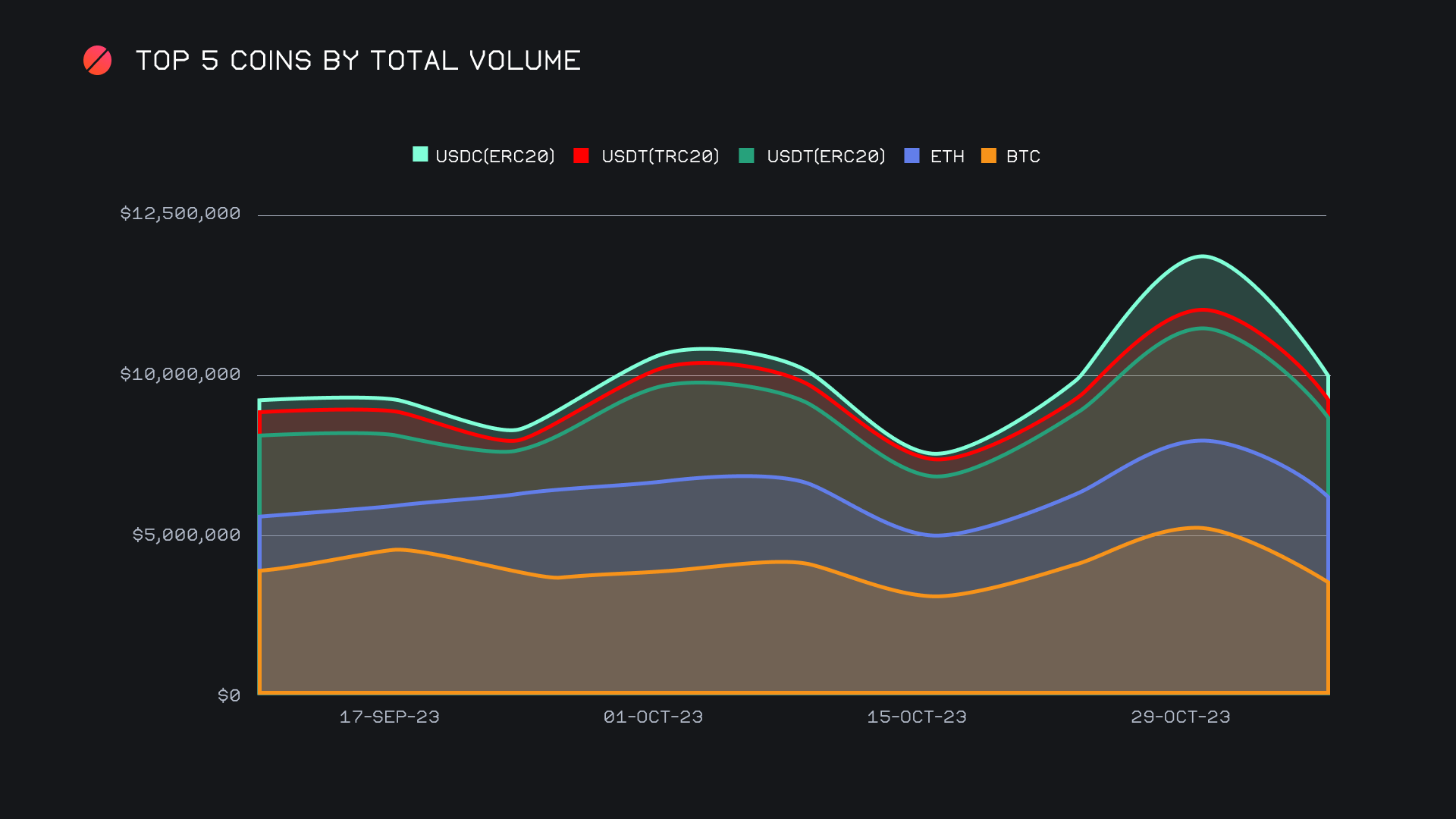 When looking at alternate networks to ETH, we can note another example of ETH's relative dominance this week. Collectively, these alternate networks declined -25.4% for a combined $1.9m. The SOL network was hit the hardest, falling aggressively by -56.8% for a total $378k. This was almost entirely due to a sharp decrease in the demand of SOL, which occurred in spite of the continued rise in price it saw throughout the week. This move knocked it out of first spot, to be replaced by the TRON network. Comparatively speaking the TRON network held its ground, dipping only a minor -0.9% for $725k. In third place sat the Binance Smart Chain (BSC) network, as it declined -23.3% for $360k. As a whole, 15% of weekly shifts included a coin on one of these networks. This is compared to coins on the ETH network being included in a majority 55.6% of weekly shifts, showing us that shifting on the ETH network ate into the share accounted for by alternate networks.
Both the spike in ETH demand as well as the ongoing (yet lesser) settlement volume of USDT (ERC-20) were key reasons for this high proportion for the ETH network. This is reflected by the fact that these coins composed the settlement portion of our top two most popular pairs. The BTC/ETH pair reigned supreme with $591k, marking the first time in 2023 that it has been the most popular among users. The jump even managed to surpass BTC/USDT (ERC-20), a pair which has remained a focal point throughout the entire year. Still, BTC/USDT (ERC-20) sat not too far behind in second place, with $562k.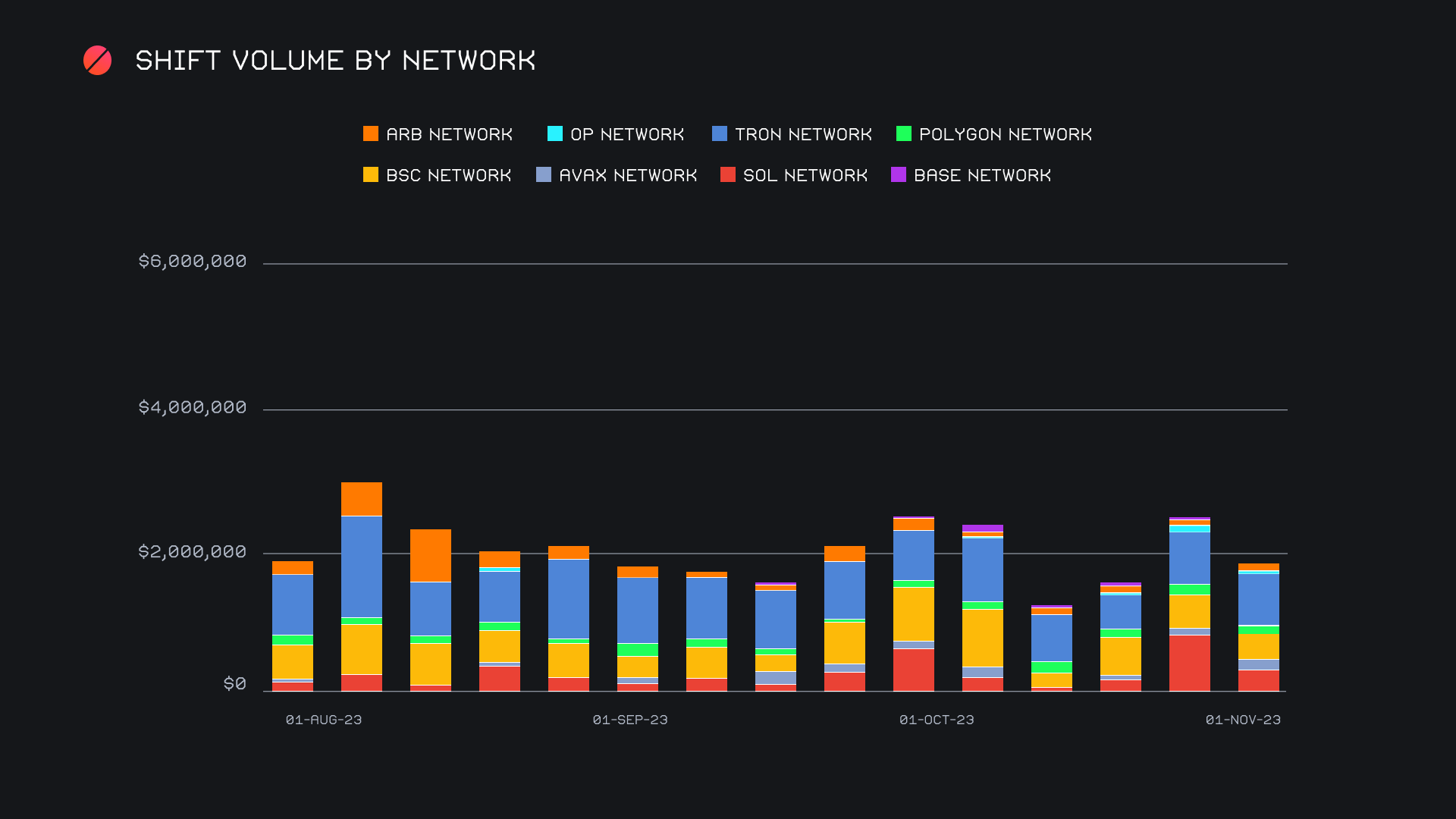 Affiliate News
SideShift's top affiliates combined for a collective $2.5m, a solid sum, but a decline of -20.6% from last week's monster showing. Shift count was impacted less-so, falling -7% for a total 2,479. Our top affiliate was switched up once again, with the former second place roaring into first, with a total $1.1m (+16.8%) in weekly volume. This sat ~$530k higher than second place, a clear indication of its strength this week. Overall, our top affiliates represented 39.7% of our total volume, 4% higher than last week's proportion.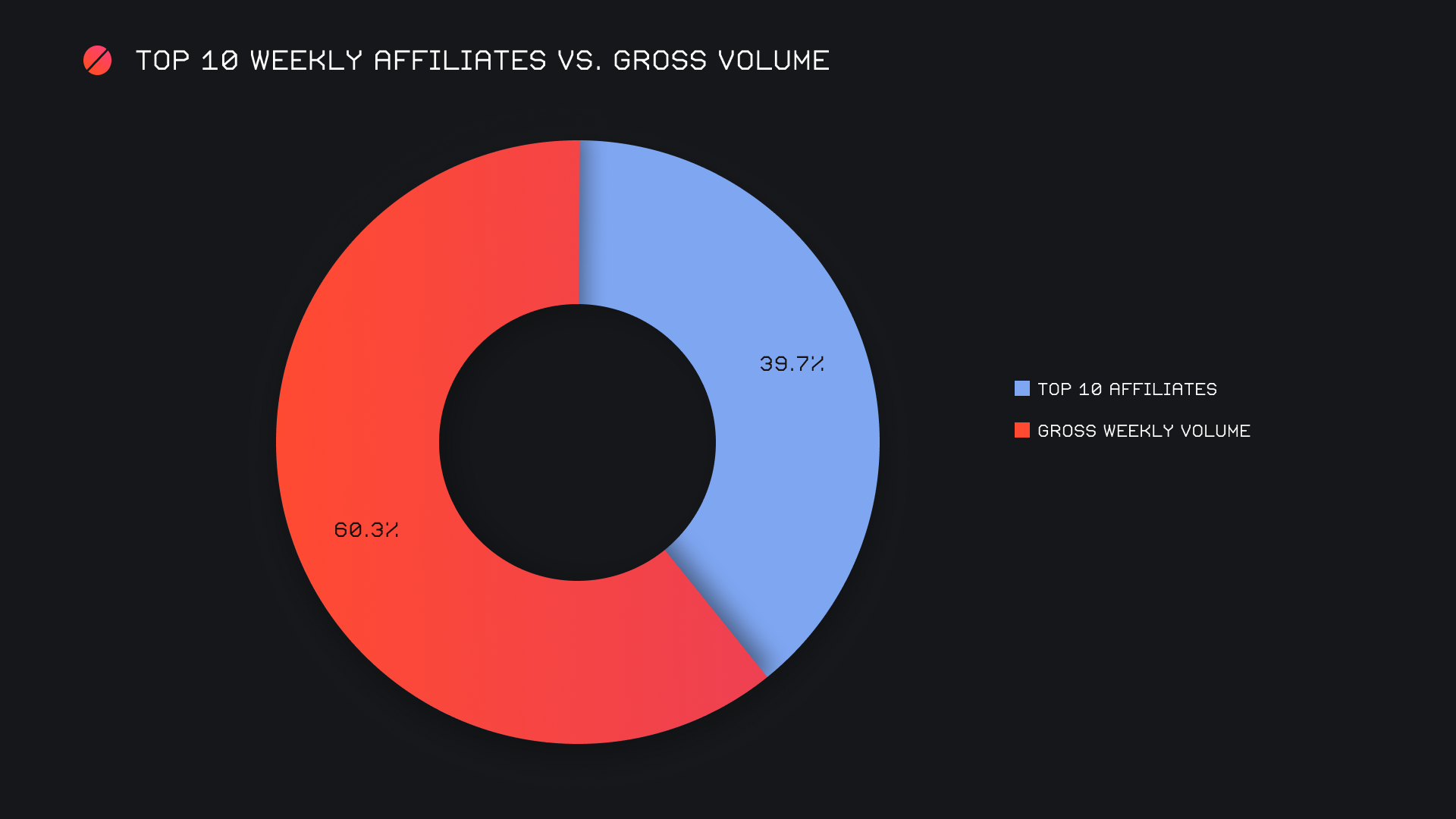 That's all for now. Thanks for reading, happy shifting and we'll see you next time.