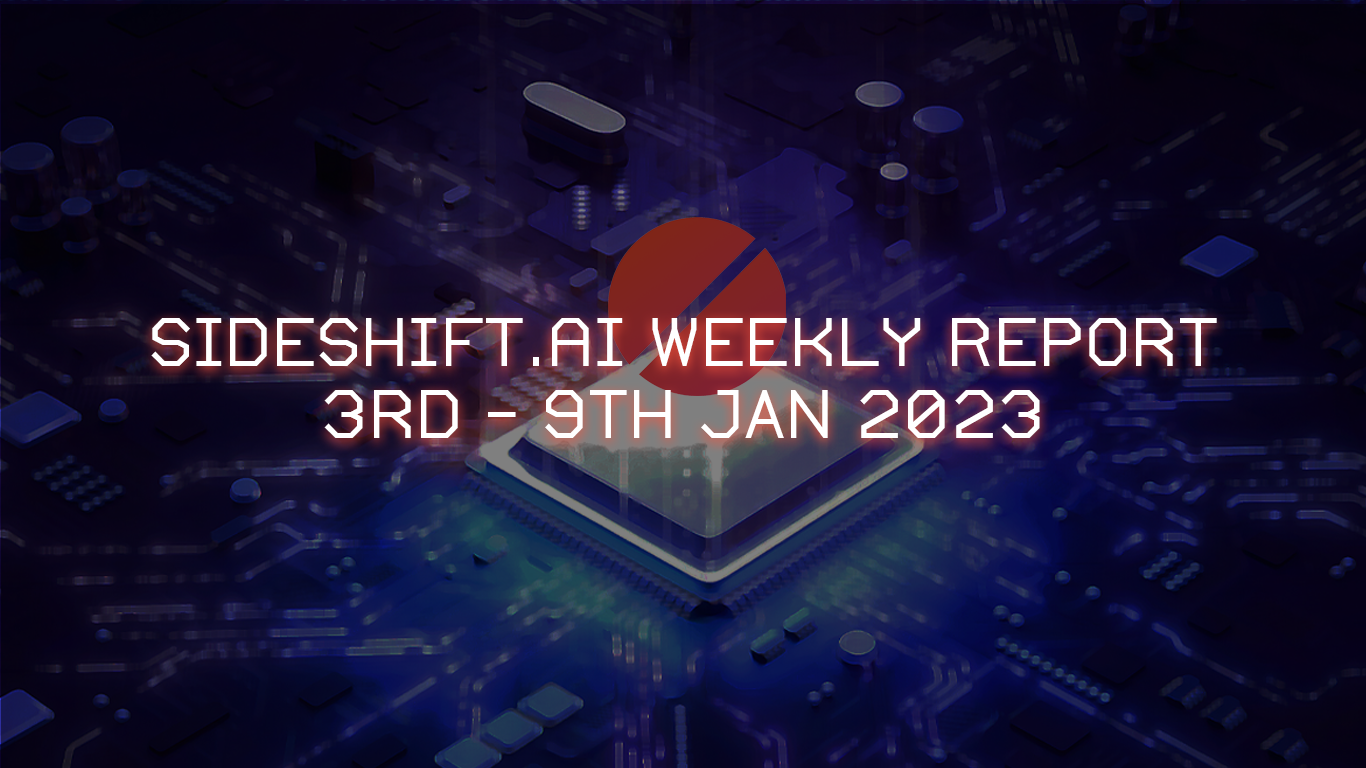 10 January, 2023
SideShift.ai Weekly Report | 3rd - 9th January 2023
Welcome to the thirty-sixth edition of the weekly stats report - your one-stop shop for all things SideShift.ai.

XAI Token Market Update

For the third straight week, SideShift token (XAI) has not budged from the $0.11 mark. Throughout the period it moved within the 7 day range of $0.1101 / $0.1160, and at the time of writing is sitting at a price of $0.1148. A current circulating supply market cap of $13,436,008 represents a sizable 22.5% increase from this time last week due to the remaining founder allocation being unlocked, as outlined in the XAI whitepaper. Comprehensive XAI data is available on our Dune Dashboard.

XAI stakers were rewarded an average APY of 22.31% this week. On January 7th, 2023,  a daily rewards high of 54,422.46 XAI (yielding a 32.59% return) was deposited directly to our staking vault following a daily volume of $1.30m.

In treasury news, 50 ETH was added to our treasury on January 9th, 2023, bringing the current sum to a value of $1.84m. For a transparent breakdown of our holdings as well as current activity, users are encouraged to check out our treasury directly, here on zapper.fi.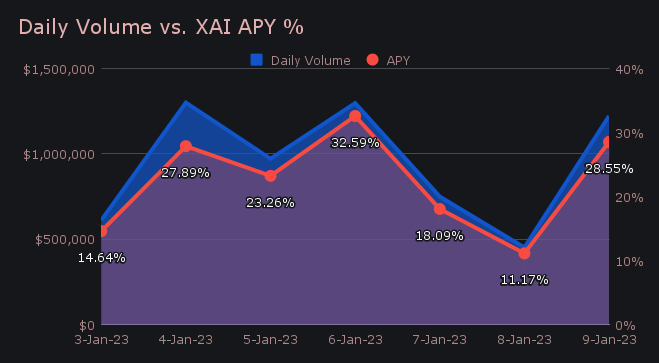 Additional XAI updates:

Total Value Staked: 70,572,162 XAI
Total Value Locked: $8,020,526

General Business News:

This week SideShift had less volatility as compared to the previous week on week changes, but still saw the general back and forth volume pattern unfold. We finished the period with $6.61m, marking a decrease of 7.4% from last week. Interestingly however, this was accompanied by a total shift count growth of 11.1%, which had a net tally of 6,217 shifts. These figures combined to produce daily averages of $944k on 888 shifts. When measured in BTC, this week's volume totalled to 390.29 BTC, indicating an 8.7% decrease from last week.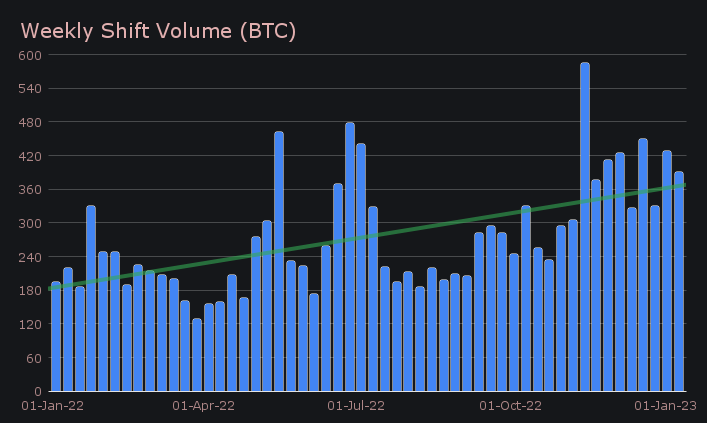 Although volume levels were quite similar to last week, the breakdown was far more dispersed. Beginning with deposits, BTC reigned supreme as our most deposited coin with a net volume of $1.89m, despite a sharp drop of 48%. Thanks to a steady flow of XMR / BTC shifts, XMR placed second, growing by 61.1% to total $1.04m. In third was USDT on Tron, which more than 10x'd its deposit volume from the previous period and finished with $693k. Not only did our top 3 coins encounter some sharp deposit volume swings, but also some other coins within the top 10. Examples include XRP, which exploded over 14x ($346k), and ZEC which increased by 180% ($224k).

The settle side had some unexpected results as well. For the first time in a long while, ETH topped the charts and finished as the week's most demanded coin with $1.43m (+66.5%). BTC finished just a hair behind, with a weekly settlement total of $1.41m (+13.1%). Rounding off the top 3 was BCH with $931k (-64.6%).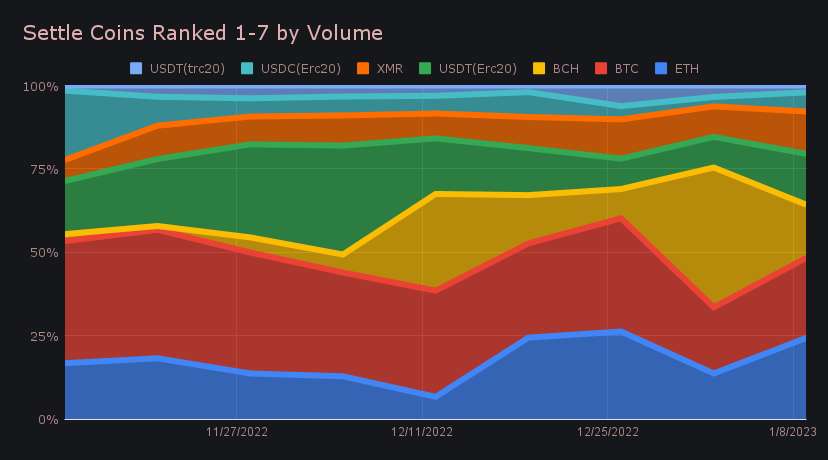 As mentioned in last week's report, it appears that general stablecoin settlements on SideShift are steadily decreasing. Above you can see this gradual changing of the tide, as USDT settlements are becoming less popular, and slowly being overshadowed by popular coins such as BTC, ETH and BCH.

Coinciding with this general downtrend in stablecoin settlements is an increase in stablecoin deposits. This week, cumulative stablecoin deposits represented 25% of the total, approximately 5% higher than the typical weekly benchmark of 20%. The recent rally in the markets supports the idea that users are beginning to get more comfortable with market conditions, and now are ready to have some skin in the game.

A key factor for total stablecoin deposit growth was the large influx of USDT on Tron deposits that we had this week. This resulted in the Tron network representing a dominant 59% of weekly shift volume on networks other than Ethereum, marking the highest proportion by far in recent months. You can see this outlined in the bar chart below.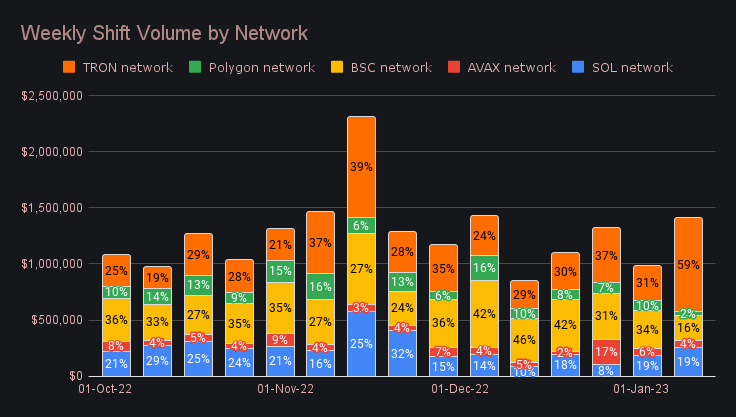 This USDT on Tron action also led to the emergence of the peculiar shift pair of USDT (TRC-20) / ETH. It finished with $587k in weekly volume (8.8% of the total), but had just 33 shifts (0.5%), indicating the extremely large average shift size. USDT (TRC-20) / ETH was second only to BTC / BCH, which remained the most popular when measuring volume. Although we didn't see BTC / BCH strength to the same extent as last week, a weekly total of $911k (13.8% of the total) was good enough to claim first place.

In listing news, this week SideShift added support for Algorand (ALGO), a self-sustaining, decentralized, blockchain based network. A current market cap of $1.44b ranks ALGO 32nd overall. Listing ALGO means that we can continue to expand and add support for other tokens on the Algorand network - we are always eager to hear your suggestions. Be sure to check out Algorand and try shifting to ALGO for yourself.

The first full week of 2023 was smooth sailing for SideShift, with the vast majority of coins and networks experiencing no interruptions. One of the few exceptions was the Liquid network, which was temporarily disabled to avoid a backup of shifts. The issue has since been resolved, and both deposits and settlements on Liquid have been re-enabled.

Integration News

Although total volume from integrations had a 2.6% increase from last week's proportion, it still remains relatively low. Integrations combined for a total of $1.06m (16.1% of the total) in weekly volume, along with a shift count of 1,908 (30.7%). We will continue to track integration performance closely to see if a rebound occurs. The good news is that overall site volume is remaining relatively steady, despite the drastic drop in integration volume.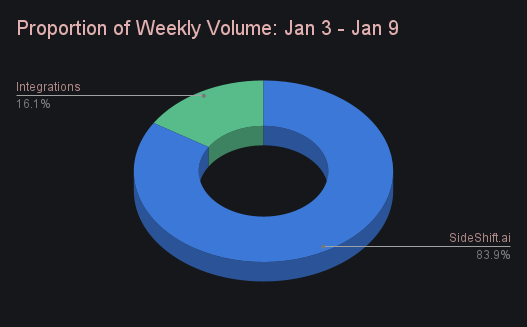 That's all for now. Thanks for reading, happy shifting and we'll see you next time.